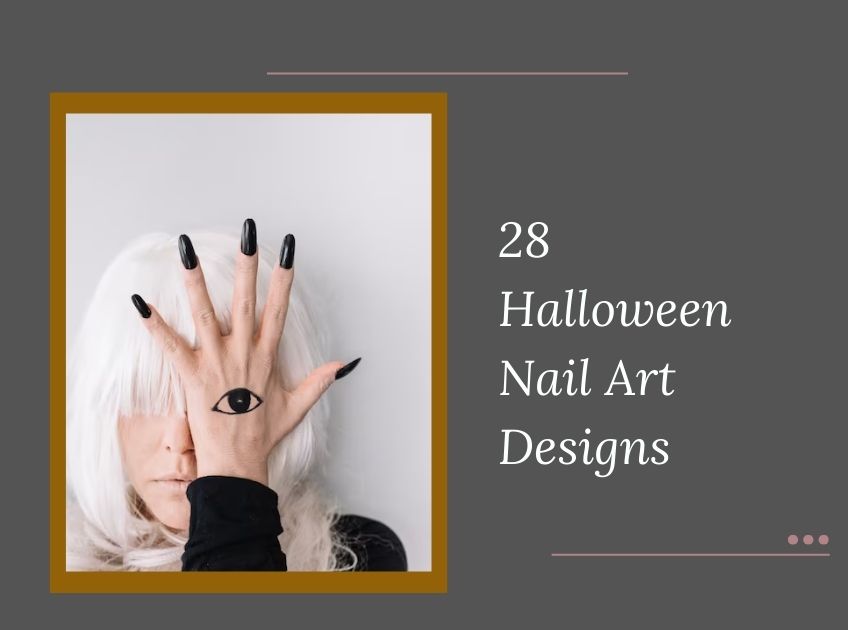 Welcome to the enchanting world of Halloween nail designs in 2023! This year, creativity knows no limits as nail artists and enthusiasts embrace the spooky spirit of Halloween through intricate artistry and vibrant colors. From adorable pumpkins to haunting ghosts, nails have become canvases for imaginative expressions, capturing the essence of this spine-chilling holiday.
Halloween Nail Art: 25+ Trendy Designs for 2023
1. Cute Halloween Purple Nail Art by Emily Zheng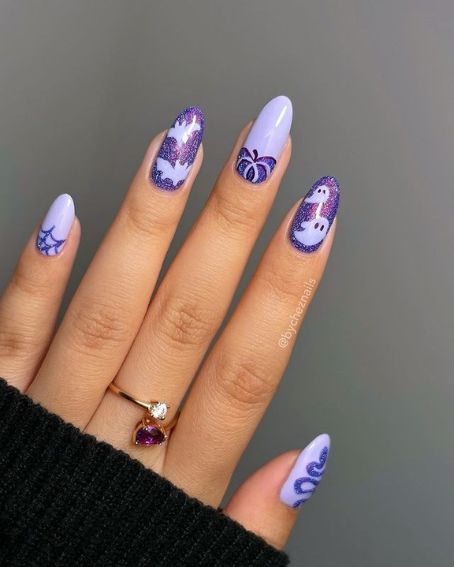 Adorable purple Halloween nails with spooky and cute designs.
2. Colorful Halloween Nails by Aistė Haas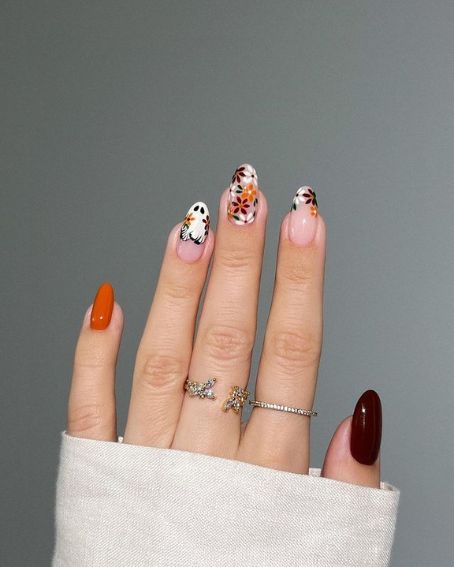 Vivid and festive Halloween nails with a variety of colors and designs.
3. Purple Halloween Nails Design by Dayanna I. Sapiens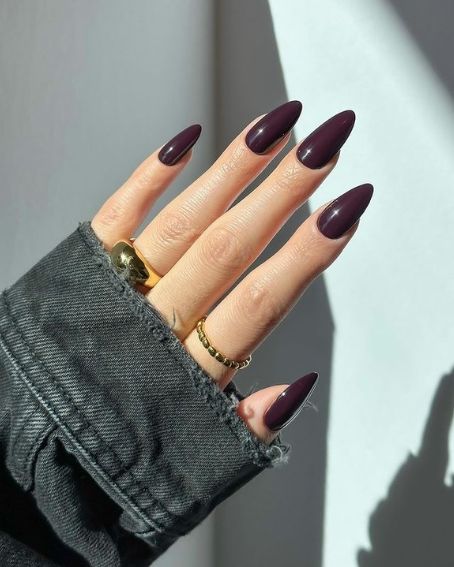 A stylish purple Halloween nail design that is both spooky and chic.
4. Halloween Nail Inspo Nightmare Before Christmas by Samantha Jade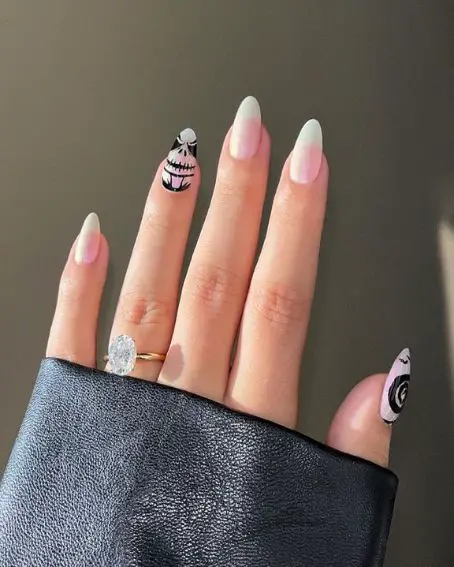 Halloween nail inspiration inspired by the classic Tim Burton film.
5. Spooky Short Halloween Nail Designs by Rachael Burnett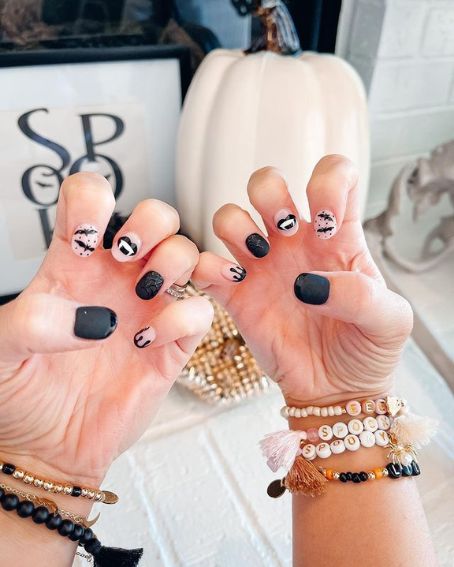 Rachael Burnett crafts eerie charm with her short Halloween nail designs, adding a touch of spookiness to fingertips with finesse.
6. Ghosts & Chrome Halloween Nail Designs by Heather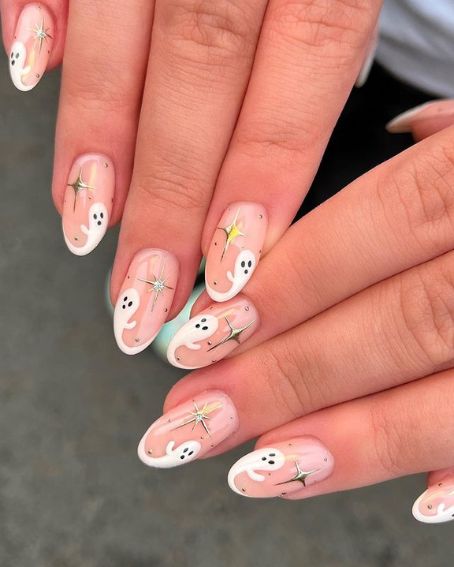 Heather masterfully blends ghosts and chrome in her Halloween nail art, creating a hauntingly beautiful and reflective spectral effect.
7. Blue Witchy Nails Halloween Chrome Nail Designs by Kellyohstein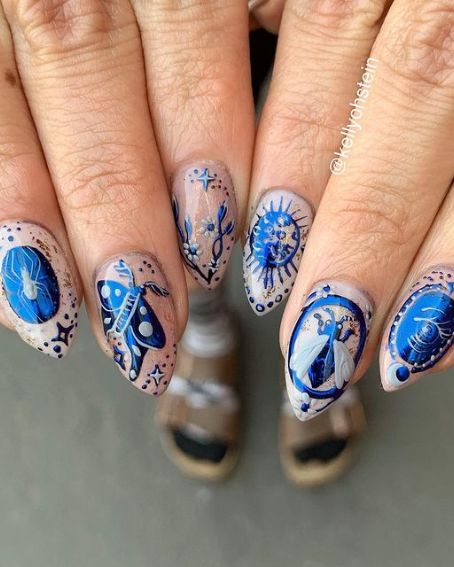 Kellyohstein conjures magic with blue witchy nails, infusing chrome designs with a bewitching allure for a spellbinding Halloween look.
8. Halloween Zombie Nail Art by Luxapolish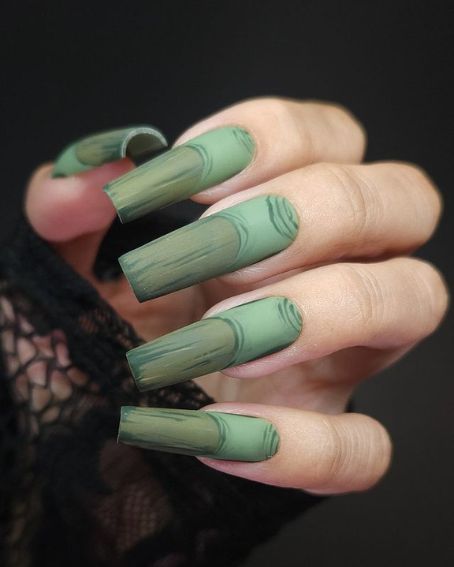 Luxapolish brings undead vibes to life with Halloween zombie nail art, capturing the gory and ghastly essence of Halloween with every stroke.
9. Skeleton Pumpkin Halloween Nail Designs by Jessica Lauritzen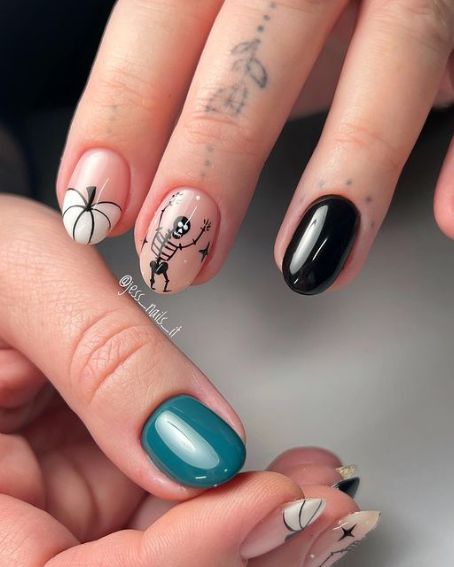 Jessica Lauritzen's creative prowess shines in her skeleton pumpkin nail designs, merging spooky skeletons and cheerful pumpkins for Halloween delight.
10. Vampire Ghost Halloween Nail Art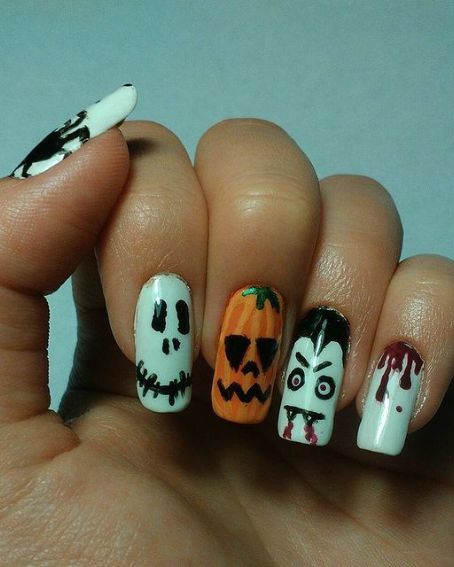 Explore the ethereal world of vampire ghosts through nail art, where elegance meets spookiness in a captivating Halloween fusion.
11. Vampire Halloween Spooky Nail Designs by Hellygreenman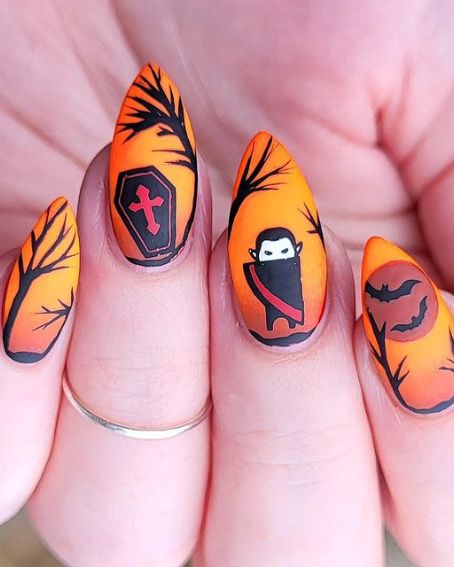 Hellygreenman crafts spooky elegance in her vampire-themed Halloween nail designs, blending mystery and allure in every stroke for a bewitching look.
12. Haunted House Halloween Nail Art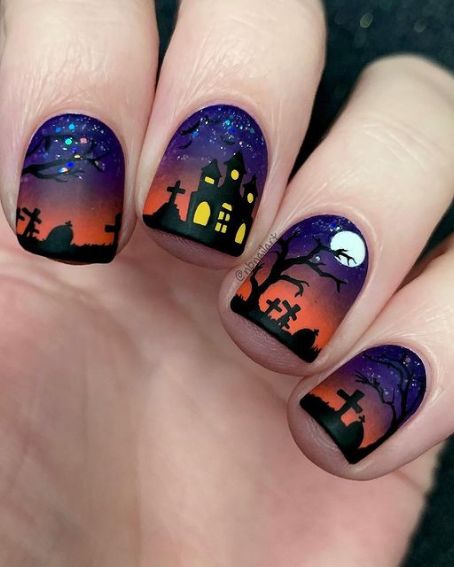 Step into a world of mystery and horror with haunted house nail art, where intricate detailing brings haunted tales to life on your fingertips.
13. Cute & Creepy Plants Glow-in-the-Dark Halloween Nail Designs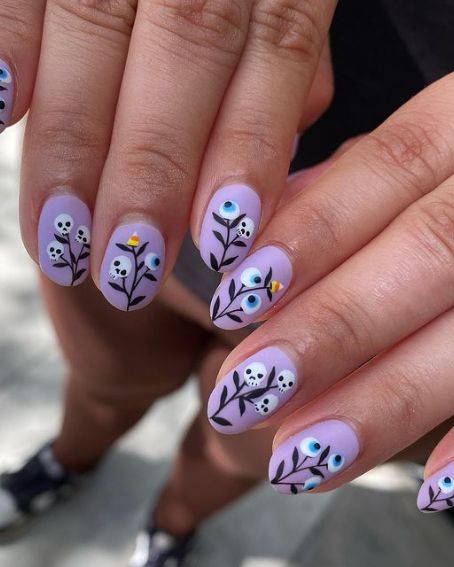 Embrace the whimsy of cute and creepy plants in glow-in-the-dark nail designs, adding an enchanting, eerie glow to your Halloween manicure.
14. Candy Corn Halloween Nails Designs by Rice Kitty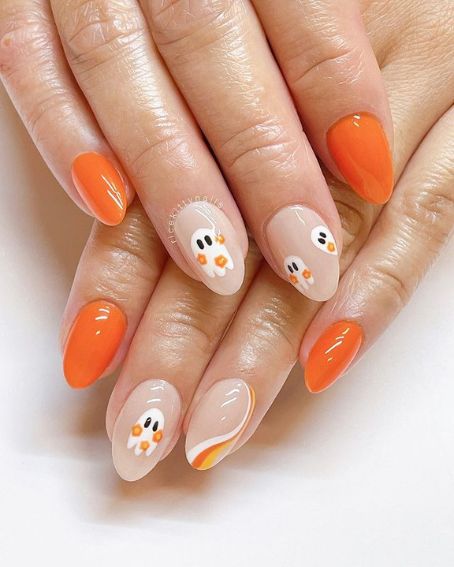 Rice Kitty transforms nails into sweet treats with candy corn designs, infusing Halloween charm with vibrant colors and delightful patterns.
15. Slime Glow in the Dark Halloween Nails by Stefanie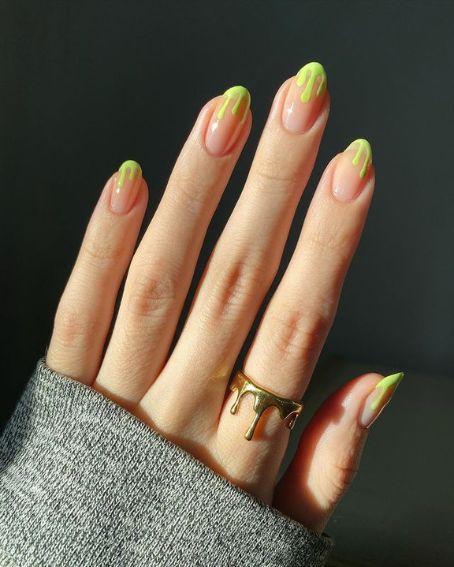 Fun and spooky glow-in-the-dark Halloween nails that are perfect for kids and adults alike.
16. Spider Theme Halloween Nail Art by ILNP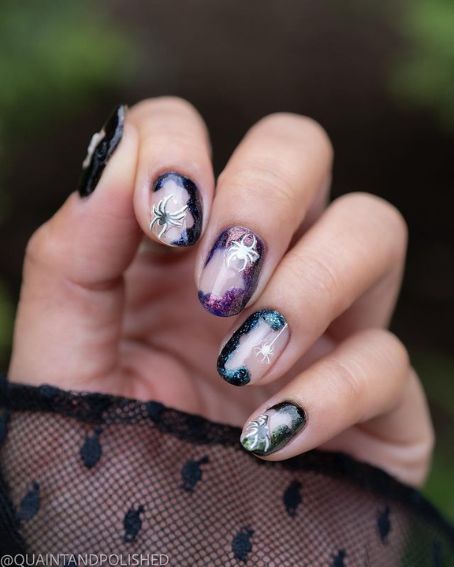 A spider-themed Halloween nail art design that is both creepy and cool.
17. Spooky Spider Nails by Kristin: Halloween Nail Art for Coffin and Square Nails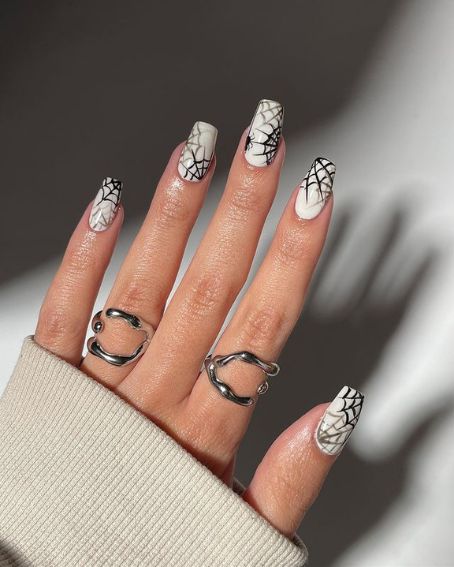 A spooky spider nail art design that is perfect for coffin and square nails.
18. Spooky Moon Nail Art: Hand-Painted Halloween Nails in Black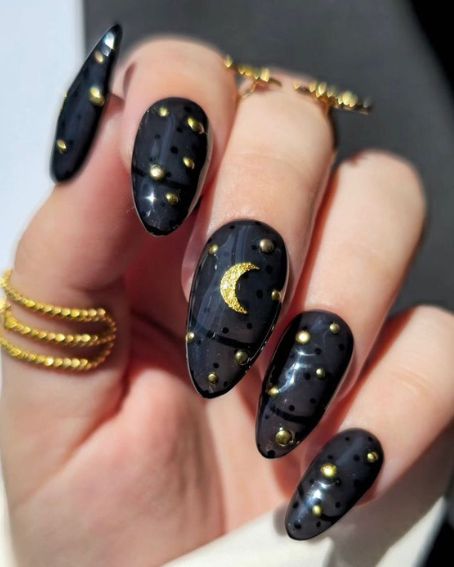 A hand-painted Halloween nail art design featuring a spooky moon.
19. Halloween Vampire Blood Nail Art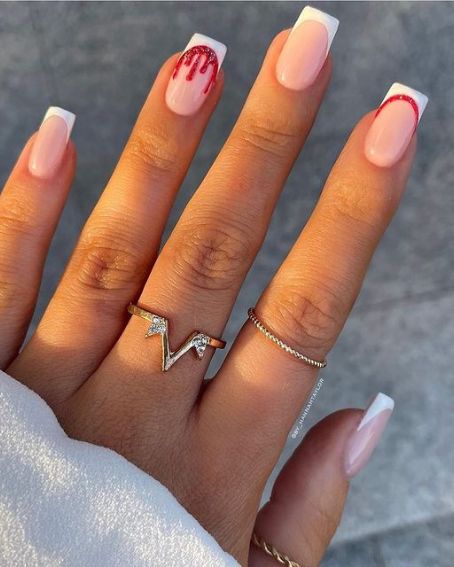 A dripping blood nail art design that is perfect for Halloween.
20. Monochrome Halloween Nail Art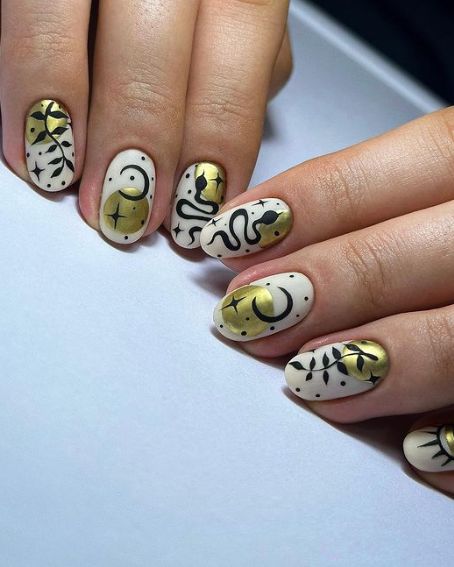 A stylish and sophisticated monochrome Halloween nail art design.
21. Purple and Black Halloween Nail Art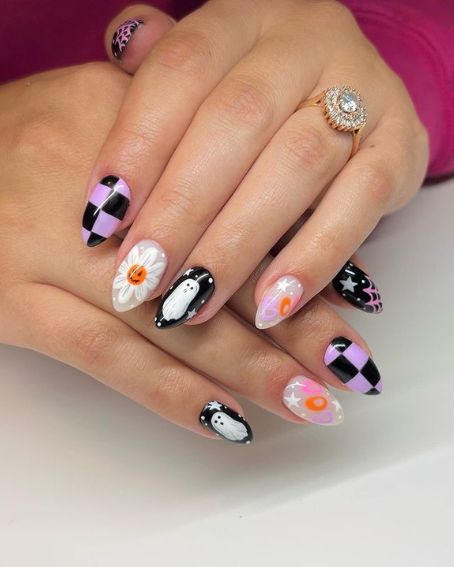 A classic Halloween nail art design in purple and black.
22. Spooky White Polish Halloween Nail Art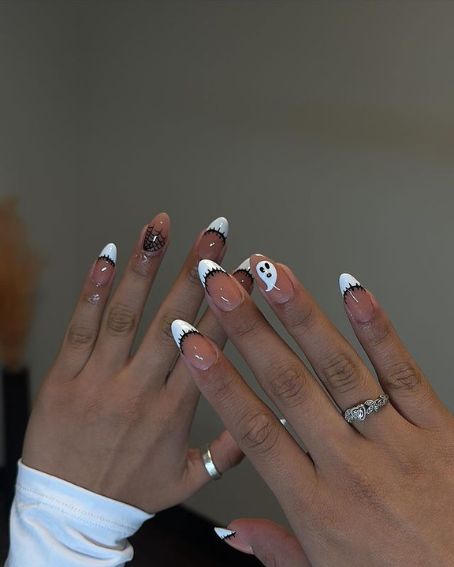 A spooky white polish Halloween nail art design that is both simple and effective.
23. French Tip Halloween Spooky Nail Design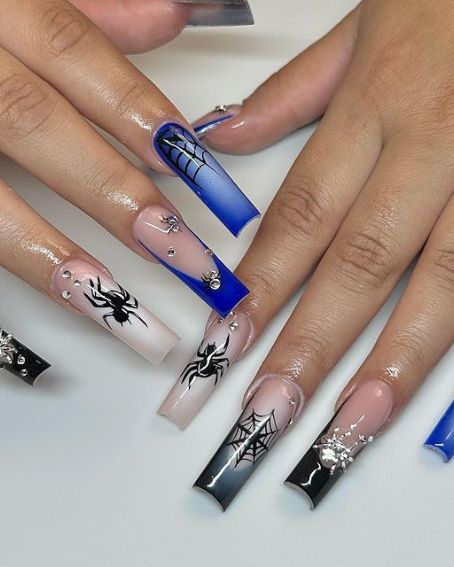 A festive French tip Halloween nail design with a spooky twist.
24. Spooky Duck Nails: Spiderweb French Tips on Black Flare Nails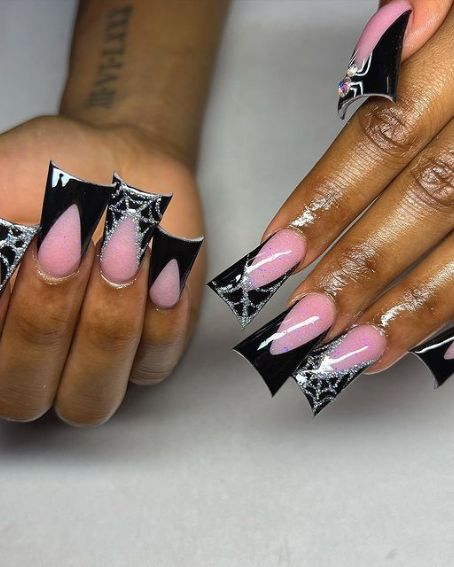 A creative and spooky Halloween nail art design featuring spiderweb French tips on black flare nails.
25. Creative with Hand-Painted Pumpkin Nails for Halloween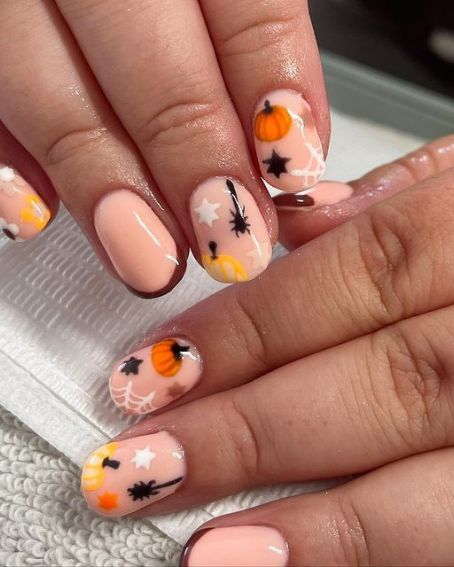 A creative take on Halloween nail art with hand-painted pumpkins.
26. Cute Little Ghost on a Spooky Night Nail Design for Halloween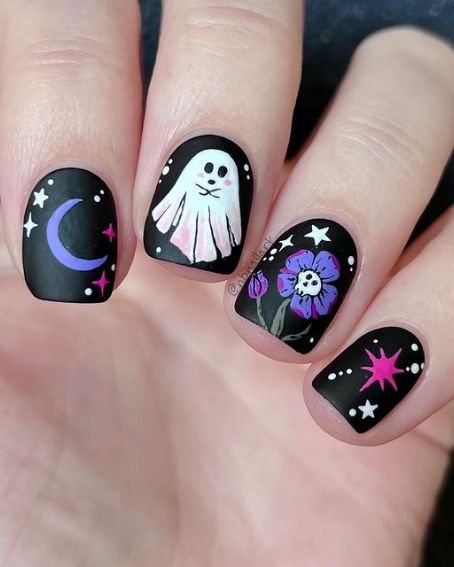 A cute and spooky Halloween nail art design featuring a little ghost on a spooky night.
27. Acrylic Nails Halloween Nail Design by Murfreesboro Nail Tech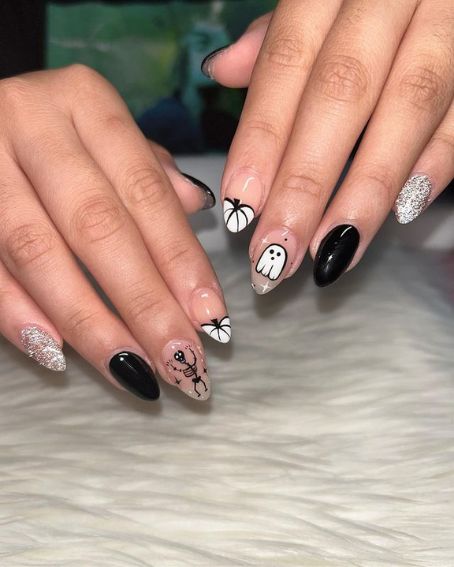 A stylish and spooky acrylic Halloween nail design.
28. Brown Halloween Nails by Aistė Haas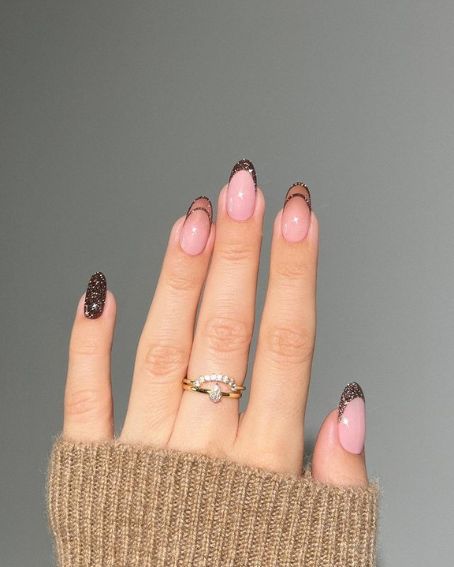 A unique and eye-catching brown Halloween nail design.
Tips for Choosing the Right Halloween Nail Art Design
Consider your style. Choose a design that reflects your personality, whether it's spooky, cute, or elegant.
Match your costume. If you have a Halloween costume, opt for nail art that complements or matches it for a cohesive look.
Think about comfort. Intricate designs might not be comfortable for long periods. Choose something practical if you plan to wear the nail art for an extended time.
Experiment with colors. Don't be afraid to experiment with different Halloween-themed colors. Classic blacks and oranges are popular, but purples, greens, and reds can add a unique twist.
Consult a professional. If you're unsure about your artistic skills, consider getting your Halloween nail art done professionally. Nail technicians can bring your ideas to life.
How to Keep Your Halloween Nail Art Looking Its Best
Protect your nails. Apply a clear base coat to prevent staining and a top coat to protect your nail art.
Reapply the top coat every few days to maintain the shine.
Avoid harsh chemicals. Household chores and harsh chemicals can damage your nail art. Wear gloves to protect your nails when doing chores or working with chemicals.
Be cautious. Be mindful of your nails. Avoid using them as tools to prevent chipping or breaking the nail art.
Regular touch-ups. Small touch-ups can keep your Halloween nail art looking fresh. Keep a small nail art kit handy for quick fixes.
Moisturize. Healthy nails make nail art look even better. Keep your nails and cuticles moisturized to prevent them from becoming brittle or chipped.
As Halloween 2023 bids farewell, it leaves behind a legacy of incredible nail artistry. These designs, ranging from the subtly elegant to the boldly terrifying, have showcased the boundless creativity within the nail art community. As we put away our costumes, the memory of these captivating designs endures, reminding us of the joy and artistry that Halloween brings. Until next year, let the spirit of these hauntingly beautiful nail designs inspire your creativity and keep the magic of Halloween alive in your hearts and on your fingertips.