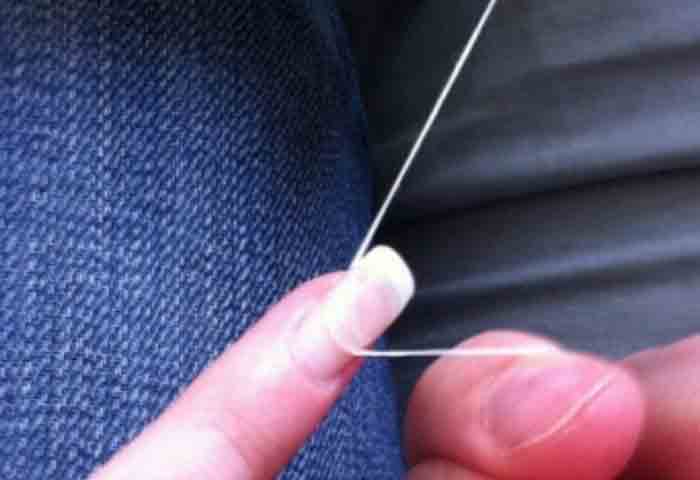 One of the latest trends that has caught on is the use of acrylic nails that are beautifully designed on your natural nails with unique artificial nail paints or nail printings. It is usually very challenging to remove acrylic nails at home but it can be done using acetone. However, the chemicals in acetone can be a little harmful for the skin around your nails. In this article, we give you a step-by-step guide on how to remove acrylic nails with dental floss without using any chemical or product. Dental floss is found in almost everyone's home that helps to peel off the acrylic from nails easily. It is extensively used to get rid of the food particles which are firmly tangled within your teeth. If you don't have dental floss at your home, then you can buy it online or from any shop.
How to Remove Acrylic Nails With Dental Floss
The technique of acrylic nail removal is extremely easy, convenient and quite simple task that can be done by anyone. The only thing you need is dental floss and you can get rid of the acrylic nails in few minutes. Here is a process to use dental floss to remove acrylic nails.
Step 1- Pry up the Acrylic Nail Edges
Take a firm and hard cuticle stick to pry up the edges of your artificial nails.
The edges should be pried up from the bottom. Must be careful while prying up your nails.
Your nails must be cut sufficiently to hold the dental floss so, that it can be easily passed from underneath the nails.
Step 2- Put Dental Floss Underneath the Nails
In the second step, you should use the dental floss to move it smoothly through the underneath of the pried up ends of the acrylic nails.
Once the dental floss is moved smoothly through the underneath from the middle of it, then your partner who is with you, he or she should grasp both of the ends of the dental floss from both of hands.
[ Read: How To Remove Acrylic Nails With Hot Water ]

Step 3- Move Dental Floss reverse and forward
Next you need to move the dental floss back and forth.
Your partner should move it because your hand should not move and stay in one position.
Don't try to move your hands or nails, it hurts your nail skin.
Keep moving the dental floss beneath the acrylic nail side by side.
You can observe that your natural nails will be easily divided from your acrylic nails at once.
You quickly find that your acrylic nails are getting slack/loose.
Finally, your natural nails will be free from acrylic nails soon.
Step 4- Rub off Nails and Apply Moisturizer
Do the same process of using dental floss to remove each of your acrylic nails.
But remember, don't do this very quickly, it can cause pain and damages your nails.
Rub off other extra acrylic deposit from your nails to shine your natural nails.
Use nail buffer and rub side of your nails softly and slowly, so, that extra acrylic residue will be removed.
Apply the cuticle cream or any moisturizing lotion or cream around your nails that helps to hydrate your nails as well as keep your nails soft, shiny, smooth and healthy.
This great process without the use of acetone and hot water, you can now take off your acrylic nails only with the help of dental floss. Using dental floss to remove acrylic nails is safe and harmless if you follow the above-mentioned guidelines.
You Might Also Like:
Image:- 1