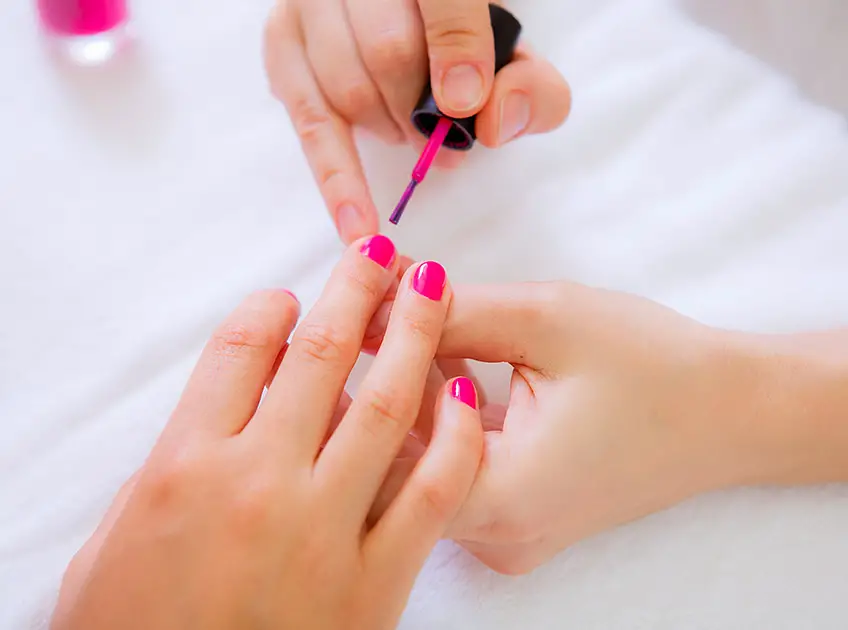 Can you paint your nails with acrylic paint is one of the commonest questions. Since acrylic paint comes in a variety of colors and they are cheaper compared to traditional nail paints, women often wonder whether they can use it or not.
The answer is probably yes; you can paint the nails with acrylic paints. However, applying the right acrylic paint in the right ways is important to get the best result. The two important things to keep in mind when applying acrylic paint are-
The acrylic paint should be non-toxic.

Before its application, you must apply a clear base coat to protect the nail surface.
Nails With Acrylic Paint
Using Acrylic Paint On The Nail
Technically, you can apply acrylic paint on nails as it can stick to a wide range of surfaces. Whether you have plastic-based press-on, acrylic nails, or natural fingernails, acrylic paint is easy and simple to apply on any surface.
But remember that they are not meant to be used on nails. The formulation of acrylic paint is sometimes not as smooth and thin as it is with nail paints, giving a gauche appearance to the nails. At the same time, some acrylic paints are toxic, and their application could be dangerous.
What Types Of Acrylic Paints Are Not Suitable For Nails?
The formulation of certain acrylic paints may contain toxic and dangerous ingredients. The presence of heavy metals as colorants makes them harmful to the nails.
When you apply such paints on nails, they move through the body and build up over time. When they accumulate, the organs like the liver, heart, lungs, kidneys, and skin can damage. In severe cases, organ failure may result. People who tend to apply acrylic paint on nails regularly may get such results.
If your acrylic paint has lead, cobalt, copper, chromium, zinc, and strontium, keep it away from nails. To get red-toned color, some paints have cadmium, a heavy metal listed as carcinogenic. Exposure to cadmium increases the chances of cancer and organ failure. Likewise, inhaling magnesium through paint can cause harm to the nervous system.
So, before applying any acrylic paint on nails, read the labels and their chemical composition. If you read the paint contains any heavy metals, avoid applying it on nails.
What Types Of Acrylic Paints Are Good For Nails?
The acrylic paints are good for nails only when they fulfill the following two conditions-
They do not contain toxic and heavy chemicals. So, read the label before using it.

Perform a patch test to ensure you are not allergic to the paint.
Some genuine nail polishes contain toxic chemicals like dibutyl phthalate, formaldehyde, toluene, and triphenyl phosphate. However, the person at the most risk is the nail technician who inhales the fumes of nail polish constantly and excessively. Since their exposure level is high, they are more prone to risk.
Will Acrylic Paint Stain Nails?
The pigments in acrylic nails have high intensity as they are made for rough coloring textures. So, the answer is yes; acrylic paints can stain the nails as the pigment may absorb into the nail surface, leaving a trace on the nails.
To prevent it, it is advised to apply a base coat on the nails before applying the acrylic paint. The base coat will act as a shield and prevent the acrylic paint from touching the nail surface. When you remove the acrylic paint from the nails, they will retain their typical color.
You should also know that typical nail paints may also leave a stain on nail surfaces; therefore, applying a base coat is beneficial no matter what type of paint you apply to your natural nails.
Pros And Cons Of Applying Acrylic Paint On Nails
It takes time to dry up- While the nail paints are designed to quickly dry, acrylic paints are not. So, they will take more time to set on the nails.
Allows making any color- Acrylic paints come in varied shades. At the same time, they give freedom to mix and combine to form any color of your choice.
Designing the nails becomes easy- While nail paints may turn lumpy while designing, acrylic paint won't, giving you enough room to be creative and make stunning designs.
Giving a try to acrylic paint on nails once in a while is fine. You can use them often only when they are non-toxic and do not have heavy metals. So, read the labels, and once you are sure the product is safe, bring out your creative bugs and start decorating your nails.
You Might Also Like: