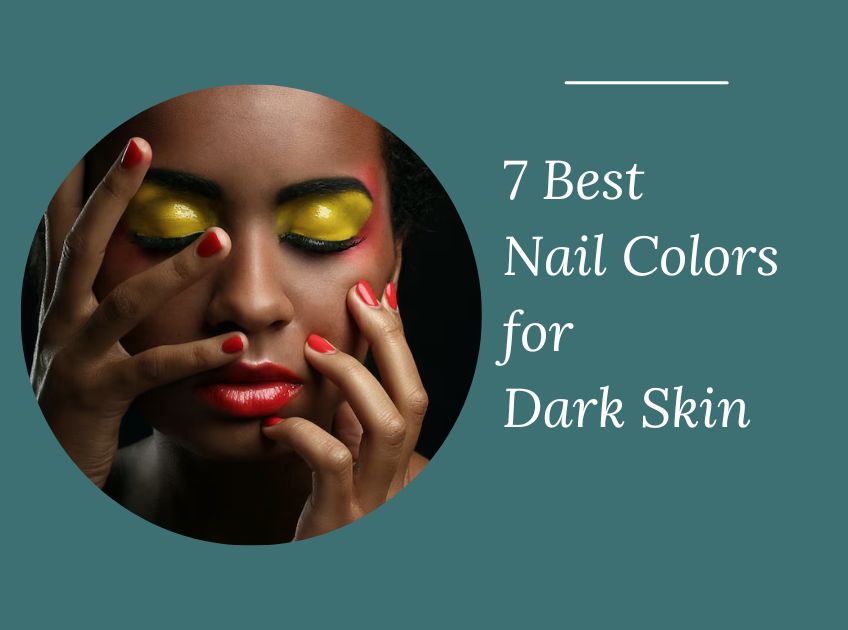 Choosing the right nail colour for the right skin tone can be a great deal of work for many women. Which colour should I use? Which one would make me pop, and which could make me look dull? Will it make my skin look too much? These are the questions a young woman with dark skin will often find herself wondering.
Nail Colors
But according to experts, the richer the melanin, the more options there are. This is fantastic news for our brown and dark-skinned beauty babes! The only thing they need is a bit more push and awareness regarding all the options they can dabble in with nail polish.
So, here is a curated list of all the colours that will suit dark skin females based on category. Try them out now!
7 Best Nail Colors for Dark Skin
1. For valentine's: ESSIE Nail Polish Deep Red, Love Note Worthy
Given the right application technique, this red stands out and can be worn by anyone with a dark skin tone.
To make the deep red really stand out, apply the white as a base coat and give a two-layer coat on top of the deep red. For shine, gently apply varnish.
With 6 additional notable shades to choose from, this vegan brand is appropriate for all market segments.
has an incredible salon-quality formula for flawless coverage.
What We Don't Like: The deep red dries quickly, so apply it carefully without creases.
[ Read: 7 Best Red Nail Polishes For Fair Skin ]
2. For the fall: Sally Hansen Color Therapy Re-nude (Nude)
Made with an argan oil formula that is perfect for giving hydration to our cuticles while also strengthening your nails.
Since it is nude, this color will complement your dark skin when you step out during the fall or winter.
Apply a white coat as your base and then use the re-nude twice on top of the white base. Complete the entire look with a nail shiner if you want extra shine.
It is free of camphor, formaldehyde resin, formaldehyde, toluene, and dbp.
What We Don't Like: It may be thin requiring more than 2 coats.
3. For the summer mood: NailPure It's Cool to be Kind (Lilac)
Lilac has a blue undertone along with purple that brings out the warmth of a dark skin tone.
NailPure contains a blend of zinc and calcium that gives the best opaque lilac look to your nails if that is your choice.
Each polish is made with the longwear, breathable, and delicate NailPure formula.
designed to be gentle on your nails while still providing the same glossy, high-shine finish
What We Don't Like: It has a deep enamel smell.
4. For the jaded nights: Morgan Taylor Stop Shop and Roll Nail Polish (Jade Green)
The richness of the deep green hue will fit in perfectly for the fall and winter even though it is a less common color.
The best choice for this shade is Morgan Taylor because it has shimmers infused with enamel to add extra glitz for the evening.
contains an award-winning formula that has been shown to exceed the standards of professional manicurists.
Claims upto 10 days of wear.
What We Don't Like: It starts chipping off too early.
[ Read: 7 Best OPI Colors For Fair Skin ]
5. With Plant Power: Nails Inc. (Slate Green)
When it comes to dark skin, slate green is one more underrated color in the entire colour bar spectrum.
This colour not only compliments the sun-tanned skin tone but also enhances the skin tone when styled with gold plates enamel.
Nails Inc. is a go-to when it comes to slat green as it is a vegan and sustainable brand with cruelty-free and halal-friendly products.
What We Don't Like: There may be some debates regarding whether it is halal or not.
6. Go for neon: BARRY M Hi Vis Neon Nail Paint Outrageous Orange (Neon)
One of the best options for dark skin is that they can experiment with neon's without any guilt.
Due to the contrast, melanin makes neon appear more vividly than on skin that is light in tone or white.
If you feel skeptical about neon then don't, just go ahead and try orange, yellow or pink in neon guilt-free.
What We Don't Like: The nail paint may chip off early.
[ Read: 7 Best Pink Nail Polishes for Fair Skin ]
7. Back to black: Sally Hansen Hard as Nails (Black Heart)
Timeless and versatile, black is one of the safest options for anyone with dark skin or light skin.
Depending on the style you choose, the colour can be described as chic, grunge, or gothic, but it always has a polished appearance.
There are many choices for black, but Sally Hansen's Hard as Nails Black Heart is one of the best.
It applies precisely, swiftly, and flawlessly.
What We Don't Like: Even after removing the stain, a faint layer of black will remain in the cuticles and nails.
Conclusion:
If you have a dark complexion, choose colour that stands out and grabs the attention of those around you. By being daring, going bare, or showing off metallics, your nails can serve as an expression of your sense of fashion.
Nevertheless, stay away from bright colours because they may make your hands look washed out.
You Might Also Like: