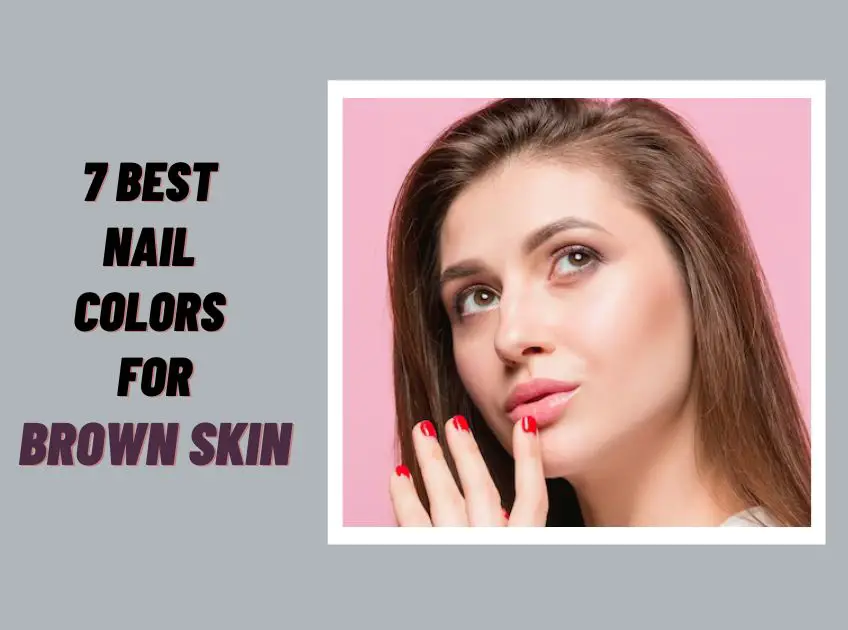 Popping the nails with a stunning nail color can enhance the look of your hands. However, using the right shade can only help. If you wear a color that lessens the looks, it is no use.
If you have brown skin, consider yourself lucky, as most colors look ravishing. Here, we have listed some of the best nail colors for brown skin that pop up the overall look of their hands and bring a stunning effect.
Nail Colors
All the colors we have shared come from high-impact nail polish. You can find everything from shimmery and vibrant to subtle shades in one place. Keep scrolling and find out the best nail polish colors for brown skin beauties and enhance the overall look of your hands.
7 Best Nail Colors For Brown Skin
1. Ravishing Red: Beetles Gel Nail Polish
Red signifies confidence and elegance during any season or occasion
9 Toxin Free Ingredient makes it healthy and low odor
No harsh ingredients or adhesives that lead to damaged nails
The color lasts at least three weeks
The gel nail polish kit needs to be cured under LED light
The average time for LED light is 60-120 secs
What We Don't Like: It smells strong.
[ Read: How To Remove Gel Nail Polish With Sugar ]
2. Vivacious Violet: VENALISA 15ml Gel Nail Polish
It comes in more quantity than other brands' nail colors
Made of Natural Resin which is Harmless for nail health
It is environmentally friendly with high quality and low smell
Gives a long-lasting result that lasts for at least three weeks
Lightweight and easy to carry
Cure under UV or LED Lamp for 90-120 secs
What We Don't Like: Overpowering smell.
3. Smashing Sheer Pink: AILLSA Nude Gel Polish
It creates an understated yet premium translucent nude style
It can also be used as a base color to create your own French nail art
A quick and light application will make the color more even
The fewer layers, the sheerer, and the more layers, the more vibrant
Needs to be cured under LED/UV lamp
It can last for 21-28 days and keep the shiny luster
Made from natural resin
It has a unique high color saturation with perfect shine, smooth application
What We Don't Like: Thick texture.
[ Read: 7 Best Pink Nail Polishes for Fair Skin ]
4. Glittery Purple: MEMEDA Gel Nail Polish
It is a nail gel polish that needs to be cure under LED/UV light
CURE TIME: Average for LED light 30-60 secs, UV light 2-4mins
It lasts for over two weeks with proper application
Made with healthy ingredients
Smells low and is non-toxic
Made with natural resin and wears like gel
Good tenacity
What We Don't Like: Not chip resistant.
5. Pretty Purple: RARJSM Holographic Nail Polish
It is a beautiful purple holographic nail polish
Soak-off gel polish is easy to apply
It doesn't peel off easily
It can last for over 21 days while matching with gel base and top coat
It needs to be cured by a nail lamp
Highly recommend 60 seconds of curing under an LED lamp
Made of natural resin, non-toxic formula
Low odor, rich color, middle consistency
Self-evenly, no shrink, and edge
What We Don't Like: Runny consistency.
[ Read: 10 Best Holographic Nail Polish ]
6. Charming Chocolate Brown: Aokitec Gel Nail Polish Kit
It contains no animal-derived ingredients
It is an affordable and high-quality choice
It comes in more quantity than other nail polish brands
It is made of natural resin, which is harmless and non-toxic
Environmentally friendly, high quality, and low smell
Cure under UV or LED Lamp for 90-120 secs
What We Don't Like: It needs multiple coats for a vibrant result.
7. Daring Deep Garnet: OneDor One Step Gel Polish
It uses an exclusion non-harmful, odorless formula
Requires curing for 2 mins under UV lamp or 1 min under LED lamp
Color Lasts up to 7 days
Chip-proof, extreme shine; self-leveling and smudge-proof
What We Don't Like: Not quick drying.
[ Read: Does UV Light Dry Regular Nail Polish ]
Conclusion
While these colors are enough to bring charm to brown skin, the quality of nail polish adds to the glory. These are the best nail colors for brown skin, giving a statement look to your beautiful hands. Use them and rock the party!
You Might Also Like: