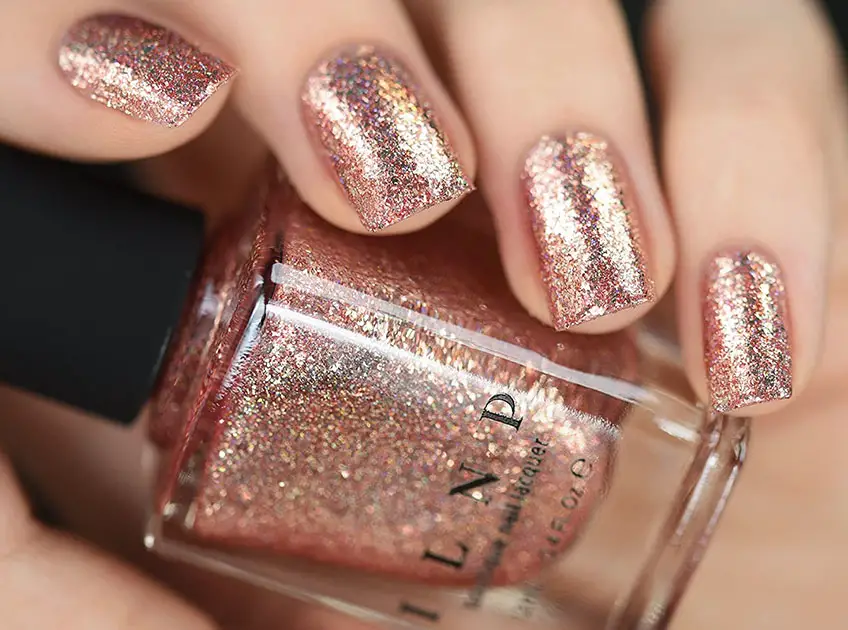 Looking for some advanced, futuristic nails? Holographic nails are the new fad, and you can't get over them.
Holographic nail polish speaks louder than words with the unique shapes and colors of galaxies, unicorns, and rainbows. While monochromes may look uninteresting to some, holographic nail polish brings the spark to your nails. They look far more appealing than any regular manicured nails. They are trending and worth giving a try.
Look at these best holographic nail polishes that instantly bring charm to your nails.
10 Best Holographic Nail Polish
1. ILNP Juliette Holographic Nail Polish
Taking your manicure to the next level, ILNP Juliette Holographic Nail Polish is something you would love to have in your vanity box. With a luxurious gold finish and every-lasting coverage, this product is worth every penny.
Rose gold holographic nail perfection polish for beautifying the nails.
It is chip-resistant, lasts longer, and is easy to remove.
Made with premium grade ingredients to keep your nail's health perfect.
Being 100% vegan and cruelty-free, this holographic nail polish is non-toxic and safe.
2. Ownest Holographic Nail Polish
Promising to deliver a holographic effect, Ownest Holographic Nail Polish is a diamond laser nail polish made with holographic pigments. Once you have Ownest Holographic Nail Polish, you would not look further.
It has high gloss and sparkles wherein the colors shift on viewing from different angles.
One coat is enough to give the desired color and shine to nails, thus saving money and time.
It consists of high-quality ingredients that make it thinner, breathable, and easy to apply and remove.
Being chip-resistant, vegan, and cruelty-free makes it even worthier.
3. BORN PRETTY Chameleon Nail Polish
Coming in the pack of four at the most reasonable price, the holographic nail polish from Born Pretty could be your ultimate choice. It sets shimmer and shines on your nails, giving glittering effects when viewed from different angles.
The package consists of 3 bottles of chameleon glitter polish and one bottle of black base polish.
Delivers holo effect inspired by the crazy night sky, ensuring a masterpiece in every application.
It has high-grade ingredients that ease application, durability, and removal of this holographic nail polish.
The nail polish was made with no animal testing; therefore is cruelty-free and also vegan.
4. Freeorr 6 Colors Holographic Chameleon Nail Polish Set
Another astounding set of holographic nail polish comes from Freeorr, which has six stunning colors that give a holo effect. This iridescent gorgeous glossy glitter diamond laser chrome nail pigment is perfect for all occasions.
It consists of high-quality, perfectly performing tiny ingredients that give a laser effect to the nails.
The package comes in 6 amazing colors that are perfect for different occasions.
The high coloring and long-lasting pigments ensure no chipping or peeling and long durability.
It is made with healthy and environment-friendly ingredients and is never tested on animals.
Comes in a portable and easy-to-carry package.
5. Cirque Colors Holographic Nail Polish
One of the best in holographic nail polishes, Cirque is a reliable and worthy brand. It is made with 100% holographic pigments, ensuring you get everything you want. It gives a stunning, long-lasting manicure.
Coming opaque in 2 coats, Cirque colors holographic nail polish delivers a rainbow effect and is highlighted by direct light.
The non-toxic formula of this nail polish makes it healthy for nail health.
It is made with high-quality pigments and safe chemicals.
Using the base coat and liquid laminate top coat will bring a long-lasting manicure.
6. ILNP Birthday Suit Cashmere Pink Holographic Nail Polish
This beautiful nude color from ILNP is a perfect solution for all types of manicures. It is a neutral nude color with a cashmere pink hue, bringing spark and glory to your hands. Since ILNP is a reliable brand, you can go for it without second thoughts.
It has a soft, neutral pink hue with a holographic sparkle that looks extra amazing under the sun.
The long-lasting coverage and chip-resistant durability make it more appealing.
To make this holographic nail paint best performing, only high-quality ingredients are used.
It is 100% vegan, non-toxic, cruelty-free, and safe for nails.
7. RARJSM Holographic Nail Polish Glitter Pink Gorgeous Glossy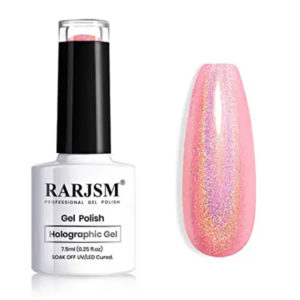 It is one of the gorgeous holographic nail paint that delivers stunning colors and rainbow effects to the manicure. Eco-friendly nail polish doesn't smell like typical nail polish.
Highly pigmented, this holo nail polish is easy to apply and delivers full coverage.
It is made with eco-friendly ingredients that keep the typical smell of holographic nail paint at bay.
The durability of RARJSM Holographic Nail Polish is expected to be over 21 days without wearing or chipping.
It requires a nail dryer and needs to be cured with UV/LED lamp for the best results.
8. ILNP Eclipse (H) – Black to Red Holographic Ultra Chrome Nail Polish
Another breathtaking holographic chrome nail polish is Eclipse from ILNP, which starts as a dark charcoal base accented with holographic flakes, making it one of the kinds. Soon, the nail paint brings the bursting fiery hot red color giving nails the manicure you would fall in love with.
This nail polish wears like iron with amazing colors that make the nails look extra glorious.
It is chip-resistant and delivers long-lasting coverage.
Made with premium grade ingredients, the nail polish is designed with high precision for attaining perfect results.
It is vegan, cruelty-free, 100% vegan, and safe for nail health.
9. Shade Shifter Multichrome Nail Polish
Shade Shifter is the best bet if you are looking for the best multi-chrome nail polish. It shifts stunning colors on viewing angles, giving your finger a luxurious look. From cyan, blue, red, orange, and purple, this nail paint is all your nails need.
It is made with non-toxic materials and doesn't contain Toluene, Formaldehyde, or Dibutyl Phthalate.
Gives the best result when applied in 3 coats.
A flat brush eases the application and provides full coverage.
Changing, shifting, and morphing colors are all based on the angle of your tips.
10. MIZHSE Holographic Gel Polish Set
With its strong holographic effect, the MIZHSE Holographic Gel Polish Set is suitable for gifting. It gives a laser chameleon effect to the nails, making them look manicured in the best way possible.
Made with intense holographic pigments that shift colors based on different viewing angles.
The nail color looks amazing, with a high gloss and sparkling glitter.
Applying over a base coat makes the nails look even prettier.
Conclusion
With these amazing holographic nail polishes, it is easy to give a makeover to your nails and improve the look of your hands. These glittering nail polishes will surely make your fingers look pretty like never before.
You Might Also Like: