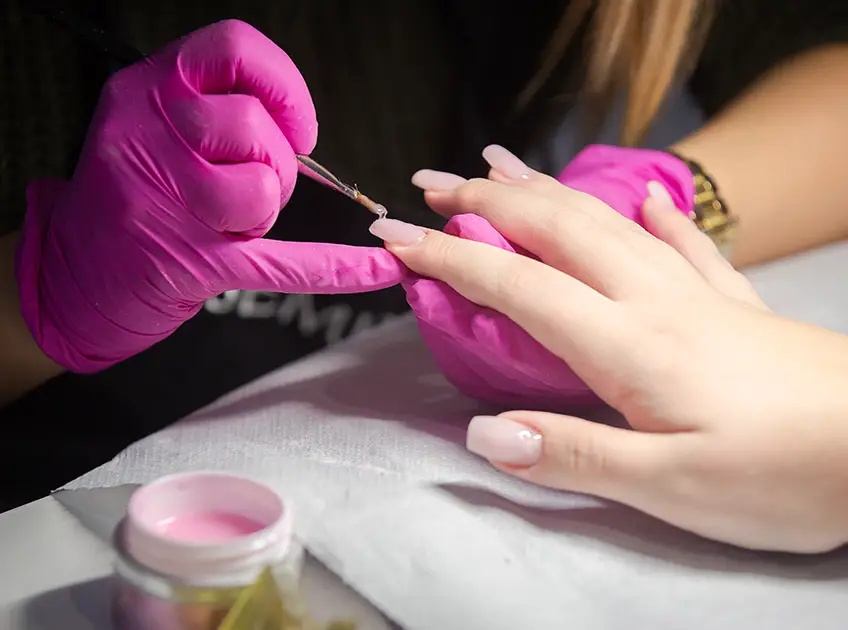 Creating art on nails requires a perfect nail brush that can help achieve the desired design. If you don't want to visit a nail parlor and try your creativity on nails, it's time to ponder over the best nail brush.
Every nail artist boasts their possession- a perfect nail brush. It helps them create art smoothly over the nails. A nail brush with an excellent tip and something that can cover the nails without spillage over the fingers is considered the best.
Therefore, here we have listed some of the best nail brushes to help you create the nail art of your dreams. Keep reading to find them out!
10 Best Nail Brush
1. TEOYALL Double-Ended Nail Art Brushes
Coming in the pack of 5, these nail art brushes from Teoyall are perfect for carving the best designs on the nails. The kit comes with different brushes, useful for different functions.
It consists of 10 brushes wherein five dotting tools and five liner& detail brushes meet the requirements for all types of nail art designs.
The brushes ease making dots, lines, flowers, swirls, and all types of designs perfectly.
They are made with a quality acrylic, and the brush hair is made of soft nylon.
The elegant and practical design firmly locks the pen body and tip to get the perfect finish.
2. KADS Kolinsky Sable Acrylic Nail Art Brush
It is made with rosewood and 100% kolinsky sable brush.
The hair on the brushes is of high quality and does not fall off easily.
It is easy to use and has a sleek design.
If you find some extra bristles on the brush, trim them and get the perfect tip of your requirement.
3. Mooerca 5Pcs Nail Art Liner Brushes
This stunning UV gel paint and acrylic paint nail brush set are perfect for all those who want their own set of nail brushes to show creativity. It is suitable for nail dotting, painting, drawing, and getting the best nail art.
The set includes 5 PCS nail art brushes in 5 different sizes- 5mm, pink; 7mm, dark blue; 9mm, Golden; 11mm, Cyan; 20mm, black.
Each brush is made with quality alloy, diamond, and acrylic, making it durable and suitable for daily use.
The high-quality nylon hair and non-deformation, non-corroding hair tips protect the brush from dust.
With a light and comfortable pen body, making nail art becomes easy.
4. Mia Secret Oval Kolinsky Nail Brush
Mia Secret is one of the reliable brands of nail brushes. The performance of its brushes is amazing and ensures giving the best result.
It is made with 100% pure kolinsky hair to help you get the perfect design and carving.
The long-lasting performance of the brush makes it suitable for everyday use.
It helps in creating a smooth acrylic overlay with ease.
Being an oval-type nail brush, it looks cool and trendy.
5. Makartt 3pcs Nail Art Liner Brush Set
The set consists of 3 brushes in different dimensions- 7 mm, 9 mm, and 11 mm for all types of strokes and designs. From dots and lines to hearts and flowers, the nail artist can carve her imagination on the nails with these best nail brushes.
These brushes are versatile and perfect for swirling and blending effects.
You can easily make 3D model paintings over nails using these brushes from Makartt.
They work well with gel nail polish and acrylic paints.
Being lightweight and comfortable to wear, you can hold and work with them without feeling stress on your hands.
6. Kolinsky Acrylic Nail Brush
It's a perfect professional acrylic brush used by experts and beginners to mold their imagination in the nails. It is a salon-grade kolinsky nail brush.
It is an acrylic nail brush with size eight and is often used by professionals for nail art.
Made with 100% handmade kolinsky hair, the brush has better energy absorption, ductility, and coloring capability.
It is smooth, shiny, and non-caking.
With a good grip, this brush is easy to hold and create designs for hours without stressing the fingers.
7. Twinkled T Kolinsky Professional Nail Cleaning Brush
It is another amazing nail brush with kolinsky hair, perfect for all nail artists- an expert or a beginner. It is available in three sizes- 2mm, 6mm, and 12mm and helps to make different designs perfectly.
The hair of this brush is durable and retains its shape for longer, thus suitable for everyday use.
The handle of the brush is made of aluminum and is acetone resistant.
It has an aluminum cap that protects the bristles from wear and tear.
When kept properly, this brush can last a lifetime.
8. Beetles Nail Art Liner Brushes
It is a stunning set of useful nail brushes in 5 different sizes- 5mm, 7mm, 9mm, 11mm, and 20mm. Like a salon, you can create dots, lines, and intricate patterns at home.
It is made with a quality fiber that is non-deformation and non-corroding.
The practical and convenient design of the brushes makes them suitable for holding for long hours and easily make all types of designs.
The body of the brushes is light and comfortable.
9. 3PCS Nail Art Liner Brushes
Another useful product for nail artists is this set of best nail brushes that consists of three pieces of 7mm, 9mm, and 11mm size. It helps in making patterns and intricate designs with ease.
These brushes are suitable for UV gel painting acrylic nail design.
They are made of quality alloy and nylon wool, with proper flexibility and not easy-to-lose bristles.
The handle is made of metal for a comfortable grip.
The body of the nail art brush is light and comfortable, easy to hold and paint, helping create beautiful nail work without any hassle.
10. VANANA 1pc Wood Handle Kolinsky Acrylic Nail Art Brush
With some amazing manicure powder professional tools, Vanana has become one of the most popular brands among nail artists. This nail brush is perfect for personal and professional use.
It is made with a wooden handle and kolinsky sable hair.
The set consists of three pens of different sizes- #8 Brush length: 15cm, Hair length: 1.9cm, #10 Brush length:
15cm, Hair length: 2cm and #12 Brush length: 15.3cm, Hair length: 2.1cm.
The easy and comfortable grip ensures using it for long hours without hassle.
Conclusion
When buying a nail brush, keep its weight, shape, and tip in mind. With the right product in your hand, carving dreams into reality becomes easy, and that's what we want.
These nail brushes are perfect for bringing beauty to your nails. Design perfectly and see how well everything comes out to be.
You Might Also Like: