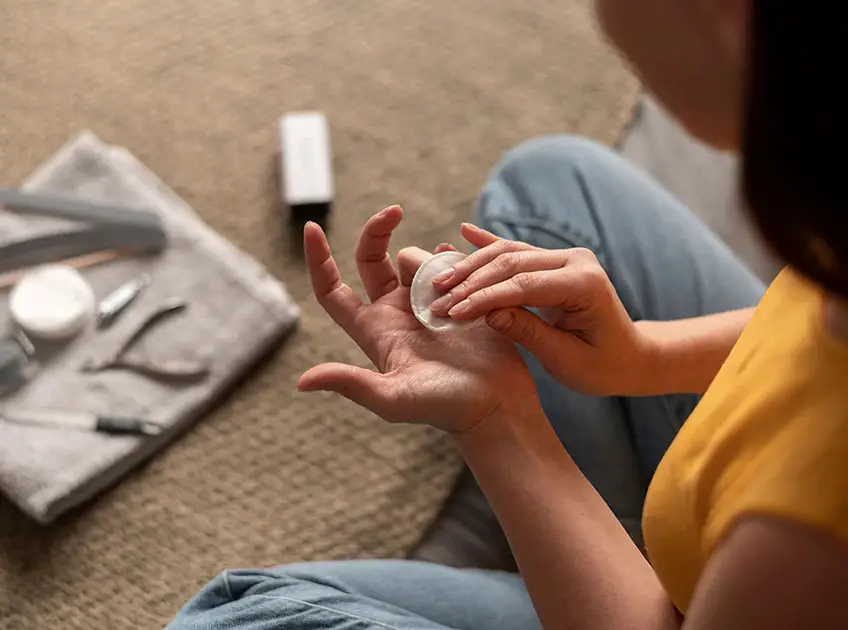 Gone are the days when you have to sit for hours in nail parlors to carve beautiful designs on your nails. With nail stamping kits, it has become easy to get everything done in the comfort of your home.
A perfect nail stamping kit comprises simple equipment and various designs to beautify the nails. Whether you like bold, detailed, or simple patterns or looking for some fun and quirky things, a nail stamping kit can solve all the problems.
Investing in a good nail stamping kit can help you grab everything without hassle. So, check out these amazing nail stamping kits and jazz up your nails like never before.
10 Best Nail Stamping Kit
1. VAGA Manicure Set Nail Art Supplies Nail Kit
This nail art supply from VEGA comes in 2 boxes of 1500 gemstones, including crystals, gems, and every essential item you would require for nail art.
It consists of 3D nail jewels, rhinestones for nails, a wax pen, a nail art stamping kit, nail stamper.
You also get 15 nail brushes for nail art and five colorful dotting tools for nails.
The stamping tool consists of nail stamps plates kit with the stamper, a clear jelly stamper in purple color.
To get the best results, use stamping nail polish with this nail design kit.
2. PUEEN Nail Art Stamp Collection Set
It is a unique set of nail art stamp collection set with 24 nail art polish stamping manicure images to help you get ideas.
It comes with 24 plates with a display and storage case.
The diameter of every plate is 5.5 cm and has sanded edges for comfortable handling.
The plate also consists of a nylon screen for extra protection.
They are made of stainless steel with a high polish finish.
3. Biutee 19pcs Nail Stamp Plates Set
This set consists of 15 plates, 1 Stamper, 2 Scrapers, and one storage bag making it one complete package for the nail artists.
The plates are made with high-quality stainless steel, durable and sturdy.
Both sides of the plate have transparent blue film, well protected from scratches and damage.
The entire kit is durable and gives stunning results.
4. Nail Art Kit 3pc
This nail art kit comes with a flower and animal nail stamping plate and is perfect for beginners and experts. The kit includes everything you are looking for sturdy plates and decor pieces.
Kit includes 3pc stainless nail stamping plate, 1 set pink nail stamper & scraper, ten rolls holographic nail striping tape line, two box nail rhinestone accessories, and 5pc double-sided nail dotting pen.
The stamping plate is made with stainless steel, making it sturdy and durable.
It is covered with blue film and engraved with geometrics, animal, flower, crown, plants, and various design images.
The plates ease the process of making intricate patterns and designs on nails.
5. mcwdoit Nail Art Stamping Kit
With eight essential pieces, this nail art stamping kit from Mcwdoit is perfect for all nail art enthusiasts. The non-toxic gel nail polishes are easy on hands and keep them safe.
It consists of 8 stamping gel polishes, two liquid latex peel-off tapes, four nail art stamping plates, two stampers, and two scrapers.
The nail polishes in the set are natural resin and come in various colors, such as yellow, red, white, and golden.
Nail polishes are thicker, making them suitable for stamping.
The plates are made of stainless steel and feature images like hearts, rose, bike, and Halloween-inspired designs.
6. Ejiubas 3 Pcs Jelly Clear Nail Stampers 3 Pcs
Ejiubas is one of the most popular and the best nail stamping kit, popular among nail art fanatics. It has all the tools needed for DIY projects.
The kit has 3 Stampers, 3 Scrapers, and three replaceable clear stamper heads to meet all your stamping needs.
The stamper is easy to use and hits the desired locations on your nails.
The size of the stamper head is 1.10 Inches, appropriate enough to fit most nail sizes.
The scrapper is thin but firm and comfortable for holding and working for long hours.
7. BORN PRETTY Stamping Plates Set
With 12 pieces, this nail stamping kit from Born Pretty is something you would have in your vanity box. It will help you make intricate designs and beautiful patterns with no hassle.
The 12 stamping plates have snowflakes, flowers, and other stunning patterns.
You get an amazing variety of well-engraved images for small and full nail coverage.
It is a perfect nail stamping kit for beginners and experts.
8. Ejiubas Nail Stamping Kit
It is another useful nail stamping kit from Ejiubas with all the accessories and tools required for a perfect nail stamping result.
It consists of 3 stamping plates, one clear nail stamper, a nail scraper, various nail templates, and more designs to choose from.
All the nail stamps are double-sided with less space, etched deep enough to hold nail polish to get a beautiful opaque stamping nail art result.
The plates have sandy edges, ensuring no hurting.
High-quality stainless steel and high polishing finish make the plates durable and sturdy.
9. Makartt 12pcs Nail Art Stamp Stamping Templates Kit
This kit includes ten pieces of essential tools needed for the best nail stamping art. You can create various designs and give a makeover to your nails.
You get ten plastic stamping plates, one stamper, and one scrapper to complete your DIY nail art project.
The plastic is reusable, and you can use it for different purposes.
The etchings are carved deep enough for the perfect result.
The stamper is made with clear silicon.
10. AIMEILI Nail Art Stamping Templates Manicure Tool Kit
With five essential tools, the nail art stamping kit from Aimeili is best for gifting. It has everything that your nail art fanatic friend would love to have.
It includes 5 Nail Stamping Plates, 1×15 ml Liquid Latex Tape, 2 Stamper, and 2 Scraper.
The plates are made of stainless steel, durable enough for long use.
The peel-off tape saves time and effort, preventing mess after nail art.
Conclusion
Nail art is never going out of style. In fact, with every new design, nail art is getting closer to the hearts of women worldwide. If you think nail art is expensive, a nail stamping kit is your go-to solution. Pick any of these best nail stamping kits and create sensational designs on your nails.
You Might Also Like: