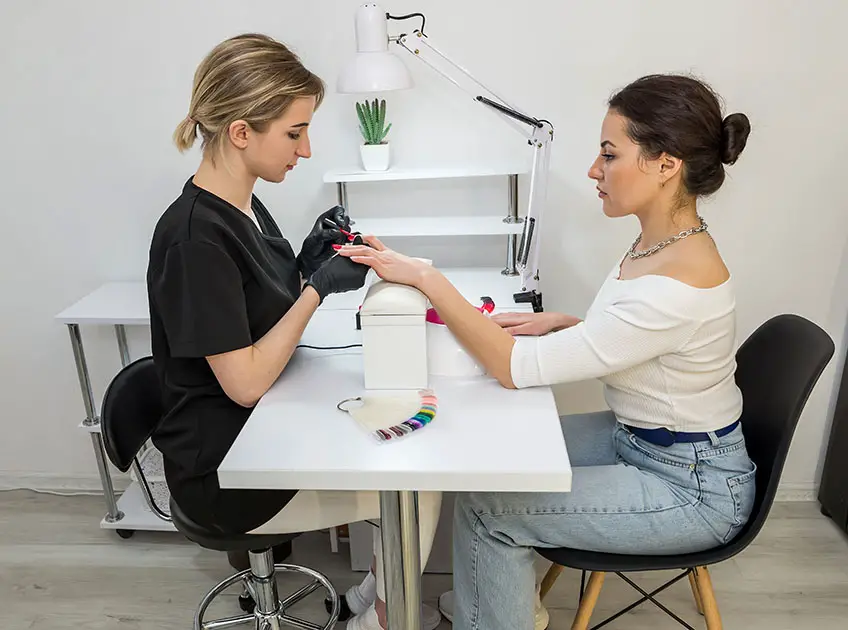 If you are also one of those who are not able to tell exactly what they want, especially at the salon, you are not alone!
Communicating what's running in the mind requires skills, and everybody doesn't have that. It is the reason why most people leave the salon with nails that they are not happy with.
If you feel the same, we are here to guide you. The major reason people cannot tell what they want is a lack of information. Until you do not know the names and techniques used at the salon, how will you communicate with the nail tech? It causes miscommunication and confusion. Therefore, accustoming to information is essential before heading to the nail salon.
A few tips to keep handy are-
Know what you want before talking with your nail tech

Research different types of nails and techniques

Be friendly with your nail tech and explain patiently

Do not ask something that seems too demanding or impossible
Telling The Nail Tech What You Want
If you are visiting a nail salon for the first time, you must be very clear about your expectations. You are new in the salon, and the nail technician does not know your preferences. So you have to be very precise while telling him about your needs.
Things That You Should Know Before Going To The Salon-
Different Types Of Nail Services
Nail techs offer different types of nail services that you should know in advance. These are-
Gel Nails- For a glossy and smooth finish, you can go for gel nails. The gel is applied directly on the natural nails or onto the extensions on the natural nails. It involves applying a base coat, a color coat, and a topcoat, wherein each coat needs to be cured under UV light.
Acrylic Nails- For this, a combination of powder and liquid is applied to the natural nails with a brush. Once the acrylic nails dry, they are filed to give a natural and finer look. Later, a base coat, color coat, and topcoat are applied to the nails.
Polygel Nails- They combine the goodness of both- gel nails and acrylic nails. They are cured with UV lights.
Manicure- Manicure is a hand beauty treatment that takes care of hands and nails, making them look neat and pretty. In manicure, the nails are cut, filed, shaped, cuticles are pushed back, and nails are made neat and beautiful. The nail tech can apply nail paint after manicure if you wish to.
These are the common nail services you can get at a nail salon. Apart from these, you should also know a few more things like-
Shape of Nails- Nails can be filed into different shapes- round, square, stiletto, coffin, and many more. You should decide what shape you want your nails filed into. Research before visiting the salon to tell the nail tech what you want.
Color of Nails- At the salon, you can find an array of shades that often gets overwhelming to decide. Therefore, choose in advance to save your time at the salon. You can look for inspiration on different websites like Pinterest and Instagram, or you can simply go with matching outfits, shoes, or accessories.
Design of Nail- There are plenty of nail designs to choose from. You can let your nail tech do some freehand design or add some stones and glitters. Make sure you convey whether you want something simple or loud so that he or she can work accordingly.
[ Read: How To Can You Paint Over Acrylic Nails ]
Before The Appointment
It's normal to forget all the things you want at the nail salon. Therefore, we advise you to jot down the things you need on paper. You can take ideas from the internet and take a screenshot of pictures for reference. It will help you be clear on your needs, and you can convey them properly to your nail technician.
How Important Is It To Find A Good Nail Technician?
Nail art is a skill that needs professionalism and experience. If you visit a salon that lacks experienced and skillful nail technicians, the result may not impress you. At the same time, it could damage the nails too. Therefore, it is critically important to find a good nail technician. You can look online and read the reviews before deciding.
Give heed to cleanliness, hygiene, friendliness, patience, and someone happy to fix mistakes. Ask your queries and resolve your doubts. Do not hesitate even if you sound foolish; you are not a nail technician!
Remember, you can get good results only when you tell the nail tech what you want.
You Might Also Like: