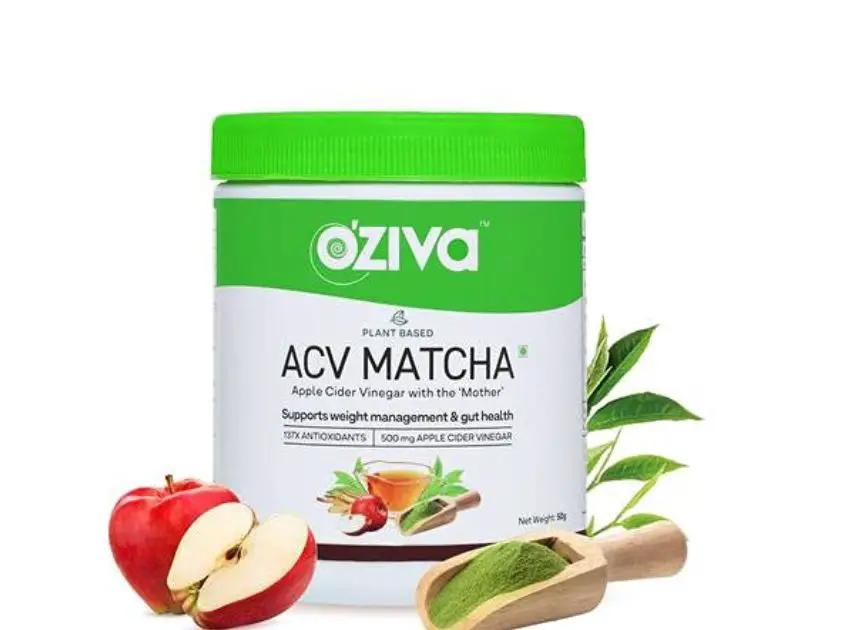 A healthy gut implies a healthy immune system. When your gut is healthy, your body is able to ward off infection-causing agents like viruses, bacteria, and fungi. In fact, it is believed that 80% of your immune system is in the gut. Therefore, keeping it healthy and well-functioning is extremely important.
Apart from keeping the immune system well, a healthy gut also helps in metabolism that keeps your weight managed. While many people indulge in different diets and intense workouts, it is important to know that keeping your gut health alone can curb a lot of health issues, including weight management.
Your gut also communicates with the brain through nerves and hormones that maintain general health and well-being. When there are so many benefits of a healthy gut, why not make efforts to maintain it. Therefore, today we have come up with an interesting product from Oziva- Plant-based ACV Matcha, which maintains gut health and works on metabolism and weight management.
Product Review
Plant-Based ACV Matcha from Oziva consists of natural ingredients that help in your well-being without showing any side effects, and this is what we like the most about it. The antioxidant properties of Matcha and Apple Cider Vinegar with the Mother make it worth giving a try.
Another thing that makes it better is it helps not only to improve your digestive system but also work on issues related to skin. The results are promising as the gut health improves, which reflects in good metabolism and healthier skin.
Apart from these benefits, Oziva ACV Matcha also regulates the blood glucose level that aids in maintaining the proper body weight. Being free from gluten, soy, GMO, and artificial sweeteners, the worth of this product increases.
Product Description
The presence of plant-based ingredients makes this product worth giving a try. It is a powder blend that consists of apple cider vinegar, ginger, and licorice- everything that fights off health issues and improves metabolism. Organic Matcha is rich in antioxidants that keep the skin healthy.
From weight management and blood glucose regulation to improving skin health and enhancing digestive powers, this product gives promising results. Organic Matcha Powder works wonders in promoting healthy growth.
To take Oziva ACV Matcha, take one scoop of powder and gulp it 20 to 30 minutes before the meal. You need to do it for at least two to four months to get the desired results. Since all the ingredients of the product are natural and herbal, the chances of side effects are very low.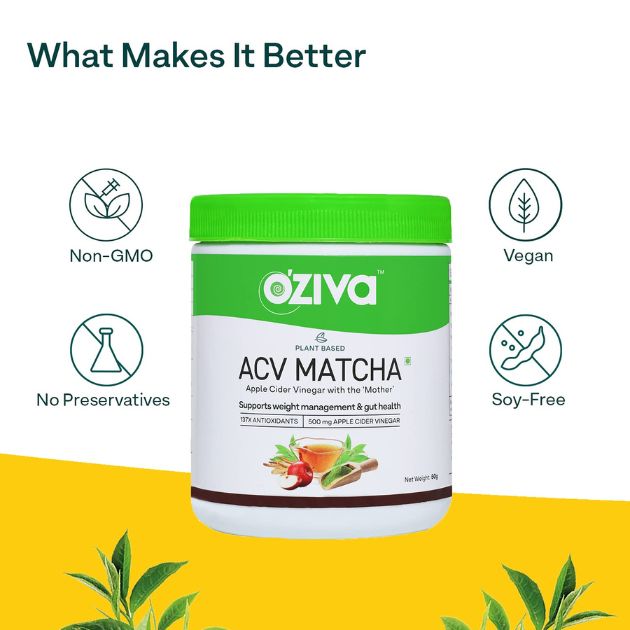 Nutrition Facts
The best thing about Oziva ACV Matcha is the presence of natural and plant-based ingredients. In fact, ACV stands for Apple Cider Vinegar which is the major ingredient. Check out the nutritional benefits of the plant-based components present in Oziva ACV Matcha.
Apple Cider Vinegar helps in improving metabolism and weight management.
Licorice promotes digestion and keeps the gut healthy.
Ginger improves skin health by rejuvenating and refreshing it. Also, it helps to reduce dark spots, pigmentation, and blemishes.
Pomegranate powder improves the skin tone and makes it flawless.
What We Like
It is a chemical-free product, highly effective in maintaining gut health.
Every ingredient of the product is plant-based.
It is soy-free and non-GMO.
There are no preservatives or artificial sweeteners.
It is completely vegan, making it suitable for all types of people.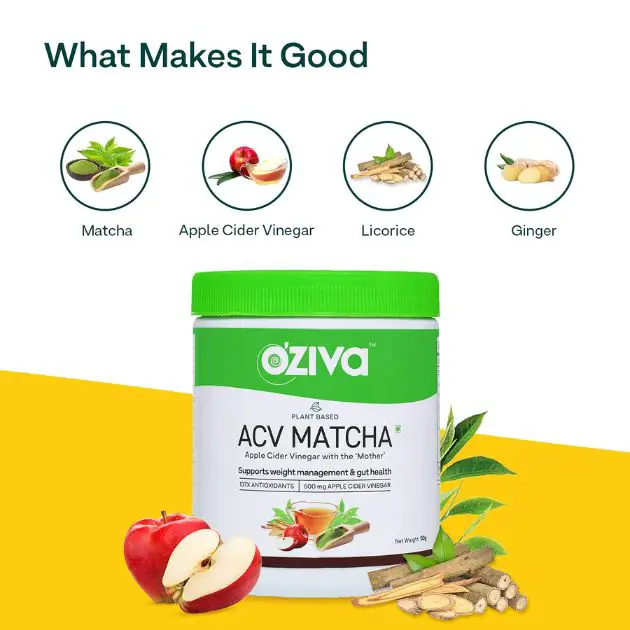 What We Don't Like
The results of Oziva ACV Matcha are not evident until you take it for at least two to four months. Since it is a completely natural and plant-based product, it takes time to act on gut health and improve it.
How Much Does Oziva ACV Match Cost?
The regular price of Oziva ACV Matcha is Rs. 499/- but you can get it at its sale price of Rs. 449. Always buy Oziva products from trusted sources like its Oziva website or Amazon.
List Of Alternatives
Conclusion
Gut health is essential to strengthen the immune system. Once your gut health is in shape, plenty of other health issues start falling into place. For instance, your metabolism improves, your weight manages, and skin issues go away. You get radiant and glowing skin.
Switch to Oziva ACV Matcha for Weight Management, Metabolism & Gut Health.
Read More