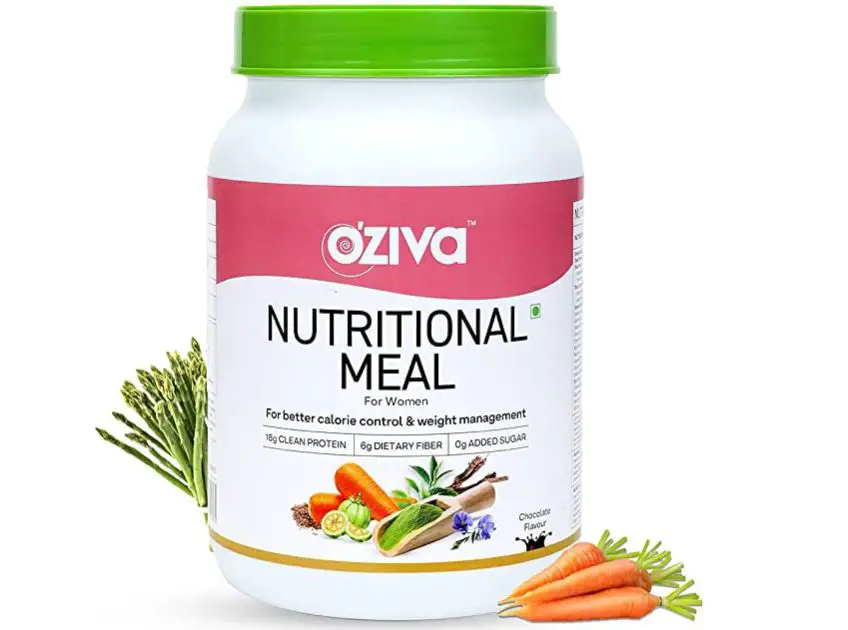 Protein is essential for developing lean muscles. It is an essential nutrient that aids in healthy growth and development. In spite of splurging into a healthy diet, intake of protein supplements or a nutritional meal becomes essential to furnish the nutritional requirements of the body, which is not fulfilled by food alone. Such supplements are essential for women to stay healthy.
Many companies have come up with nutritional supplements that keep the body fit. In the same context, today, we will be reviewing Oziva Nutritional Meal, made specifically to replenish protein deficiency, better calorie control, and weight management. Loaded with ayurvedic herbs, let's find out how promising this product is for women.
Product Review
Oziva's nutritional meal consists of plant-based proteins. It is a low-calorie and high protein meal replacement drinks that can help women healthily lose weight. The best thing about this product is the presence of ayurvedic herbs that helps in easing metabolism and improving immunity. Every herb performs a specific function that keeps all the organs healthy.
Another good thing about Oziva Nutritional Meal is balanced macro and micronutrients that will certainly replenish the deficiencies and make you fitter. Being a multivitamin and multi-minerals product, it is worth giving a try. Also, there will be no side effects due to plant-based protein and Ayurvedic herbs.
Product Description
Oziva Nutritional Supplement saves up to 500 calories and can be used as an effective meal replacement product to control calories and lose weight. It consists of 18g of protein and 6.4g of Dietary Fiber. Being a low-calorie and high protein supplement shake, it is one of the best for everyday intake.
Under Ayurvedic herbs, Oziva meal consists of Shatavari, Brahmi, Garcinia Cambogia, Ginseng, Flax Seeds, Green Tea, Carrot, and many more. Each of these ingredients helps women in different ways and keeps them healthy.
Also, it furnishes the requirement of Iron, Zinc, Vitamin A, Vitamin D, Vitamin C, Biotin, and B-Vitamins, providing a perfect balance of macro and micronutrients.
All you need is to mix one scoop of Oziva Nutritional Meal in 200 ml of water and shake. You can also use a blender to mix properly. Your health drink is ready to slurp!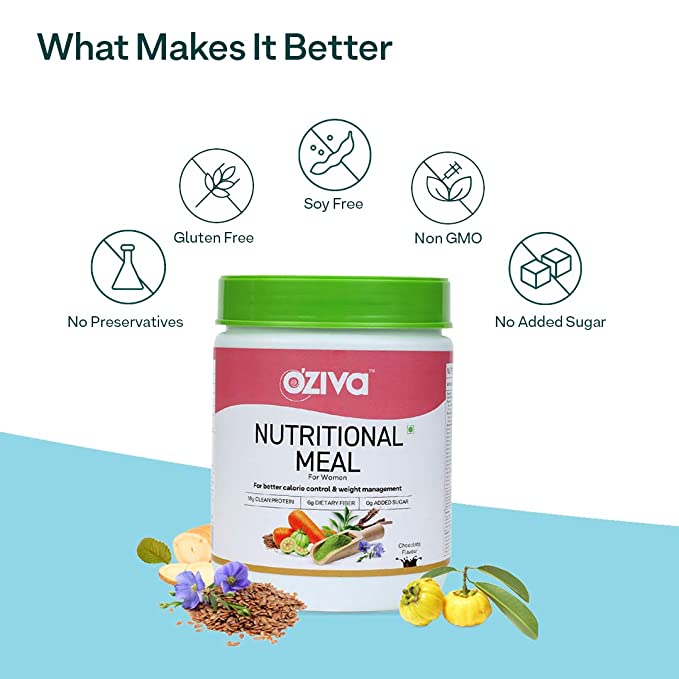 Nutrition Facts
Metabolism Blend- It consists extracts of Garcinia Cambogia and Green Tea
Multivitamins & Minerals- the different plant-based ingredients furnish Iron, Zinc, Vitamin A, Vitamin D, Vitamin C, Biotin, B-Vitamins
Digestive Blend- To aid digestion, this blend consists of Papain and Flax Seeds
Clean Protein & Fiber Blend- Whey Protein Concentrate and Chicory Root helps to supply fiber to the product.
Immunity Blend- Ayurvedic herbs and greens like Brahmi, Ginseng, Shatavari and Carrot strengthen the immune system.
What We Like
It is a chemical-free product, highly effective in controlling calories and weight management.
Every ingredient of the product is plant-based.
It is soy-free, gluten-free, and non-GMO.
There are no preservatives or artificial sweeteners.
It is completely vegan, making it suitable for all types of people.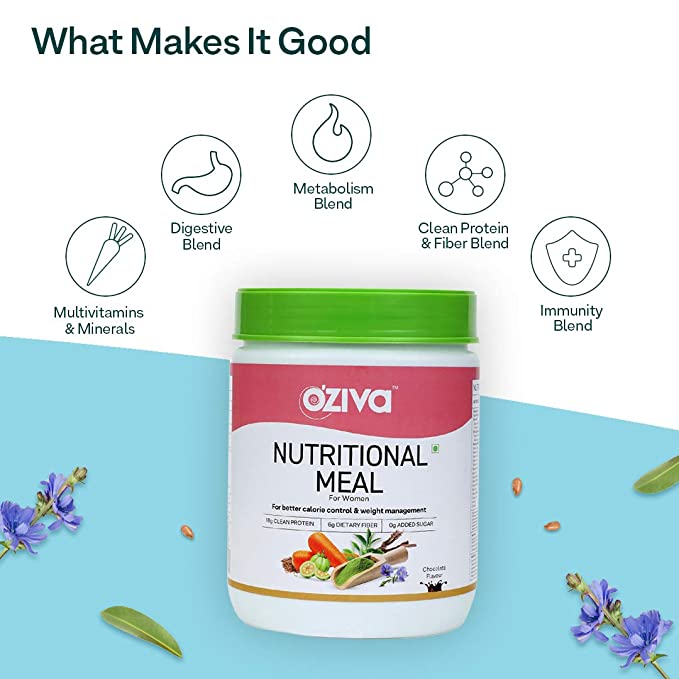 What We Don't Like
To see the effectiveness of the product, you need to take it every day. The ayurvedic herbs and plant-based proteins take time to process; however, the result will be ever-lasting. So, you need to be highly patient to see the desired results.
How Much Does Oziva Nutritional Meal Cost?
The regular price of Oziva Nutritional Meal is around Check Here. Make sure you buy it from the official website of Oziva or some other trusted source like Amazon to enjoy the benefits of sales and discounts.
Alternative Products
MuscleBlaze 18 g Protein Shake, No Added Sugar, Lactose Free, Weight Management – Click Here Know
BRITISH BIOLOGICALS Medislim Gold Weight Loss Drink, Meal Replacement Shake – Click Here Know
Herbalife Nutrition Personalized Protein Powder – Click Here Know
Mars by GHC Shilajit, Safed Musli , Gokshura & Ashwagandha Capsules For Immunity Booster – Click Here Know
Saffola FITTIFY Hi-Protein Slim Meal Replacement Shake – Click Here Know
Conclusion
Oziva Nutritional Meal is a healthy supplement consumed in the form of a shake. Loaded with essential nutrients, including protein, vitamins, and minerals, it helps to replenish the nutritional requirements.
It is a wonderful product for women struggling to lose weight as it helps to control their calorie intake and thus manage weight. The presence of Ayurvedic herbs is an add-on that makes Oziva Nutritional Meal one of the most effective and the best meal replacement shake for women of all ages.
If you are looking for some plant-based and healthy nutritional supplement to help you lose weight, go for it without any second thought.
Read More:
Oziva Skin Vitamins
Oziva Glutathione
Oziva Matcha Plus
Oziva Face Wash