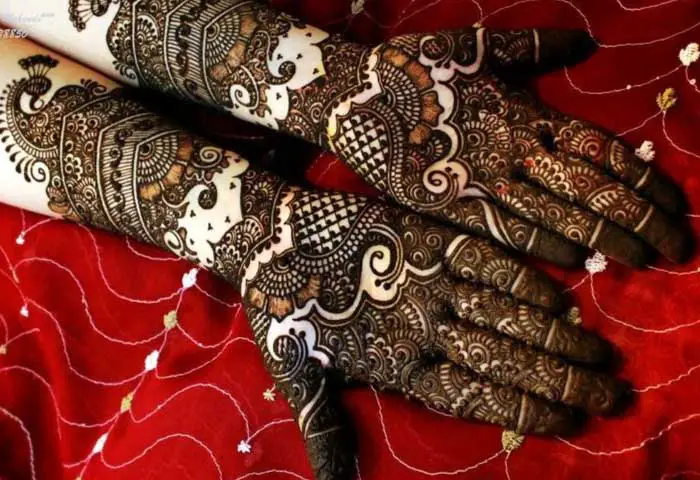 Every woman loves adorning mehndi for their special occasions. Some go for the traditional one, while others go with the trendy one. Traditional designs speak a lot more than a trendy ones. Among the traditional designs, Punjabi designs are loved by all. If you are the one who seeks a personalized Punjabi design to stun others, you've landed on the right spot.
Here, we've gathered a few unique and enormous Punjabi mehndi designs for you. Let's take a deep look at them.
20 Beautiful and Stylish Punjabi Mehndi Designs
1. Jaal & Heart Pattern Mehndi Design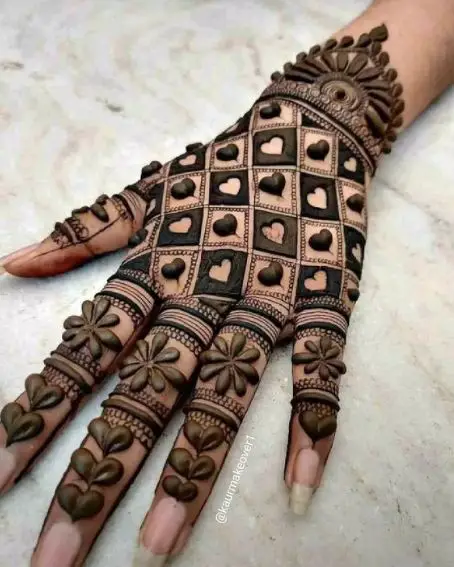 It is an extremely beautiful mehndi design that gives a lovely look to the wearer's hand. It is a Jaal pattern mehndi design filled with bold hearts and outlined hearts diagonally. The fingers are designed with bold shaded floral patterns and give a stunning look.
2. Back Hand Bracelet Pattern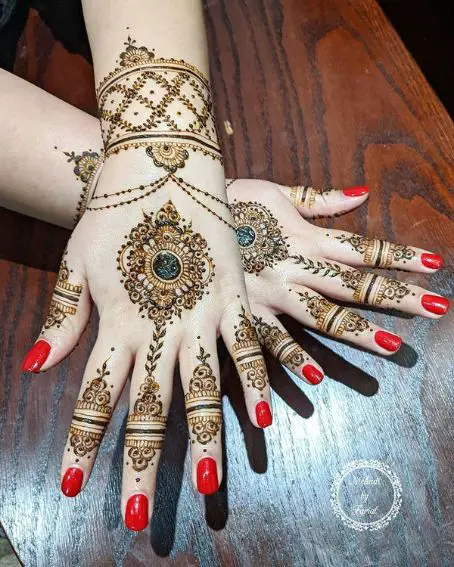 This mehndi design comes out with a leafy jaal pattern, like a bracelet. In the center, it is designed like a floral ornament pattern. The fingers are covered with swirls and leafy branches. Overall, it looks glorious when embellished in a woman's hands.
3. Traditional Elephant Motifs On Foot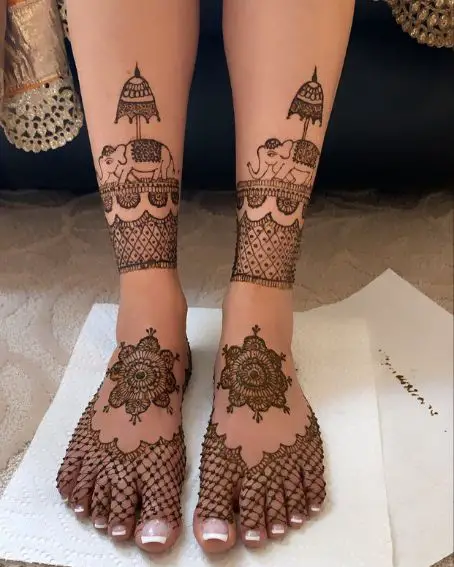 Elephants are majestic creatures. This wonderful foot henna comes with traditional elephant motifs, mandala designs, and criss-cross designs. It is one of the best Punjabi designs for brides.
4. Leafy Criss-cross Henna Design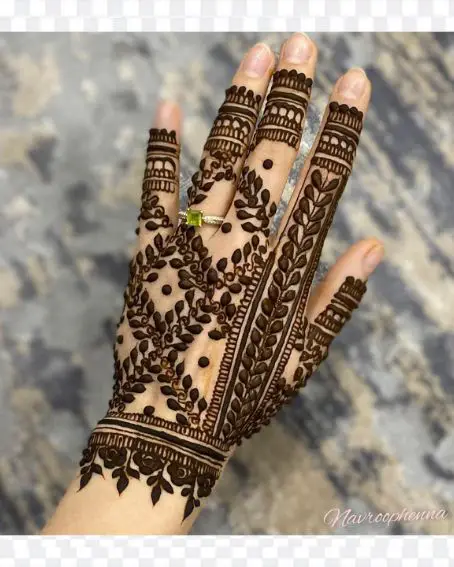 It is a simple mehndi design yet catchy. This design comes with a leafy pattern in a criss-cross pattern. The fingers are art-worked with straight and curved lines to make them more admiring.
5. Navratri Style Mehndi Design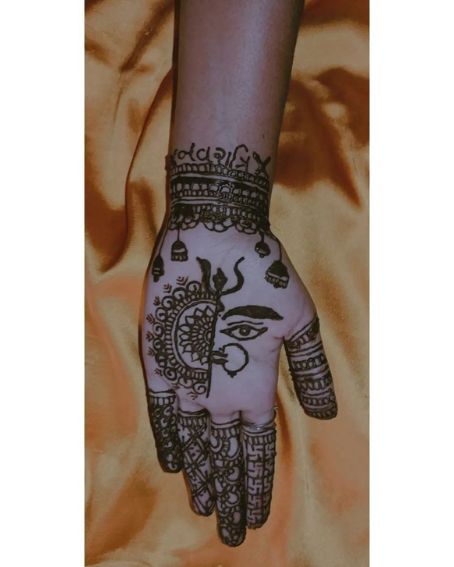 Navratri – the nide-day festival of worshiping Maa Durga. This design comes with devotional touch. It includes the art form of the goddess Durga, bells, and semi-mandala artwork. On the whole, it gives a devotee look.
6. Bell Embellished Mehndi Design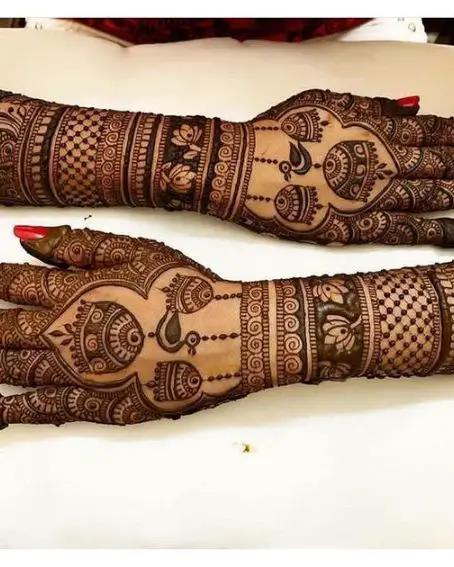 This admiring mehndi design is highlighted with the three bell motifs. Around the bell motifs, it is covered with swirl-floral patterns, lotus motifs, dotted criss-cross patterns, and meshwork. Whether going to a party or a special event, it suits all occasions.
7. Lotus Mandala Motifs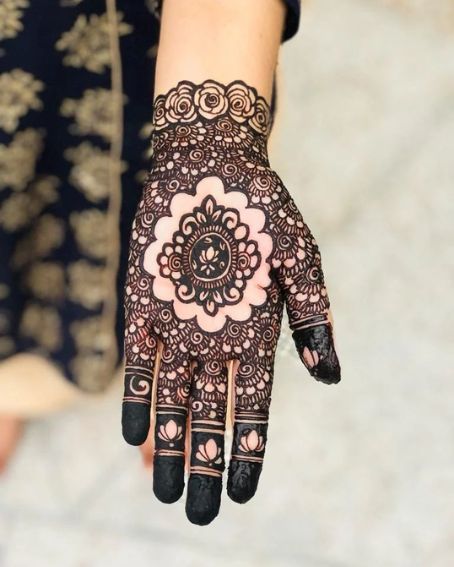 It is an amazing bridal wear mehndi design. The center of the palm is designed with the lotus mandala motifs, which is the highlight of the design. Around the motifs, it is filled with cute little swirl-floral patterns all over the hands. Get your hands filled with this design and rock your party.
8. Peacock Motifs Mehndi Design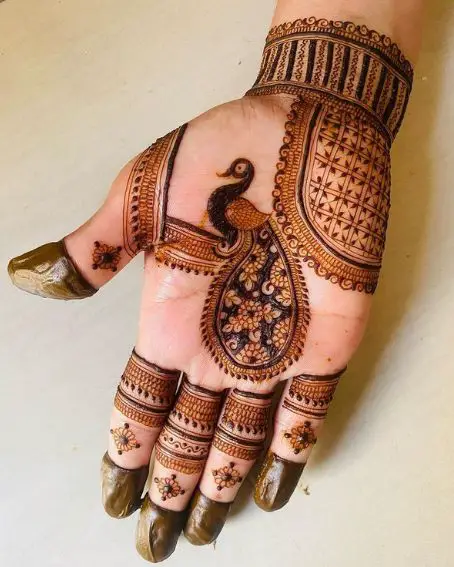 Peacock is one of the best motifs when it comes to henna design. This gorgeous design comes with a beautiful peacock and modern floral criss-cross pattern. The wrist is designed with a curve-shaped bangle pattern. Anyone can wear this for any occasion.
9. Elephant And Parrot Motifs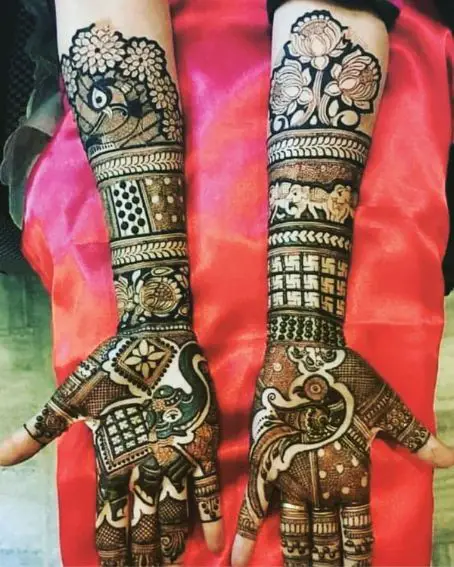 Punjabi designs always have some unique motifs. Likewise, this design comes out with a lovely elephant motif and floral-feathered peacock on the one hand. On the other hand, it comes with lovely parrot motifs, elephant motifs, and big floral motifs. As a bride, anyone can wear it without hesitation for their special day.
10. Modern Peacock With Leafy Arch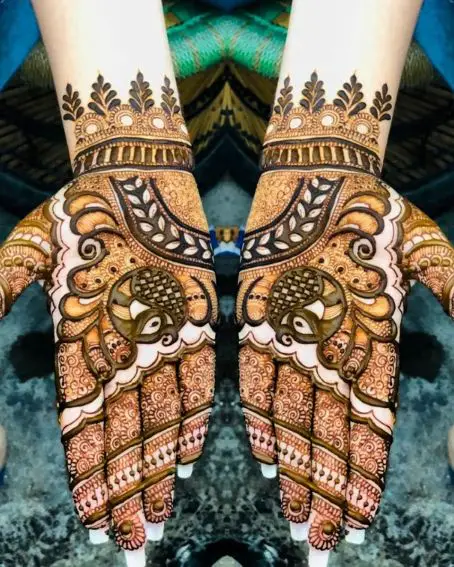 As we said earlier, the peacock always has a special place in mehndi design. This design has a feathery peacock and a leafy arch pattern on either hand. The wrist of the hand is designed with a leafy bracelet pattern. Just try it out for your special day.
11. Peacock Feather Motifs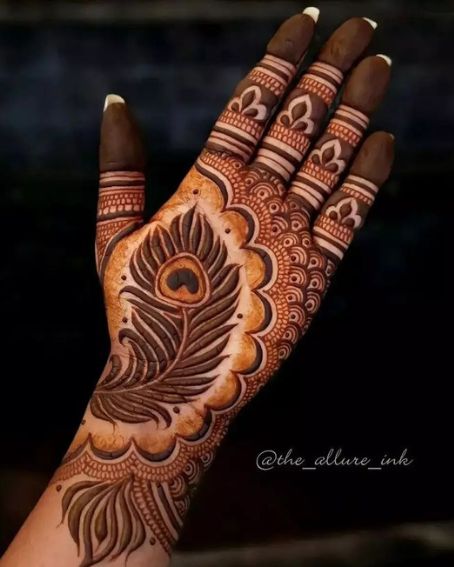 It is a special artwork. This loveable design comes with feathery peacock motifs as its main feature. The leftover spaces in the hands are filled with swirl patterns. On the whole, it gives a great look to the bride's hands.
12. Floral Mandala On The Feet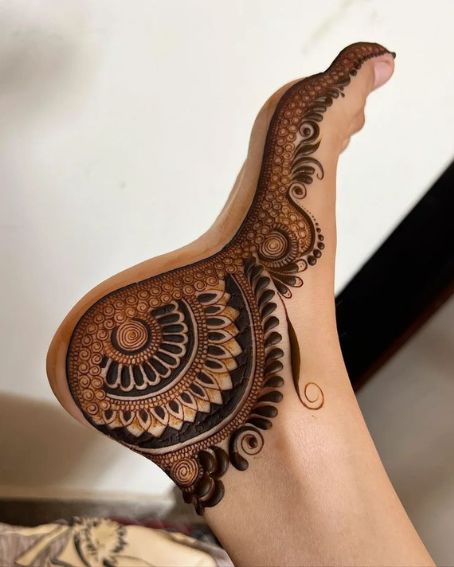 Every bride loves to wear mehndi on their feet when it comes to a special occasion. If you are the one, why don't you try this out? This design has cute little swirls and mandala patterns all over the feet.
13. Finger Mehndi Design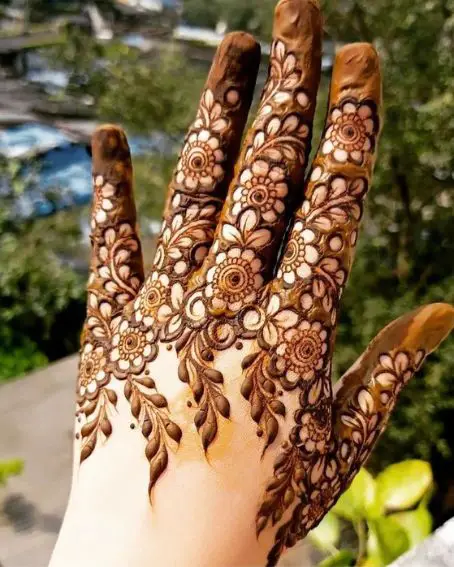 Not all people love to embellish their entire hands with henna. A few people love to add henna to their fingers. This will be a perfect one for them. It comes with blooming flower patterns all over your fingers.
14. Circle Mehndi Design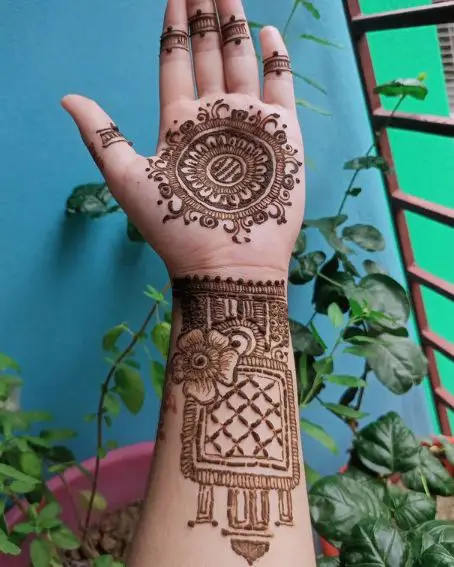 This circle mehndi design comes with flowers and swirls all over the palm. The fingers are designed with the ring structured format. Furthermore, the wrist of the hand is designed with the flower bracelet design to give an added look to the artwork.
15. Elephant Chariot Design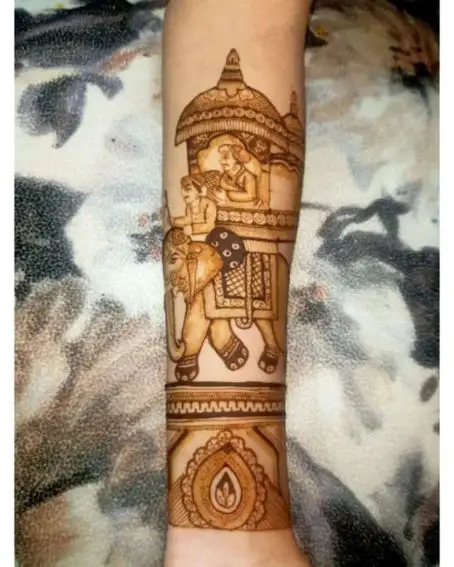 This is a traditional mehndi design. It comes with the elephant chariot, which resembles the king and rider traveling somewhere. This should be yours if you are a fan of old-age cultural art.
16. Bridal Punjabi Henna Design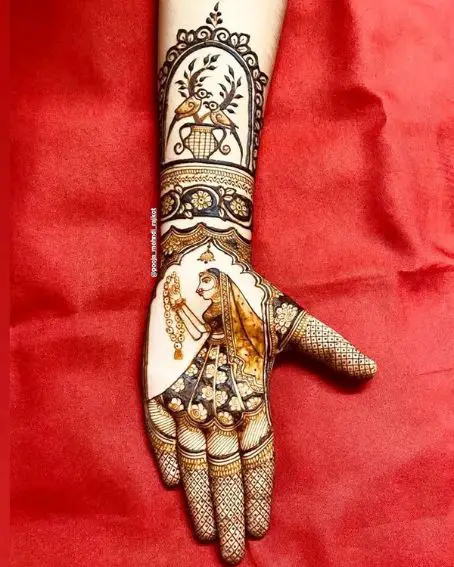 Every girl wishes to garland flowers on their loved ones. This amazing design comes with artwork that resembles a girl's flower garlanding. The base of the design comes with a couple of parrots standing on the vase. Overall, it gives an awesome look.
17. Dahlia Floral Pattern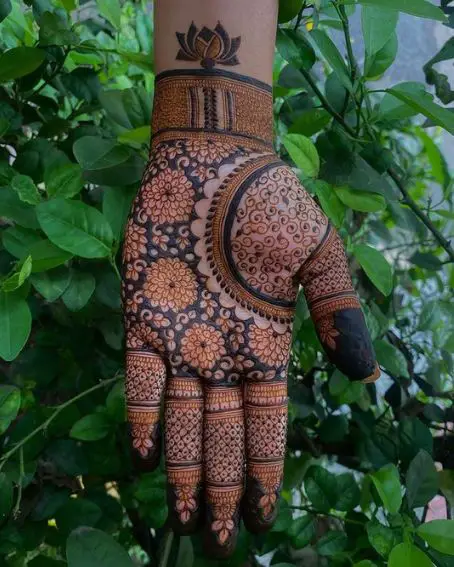 This floral pattern comes with a blooming dahlia all over the hands. Alongside it comes the swirls and lotus motifs on one part of the palm. It has a bangle pattern on the wrist to give a finished look. Get this design on your hand and make your hand look classy.
18. Jall & Floral Pattern On Foot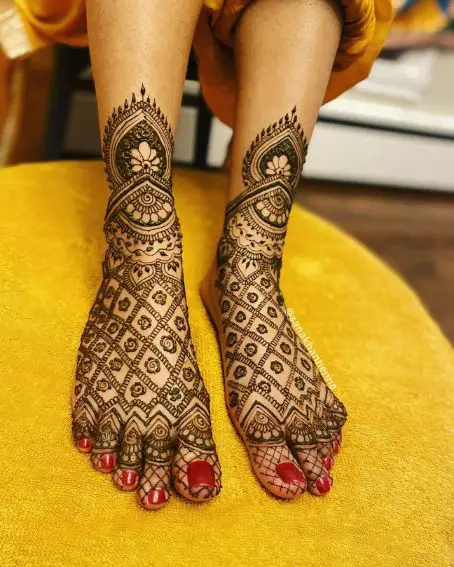 Ready to rock your special occasion? Still not sure which henna pattern gives a complete look on your day? This jaal pattern is a great one. It has a rose-filled structure and leafy branches that look mesmerizing on the legs.
19. Traditional Girl Design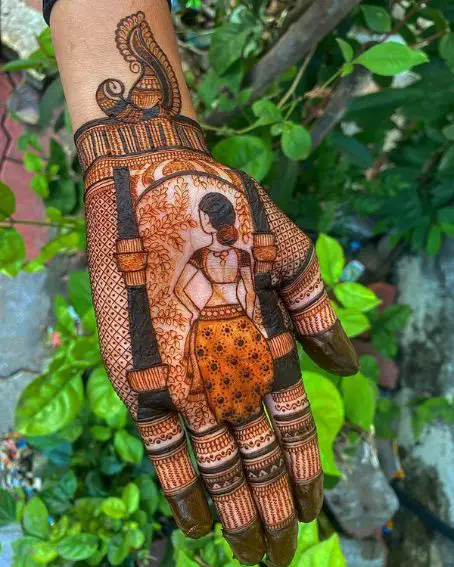 Not all people prefer flowers and creatures. Some people go with the latest designs. This is one of the latest artworks a person can wear to a special event. It comes with the traditional look girl with leafy branches, peacock motif, criss-cross patterns, and curved lines. Overall, it is a trendy design for your hand.
20. Cute Couple Mehndi Design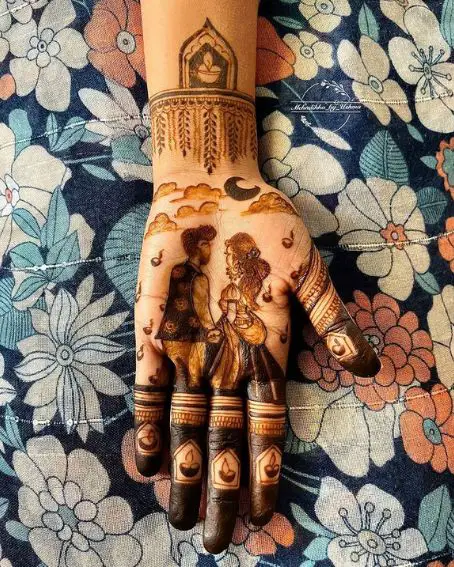 This is one of the special designs for brides. It features a couple standing in the moonlight. The free spaces of the hands are filled with lamp lights. Overall, it gives a lighting view to the hands.
You Might Also Like: