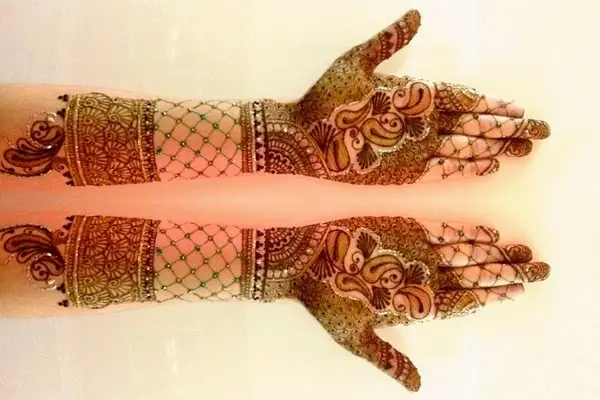 Traditional Mehndi designs primarily feature well-known henna patterns and works of art from older periods, but with a contemporary twist. There must be a lot of use of paisleys, peacocks, motifs, flowers, and mandalas in the mehndi design to create a unique style. Our galleries are equipped with the best mehndi design for you to explore. Some of the attractive latest designs are given below,
18 Most Popular Traditional Mehndi Designs for hands
1. Traditional Mandala Mehndi Design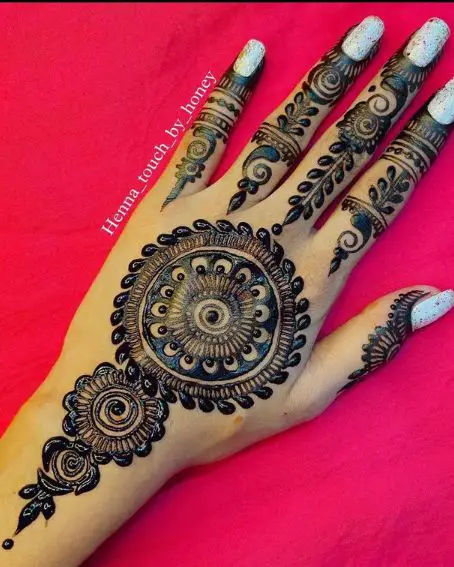 When it comes to traditional Mehndi design, the simple mandala pattern is a favorite for all. A mandala is a geometric design that creates ethical decorative elements. The fingers are finished with small spirals and leaves. It gives an elegant and contemporary appearance.
2. Simple Traditional Mehndi Design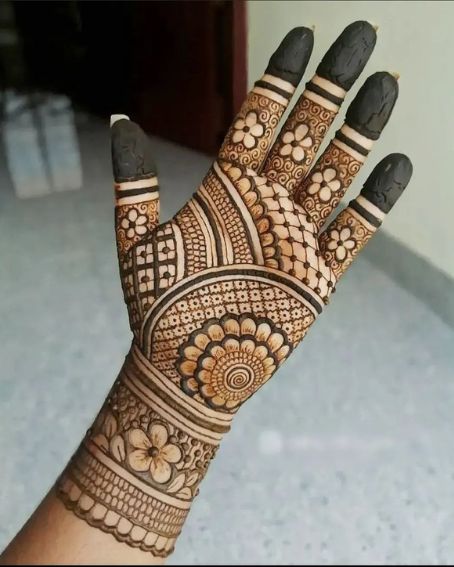 Looking for a simple traditional Mehndi design, then go with this traditional pattern that is a portrait etched in the center of the palm, and henna is filled in fingers tip. It keeps your look classic and conventional.
3. Detailed Traditional Mehndi Design For Hands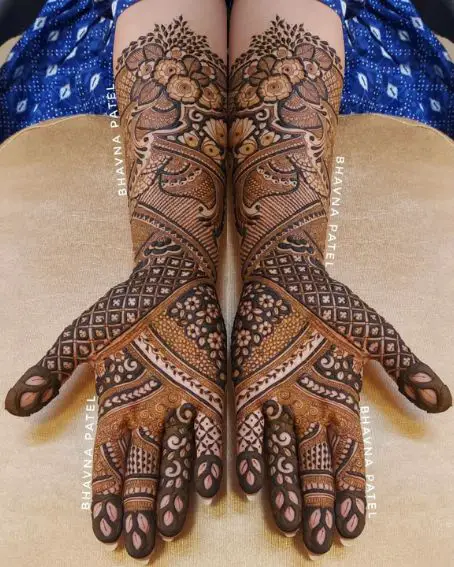 In this Mehndi design, the patterns are so detailed and give a clear-cut structure. It includes small flowers, spirals, dotted beats, etc, the fingertip is designed with leaves. This Mehndi pattern is gorgeous, and stunning with its thick, tiny leaves as well as dots.
4. Floral Traditional Mehndi Design For Hands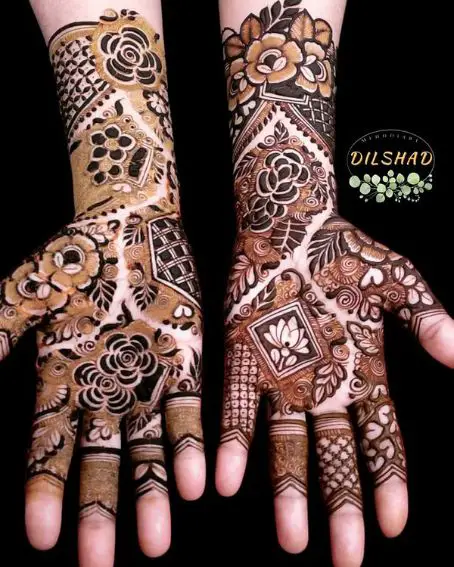 Here's a new floral traditional Mehndi design that we just can't get enough of! If you like to keep it simple but elegant, try taking inspiration from this portrait-inspired front Mehndi design. This is a stunning choice for minimalist flowers covered full hand.
5. Rose Motifs Traditional Mehndi Design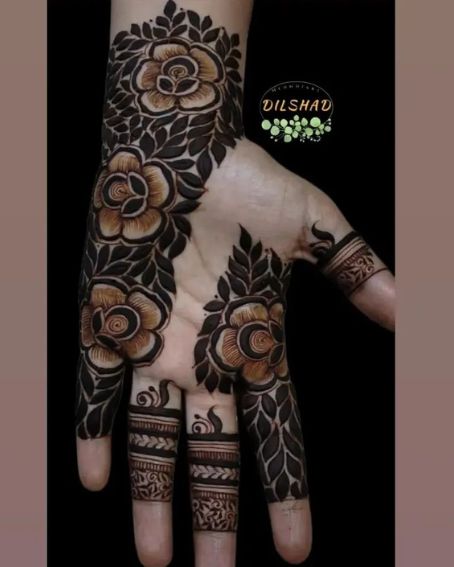 This traditional Mehndi design is full of rose motifs. Your palm is highlighted with detailed rose motifs and other areas are covered with leaves. Once applied, it forms a beautiful look and gives awe vibes.
6. Traditional Elephant Mehndi Design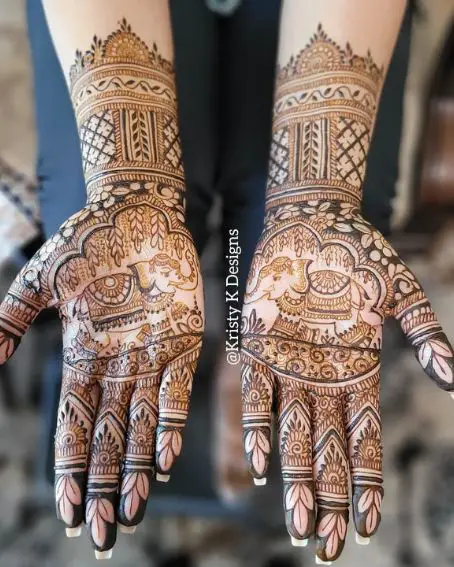 This traditional elephant Mehndi design is flawless. The Center of the palm is designed with an elephant with more ideal elements. This design is extremely elaborate and unconventional punch.
7. Red-colored Simple Mehndi Design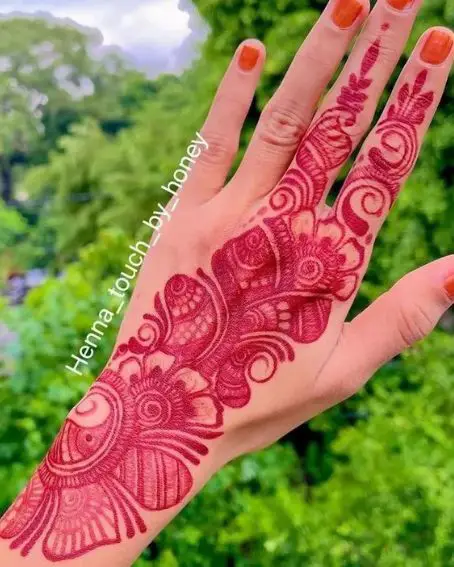 You may be bored with your regular Mehndi designs and want to do something different. This is the one for you which is suitable for all kinds of occasions. The red color Mehndi is a unique one and gives a pretty look.
8. Full Arm Traditional Mehndi Design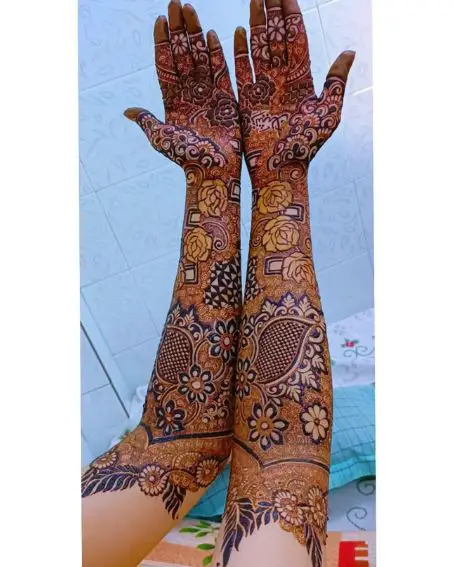 This is one of the most gorgeous full-arm Mehndi designs and it had to be on your mehndi list. It makes incredible use of the full arm space to create this impressive artwork. It is the combination of all elements which is innovative and also exhibits modern vibes.
9. Traditional Wedding Mehndi Design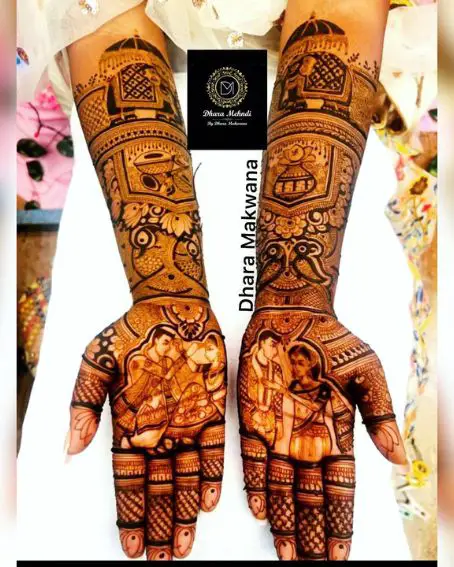 Head over heels in love with this traditional Mehndi wedding design that includes pretty portraits of maharaja, maharanis, and elements of all wedding requirements. It is the perfect choice for the bride but time-consuming and although it is a flawless one.
10. Full Hand-covered Traditional Mehndi Design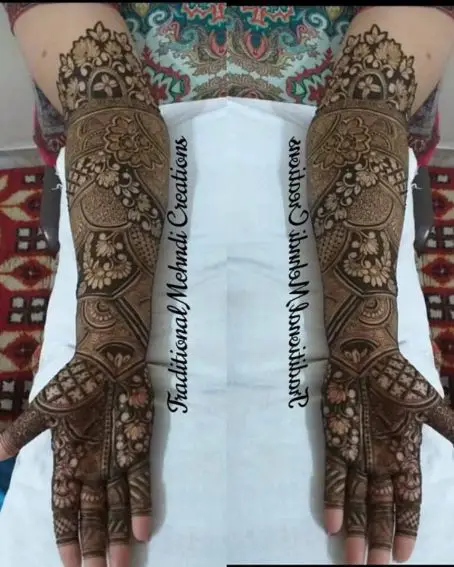 This is one of those full-hand Mehndi designs that is just dripping with magnificence. Additionally, this design exudes a regal air, which adds to its impressiveness. The light and dark mehndi strokes create wonders.
11. Black Traditional Mehndi Design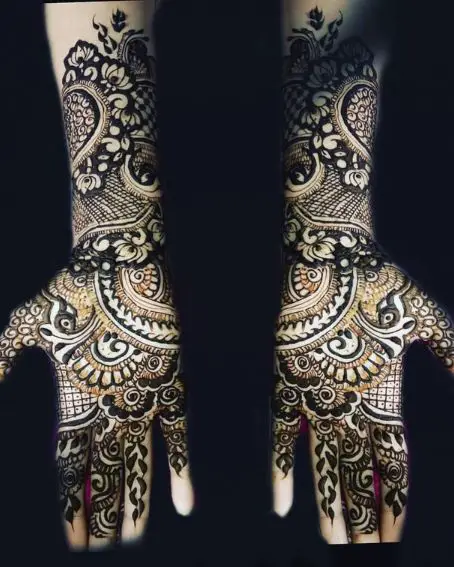 Here, you can find black henna which can give you an awesome and stunning look. It covered full space with different patterns. It has a gloomy academic vibe, but the desi version is fantastic.
12. Back-hand Traditional Mehndi Design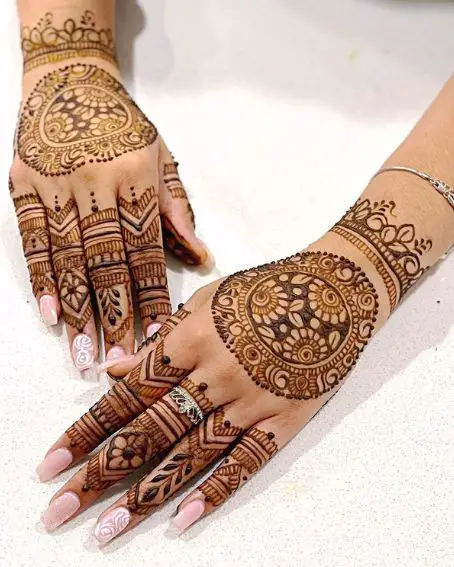 The backhand traditional Mehndi design is not covered the full area. The minimal artwork is done. It gives a simple and classic vibe. The fingers are designed with thin and thick lines, and the center of the hand is designed with a mandala floral pattern to give a contemporary appearance.
13. Traditional Mehndi Design For Fingers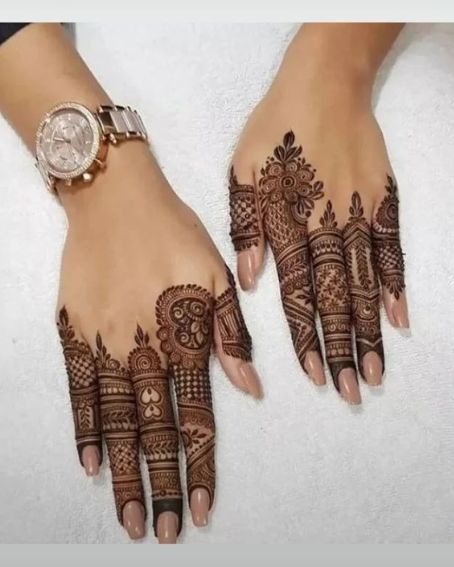 It is an intricate detailed fingers pattern traditional Mehndi design is something different. It includes a floral pattern, leaf design, and mixed of more lines and grids. It looks spectacular and quite attractive.
14. Traditional Mehndi Design For Brides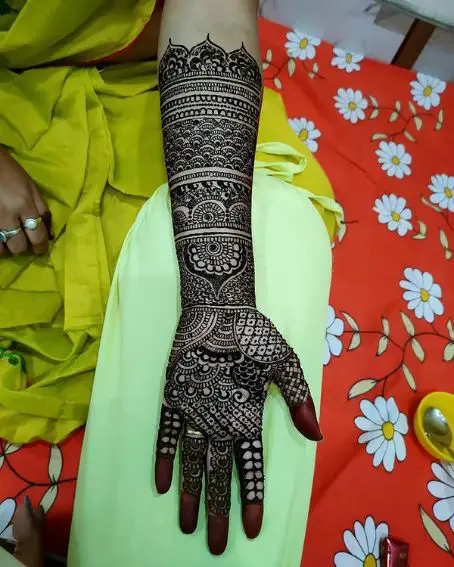 If you want the best of the traditional world, choose a lovely bridal Mehndi design for complete hands that captures your wedding story with the most exquisite Indian wedding components. It is a really beautiful presentation and offers a rich look to the bride.
15. Traditional Arabic Mehndi Design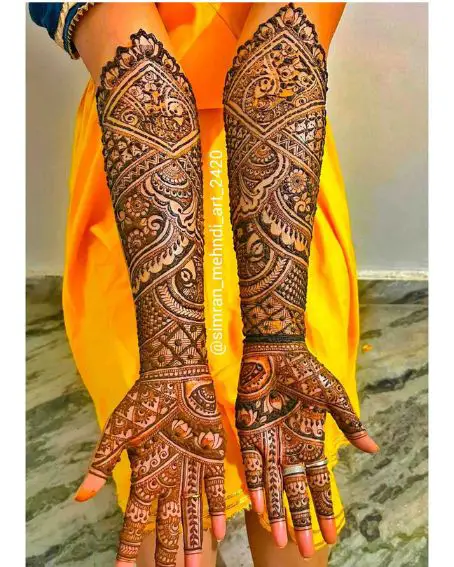 This is one of the Arabic Mehndi designs which may look easy at first glance but are created with eccentric patterns. To put it briefly, it has a strange design with an unexpected punch. It is extensively detailed elements on the whole hand create an amazing look.
16. Traditional Mehndi Design For Festive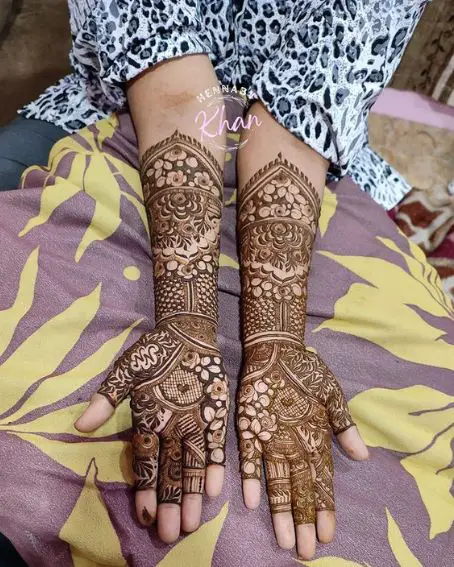 Mehndi designs for full hands are a necessity for weddings, but they are also an important part of many Hindu festivals such as Navarathiri and Diwali, etc. This design will fit well within the festivities of those days and give a celebration vibe.
17. Peacock Traditional Mehndi Design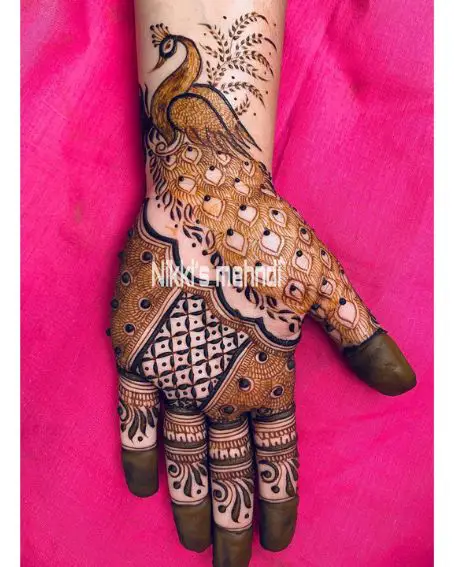 When it comes to traditional mehndi designs, the peacock pattern never fades out of the trend. A beautiful peacock mehndi design is the perfect choice for engagement or your wedding ceremony. It is an amalgamation of both traditional and modern vibes.
18. Paisley Pattern Traditional Mehndi Design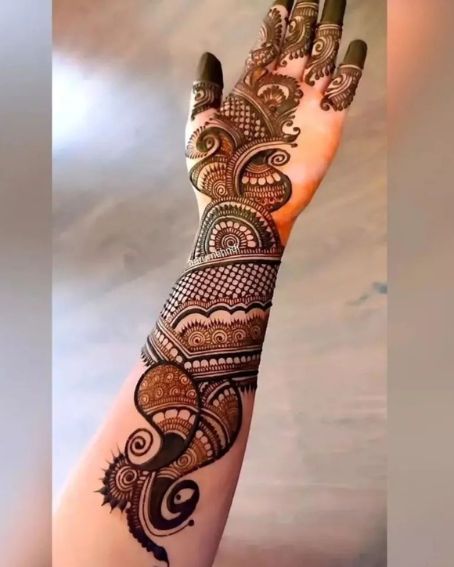 Traditional Mehndi designs here include paisleys which are classic, chic, and elegant and never go out of style. This Mehndi design serves as a unique example of how adaptable the paisley pattern is.
You Might Also Like: