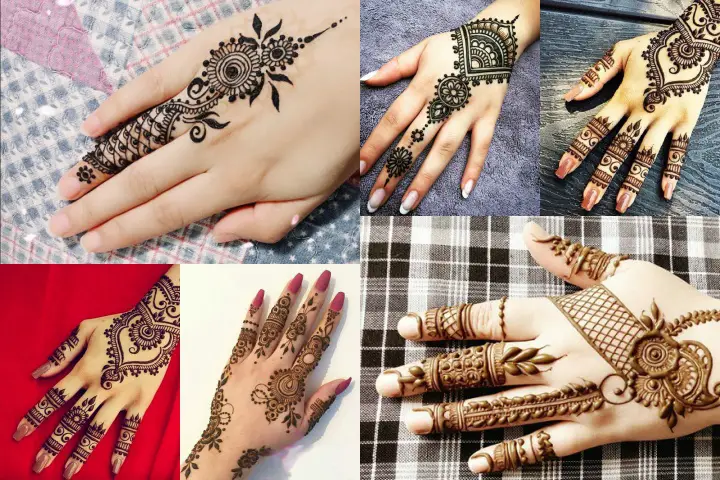 Sometimes people don't like to fill their hands with mehndi. Many people like to art their fingers with mehndi designs to match the trend and fashion. From simple to complex, numerous mehndi designs and patterns are available in this blog. If you are one of those who seek a trendier design, take a look at the blog.
20 Latest & Stylish Finger Mehndi Designs for Back Side
1. Same Pattern Finger Design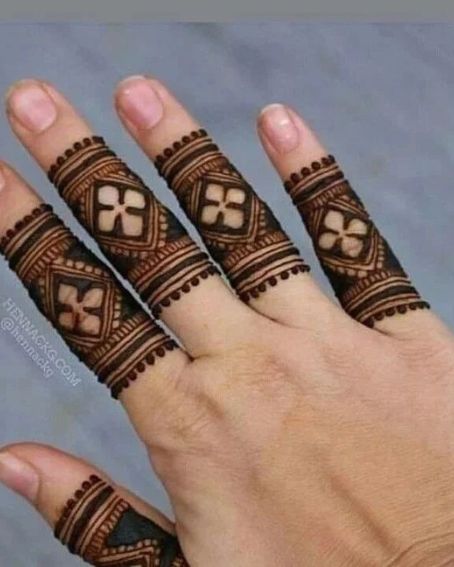 Sometimes, you don't have to do much design on your finger. Just adorn your fingers with intricate mehndi patterns. This design has lines, swirls, and diamond-shaped four-petal flowers as its pattern. This pattern gives a pleasant look to your fingers.
2. Multiple Design Mehndi Design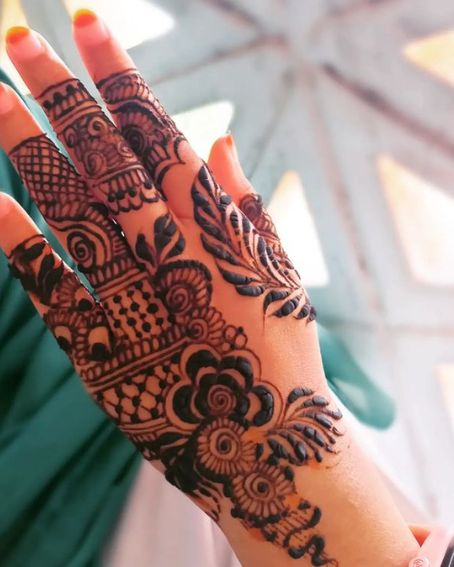 This finger henna design is one of the best things to create a magical look. Each finger is designed with a leafy pattern, crisscross pattern, thin & thick floral pattern, and swirl pattern. All these design structures make the art look more unique.
[ Read: 40 Most Amazing Arabic Mehndi Designs ]
3. Bridal Backhand Design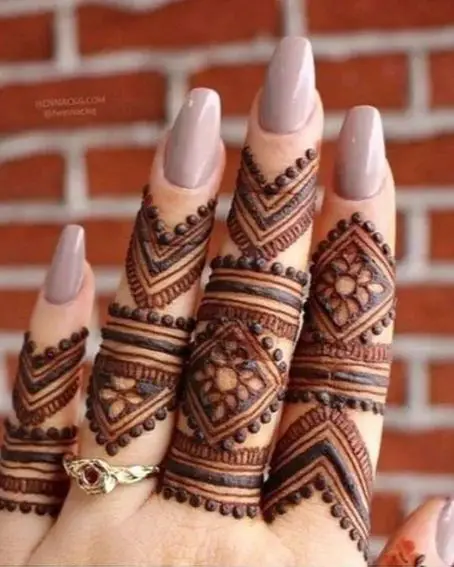 It is one of the ideal bracelet pattern mehndi designs for brides. It should be your choice if you want to keep your henna simple with elegance. The entire design looks like a tattoo when you add it to your fingers. The geometrical shapes and lines in the art will give a rocking look.
4. Simple And Unique Mehndi Design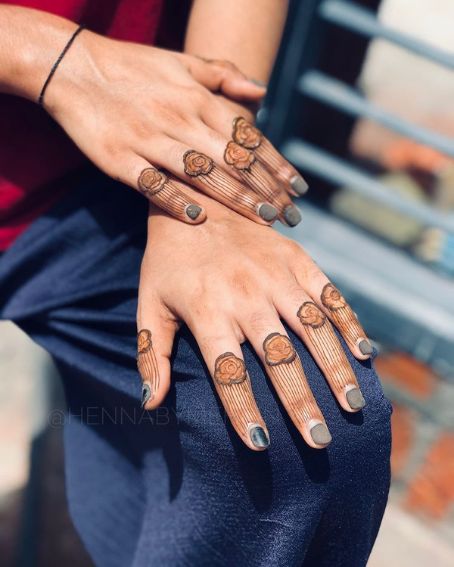 Bored of lines and swirls? Need something unique henna design for your fingers? This should be the one. This design has a lovely rose that hangs from your nail edge. Make this creative design yours.
[ Read: Black Mehndi Designs ]
5. Intricate Mehndi Design For Back Finger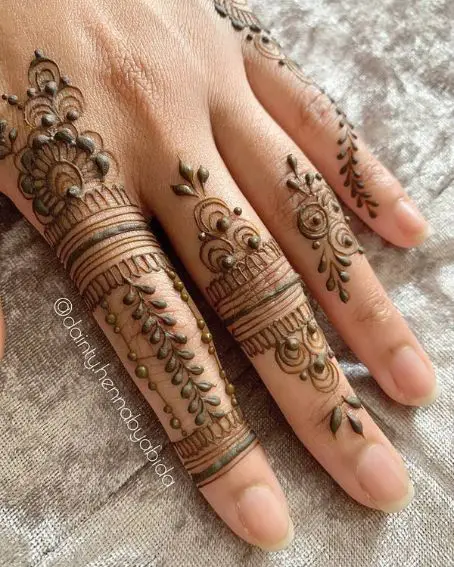 This intricate design is something many people love to adore. Each finger can be designed with different intricate patterns. It includes lines, flowers, leaves, swirls, and dots. All these together give a mesmerizing look to your mehndi work.
6. Heavy Finger Mehndi Design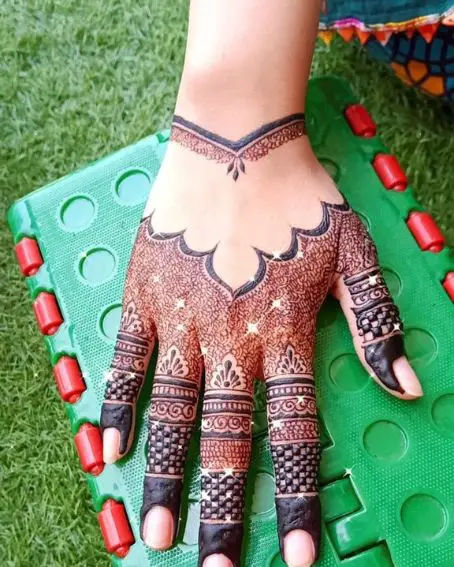 You'll like this design if you like thin and thick mehndi patterns. This design has a crisscross pattern, block patterns, and various other intricate patterns. Altogether, it stuns your hand with creative artwork.
7. Valentine's Special Finger Mehndi Design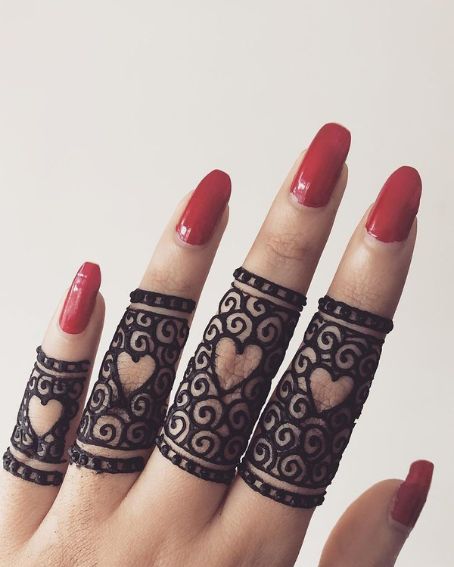 If you wish to add some elegant design to your valentine, consider choosing this design. It is a heart pattern that is bordered with a delicate swirl pattern. The heart is left empty to highlight its beauty of it.
8. Flower And Leaf Mehndi Design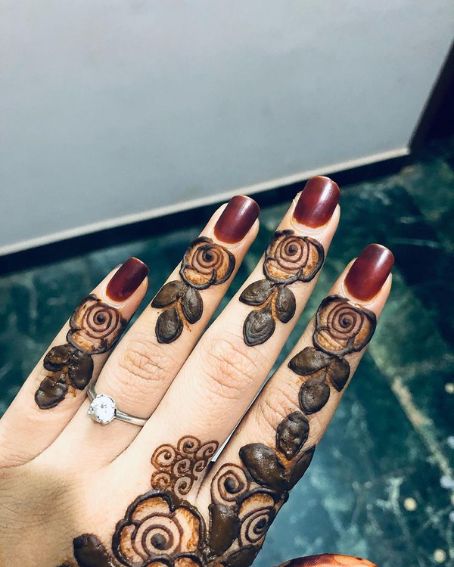 Without floral patterns, mehndi is incomplete. This finger design has a beautiful rose-structured pattern with a three-petal leaf on its edge. The leaves are filled with henna to give a bold look, whereas the roses are designed in a shady pattern. Altogether, it shows a unique look.
9. Unique Mehndi Design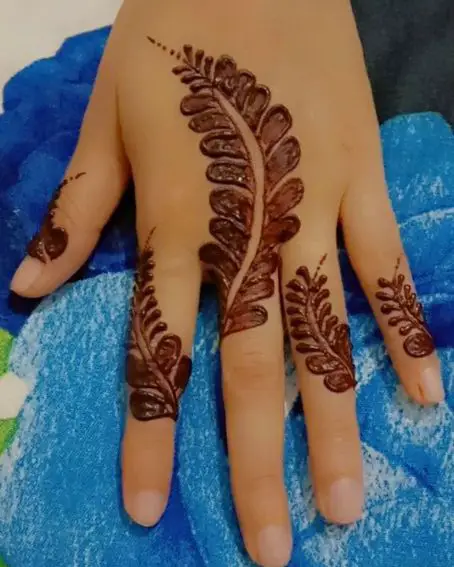 This design is something unique to adore on the fingers. This design features a small or big feather-shaped leafy pattern on each finger. Though it looks simple, it will be more graceful when you add it to your fingers.
[ Read: 30 Beautiful Back Hand Mehndi Designs ]
10. Star Designed Mehndi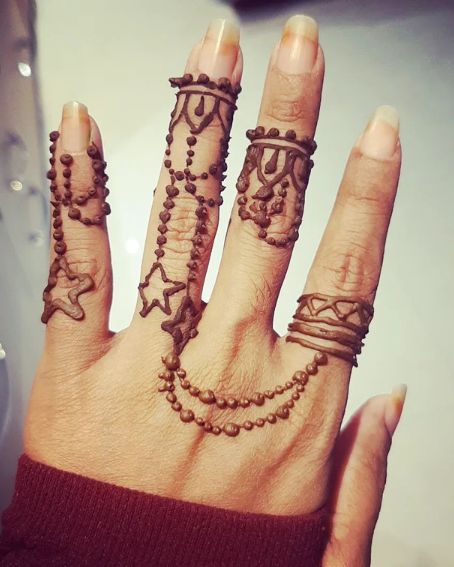 Are you the one who loves geometrical shapes like stars, triangles, and lines? This will be a perfect match for you. People always like to go with the trendy one. This design is trendy to wear. It comes in many different shapes and gives a classy look to your hands.
11. Leafy Trail Finger Mehndi Design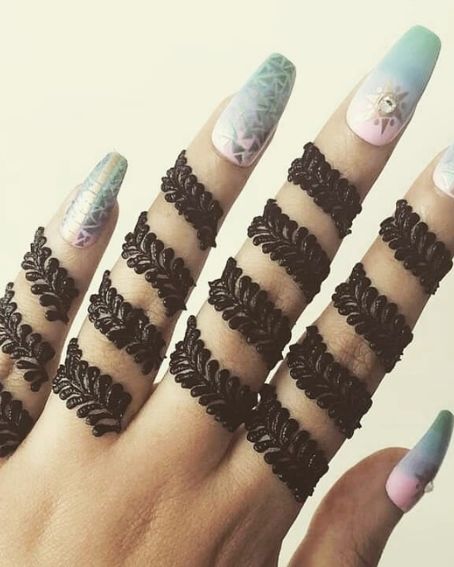 This is one of the favorite designs for many people. This mehndi design comes with a bold leafy trail in a ring pattern. It is outlined nicely, giving your fingers a tremendous look.
12. Middle Finger Simple Mehndi Design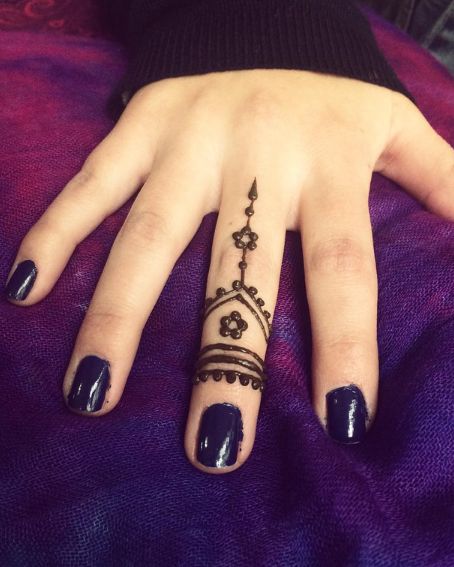 Some people usually love to design only one finger with henna on their hand. If so, this can be a perfect choice. It has geometric shapes and star-shaped patterns that may look simple but gives a fashionable look.
13. Black Henna Finger Mehndi Design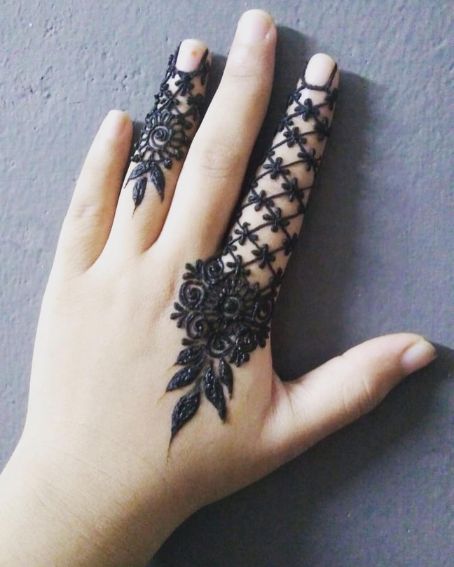 Black is always a favorite for many people. This henna art comes with a crisscross design and swirl-floral pattern. You can add this design to any of your fingers. It gives an amazing texture to your hand.
14. Latest Finger Mehndi Design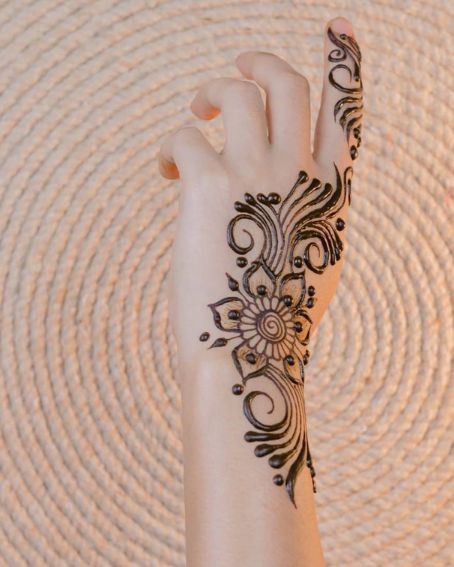 Do you like something unique with a traditional pattern? Yes, this mehndi design is created with the latest fashion trend. This design has a traditional floral pattern with bold swirl connectivity and a unique modulation. I'm sure you'll love this pattern.
15. The Sheer Beauty Of Mehndi Design
This mehndi design is known for its simplicity and sheer beauty. It is a unique henna design that gives a dazzling look to your fingers. Instead of designing a complex artwork, you can try this new pattern on your fingers.
16. Elegant Backhand Mehndi Design
Do you like bold and thin henna designs in the backhand? This elegant henna design comes with swirls, floral patterns, and floating leafy patterns. The boldness of the design gives added beauty to the design.
17. Leaf With Tiny Dot Mehndi Design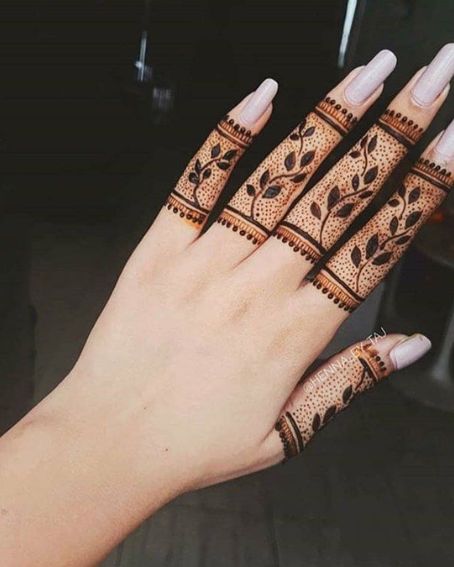 Why don't you try this out if you wish to wear a cute leafy design on your finger? This design has a top and bottom ring pattern. The space left between the rings is designed with a leafy pattern filled with tiny dots. Altogether, they look more adorable.
[ Read: 20 Inspired Foot Mehndi Designs ]
18. Side Finger Mehndi Design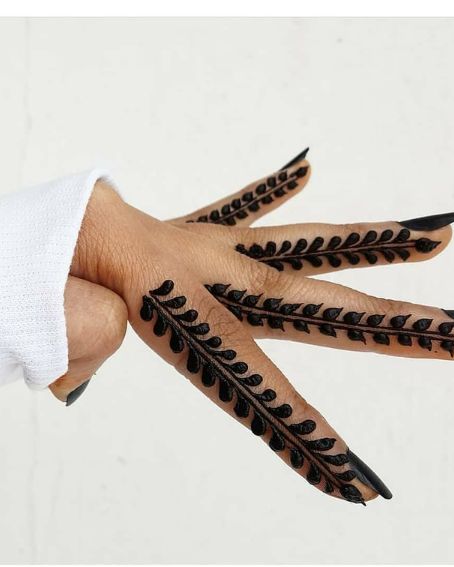 Only some people love adding henna designs on the front or back fingers. Some like to add henna on the sides of their fingers. This design is for those people. You can draw a floral or line pattern. However, the leafy pattern will add more beauty to it.
19. Simplistic Pattern Mehndi Design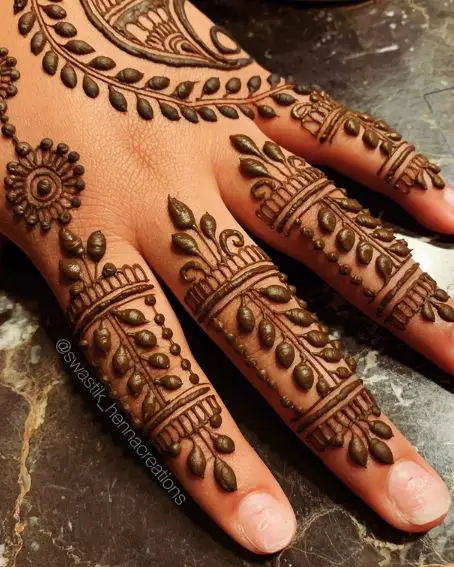 Everyone won't go with the complex design for their fingers. Simplicity always adds more wonder to the henna pattern. This pattern is one of that simplistic ones. Go for it.
20. Wrap Around Finger Mehndi Design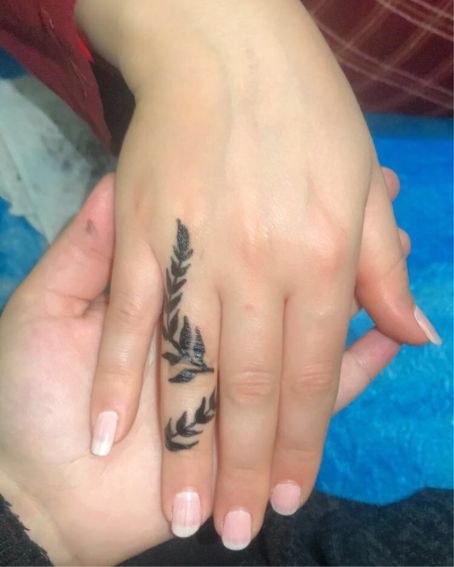 This mehndi design is one of the best of all. It comes with a leafy pattern. However, wearing it on the finger looks like a fashionable ring on your hand.
You Might Also Like: