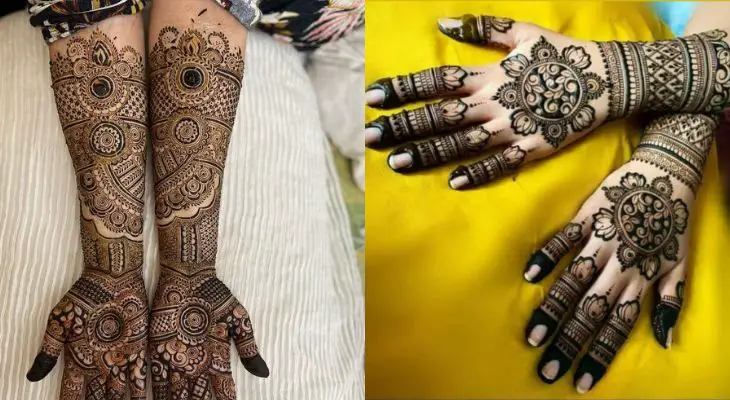 Among the lots of traditional rituals and ceremonies in a wedding function, there is one ceremony that every bride love to have in their Mehndi function. While all the stuff like the outfit, hairstyle, wedding jewelry, and makeup do play an essential role in augmenting the beauty of the bride, mesmerizing Dulhan mehndi design bestows a touch of perfection to the brides. When comes to picking a Dulhan Mehndi design for the ceremony, some brides prefer to wear traditional design, while others like to go for customized design. Find the below article to know the trendiest Dulhan mehndi designs.
[ Read: Simple and Easy Bridal Mehndi Designs]
Top Dulhan Mehndi Designs Images
1. Classic Dulha Dulhan Mehndi Design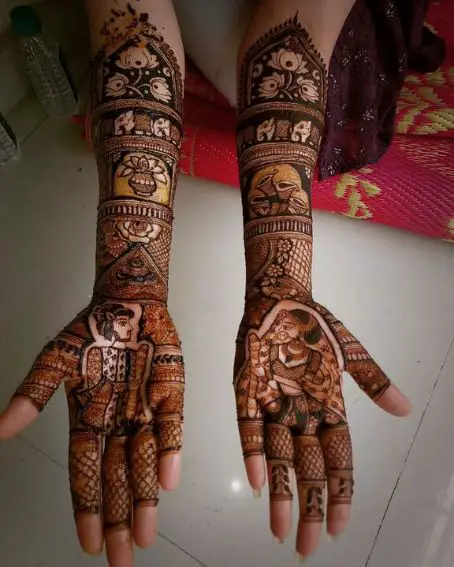 Classic Dulha Dulhan mehndi design looks exceptional on both the bride and groom's hands. It has a combination of floral, elephant designs, and crossed lines making it an achievable pattern for everyone.
2. Simple Dulhan Mehndi Design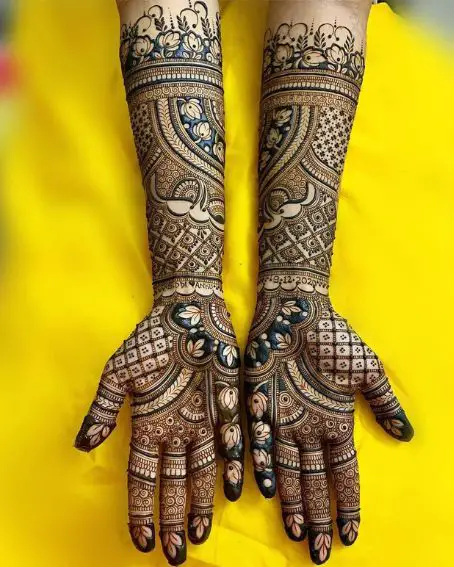 This simple Dulhan mehndi design adds some lusciousness to the bridal appearance. It is a tempting stocking style, if you wear this style your groom will not stop drooling over you.
3. Bridal Shower Dulhan Mehndi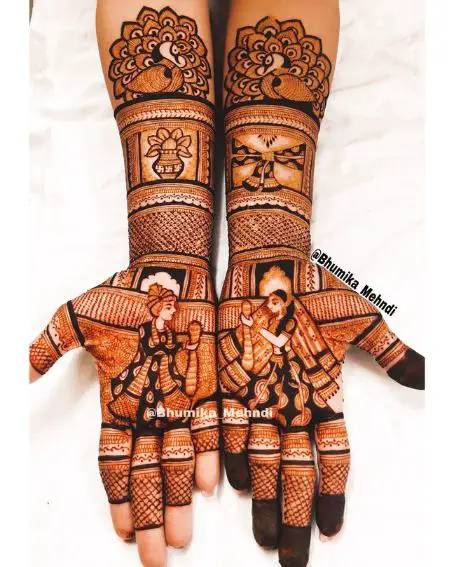 Mehndi has been a part of several auspicious occasions since it represents joy and fun. Bride and groom design which makes it even more memorable. Have it for your marriage ceremony to rock your wedding.
[ Read: Most Amazing Arabic Mehndi Designs]
4. Half And Half Heart Dulhan Mehndi Design
Heart pattern mehndi designs are loved by most brides. Here is a splendid half and half-heart design that will grab everyone's attention. It helps to prove your love for your better half.
5. Radha Krishna Portrait Dulhan Mehndi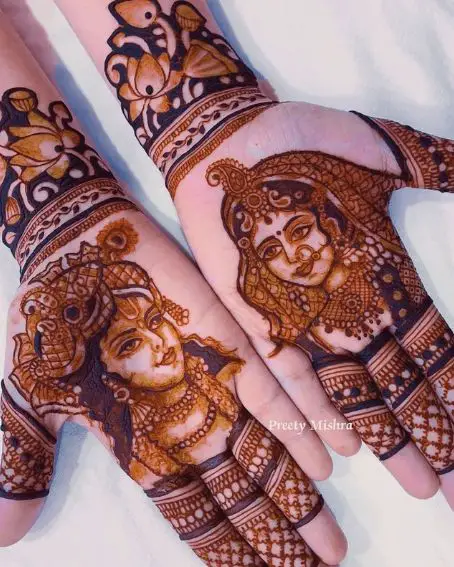 If you like to have God and goddess motifs in the bridal mehndi, you can definitely take an idea from this cute Lord Krishna and Radha portrait. You will be lucky when you got a good person who keeps mehndi in an excellent way.
6. Pretty Arabic Simple Dulhan Mehndi Design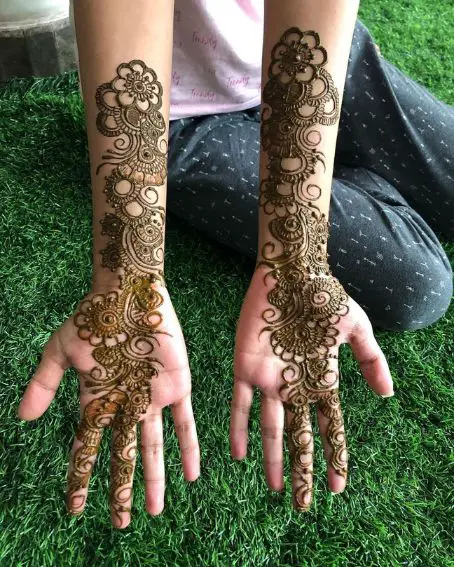 None of the mehndi styles will encompass as many variations as this Arabic Mehndi style has. Do you want something for your mehndi ceremony, you should go for this timeless as well as pretty Arabic Dulhan mehndi design.
7. Lotus Dulhan Mehndi Design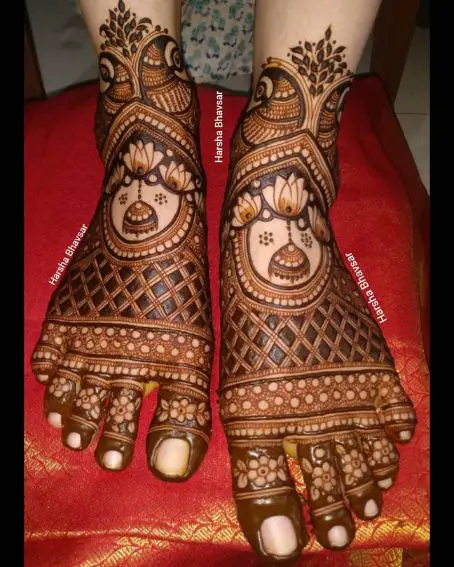 The extraordinary and captivity of the lotus style Dulhan mehndi design will surely render you a tremendous look and it is a class apart. This beautiful theme is riding high on trend these days.
[ Read: Stylish and Trendy Foot Mehndi Designs]
8. Beautiful Backhand Dulhan Mehndi Design
Forgot everything, when you have an awesome design on the back of your hand like this one. Big round with floral design gives a magnificent look forward when you have this for your wedding.
9. Floral With Elephant Dulhan Mehndi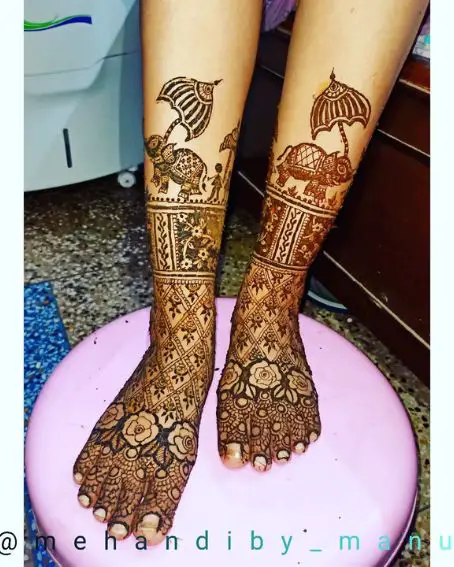 This is a wonderful design, and it needs a lot of patience as well as proficiency to produce such excellent mehndi designs on the leg with utmost perfection. Floral and elephant designs on the leg add extra cuteness to this design.
10. Proposal Dulhan Mehndi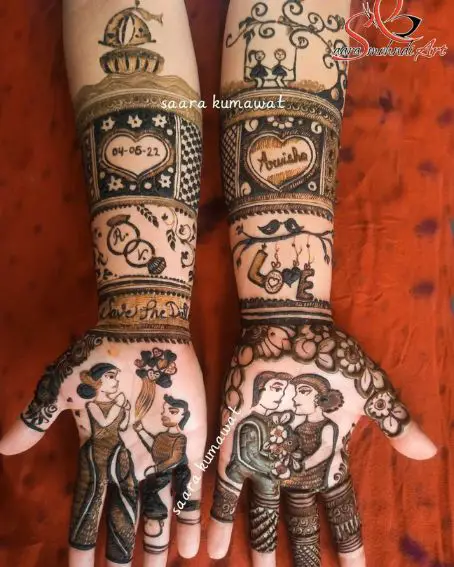 You can have your proposal ingrained in bridal mehndi for your special occasions. In this modern and trendy design, you can add initial and name in a beautiful way.
11. Paisley Dulhan Mehndi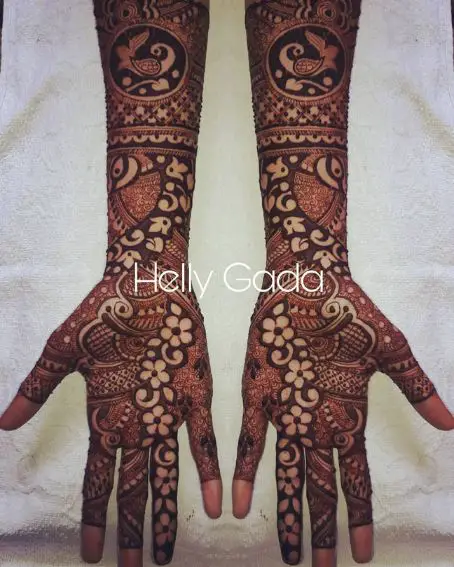 Paisley Dulhan mehndi is an ideal and elegant design mostly worn by Punjabi brides. This closed design is the main thing in this design. Anyone can have this to make your day very special.
12. Intricate Dulhan Mehndi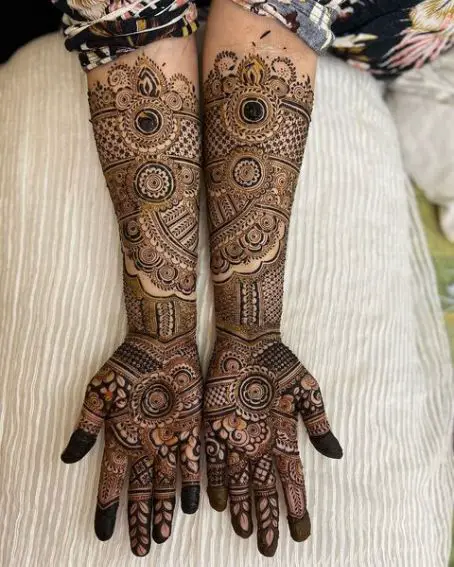 If you like to have the beauty of complexity, then take some inspiration from this marvelous intricate Dulhan design for full hands and rock your special day.
13. Couple Portrait Mehndi Design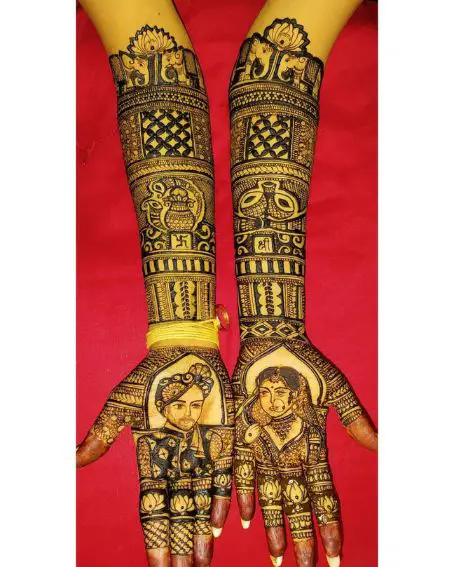 If you want to add a classic touch to your wedding mehndi that everyone loves, then there can be no more amazing and special mehndi design than this. There is no doubt that this intricate mehndi design will delight the onlooker.
14. Classic Indian Bridal Mehndi Design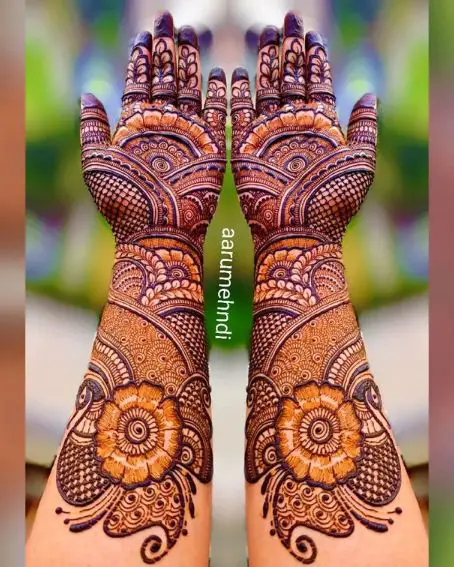 Are you a fan of Indian mehndi art? If yes, you can make your wedding day even more special when you opt for this classic bridal mehndi.
15. Beautiful Peacock Mehndi Design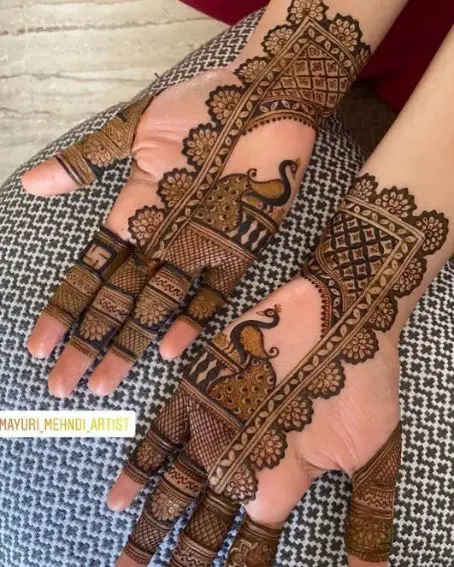 A beautiful peacock mehndi design will make all your events more special. Its delicate design will attract others and bring beautiful moments.
16. Fuss-free Mehndi Design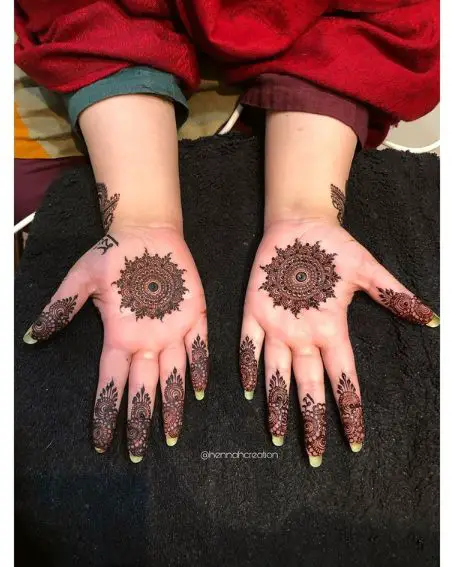 If you are someone who likes to keep your mehndi design simple then here is this fuss-free mehndi design that will not disappoint you in any way. The circular patterns of this mehndi drawn on the palm give a unique look.
17. Checked Pattern Dulhan Mehndi Design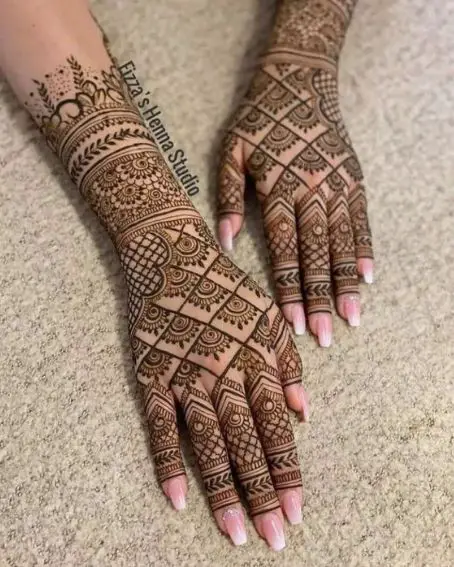 The delicately drawn designs across both arms beautifully. This checked pattern Dulhan mehndi design adds a traditional twist, giving it individuality.
18. Leafy Mehndi Design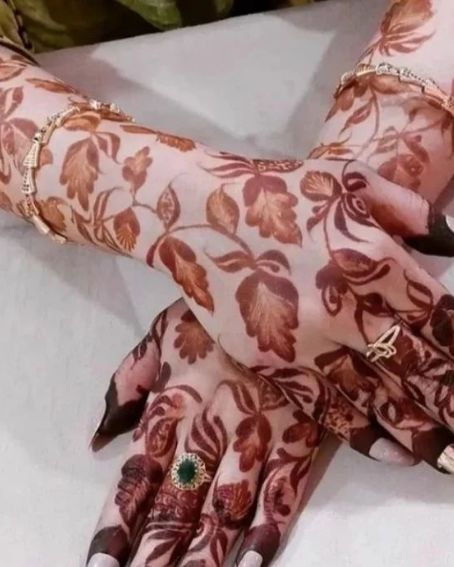 This leafy mehndi design will leave everyone awestruck and will earn you unbelievable compliments. It will give a beautiful and elegant look to all your events.
You Might Also Like: