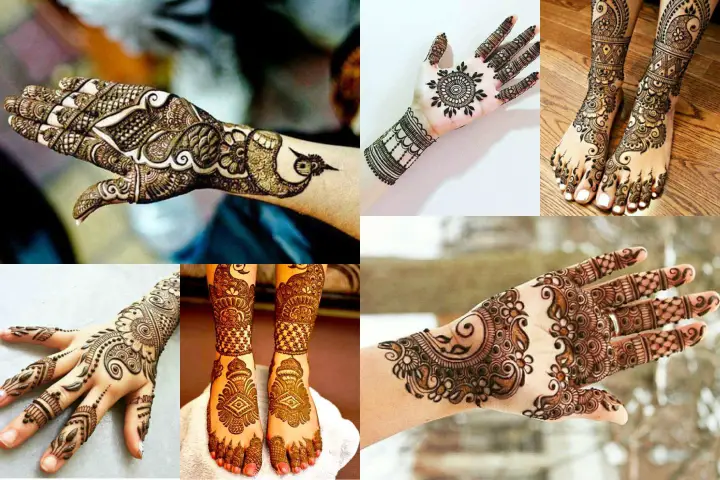 Arabic mehndi is one of its kinds. Even though it is not as intricate as we see the typical Indian mehndi designs, but looks so attractive that you can apply it on all types of occasions. With bolder and scattered motifs, the design gets a unique look. The unique patterns of Arabic mehndi make it great if you want to make simple vines or cover the entire palm of your legs for the wedding day.
Top 25+ Eye Catching Arabic Mehndi Designs
1. Royal yet Simple Arabic Mehndi Design for Every Occasion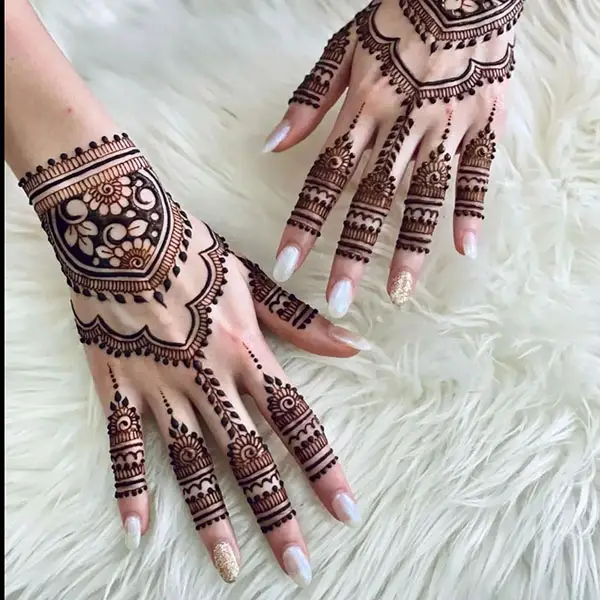 The free-flowing pattern of this amazing Arabic mehndi design is so pretty that it makes the back hand looks highly attractive. It covers the fingers and has dots and left patterns as it moves further. Applying this design and adoring the nails with bright colored nail paint can give a new look to the hands.
2. Free Flowing Design, Perfect for Legs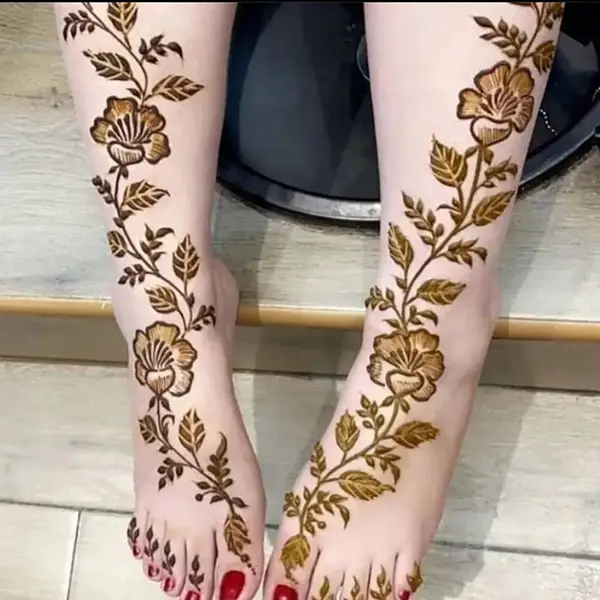 An amazing Arabic mehndi design that runs all through the legs and gives them a pretty look. There are larger and bolder flowers attached in the form of a vine that has typical leaves all through it. Some small patterns are made on the fingers to complete the Arabic look.
3. A Simple and Elegant Back Hand Arabic Mehndi Design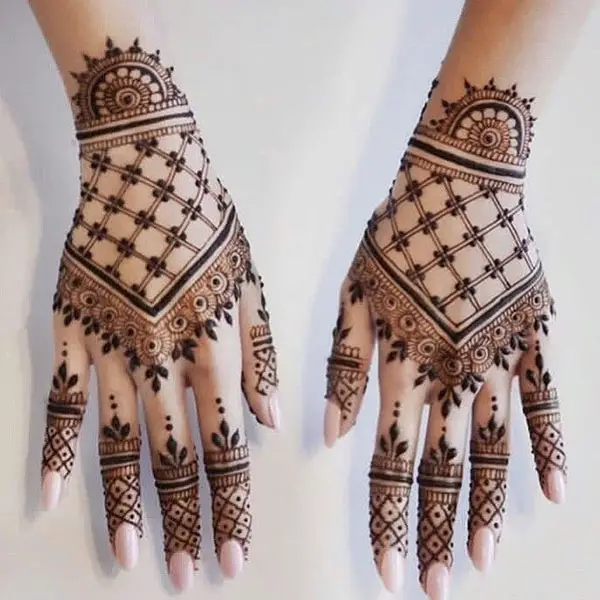 It is a clean-looking back hand Arabic mehndi design which is so amazing that the hands get a complete make-over. This design is so fuller that the entire back hand gets covered. If you apply only this design on the back hand and only a simple vine on the palm, it will look great. It is perfect when you are short of time but want to have mehndi on your hands.
4. Because Arabic Designs Goes well all Season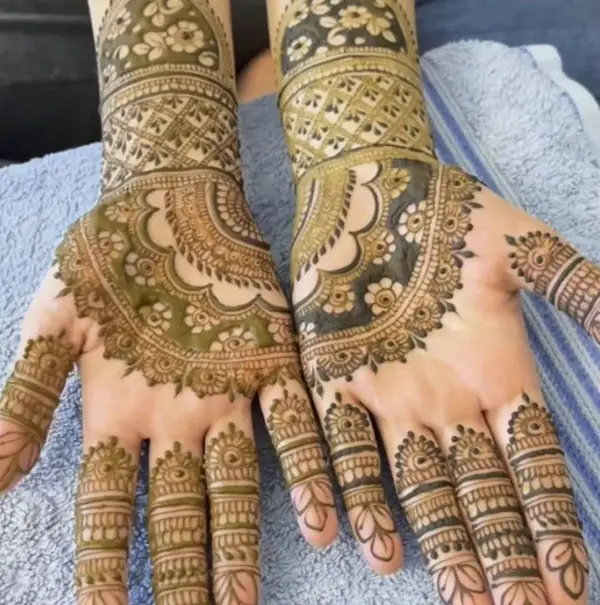 Some mehndi designs are created in such an artistic way that they look complete only when applied to both hands. This is one such design that you have to apply on both hands to complete the look. Fingers are covered with beautiful motifs of flowers, and the palms are left with a little space to ink your beloved's name.
5. Simplicity at its Best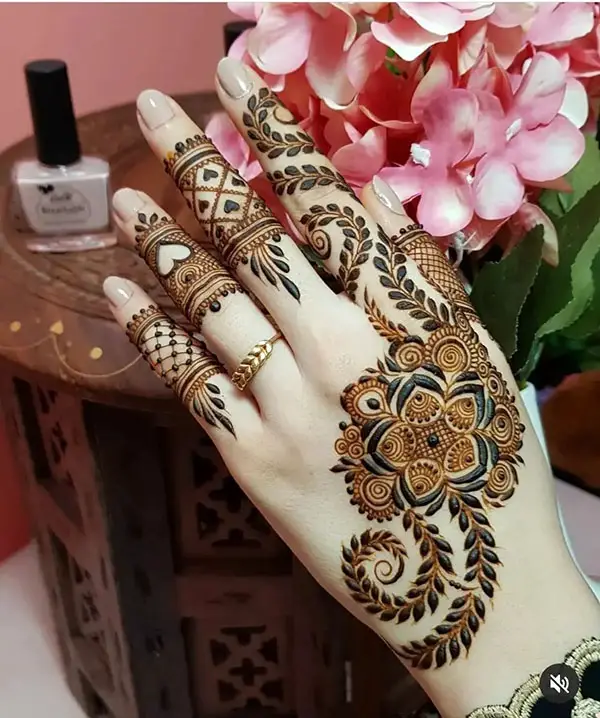 A simple and elegant back hand Arabic mehndi design, suitable for all the occasions- be it your friend's wedding, Ramazan, Raksha Bandhan, Diwali, or Karwachauth. It is easy to apply and takes very less time application. Give your back hand an attractive look this festive season and make them prettier than before.
6. Stunning Arabic Design for a Blissful Occasion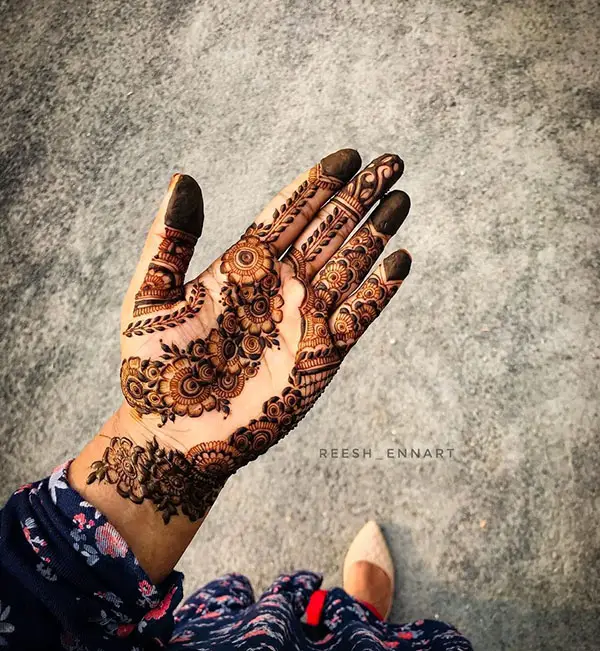 With the free-flowing vines, this mehndi design takes all the attention instantly. You get flowery vines all through the palm and a special motif on the fingers that bring a traditional Arabic look to the hands. To make the design more attractive, the fingertips are given unique patterns.
7. Flowers and Typical Motifs Suit Every Event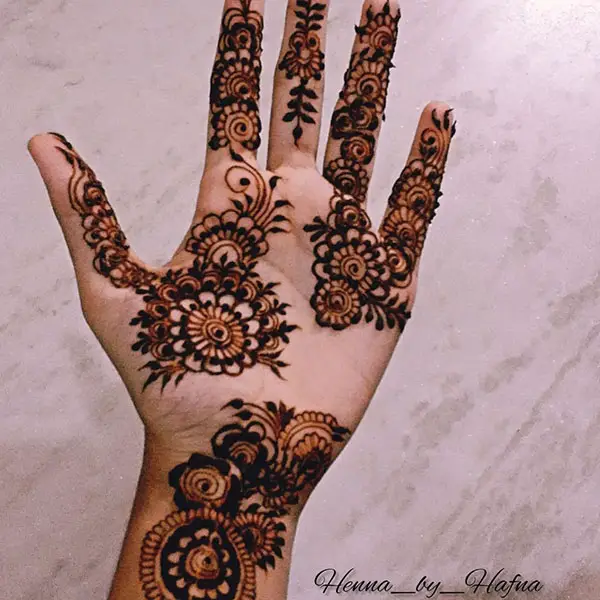 With bolder and round flowery motifs, this beautiful Arabic mehndi design looks simple and elegant. If you are looking for Arabic designs that get applied easily and in no time, go for it. The design will cover the fingers beautifully and some parts of the palm. In the leftover part, you can write the names of your loved ones or any special date to make it look more attractive.
8. Simple Vine Design for Simple Occasions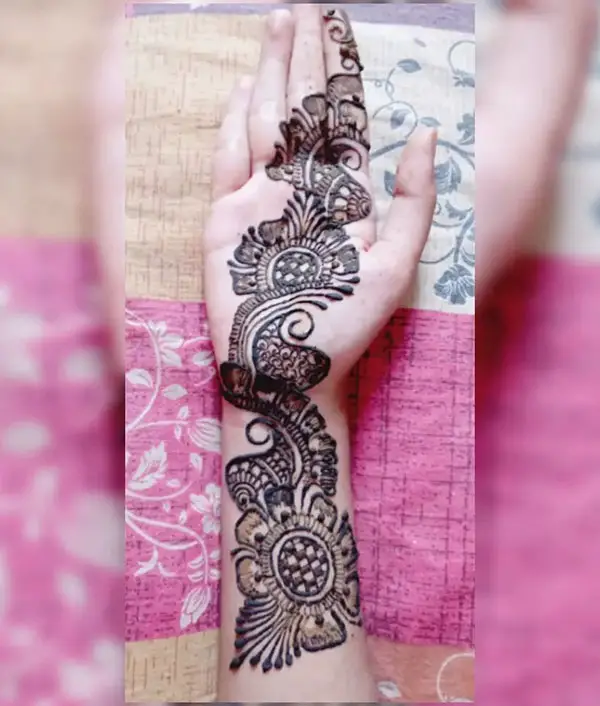 It is a simple vine design that can be applied on simple occasions like a pooja at home. There is a no-brainer for this design as it is a free-flowing vine that has bold flowers and typical patterns of Indian mehndi. This design can be called a mix of Indian and Arabic designs that look very beautiful on the hands.
9. Cover the Hands with Exotic Arabic Mehndi Design

instagram
This is another beautiful mehndi design with flowery patterns that run straight from the fingers and covers the palm. It has intricate chains that run from one flower to another, giving a complete look to the design. You can go further to create a similar pattern on the arms for a more detailed look.
10. Flowers and Vines, Leaves and Dots for a Complete Look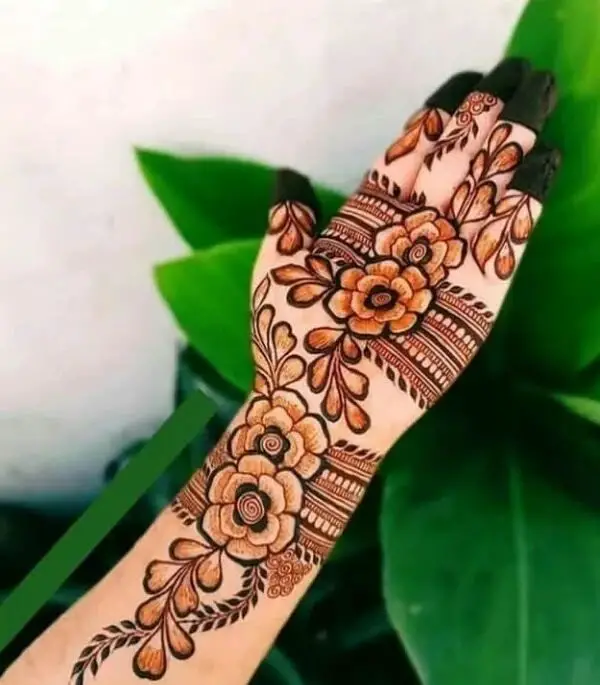 The bold flowers on the fingers and palm with blurring effects on the petals make this design one of a kind. The typical lines crossing the design on the palm and wrist make it look more amazing. It looks simple, elegant yet very pretty and beautiful. Complete the look of the design by covering the fingers tips.
11. Minimalistic Design for Every Artistic Person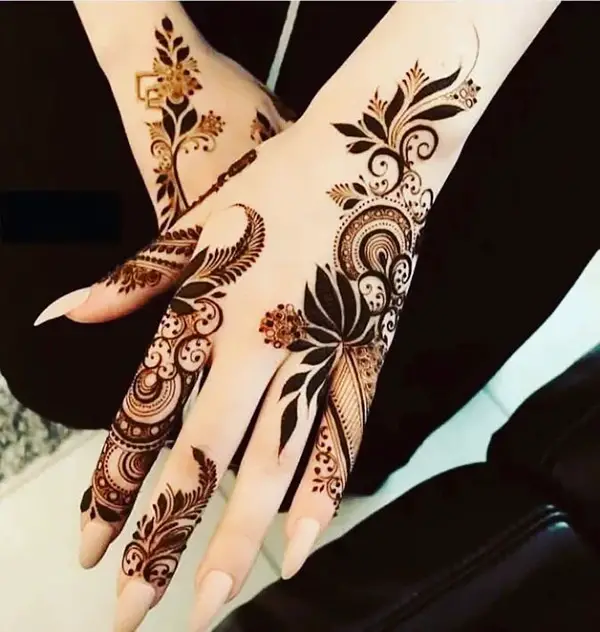 It is one of the highly artistic back hand Arabic mehndi designs in which the flowers are scattered all through the hand with intricate and minute details in between. While the first finger is completely covered with design, the rest two has some space to make the design look unique and eye-catching.
12. Simple and Eye-Catching, Perfect for Every Woman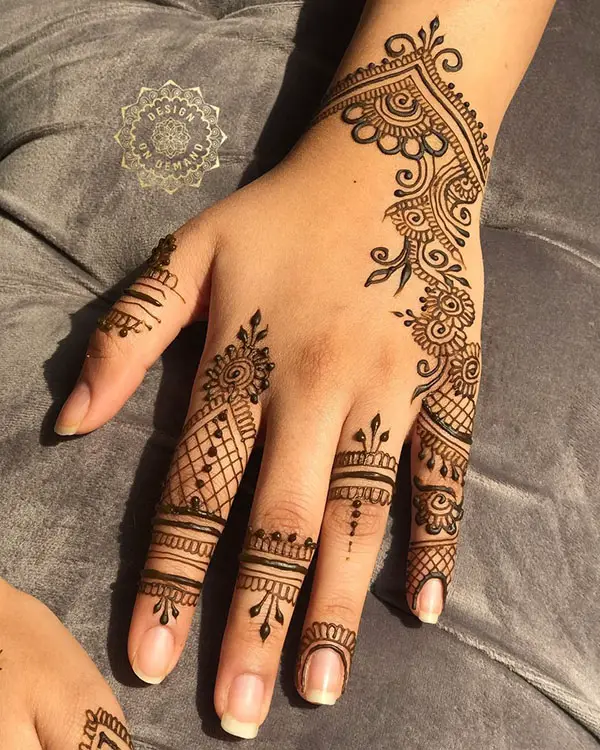 A stunning back hand mehndi design that covers the fingers and some areas to give a typical Arabic look. The dots that keep on getting smaller with each move and the free-flowing vine make the design looks spectacular. It is suitable for festivals and special occasions for girls and women of every age.
13. A Detailed and Intricate Back Hand Arabic Mehndi Design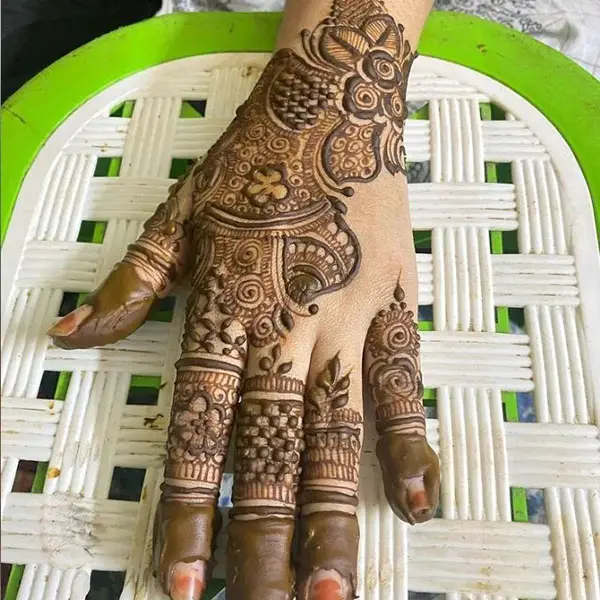 Covering the entire back hand, this wonderful mehndi design encompasses minute details. Even though it looks complex, making this beautiful design is easy as there is uniformity and repeated pattern. Small motifs, dots, and circles with recurring outlines give a unique look to the design.
14. Easy to Apply, Takes Lesser Time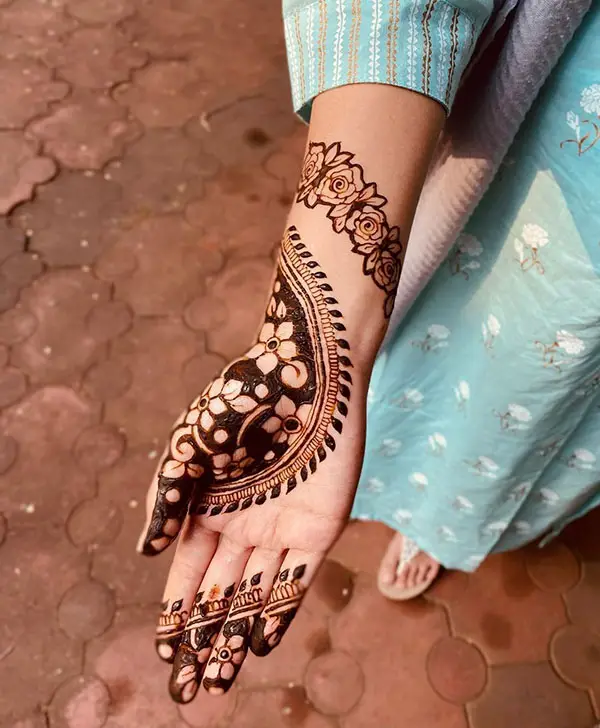 A simple crescent moon-like design of this Arabic mehndi covers half of the palm, fingers, and wrist with a recurring pattern of leaves. The flowers are bold and look simple, beautiful, and elegant. A free-flowing vine in the arm is an additional design that increases the look of the hands even more.
15. Let the Hands Look Prettier with Typical Arabic Mehndi Design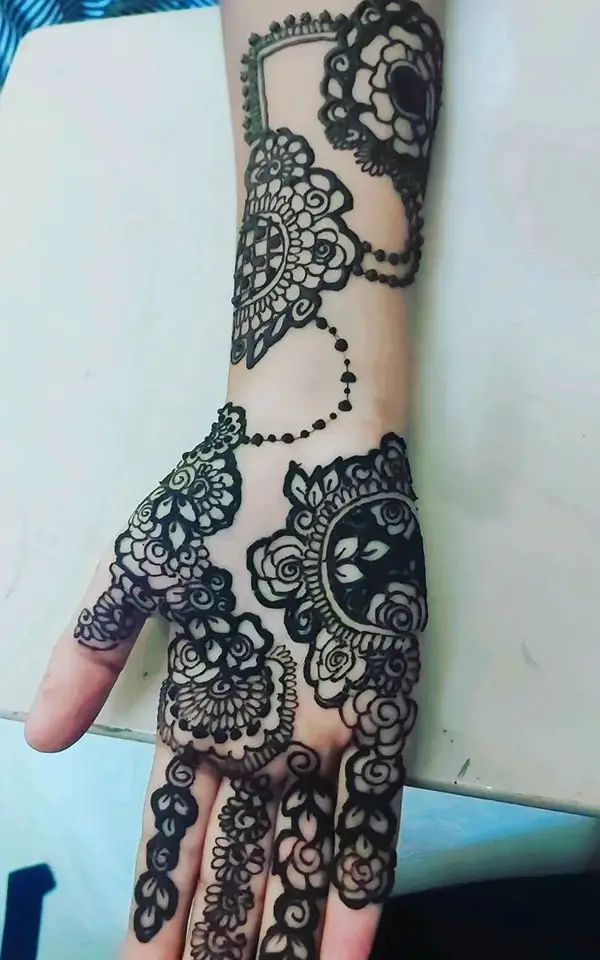 Two big flowers and two big leaves with a detailed design inside make the mehndi special. Along with these, the free-flowing dotted chain and netted design give an eye-catching look to the hand. Apply bright-colored nail paint for a complete look.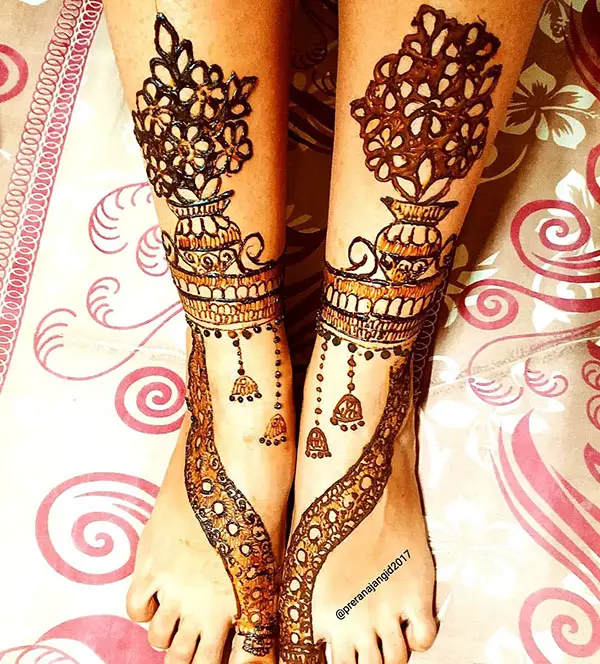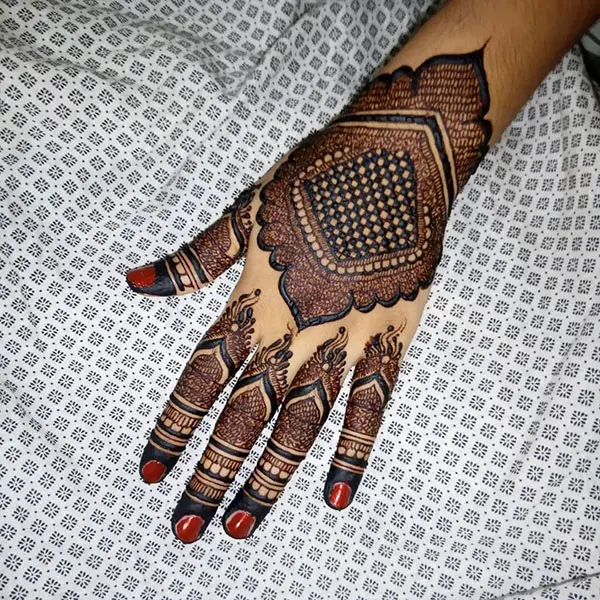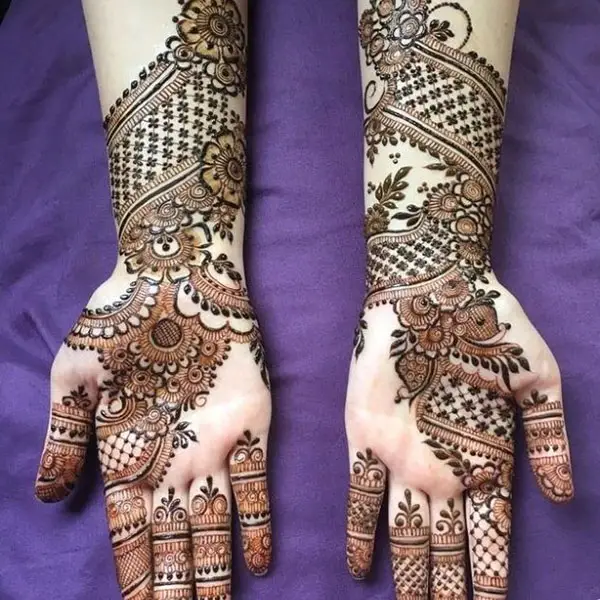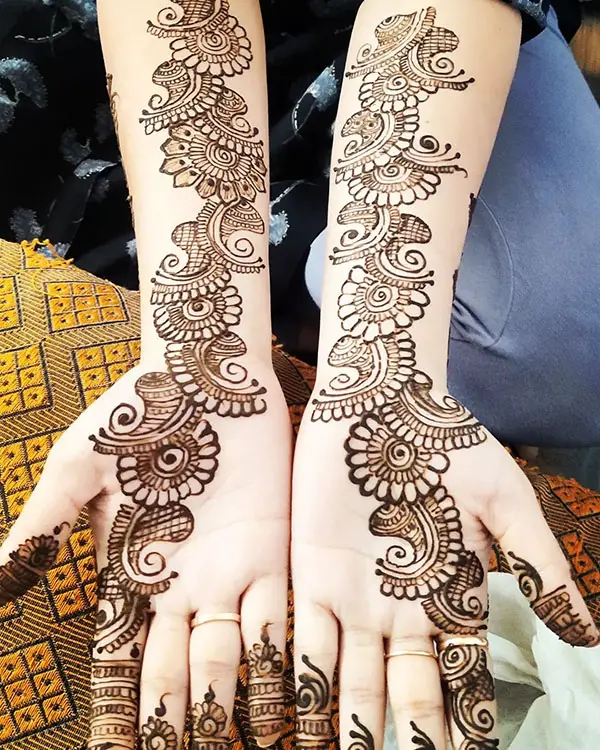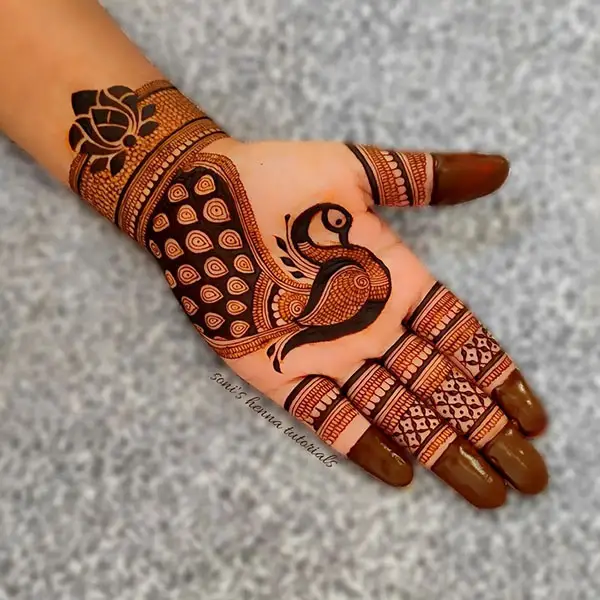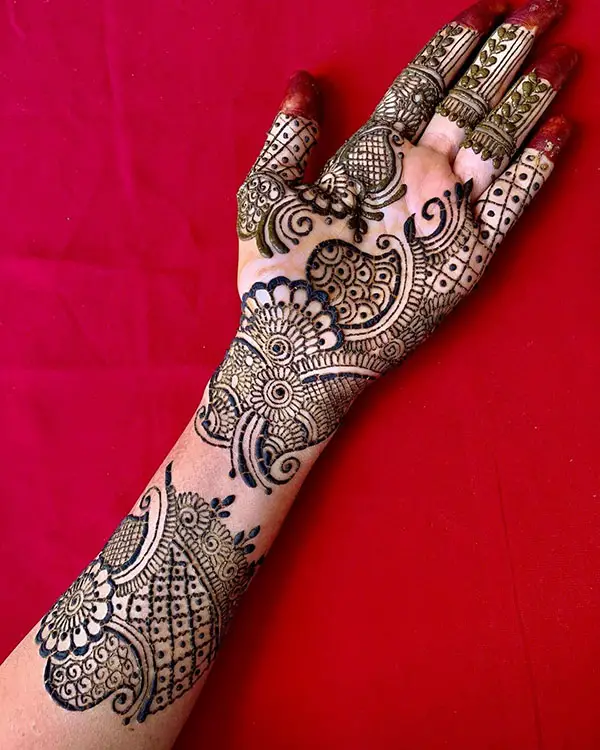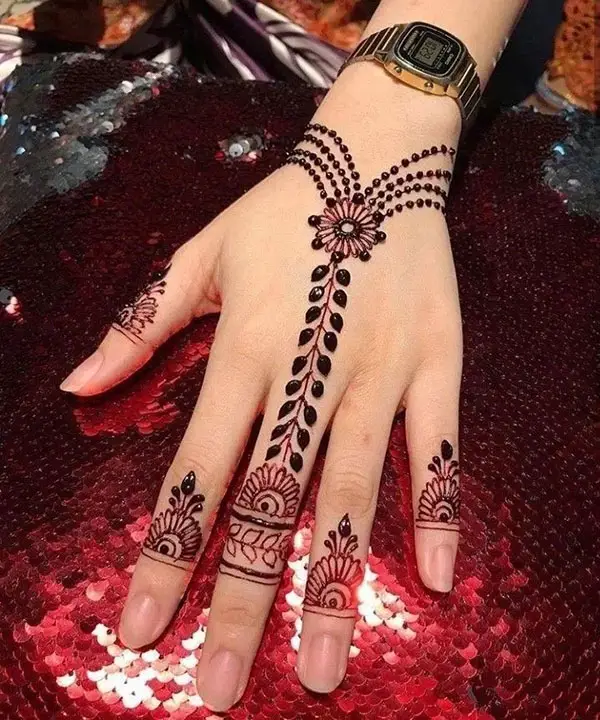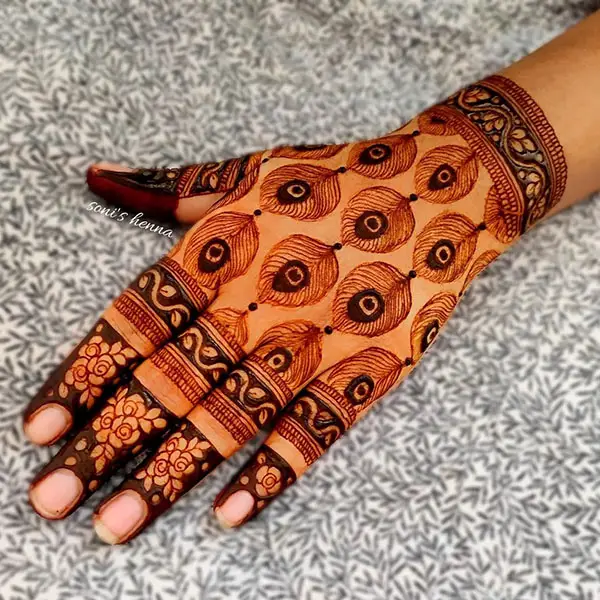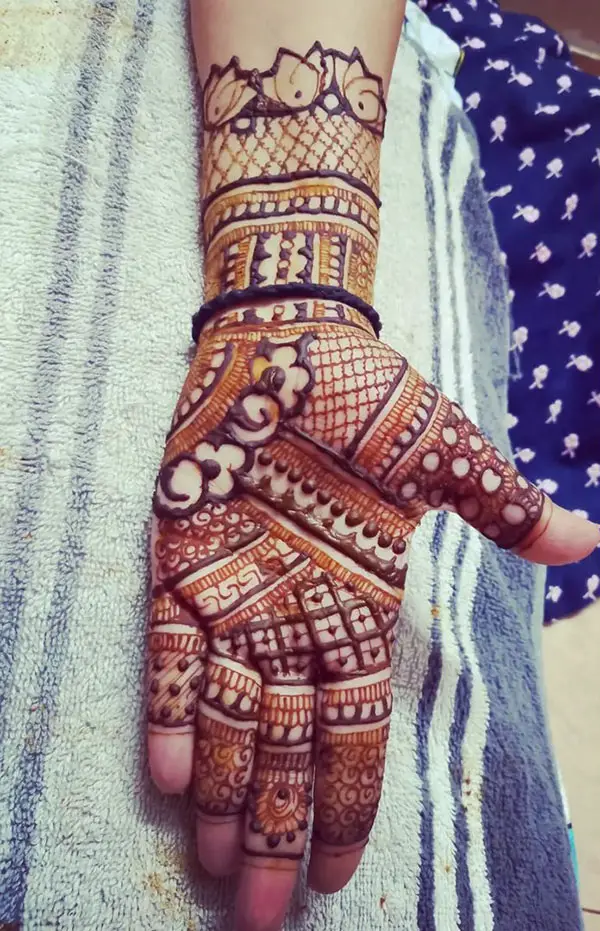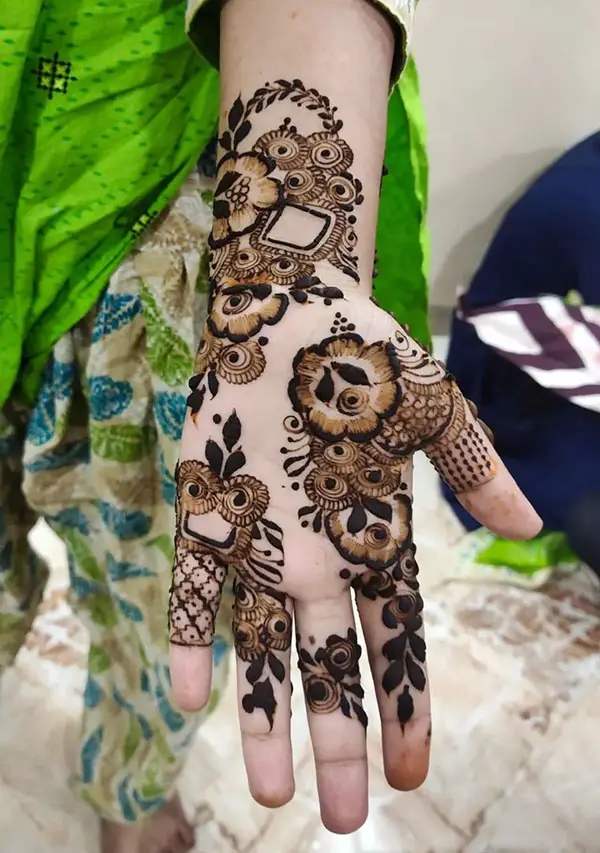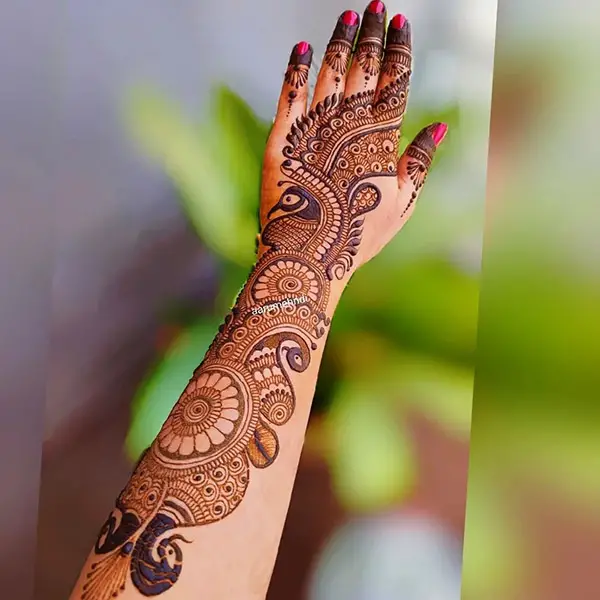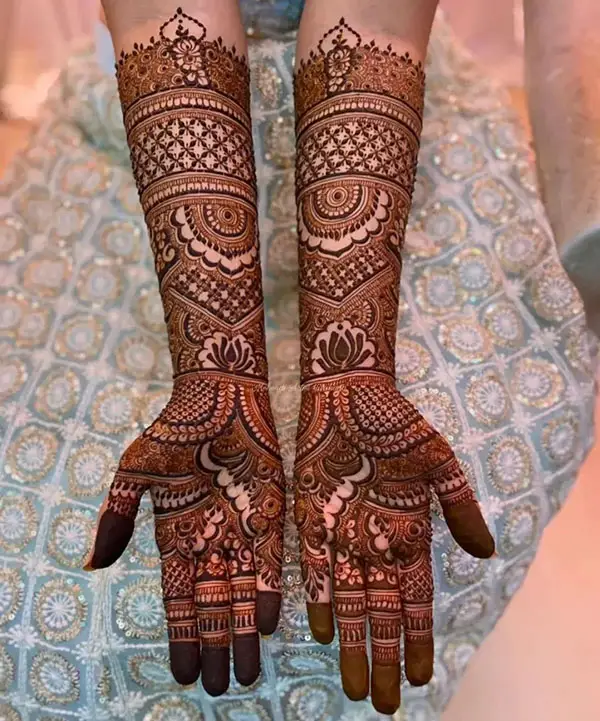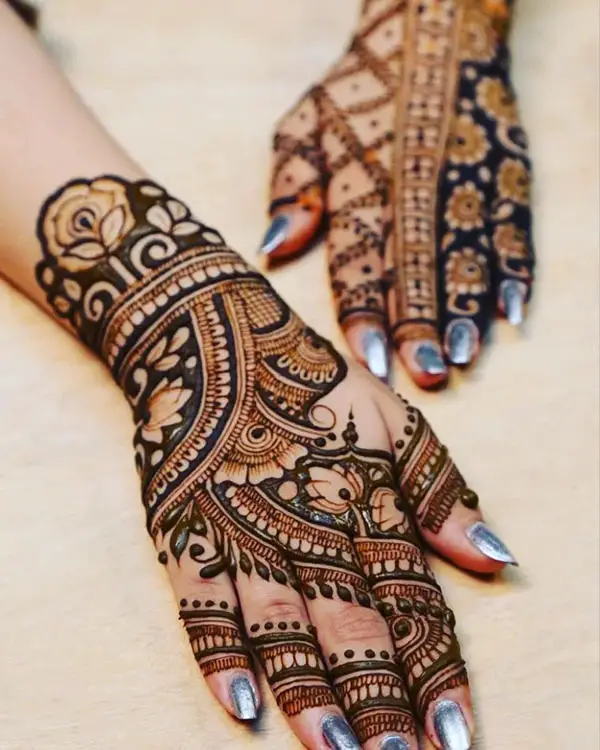 Read More:
25 Beautiful Mehndi Designs for Fingers