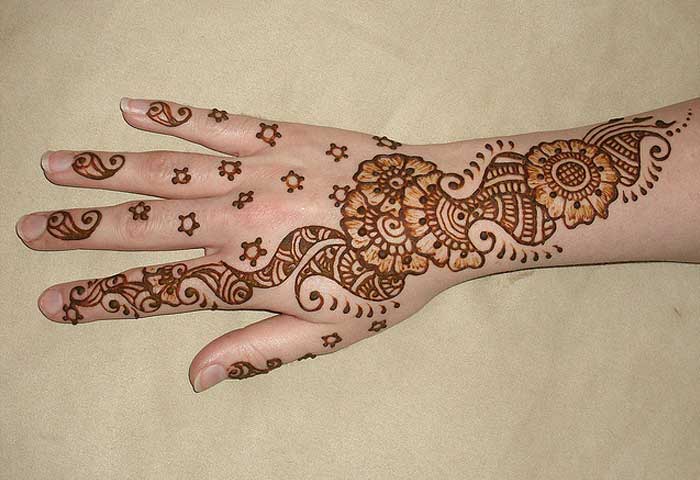 Mehndi is an old traditional method used and followed from the olden days. It is produced from natural leaves; it stays for a long time for medical purposes. In all marriages and festival ceremonies, Mehndi makes an important part in all Indian weddings. For brides and enchanting girls makes beautiful designs to exquisite everyone. There are different types of designs for feet and hands, let's see some of the designs. Try these lines mehndi designs look gorgeous on you.
17 Latest and stylish one line Mehndi Designs for Hands
1. Floral One-line Mehndi Design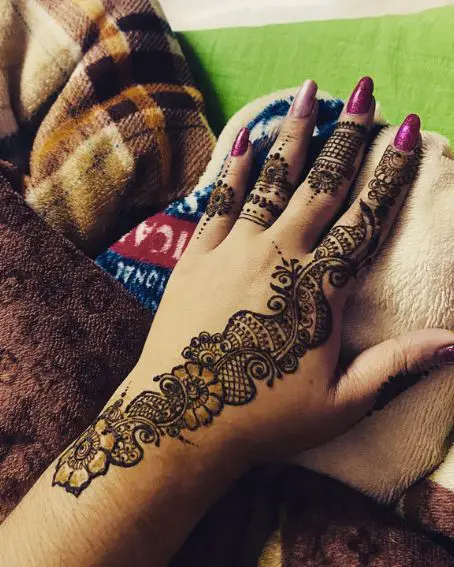 Using different flowers in Mehndi is a common design because it gives beauty and floral art. Adding to the flower, the paisley design of the traditional pattern gives you grace and beauty for your overall dress and look.
2. One-line Mehndi Designs For Palm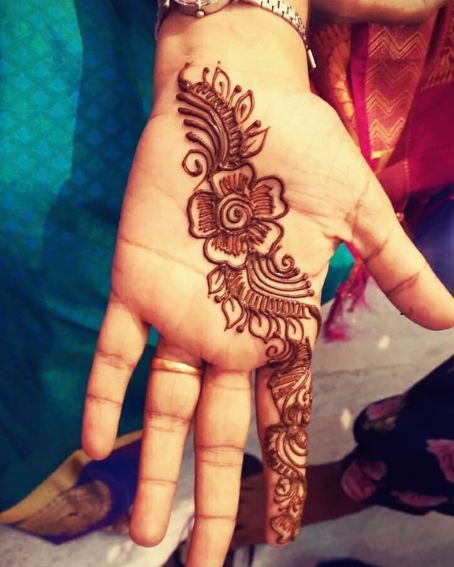 A very minimalistic and graceful look in this simple one-line design gives you perfect for ceremonies. This does not take more time for this Mehndi and middle flower design with the same pattern followed and completed in forefinger which gives you trendy.
3. Modern Art In Mehndi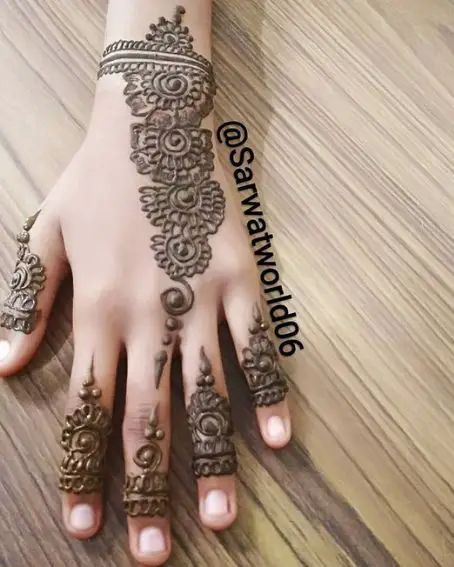 The designs start from the wrist which is perfectly designed like bangles or bracelets. And the designs are followed and decreasing the image connects with the middle finger. It is a front-hand simple design and the art fills under all the nails making you more elegant and charming.
4. Cute Arabic Mehndi Design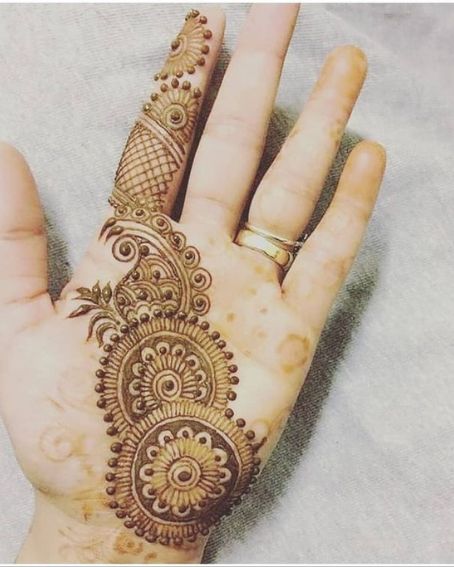 Especially with this art, it looks like a decorated wheel, looking simple but stunning design. All the outlines are designed like beads, which is added more elements to the feminine designs. This is very graceful and gorgeous overall suits for all your special occasions.
5. New Arabic Mehndi Designs In Modern Art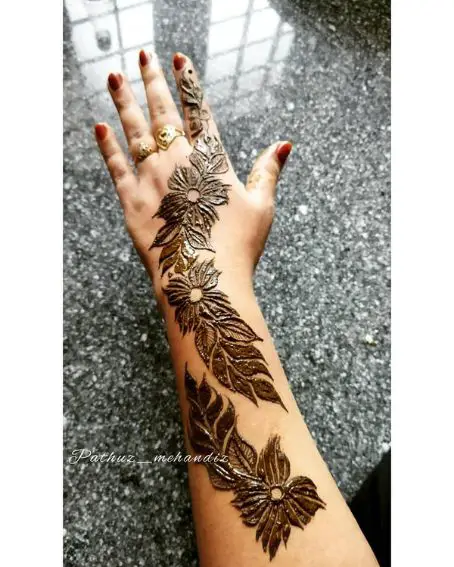 A very innovative form of art in Mehndi's designs creates new art. Like a climber in the front hand from the wrist, the flower and leaves to the index of the forefinger. It looks bright and the exact Arabic Mehndi designs are gorgeous and modest.
6. Lotus In The Wrist With Paisley Art In Mehndi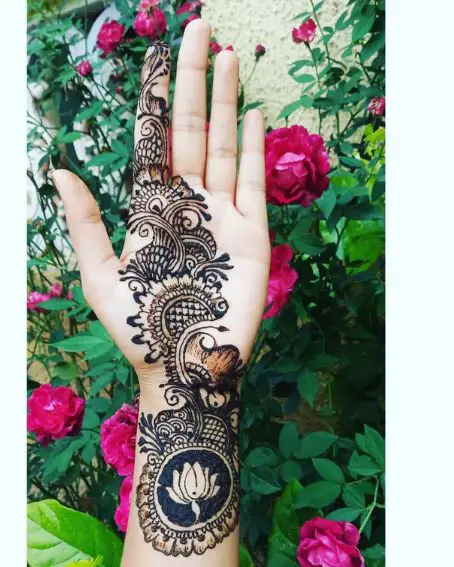 Usually, in Mehndi arts, a flower makes an important part for create a new design. Here, Lotus is designed on the wrist and half circles are there with checked designs that are simply stunning and an eye-catcher in the crowd. The designs are directed only with the forefinger which is trendy.
7. Floral One-line Mehndi Design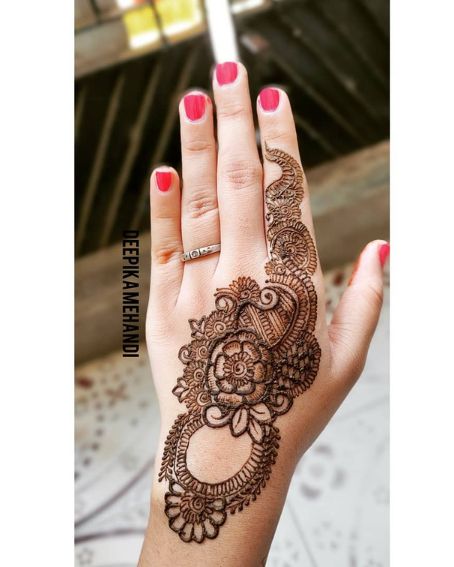 Modern art look is perfect for rich and stylish aspects. With this modern art, using floral designs in a minute work gives you graceful and uniqueness. The thick outlines make a bold fit on your front hand with a magic appearance. Very apt for a bridal look and the fingers with rings gives you more charm.
8. One-line Mehndi Designs For Feet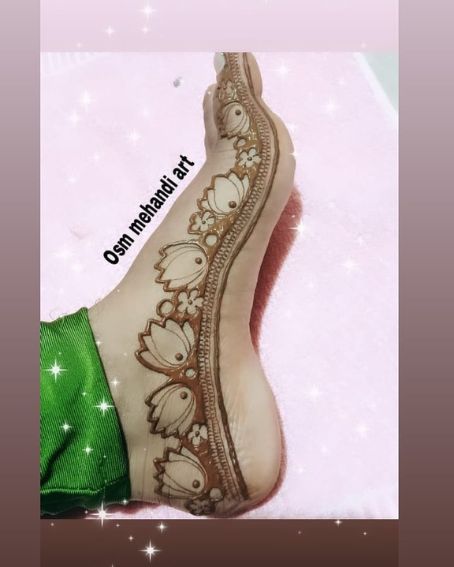 Mehndi designs are not only for hands but also decorate the feet too. The designs run throughout the corner of the feet with lotus designs. Very artistic in the way it is handled in it and the designs are like ankle chains.
9. Bridal One-line Mehndi Designs For Feet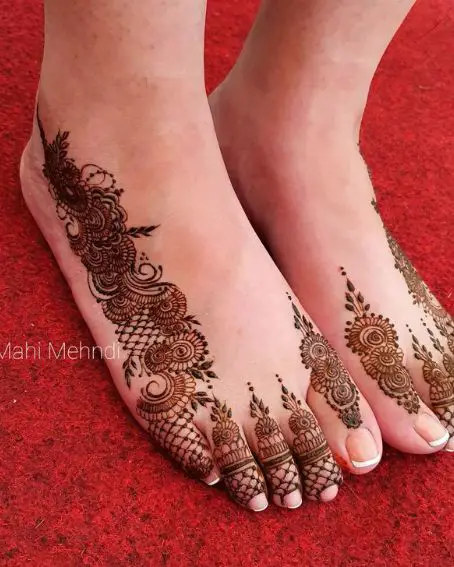 Bridal one-line Mehndi is a collection of different designs which give stunning look on your big day. The designs like checked, circles, and drops figures make more grab the attention of others. The traditional touch is always followed in every inch of the art.
10. Cute One-line Mehndi Design For Wedding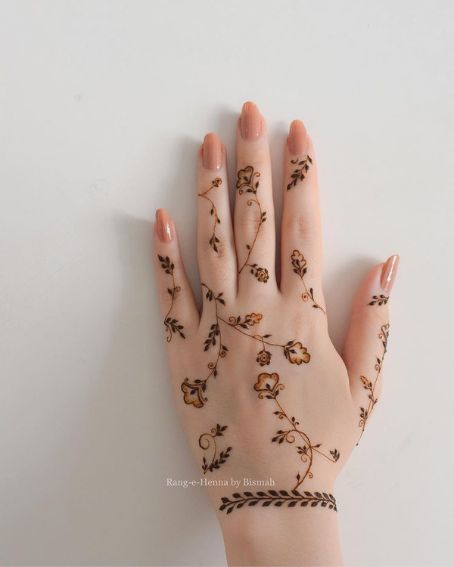 Modest and smart, cute one line mehndi design something that offer a beautiful look. The unique design makes a speech in a ceremony. The cute simple flowers and leaves highlighted way are gorgeous.
11. A Curved Line Mehndi Design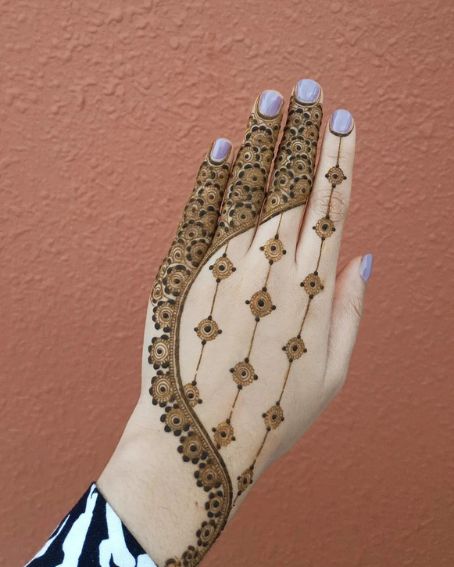 The awesome design shapes with a curved line and dotted floral shape highlight charming. It is perfect for weddings and occasions, which makes your front hand visible for everyone express in an exclamatory factor.
12. Doted Designed For One Line Mehndi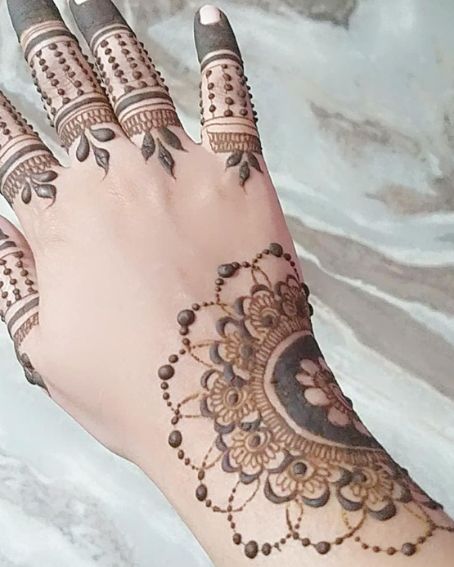 Grand and dotted designs are quite popular for Mehndi. The dotted flower and dotted in the fingers give you more attractiveness anyway. When it has done on the front hand, it is visible and makes you look very glam.
13. Middle Floral Design In Front Hand
Minimalistic design with a bold outline creates its own stylish. Innovative with this simple and charming design, the tiny boxes in the middle of the flower inherently expose the flower. The beautiful floral design reaches the index finger and simple touch with the rest of the fingers.
14. Corner Design In One-line Mehndi Design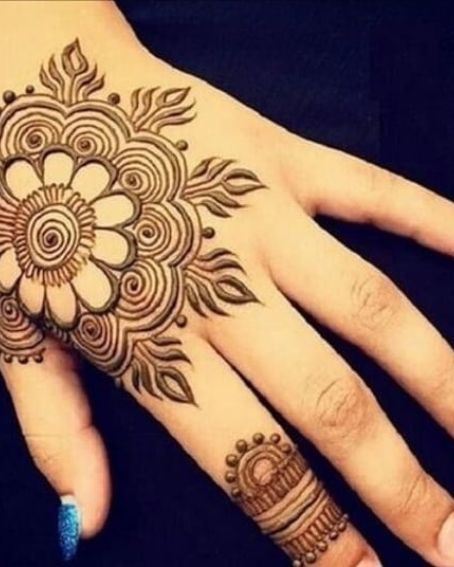 The creativity in this design makes everyone attracted by its modest way. The flower with multiple lines gives you mesmerizing feel on it. If you want a design which is very trendy yet quick design have this mehndi it takes only less amount of time.
15. Unique One-line Mehndi Design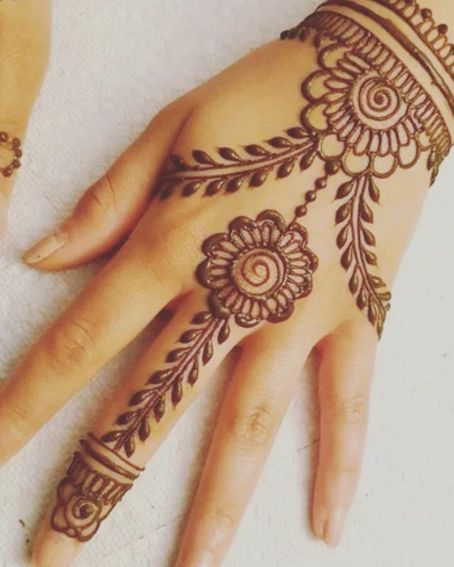 Starting with the wrist, the design is like an ornament that follows a flower and leaves ends on the middle finger. The art is used in the front hand, so it is simply visible to everyone. Modest way of art, being a charm and stunning design that grabs other attentions.
16. Gleaming Mehndi With Stone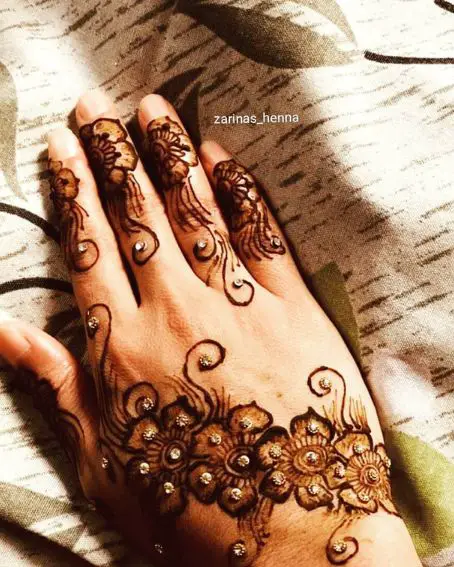 Unique and trendy Mehndi in front hand seen glittering. The one-line Mehndi with floral art, and decorate with white stones, lead a great work in this special design. The simple designs with highlighting borders are always wonderful.
17. Peacock In Mehndi Design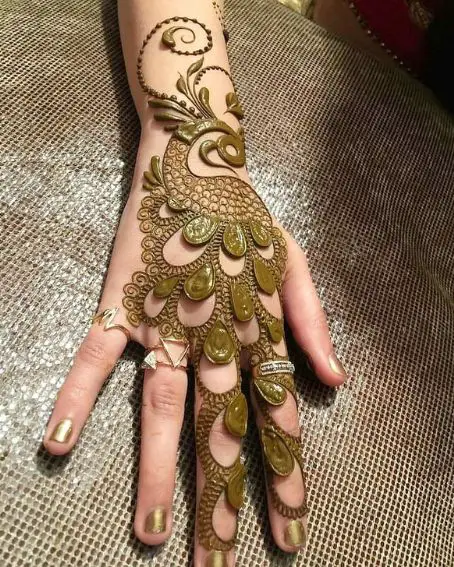 A stunning and awesome design that is followed for long period is said to be the peacock design. It is one of the finest pieces of art in Mehndi culture because the feather and shape of the peacock are welcomed by everyone. Especially with the front-hand design, the feathers are fully applied gives a marvelous look.
You Might Also Like: