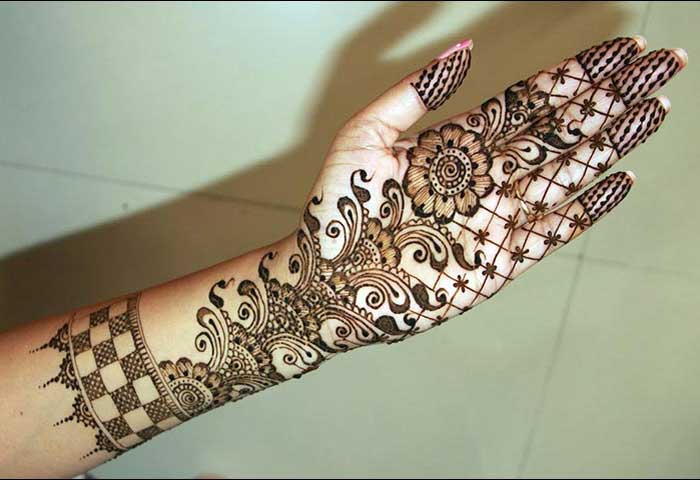 Without a flower pattern, mehndi designs won't be more glorious. Also, floral patterns are the most common design women love to adore in their hands. However, some people are unaware of the best trendy designs to embellish their hands. If so, then this blog is for you. This blooming blog comes with the best floral mehndi designs for you. Keep an eye on the blog and find your favorite pattern. There are many floral designs to theme your hand with henna. These are like a pinch of salt for your glance. Try any one of these if you love wearing floral designs.
20 Latest and Stylish Floral Mehndi Designs For Hands
1. Freestyle Floral Mehndi Design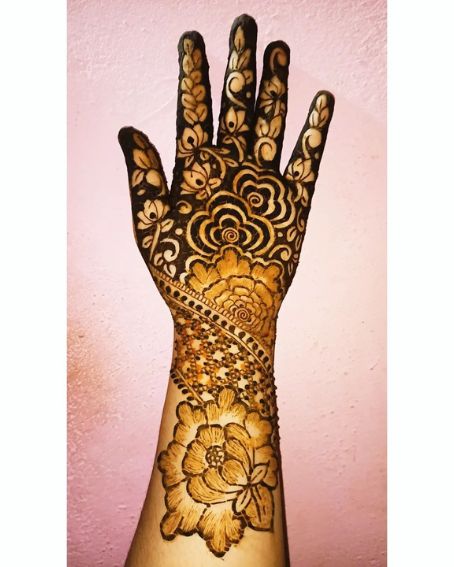 It is one of the freestyle designs. This mehndi design comes with various floral patterns to delight the eyes. It includes lotus, rose, and bolded flower motifs. The bold and thin design pattern gives a crisp to your eyes.
2. Paisley Flower Mehndi Design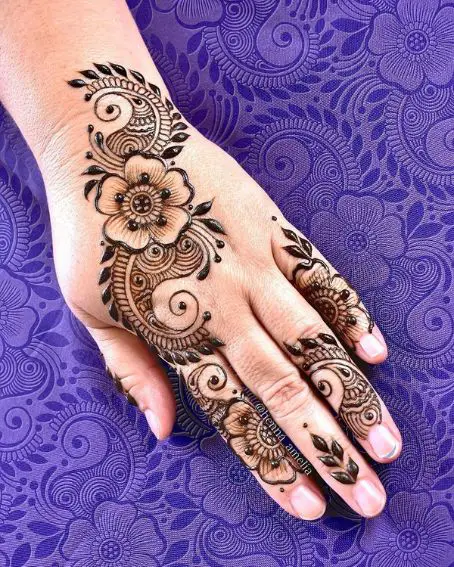 Paisley is a distinctive mehndi design. This design features a floral paisley pattern. The big flower motifs on the backhand give an astounding view that captures everyone's eyes.
3. Daisy Motifs Mehndi Design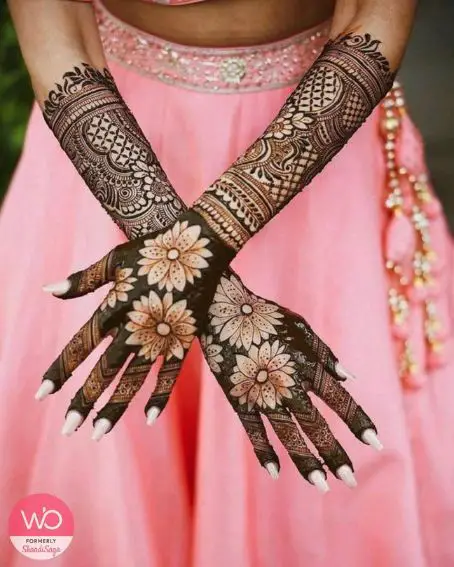 Daisy is one of the loveliest flowers among many women. This blooming floral design comes with intense daisy flower motifs. Alongside it comes the intricate floral patterns all over the arms.
4. Simple Floral Net Design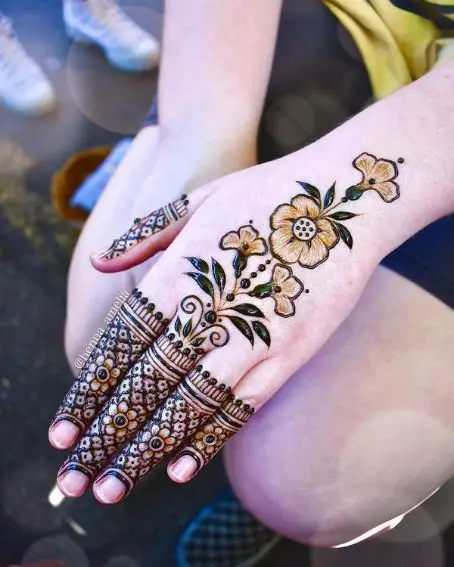 This is an art of simplicity. It comes with cute little blooming buds. The fingers are filled with floral nets, giving your hand a glove-like look.
5. Floral Kangan Mehndi Design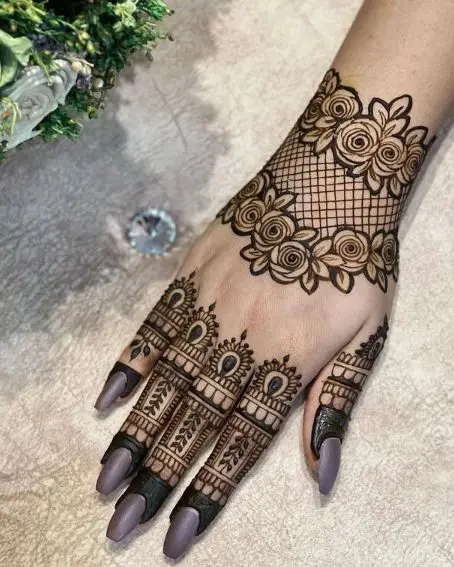 Roses are beautiful flowers that give a romantic look when equipped with hands. This awesome design comes with a floral Kangan design. Adore it and admire others' eyes.
6. Floral Jewelry Embellished Mehndi Design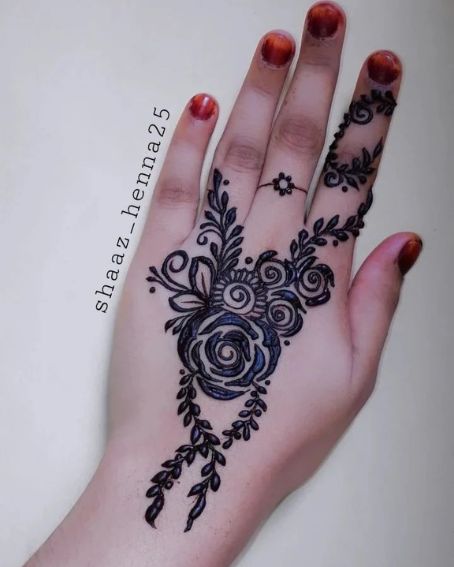 This design is one of the best designs for trendy lovers. It features lovely roses hanging from the index finger. The middle of the finger is designed with a flower ring. When you wear it on your hand, it looks glossier.
7. Back-hand Floral Pattern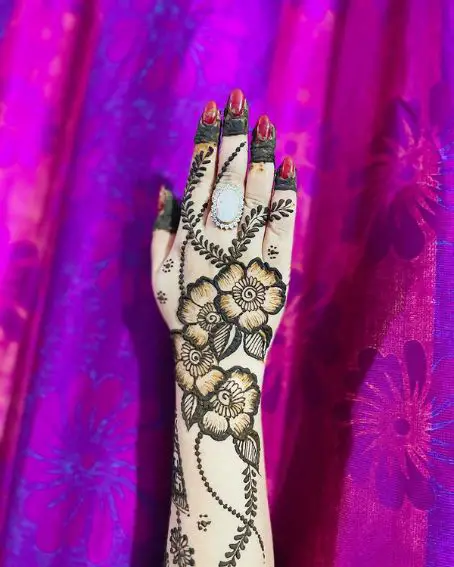 Do you like hibiscus? This lavishing design comes with lovely hibiscus designs. It floats all over the backhand and catches everyone's eyes.
8. Rose Gloves Mehndi Design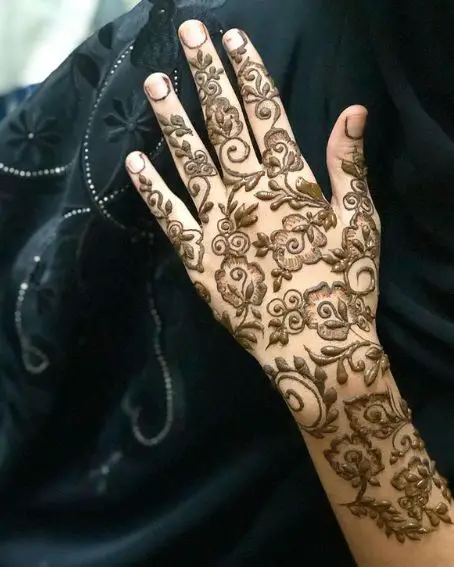 Are you searching a beautiful design for longer time? This floral mehndi design gives you a glove to your eyes. It comes with connective rose designs all over the hands. If you like wearing some unique patterns, this should be yours.
9. Flower Garland Ring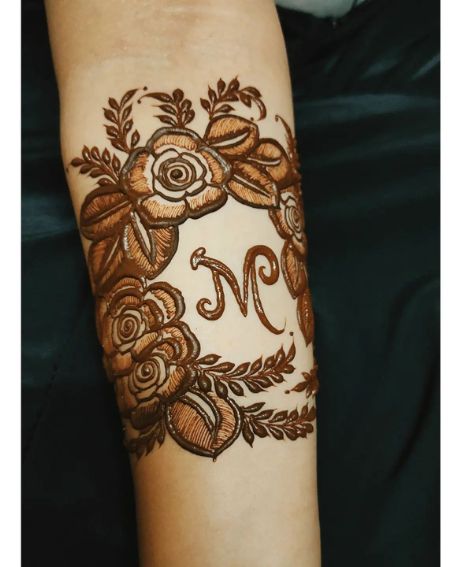 Garlanding a floral ring on the arms always gives a classy look to the hands. You can fill out the free space left inside the garland with your favorite person's name or initials. This is something awesome which make the day more special.
10. Elegant Rose Mehndi Design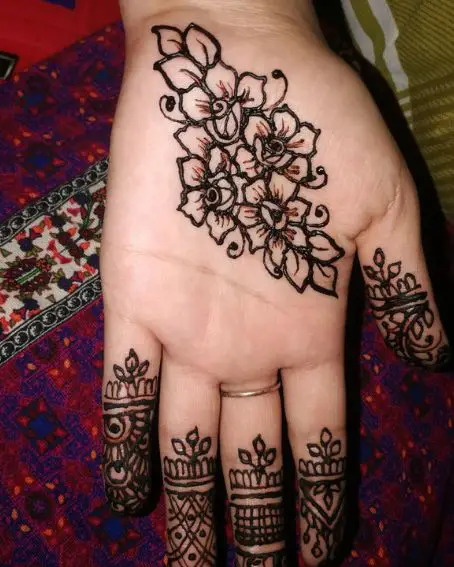 This minimalistic mehndi design comes with rose patterns. It gives a leafy look to the eyes. If you are a simplistic person, this can be your choice.
11. Arabic Floral Mehndi Design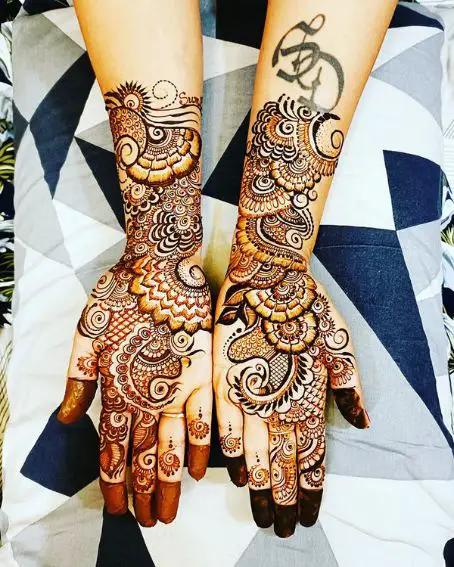 Looking for a gorgeous Arabic mehndi design? This floral mehndi design should be yours. It comes with beautiful floral patterns with intricate designs. If you apply it to your hands, I'm sure it steals your party night.
12. Mandala Mehndi Design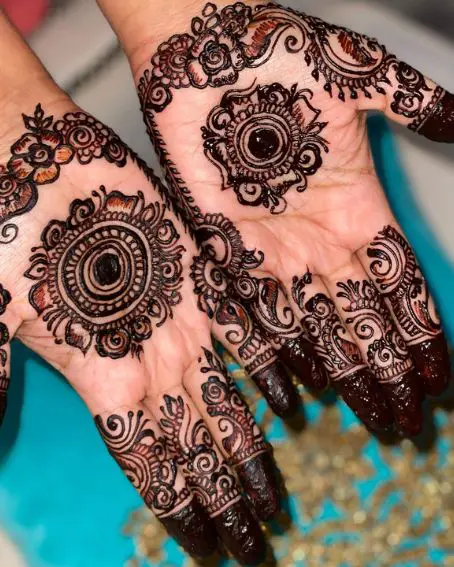 Though we live in the modern world, some people prefer to equip an old-age charm. This is one such design. The mandala design is one of the traditional mehndi patterns with circle floral mehndi designs. It adds a bit of elegance to your hands.
13. Spiral Flower Mehndi Design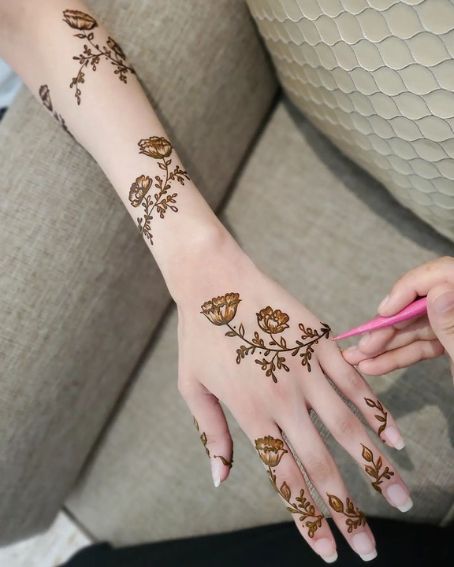 Do you love flower branches? This stunning design features flower branches in a spiral format from arm to fingers. This gives a pleasant and unique look to the hands.
14. Lavishing Floral Ornament Pattern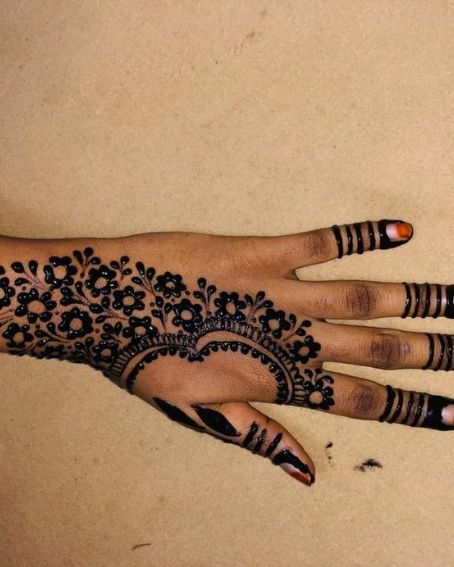 This is a unique mehndi design for trendy lovers. It features black floating flowers on the hands. It looks like a sparkle falling from the cracker. Overall, it gives a surprising look to the wearer's hands.
15. Red Mehndi Design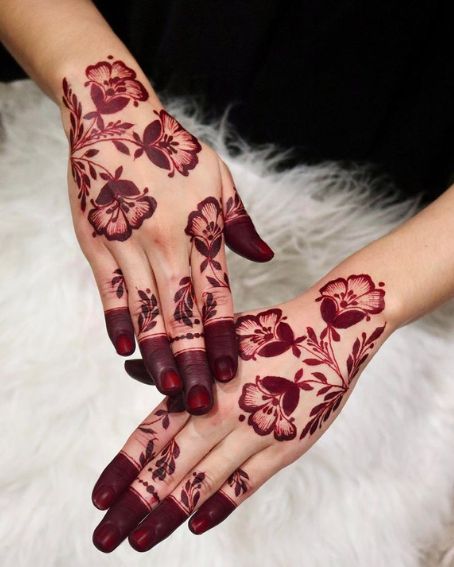 Red henna is the most loved one by many women. This amazing floral design comes with cute little flowers all over the backhand. It looks like butterflies flying all over the hands.
16. Intricate Floral Mehndi Design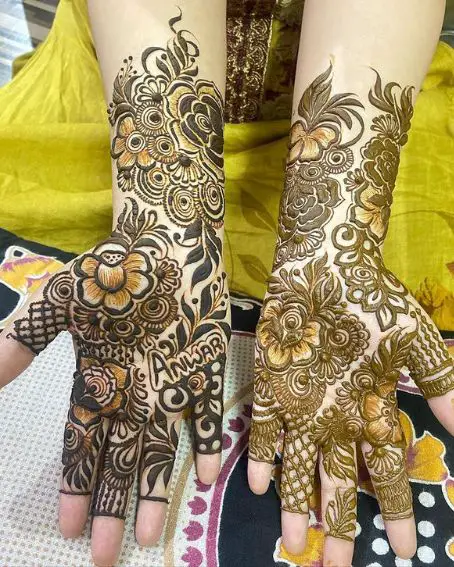 Intricate floral design always gives a royal look to the hands. It comes with different floral patterns filled all over the hands. The floral pattern features leafy patterns and dotted patterns here add a wonderful look to the design.
17. Finger Mehndi Design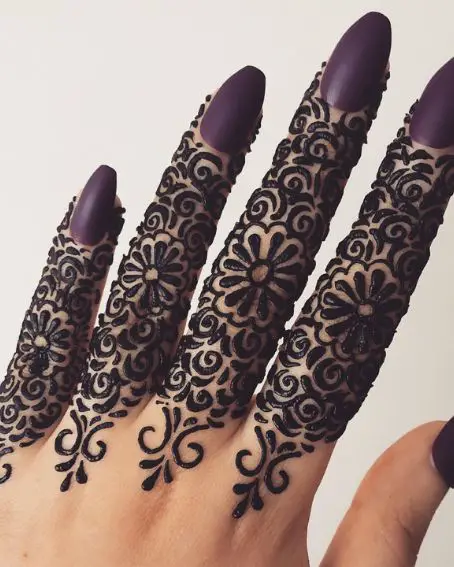 Not all people are fans of bridal designs. A few people fall in love with finger designs. If so, this suits you. This design features intricate floral patterns, which makes others wow.
18. Glitter Mehndi Design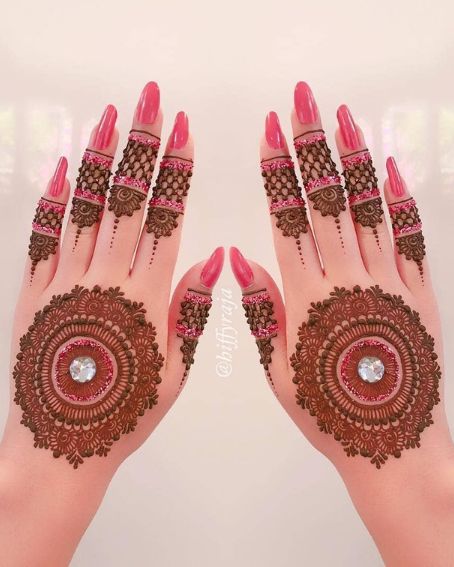 This is a rangoli-inspired mandala design. It comes with a circular floral pattern on the palm surface. Additionally, it is creatively embellished with shining red glitter to charm your hands.
19. Foot Floral Mehndi Design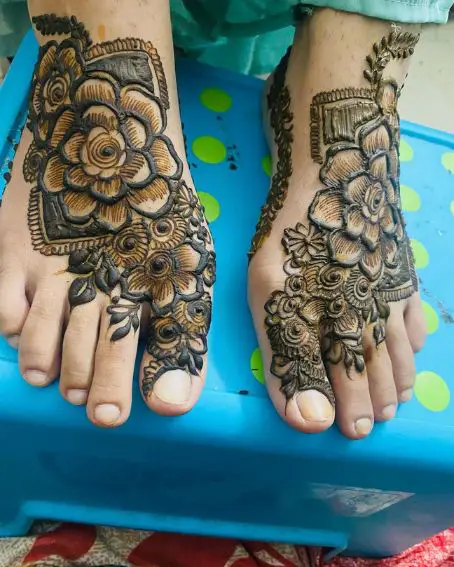 This is one of the best designs for the foot. Why don't you go with this design if you are looking for a floral pattern for your foot? It features huge floral motifs and other intricate floral designs. Altogether, it is a spellbinding design for your leg.
20. Tattoo Style Floral Mehndi Design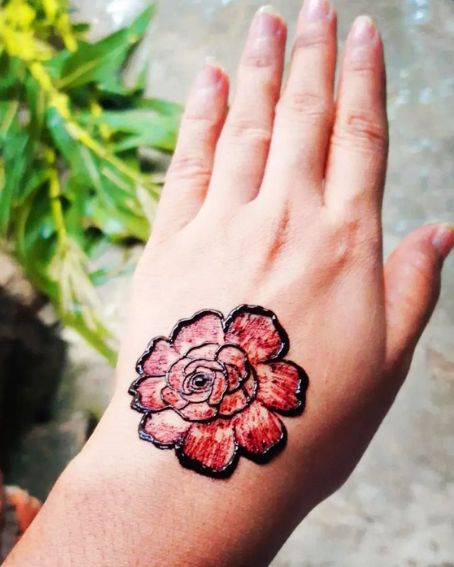 Do you like tattoo-style mehndi designs? Many like to wear their henna in a tattoo look. If you are the one, try this out. It is a red henna rose tattoo design. Just go out with it and stun others.
You Might Also Like: