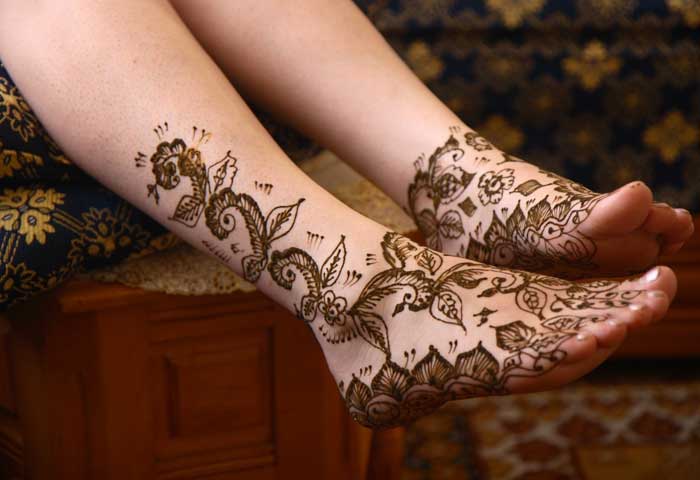 Indian brides are fond of adorning Mehendi at their weddings. While it is commonly applied on hands, brides love to have them on legs and enhance their beauty on the D-Day. Since wedding season is on the way, here are some beautiful Leg Mehendi Designs that can help you create great aesthetics on legs.
Check Them Out and Decide Which One is Best Suited for You.
Top 15+ Eye Catching Leg Mehndi Designs
1. Little Hearts on the Feet to Win the Hearts of All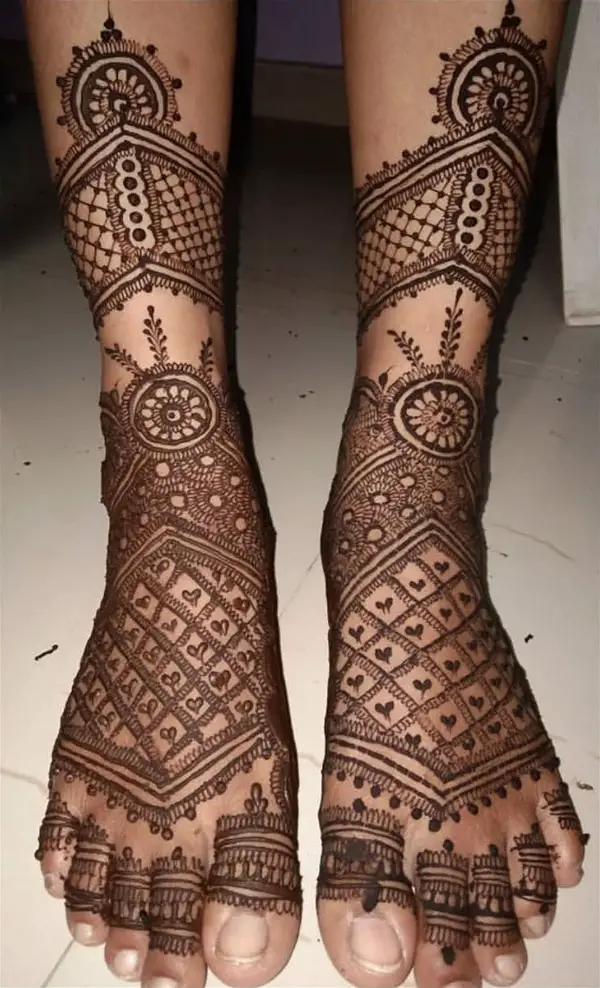 This beautifully intricate design with hearts in-between can make any leg look charming. Starting right from the toe and ending up below the ankles, this is one of the best leg mehendi designs you can ask for on your big day.
2. Time to Bring Royalty to the Legs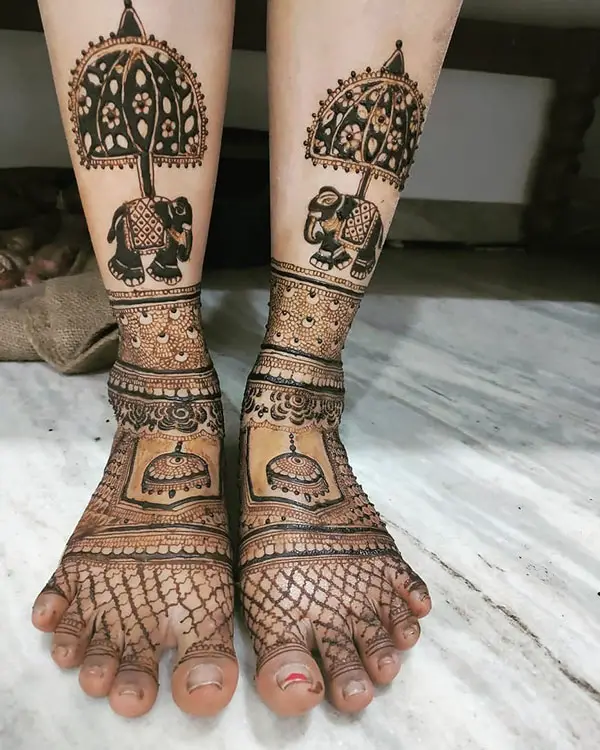 Give a traditional Rajasthani look with this amazing leg mehendi design. With elephants and umbrellas, this mehendi gives a royal look to the legs. It is perfect for brides looking for some royal traditional mehendi design for their wedding.
3. Traditional Touch with Big Elephants and Little Lotus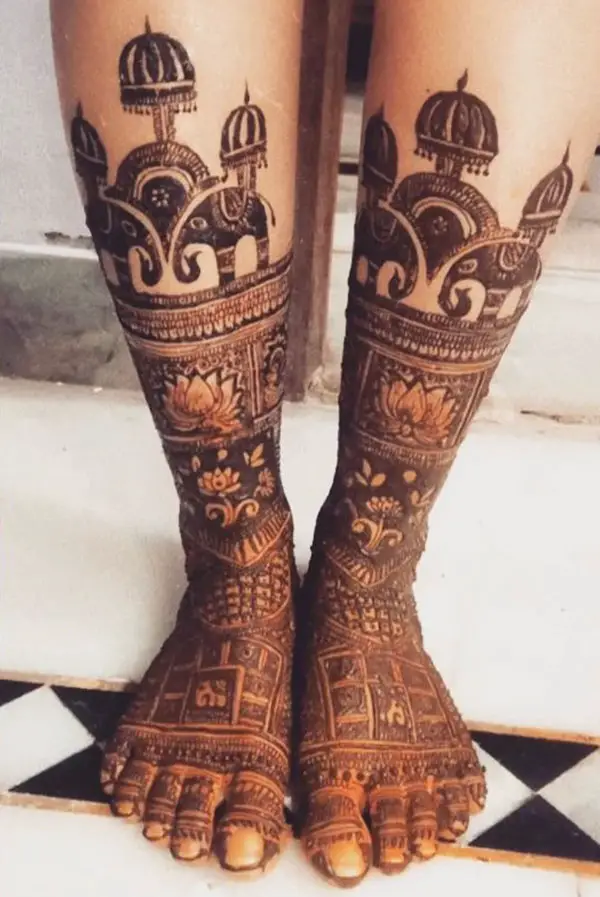 This is another beautiful Rajasthani leg mehendi design that has a royal feel. Beautifully crafted elephants, lotus flowers, and minute details in-between give this mehendi a spectacular look. It will instantly grab the attention of people and make you look like a queen.
4. Some Intricacies are Worth Every Foot
It is another royal piece for the legs with an eye-catching and artistically crafted design. When the bride favors a royal wedding, this leg mehendi design will perfectly suit the mood. It can make the legs look ravishingly beautiful and attractive.
5. Artistic and Simple Design to Adorn the Legs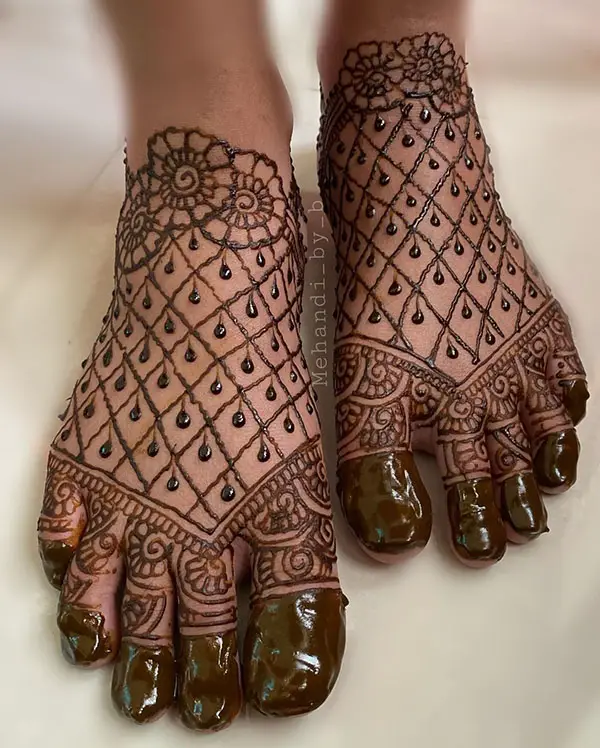 It could be a great choice for all the brides looking for some simple yet artistic leg mehendi design. The best part is that it goes well not only for the bride but also for the other female family members. The simple and delicate design is perfect for weddings and occasions like Karwachauth.
6. Expressive Bridal Design for the Wedding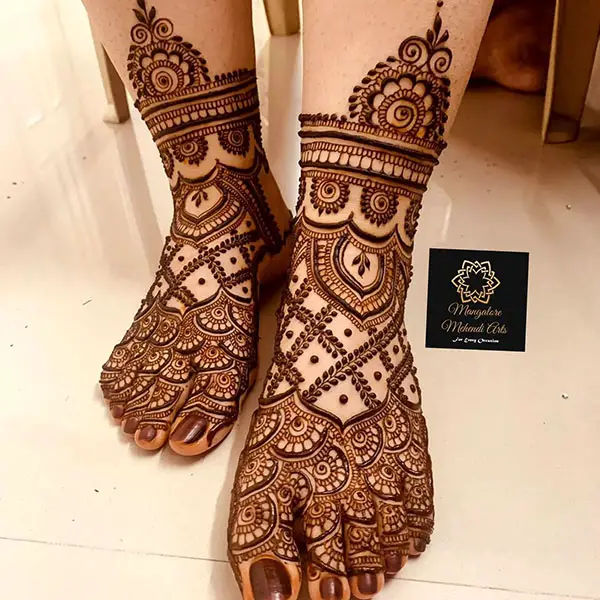 It is one of the great and best bridal leg mehendi designs that can easily grab the attention of guests. It has beautiful artistic flowers that make the legs prettier than ever before. The design is simple yet looks so charming that the bride's legs will take all the praises. Adorn it with red nail paint to make the legs look more beautiful.
7. Netted Patterns and Large Circles, Everything to go Gaga About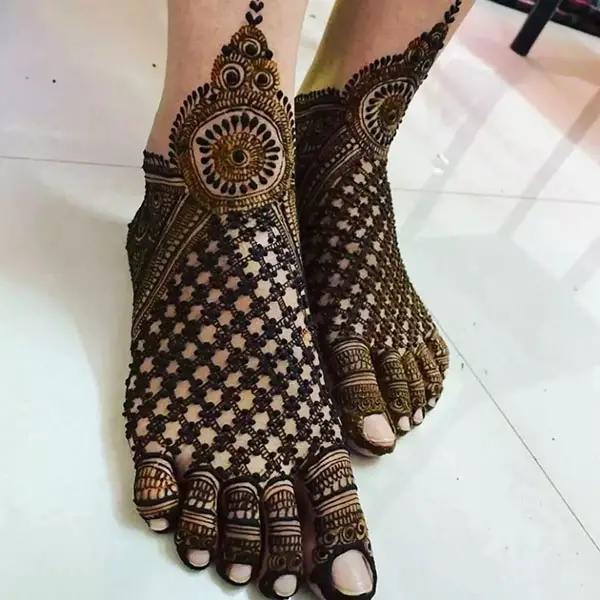 Girls will go gaga over this beautiful leg mehendi design that looks complex but highly sophisticated. This design may seem a bit difficult, but the legs look royal and pleasing once it is done. The minute details make the mehendi design extremely eye-catching.
8. Immerse in the Beauty of Free Flowing Flowery Patterns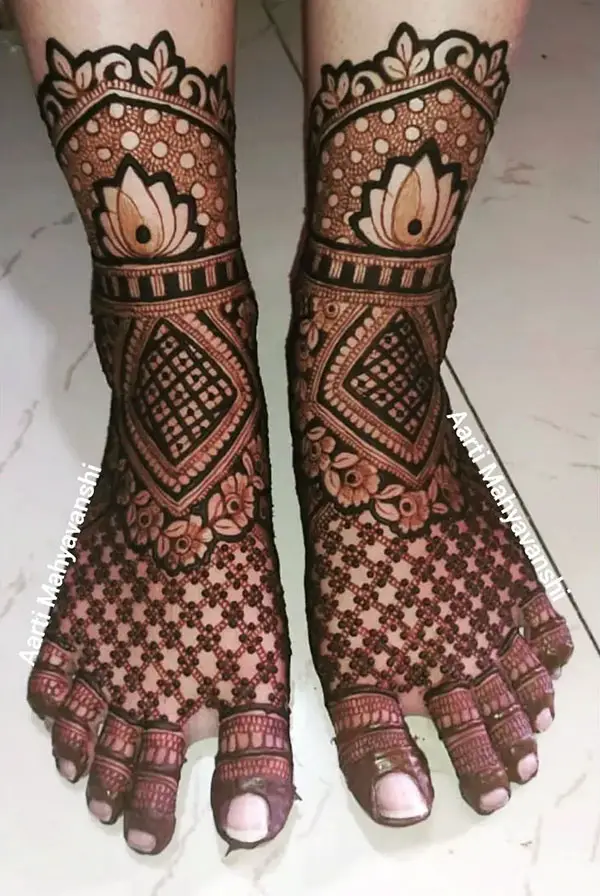 A big lotus above and a garland of small flowers along with leaves give this mehendi design a special look. With a more flowery look, this wonderful leg mehendi design brings oomph to the legs. A chain of flowers with small dots in between makes it extra pretty and suitable for brides and girls.
9. When Peacocks Make the Legs more Beautiful
It is one of the most beautiful leg mehendi designs that adorn peacocks on the legs and foot. The peacock is intricately designed with minute details, giving it a spectacular look. You will find leaves and lotus flowers that make it look royal and traditional, perfect for the bride-to-be.
10. Artistic Tinge on Legs with Intricate Design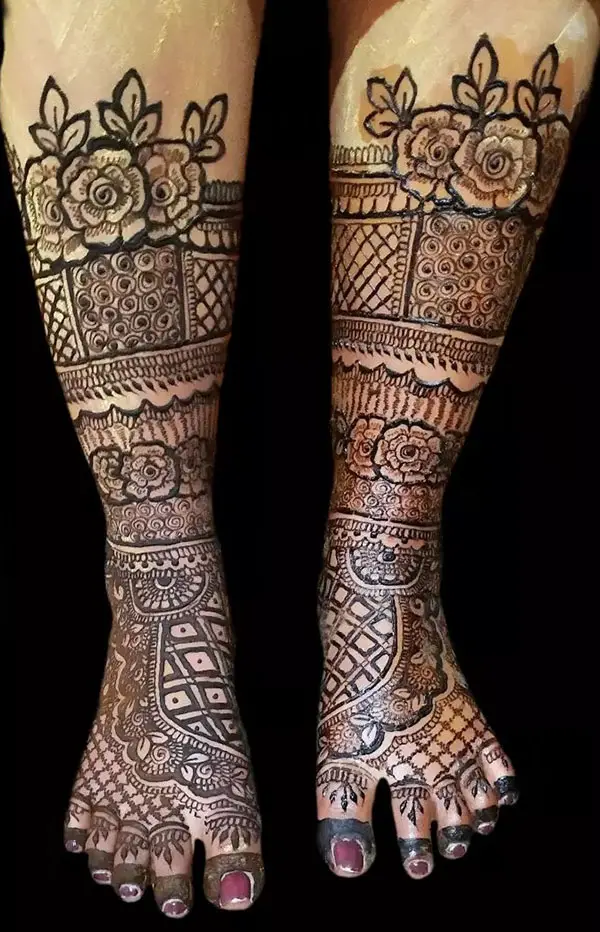 Graced with big flower designs, this leg mehendi design looks amazingly beautiful. The foot has small leaf patterns, and the foot comprises a garland of flowers, making it look delicately attractive. The legs get more charm and grace with this wonderful flowery leg mehendi design.
11. Flowers, Peacocks, Leaves and Typical Motifs…What Else is Needed?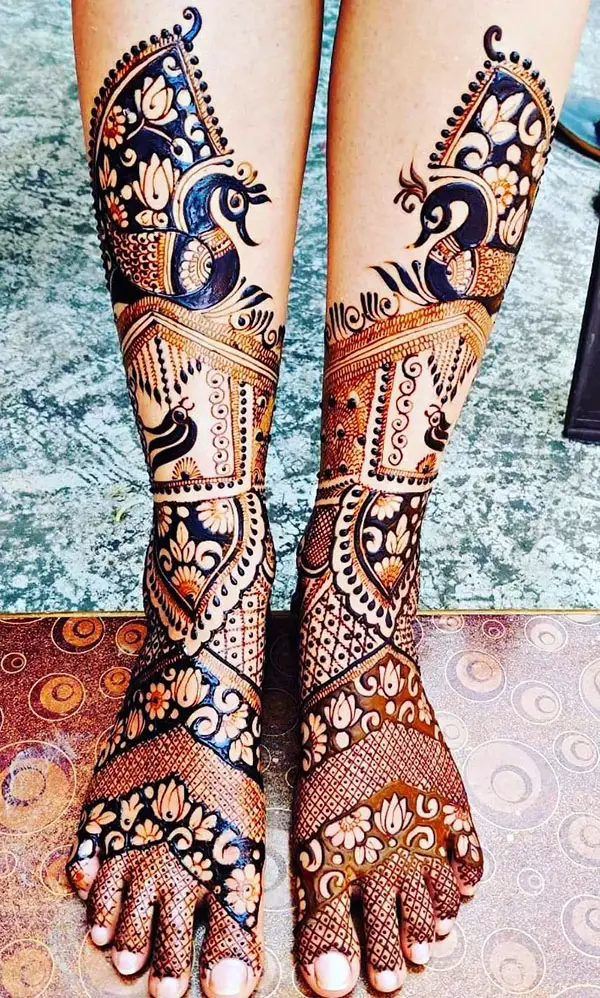 Peacocks, flowers, and minute details in between make this mehendi one of the best for the brides. Little spaces left on the legs help get a better view of the design. Small dots on the foot and flowers increase the overall look of the design.
12. Complex yet Sophisticated, Difficult yet Worth a Try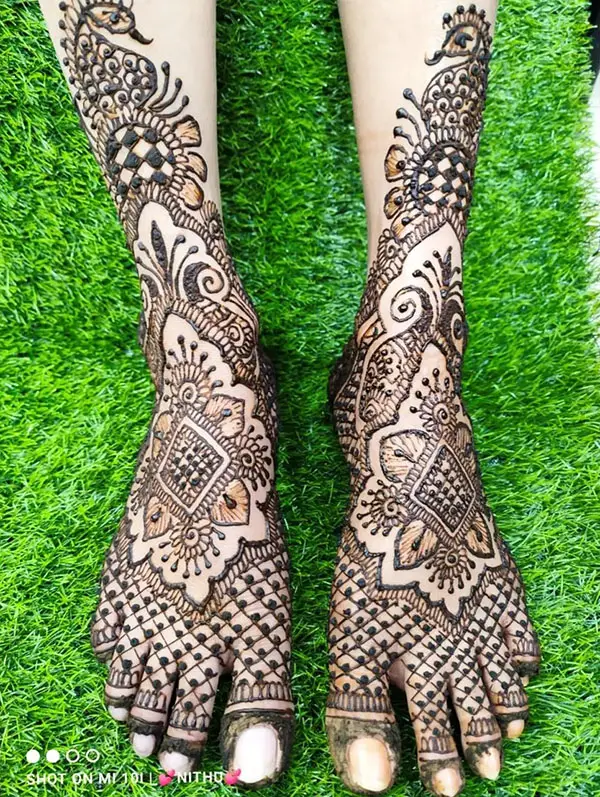 Leaving a big flower in the middle of the foot and surrounding it with minute designs, this is a great leg mehendi design for the girls. It can be applied on the wedding day or on occasions like Karwachauth and Diwali. The design finally ends on the legs with a graceful peacock design.
13. Express the Love with Beautiful Bridal Leg Mehndi Design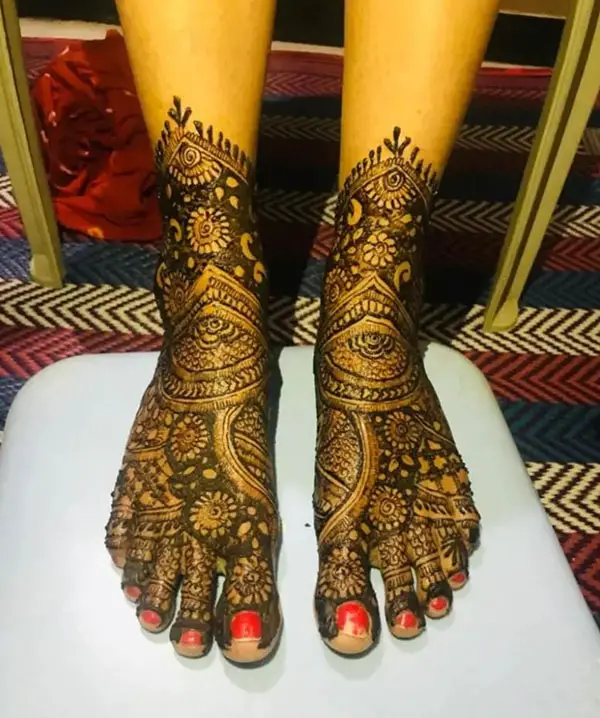 Round flowers and minute designs make this mehendi look amazing. It has leaves and a flowery design that gives the legs a wonderful look. Brides and their friends can apply this design for the wedding day and make their legs look aesthetically more pleasing.
14. Royal, Elegant and Traditional Leg Design for Brides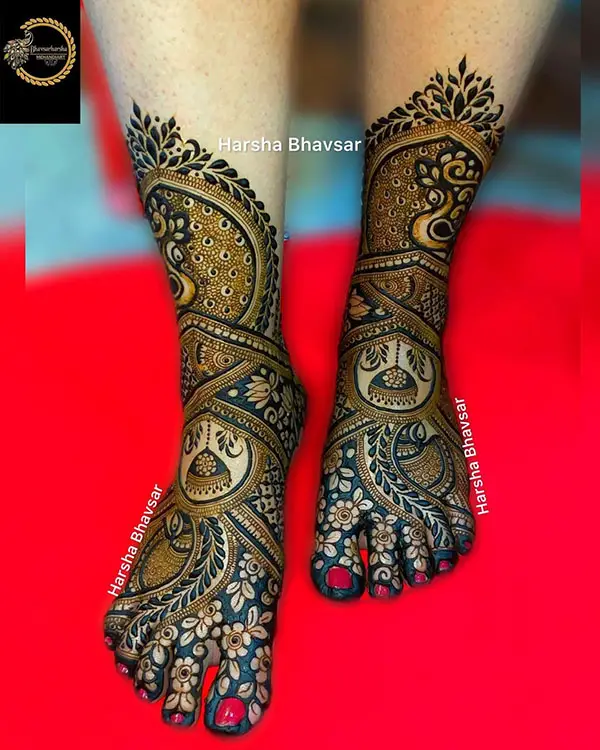 It is a perfect leg mehendi design that gives a royal look to the legs. Brides who are looking for something more traditional and Rajasthani look can go for this design. The peacocks on the legs with leaves pattern and flower garlands on foot make the overall look of it superb.
15. Bells Bringing Royalty to the Legs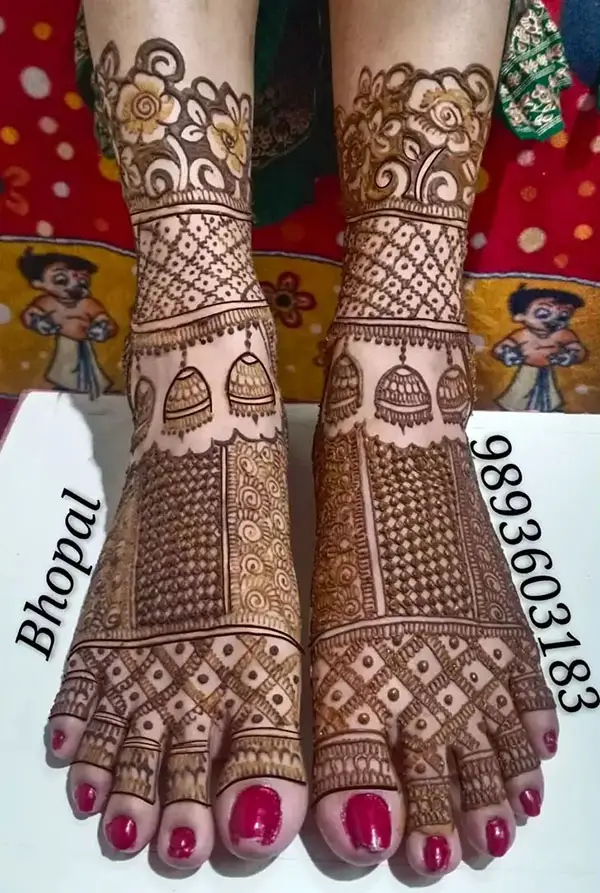 Little bells hanging from the legs towards the foot and intricately designed chains, dots, and leaves make this a perfect mehendi design for the brides. When applied with red nail paint, it automatically increases the look of the legs and gives a perfect bridal look.
16. Chained Lotus and the Royal Elephants for a Perfect Design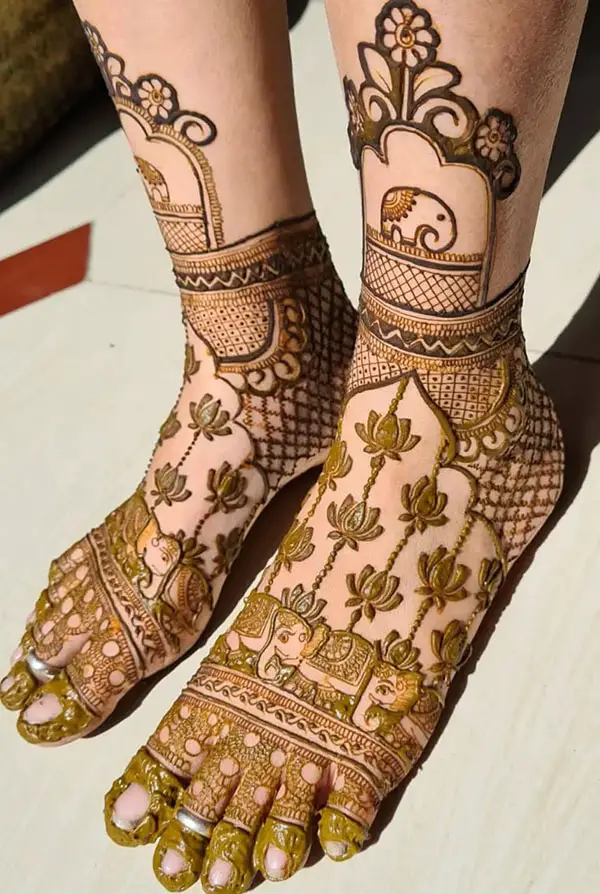 A unique, delicate-looking royal design that gives a traditional look to the legs makes it one of the best for the brides. Flowers attached to each other with chains and two elephants at the bottom give a pure traditional look. Two small elephant designs at the legs also increase the overall grace of the mehendi.
17. Bringing a Tinge to Royalty to Bride's Legs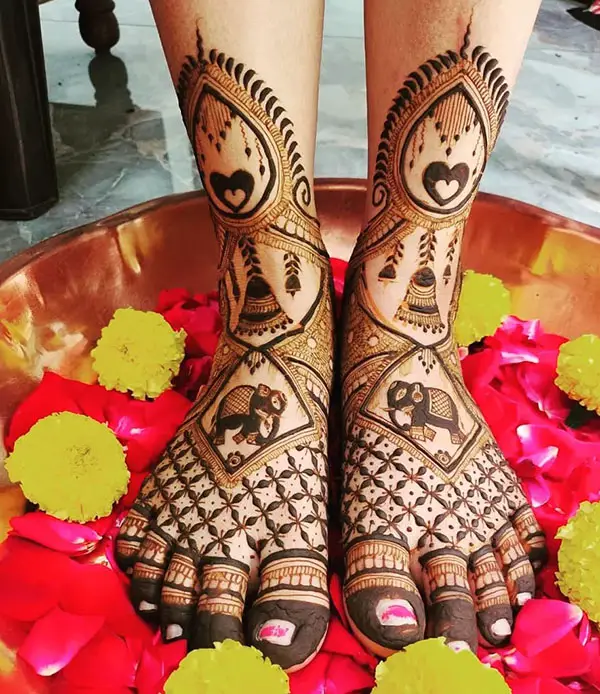 Cute hearts, little bells, and elephants make this leg mehendi design complete in itself. It has a punch of modern love, a traditional look, and a royal feel. Perfect for brides and bridesmaids, this is a perfect design for the wedding season.
18. Because Every Intricately made Design Calls for Celebration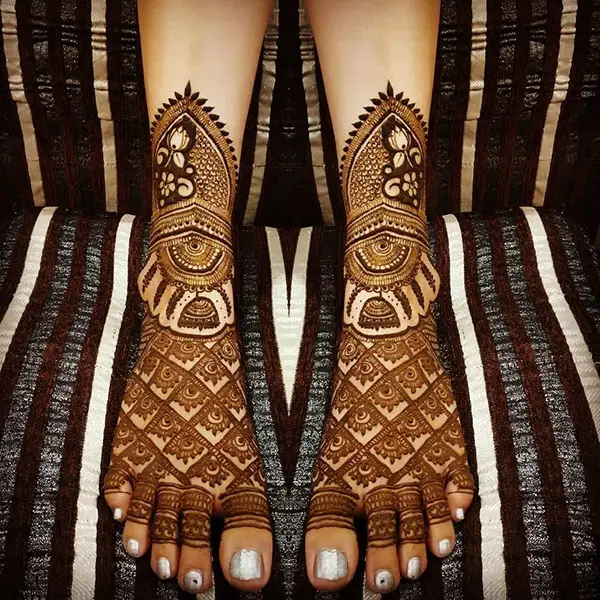 Flowers inside the designed squares and two large flowers at the top make this leg mehendi design perfect in all sense. It has small dots, patterns of delicate leaves, and little flowers scattered uniformly, making the design look symmetrical and great for the brides.
19. Cute Little Hearts and Large Flowers for Every Big Hearted Bride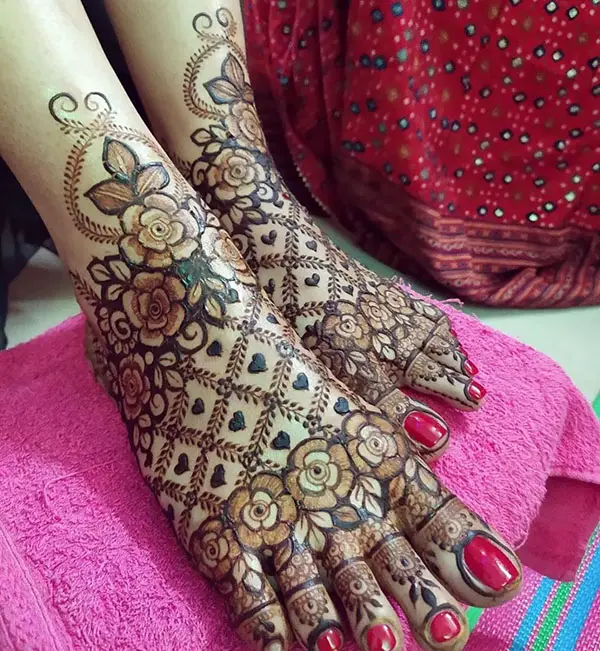 Little hearts all over the foot are enough to make this design look ultra-cute. The design itself looks immersed in the love of newlyweds. To complement the hearts, there are flowers, leaves, and small dots all over the foot and legs.
20. A Fuller and Perfect Bridal Leg Mehndi Design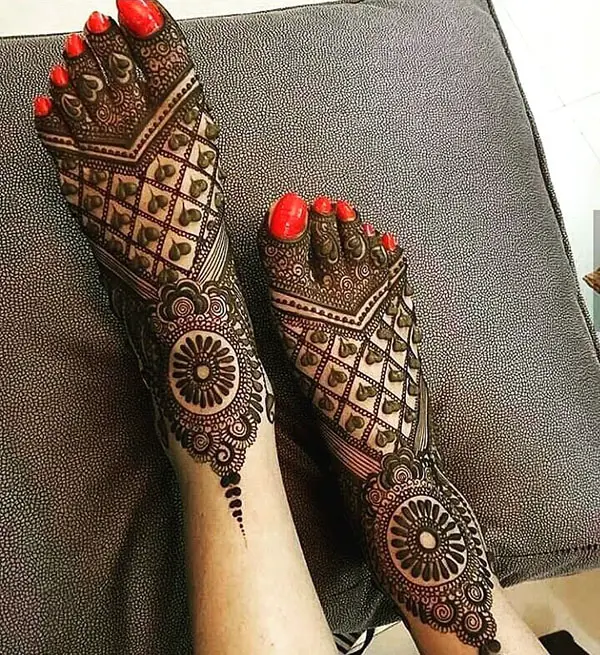 If the bride is looking for a fuller design that makes the legs look typically bridal and extremely beautiful, it can be a perfect choice. It has hearts to showcase love, flowers to showcase the new beginnings, and leaves patterns to give it an extra soothing effect. It is perfect for the new brides and occasions that celebrate love and belongings.
You Might Also Like: