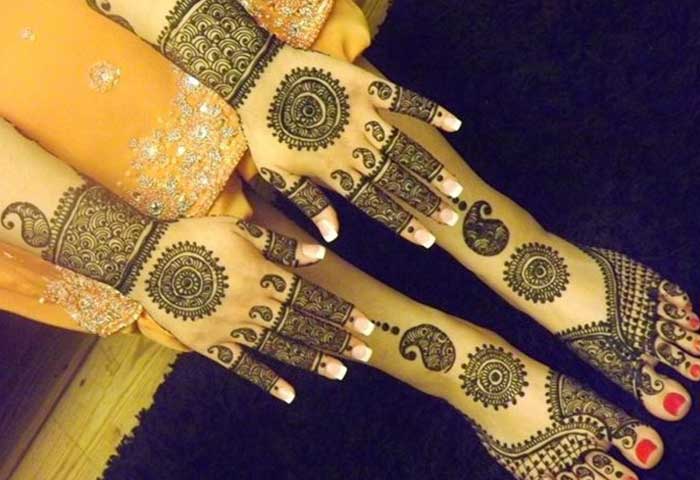 Looking for the best Mehndi design for your special occasion? Why don't you try Circle Mehndi Designs? Circle Mehndi designs are one of the simplest mehndi designs of all. Trust me; this doesn't mean it will be less beautiful than the other designs. Simple mehndi designs always make wonder when added to your hands.
In this blog, we've listed some of the best circle Mehndi designs. Just sit back and find your design.
The circle mehndi designs include
1. Lotus Circle Mehndi Design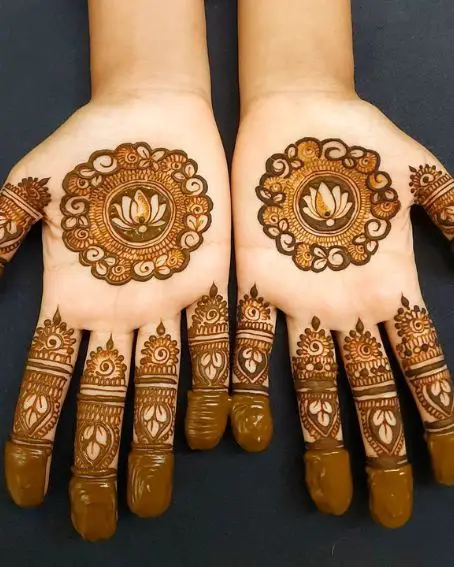 Every special occasion calls for a beautiful mehndi. Don't forget to add a magical touch to your designs by adding a circle in your palm. Further, the final layer of the circle is designed in a leafy and small circle pattern, giving an admiring look to the hands.
2. Back hand Circle Mehndi Design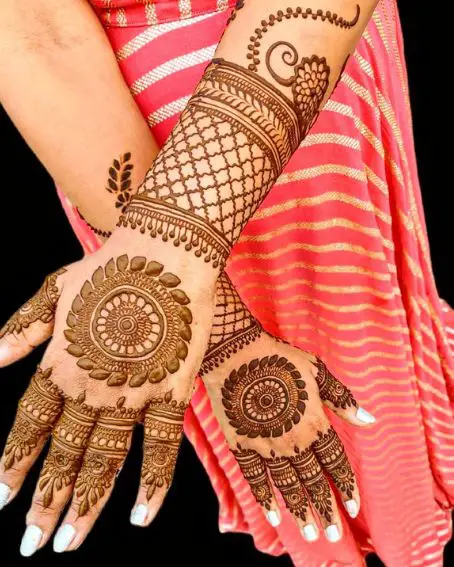 Not sure which Mehndi design suits your backhand? Try out this simple floral circle design in your hand. If you add this design to your hand, it flaunts like a beautiful flower on your hand.
3. Arabic Circle Mehndi Design On Foot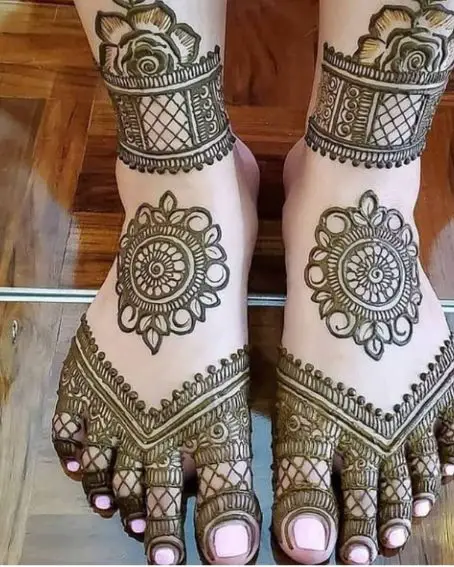 If you are looking for a simple Arabic circle mehndi design for your foot, this should be your choice. The centre of the design comes with a charming flower. The lovable touch to the design is its leafy outer layer. It gives added beauty to your foot.
4. Tattoo Style Mehndi Design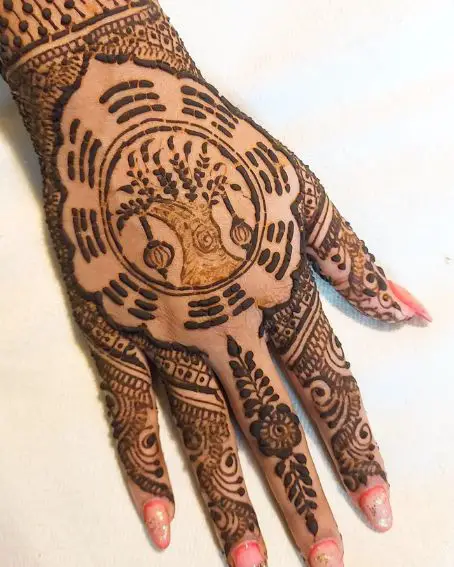 If you want something unique to design your hand with Mehndi, go with this. The centre of the circle is designed with the banyan tree structure. The outer layer of the circle comes with the dotted arc circle. Overall, it looks like tattooed art in your hands.
5. Circle Mehndi Design for Engagement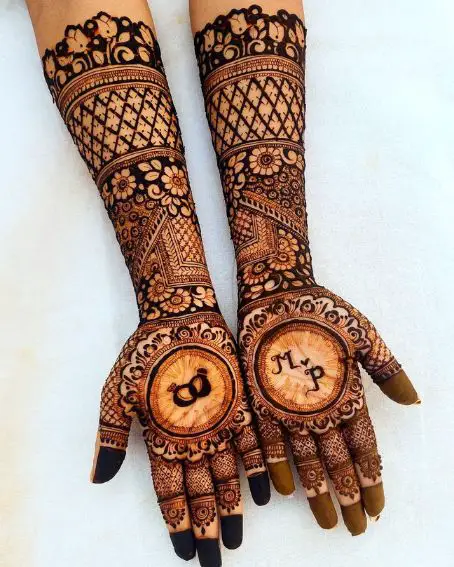 This is a perfect mehndi design for engagement and wedding parties. Without a ring ceremony, engagement or marriage won't get fulfilled. On the one hand, you can art your couple ring at the circle's centre. On the other hand, you can art the bride and groom's name or the first letter and circle it up with circle designs.
6. Chained Mandala Mehndi design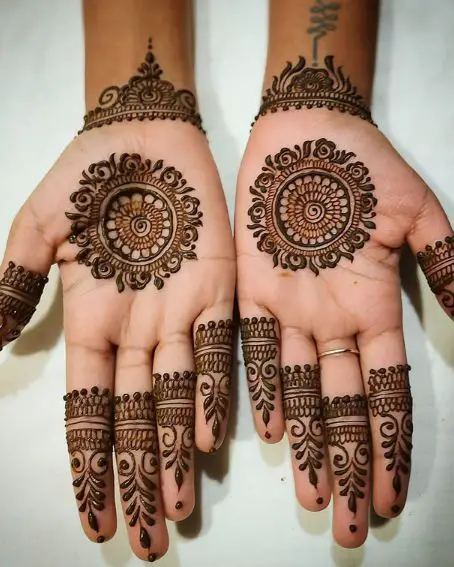 Mandala Mehndi's design usually enthralls all. Many brides prefer mandala designs for their special occasions. This circle mehndi design has a magnificent, flowery, leafy pattern that gives a distinctive look.
7. Floral Mandala Mehndi Design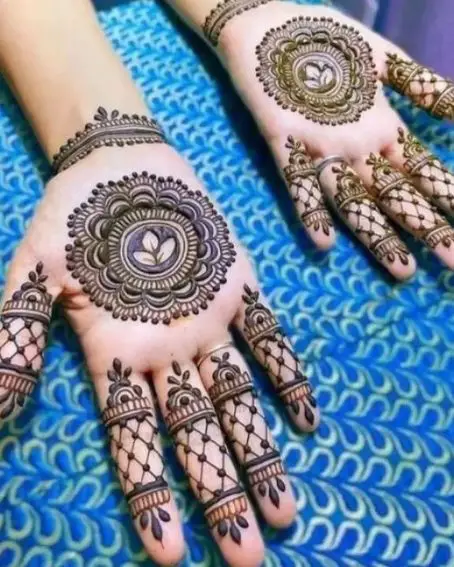 This circle mehndi design usually comes with beautiful flowery and leafy designs that cover the palm. It is a nature-inspired theme with three petal leaves in its centre. This stunning floral pattern beautifies your hand.
8. Rajasthani Circle Mehndi Design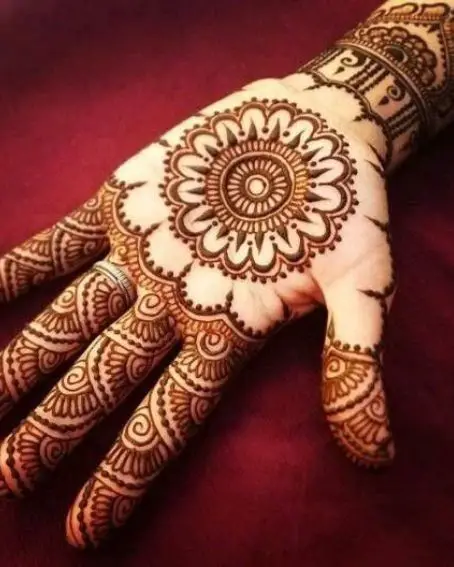 Whether you are from Rajasthan or not, you can embellish these gorgeous yet simple designs on your special day. This design fills up the palm with intricate flowers and leaves.
9. Tikki Mehndi Design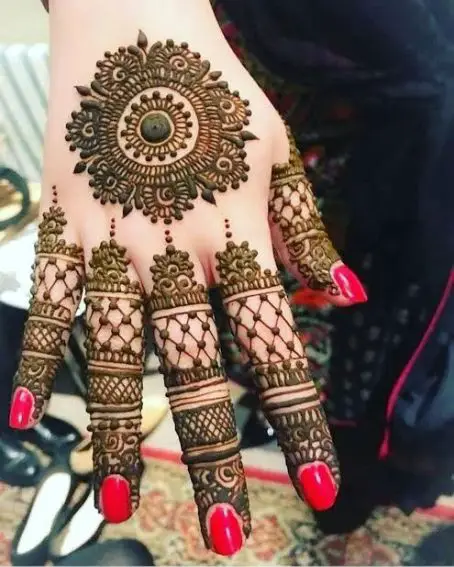 It is a simple design that can be replicated all over the hands. Tikki's designs are versatile and match every dress type. The flowery structure of this design gives an attractive look to your hands.
10. Raksha Bandhan Mehndi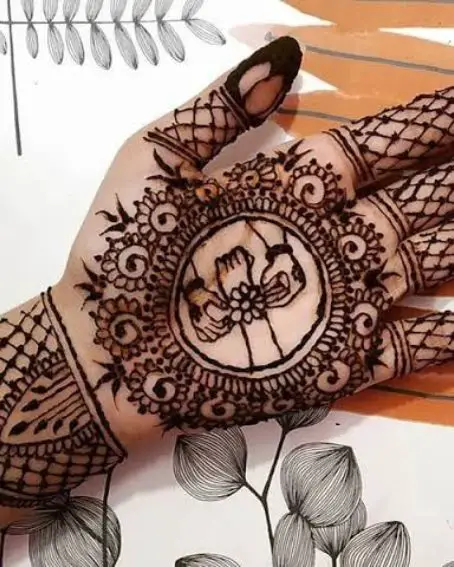 A festival that celebrates the bond between a brother and sister. This admiring circle mehndi comes with a little rakhi sprawled across the palm. When you art it during the occasion, it gives a pleasant look to your hand.
11. Simple Yet Elegant Design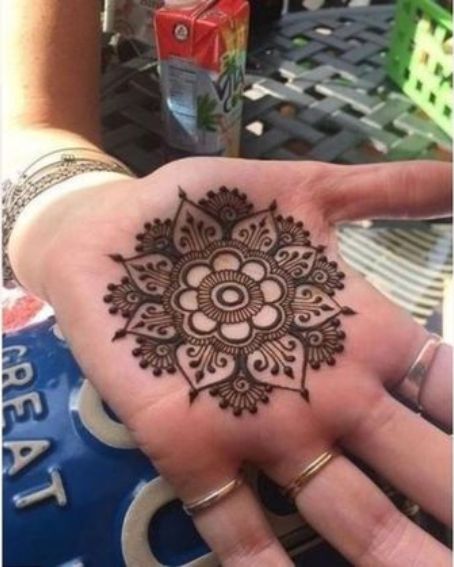 This circle design is neatly done with an alluring floral pattern and is simple yet elegant. It is drawn with many free spaces around it and gives a lovable touch to the design.
12. Extendable Floral Circle Design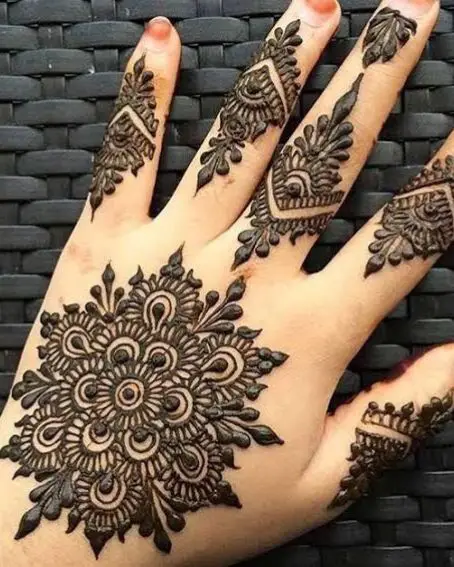 You should consider this design to fill your backhand with a lovely mehndi design. Some people like to fill out their hands with henna. If so, this design suits you. Because this floral design can be extendable as per your need.
13. Chained Raksha Bandhan Design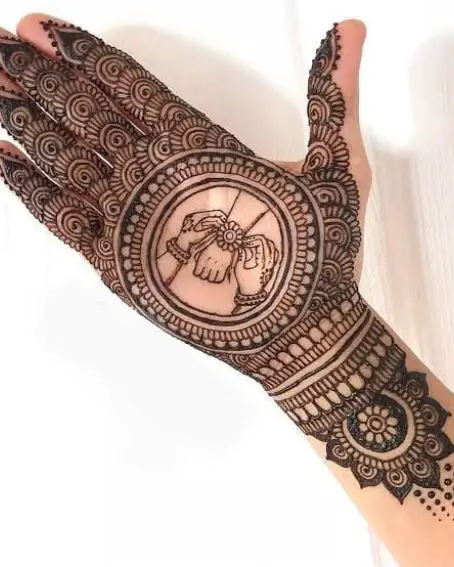 It is another Raksha Bandhan mehndi design that helps you chill out during the occasion. The circle's centre resembles a sister knotting her brother's wrist with Rakhi. This cute design is chained with little floral patterns all over the fingers. When you add it to your hands, it gives a trending look.
14. Floral Bracelet Mehndi Design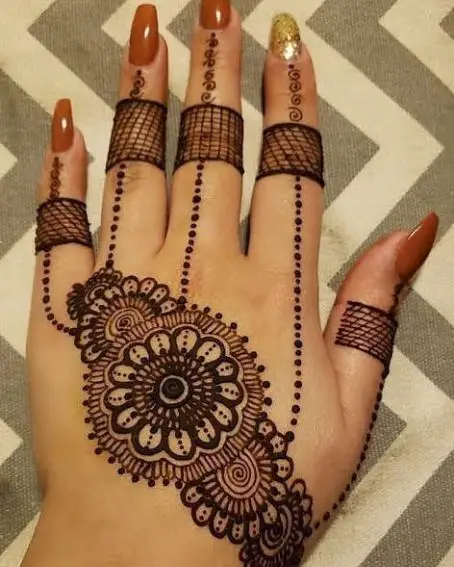 If you are fond of adding bracelet design to your backhand, choose this. The formal circle pattern in this design is chained up with semi-floral patterns. Each semi-floral pattern is linked up with the finger ring design on each finger. Overall, it gives a real ornamental look to your hands.
15. Simple And Chic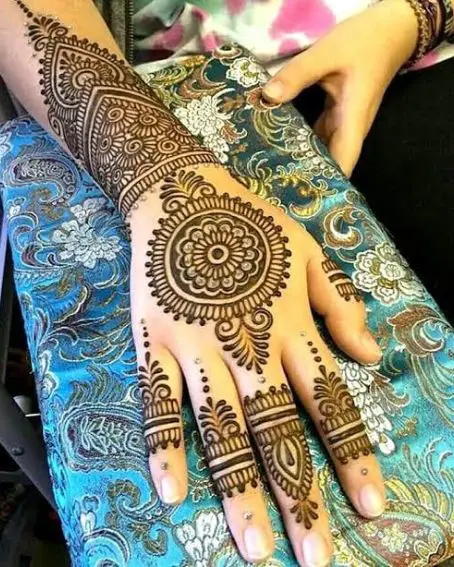 It is an aesthetic circle mehndi design that wins endless compliments when you art it in your hands. This lovely floral mehndi design features a mandala pattern. It gives a bracelet structure in your hand.
16. Jewelry Style Bracelet Mehndi Design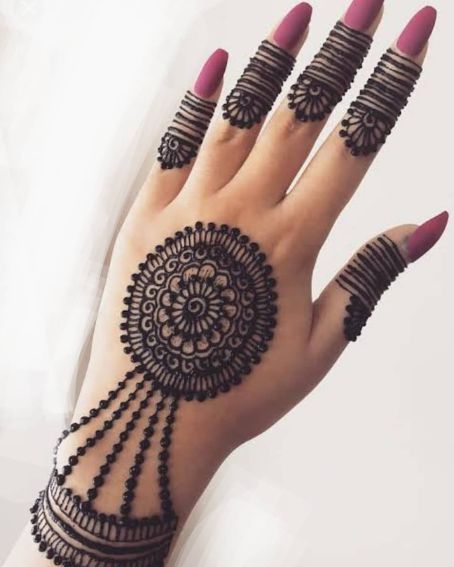 This type of bracelet mehndi design adds a traditional look to your backhand. It gives splendor and a classy look when you design it on your hands. You can apply this design for any occasion.
17. Unique Circle Mehndi Design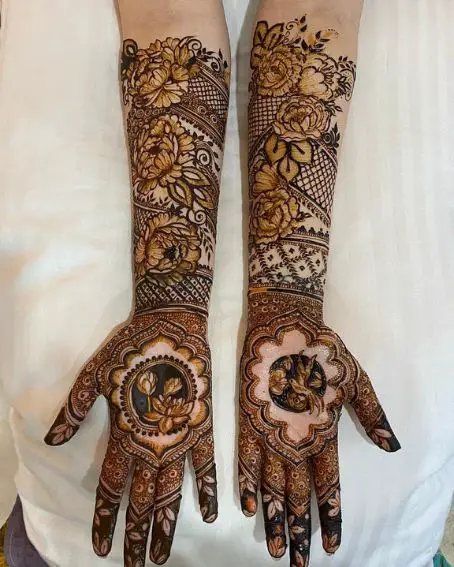 This mesmerizing art gives a lovable look to your hand. This design comes with a beautiful bird with flowers at the centre of the circle. The design is structured with intricate design patterns on the fingers. Overall, it looks adorable in your hands.
18. Rose Circle Mehndi Design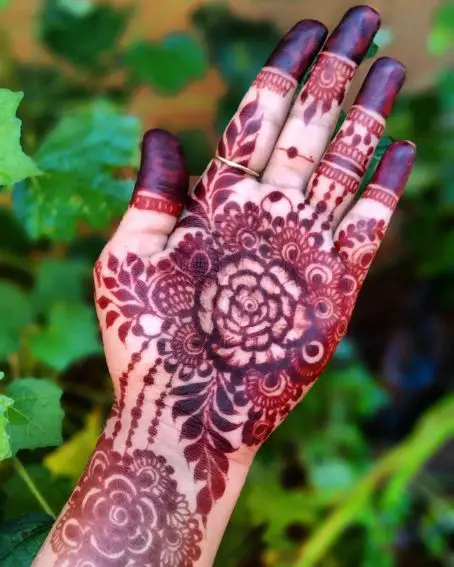 This design can be called floral heaven. Yes, it is a perfect design for brides. The rose in the design's centre gives your hands a heavenly look. The leafy pattern on the four corners of the design is an added delight to the design.
19. Lotus Mandala Mehndi Design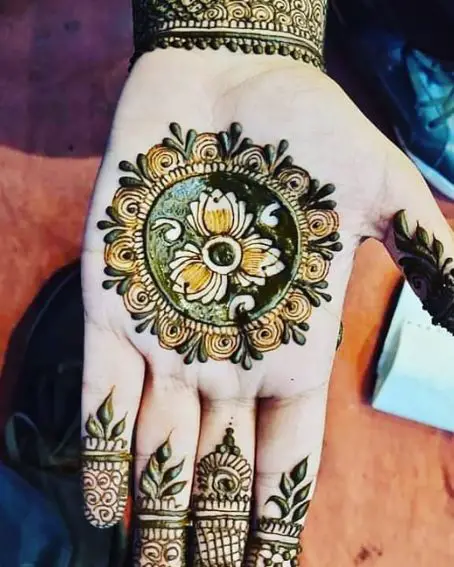 Lotus Mandala mehndi design is one of the most beautiful henna arts for any occasion. This astonishing design is versatile and works for all. Try it out once.
20. Arabic Mehndi Design On Backhand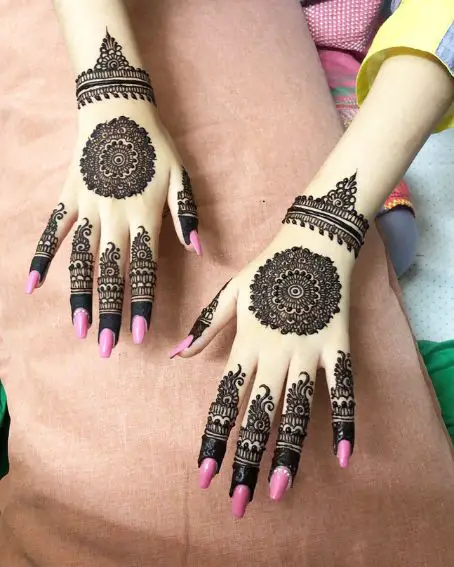 This Arabic design comes with gorgeous coordinate patterns. The intricate filling on the circle design makes it look more stunning. If you want perfect Arabic henna art, try this out!
You Might Also Like: