Whether on any occasion or wedding how we can forget wearing mehendi in hands of course not. Mehendi is tradition and our own custom that cannot be ignored at all and mehendi designs on your palms and back sides really increases beauty of your hands and provide unique appearances. Mehendi completely belongs to our won tradition and every family has won way to put mehendi on their palms that provide amazing appearances to your hands after all. Wearing mehendi provides charming look to your overall attitude and on wedding the mehendi designs are different and other occasion like events, birthday function, anniversary, and other mehendi is applied on the hands. Mehendi is the best way to apply on the legs also and most of time we put mehendi on legs especially on wedding ceremony. Have you worn mehendi on back sides of hands? Today we will teach you how different extraordinary mehendi designs provide stunning look to your hands. Here are those back hands mehendi designs with details.
This distinctive type of the back hands mehndi design is awesome that has been appeared with leaf and flowers shaped patterns. The main root of flowers and leaves have been designed and stretched towards the last and tiny finger like chain. The way of this simplest design of mehndi really offers superb look to your hands exactly.
1. Round Shape Back Hand Mehndi Design: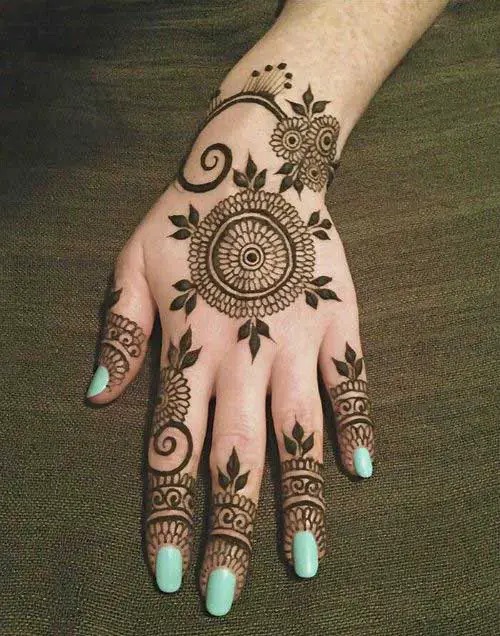 2. Wedding Back Hand Mehndi Design:
[Related: 25 Beautiful Mehndi Designs for Fingers ]
This is one of the eye-catching mehndi designs and a great example of this mehndi shows how henna is used to create mehndi motif in circular process. This mehndi is one of the perfect designs of mehndi and it design is giving very tremendous look to your hands finally. The mehndi motif is very traditional with all small flower motifs and bead designs.
3.  Latest Shaded  Back Hand Mehndi Design: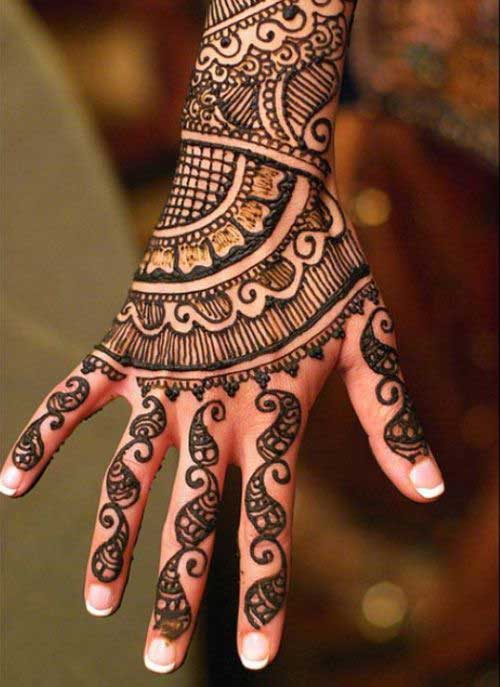 4. Latest Bridal Back Hand Mehndi Design: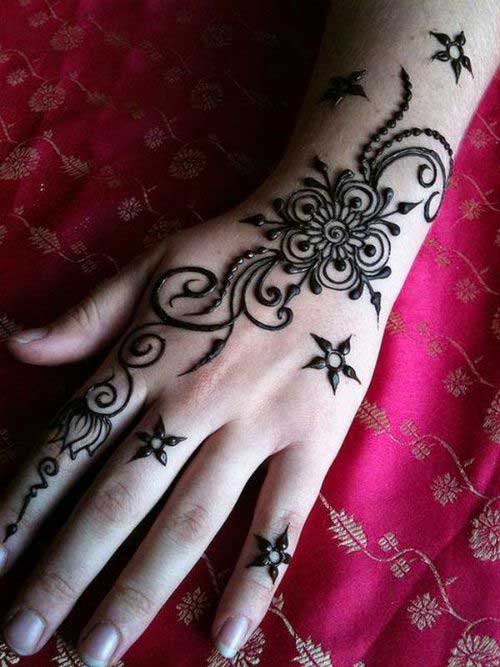 5.  Beautiful-and-Easy Back Hand Mehndi Design: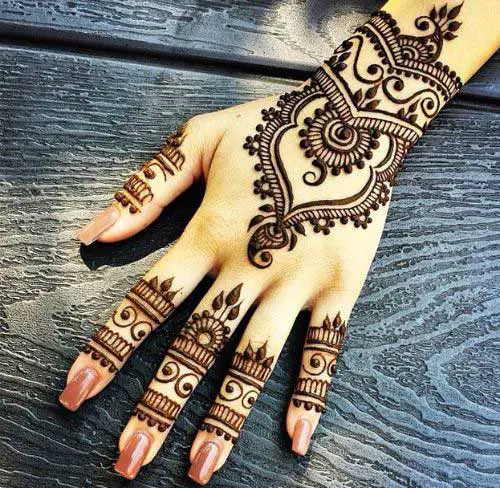 [Related: 40 Simple and Easy Bridal Mehndi Designs]
This is completely modern design of mehendi and also depicts as Arabic mehendi design and this mehendi pattern looks more appealing on bridal hands. During her wedding when she applies this mehendi design that entirely changes the look of yours. This awesome motif includes flowers, leaves and climbers designs. You can see that every finger has unique design that enhances the beauty of your hands. This perfect and black mehendi has been applied to increases the borders and usual mehendi is applied to block the entire design.
6 . Fancy Eid Henna  for Back Hand Mehndi Design: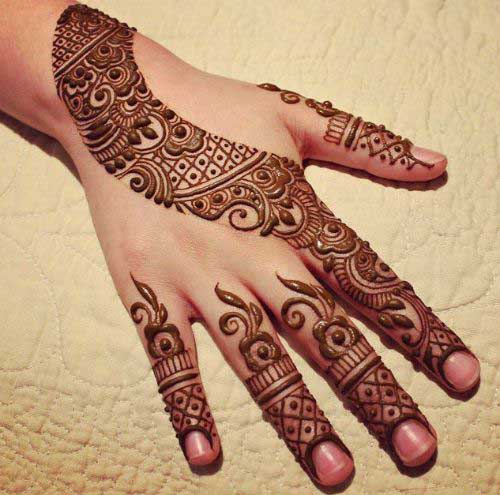 7. Mehndi Inspired Henna Tattoo for Back Hand: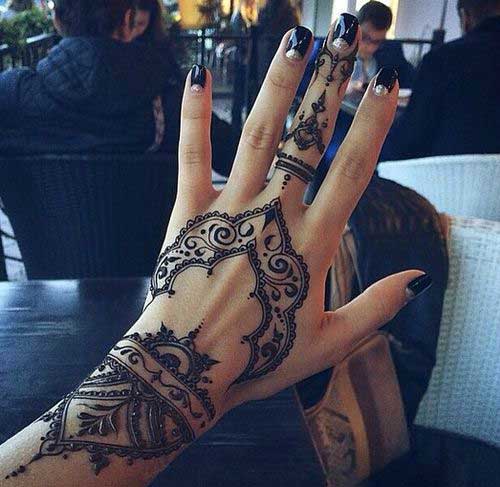 8.  Triangle Designs Mehndi Design for Back Hand: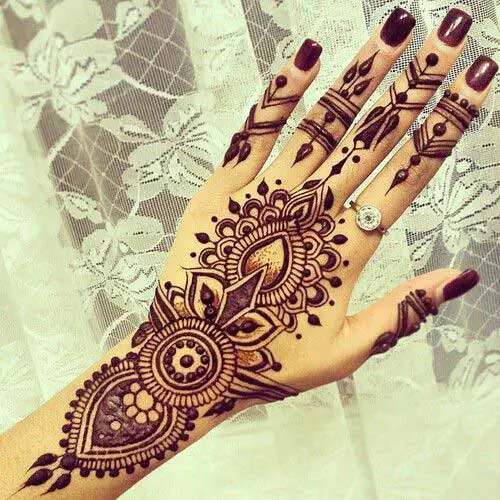 This mehendi design is truly splendid that has blocked your entire palms from henna mehendi and the design is overspread all over your palms that offers appealing to your hands. One more thing about the mehendi design on your palm even, the design is different and two to three motifs are running on the palm. This mehendi design is giving complete look to every woman. This design completely looks sophisticated and trendy and can be worn on every casual event.
9. Most Beautiful Easy Henna Designs for Back Hands: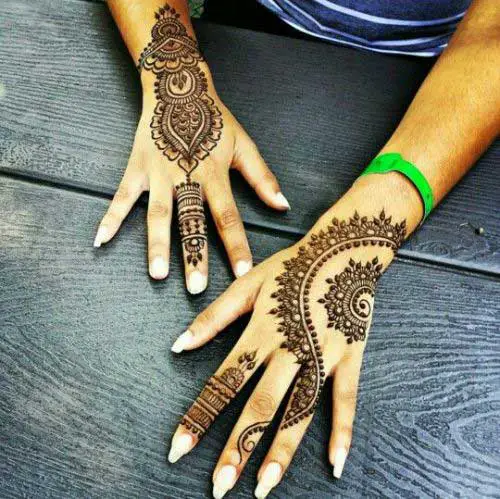 [Related: 20 Inspired Foot Mehndi Designs ]
10. latest Trending Henna Design  for Back Hand: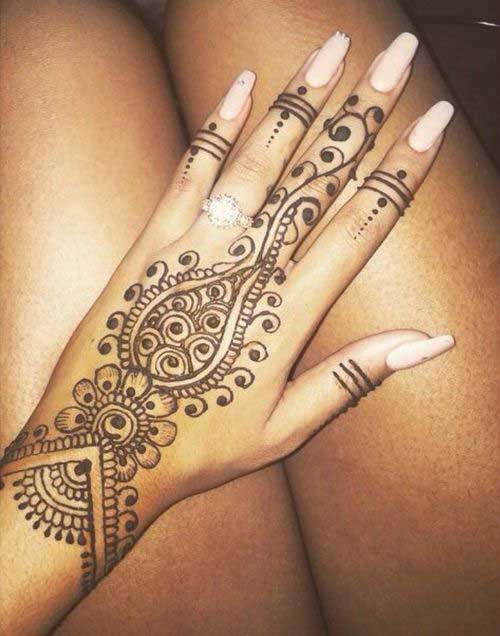 11. Latest & Beautiful Mehndi Design for Back Hands: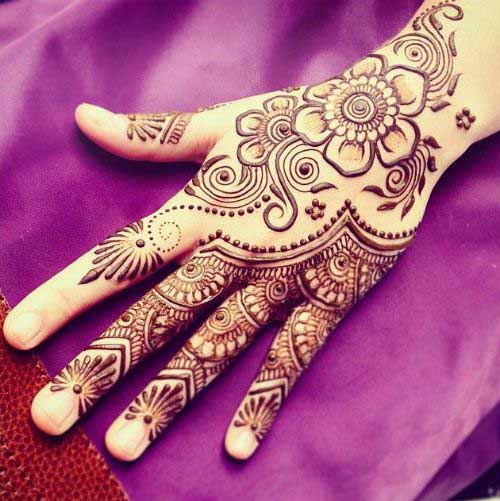 This is simplest and most sober mehendi design of back hands. This mehendi design exactly highlights on your simplicity that how simple and cool you are. This back hand mehendi design with easy motif of stars in second and last finger depicts your gracious and lotus flower just on first finger is quite charming. This back hand mehendi motif is simply tailored and elegant.
12. Simple Dulhan Mehndi Design for Back Hands: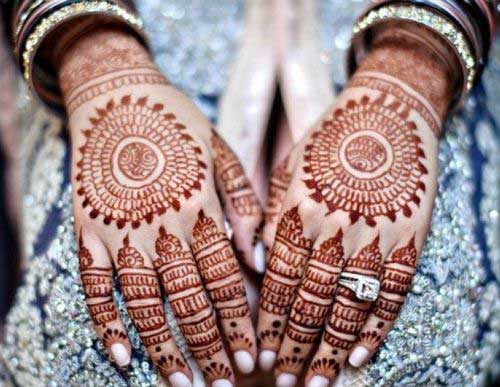 13.  Indian Arabic  Mehndi Design for Back Hands: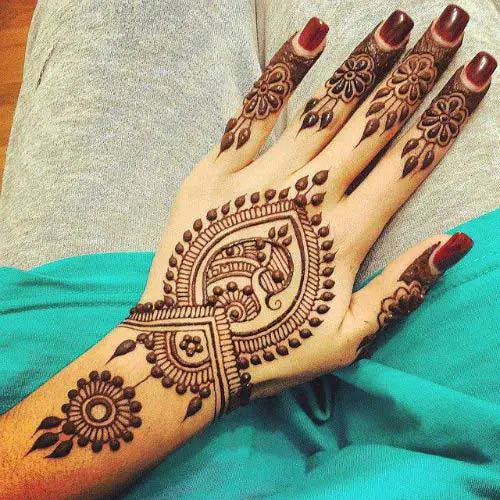 14. Pretty Mehndi Design for Back Hand: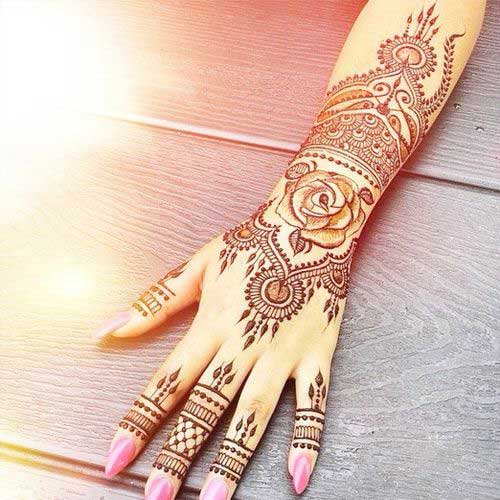 Do you want to wear mehendi on all occasions? So, this mehendi design is the best example to provide stunning look to your hands. Try this mehendi design that is truly perfect and offers gorgeous look to your getup. Now you can wear this mehendi design on your palms on both hands that cater flawless appearances to any person.
15. Gorgeous Mehndi Design for Back Hand: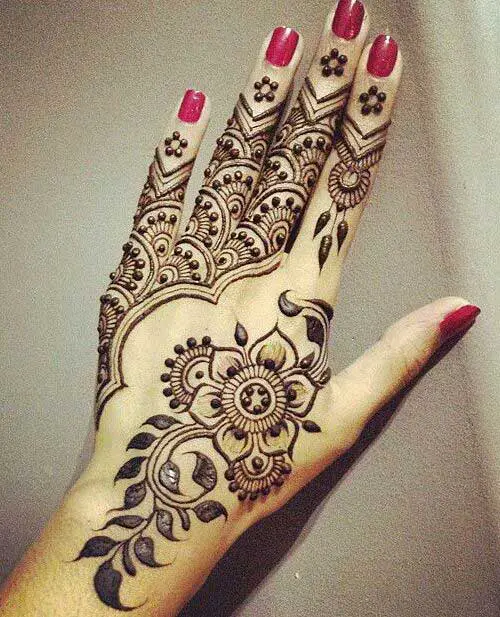 16. Latest Arabic  Mehndi Design for Back Hands: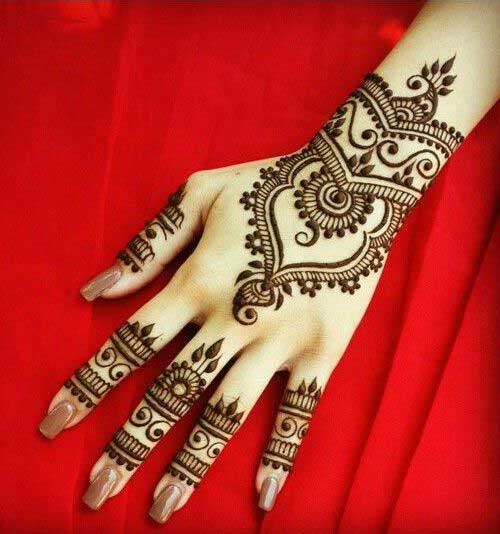 This perfect back hands Indian mehendi design includes modernism motif in these days. Simply it is designed with few leaves and other check prints that are not most highlighted but few check in tiny shapes we can see on finger and back hand palm. This mehendi design gives completely neat and clean look to your hand and the diminutive motifs on the entire fingers are designed that is stylish in itself and offers chic look.
17. Modern and Latest Mehndi Design for Back Hands:
[Related: 40 Most Amazing Arabic Mehndi Designs]
You can see this mehendi design that is very unique and the design is drawn on palm is like huge gate of empire palace yes. The design totally resembles as the gate of palace and down on the wrist the pattern is very distinct and same the tower is made you can observe on the mehendi design. This mehendi motif is quite easy and convenient to create and of course it pulls your attention. This special mehendi design is applied on the palms of everyone young, old, adult or children also.
18. Trending Mehndi Design for Back Hand: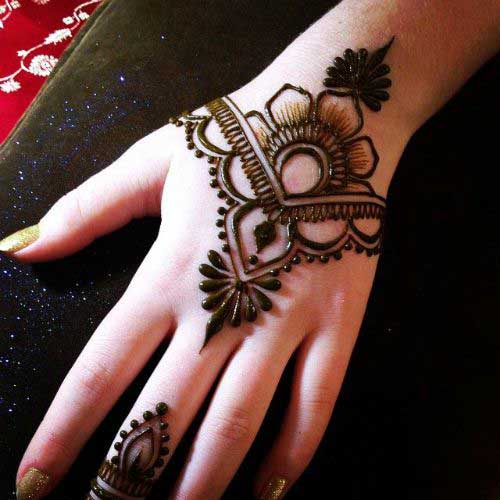 When you wear this mehendi motif that creates awesome look to your hands and offers amazing appearances that you cab perfectly draw. If you want to wear simple and beautiful back hand mehendi design this is right choice of mehendi pattern that anyone can put on this mehendi design.
19. Fancy Mehndi Design for Back Hand: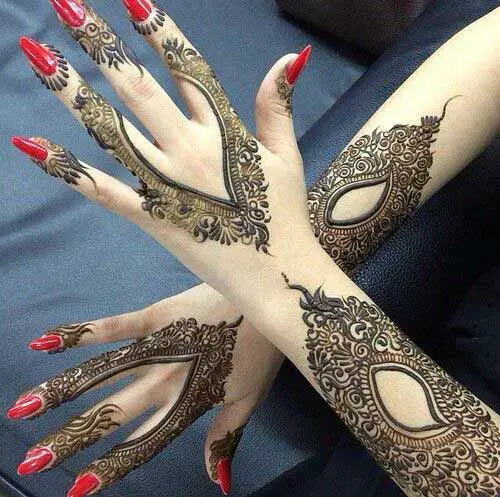 As we just emphasize on this mehendi design it comes only wow! This is tremendous mehendi design and your eye will be never move another way as you just keep watching that mehendi motif when especially you wear this mehendi pattern this is diverse design and looks like a chain as it makes you feel that you have worn chain bracelet. To keep this chain mehendi style is simple to create just take mehendi and get this similar design with the mehendi designer.
20.Simple Back Hand Mehndi Designs: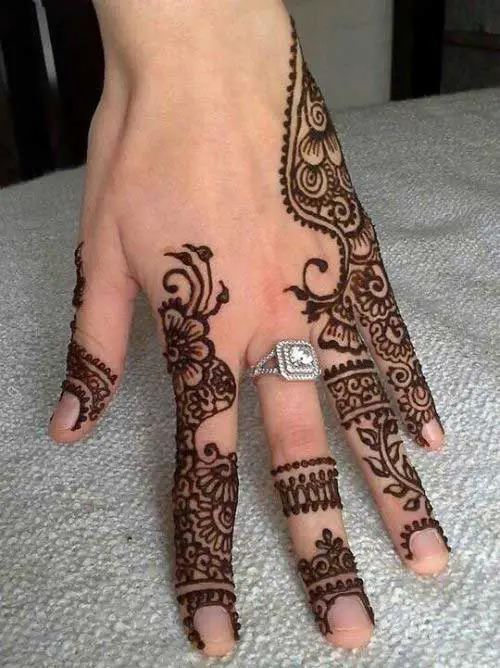 More Photos of Back Hand Mehndi Designs to inspire you:
21.  Beautiful Back Hand Mehndi Designs: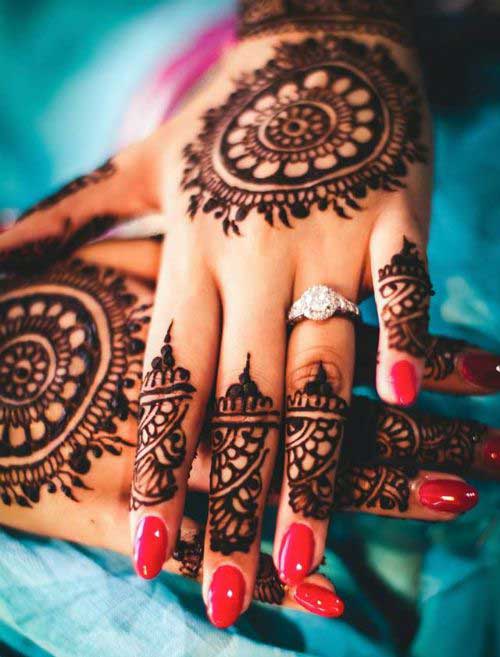 22. New Mehndi Back Hand Designs for Festival: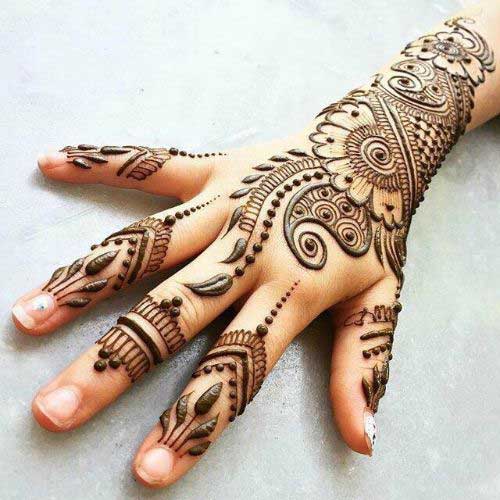 23. Arabic Mehndi Designs for Back Hand: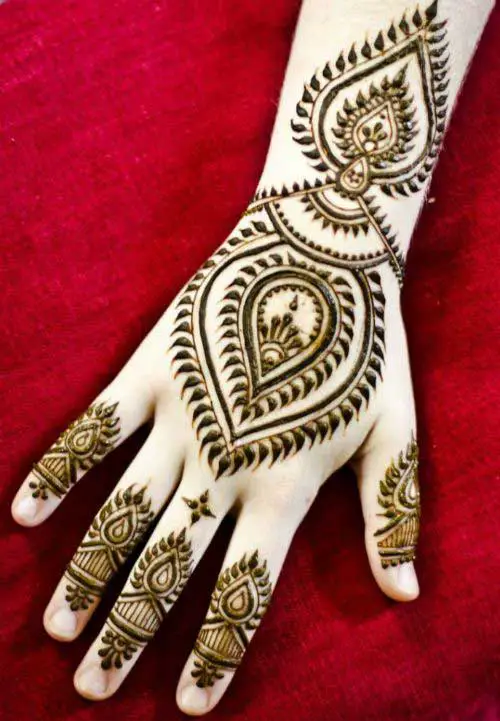 24. Latest Karwa Chauth Mehndi Designs for Back Hand: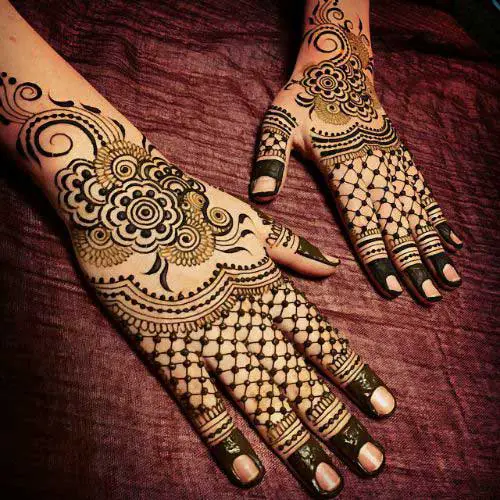 [Related: 20 Beautiful Glitter Mehndi Designs for Every Occasion]
25. Easy Henna Designs for Back Hand: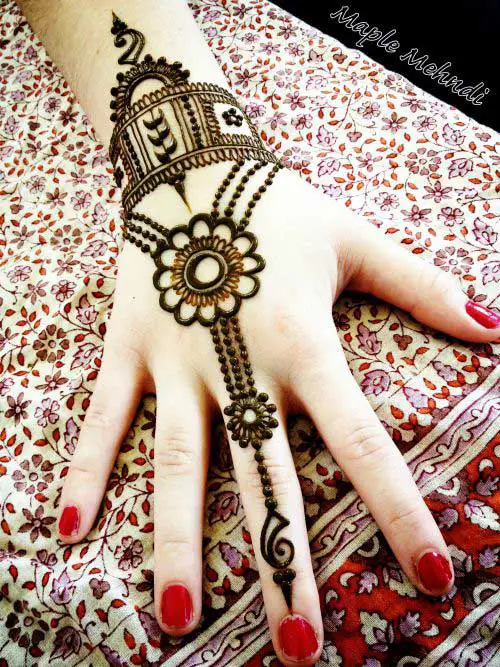 26. The Peacock Passion Henna Designs for Back Hands: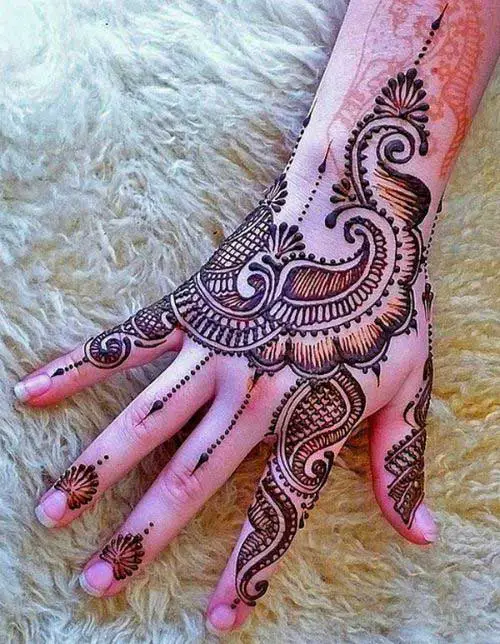 27. Stylish Latest Indian Mehndi Designs for Back Hands: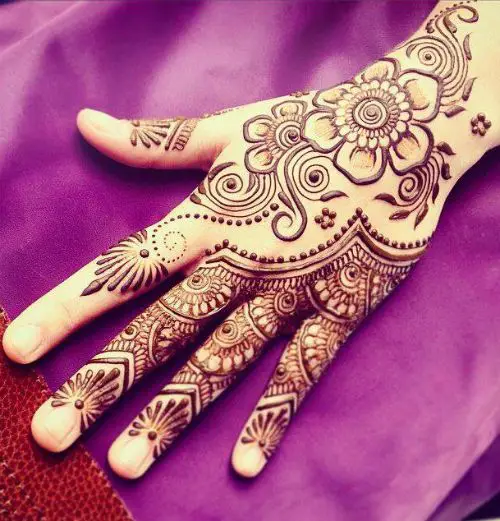 28. Simple Mehndi Design for Back Hand: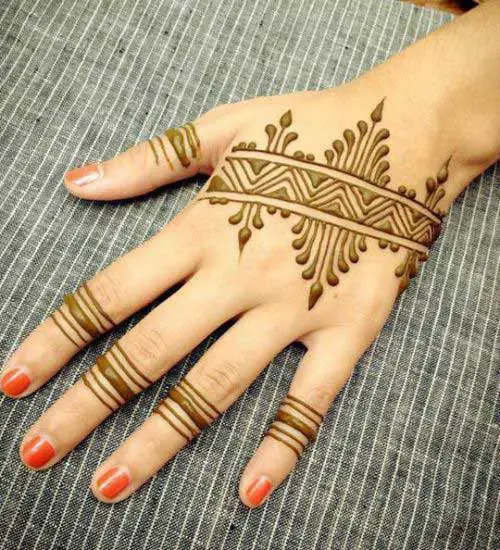 29.  Tradition  Mehndi Design for Back Hands: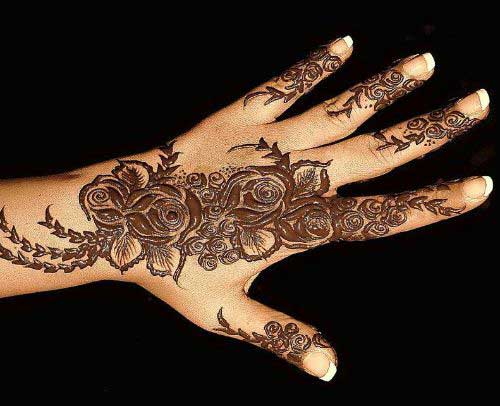 30. Cute Simple Henna Mehndi Arabic Designs for Back Hand: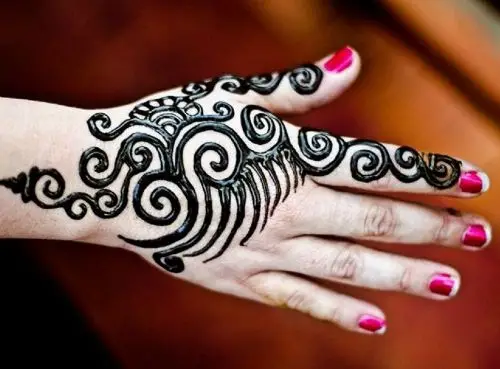 Recommended Articles:
Image Source:  1, 2, 3, 4, 5, 6, 7, 8, 9, 10, 11, 12, 13, 14, 15, 16, 17, 18, 19, 20, 21, 22, 23, 24, 25, 26, 27, 28, 29, 30