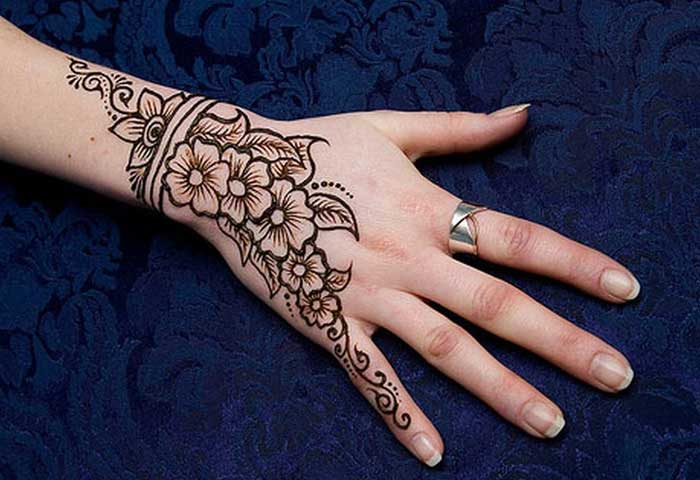 Looking for some elegant and stunning back hand Mehendi designs? Here we have listed some of the most beautiful mehendi designs that you can apply on the back hand and increase the grace of your hands. From intricate designs to simple ones, here you will find everything that will meet your requirements. Whatever be the occasion, just go for these back hand mehendi designs and let every eye catches the attention.
19 Simple Back Hand Mehndi Designs for Beginners
1. Adorn the Back Hand with a Pretty Mehndi Design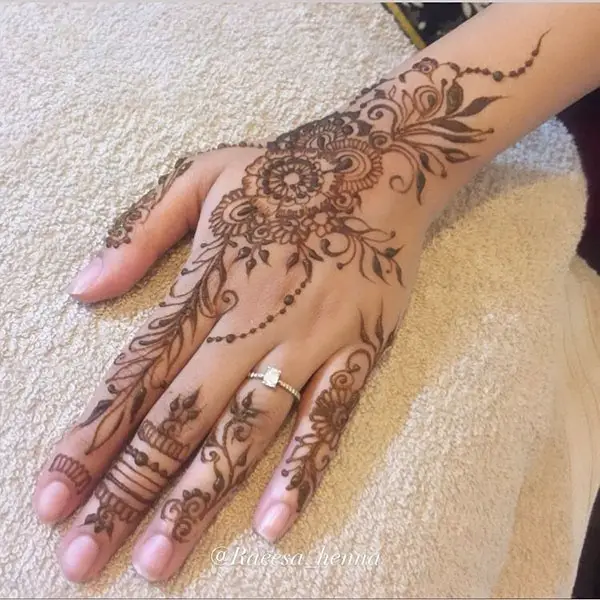 It is a simple yet graceful back hand mehendi design that can make your hands look super gorgeous. This design looks so fuller that you can skip applying mehendi on the front side. It alone gives the vibes of Heena and makes your hands look attractive. A big flower in the middle and leaves pattern scattered all through the back hand increase the beauty instantly.
2. An Extraordinary Back Hand Design for an Extraordinary Girl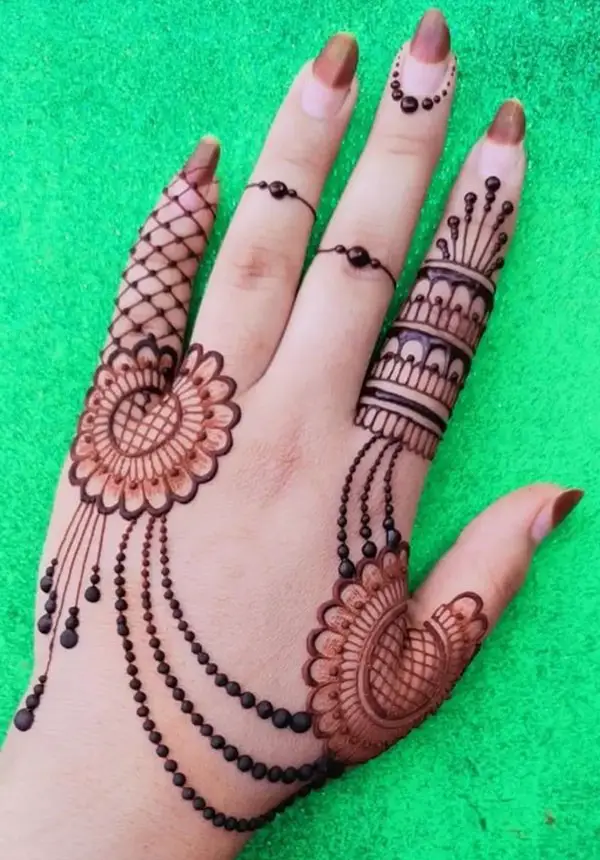 It is an exotic design that looks so unique that all eyes are going to stop at your hands. Even though applying this design is a no-brainer, once it is done, it looks so charming that your hands will become the center of attention. A simple chain running from the first to the last finger and the delicate flower patterns look amazing.
3. Enhance the Beauty of Back Hand Mehind Design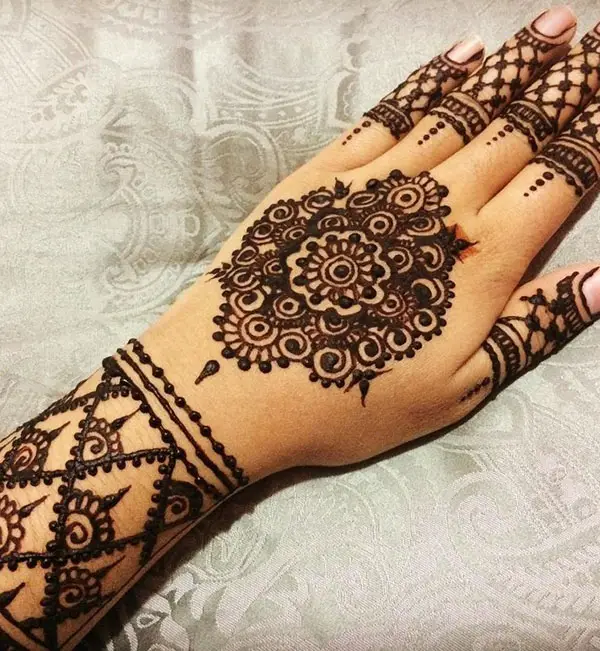 For all the women who are a fan of full back hand mehendi design, it could be the ultimate choice. Running right from the fingers and reaching up to the arms, this design will cover the entire back hand and make it look highly attractive. Give it a try and increase the beauty of your hands.
4. Simple and Easy Application Makes the Mehndi Design Perfect Back Side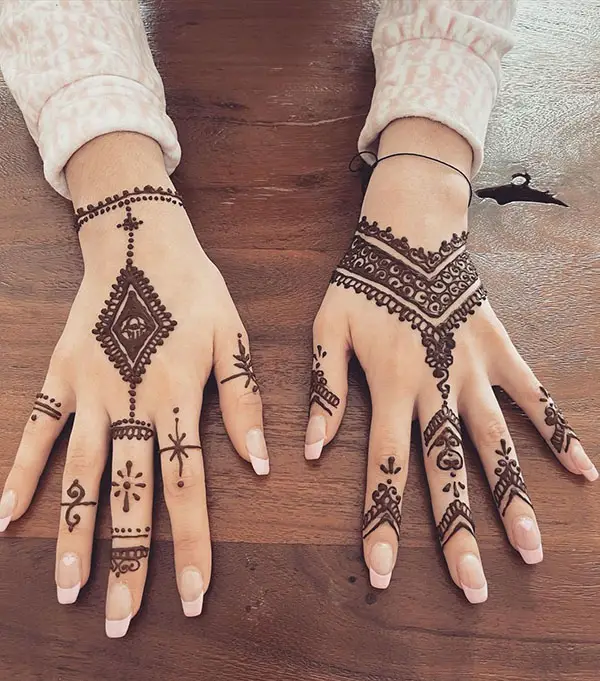 For every woman who likes minimalistic designs, this back hand mehendi design will suit perfectly. It covers the fingers with small patterns and dots and a small portion of the back hand. Perfect for any casual occasion when you don't want to make things complex and look extra.
5. Give an Arabic Touch to the Back Hand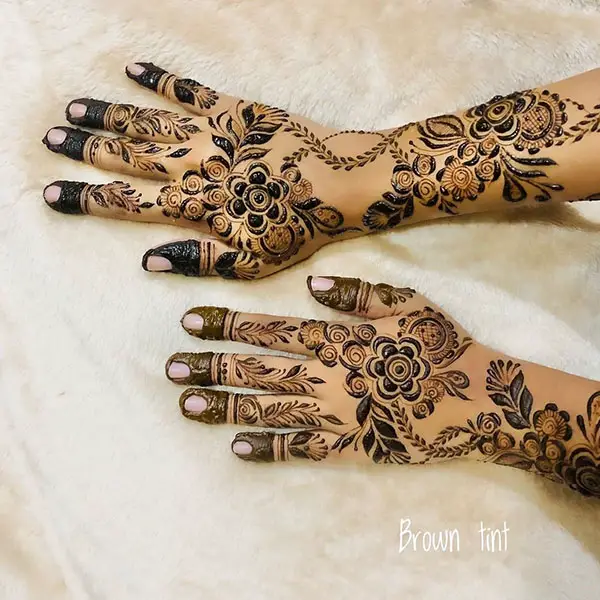 It is a simple looking back hand mehndi design with a lot of intricacies. The flowery design having bold flowers, leaf patterns, and circles of infinity give the desired glow to the hands. Even though applying this design may seem daunting, it is worth giving a shot.
6. Stunning Back Hand Mehndi Design for Every Occasion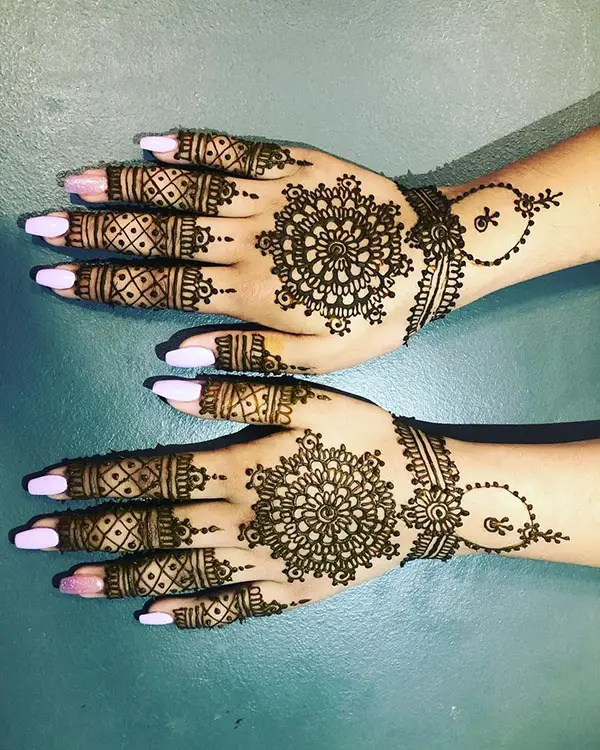 This beautiful non-bridal back hand mehendi design goes well for bridesmaids, sisters, and relatives. Only a few mehendi designs make you feel like a queen, and this is one of them. Adorn this stunning design on any occasion and make your hands look prettier than ever before.
7. Typical Mehndi Motifs for a Graceful Hand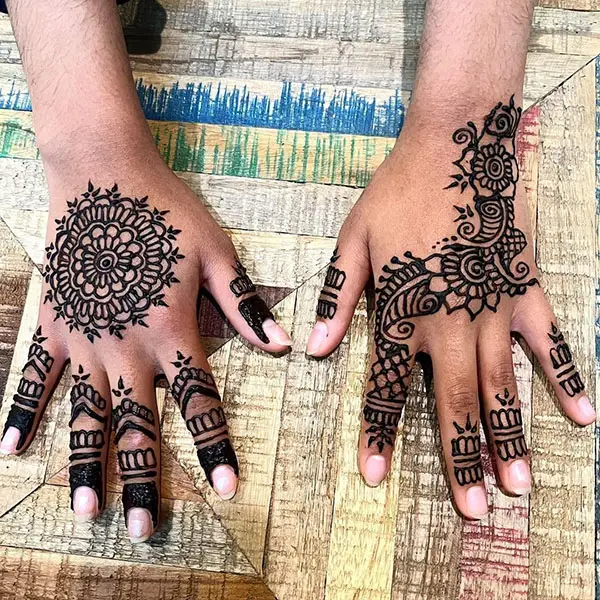 Large circle designs that come with minute details make the hands look spectacular. It is a stunning back hand mehendi design that gives a radiant look to the hands when applied. The big circles designed artistically with leaf patterns, dots, and chains give hands a simple yet graceful and elegant look.
8. Simple, Sober and Everything Elegant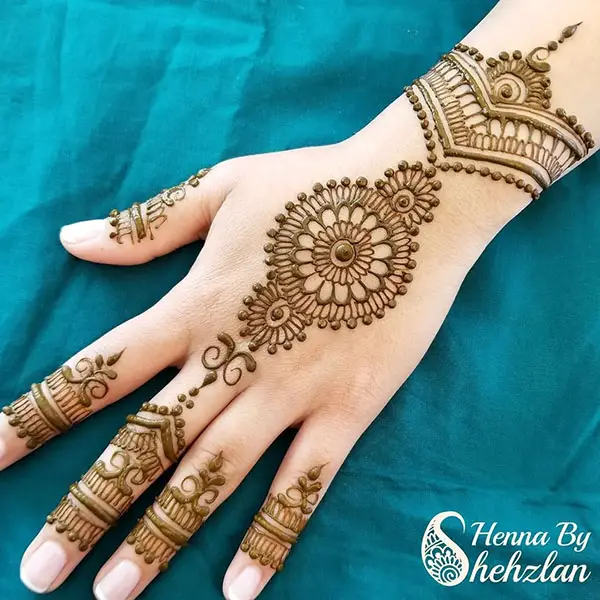 It is an uncomplicated but so glorious back hand mehendi design that gets all the attention straight away. This simple and elegant-looking design covers the back side of the hand along with fingers. The flowery pattern, intricate dots, and uniformly distributed lines give a sophisticated look to the hand.
9. Minimalist Design for Every Occasion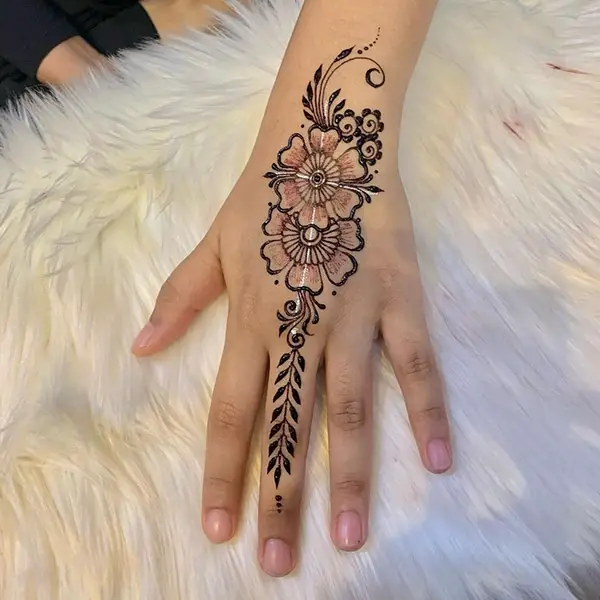 It is another simple back hand mehendi design that is perfect for the bridesmaid, her sisters, and friends. Easy to apply and elegant in look, such designs always caught the attention due to their minimalistic pattern. It can be applied on any casual occasion or if you are a distant relative of the bride.
10. Complete the Look with Bridal Back Hand Mehndi Design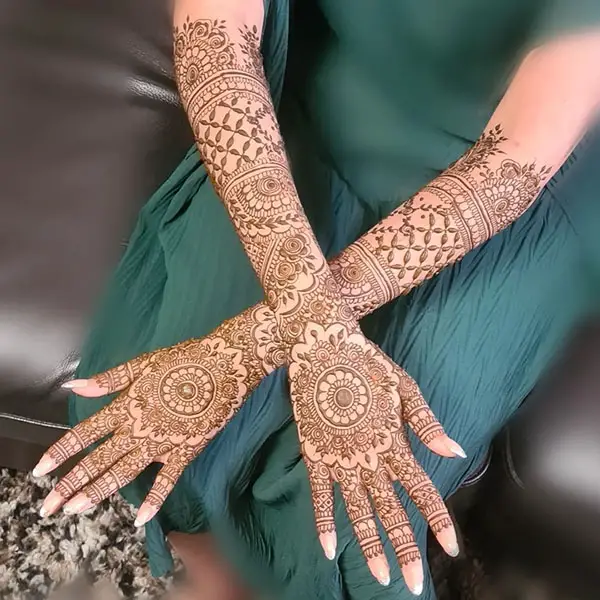 A glorious bridal back hand mehendi design that looks royal and traditional. For all the brides looking for a fuller back hand design, this is one of the best to go for. Apart from weddings, this design can be applied on occasions like Karwachauth and Diwali to increase the beauty of the hands. It starts right from the fingers and covers the entire arm to make the hands look prettier.
11. Brides- a Fuller Back Hand Mehndi Design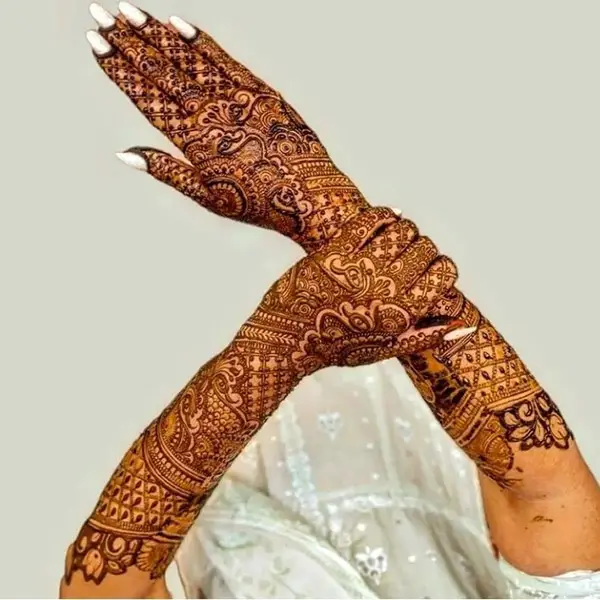 Another beautiful bridal back hand mehendi design is perfect for every bride-to-be. This design has some minute details that make its application a bit fussy but once done; the design gives a royal feel. For every bride who wants to feel like a queen on her big day, this design is just for her.
12. A Back Hand Mehndi Design with Easy Application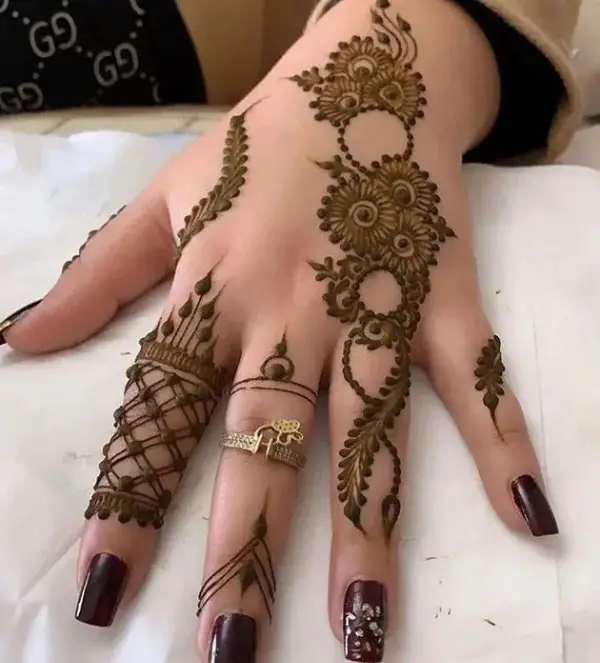 A simple and stunning back hand mehendi design for girls of every age. There are only a few mehendi designs that look great on women of every age- be it 6, 16, or 60 and this is one of them. With a different design on every finger and a beautiful flower chain crossing the hand right from the first finger until the arms, this particular creativity takes all the attention.
13. Give a Royal Touch to the Back Side Mehendi Design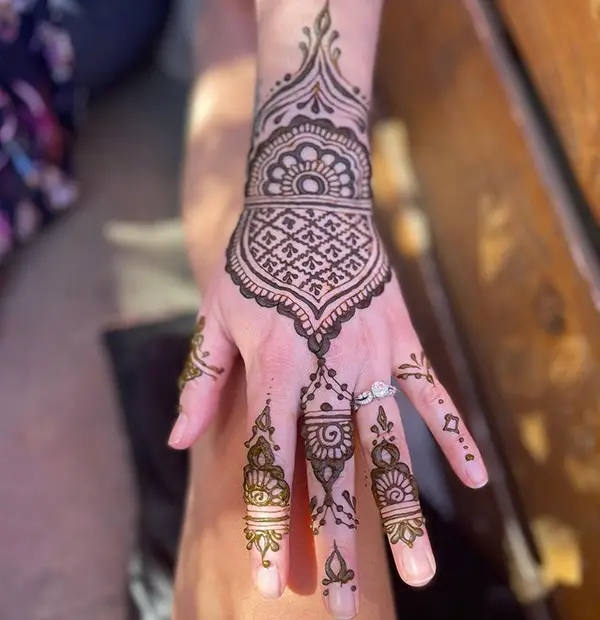 Giving a royal feeling, this mehendi design is superb for every occasion. Such designs also go well when you intend to apply mehendi only on the back side of the hand. Since the design gives a fuller look, you can skip the front side yet make the hands look attractive. Adorn red nail paint to compliment the design.
14. Beautiful Mehndi Design to Bring Grace to the Back Hand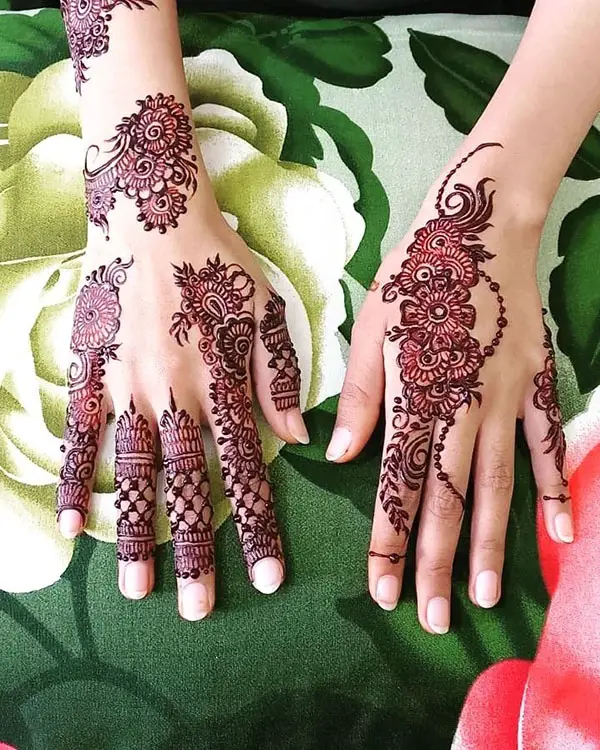 Complete the festive look with this detailed and amazingly put mehendi design that fits well for every hand. The fingers adorn sophisticatedly placed dots and flowers, while the back hand has large flowers scattered uniformly in a similar pattern. It enhances the beauty of the hands and makes them look attractive.
15. Write Name of your Beloved and Feel Closer to him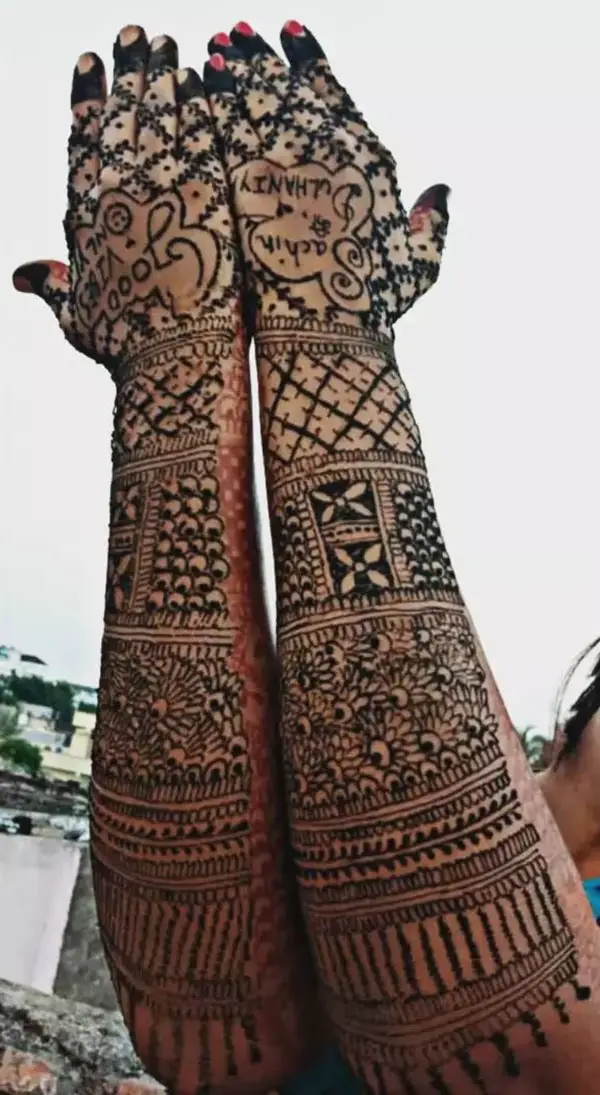 A wonderful mehendi design for the back hand for the brides where they can put the name of their beloved inside a heart. Designed especially for the wedding, this design also goes well for Karwachauth, which is meant to celebrate the love between the couples. It makes the hands look fuller with lots of flowers, leaf patterns, and uniformly placed intricate outlines.
16. Flower Back Side Mehndi Design Full Hand
17. Beautiful Bridal Henna Back Side Mehndi Design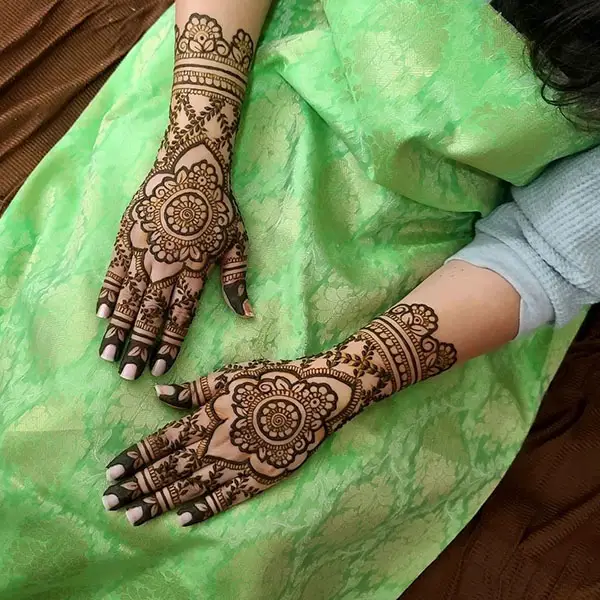 18. Simple Right Hand Back Side Mehndi Design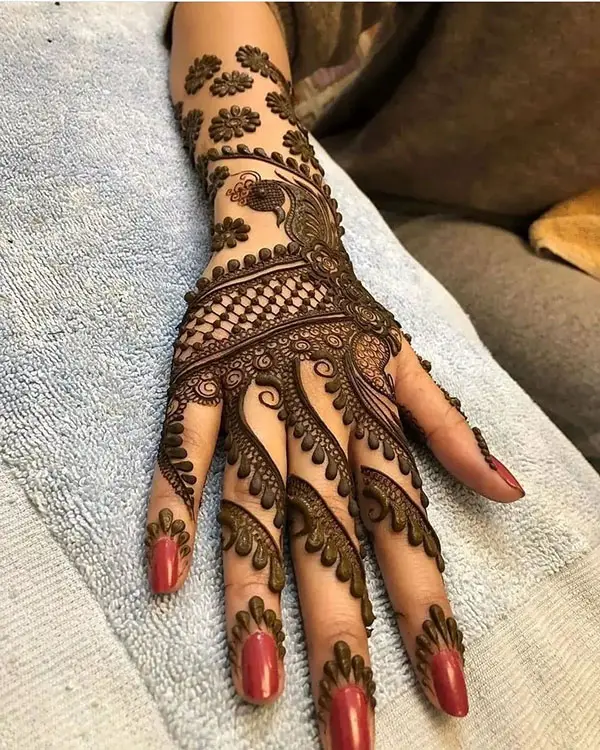 19. Bridal Henna Back Side Mehndi Design Full Hand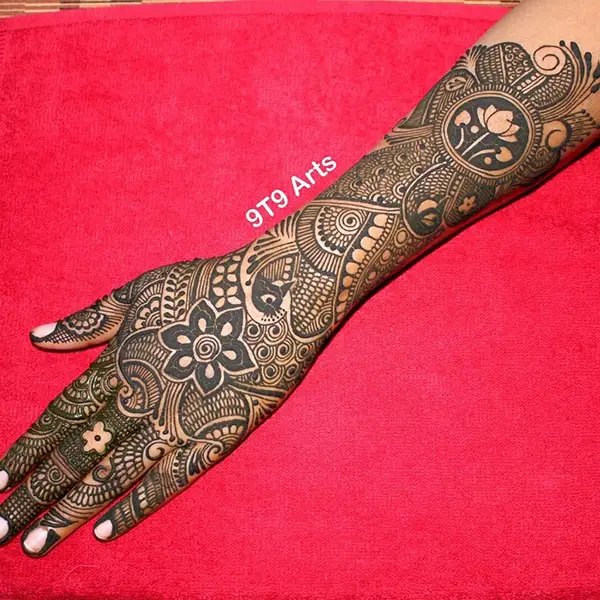 You Might Also Like: