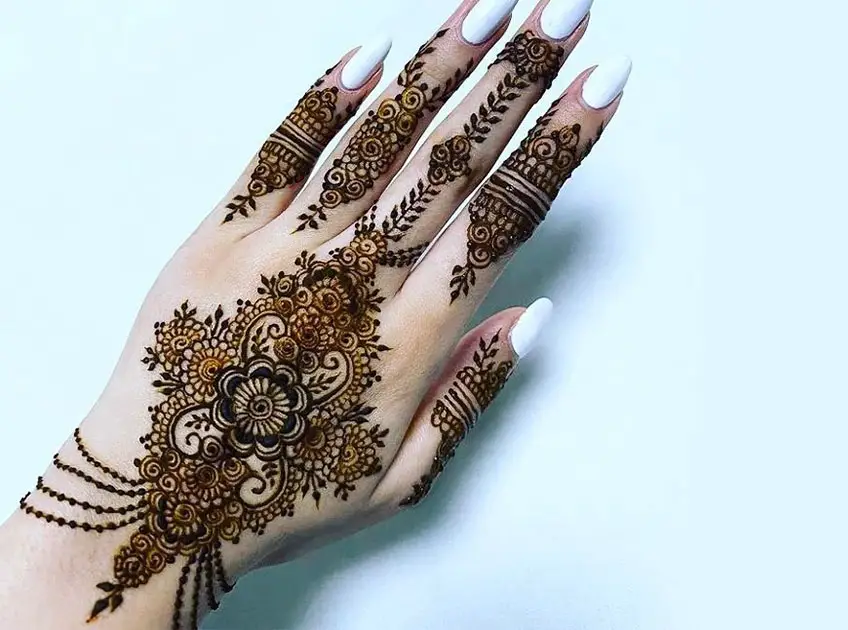 If you think that flower mehndi designs are outdated, we would like to prove you wrong. Out of plenty of mehndi designs available these days- be it the traditional and royal designs or the cool and trendy tattoo mehndi designs, flower designs are still in the business. In fact, due to their elegance and beauty, they are never going to be out of style.
Mehndi designs look incomplete if they do not have flower patterns, leafy vines, and typical mehndi motifs. Whether you are going for a fuller hand or a minimalistic design, flowers always come to the rescue. When decorated with minute details and intricate lines, the flower designs get so much better.
Simple Flower Mehndi Designs
Here we are sharing the top flower mehndi designs that will definitely win your heart. Check them out!
1. Flowers That Bring Glory to Hands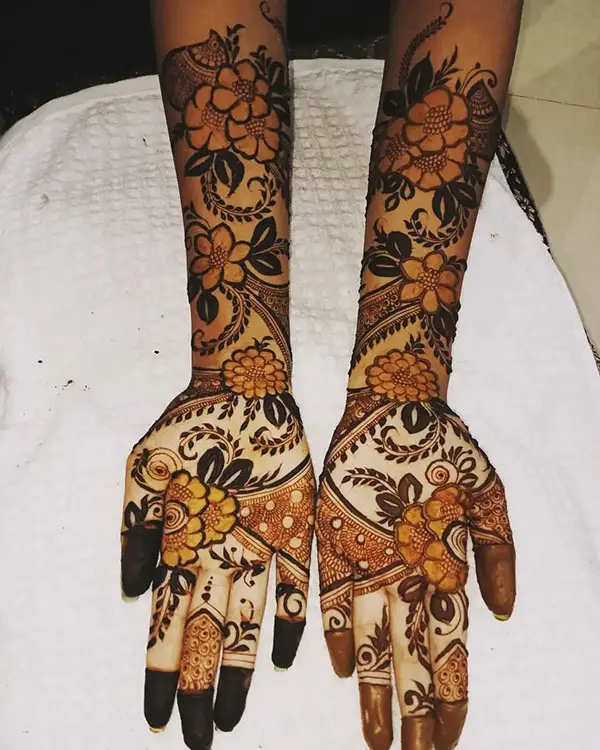 The flowers of different sizes running across the palm and arms make the hands look so beautiful. The big and bold flowers with a shaded pattern and the leafy vines surrounding them give a complete look to this mehndi. It is perfect as a bridal mehndi design that makes the hands look fuller and elegant.
[ Recommended: Beautiful Bangle Mehndi Designs ]
2. Flower Mehndi Design for Backhand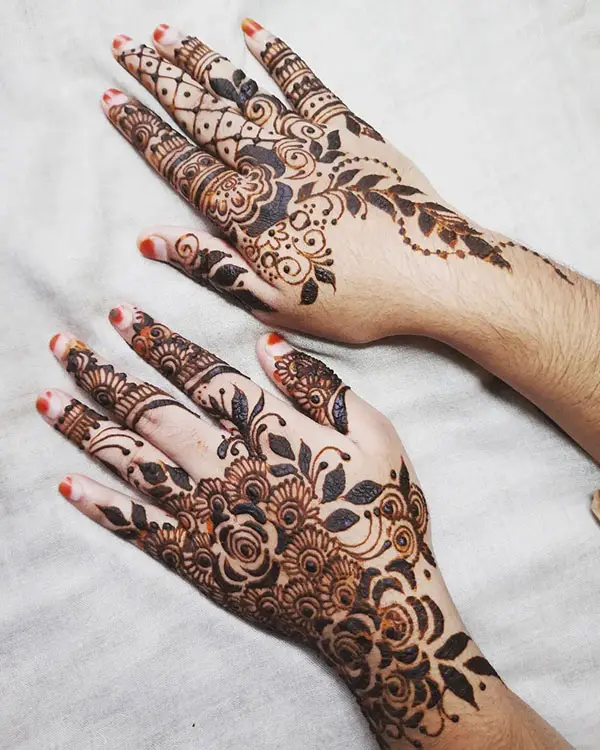 A free-flowing flowery vine can easily make the backhand looks gorgeous. In this design, you can see how intricately the flowers are designed and placed back to back. To make the design complete, there are leafy vines and other mehndi motifs. The bold strokes on flowers make them more pronounced and enhance their look.
[ Recommended: Beautiful Dubai Mehndi Designs ]
3. Beautiful Flowers That Decorate The Backhand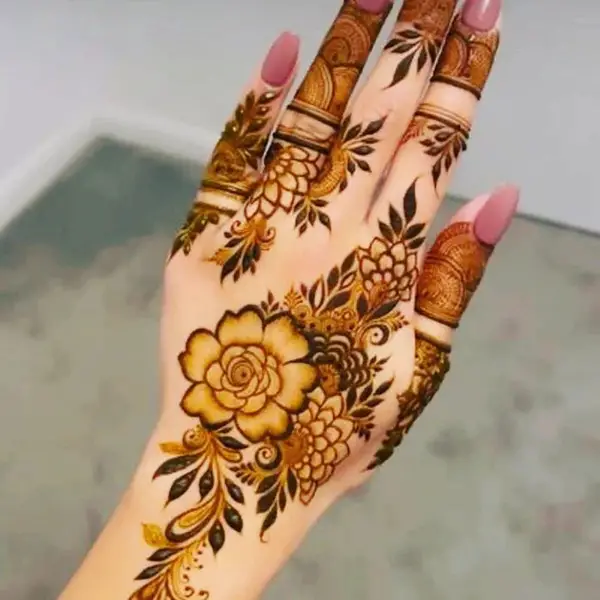 While flowery vines get common, you can try out this amazing flower mehndi design that gives a prettier look to the backhand. The shaded flowers, along with mehndi motifs and simple leaves, bring beauty, elegance, and style to the hands. Give it a complete look by applying red nail paint.
[ Recommended: Simple and Easy Bridal Mehndi Designs ]
4. Shaded Flowers Across The Backhand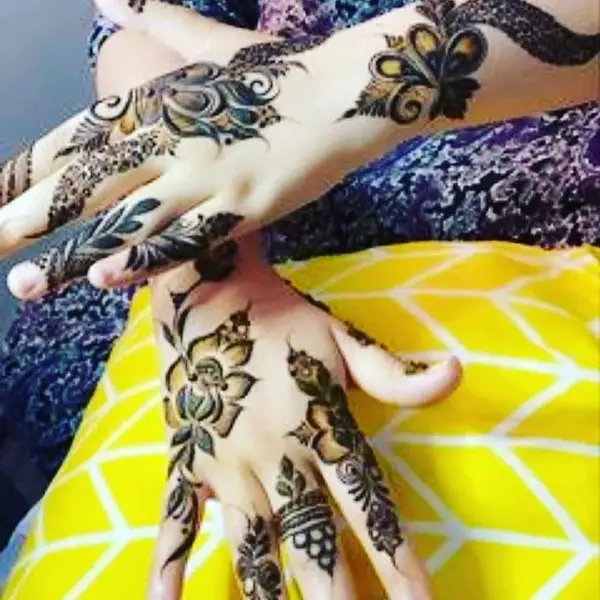 It is another stunning flower mehndi design that is perfect for the backhand. Shaded flowers with bold strokes are made across the fingers, palm, and arms to make hands look attractive. This design is perfect for wedding functions, especially engagements where you must have a beautifully decorated backhand.
5. Intricate Flower Mehndi Design for Backhand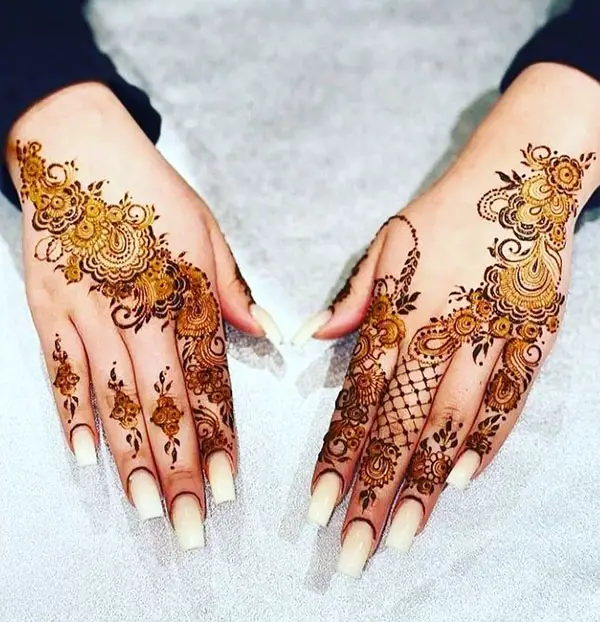 Some mehndi designs look flawless because they are made with high artistic skills. This design comes under the same category as it has the best of everything. The minute details with fine lines and the intricacies bring glory to this flower mehndi design.
6. Flowers Carved Like Jewelry on Hand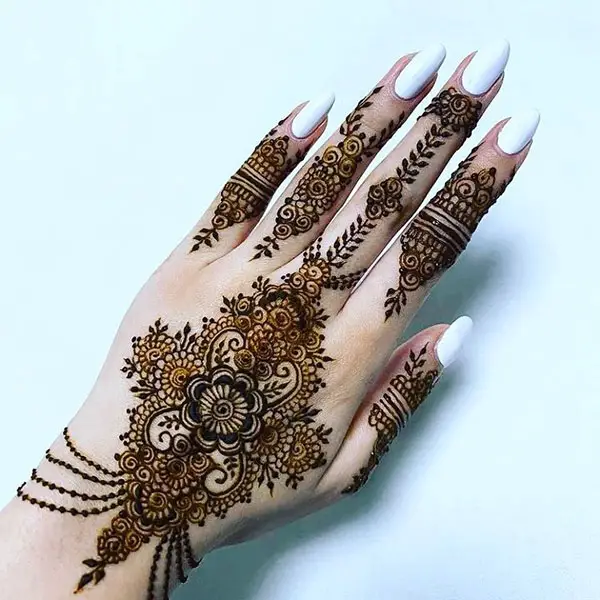 This design can come somewhere between jewelry mehndi design and flower mehndi design, as you can find the beauty of both in it. The beautifully decorated flower with minute details inside and the fine lines and intricate patterns covering the entire backhand make it look stunning. The design on the fingers perks up the entire backhand manifold.
7. Bold and Shaded Flowers for The Pretty Ladies
The bold strokes on the flowers bring a unique look to this flower mehndi design. It is like a flowering vine that runs across the backhand and covers the fingers and arms. The uniformly recurring flowers, supported by mehndi motifs and vines, make the hands look highly impressive.
8. Big, Bold Flowery Design to Boost The Confidence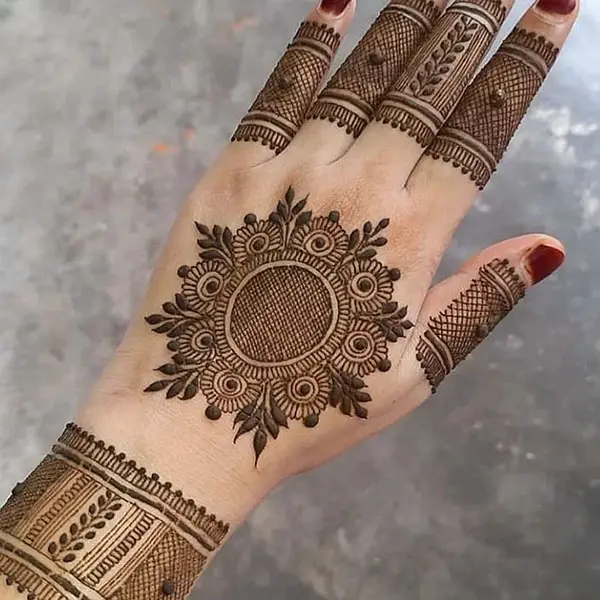 Covering the entire backhand with a large circle, beautified with fine details inside and mehndi motifs and leafy patterns outside, complete this amazing design all at once. The fingers are decorated stunningly to give a uniform and unique look to this breathtaking flower mehndi design.
9. Flower Mehndi Design for The Bridal Look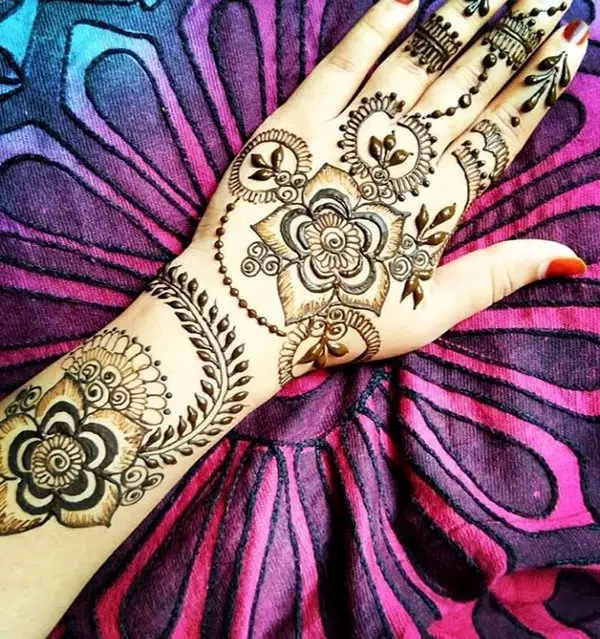 If you don't want to decorate the hands with a typical bridal mehndi design and want something simple and elegant, go for this. The flowery designs look stunning no matter what the occasion is. This design is also suitable for bridesmaids and the sister and relatives of the bride who want a beautiful backhand mehndi design.
10. Floral Patterns That Will Steal The Heart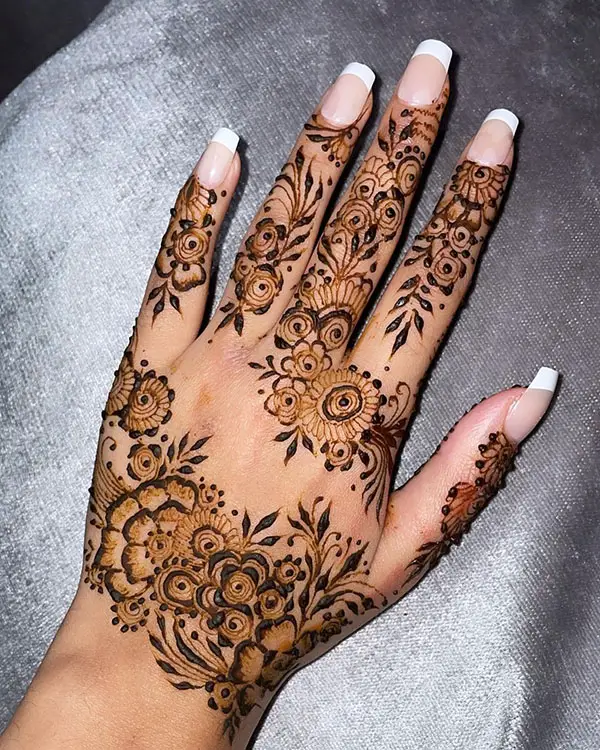 Even though the design looks difficult to make, once it is done, nothing can stop making your hands look eye-catching. The fine details in this design, along with the bold flowers scattered throughout the backhand, fingers, and wrist, bring charm to the hands. It is perfect for all types of occasions- be it a festival or wedding.
11. Flower Mehndi Design for Hands and Legs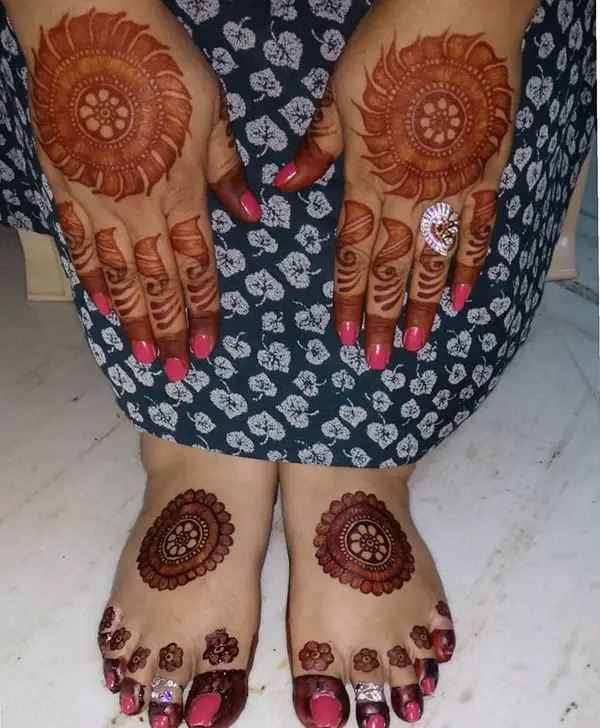 If you are looking for some flower mehndi design that goes well with hands and legs and is perfect for small occasions like Raksha Bandhan and Karwachauth, this is the right one. Simple to make and easy to apply, this design does not require high artistic skills but still makes the hands look super amazing.
[ Read: flower mehndi design ]
12. Look Gorgeous with Flowers and Motifs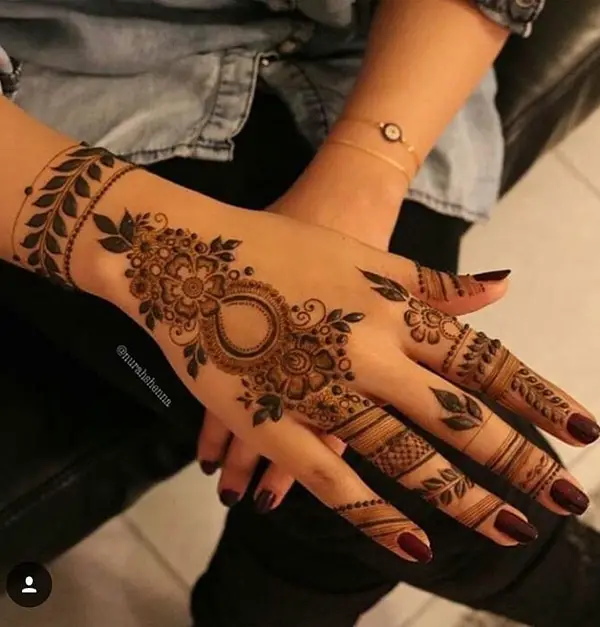 Some designs look so pretty that you can't keep your eyes off them, and this is one of them. It looks so pretty and alluring that you would love to have it in your backhand on every occasion. This design consists of a flower mehndi design, ring mehndi design, and bracelet mehndi design, completing the look in one go.
13. Go Minimalistic with Flower Designs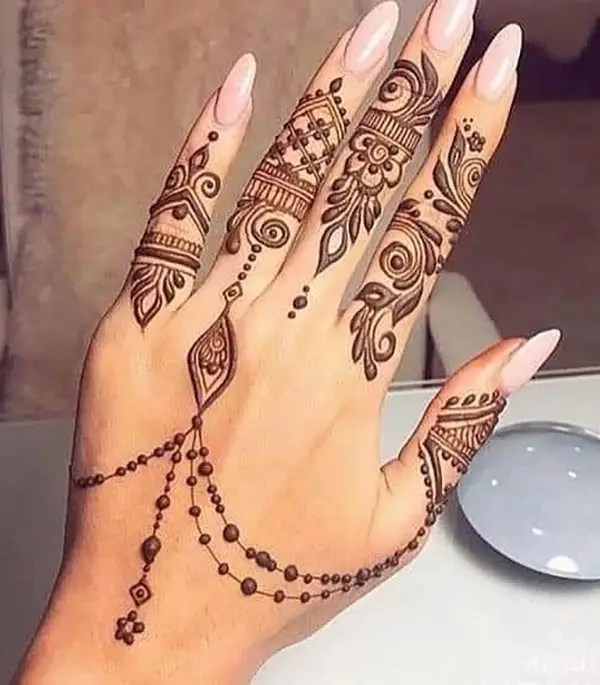 Giving a typical jewelry look to the backhand with dotted chain and mehndi motifs, this design becomes the center of attention. This design is very simple yet looks so elegant and beautiful that you would love to have it on any occasion.
14. Floral Patterns with Leafy Vines for a Perfect Design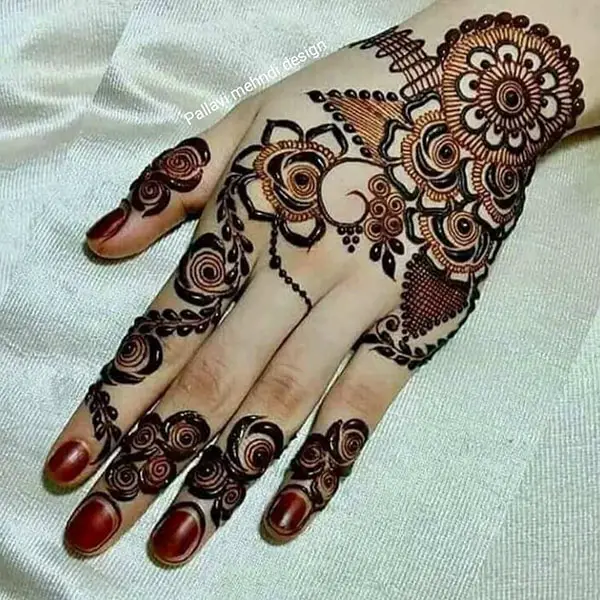 The beauty of this design lies in the bold flowers made on the backhand and fingers. Each flower is the same yet looks different as it is made with different details. While some are shaded, some adorn fine lines. The flowers on the fingers complete the look and make the hands look prettier than ever.
15. Flower Design for a Fuller Look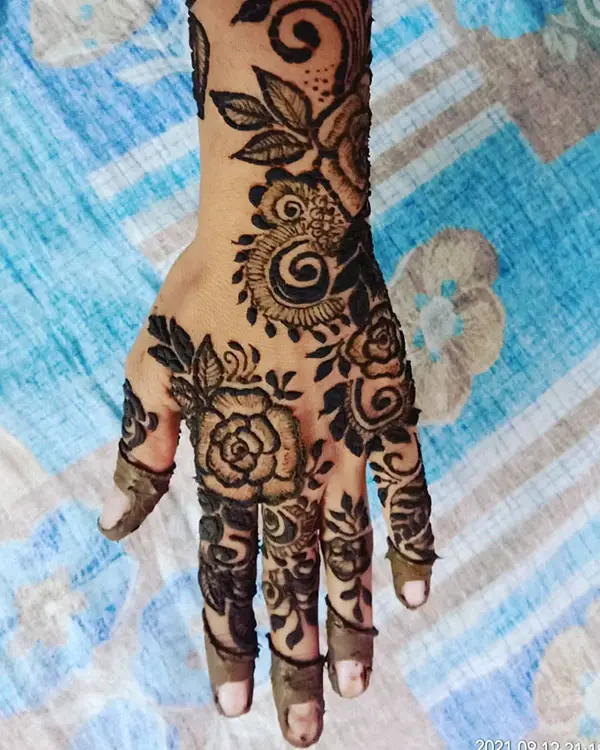 If you want your backhand to look fuller because the occasion is big, go for this design. It has big flowers, leaves, mehndi motifs, and what not to make the hands charming and alluring. It is perfect for brides and occasions like Karwachauth.
16. Arabic Simple Mehndi Design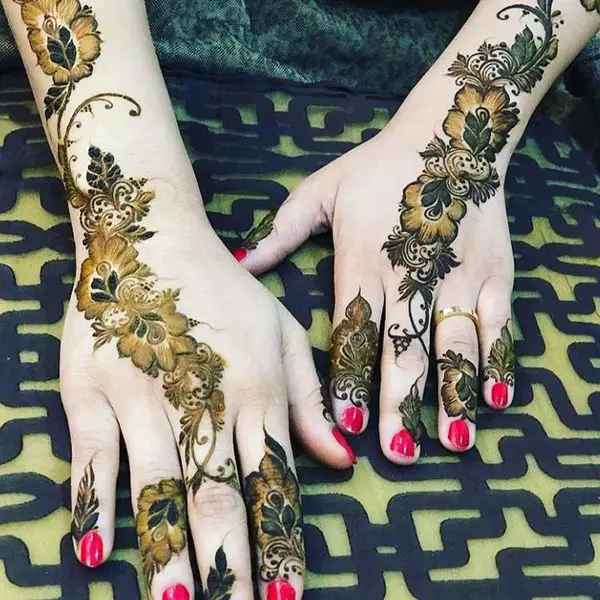 17. Flower and Leaves Mehndi Design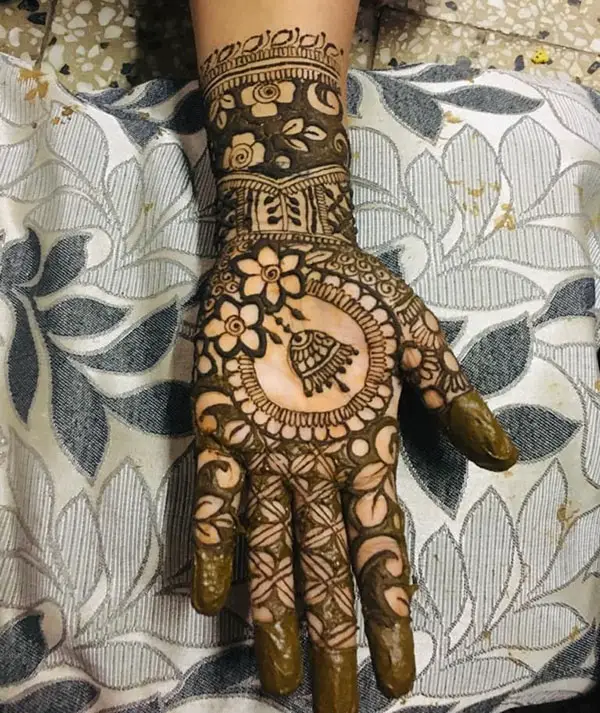 18. Flower Mehndi Design for Legs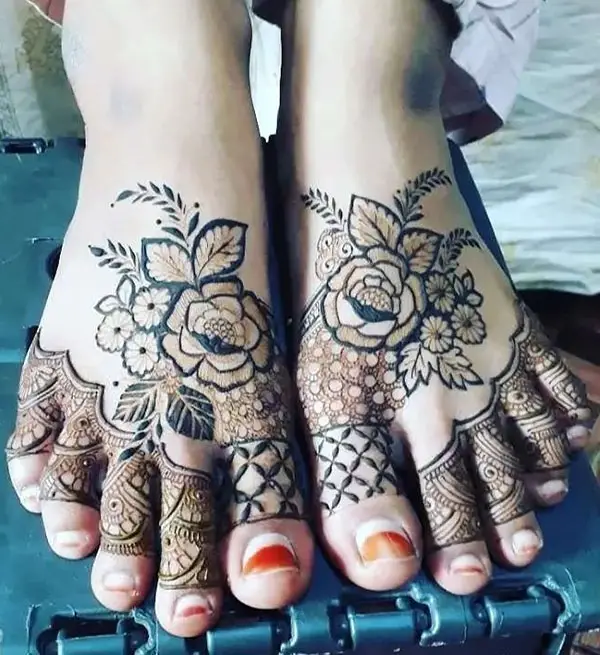 19. Flower Mehndi Design with Vines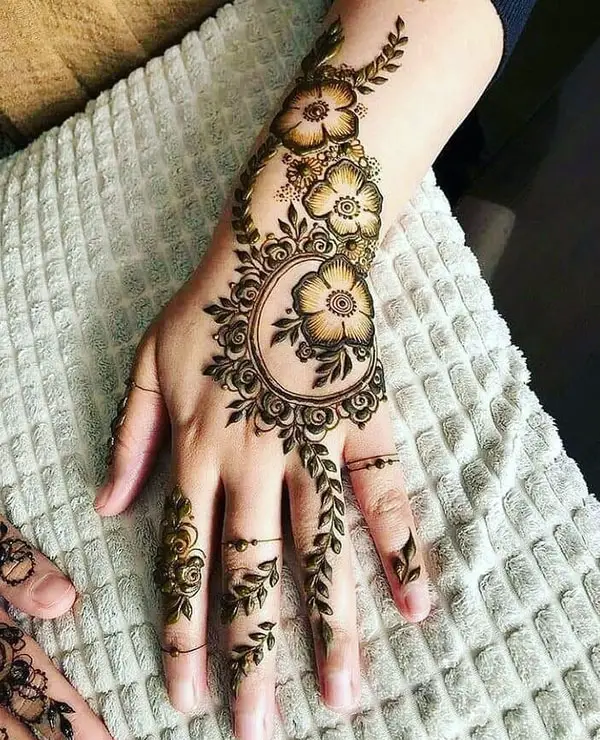 20. Flower Mehndi Designs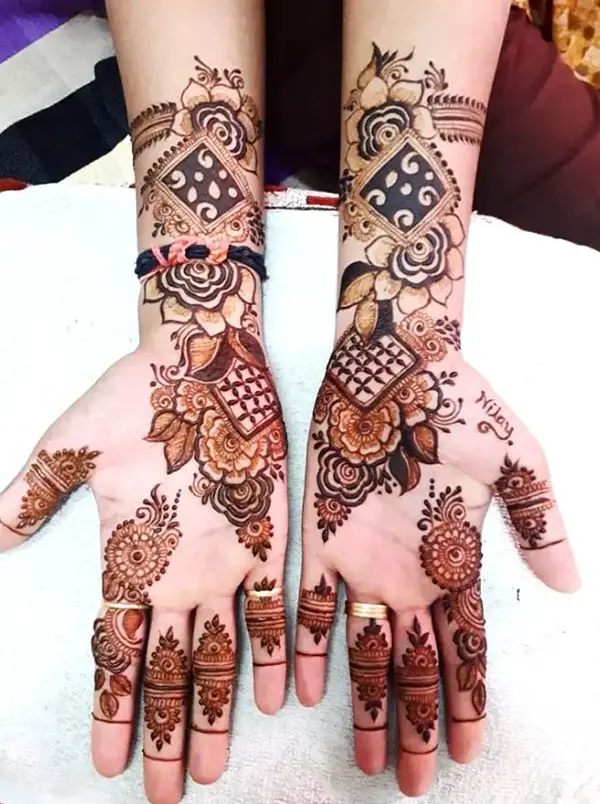 21. Horizontal Pattern Flower Mehndi Design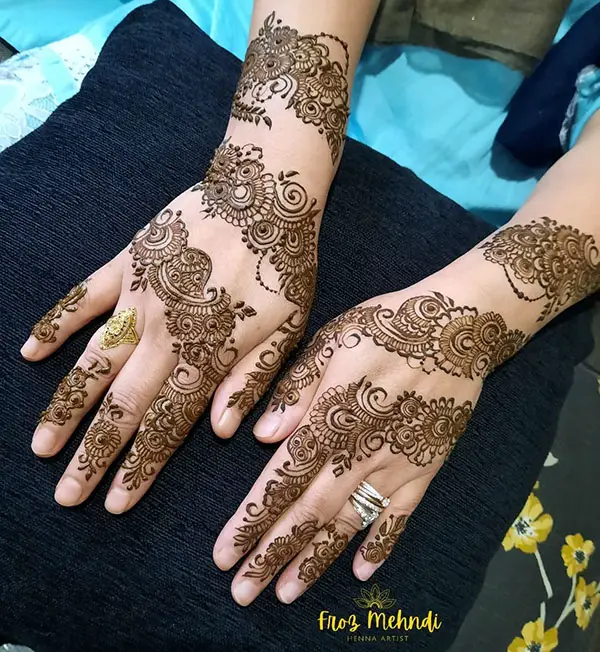 22. Simple Flower Mehndi on Back Hands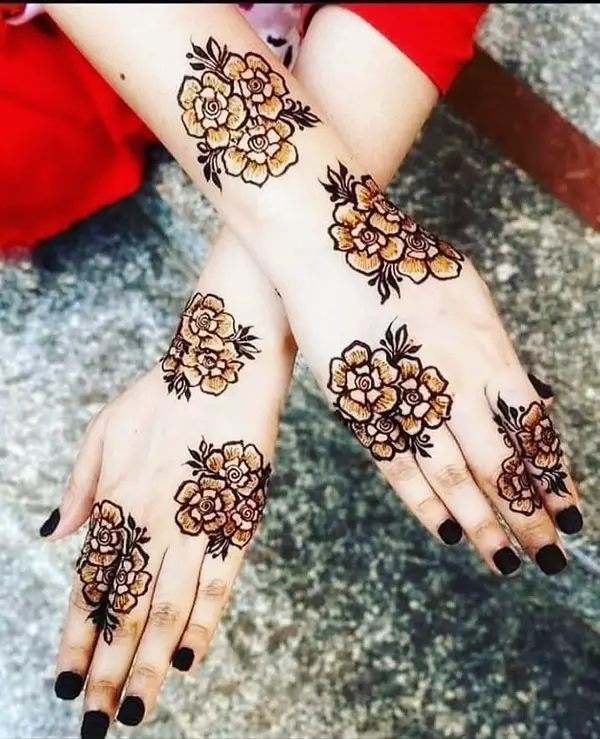 23. Simple Flower Mehndi Design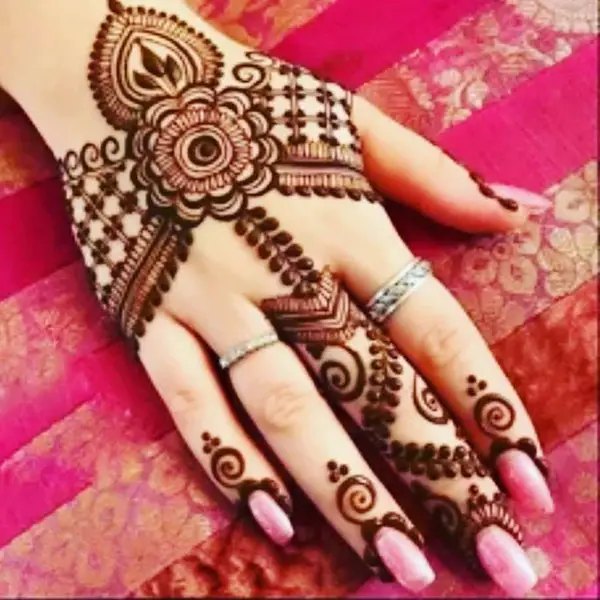 24. Beautiful Flower Mehndi Designs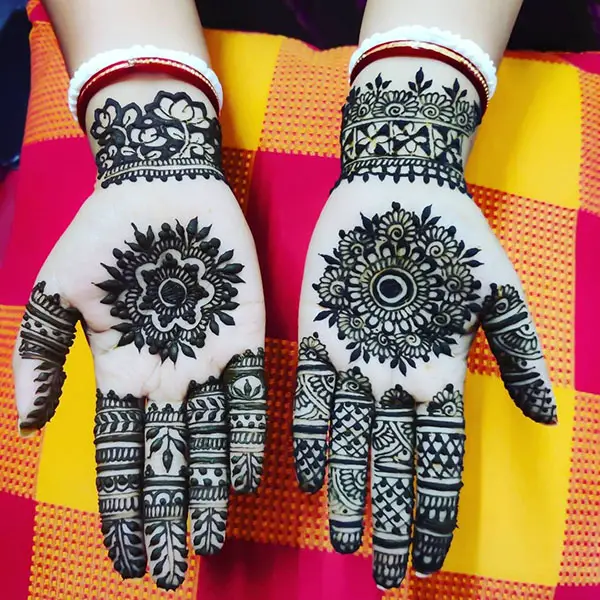 25. Checker and Flower Mehndi Designs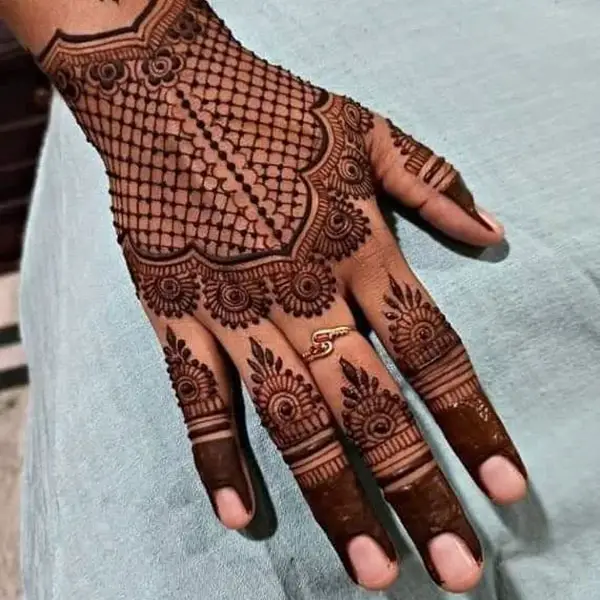 Read More: