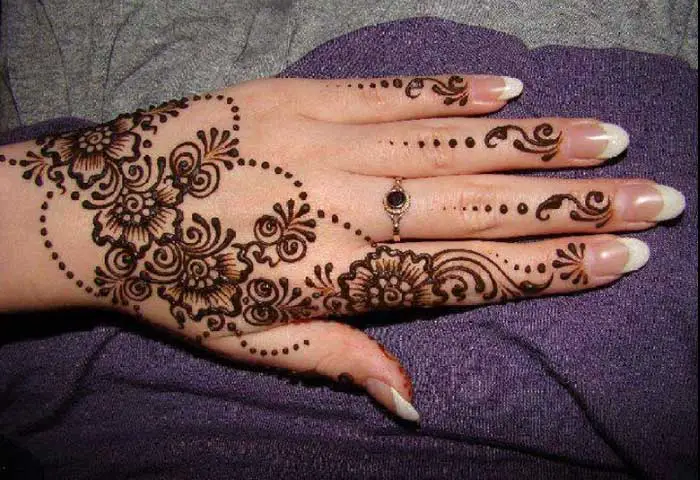 Mehndi is frequently adored by children as well as adults due to the variety of creative options it provides. Kids appreciate that henna cones allow for the creation of several designs and that they last far longer than pens or markers. Mehndi is thought to be organic and auspicious, hence many parents opt to use simple Mehndi patterns for children during weddings and other family gatherings, some of the beautiful designs are below,
Top 18 Simple and Easy Beautiful Mehndi Designs For Kids
1. Black Mehndi Design For Cute Kids
Here, the color of Mehndi is black, when it dries out, the result will be so attractive and bright. This pattern is perfect for young children who lack patience for detailed hand drawings. It is suitable for younger children because it is straightforward and adorable.
[ Read: Black Mehndi Designs ]
2. Index Finger Mehndi Design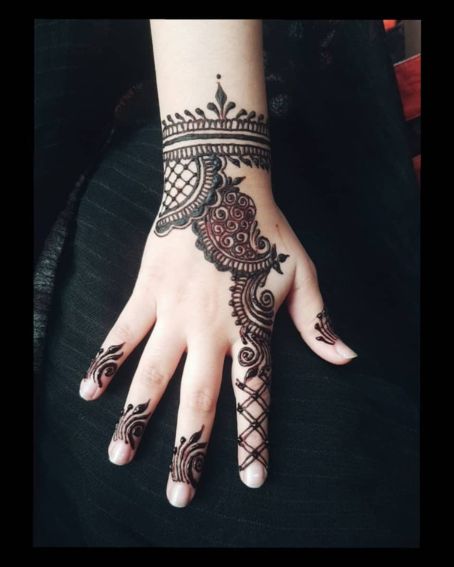 We can't stop seeing this super chic mehndi design for kids. It looks so neat and beautiful with all that spacing. Paisley's design is very simple, any kid can pick this without any second thought.
3. Simple Mehndi Design For Babies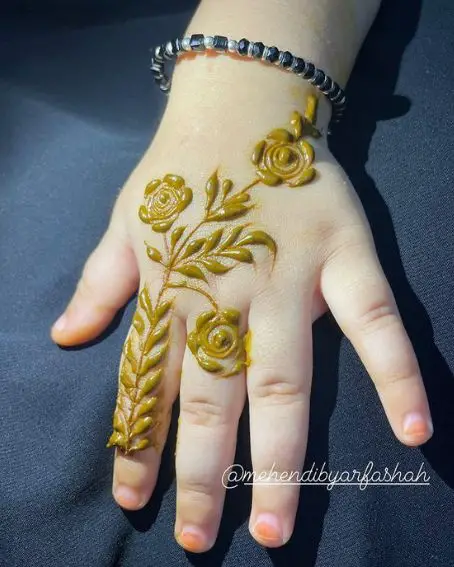 This Mehndi design is exceedingly simple and suitable for babies. The eye-catching element of this Mehndi pattern is the creepers with strong strokes acting as leaves. Though relatively easy to create, this pattern is really striking.
4. Lovely Bracelet Pattern Mehndi Design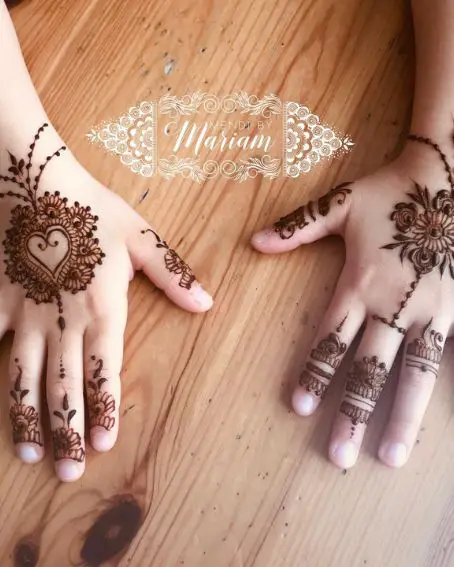 Kids can try out this simple Mehndi pattern on their hands. It is an effortless bracelet pattern Mehndi design as the hand is not covered fully. Your child's hands will have some dramatic lines and swirls with leafy structures that will look lovely.
5. Paisley Mehndi's Design For Kids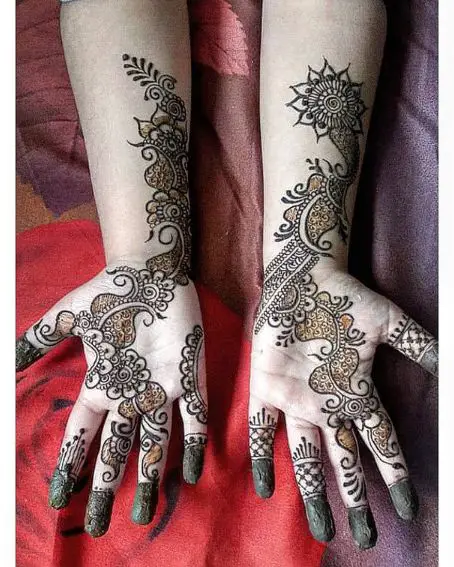 It is an uncomplicated paisley Mehndi design for kids who don't like to fill up their whole hands with Mehndi. It is an apt design for kids. This design is mixed up with a paisley pattern and some flowers filled with small beads and leaves. The henna filled on the fingertips adds an aesthetic touch to the design.
6. Back Hand Red Mehndi Design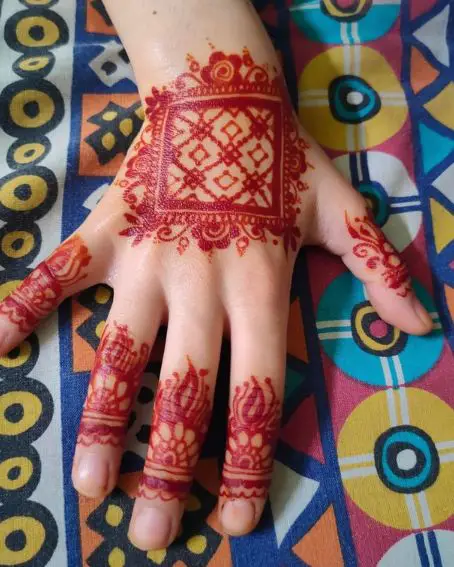 Kids always play with colors, that's why this red color Mehndi surely attracts them. This square shape pattern filled with small boxes and borders is designed with flowers and fingertips finished with flower motifs, which grant a finished look.
7. Floral Mehndi Design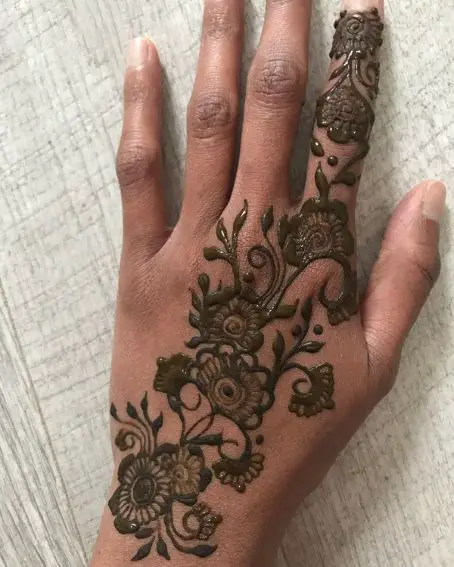 Just a cluster of simple floral Mehndi designs combined with swirls and dots is very elegant. The leafy design adds some extra prettiness to the overall view. Give the index fingertips some nice detailing to add to the charm.
8. Full Palm Mehndi Design For Kid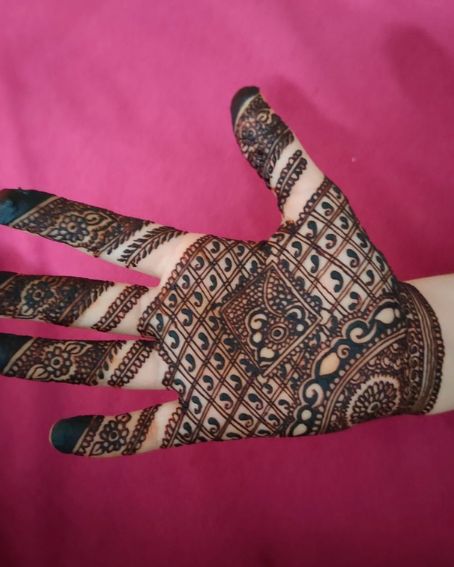 Full palm Mehndi designs have become very trendy compared to yesteryear. kids like to fill their hands with more elements and designs. This Mehndi designs look lovely in photographs and pair with traditional outfits.
9. Bridal Mehndi Design For Kids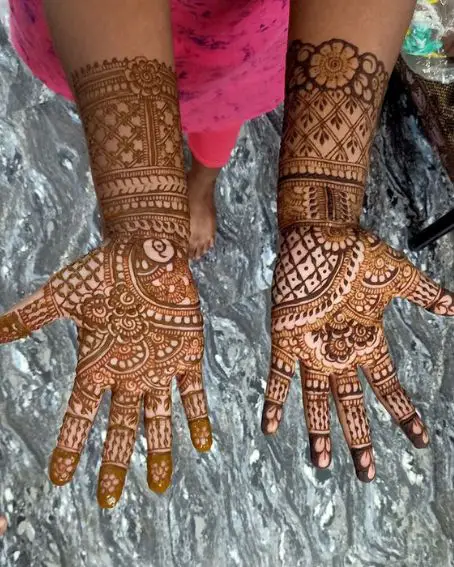 It is an intricate bridal Mehndi design, only brides can prefer it, but now a day kids also fill their whole hands with Mehndi. Very thin and subtle work is done on it, which is also time-consuming. It appears appropriate for a wedding event.
10. Simple Rose Mehndi Design For Kids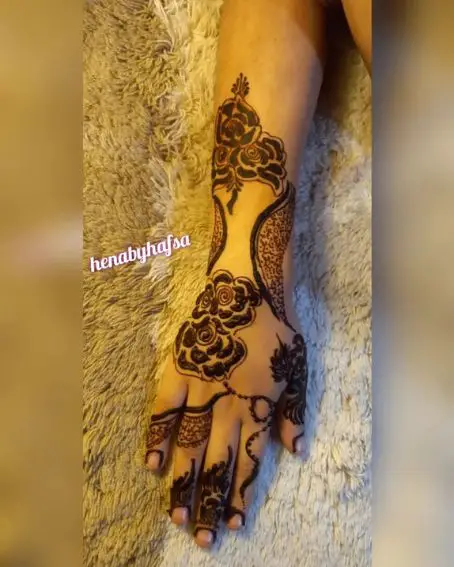 Rose Mehndi design is a universal design element in every style of henna art and this easy Mehndi design for kids with rose flowers is going to make those tiny hands look even cuter.
11. Mandala Backhand Mehndi Design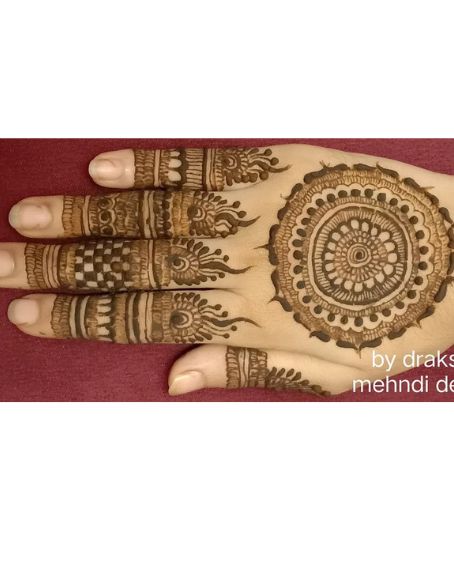 Mandalas and Mehndi's designs are a match made in heaven. This backhand Mehndi pattern for children is quick and easy but attractive. At first glance, it may look too complicated, but when you look at it closely, it's not tough at all.
12. Cute Peacock Pattern Mehndi Design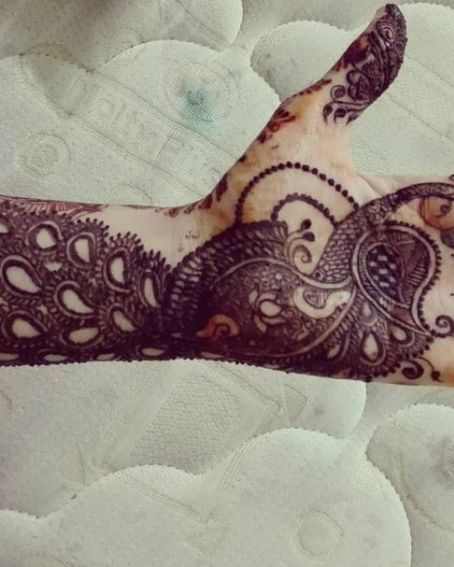 This cute peacock pattern Mehndi design is an adorable one. The full hand is covered with a peacock pattern with small details. Your child is not only happier seeing this peacock mehndi design on her hands but also looks very stylish.
13. Haath Phool Mehndi Design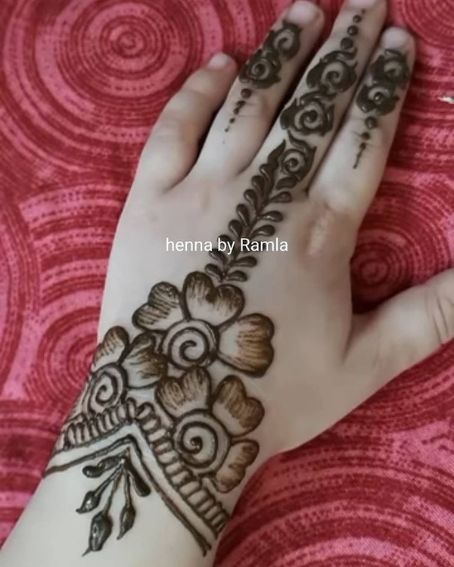 Mehndi patterns in the shape of jewelry will always represent a south Asian love story. This hath phool design avoids any intricate shapes and thus makes it an easy Mehndi design for a kid's backhand and it gives gorgeous look.
14. Leafy Pattern Mehndi Design For Girl Babies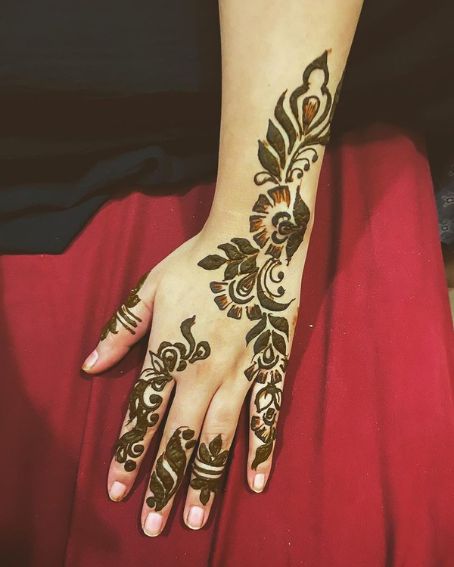 Leafy Mehndi designs are always enticing. The royalty of leafy drawn on the skin in rich colors is sure to make this Mehndi design for kids a fascinating one. It partly covers the hand and is simple to finish it.
15. Cartoon Mehndi Design For Kids
It goes without saying that children adore cartoons. Show the Mehndi artist what your child's favorite cartoon character is and let them recreate it on their hands. This cartoom Mehndi designs is a perfect pick for any kids.
16. Cute And Small Henna Design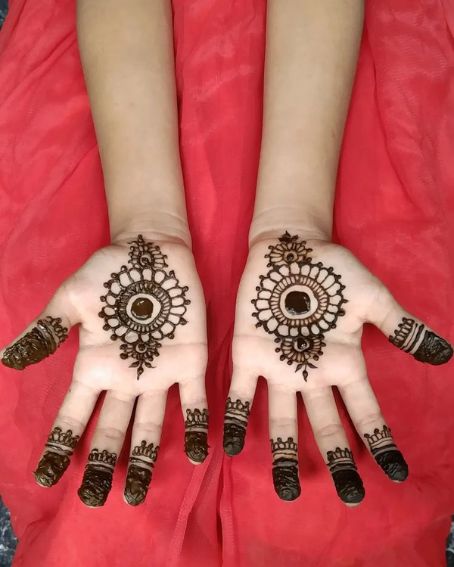 A circle has been made on the palm with small borders and beads, then the fingertip filled with henna. This adorable baby hand Mehndi pattern is finished with tiny dots and teardrops. This simple Mehndi pattern is easy and imaginative, and your youngster would adore wearing it.
17. Classic Mehndi Design For Kids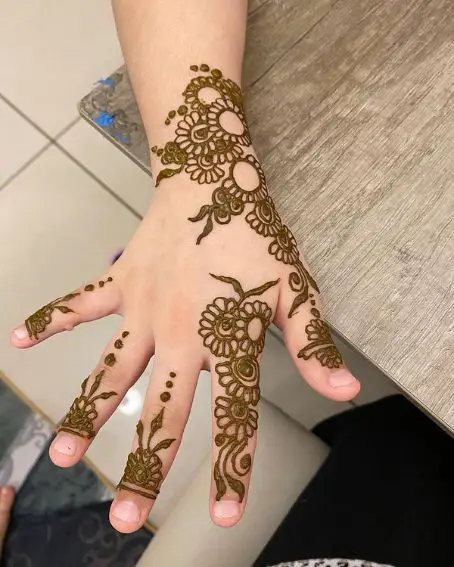 Making spirals with a thin tip Mehandi cone on one end of the backhand till the index finger and then giving it flower shapes by filling in the shape is also a simple yet stylish design. The design can also be recreated like little seahorses or snails.
18. Easy Diamond Shape Mehndi Design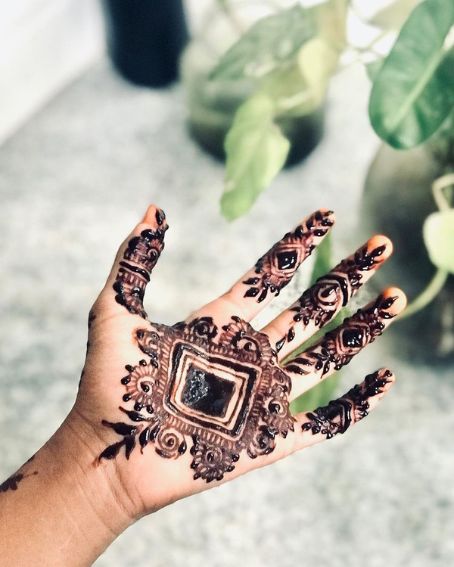 It is a simple diamond shape design for a kid which covers the palm and finger. Kids don't need to sit still for a long time to finish the entire pattern, it may look very difficult, but it is simple to have in hand.
You Might Also Like: