Kids are faces of gods this is true and they love those things what attract them they mostly get intend towards those stuffs which are sparkling reddish color and more lively. Similarly mehndi is gives such type of effects to the children and they are also attracted to wear on their palms. It looks so, cute and stylish when kids wear mehndi on their hands or feet that offers very gorgeous look to them than elder one. If you are wearing mehndi and your little daughter is crawling to you to ask by inkling put mehndi on her palm also. Obviously you try to ignore and anyhow pretend with her but still she is insisting to wear. So, no worry at all even, henna is safe to wear on your child's hand. You can get them wearing mehndi on their palms beautifully. There is nothing to fear getting mehndi to wear on your kids' hands and you can allow her to put mehndi with different patterns. There are numerous mehndi designs for kids that give their hands glorious and cutest appearances.
Top 10 Simple and Easy Beautiful Mehndi Designs For Kids:
1. Black Mehndi Design:
Your princess daughter would love to wear mehndi and that's your work what mehndi designs will be comfortable on their palms and what is suitable for them. Choose blank mehndi design that is trendy mehndi motif that makes more prominent to your kid's personality and provides pretty looks.
2. Full-Hand Mehndi Design:
When it comes to decorate your kids' palms with mehndi so, you are confused what to design on their palms so, that she will be so, happy to wear mehndi. Full-hand mehndi designs will be decorated with diverse patterns of mehndi design that completely suits on her and she will also love it. You can either decorate her palm with floral designs or other uneven motifs are the best mehndi pattern collections for kids.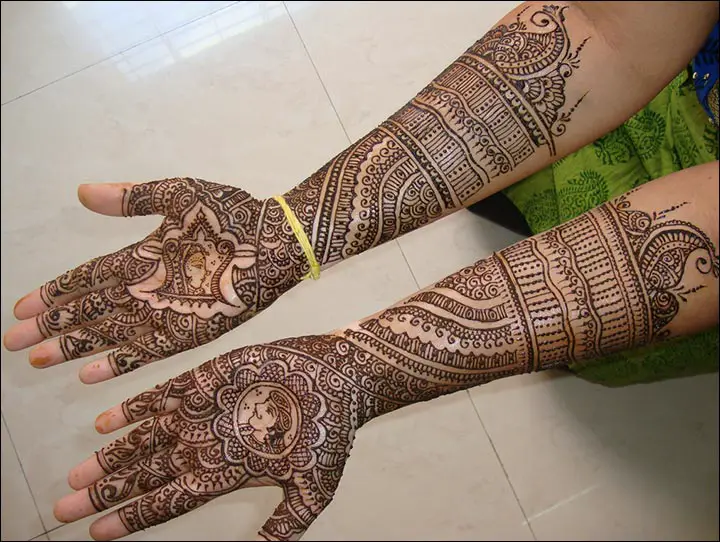 3. Simple Floral Mehndi Design:
Kids love flowers and always they can be seen with different types of flowers. The floral pattern on your daughter's hand is creative and expresses het innocence and beauty as well. You can draw the floral prints on her palm, wrist and fingers that is not tough to create while simply you can create floral design usually. IT is quite easy to draw floral print design of mehndi by mom to her daughter's hand.
4. Paisley Mehndi Design:
Your kid is now insisting to wear mehndi design and you just want to put simple mehndi pattern on her palm then go to paisley mehndi design this is simplest mehndi motif for the kids. This is easy but beautiful mehndi pattern and sure your daughter will like this mehndi design. This mehndi is amazing option to wear on festivals, wedding and some special programs.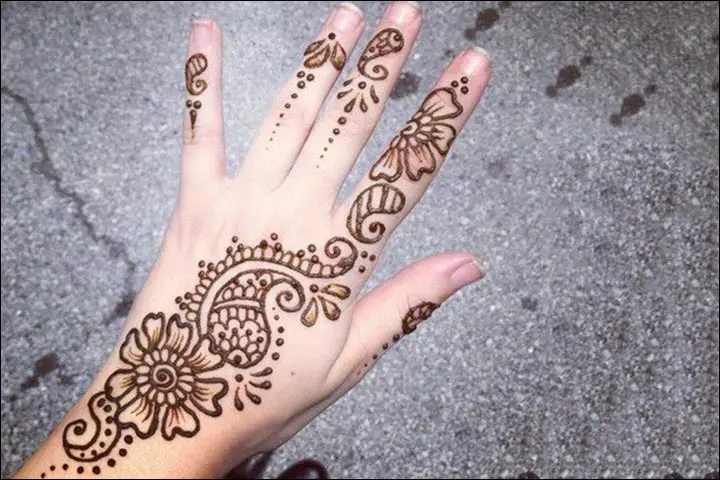 5. Special Floral Mehndi Design:
Special floral mehndi design is the best one to give your daughter's hand a decent and very naughty look. Floral designs are evergreen mehndi patterns are mostly preferred as well as floral mehndi pattern is most running mehndi design for all occasion type. This design is featured with tiny, small or big floral motifs and this floral mehndi design is worn on back hand also.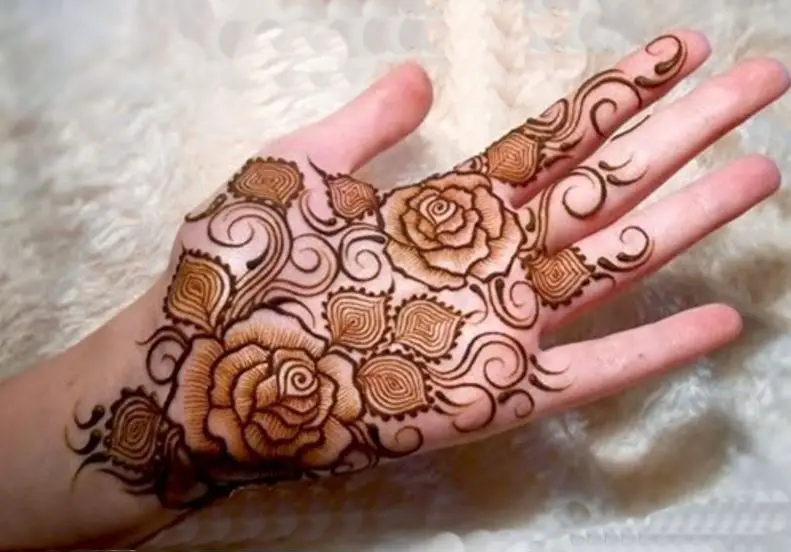 6. Chain Floral Mehndi Design:
Gets your kid's hand wearing with chain floral mehndi design that completely looks like chain system or it seems to be chain bracelet for hands. This is another striking mehndi design in chain floral pattern and this mehndi motif in floral motif has big and small floral designs also adoring to your beautiful palm.
7. Leafy Floral Mehndi Design:
Put leafy floral mehndi design to your daughter's palm and this is quite complicated design and need to draw with very concertedly. But when this mehndi motif will be ready on your daughter's hand really that flaunts amazing style.
8. Bangle Mehndi Design In Back Hand:
This bangle-like mehndi design will look awesome to your kids' hands and especially the designs will be perfectly exhibit on the back hand side then you will come to know this mehndi design is like round on the wrist a resembles to bangle. This mehndi design on back hand amazingly beatifies the hands of your daughter. On any special event or occasion your kids can wear this mehndi motif.
9. Round Mehndi Design:
If your kids want to wear mehndi now so, in simple and shortcut this mehndi is great option for it and this round mehndi pattern is easy to draw instantly. This mehndi design is simply best and chic can be drawn with floral and leafy patterns.
10. Glitter Mehndi Design:
This glitter mehedi designs is most popular among kids and adults. Glittering mehndi design is mostly preferred by the kids as they love wearing this mehndi with very attentive manner. This mehndi motif is quire elegant and attractive and simply describes your style and modernity.
These are all collective and topmost mehndi designs for kids but be careful while putting them menhdi on their hands. When you put mehndi on your kids' palms then must create some funny, flooraland cartoon based design so, that your kids should love and enjoy it.
Recommended Articles:
Image Credit: 1 ,2 ,3 ,4,5,6,7,8,9,10 SHARE THIS STORY ON FACEBOOK