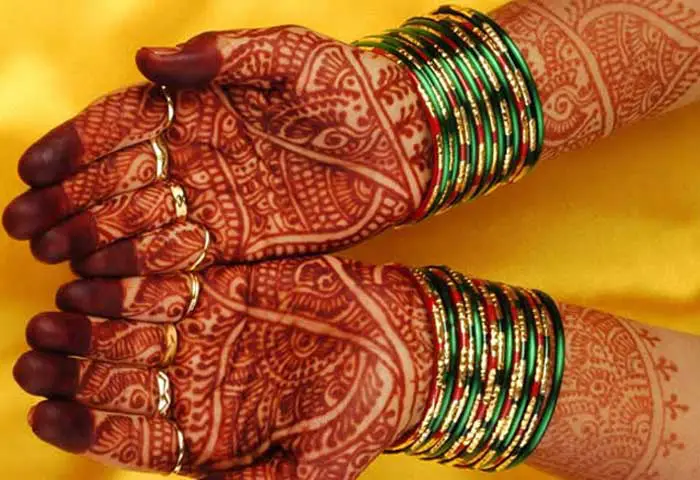 The most memorable occasions cannot be fulfilled without a gorgeous mehndi, whether a wedding or a sangeet. Some people prefer trendy unique designs, while others prefer traditional ones. If you are a fan of traditional designs, why not try wearing Gujarati-style designs on your hands? Gujarati mehndi designs are renowned for their cultural and traditional designs. Wearing it gives your hands a great appearance. This blog will provide you with some of the best-looking Gujarati Mehndi Designs. If you are unsure what designs to embellish your hands with, jump into the list and find your favorite. Whatever the occasion is. Try any of these designs if you want a special Gujarati design for your memorable event.
Best Gujarati Mehndi Designs
1. Dulha and Dulhan Mehndi Design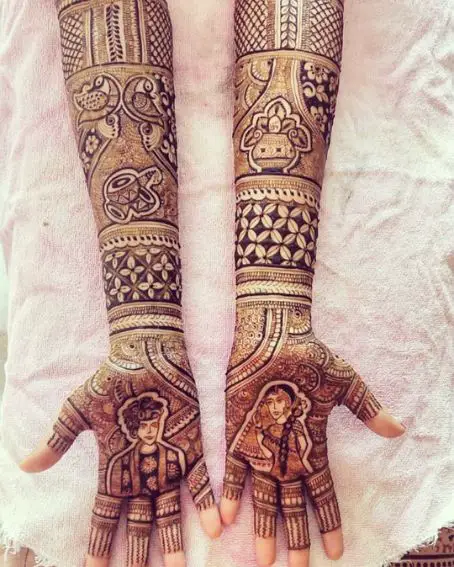 It is one of the best Gujarati mehndi designs that every bride looks forward to the artwork on their hands. The beauty and intricacy of the design are the Dulha and Dulhan on the center of the palm give an amazing traditional look to the design.
[ Read: Dulhan Mehndi Designs ]
2. Peacock Motifs Gujarati Design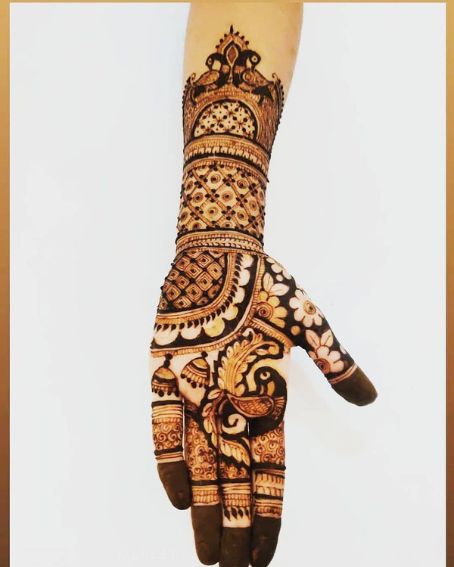 It is an exquisite design that comes with elaborate peacocks. Alongside, it features intricate Gujarati designs, including flowers, bells, and other shapes. Overall, it gives a ravishing look to the design.
3. Rangoli Inspired Gujarati Mehndi Design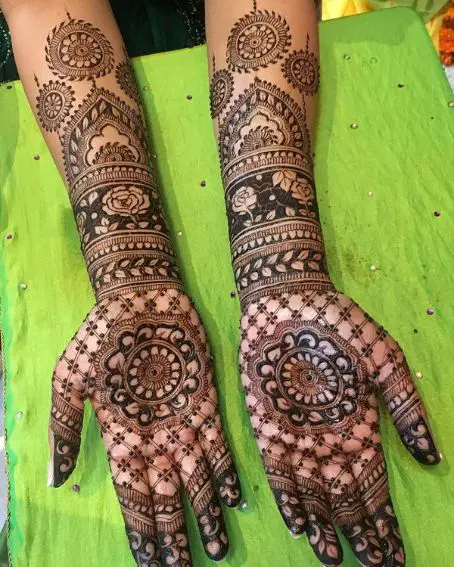 It is a lovely circle rangoli mehndi design. It has a floral mandala pattern and a jaal pattern all over the hands. The arms are designed with floral bangle designs, giving the hands a blooming look.
4. Flower Motifs Foot Mehndi Design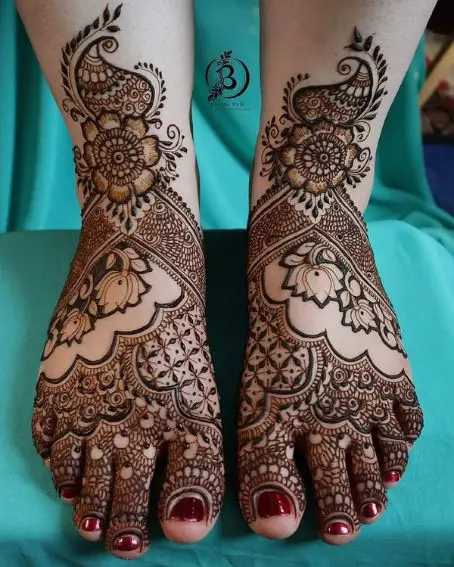 Designing hands with henna alone is not enough for a bride. Designing the legs is also essential. This beautiful design comes with lotus motifs and a paisley pattern. The fingers of the foot are covered with swirl floral patterns. Altogether, it gives a glorious look to the legs.
5. Valentine Mehndi Design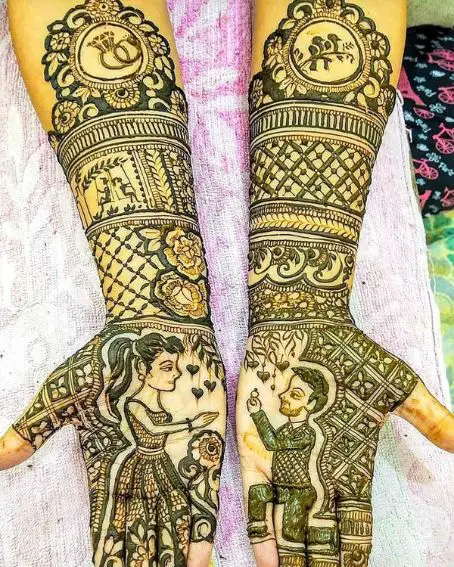 This Gujarati-style mehndi design comes in a valentine theme. It includes a man proposing to a girl with a ring theme. The arms are filled with couples' rings, lovely cute birds, and man women swinging artwork. Altogether, it gives a valentine effect on the hands.
6. Simple Backhand Mehndi Design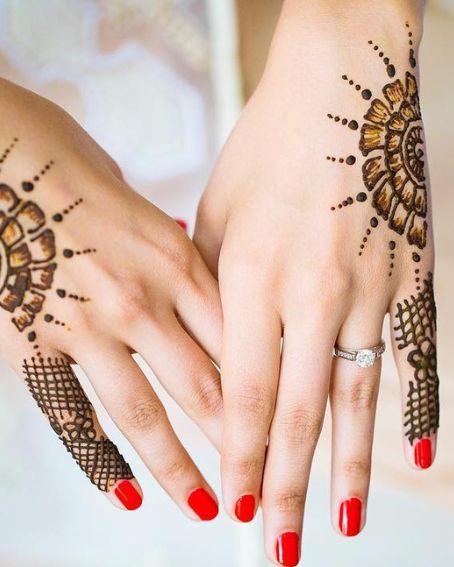 Most people don't go for messy hand art with henna. This enormous design comes with a semi-floral pattern. The little finger is also designed with a checked pattern like a ring. Overall, it is an elegant design to apply on the backhand.
7. Bridal Mehndi Design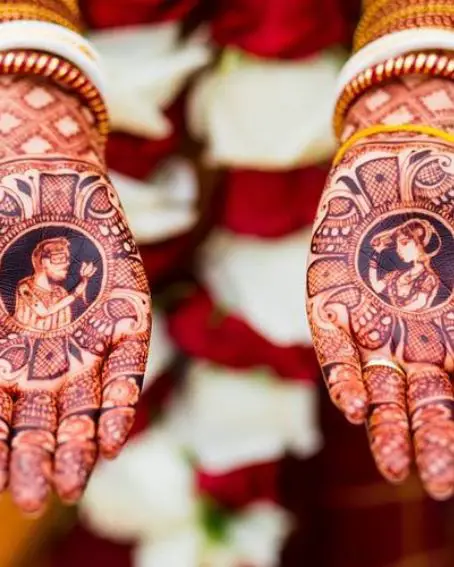 This design creates a unique look for the hands. It is one of the Gujarati designs that many brides get. The design is embellished with a circular floral pattern on the palm. The highlight of the design is that the bride and groom are designed at the center of the flower grant an astounding view of the hands.
8. Heart-shaped Bridal Mehndi Design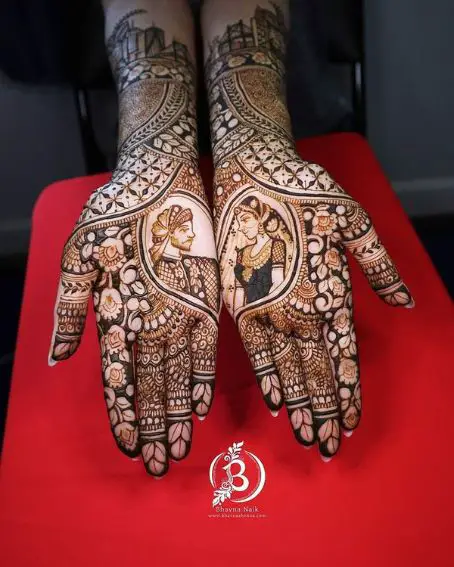 This has a heart-shaped design with the bride and groom placed at the heart's center. The outer layer of the hearts is covered with various design patterns, including flowers, swirls, leaves, and other shapes. Get one for your special event and express your love towards the groom.
9. Classic Gujarati Style Mehndi Design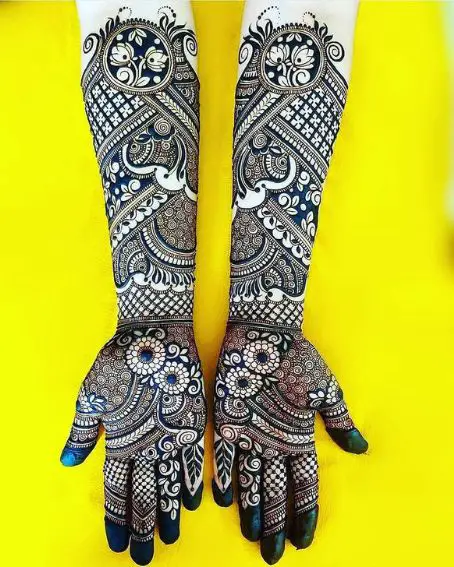 Is your wedding event around the neck? Still not filled with your lovely hands with enchanting mehndi design? Why don't you try this out? This classic Gujarati style mehndi design gives a classy look to your hands. It features various intricate designs that embellish your hands with an adorable look.
10. Arm Mehndi Design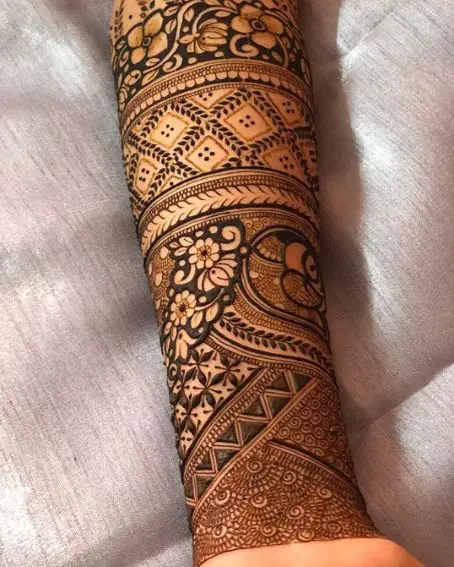 There are many designs to fill out the palm. But many people are seeking the best design to fill the arms. If so, try this Gujarati mehndi design. This design comes with peacock motifs, floral motifs, leafy Jaal patterns, and other geometric shapes. Altogether, it gives a layered bangle structure to the arms.
11. Baby Shower Mehndi Design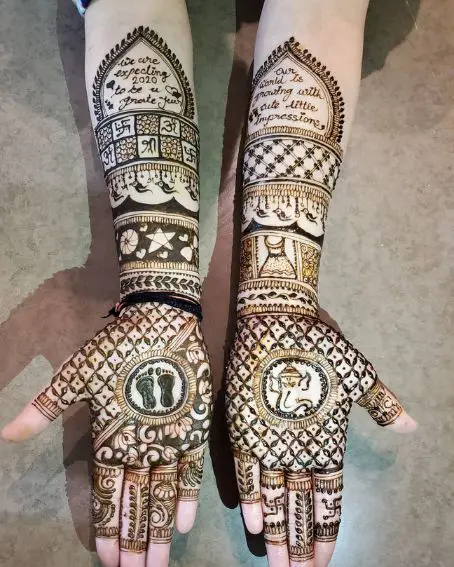 This mehndi design is creatively done for baby shower events. It comes with the baby footprint, stars, flowers, flying birds, and heart shapes all over the hands. On the other hand, it comes with the lord Ganesha, jaal patterns, swastika designs, and girly patterns. Overall, it gives the heart a lovely and emotional feel.
12. Simple Foot Mehndi Design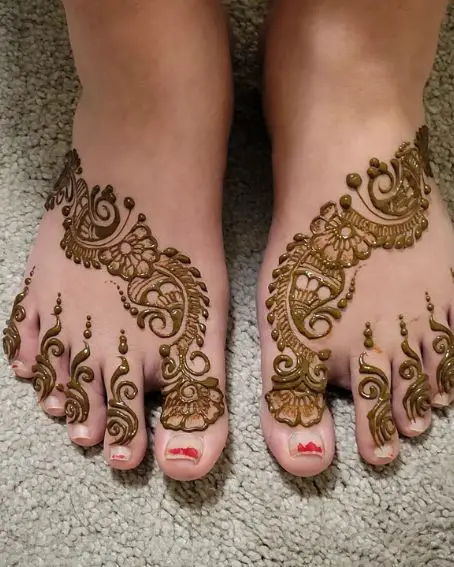 A woman can wear henna for any of her special events. This is a single-lined floral mehndi design. It comes with a floral and paisley pattern. The fingers are covered with a leafy pattern. When you equip it on your foot, it gives an awesome view.
13. Traditional Gujarati Mehndi Design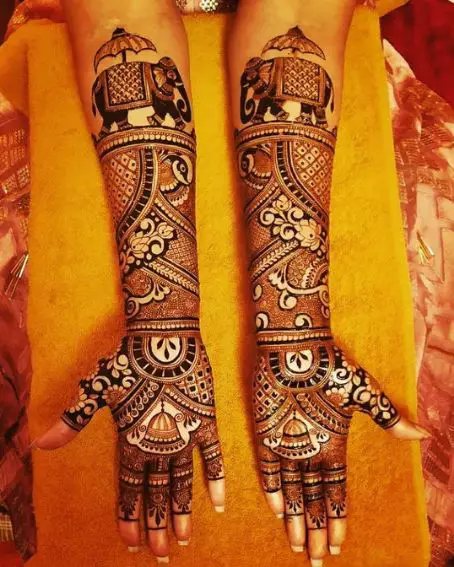 This traditional style of Gujarati design comes with various motifs. It includes bell, flower, peacock, and elephant motifs with intricate design patterns. Overall, it gives a tremendous traditional look to the bride's hands.
14. Jai Mathaji Mehndi Design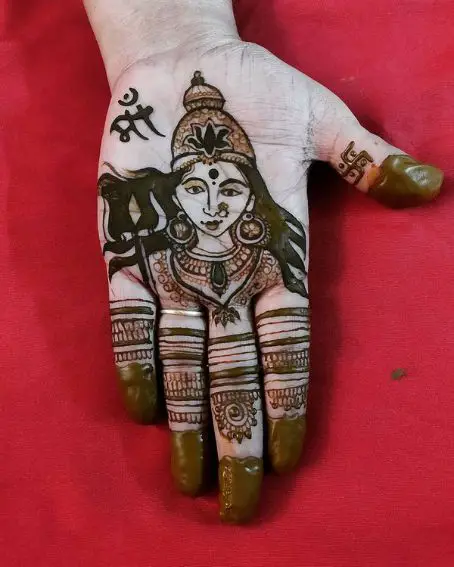 As we said earlier, mehndi can be worked on hands for any occasion. This devotional mehndi design is one of the creative designs to embellish on the hands during Navratri.
15. Deepam & Floral Patterned Mehndi Design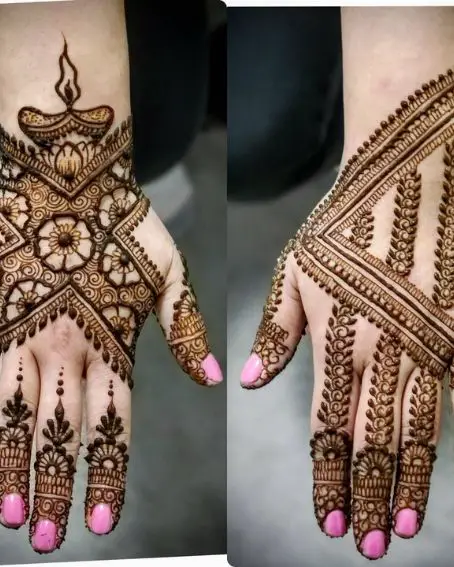 Have you planned to design your hands with henna? This design will be a wise choice to equip. This lighting design comes with deepam motifs and floral patterns all over the hands. It comes with a geometric pattern with a leafy texture and this design can suit any wearables.
16. Culture Enriched Traditional Mehndi Design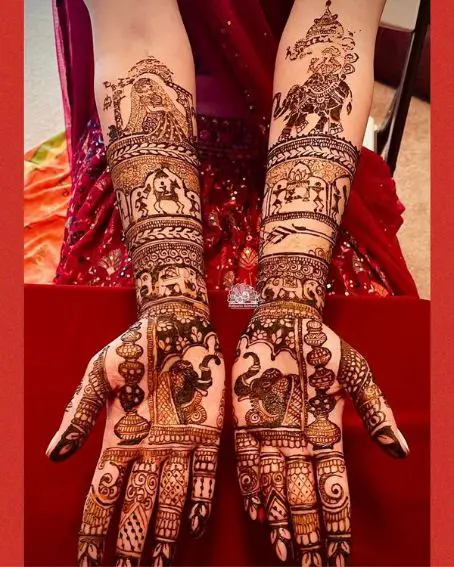 This is one design that speaks out about the Gujarati tradition through art. It is embellished with elephant motifs, Kalash motifs, bride-groom wedding arrivals, and events. You can express the entire marriage tradition to the viewers with just one design.
17. Floral Bangle Mehndi Design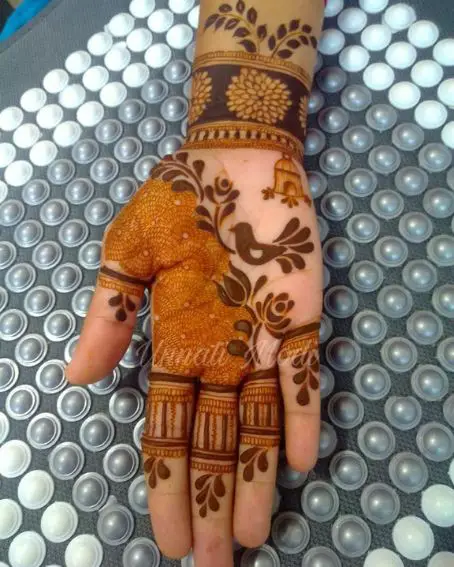 This is an admiring mehndi design. It features a bird motif, bell motif, and dahlia-filled bangle mehndi design. The leafy lotus motifs give a bold look to the design.
18. Dandiya Henna Design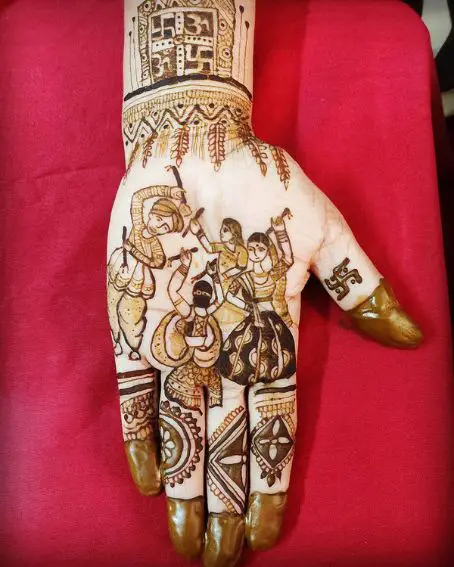 Dandiya – the traditional dance culture. This enthralling mehndi design comes with the dandiya dance. It gives a real dance feel to the heart. Give this artwork a try if you love dancing.
19. Dancing Radhe-krishna Design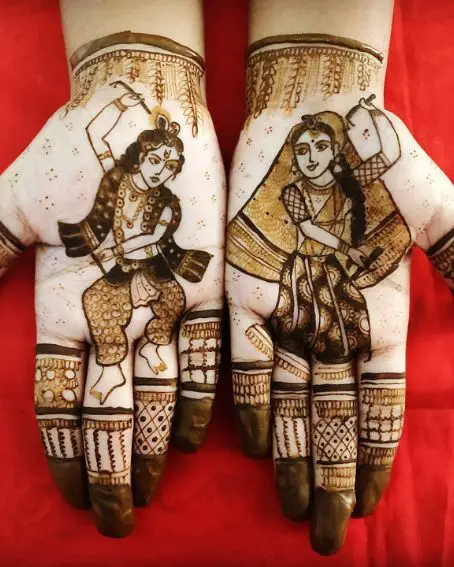 No one hates Radhe-Krishna design. It is a romantic design that comes with the dancing Radhe-Krishna artwork. If you are a person who loves Lord Krishna, try out this in your hands.
20. Punjabi Touch Gujarati Mehndi Design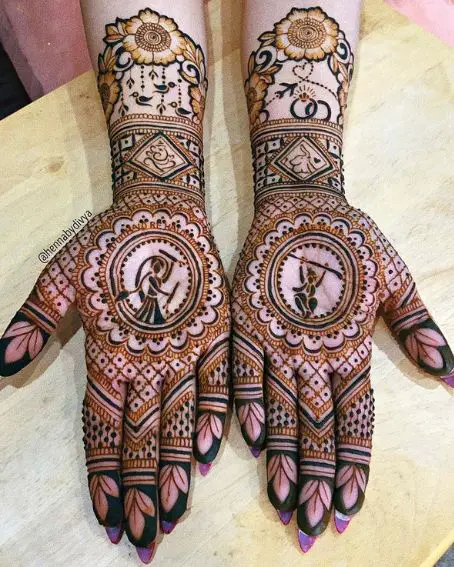 Do you love Gujarati yet Punjabi? This lovely design suits you. This design is a combo of Punjabi-Gujarati design. When it comes together, it gives bhangra and dandiya touch in your hands.
You Might Also Like: