Tradition of our country teaches many things and our world has been divided in several cultures so, that we live in particular community and follow the rules properly. In such special tradition as the rules are made so, it is important to work within this that is quite interesting and very charming. But the wedding is a tradition that is required to follow by every community and this day what we await for it's arrival on same way we are excited to apply mehndi rashm with very gaiety and pleasure. In mehndi's night you are fully adorned with mehndi designs which are famous among all communities as well. Mehndi is our great tradition that is must applied on your hands and feet on the ritual of wedding.
As we talk about mehndi so, must remember that Gujarati people are fond of mehndi and they know different and plenty of mehndi artworks. Gujarat is popular in the world, its food and culture is appreciated throughout nation along with one of the best artworks in Gujarat is also followed as well as used the Gujarati mehndi designs are are well-known worldwide. The Gujratai mehndi design are unfussy and intricate but after all the designs are too beautiful and meaningful even, you will feel great after preparing your hands with Gujarati mehndi design. For Gujarati mehndi designs you need to concentrate your mind on mehndi designing so, within few days you will learn Gujarati mehndi designs.
1. Peacock Gujarati Mehndi Design With Blueprint:
The peacock Gujarati mehndi design is designed with flowers and the best wedding collection in Gujarat mehndi style. The peacock mehndi design is one of the most excellent choices for all wedding collections. This design is amazing and great option for the perfect brides.
2. Muddle Gujarati Mehndi Design:
This uncomplicated muddle Gujarati mehndi design is truly puzzled that is great match for all brides on their wedding. This is smart wedding mehndi collection and makes you feel very comfortable and appears as clutter mehndi style totally.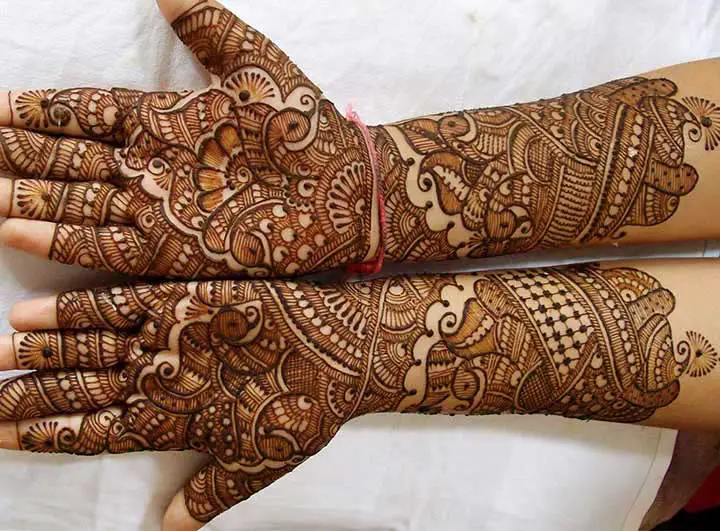 3. Simple Cluster Mehndi Design:
This is another simple and cluster mehndi motif that is superb for the mehndi festivals or any occasion. This design is the best design for those who want to get elegant style. This is design is simple and too attractive. You can see the fingers are packed with traditional spiral designs.
4. Stylish Gujarati Mehndi Design:
This is smartest mehndi design for Gujarati people as this Gujarati mehndi pattern comprises simple flowers and peacock designs. To look unique must try out these designs which are created by numerous geometric shapes and designs.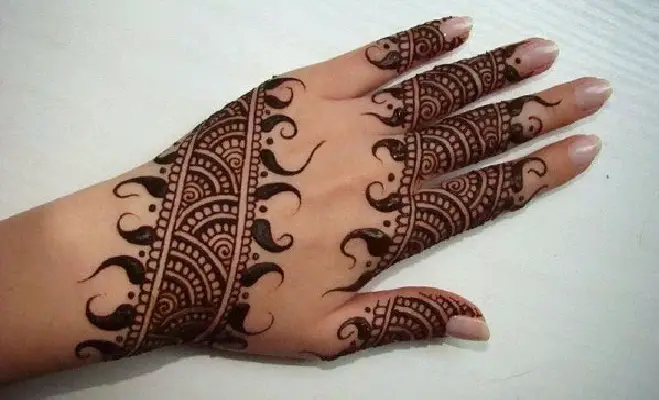 5. Smart Full Hand Gujarati Mehndi Design
This is one of the simplest designs that is created in full hands mehndi designs as well as you try this mehndi motif to get more refreshment to yourself. This design has been decorated in such way that makes bangle design and looks too smart and extraordinary.
6. Exclusive Ornamental Gujarati Mehndi Design:
If you want to look gorgeous and heavy then style with this mehndi design that is simply decorated in your hands and providing ornamental Gujarati mehndi motif where it features with complete and full loads of ornamental presence. This design is perfect choice by all brides and the best wedding mehndi collection. This design comprises with floral design, elephants, horses, and many more. This is design that shows real Gujarati tradition.
7. Bracelet Gujarati Mehndi Design:
This bracelet design in mehndi is much more elegant and loking stunning. This marvelous mehndi design gives great presence or feel of wearing bracelet.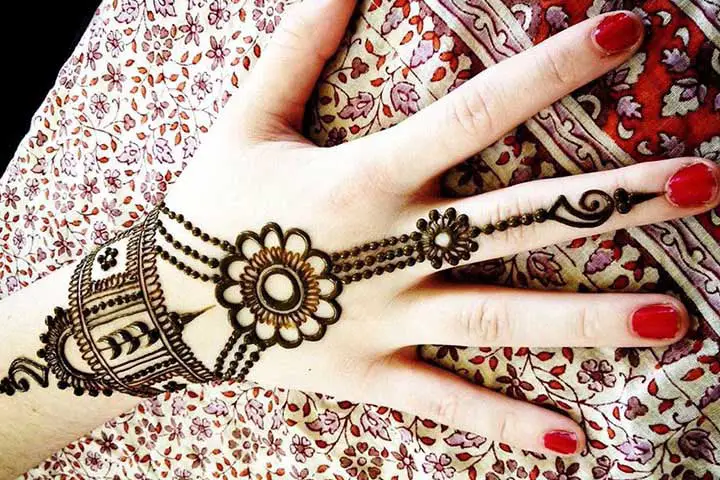 8. Traditional Gujarati Mehndi Design:
There are numbers of mehndi designs that you can try out but the traditional Gujarati mehndi designs are completely unique and different. The traditional Gujarati mehndi pattern consists of zig- zag mehndi patterns. The design is quite simple and chic mehndi design.
9. Arabic Gujarati Mehndi Design:
Arabic mehndi design is very dissimilar than other mehndi designs while the Gujarati Arabic mehndi pattern is uncommon and gives you very unique and extraordinary appearance.
10. Tribal Gujarati Mehndi Design:
The tribal Gujarati mehndi design is fantastic artwork and this design is mainly associated with tribal community in tribal villages where the brides can apply this mehndi design that simply makes them more sophistication.
11. Awesome and latest Gujarati Mehndi designs are Followed:
12.
14.
15.
16.
17.
18.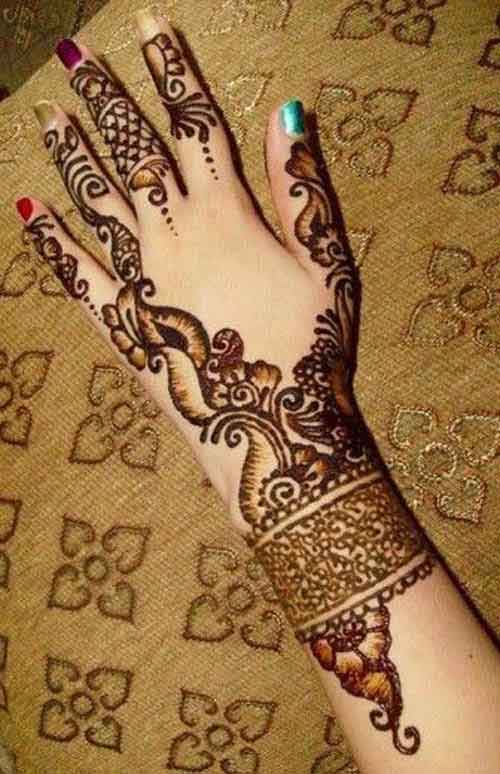 19.
20.
Recommended Articles:
Image Source : 1 ,2,3 ,4,5 ,6 , 7 ,8 ,9 ,10 ,11 ,12 ,13 ,14 ,15 ,16 ,17 ,18 ,19 ,20 SHARE THIS STORY ON FACEBOOK