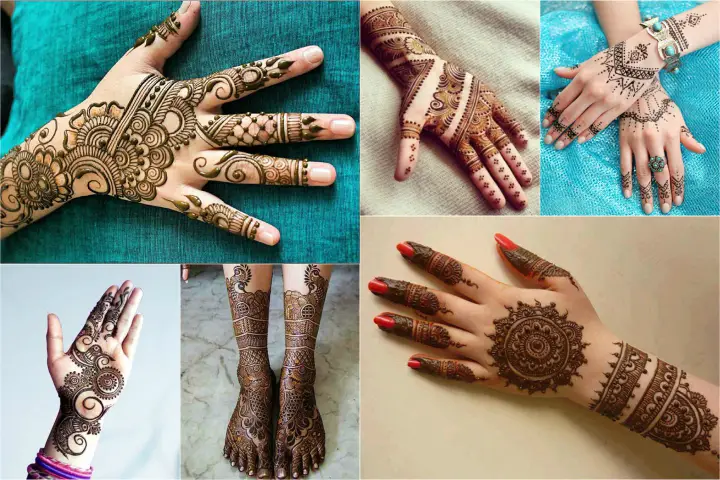 Looking for a classic mehndi design for your special day? Dubai Mehndi designs are good to go!
Dubai Mehndi's designs are one of the best designs compared to other designs. They have their signature style and patterns. If you want to steal your show, wear any of the following Dubai mehndi designs.
Top 20 Beautiful Dubai Mehndi Designs For Any Functions
1. Khaleeji Leaflet Mehndi Designs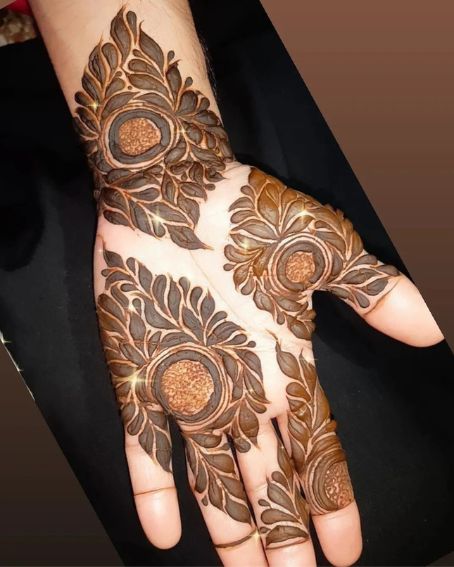 Khaleeji mehndi designs are extremely beautiful designs with charming design patterns. It is a leaflet design where the leaves are filled with henna. The leaflets are structured in a floral shape, giving your hand an awesome look.
2. The Floral Touch Design
Floral patterns will never go out of fashion. The beautiful roses and leaves start from the tip of your finger and float in your hand. This flower-touch mehndi style talks about elegance and simplicity in your hands.
[ Read: 20 Latest & Beautiful Pakistani Mehndi Designs ]
3. Arabic Style Dubai Mehndi Design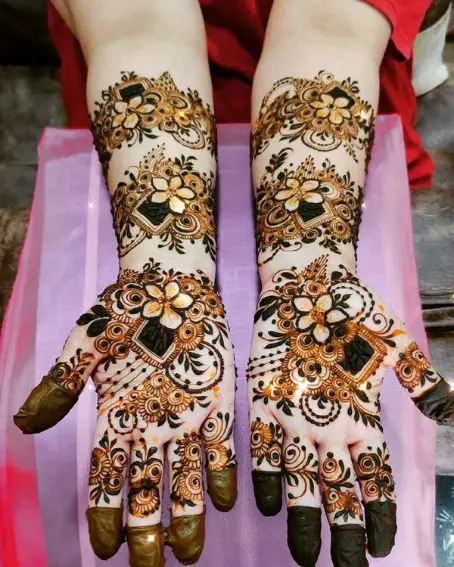 It is one of the best and the most modern forms of Dubai mehndi style. The beauty of this naturistic design lies around the flowers and swirls. Trust me; this Arabic design will be the best choice for your hands.
4. Backhand Dubai Mehndi Design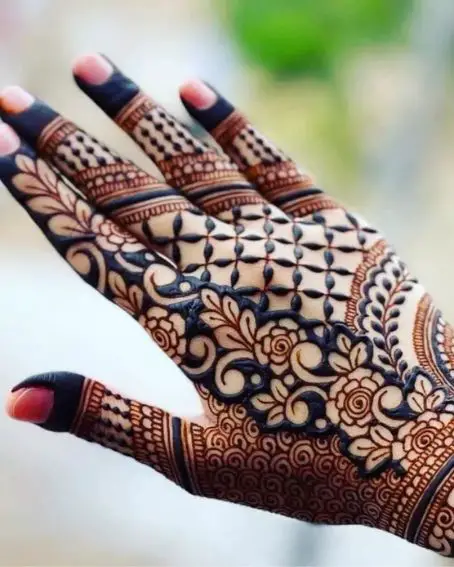 Flowers and motifs are one of the best combinations in backhand mehndi design. This Dubai mehndi design comes with intricate designs, including criss-cross patterns, swirls, and lined patterns. All these give a tremendous view to the design.
5. Fabulous Rose Design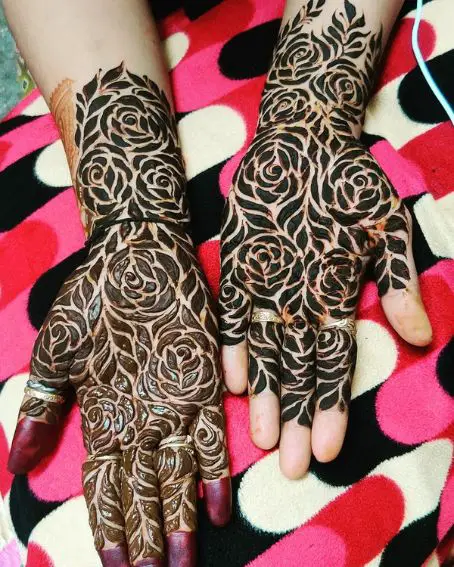 This rose Dubai mehndi design is a perfect one for any grand occasion. It has intricate patterns. The curves of the roses are done neatly with brilliant styling. Adorn this mehndi design for your occasion and wow others.
[ Read: 20 Beautiful Glitter Mehndi Designs ]
6. Bridal Dubai Mehndi Design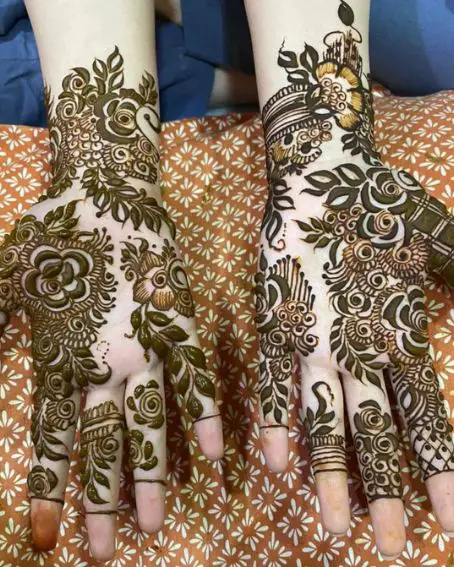 Most Dubai mehndi designs focus on designing flowers. Likewise, this Dubai mehndi design comes with blooming flower designs with leafy branches across the hands. Wear it and rock it!
7. Dubai Mehndi Design on Foot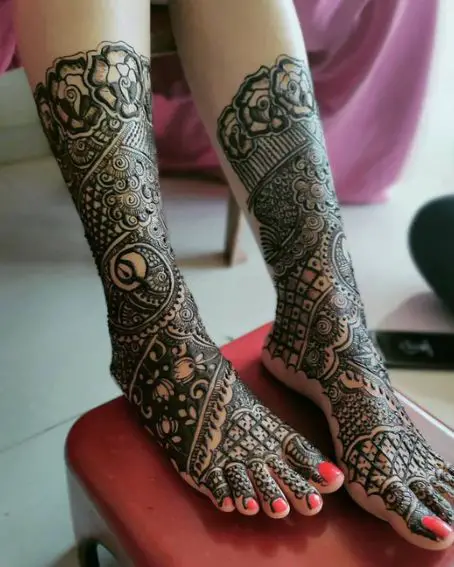 This bridal design should be yours if you need the best Dubai mehndi design for your feet. It comes with the peacock motif, lotus motifs, swirls, roses, and more. The criss-cross pattern near the edges of the finger makes a great look for your foot.
8. Sider Dubai Mehndi Design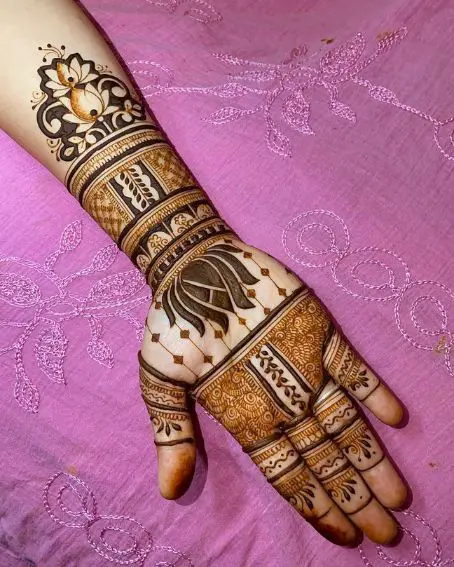 This type of mehndi design is unique to wear on the hands. This lovely design comes with lotus motifs and swirls patterns. Sider is nothing but splitting the designs into half and designing with different style motifs.
9. Unique Cone-shaped Mehndi Design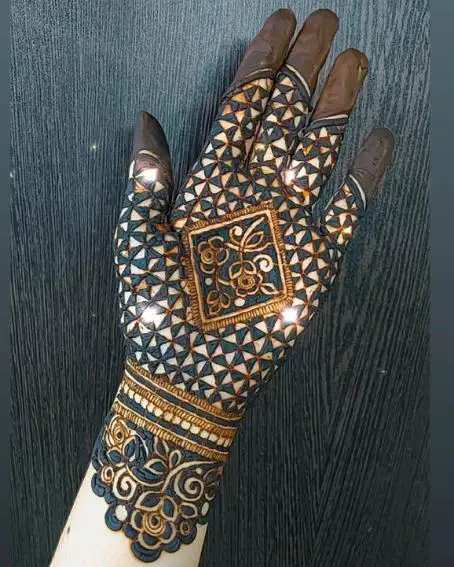 It is a unique design filled with cone-shaped boxes all over the hands. The center of the palm is designed with a diamond-shaped rose pattern. It gives a flawless look to the art.
[ Read: 25 Beautiful Mehndi Designs for Fingers ]
10. Paisley Flower Dubai Mehndi Design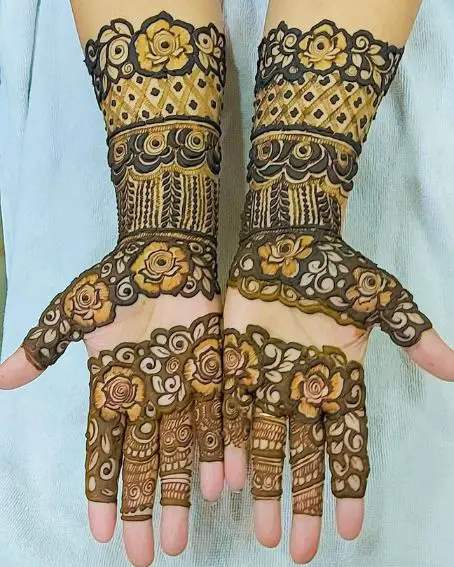 You may be familiar with these Dubai mehndi designs if you are a henna lover. It comes with flowers, dots, vines, and leafy patterns. The highlight of the design is the combination of paisley patterns.
11. Gulf & Floral Pattern Dubai Designs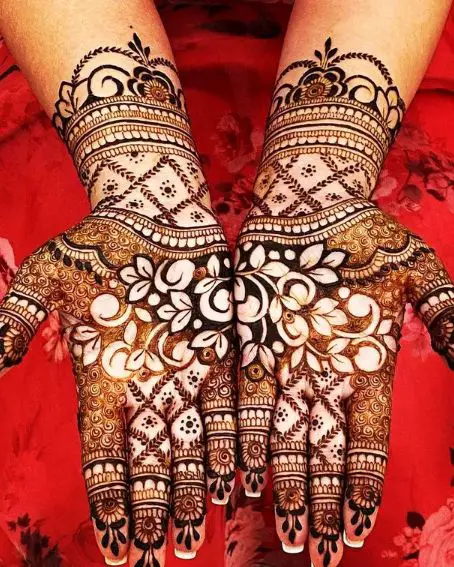 This design is an eye-catching one. It has elaborate floral and gulf patterns. Joining both hands gives a butterfly-shaped look to the floral joints. Brides can wear it without any hesitation.
12. Dancing Peacock Dubai design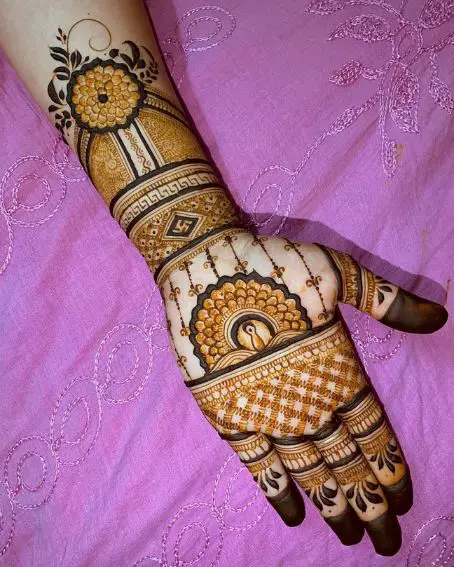 Looking for a simple yet unique mehndi design for your wedding ceremony? Why don't you give it a try? This lovely design embellishes beautiful dancing peace with swirl patterns all over the hands. The flower on the arm is a masterpiece of art.
13. Royal Style Dubai Designs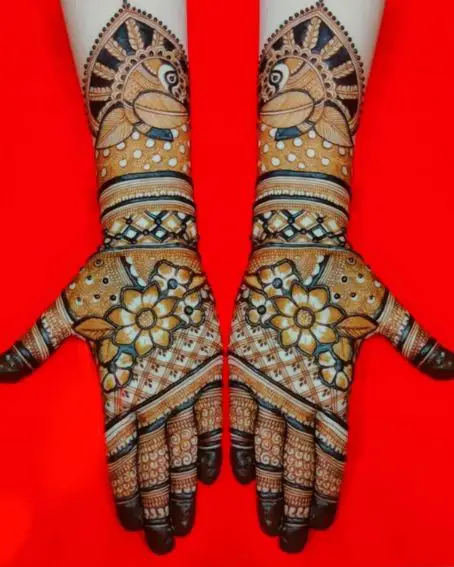 Royal designs are always exceptionally pretty. It looks like a simple design but gives a complete look to your hand. This design includes blooming flowers, peacocks, criss-cross patterns, and other geometric shapes. Overall, it gels with royalty.
14. Rose Embellishment On Foot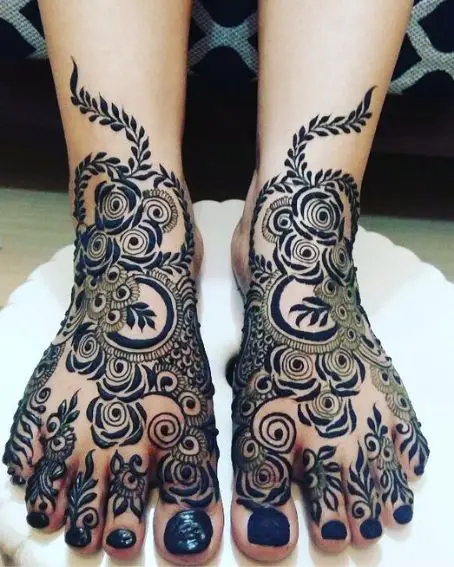 The floral design with leaves and branches gives a glorious look to your legs. This symmetric design comes with an intriguing mehndi pattern. It is an incredible design for the brides to wear.
15. Geometric Dubai Mehndi Design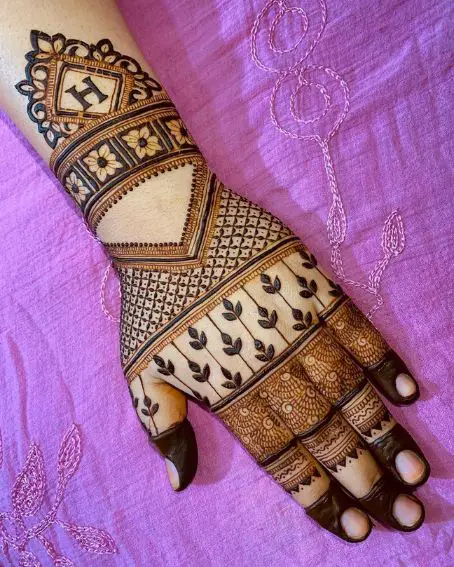 This mehndi design has various geometric shapes as its design pattern. The criss-cross pattern with dots gives a lovely look to the art. You can fill out your favourite person's initials to show your love towards them.
16. Checked Sider Mehndi Design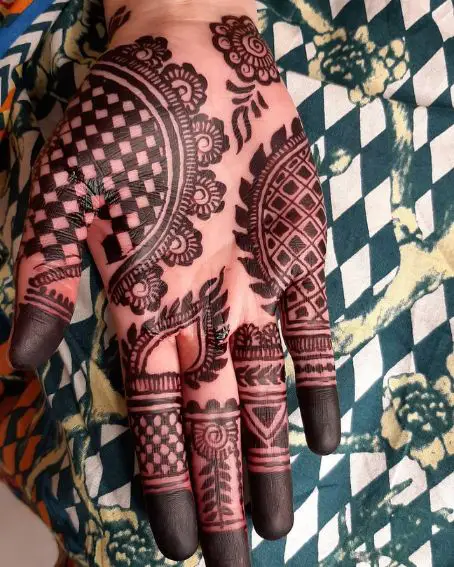 This creative art form comes with a trending design. The checked-shaped pattern on the design gives an admiring look when you add it to your hands. Just try out this trendy pattern and chill out!
17. Eid-ul Azha Dubai Mehndi Designs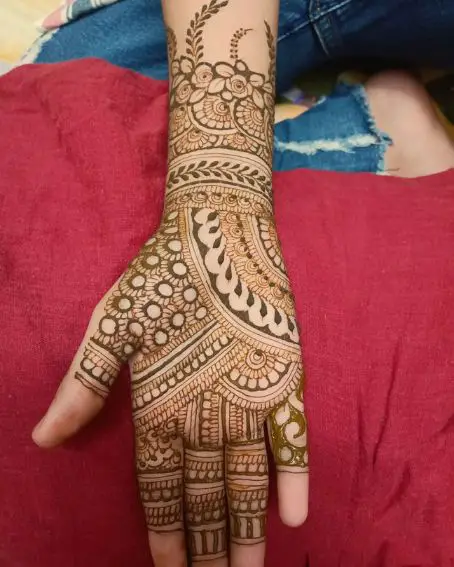 This design attracts every eye at your party. It is specially designed for the eve of Eid. The round-shaped semi-floral patterns give a mirror look to the hands.
18. Simple Traditional Dubai Designs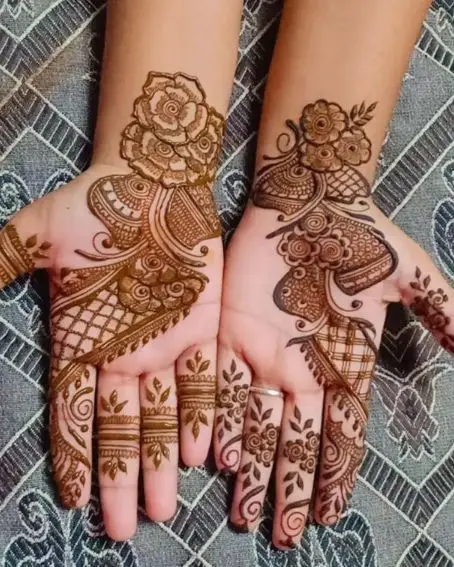 It is a pattern of vines and flowers embellished on both hands. It starts from the arm to the tip of the fingers. The flowers and lined patterns add a flair look to the design.
19. Lovely Leafy Dubai Design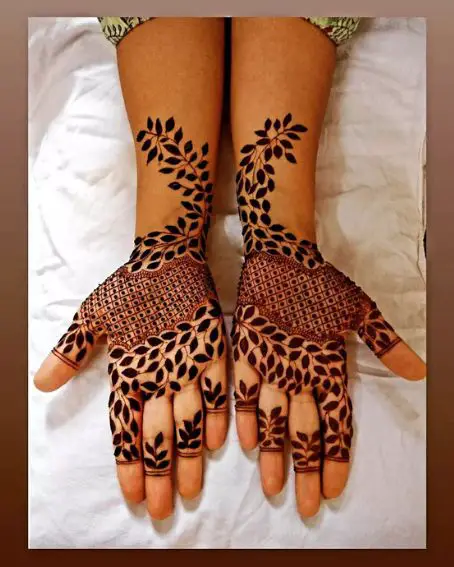 This is something that everyone likes to wear. The design comes with leafy branches floating all over the hands. A certain region of the hand is designed with a criss-cross pattern with dots on the hands. Altogether, it is a wonder when you apply it to the hands.
20. Arch-shaped Dubai Design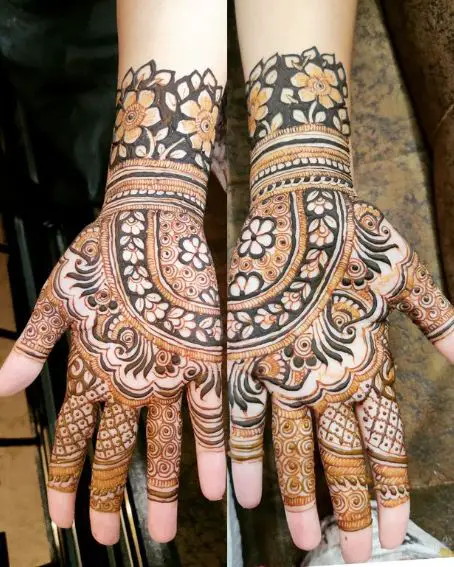 This is one of the most mesmerizing designs on the list. This beautiful design is immersed in flower motifs and swirl patterns. When you join your hands together, it gives a floral arch look in your hands.
You Might Also Like: