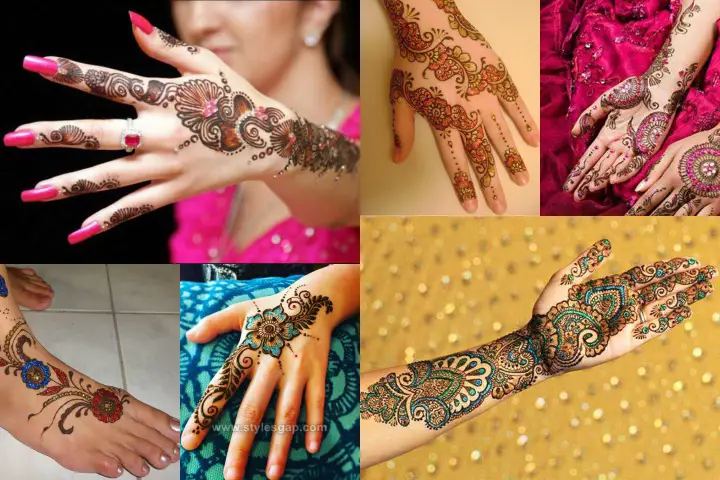 As the trends are evolving in this upgrading world, mehndi designs are also evolving with different types of artworks. Glitter mehndi design has paved its way into it. All women love to design mehndi on their hands. If you are someone who loves unique and trending designs for your special event, then you should give a try to any one of these glittery designs on your hands!If you want to stun and shine your hands with henna work, then glitter mehndi would be wise. In this blog, we've listed some of the best glitter mehndi designs for those who seek help. Stay with us and explore more designs. .
20 Beautiful Glitter Mehndi Designs
1. Flower And Pink Glitter Mehndi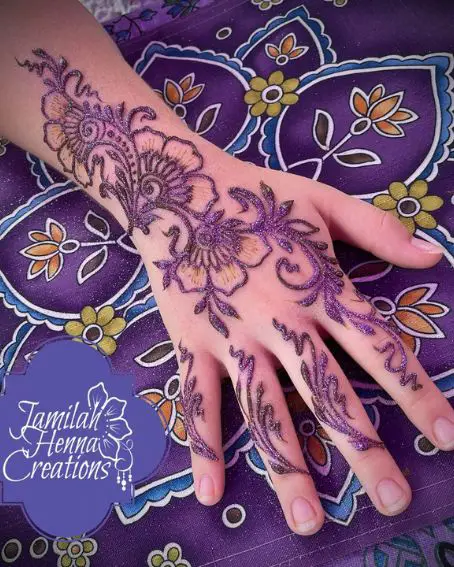 Glitter mehndi designs can be designed in either single color or multi-color. This pink-colored flower mehndi features sparkles and gives a shiny look to your hands. The fingers of the hand are featured with pink leafy vines that offer a winning look to the eyes.
[ Read: Bridal Mehndi Designs ]
2. Henna Paste Embellished Glitter Mehndi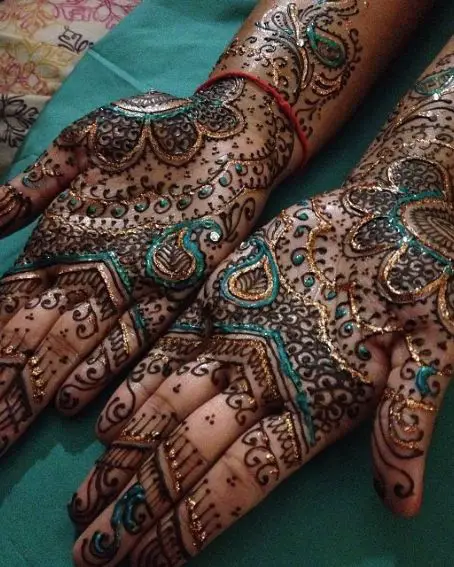 It is a sparkle green glitter mehndi design. It features green leafy and floral patterns with green glitter all over the henna paste. Are you a green lover? Try this out!
3. Gold And Blue Glitter Mehndi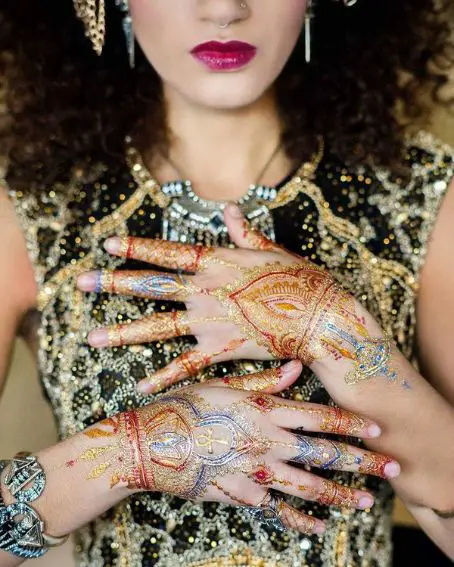 Adorn, this sparkly gold and blue glitter mehndi designs on your hands. This marvelous design comes with a dome-shaped pattern, and the fingers are embellished with a jaal pattern. Shine your party night with this awesome glitter henna.
4. Backhand Glitter Mehndi Design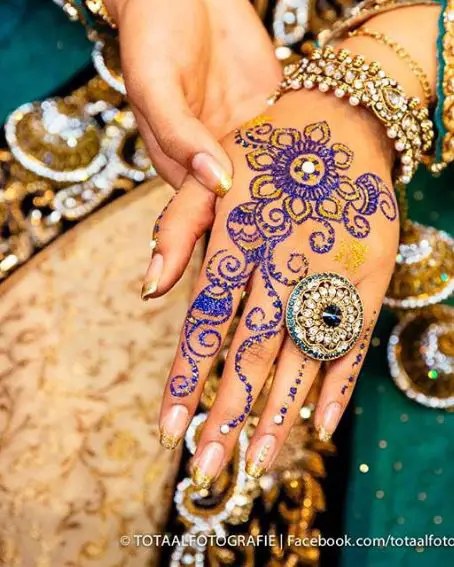 This captivating design comes out with gold and blue embellished glitter designs. It is a single-line bracelet design featuring a floral pattern and mesh pattern towards the tip of the index finger. Wear it for your special day to shine out.
[ Read: Back Hand Mehndi Designs ]
5. Corset Glove Mehndi Design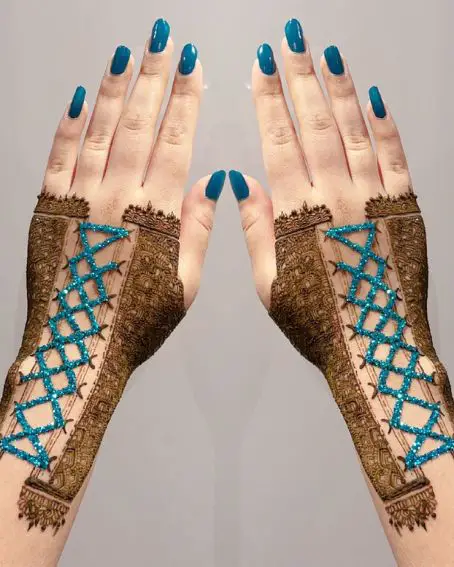 Do you like the corset glove pattern? Why not try it out with henna? This henna design features a corset glove pattern in which the laces are designed with blue glitters. When you wear it with a matching outfit, it gives a complete look to your hands.
6. Sparkly Glitter Mehndi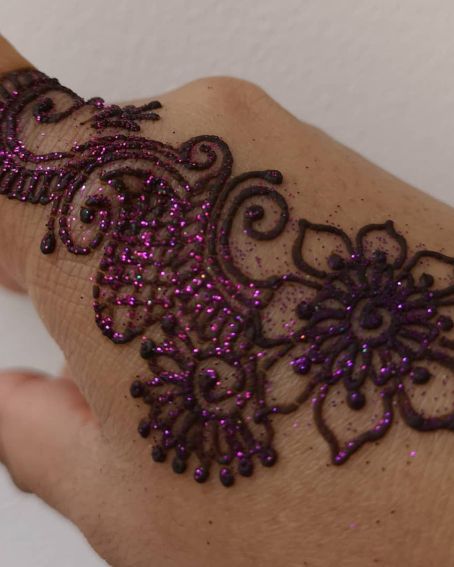 Purple sparklers are always a special choice for women when adoring henna. This bewitching twinkling mehndi design features a floral pattern and mesh designs to offer a glorious look.
7. Glitter Mehndi With Stone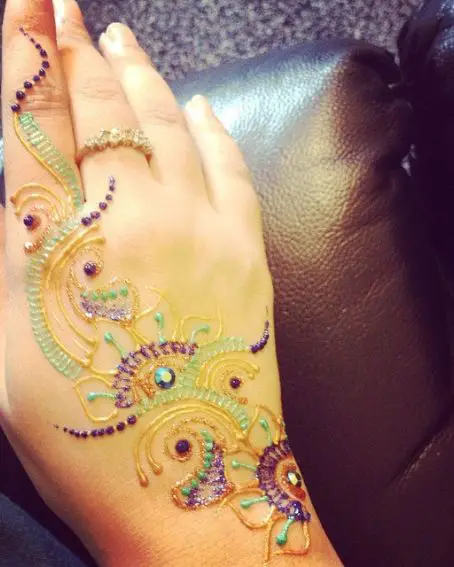 It is a beautiful golden purple henna design. It features shining purple stones placed all over the edges of the vine designs. Get this one on your hand and rock with the rocking stone and glitter design.
8. Simple Glitter Mehndi Design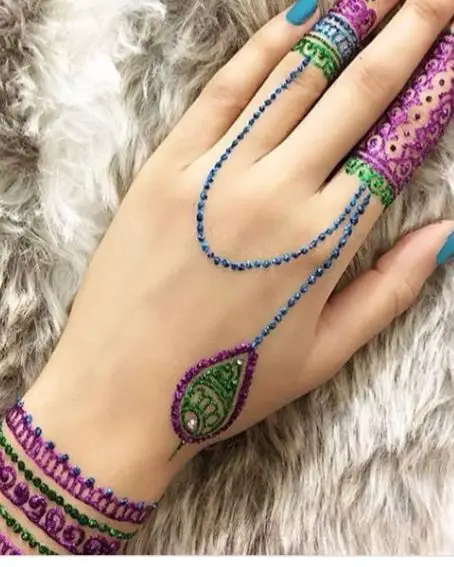 This is an amazing jewelry style multi-colored glitter mehndi design. The bangle mehndi design on the wrist is embellished with purple and green patterns. The fingers are designed with a colorful ring pattern chained with blue beads on either ring finger.
9. Little Finger Glittering Design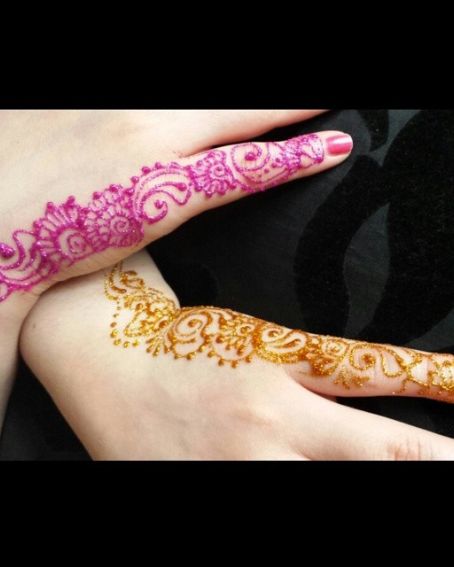 Most people are not big fans of complex designs. Some people like to adore simple and elegant designs. This design is for those people. This simple design comes out in pink and gold colors on the litter finger. Afore and amaze with this elegant, glittering design.
10. Gold Glitter Semi Mandela Mehndi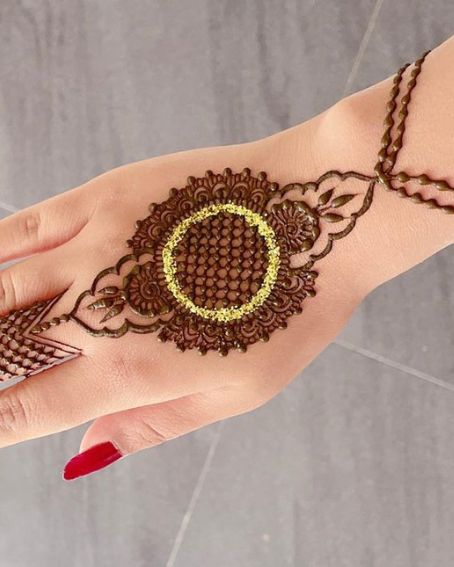 Mandala mehndi design is a favorite among many people. Adding gold glitter to this semi-mandala design is like adding spiciness and crispness to the design. Why don't you equip this design for your special occasion?
11. Glittering Henna Design With White Stone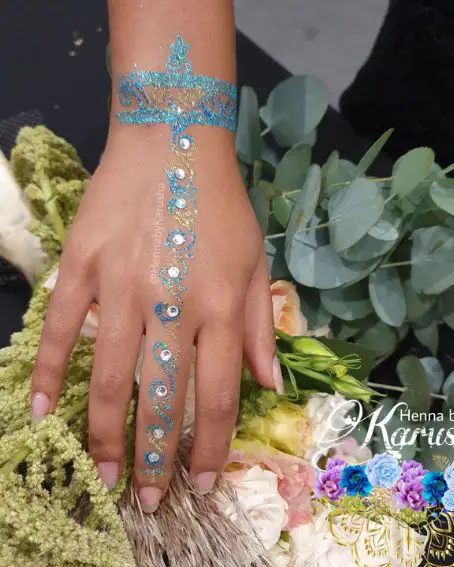 This glittering henna is embellished with white stones. The white stone always gives a glossy look to the eyes. The combo of glittering henna gives a finishing touch to the artwork.
[ Read: Foot Mehndi Designs ]
12. Circular Glitter Mehndi Design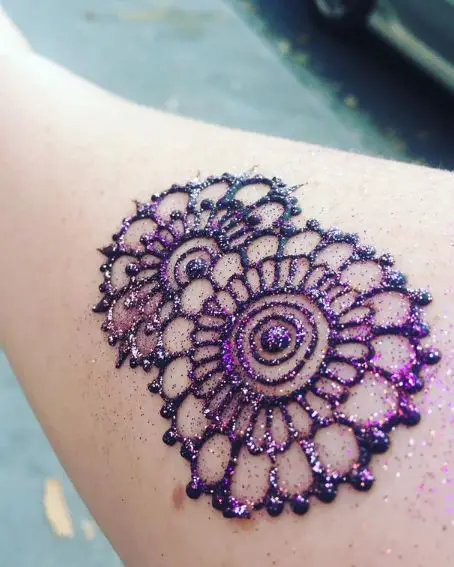 It is a circular mandala henna design. This glittering henna features purple glitters that ignite the henna work on the hand. This design should be yours if you are a good fan of simplicity.
13. Red Glitter Mehndi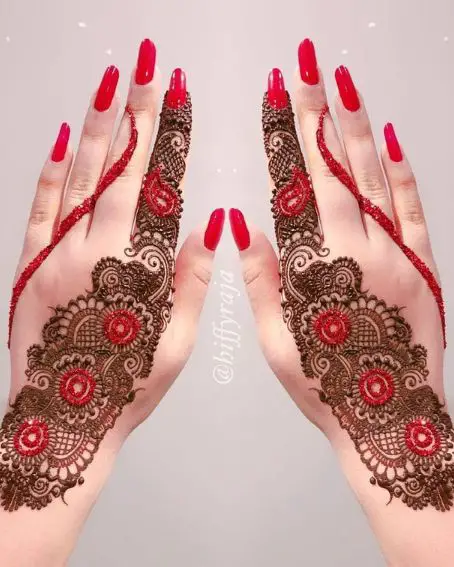 Red never fails to ravish your party. This enchanting red glitter mehndi design offers a pleasing look to the viewers. This is a floral Arabic henna design filled out with amazing red glitter. Get your hand filled with this design for your upcoming event.
14. Floral And Paisley Designed Mehndi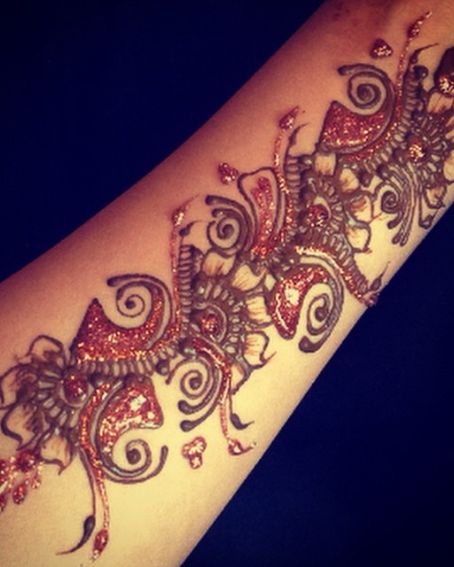 Paisley pattern is one of the traditional mehndi designs. This sparkling mehndi design comes with a lovely floral and paisley pattern. The patterns' edges and corners are filled with golden glitters to delight the eyes.
15. Peacock Glitter Mehndi Design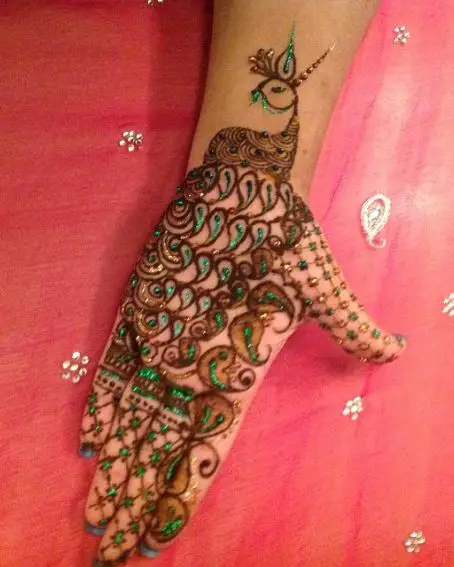 Peacocks are always a masterpiece in mehndi art. This beautiful mehndi design features an amazing green glittery peacock. The fingers are designed with glitter embellished crisscross patterns. Altogether, it is a great theme to wear on your hands.
16. Green Glitter Combo Black Mehndi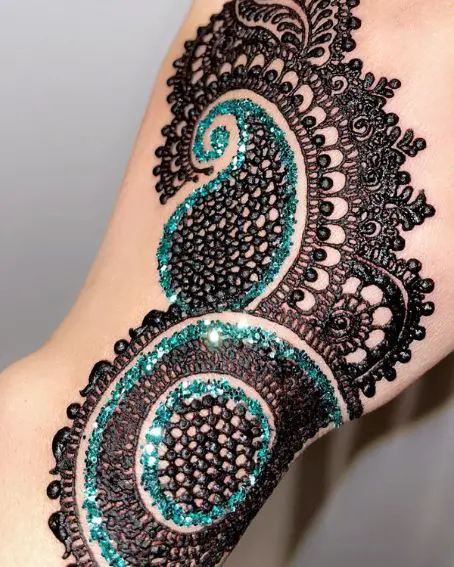 Like green and red henna, black mehndi has a huge following. This enchanting design features a paisley pattern in black henna. And the borders of the pattern art are designed with glossy green glitters. On the whole, it is a unique piece on the list.
17. Creative Sparkling Design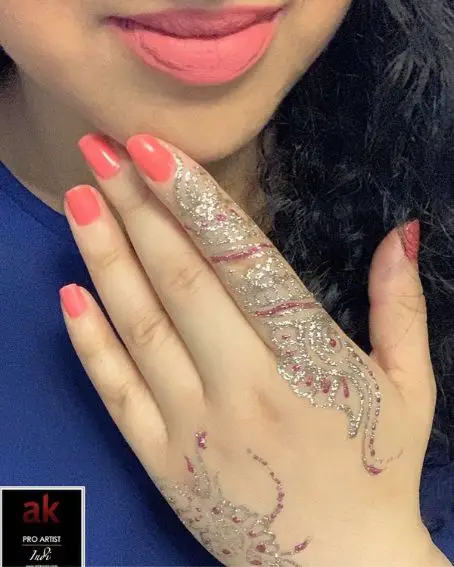 It is a silver glittery henna design. This creative design sparks the eye with its glittery look. The edges are corners; the glittery silver design is embellished with maroon glitter. The combo glitter artwork provides an enormous look to your hands.
18. Glittery Arm Design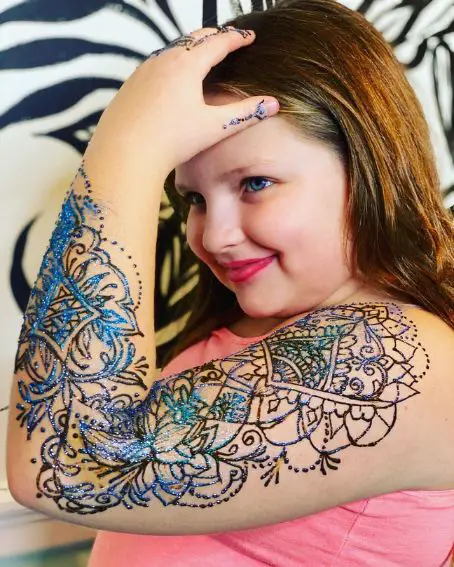 Some people like artwork henna to do a tattoo design on their body parts. Why don't you try this arm mehndi design if you are the one? This tattoo-style design has floral patterns and glittery patterns all over the arms. Adore it and be an admirer.
19. Rose And Purple Glittering Mehndi Design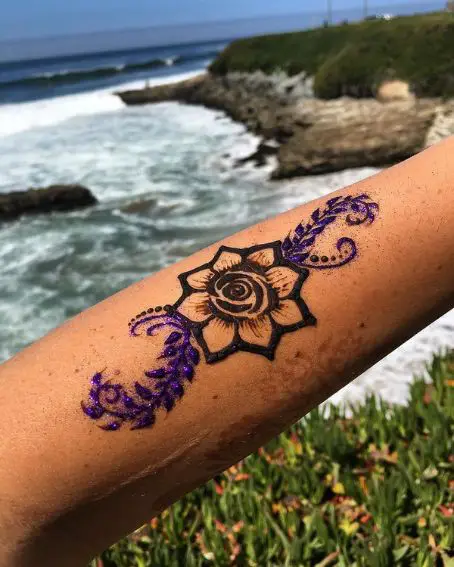 As we said earlier, black and purple are one of the favorite colors among many women. This romantic rose design comes with purple glittering leafy patterns on either end of the rose. Overall, a romantic tattoo looks for your lovely hands.
20. Unique Backhand Mehndi Design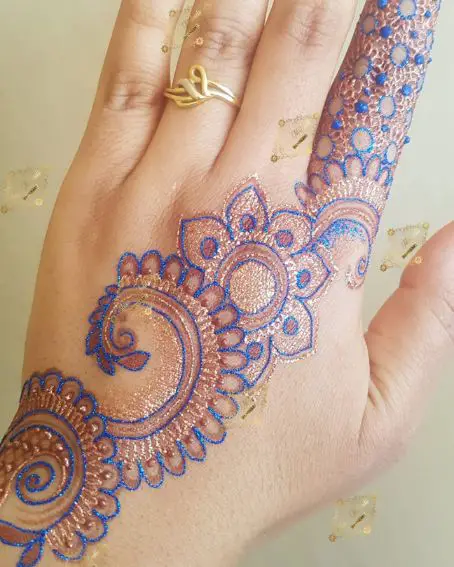 Many people are fond of backhand mehndi designs. If so, this is a perfect option for you. This glittery design is a unique pattern with blue, gold, and red glitters on the design borders. This design features a peacock touch when viewing.
You Might Also Like: