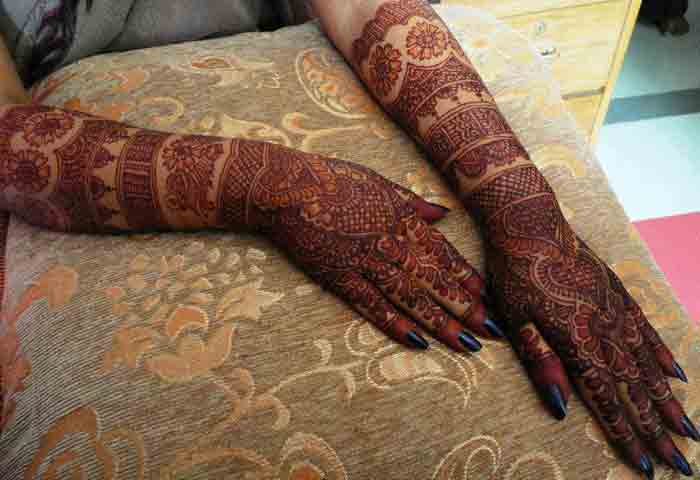 For the past few decades, bangle mehndi designs have become popular among many people. They are not just traditional to wear but contemporary that suits all. There are many high-styled bangle mehndi designs to work on the wrist. If you're looking for a lovely design, get into the blog. All exquisite bangle mehndi designs are:
20 Stunning And Beautiful Bangle Mehndi Designs
1. Criss-cross Leafy Bangle Design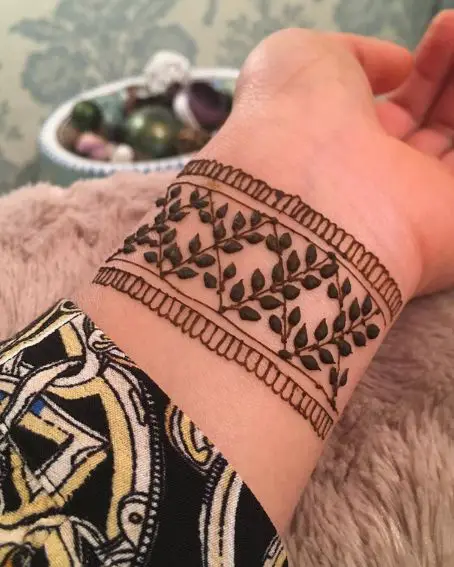 This should be yours if you don't like to wear an intricate henna pattern. This leafy bordered criss-cross pattern gives a gorgeous look to your art. This wristband-styled bangle design gives a tattooed image to your hands.
2. Arabic Style Bangle Design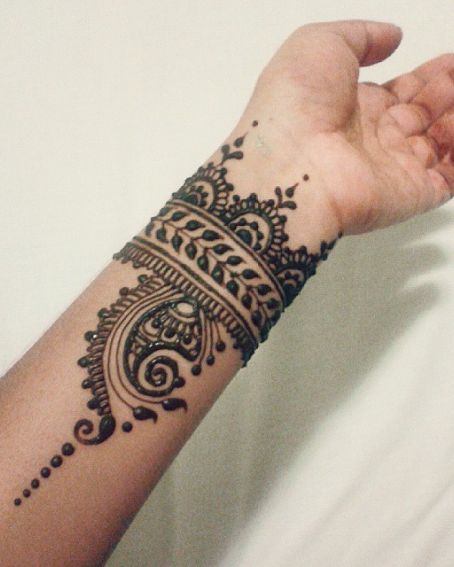 This modern Arabic henna design has a dome base on the wrist. The design with the linear bangle strap with a thick base gives an elegant look to the art. If you wish to wear a fashionable one, hold back with this design work.
3. Floral Cuff Bangle Design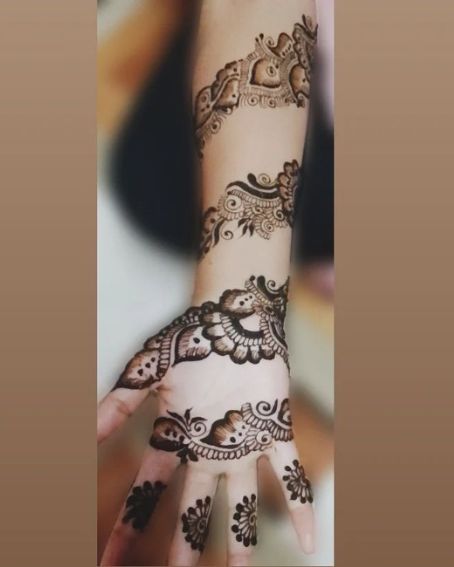 This is one of the favorite bangle styles among many. It comes with the shaded flowers, swirl, and leafy structure as its alluring pattern. If you want something trendy to wear, try this out.
4. Butterfly Embellished Bangle Design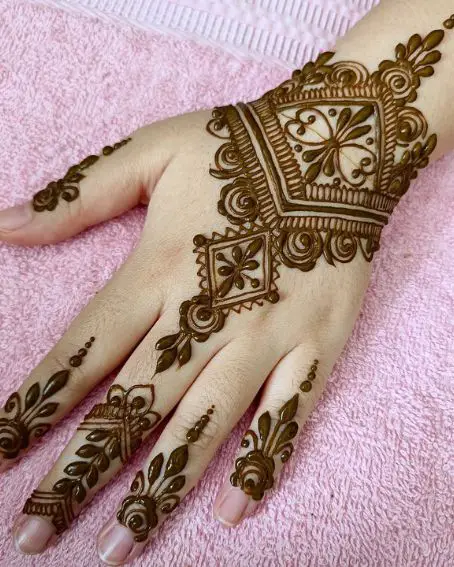 This is one of the best bangle designs, with the unique butterfly art as a masterpiece. It is surrounded by geometric shapes and leafy patterns to give crispness to the design.
5. Simple Yet Lovely Bangle Design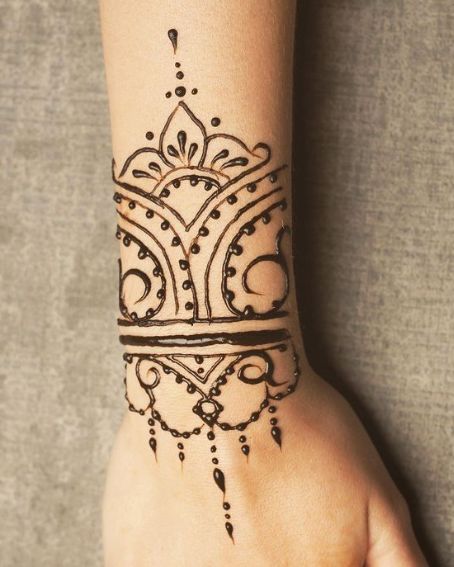 Most people don't give a damn about the classy design. They go for a simple one. This design is one of those. The bold dots on the design give a lovely look to the art.
6. Heart-shaped Bracelet Design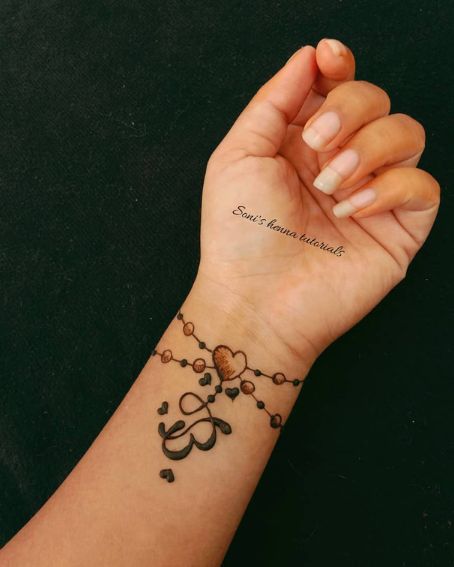 This is one of the best designs of all. Many like trendy fashion mehndi designs. This design fits all. It comes with chained beads with a single heart design lined up with an alphabet. Just get your henna in this rocking style.
7. Catchy Bangle Mehndi For Back Hands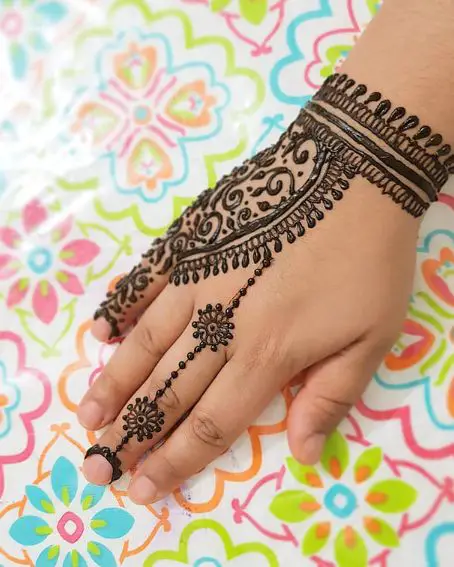 If you are searching for an elegant bangle mehndi design, this should be the one. The strap of the bangle is lined up with the swirl floral patterns and chained up towards the tip of the finger. Overall, it catches every eye at the party when you embellish it on your hands.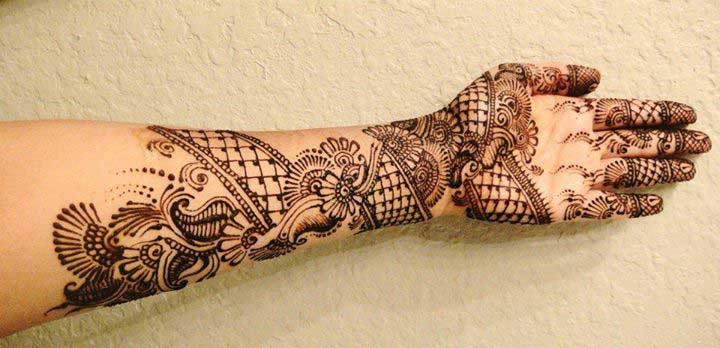 8. Dotted Bangle Pattern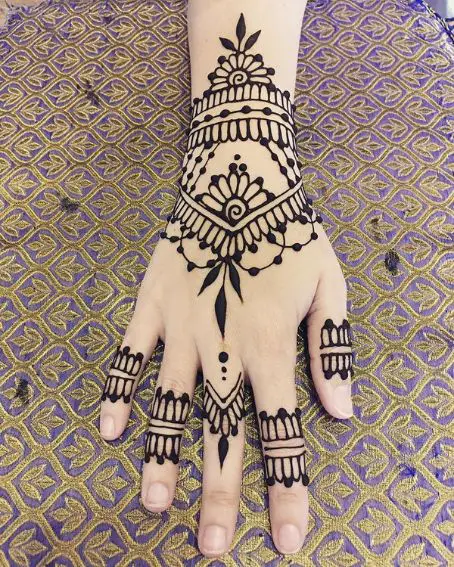 It is a dotted beautiful bangle mehndi design that suits all people. You can apply this lovely design for any occasion or cultural event. This symmetrical design gives a great look to the hands.
9. Kangan Style Mehndi Design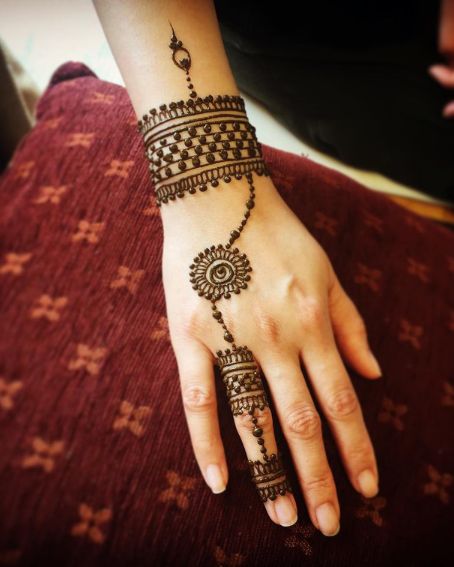 It is a pretty mehndi design for bangle lovers. Yes, this Kangan style mehndi design is dotted with lines and gives a classy look to the hands. Furthermore, the Kangan is chained with the ring pattern design on the finger is an added delight to the design.
10. Scorpion Bangle Style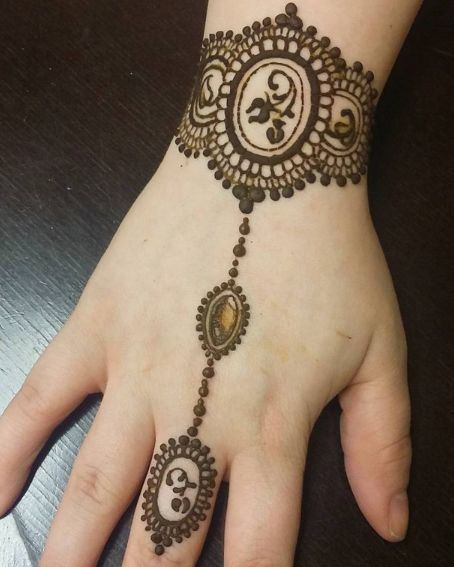 Are you a scorpion? Many people love to design their zodiac sign while designing mehndi on their hands. If you are one of those, then try this out. The scorpion-centered bangle style gives a pleasant attire.
11. Thin Criss-cross Floral Bangle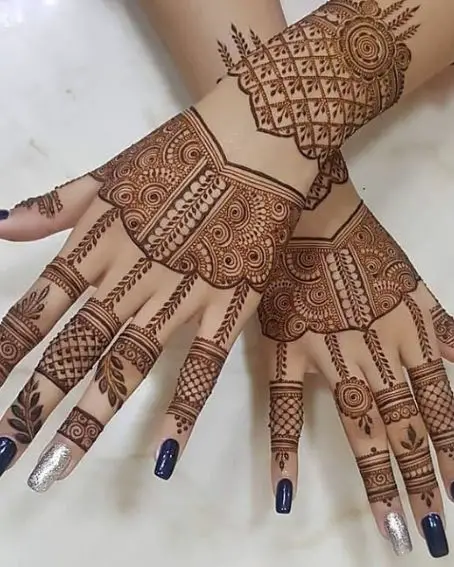 Another stunning design focuses on the wrist and covers the hands. This design adds elegance to the wearer's hands. The major highlight of the design is the big floral pattern on the base.
12. Mandala-type Bangle Design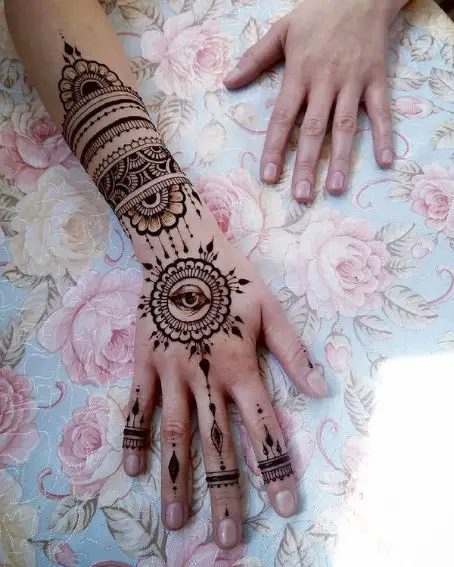 The mandala design looks pretty when you design it on your hands. This cute bangle set design comes with bold and thin floral patterns on the base of the writs. Altogether a trendy one to wear.
13. Dotted Pattern Arabic Style Bangle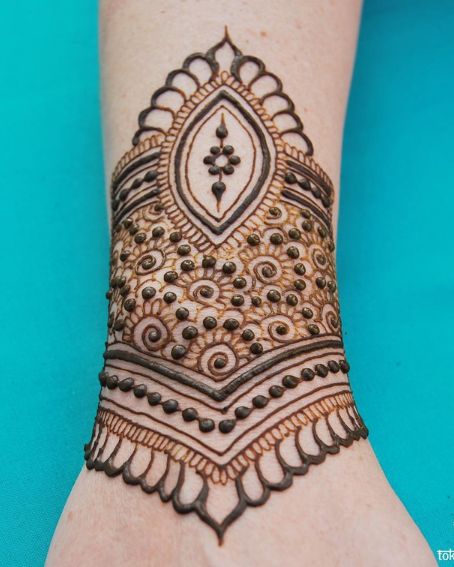 This design resembles the ornate cuff. The design comes with eye-dotted swirls and floral-petal patterns on the edges. The eye-shaped single-petal on the base is the showpiece of the art.
14. Flaunting Wristband Design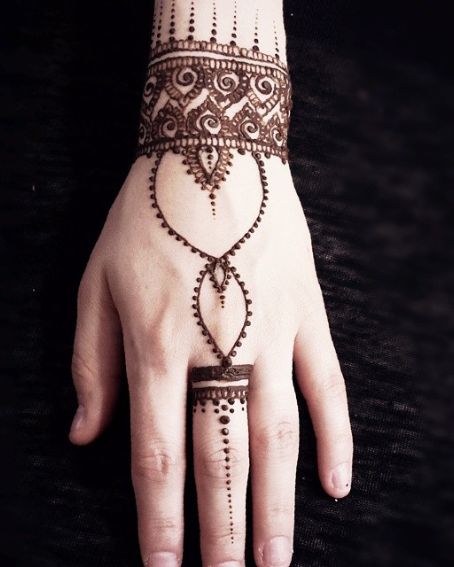 This wristband design is another add-on to the list. It comes with creative leaf-shaped swirls with small bold dots. Fashion lovers never fail to wear this on their wrists.
15. Flower Motif Band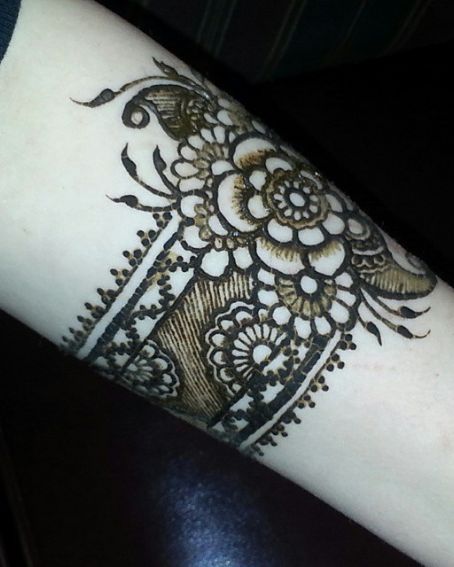 This creative bangle design comes with a big floral pattern with shady leaves on the edges. On the other hand, the middle of the bangle design comes with a semi-floral pattern all over the design.
16. Semi-floral Bangle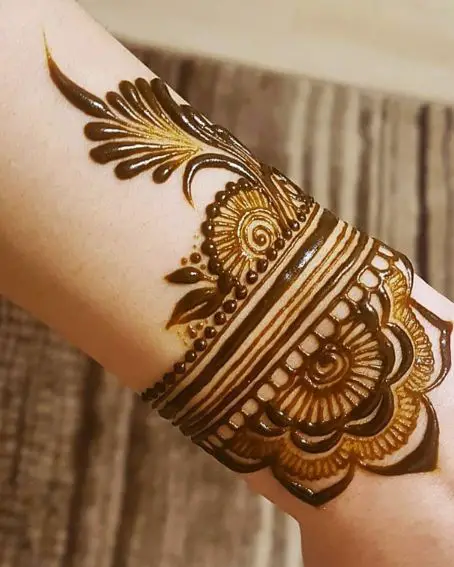 The design, which no one dislikes. It is one of the best designs for flower bangle lovers. It comes with lined patterns which hold flowers as its highlighting feature.
17. Leafy Kangan Style Bangle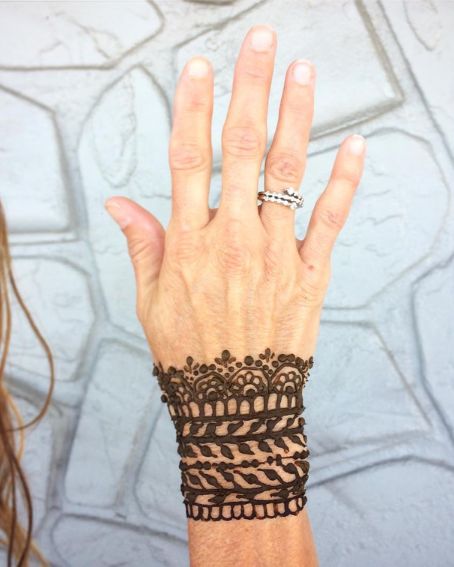 Do you like Kangan? This design is filled with a two-layered leafy pattern with semi-little flowers on the top. Altogether, it gives a tattoo look to the hands.
18. Simple Fashion Bangle Design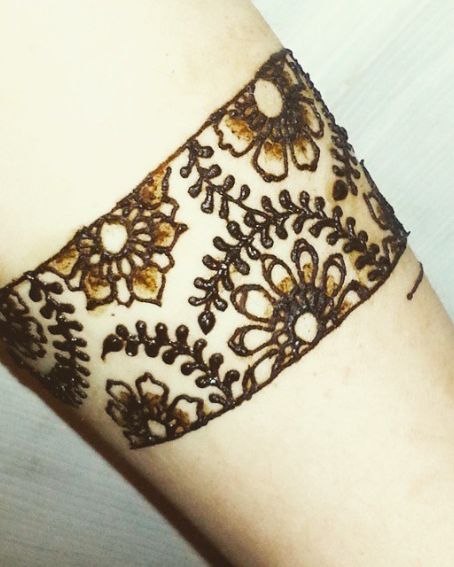 Like other bangles, this bangle design has shady flowers and bolded leaf vines. Wearing this design will be more good on the hands. If you love flowers, surely, you'll love this design.
19. Arrow-styled Wrist Design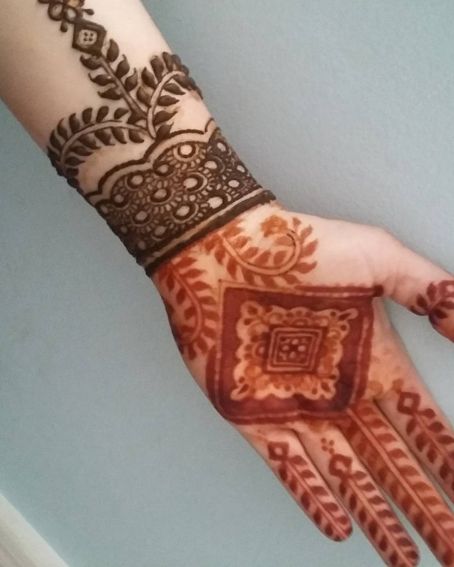 This wrist bangle design comes with a leaf arrow structure changed with the swirl Kangan style design. This unique design suits all kinds of occasions. Just get one in your hands.
20. Rakhi Style Bangle Design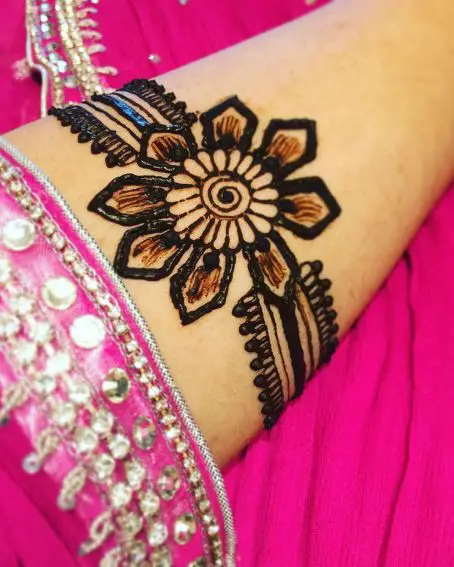 This bangle design comes in the Rakhi structure. This gives a stunning look to your hands. Try out once, and delight in the elegance!
You Might Also Like: