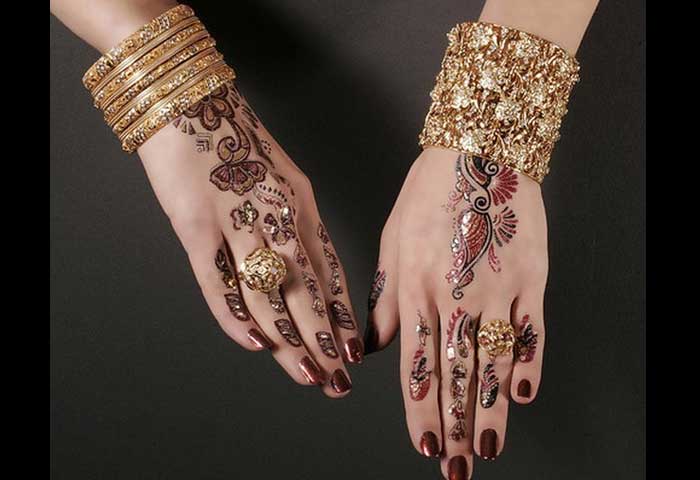 The engagement ceremony is a special occasion for every woman in their life. This pre-wedding ceremony won't be complete without a mehndi. Is your pre-wedding day around the corner? Not sure about the best mehndi designs to wear it on? It may not be your problem anymore. We are here to help you out.
This blog comes with the best mehndi designs for your engagement ceremony. Spare your time to look at them. engagement mehndi designs are:
Top 20 Beautiful Engagement Mehndi Designs for Womens
1. Rose Blooming Pattern On Foot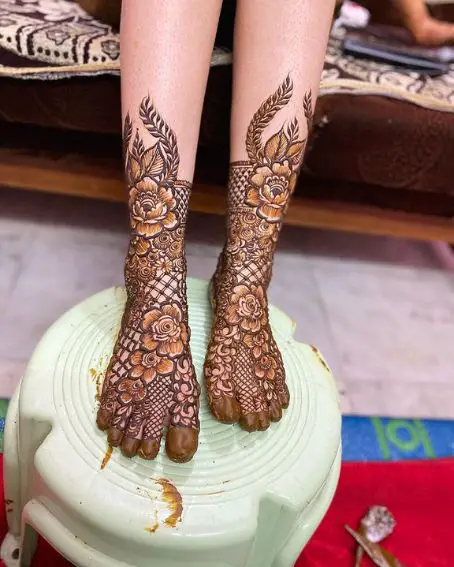 Roses can express a lot more feelings than a word. It is a language of love and romance. Every girl loves to wear this romantic rose design on their legs during their special event. Give it a try once.
2. Simple Floral Mehndi Design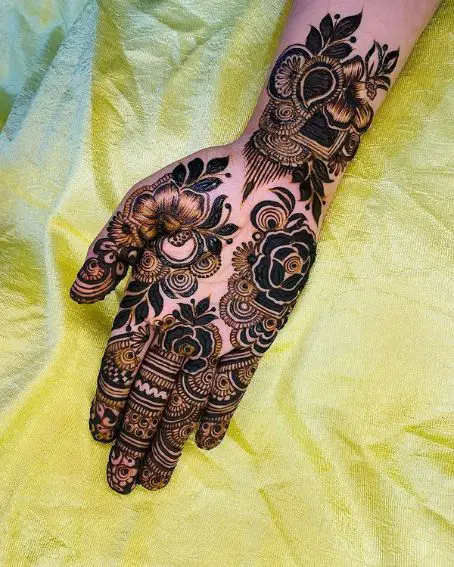 Flowers are an essential design part when it comes to mehndi. This floral henna design is covered with adorable flowers and leaves. It is designed like a bracelet with a mango-shaped leafy texture on the wrist. It never fails to be admired by others.
3. Spiral Mehndi Design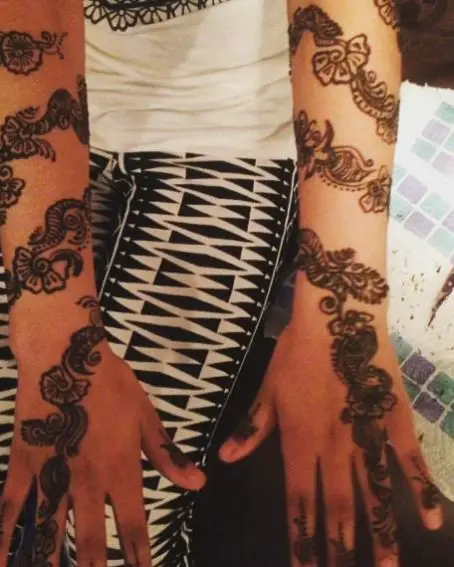 If you don't like to wear a simple mehndi design, go for this spiral one. This exquisite design steals your special day. It has big flower motifs and meshes patterns all over the hands.
4. Multi-patterned Modern Artwork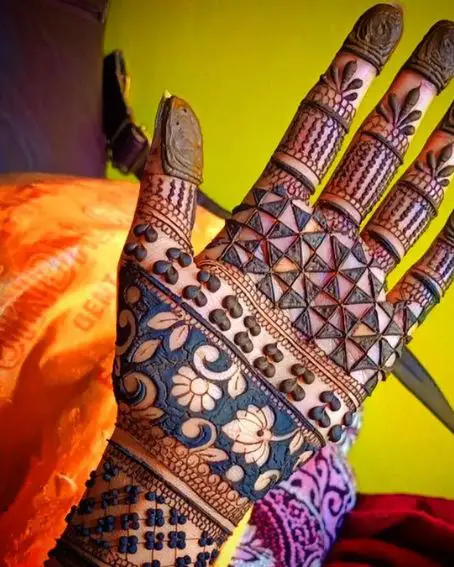 This latest design comes with many different patterns. It includes curved lines, cone-box patterns, inverted hearts, and flower motifs. When looked at together, all design patterns provide an impressive view of the artwork.
5. Intricate Traditional Mehndi Design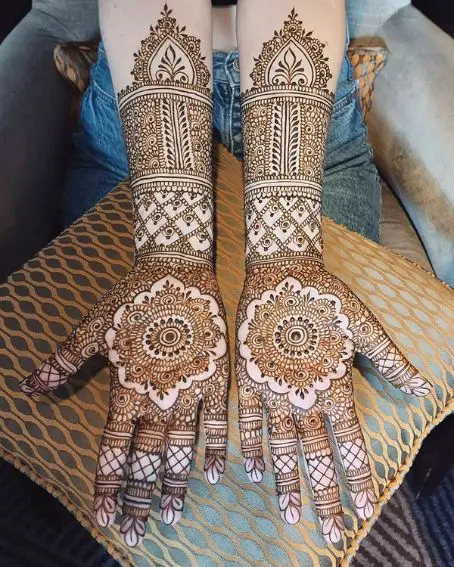 This intricate mehndi design comes with a special mandala design in its center. The wrist is covered with the jaal pattern bangle design. The full hands are designed with swirl patterns. Altogether gives a tremendous impression on your hands.
6. Modern Backhand Henna Design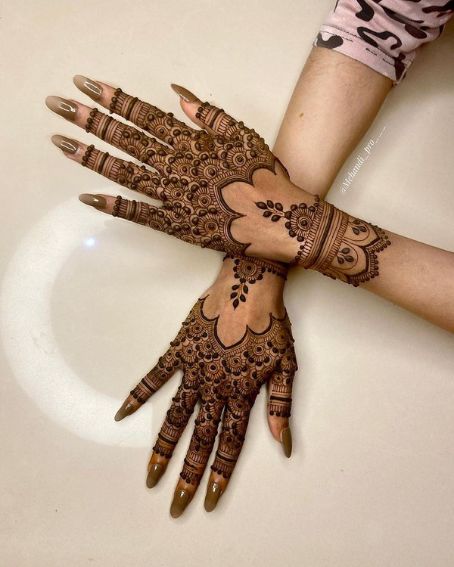 If you are a trendy person, modern designs work for you. This design has a dome-shaped free space with dotted floral patterns. The fingers are covered with swirls and dots, giving an amazing view of the mehndi art.
7. Intricate Arabic Mehndi Designs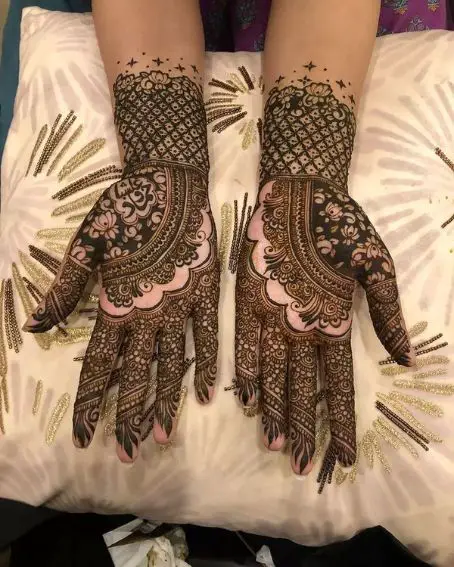 Arabic designs are filled with flower patterns. This intricate design comes with lotus motifs, crisscross jaal patterns, and mesh patterns all over the hands. Brides can wear it at their engagement ceremony without any hesitation.
8. Rose Motifs Arabic Henna Design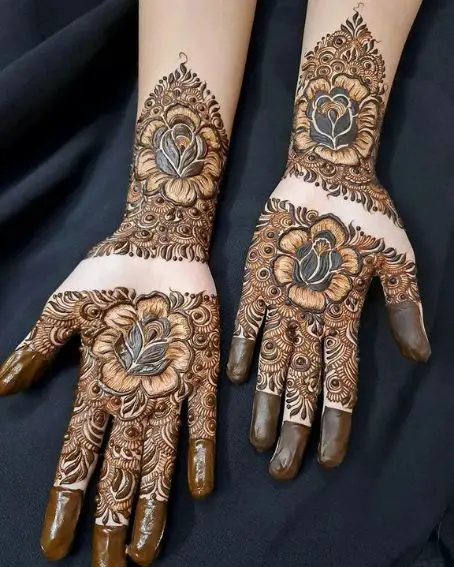 It is a beautiful mehndi design for the bride. This astonishing design comes with the big rose motifs as its main feature. The other parts of the hands are filled with leafy patterns and swirls. Just equip and design your hand with this Arabic design.
9. Mesh Bridal Pattern Design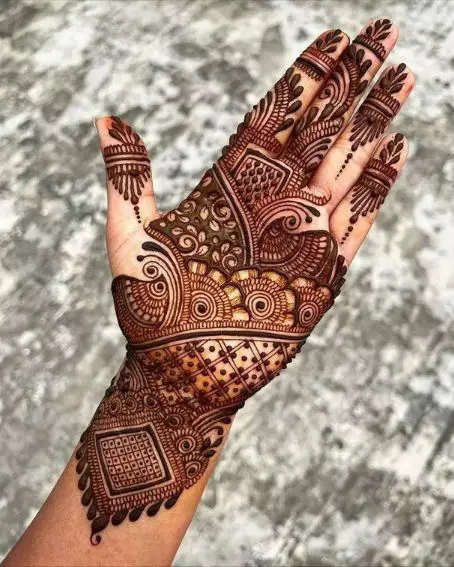 It is a great design for those who prefer elegance. It features a semi-floral pattern, leafy pattern, dotted patterns, lines, crisscross pattern, and other geometric shapes. When added to the hands, they give a complete look to the viewer's eyes.
10. Traditional Indo-arabic Mehndi Design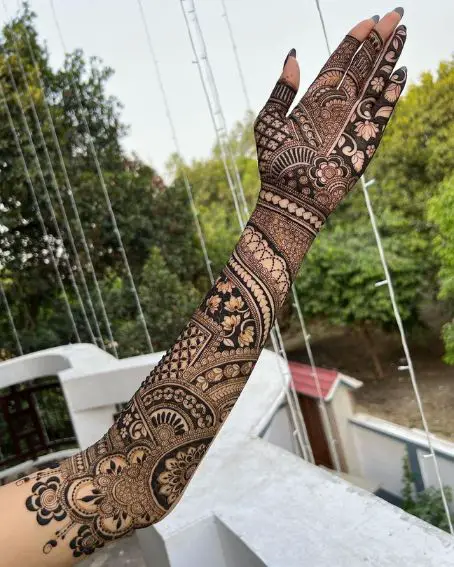 This is a combination of both traditional Indian and Arabic mehndi designs. One half comes with the bold lotus motifs on the palm, and the other half is filled with lines and shapes. The arms are filled with modern artworks, hearts, dotted chains, and semi-mandala designs. This full-hand design suits any engagement outfit.
11. Red Mehndi Design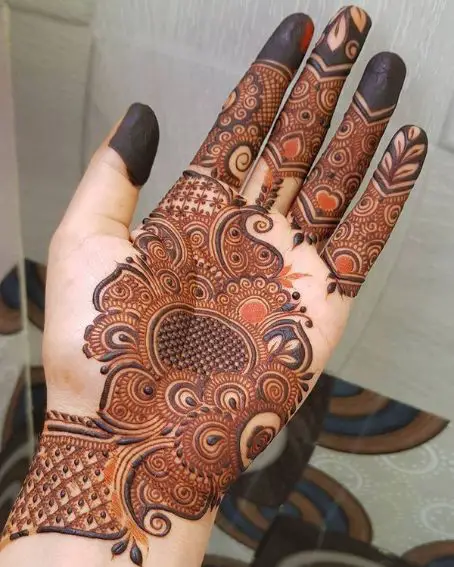 All won't hate red. This mehndi design features flower motifs as a highlight in a bride's hand. This red mehndi is designed with a tremendous floral pattern, and the fingers are filled with different henna patterns. Adore it on your occasion and express your happiness.
12. Jewelry-styled Backhand Design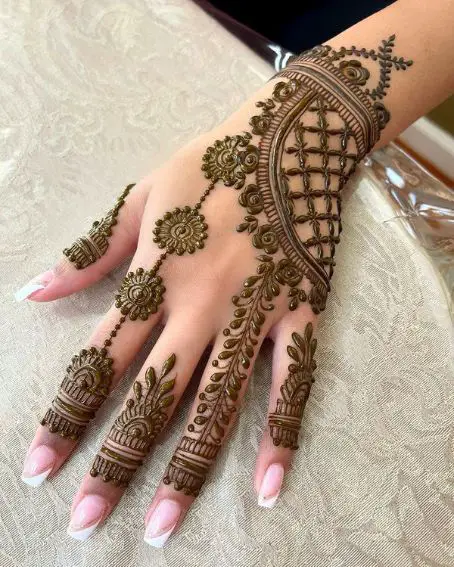 This mehndi design looks like jewelry on your hands. It comes with chained circle designs, crisscross designs, branch leaves, and finger ring patterns.
13. Ravishing Red Flowers On Foot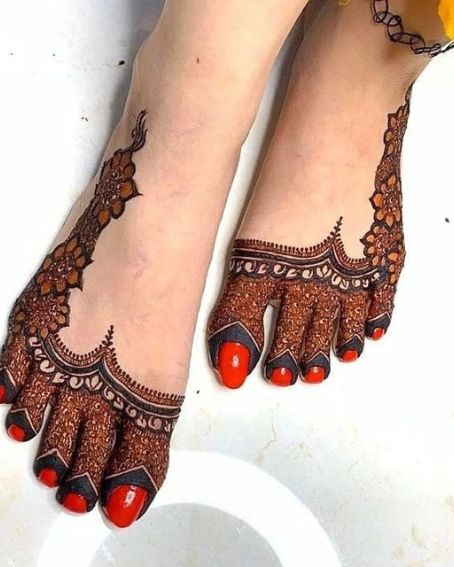 This is an intricate design that amazes all. This red mehndi features intricate patterns on the fingers and floral patterns on the other space. Overall, it is a decent delicacy for the viewer's eyes.
14. Ornament Embellished Mehndi Design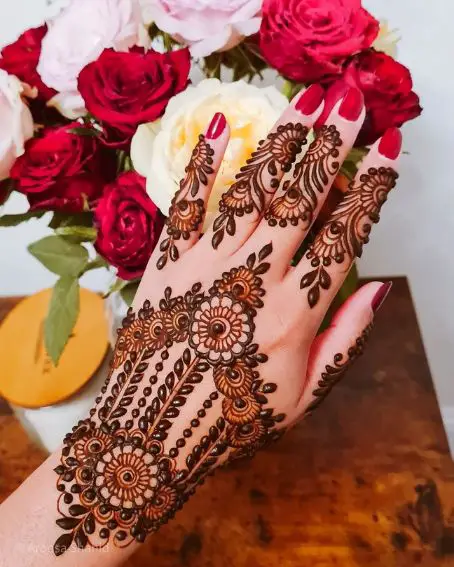 This beautiful design gives an ornament embellished look to the hands. It features a floral bracelet design that is chained with finger designs. Brides can adore it for sure to rock their party night.
15. Back-hand Geometric Mehndi Design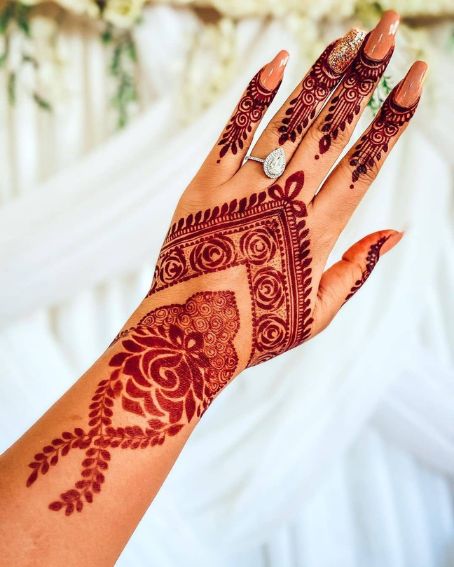 It is a lovely red mehndi design. It delighted everyone's eyes with the romantic rose curves with a domed pattern on the wrist. The center of the backhand features geometric shapes, lines, rose curves, and leafy patterns. All themes give classy attire to the design.
16. Fancy Finger Mehndi Design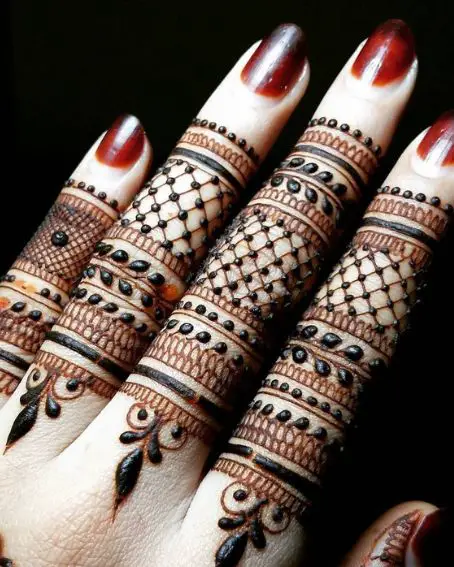 Not all girls like to draw henna on the entire hand. Some people like to fill out the henna on their fingers alone. If you are so, try this out. It has leafy designs, curved lines, crisscross dotted patterns, and floral petals.
17. Traditional Engagement Mehndi Design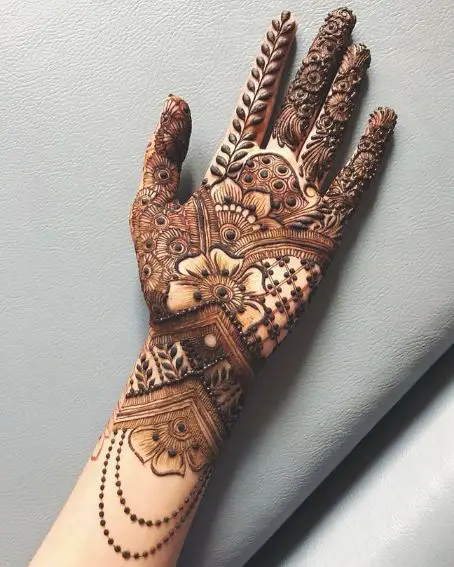 It is a loop mehndi design with flower motifs, mesh patterns, jaal patterns, and leaflet patterns. The dotted chain pattern on the wrist's base gives the design a finishable look.
18. Stylish Arabic Mehndi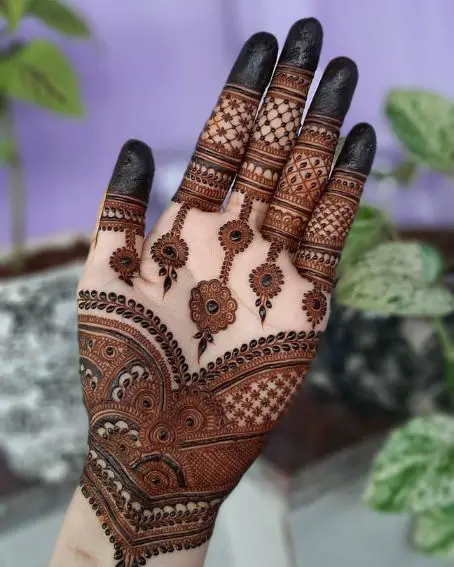 This stylish mehndi design is creative in hands. It features a maangtika design that works at the center of the palm. The other areas of the palm are designed with traditional Arabic mehndi designs. On the whole, a beautiful art form for a bride to wear.
19. Feathery-peacock Mehndi Design
The grace of the peacock lies in its feathery tail. This design comes with a lovely feathery-peacock design all over the hands. opt for this design on your hands and mesmerize others.
20. Single-lined Floral Ornament Design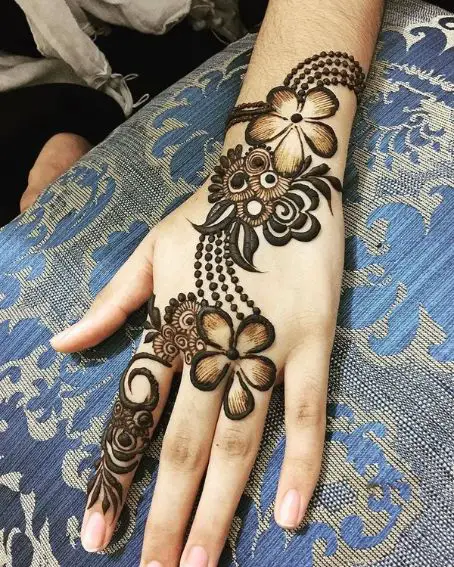 This is an ornament resembling a design. It features bold, bordered flowers with shady designs. It starts from the wrist base and moves towards the tip of the index finger. Need something unique? Adore it.
You Might Also Like: