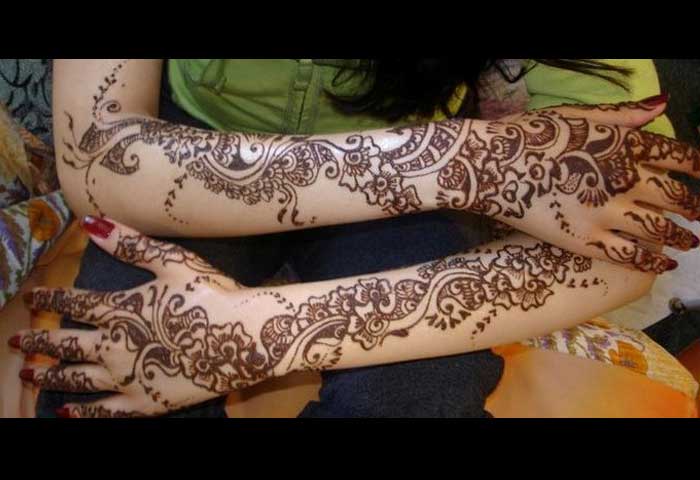 Mehndi's designs are not just for aesthetic purposes. It is a lovable feeling which embraces the beauty of your hands. Mehndi's designs vary from girl to girl and woman to woman. Because everyone has their way of designing their hands, some people prefer traditional designs, while others prefer fancy ones. For those who seek fancy and trendy designs, this blog is for you. So, without any words, let's get into the design list.
20 Latest Fancy Mehndi Designs For Girls and Beautiful Womens
1. Fancy Bridal Mehndi Designs
Feeling uninspired by traditional wedding themes? This amazing mehndi design incorporates modern-age motifs with a traditional flair. This design looks phenomenal with the traditional peacock design, lotus motifs, and paisley patterns.
2. Stylish karwa chauth Mehndi Design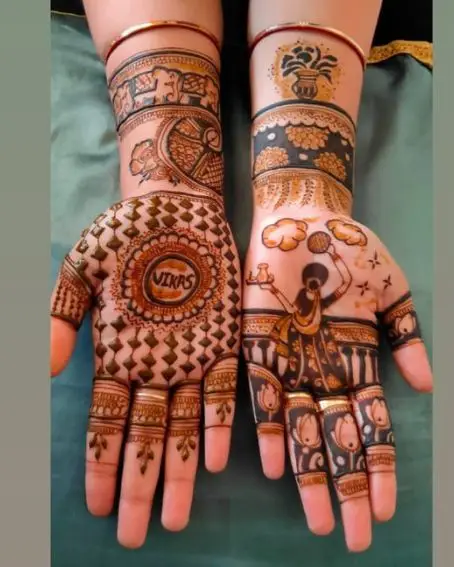 Have you picked the best outfit for your karwa Chauth outfit, but are you still looking for the perfect mehndi design? This beautiful mehndi design is a recreation of the whole moon sighting scene where the woman is praying to the moon. It will fit in your karwa Chauth outfit for sure.
3. Mesh Pattern On The Backhand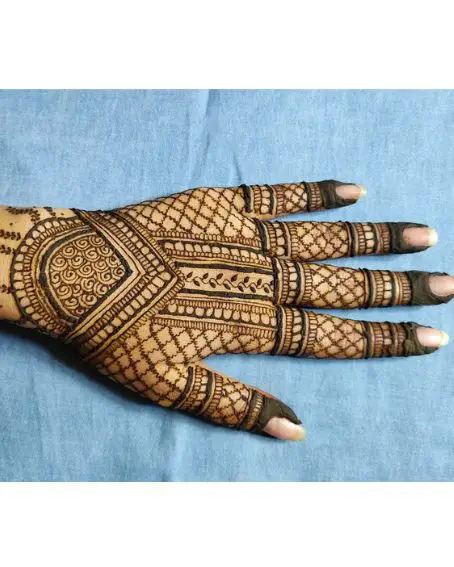 This breathtaking beautiful minimal henna motifs games with a stunning mesh pattern design. This brings a complete and trendy look to your hands. Don't think too hard; just stain your hand with this fancy henna design.
4. Simple Bell Mehndi Design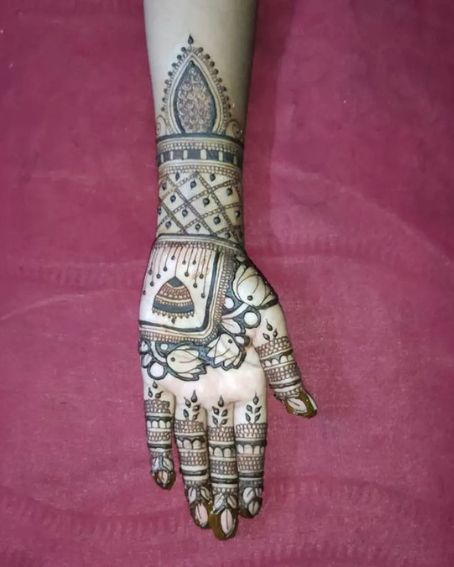 For those seeking simple designs, this mehndi design might be suitable. This fashionable design features lotus motifs, hanging bells, and mesh patterns. This design is suitable for any upcoming event you may have.
5. Fancy Valentine Mehndi Design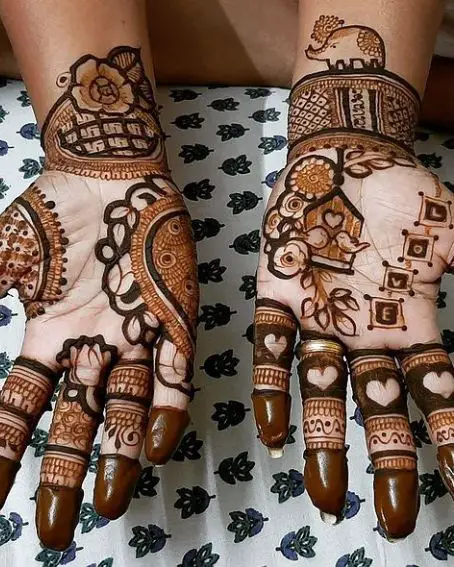 Thinking of Valentine mehndi's design? This would be a wise choice. This lovely design comes with a mixed pattern that resembles "Love". It includes a couple of Love Birds, heart shapes, floral motifs, and Love kites.
6. Peacock Mehndi Design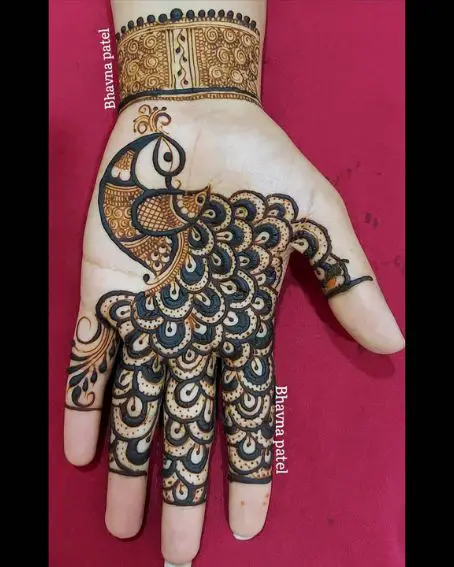 The beauty of a peacock lies in its colorful feathers. This beautiful bird design is incorporated with beautiful patterns. The grace in this design is a remarkable one.
7. Toys filled Mehndi Pattern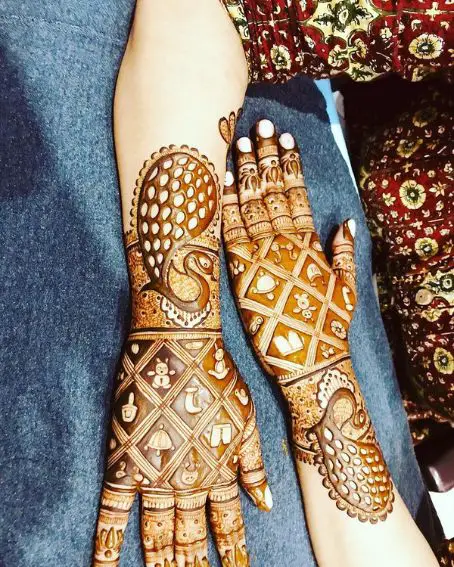 This mehndi pattern is unique compared to other designs. It comes with a jaal pattern filled with cute little toys. The highlight of the design is the traditional peacock. This gives an amazing look to the hands.
8. Indo-arabic Mehndi Design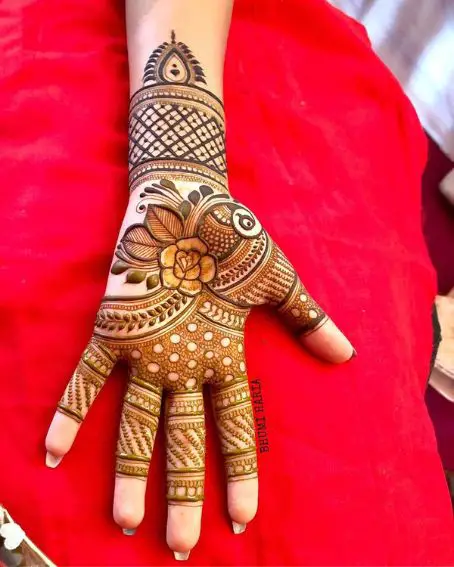 This magnificent design is a combination of traditional Arabic and Indian designs. If you have a party to attend, this should be your choice. It fits all types of outfits and parties. The floral and mesh pattern on the palm's middle gives the hands a pleasing look. Just try it out!
9. Multi-patterned Arabic Mehndi Design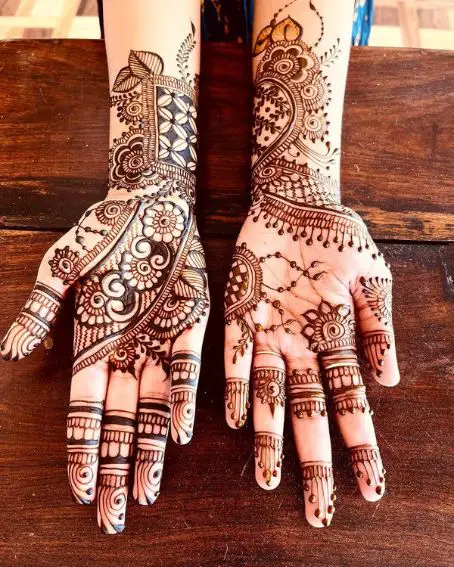 This multi-patterned design is beautifully embellished with lovely blossoms, leafy patterns, plenty of mesh patterns, and dotted designs. All make undeniably beautiful looks to the hands.
10. Unique Floral Mehndi Design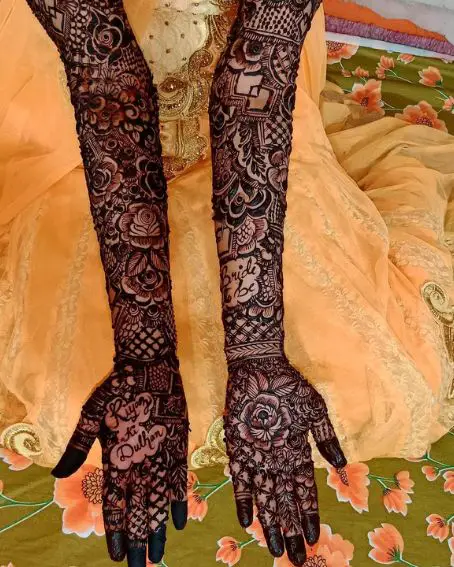 This floral mehndi design will delight flower lovers. Intricate multi-patterns and bold flower designs make up this creative design. The floral pattern covers your entire hand and adds a touch of elegance.
11. Fancy Wordy Finger Design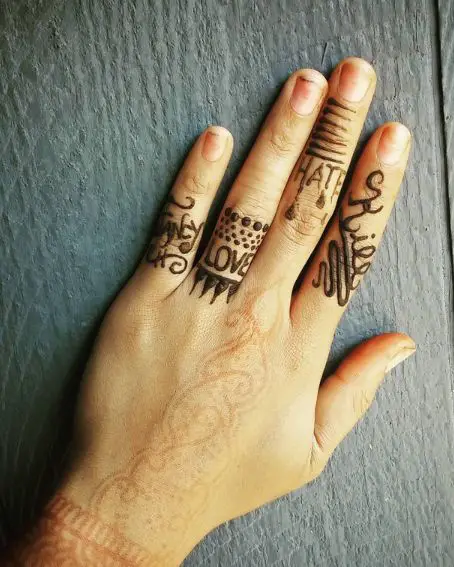 Looking to art words on your fingers with henna? Choose wise words and fill your hand with trendy designs. This design is one of those which gives a tattoo look to the hands.
12. Mandala Mehndi Design For Foot
Mandala designs are not new to all. This concentric circle design is an absolute treat to your eyes. This cute design is so minimalistic yet traditional. Try it out on your legs.
13. Red Mehndi Design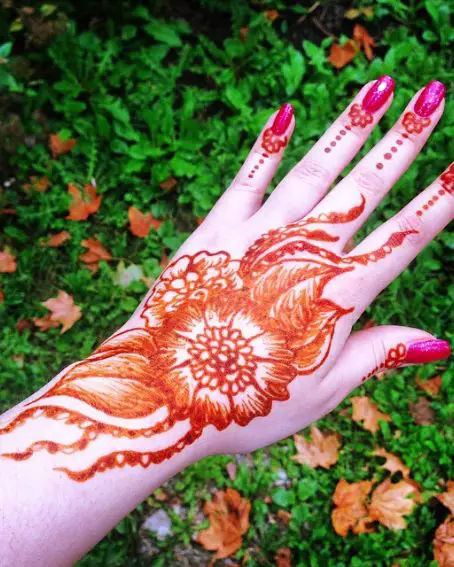 Red mehndi designs always give a fancy look to the hands. This red mehndi design comes with a beautiful floating floral pattern. This will be perfect if you wish to design your hand with a trendy look.
14. Single-lined Floral Pattern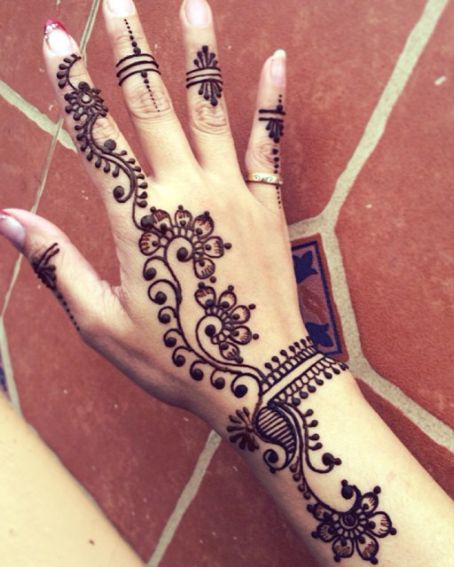 This gorgeous backhand mehndi design is one of the best choices for henna lovers. It comes with semi-floral patterns lined up to the index finger of your hand. Try this out for your party or any special occasion.
15. Unique Bracelet Pattern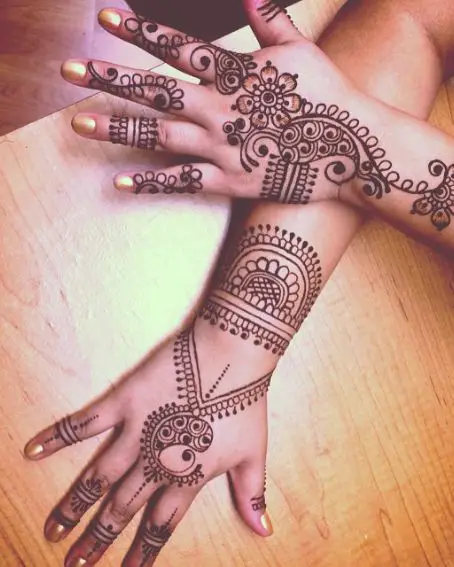 This bracelet pattern mehndi design is unique to wear on your hands. It comes with mango motifs on hand and different finger ring patterns. Overall, a unique design you can wear for your occasion.
[ Read: 20 Stunning Mehndi Designs for Fingers At Back Side ]
16. Gorgeous Peacock Design On The Backhand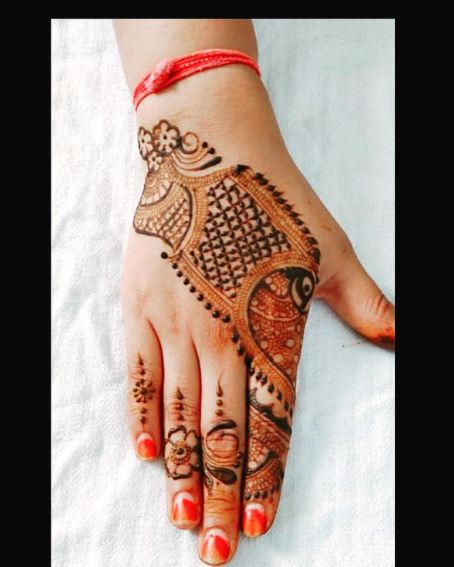 This mesmerizing mehndi design comes with mesh patterns and peacock motifs on the backhand. As a bonus, the fingers are designed with different patterns, including flowers, dots, leaves, and swirls. Wear it on your hands and make others wow.
17. Sider Design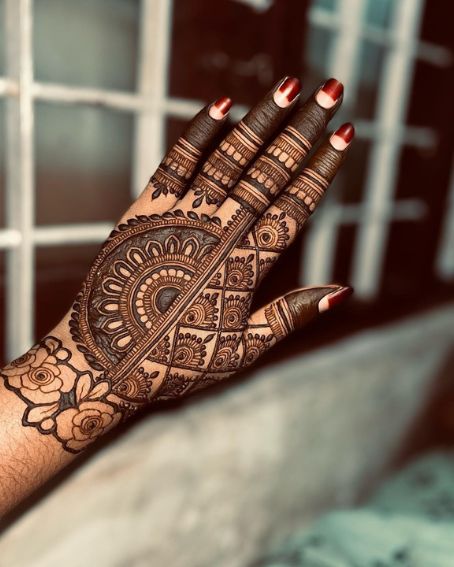 It is a half-and-half sider design that gives a fantastic look to your hands. The design comes with a half mandala pattern, half jaal pattern, and a rose bracelet design on the wrist. If you like to wear a creative pattern, adorn it.
18. Elegant Western-style Design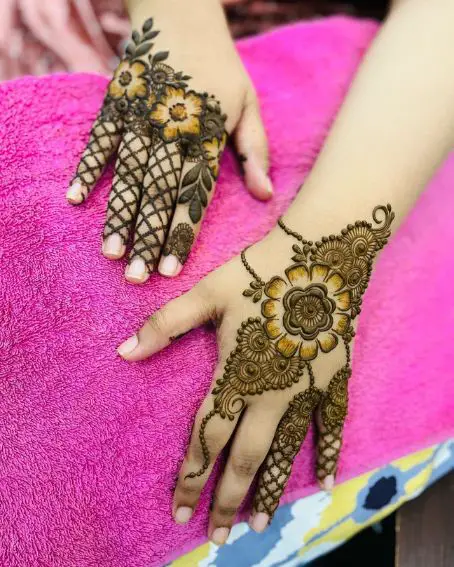 The western-style mehndi designs are immensely popular among many women. This elegant design comes with a floral mesh pattern and floral-bracelet patterns on either hand. Adorn it on your hands and steal everyone's eyes at the party.
19. Latest Backhand Design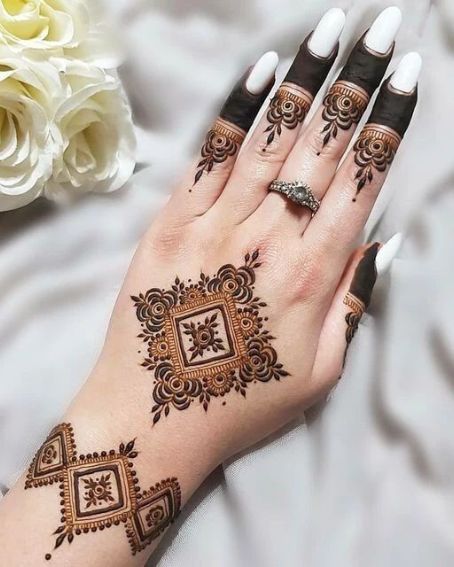 This amazing tattoo-styled henna design creates a great view on the hands. It looks simple yet gorgeous. It has a lovely diamond-shaped bracelet pattern and a mudra pattern on the hands.
20. Trendy Mesh Mehndi Design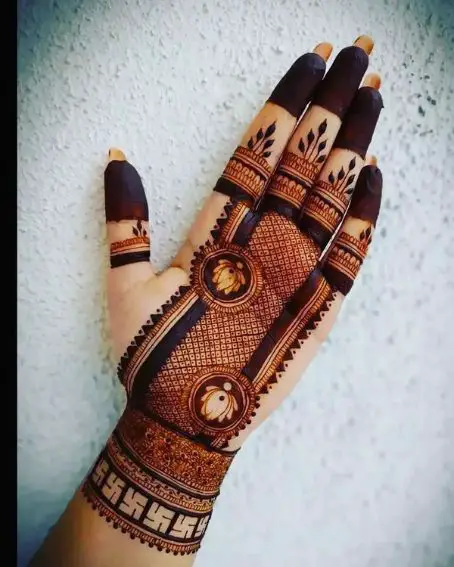 It is an immense mehndi design. It comes with astounding mesh patterns, lotus motifs, swastika motifs, and various other geometric shapes. This fills out your hand with an enormous look on the hands.
You Might Also Like: