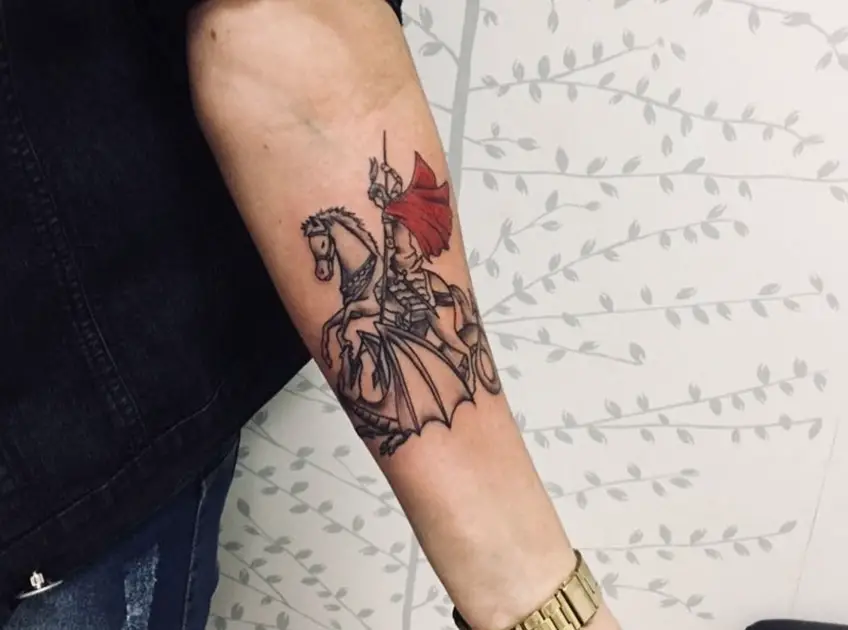 Saint George tattoo symbolizes victory over evil and hence the tattoo has religious and patriotic meanings. The designs of this tattoo are often intricate and need to be done by a good tattoo artist for perfect results. Let us see some of the designs you can opt for.
1. Saint George Valiantly Defeats The Evil on His Horse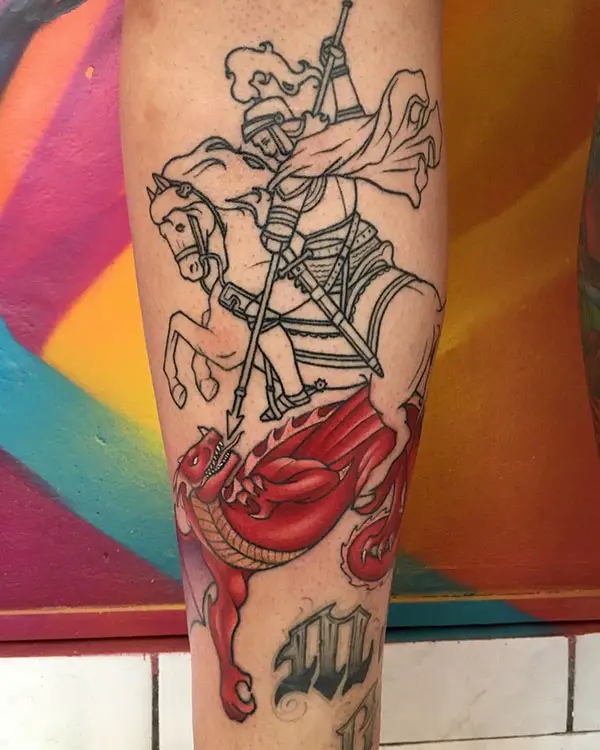 Willpower and determination became decisive in Saint George's life. Hence this tattoo is believed to give you the power to win over the evil.
[ Recommended: Amazing Scorpio Tattoo Designs and Ideas ]
2. Curly Lines Representing Saint George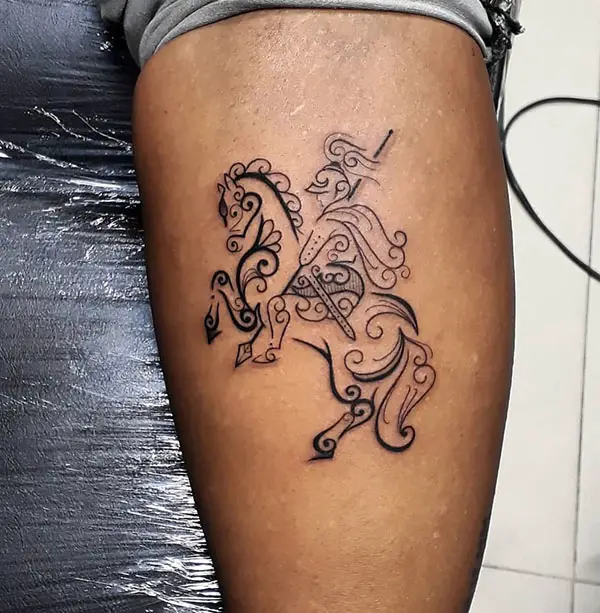 Want to give an artistic touch to the brave Saint George tattoo? Use curly lines to represent all features, as shown, to create a fashionable look.
[ Recommended: Best Snake Tattoo Designs ]
3. Black and White Saint George on His Horse with a Red Sash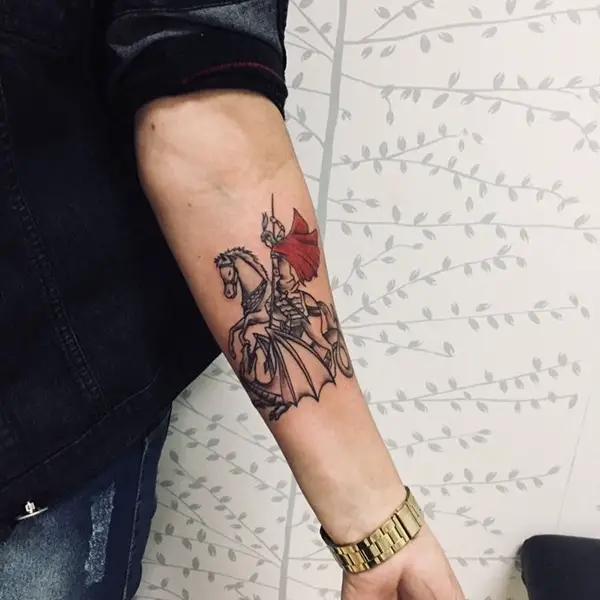 The red sash on the shoulders of Saint George indicates courage and sacrifice of the personality. It is a perfect tattoo when you want to respect a great personality and aim at acquiring his qualities.
[ Recommended: Amazing Ocean Tattoo Ideas ]
4. Saint Geroge Represented in Curly Black Lines and His Red Sash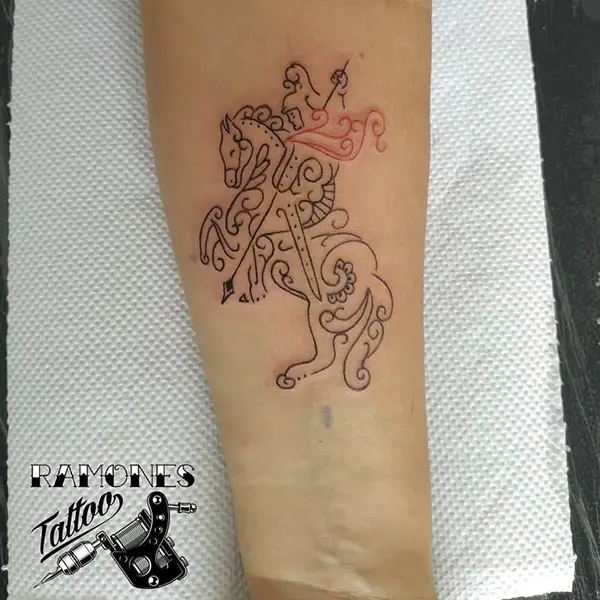 Don't like a colored tattoo? This tattoo with Saint George on his horse, red sash, and his sword creates an artistic representation of the famous personality in an adorable way.
5. Intricate Saint George Tattoo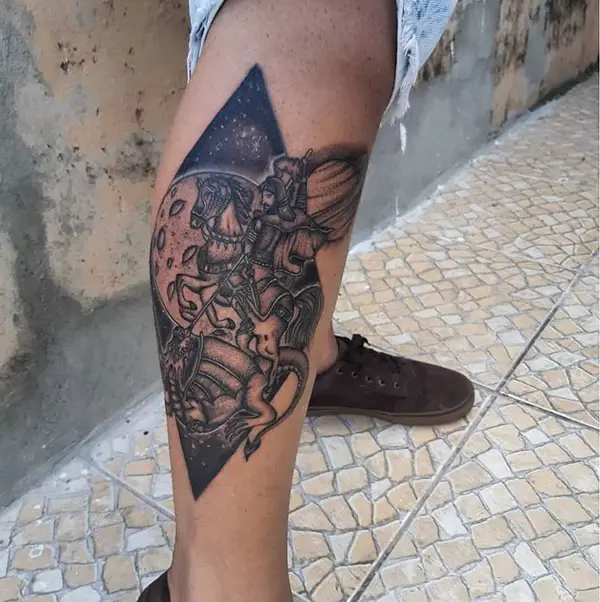 When you love the intricate and extensive design with detailing, then this is a good choice of tattoo that has religious and patriotic sentiments attached to it. Victory over evil is symbolized by the tattoo.
6. Saint George Wearing His Shield and Riding The Horse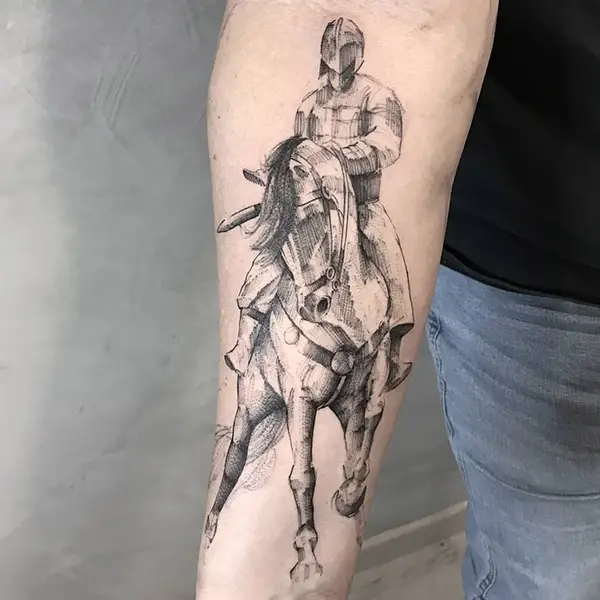 Saint George has put on the shield and attire like a valiant soldier ready to conquer evil. The tattoo is believed to protect the owner from evil.
7. Saint George with a Lotus Tattoo
Saint George represents valor and courage to overcome evil. Along with this, the lotus flower with mandala designs in it implies focus and rise over the temptation to become a better person in life.
8. Saint Geoge's Tattoo Surrounded by Flower Petals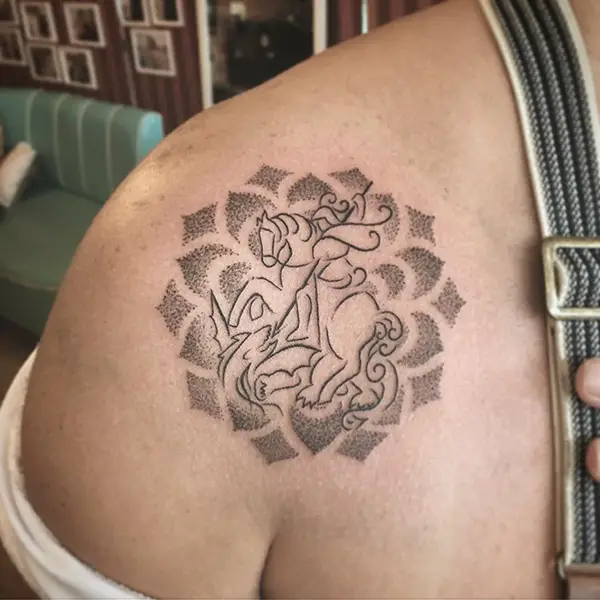 In this tattoo, Saint George on his horse is shown as outlines but the whole thing is surrounded by flower petals which imply blossoming life after victory over the evil.
9. Cartoon Saint George in Colorful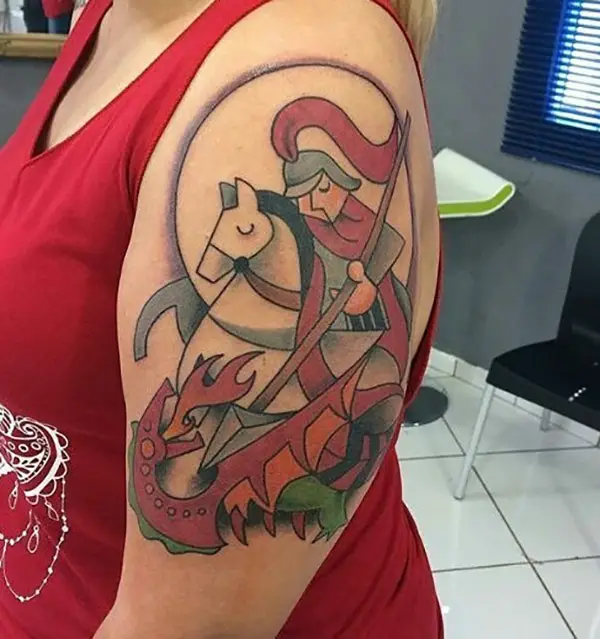 When you love colorful tattoos represented in form of cartoons but with a deeper meaning, this is a good choice to consider. Saint George on his horse is seen conquering the red dragon shown in the tattoo, representing the victory of good over evil.
10. Sword with Saint George's Name Beside it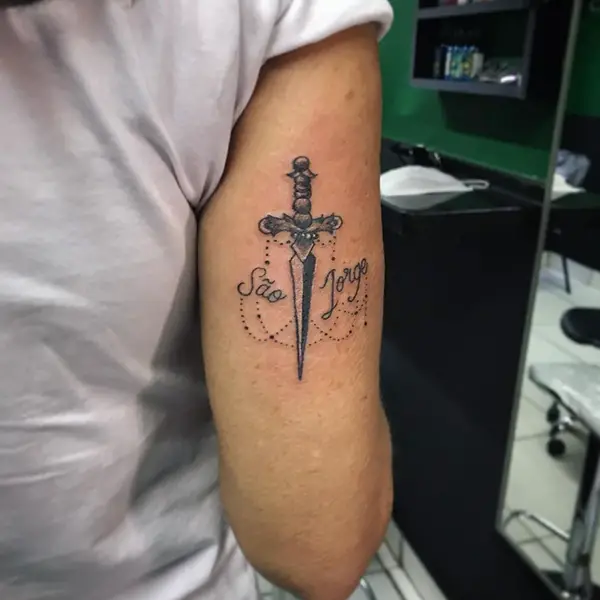 Sword is a military emblem that represents courage and bravery in a battle. Saint George's name symbolizes his efforts for victory over evil, and the tattoo is believed to protect the owner.
11. Detailed Saint George's Tattoo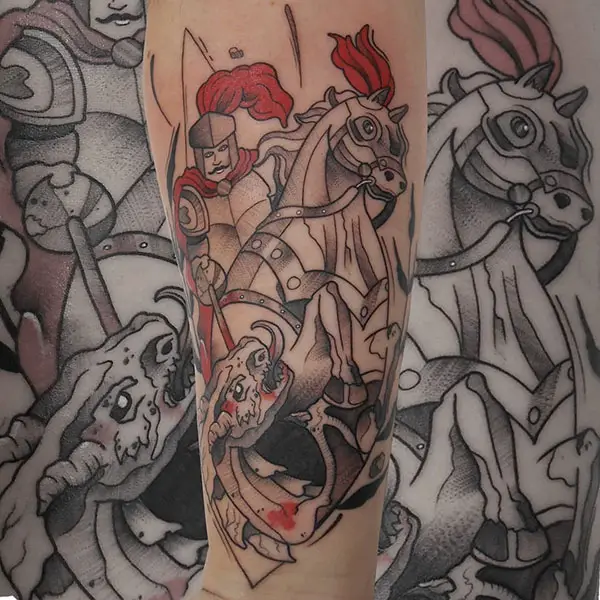 Love detailed tattoos with deep meaning? This Saint George's tattoo shows every aspect of the personality's look, bravely fighting with the evil dragon on his horse. It can be best tattooed on the arms.
12. Colorful Saint George Tattoo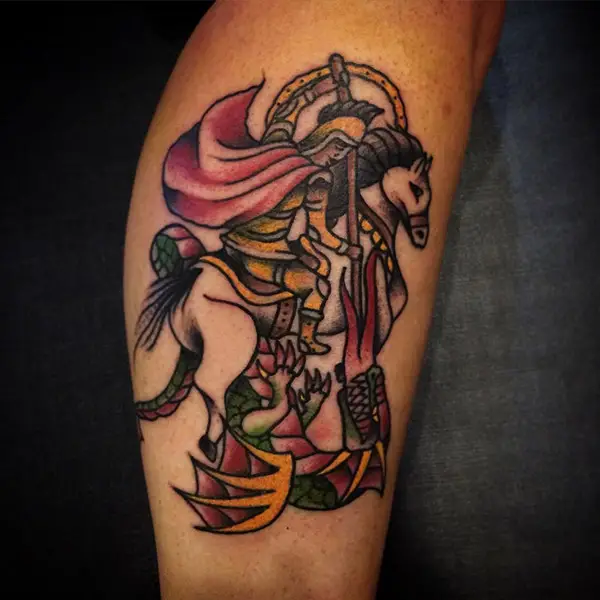 Beautiful hues are added to Saint George's attire, his horse, as well as the dragon to make the tattoo more attractive. It can be inked on the chest if the personality is close to your heart.
13. Saint George's Tattoo Carrying His Sword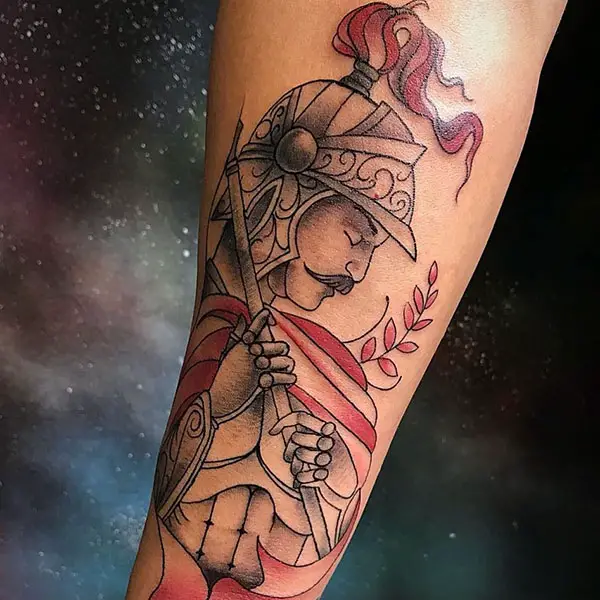 Saint George is shown here in his valiant pose carrying his armor and sword to fight against evil. To this black and white, the addition of red color tinges, adds to its beauty and results in an elegant look.
14. Saint George's Tattoo with Color Splashes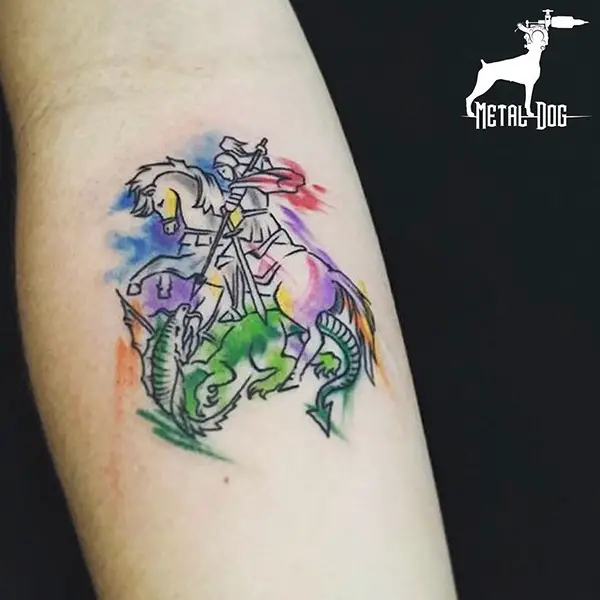 The random color splashes in the Saint George's tattoo show how the efforts of the personality could spread peace and happiness around by willing over the evil. The tattoo reminds you of his contribution to mankind in history.
15. Saint George's Relentless Efforts Tattoo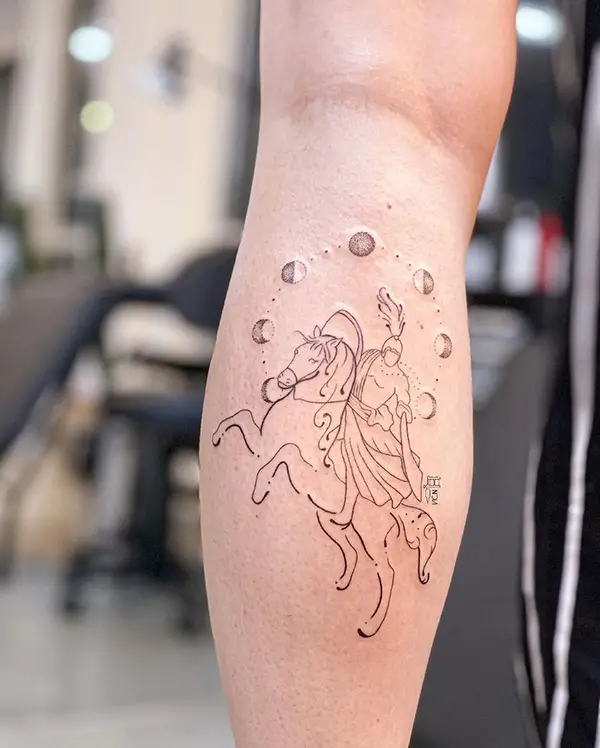 The relentless efforts of Saint George are depicted in the tattoo in the form of the changing phases of the moon when he continued his fight against evil and could finally slay the dragon. This tattoo is a simple one with no colors but symbolizes your patriotic nature.
16. Armors of a Soldier with Saint George's Name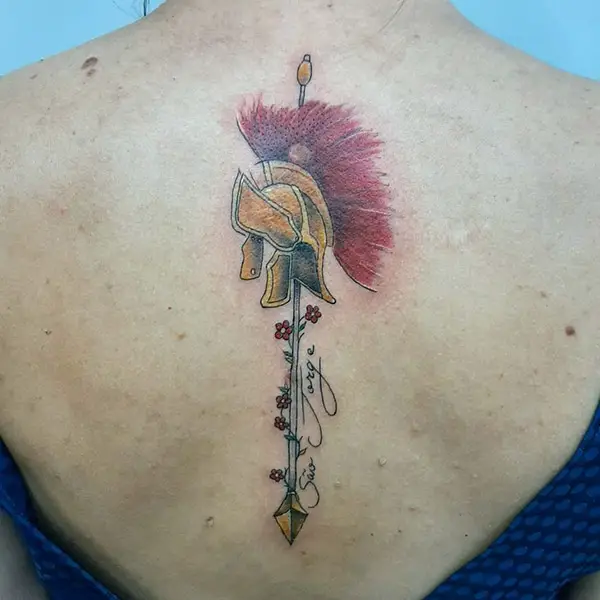 The tattoo shows the armor of a soldier of ancient times which represents the tools that he used to win over the evil with his courage and belief in himself. The name of Saint George inked beside the armor with red roses, signifies it as his armors and is a great way of showing your respect for him.
17. Sword with Flowers Tattoo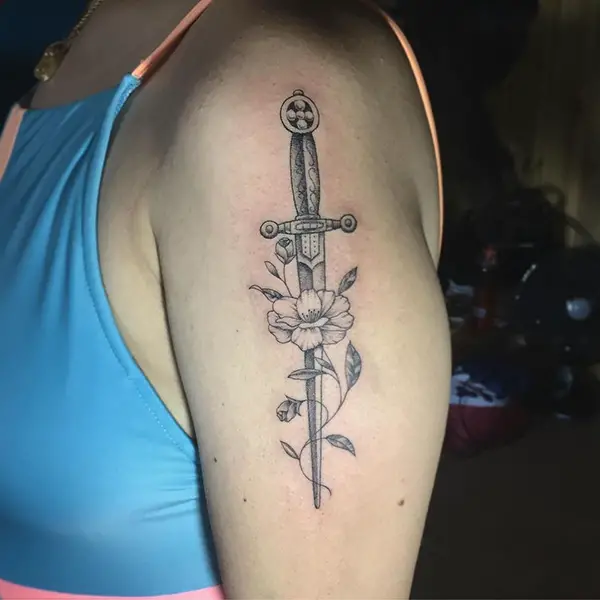 Sword had been an important tool for military personnel to win over their enemies. It represents courage and bravery to win the battle and bring peace to the country. Flowers around the sword give it a feministic touch and makes it suitable for women looking for similar tattoos.
18. Saint George Tattoo and The Red Dragon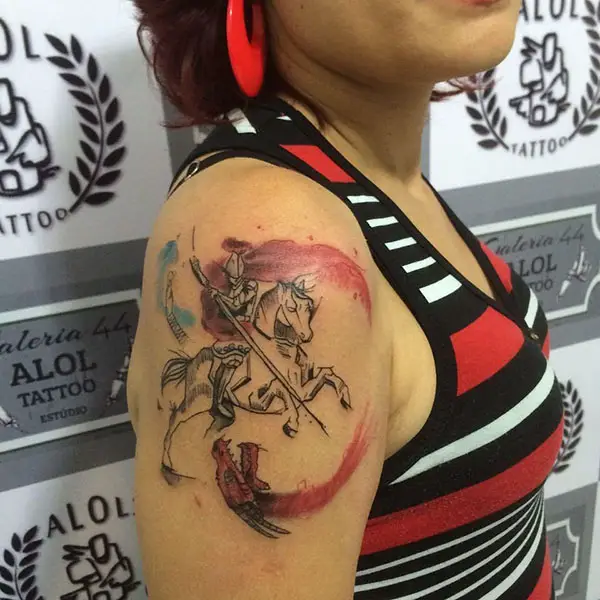 Saint Geroge tattoo is shown slaying the red dragon in this tattoo, valiantly. The tattoo has minimal colors with the dragon being shown in red, is suitable for you when you don't want too many colors but a tattoo that relays strong meaning.
19. Saint George's Tattoo with a Quote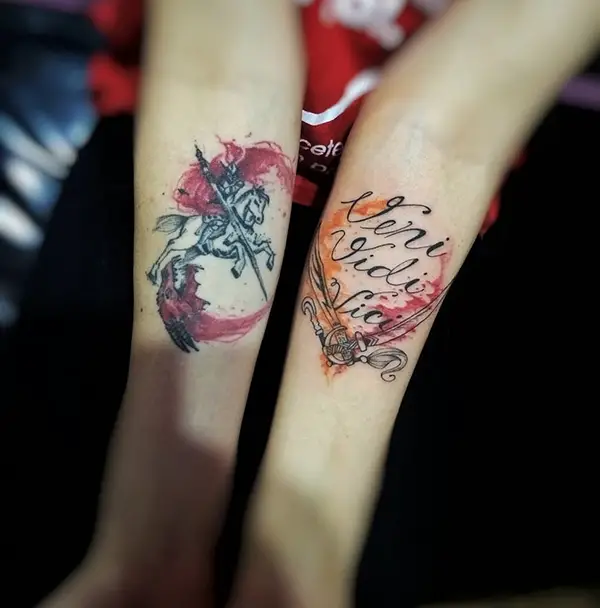 This Saint George's tattoo with the red dragon being slain shows the victory of good over bad. On the other hand, the mentioned quote "Veni Vidi Vici" is written in Latin, implying " I came, I saw, I conquered." It symbolizes the valor and power of the militant.
20. Saint George Outline Tattoo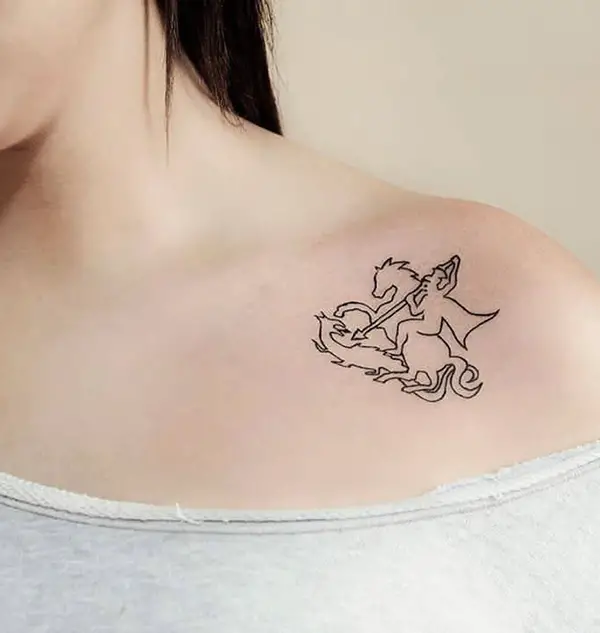 When you want a tiny tattoo representing Saint George slaying the dragon, this is the best way of representing it. It is a minimalistic tattoo with no colors and represents victory over evil.
21. Simple George Tattoo Design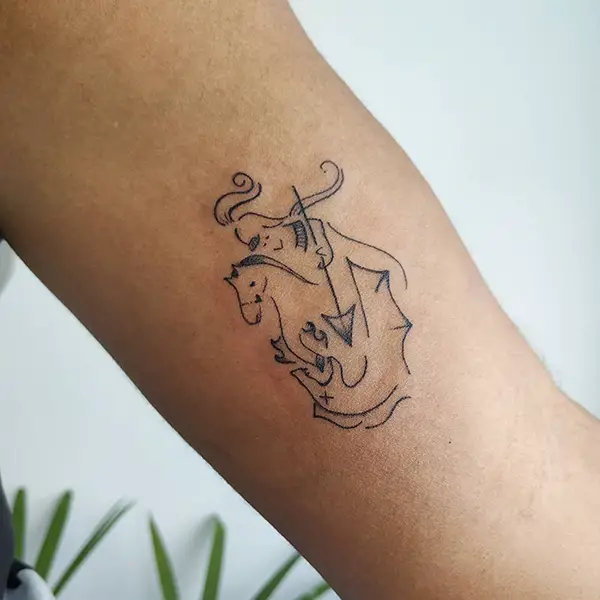 22. Simple Saint George on Back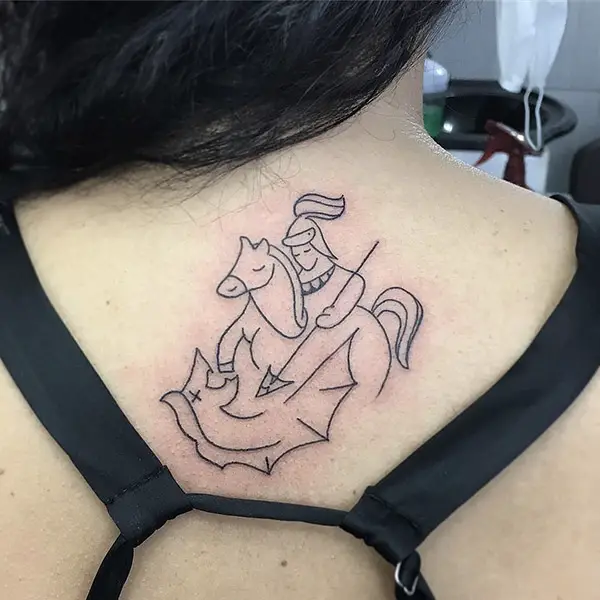 23. Saint George Tattoo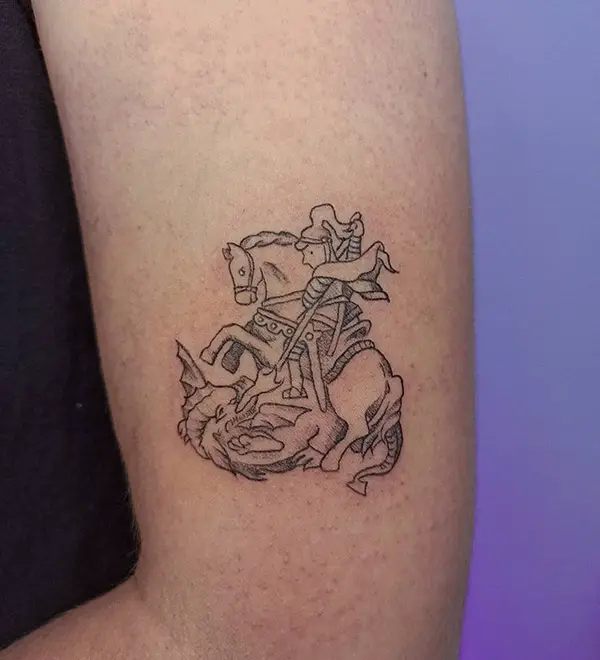 24. Saint George Tattoo Design on Hand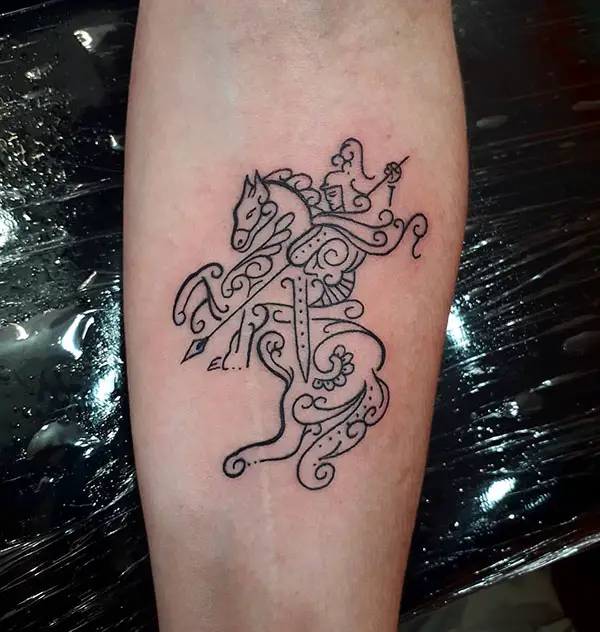 25. Saint George Tattoo on Hand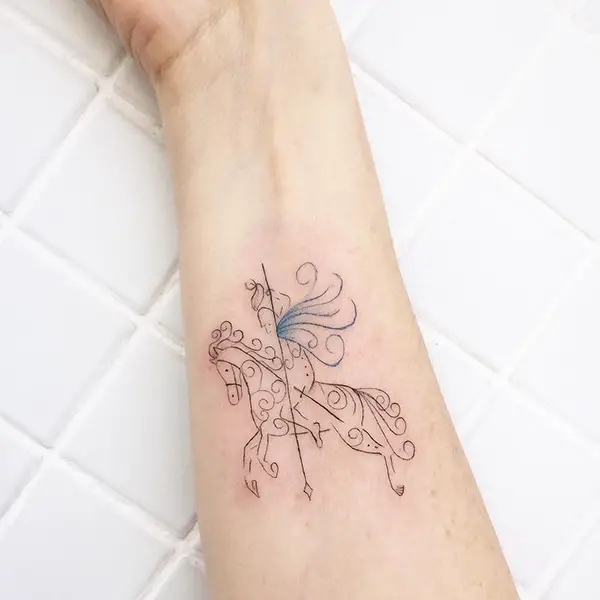 26. Saint George Tattoo with Red Sash and hat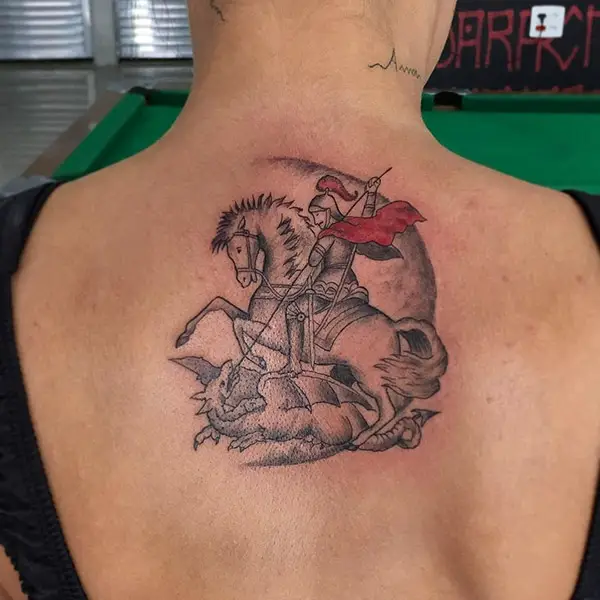 27. Saint George Tattoo with Red Sash on Back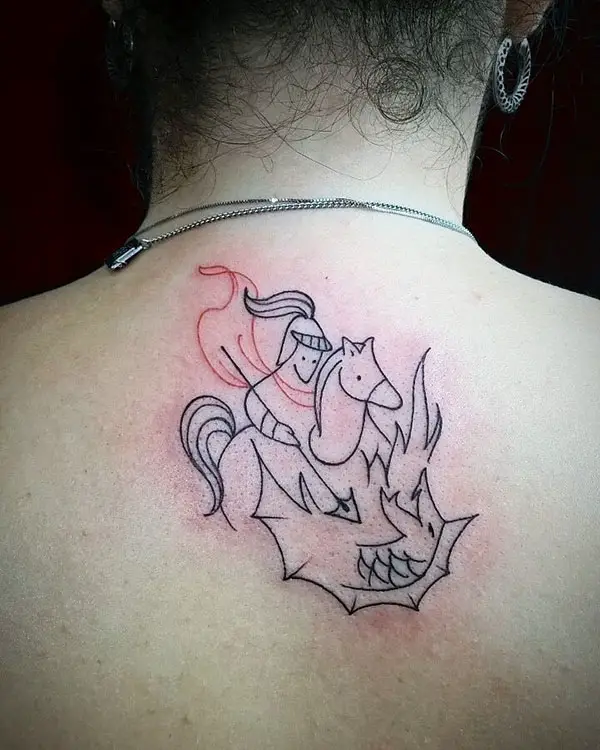 28. George Tattoo Design on Leg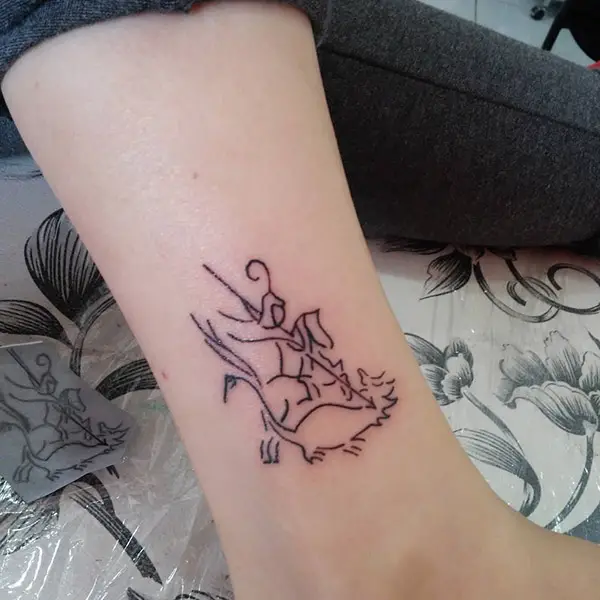 29. Minimalistic Saint George Tattoo Design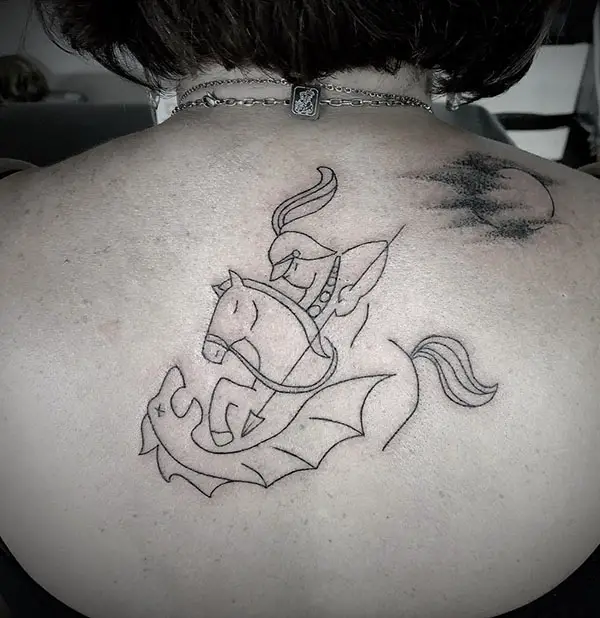 30. Realistic Saint George Tattoo Design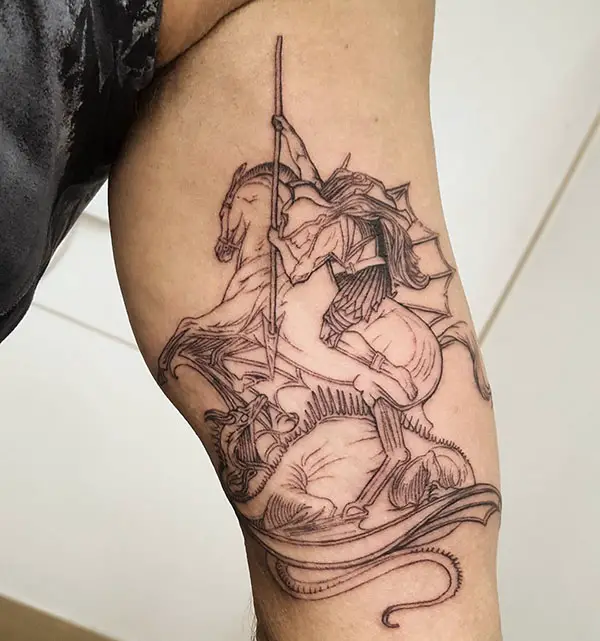 31. Saint George Defeats the Evil on his Horse Tattoo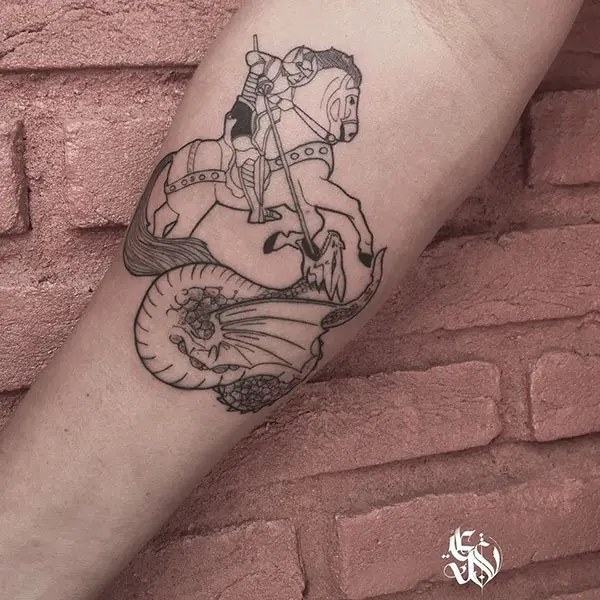 32. Saint George's Tattoo on Leg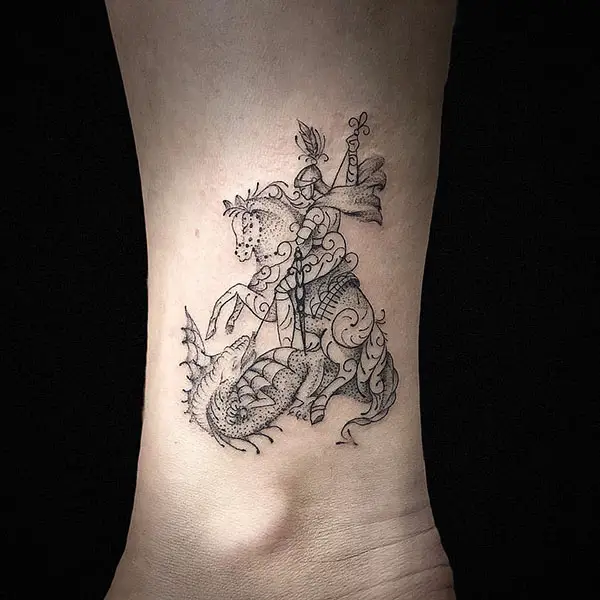 Recommended Topics: