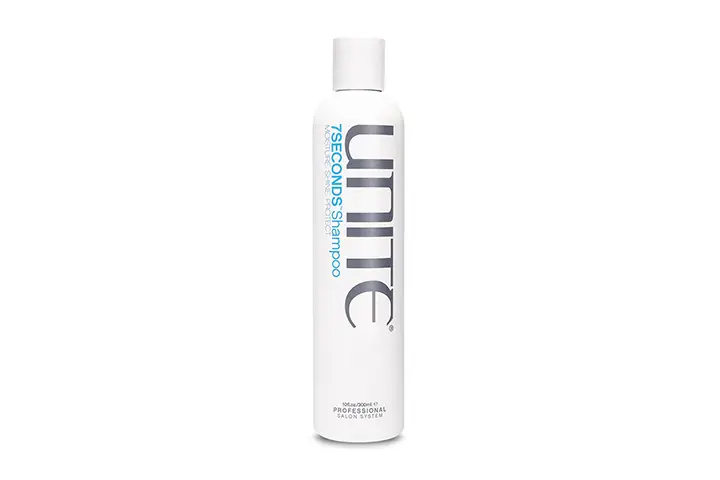 Wash your hair with Unite 7 Seconds Shampoo to give moisture and nourishment. It protects your hair from UV rays, thermal damage and color fading. If your hair is oily, your scalp is itching then you must wash your hair. So doing regular hair wash with Unite 7 Seconds will mitigate the hair issues like dryness and tangles.
Unite 7 Seconds Shampoo
How it Works:
This shampoo cleans the hair by removing surface detritus from the scalp and hair.
It moisturizes your hair and gives healthy, shiny and silky hair.
It is suitable for all hair types.
How to Use:
Wet your hair rigorously.
Lather a quarter size amount of shampoo in your palms.
Apply gently to your hair directly.
Rinse with lukewarm water as it helps to remove extra oil and makes it ready to receive shampoo's nutrition.
Pros:
This shampoo cleanses your hair and keeps it fresh and clean.
It helps to remove the unpleasant odor and washes away the dirt, oil and sweat.
People with oil hair will have a number of issues, you can get rid of all those by using this shampoo.
It keeps your hair silky and smooth.
Cons:
Overuse of shampoo can make your hair dry and brittle.
Rating: 4.7 out of 5
To fall in love with your first lather and to get healthy-moisturized hair, acquire Unite 7 seconds shampoo, which helps to maintain your hair's life. Fall in love with 7 seconds, it is the perfect solution for all your expectations.
Frequently Asked Questions (FAQ's)
Q. This shampoo doesn't lather. Is it just me?
Ans: Apply the shampoo the second time it lathers well.
Q. If you have colored hair will it strip your color?
Ans: No, it will not.
Q. How does it smell? Please describe the scent?
Ans: It smells really good.
Alternate products:
You Might Also Like: