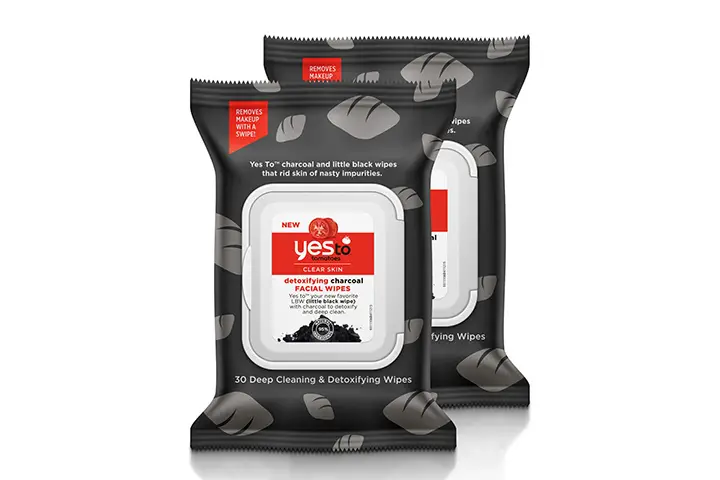 The proper swipe will help to remove the dreadful impurities. These pre moistened facial wipes cleanse, remove makeup and keep away your skin from pore-clogging impurities without rinsing.
These facial wipes detoxify and wash your skin deeply to achieve clear skin. These wipes work quickly and remove excess oil and other skin impurities leaving your skin feeling clean, fresh and healthy.
Tomatoes Clear Skin Detoxifying Charcoal Facial Wipes
How it Works:
These wipes are formulated with charcoal, which pulls out junk and impurities from deep within the skin.
The detoxifying formula is captured in a very sleek black wipe.
It helps to diminish the pores and make them less visible and gives you a fresh look and soft – smooth skin. These gentle black towelettes leave your skin clean and detoxified.
Pros:
These wipes are made with plant based fibers and compostable.
It is safe for the environment.
Formulated without parabens,SLS and Silicone.
95% natural ingredients.
No need to rinse.
Cons:
It is not a complete replacement for face wash.
For some it may cause inflammation and irritation.
Rating: 4.5 out of 5
Yes to charcoal and little black wipes that rid of nasty impurities.Lift lid and remove wipe.Gently swipe across face to cleanse and detoxify skin.Use these and get refreshed clean skin.
Frequently Asked Questions (FAQ's)
Q. Do they have bumps?
Ans: I use the Yes to cucumber face wipes. No bumps.
Q. What are the dimensions of each cloth?What is the weight of each pack?
Ans: The dimensions of each cloth I would calculate to be around 2 x 3.5 inches And the weight of 0.6 ounces.
Q. Do these wipes have salicylic acid ?
Ans: Maybe not . They were absolutely worthless as facial cleansing wipes. They feel like nylon!
Alternate Products:
You Might Also Like: