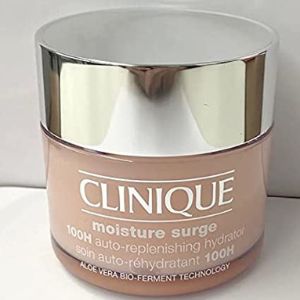 Well-moisturized and hydrated skin look healthy, soft, and smooth. Even though there are numerous skincare brands that have come up with moisturizers, serums, and face creams, Clinique Moisture Surge is a cult favorite of many. The multiple benefits it delivers to the skin make it one of the best-selling moisturizers of the time.
However, there is one drawback with Clinique Moisture Surge moisturizers, and it's the hefty price tag. But luckily, there are many Clinique Moisture Surge alternatives that give the same result without digging a hole in the pocket. But, before checking out the alternatives for Clinique Moisture Surge, let's find out the reasons behind its effectiveness and popularity.

Clinique Moisture Surge Moisturizer Review
Being an oil-free gel cream, Clinique Moisture Surge gives an amazing result. The special formulation of the product helps to last for 100 hours, unbelievable, right? But with Clinique Moisture Surge, it's true. If you think 100 hours is unnecessary as we wash our face daily, you must know that the formula is designed to reach ten layers deep into the skin's surface to ensure enough hydration and nourishment that last even after you wash your face.
The unique Clinique's Auto-Replenishing Technology hydrates the skin deeply and locks the moisture, leaving skin plumped and healthy-looking. At the same time, it prevents the skin from getting dry and dull. It is a light-textured cream, perfect for all skin types.
If your skin is dehydrated and needs a burst of hydration, nothing is better than Clinique Moisture Surge moisturizer. However, the high price tag is what makes it a little heartbreaking.
The Major or Key Ingredients of Clinique Moisture:
Aloe Bio-Ferment- It helps to plump the skin by delivering the goodness of activated aloe water and a complex made with lactobacillus. The leaf extracts from Aloe barbadensis, when combined with pure water, hold positive and negative ionic charges that help the skin absorb moisture easily.
Birch Bark Extract- It is an antioxidant that aids in hydration and supports a healthy skin barrier.
Green Tea Leaf Extract and Lady's Thistle Extract- Loaded with anti-inflammatory and antioxidant properties, it protects the skin from oxidative stress and environmental damage.
Apart from these, the Palmitoyl Hexapeptide-12 and Hyaluronic Acid help to lock the moisture and improve the skin's firmness and tone. Additionally, Clinique Moisture Surge moisturizer's auto-replenishing technology comes with activated aloe water and caffeine that triggers the skin's rehydration system.
Even though it uses this amazing technology, there are many Clinique Moisture Surge alternatives that will give a similar result with less investment.
Pros
Delivers the goodness of natural ingredients.
Consists of unique Auto-replenishing Technology to hasten the skin-replenishing process.
Reduces the signs of aging and helps to bring glow and charm to the face.
Makes the skin healthier, livelier, and youthful.
Cons
Clinique Moisture Surge moisturizer is an expensive product that everybody cannot afford every month.
So, let's dig into the alternatives of Clinique Moisture Surge moisturizer and check out its features.
5 Best Similar Clinique Moisture Surge Products
1. Mamonde Rose Water Gel Cream
Formulated with 68.7% Damask Rose Water which is loaded with antioxidants to fight off free radicals and reduce aging signs and antimicrobial properties to fight off acne.
Damask Rose Water also imparts a soothing aroma to the product.
Infused with moisturizing glycerin, plus water-binding trehalose and sucrose. Moreover, it has sodium hyaluronate that plumps and hydrates the skin.
2. Garnier SkinActive Moisture Rescue Refreshing Gel Cream – Dry Skin
Lightweight oil-free formula that consists of antioxidant fruit water to moisturize the skin.
Active ingredients are glycerine to moisturize the skin and support a healthy skin barrier, panthenol to heal the skin, and Vitamin C to lighten and brighten the skin tone and deliver antioxidant benefits.
Consists of added fragrance.
3. Naturium Marine Hyaluronic Water Cream
Lightweight water cream base that contains marine-based polysaccharides, hyaluronic acid, and phytonutrients.
The active ingredient is coconut juice which consists of vitamins, minerals, amino acids, and proteins to hydrate the skin. Also, it helps to improve skin elasticity.
Other ingredients are Tumeric root extract, Alteromonas ferment extract, and Kappaphycus alvarezii extract from red algae.
4. Tony Moly Chok Chok Green Tea Watery Cream
Gel-based cream that hydrates the skin without feeling sticky or heavy on it.
Made with pure fermented green tea extract to deliver the goodness of this natural ingredient.
Helps the skin retain moisture for many hours by forming a lightweight hydrating layer.
Also consists of fermented Korean green tea used in the formula is called "ChungTaeJeon" and provides intense moisture.
5. Neutrogena Hydro Boost Gel-Cream with Hyaluronic Acid for Extra-Dry Skin
Water gel-cream formula that provides deep, long-lasting moisture.
It is perfect for dry and extra-dry skin.
Infused with moisturizing glycerin and hydrating sodium hyaluronate, for long-lasting moisturizing benefits.
It is fragrance-free, dye-free, and non-comedogenic, meaning it won't clog pores