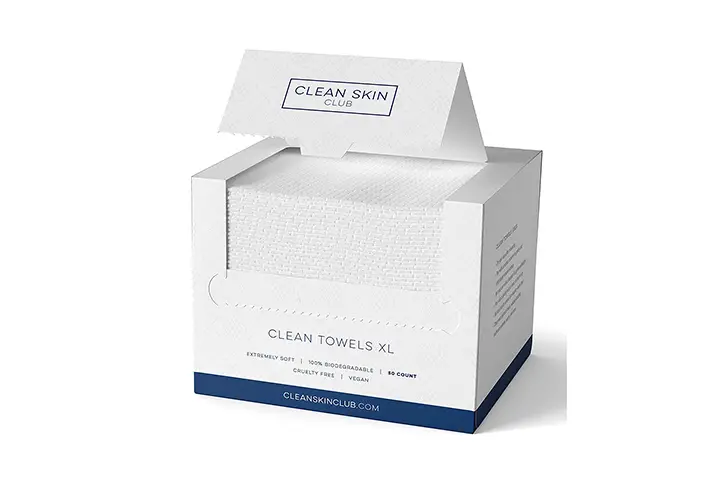 Clean skin club is the world's first 100% biodegradable facial towel. The best towels which clean genuinely. These paper towels feel gentle on the skin and avoid bacteria.
Regular towels carry germs, bacteria, fungus, microbes even after one use. To get rid of these issues switch to clean skin facial tissues. They avoid breakouts and skin irritation.
Clean Skin Club – Clean Towels XL
How it Works:
These facial towels are made of 100% biodegradable Rayon fiber.
The world's first organic and eco-friendly face towels are unscented and chemical free.
They absorb more water to clean your face and hands and these also help to remove makeup once wet, either with a cleanser or plain water.
You can also use this as wet and dry.
Pros:
Made with ultra soft premium fabric.
Dermatologist tested and approved.
Works great as a makeup remover with your cleanser toner.
Organic and eco-friendly.
Ultra – soft viscose made from eucalyptus fibers.
Cons:
One may not remove the eye makeup.
Rating: 4.8 out of 5
These super soft and sensitive skin towels are extremely soft and 100% biodegradable. These premium quality face towels provide a soothing and kind touch. Many satisfied users are recommending that they must have these.
Frequently Asked Questions (FAQ'S)
Q. How large are these towels?
Ans: Our Clean Towel's size is 10″ by 12"
Q. Are they strong enough to use with facial cleansers?
Ans: Yes! They are much stronger than paper towels. Thick towel, in paper form.
Q. How many times can one be used?
Ans: You can use this to dry your face by keeping it side by side with the sink but can not be reused.