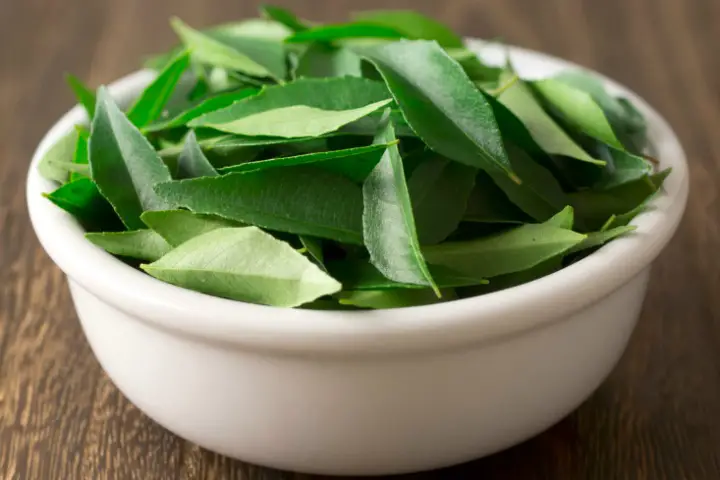 The most problematic situation in terms of maintaining beauty is hair fall. Hair fall is a problem that has caused worry for a number of women and men. Before resorting to expensive hair regrowth options it is advised to try some natural home based treatment for hair fall. Curry leaves for hair are said to be effective in the treatment of hair loss problem. Curry leaves are inhabitant to India and Sri Lanka.
Does Curry Leaves Helps in Hair Growth?
Curry leaves contain essential nutrients that are mainly used for hair growth and it is great source of antioxidants and amino acids.
Curry leaves help to lessen your hair fall and promotes hair growth instantly.
Due to the presence of amino acids, curry leaves are the best to strengthen your hair and also decreases tapering of the hair by amplification of the hair follicles.
Another feature of the curry leaves is its powerful antioxidants that fight free radicals and eliminate all dead scalp cells.
Curry leaves also contain beta-carotene (protein) that is perfect to prevent hair loss and proteins also help to strengthen your hairs easily.
How to Use Curry Leaves for Hair Growth
1. Curry Leaves as Hair Tonic
What You Need:
Fresh curry leaves
few amount of coconut oil
What to Do Next?
Just take a small bowl of coconut oil and mix with curry leaves
Boil the concoction until the leaves turn dark brown
Then turn off the flame and leave it to get cool down properly. With this process all the nutrients in curry leaves are infused with the oil to produce the best hair tonic.
As the blend is cooled, apply onto your scalp and overall hair for 1 hour and then wash with shampoo.
Does it work: Curry leaves are rich sources of B6 which includes pyridoxine that successfully helps in alleviating the hormone levels. This helps to strengthen your hair streaks and hair roots.
When Should you Do This: Apply this hair tonic twice in every week and you will get great result in just one month.
[ Read: How to Use Rosemary Oil for Hair Growth ]
2. Curry Leaves Hair Mask for Hair Growth
You'll need:
Fresh curry leaves
yogurt
How to do:
Crush few curry leaves to create thick paste
Add one teaspoon of curry leaves paste into four teaspoon of yogurt
Beat that mixture till it gets soft
Massage onto your scalp properly
Wait for 30 minutes then rinse your hair with shampoo
Does it Work: Yes it works 100%. Curry leaves consist of many essential nutrients that help to promote your hair growth as well as removes dead skin from the scalp.
When Should you Do This: Once in every week you should do this to obtain long, strong, smooth and soft hair.
[ Read: How to Use Fenugreek for Hair Growth ]
3. Curry Leaves in Diet
The benefits of curry leaves can be applied by consuming it in your regular diet. You can merge curry leaves powder in rice, vegetables and curries. And you can also use it in a combination of ragged pudina or mint leaves. Curry leaves provides effective solutions to diverse hair-related troubles.
Curry Leaves Benefits for Hair
Curry leaves revives the damaged hair follicles as they consist of essential nutrients that completely rejuvenates your hair follicles and increases hormones cells in your hair.
Curry leaves are rich in Vitamin and it is always excellent to develop hair root and make it strong. It also helps to develop new hair growth cells and make your hair stronger and healthier as well as denser.
Thinning can also damages your hair or you have to suffer from hair loss problem. So, curry leaves contain high source of proteins and beta-carotene. These effective elements stop hair loss issue and stimulate your hair growth.
Curry leaves have powerful anti-oxidants properties. This helps to moisturize your scalp and eliminates the dead cell in scalp and also rescue from dandruff.
Curry leaves help to strengthen your hair roots and the Vitamin B6 present in curry leaves, act as a hormone regulator that treat your hair loss problem quickly and provides natural and beautiful hair.
In such way your hair loss problem will be solved just by using curry leaves in different ways.
The ease of availability and cost-effectiveness of curry leaves make it a useful option for helping with hair growth. It is important to mix the right proportion of curry leaves in the oil of choice in order to attain best results.
You Might Also Like:
Image:- 1