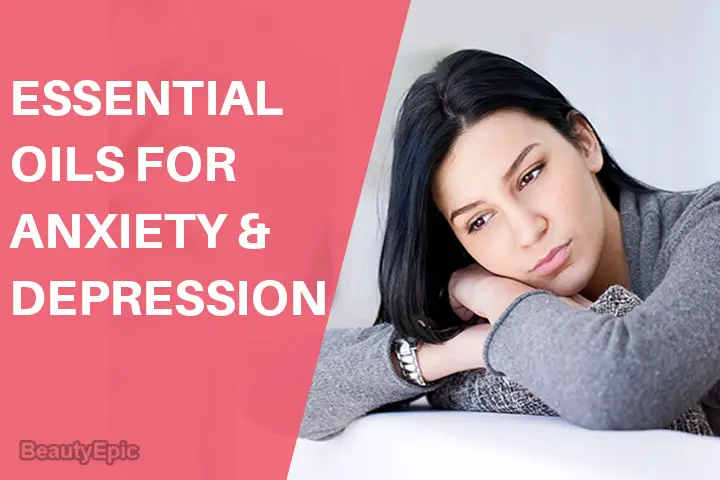 Anxiety, stress, depression all come when something doesn't turn out as expected. Emotions when not expressed lead to accumulation of anger and it all causes emotional distress. Anger with stress runs long in your life and leads to depression which is dangerous for your health and then finding a solution to get rid of these troubles becomes challenging. Dealing with depression can be quite hazardous and diminishing it in a few days is very difficult. A number of anti-depressants are available nowadays but they are not as effective as the use of certain essential oils that play a role in curing depression. Here are top 16 essential oils for anxiety and depression.
Essential Oils for Anxiety and Depression
Essential oils are the best and most effective to provide natural benefits to your depression easily and quickly. Essential oils are only the right choices for you that help to heal your depression without causing any side effects. There are numerous essential oils that are accessible in the market and help treat depression and anxiety at once. Some of the oils are listed below
1. Bergamot: This is one of the vital essential oils to treat your depression as it boosts your spirit and instantly gives relief from anxiety and sadness.
2. Basil: This is an effective essential oil to invigorate your mind and soul and fight against fatigue, depression, and stress.
3. Clary Sage: Clary sage oil helps with restoring sleeping patterns that cause insomnia, depression, and anxiety easily.
4. Frankincense: This essential oil helps to correct breathing patterns that help treat in reducing the feeling of fear, nervousness, and anxiety.
5. Geranium: This is the best essential oil that acts in a very natural way to cure your depression and stress.
6. Jasmine: Jasmine oil helps cure depression and trauma due to its soothing flowery scent that is best known for its antispasmodic and enriching properties.
7. Lemon: This lemon essential oil has all relaxing properties and it helps to fight stress, anxiety, depression, and emotion. It improves your immune system and makes it strong.
8. Lavender: Lavender is the best treatment for depression that helps to eliminate a migraine, anxiety, depression, nervousness, hypertension, and insomnia. It contains calming and soothing properties that have great power to treat severe depression easily.
9. Mandarin: Mandarin includes antispasmodic properties and functions emotionally to fortify the strength.
10. Marjoram: Marjoram has been used for a long time that helps to diminish the feelings of fear, loneliness, pain, refutation, and unease.
11. Wild Orange: This is another most effective essential oil that has energizing properties that work to cure feelings of panic, anger, irritation, and nervousness.
12. Palmarosa: Palmarosa as one of the most amazing natural essential oil that helps to lessen nervous tension and fretfulness.
13. Rose: Rose essential oil has motivating effects that boost your energy and make you active as well as eliminate hypertensions.
14. Sandalwood: Sandalwood has all effective properties that help to relieve tension and combat with inner stress.
15. Ylang – Ylang: This essential oil has relaxing properties and helps reinstate your energy, confidence, and self-esteem along with treating insomnia, anxiety, and depression.
16. Patchouli: This works well to decrease depression and taking a hot soothing bath with patchouli helps get rid of stress.
How to Use Essential Oils for Anxiety and Depression
(i). To Diffuse: Mix a few drops into your diffuser and then disperse essential oils to strengthen your body and mind. You can also add a few drops on your pillow to help with sleeping peacefully. 
(ii)Inhale: Take 2 drops of your desired essential oil and pour a few drops on your palms following with rubbing your palms gently. Apply on the nose and slowly breathe in the essential oil vapors to calm your muscles and mind. Mix with 2 to 4 drops of essential oil on a cotton ball and place it in a whiz lock bag. You can carry this anywhere and inhale it whenever needed.
(iii). Massage: Blend up to 10-12 drops into your desired essential oil and mix with 2 oz. of carrier oil to get relief from anxiety and stress.
(iv). Soothing Essential Oil Rub: Mix with 5 to 10 drops of essential oil with 2 teaspoons of carrier oil or natural neutral lotion. Massage the blend onto your neck, chest, feet, wrists, and also rub behind the ears to relief from headaches and anxiety.
(v). Comforting Bath: Blend 5 to 10 drops of essential oil to your bath to ease your stress, anxiety, and depression. If you have sensitive skin then mix the essential oil with 1 teaspoon carrier oil of your choice just before merging them into your bath tub.
This will help provide a moisturizing and relaxing effect as well as protect your skin. Don't mix the oils into running water as they will fade away instantly. Just blend them after you draw your bath.
This way the essential oils help to prevent any mental pressures that include tensions, stress, depression, hypertension, anxiety, and other health problems easily and quickly. Using essential oil causes muscle relaxation and helps in calming your mind and body which proves beneficial in case of depression.
You Might Also Like:
Image:- 1