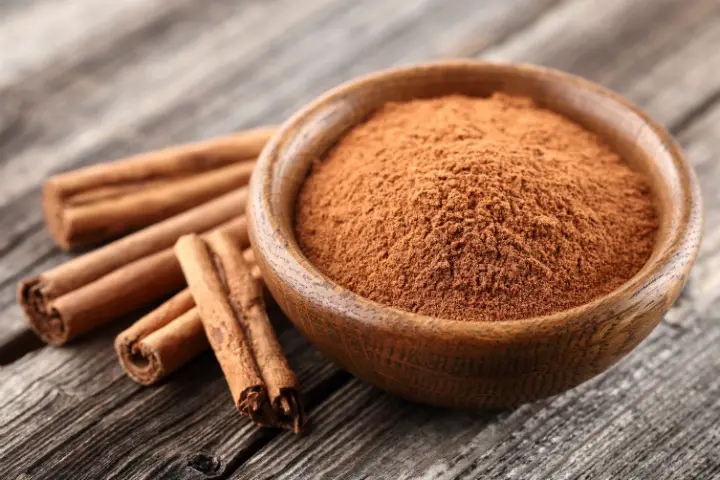 Cinnamon is a spice widely used in many ethnic cuisines. It is used in soups, cereals, baked buns, and pancakes. In addition, it is often used for jelly fish recipe. Also, it is used for cosmetic purposes. Cinnamon has a number of medicinal properties due to the presence of polyphenols. Cinnamon is said to lower blood sugar levels, which makes it necessary in the diet of diabetics. Cinnamon is rich in natural vitamins (A, E), minerals, antioxidants, so it is used to restore the health and strength of hair, improves its structure, and gives them a silky and attractive luster. Actively use hair mask with cinnamon in combination with other beneficial ingredients – honey, yogurt, eggs, and others.
Homemade Cinnamon Hair Mask Recipes
1. Cinnamon and Olive oil for Hair Growth
You'll need:
1 teaspoon of ground cinnamon
1 teaspoon of honey
1 tablespoon of olive oil
egg
Preparation time: 5 minutes.
How to do:
Combine all the ingredients in a bowl to make a smooth paste.
Apply this paste on your hair as a mask
Wait for 15 to 20 minutes and wash it off
before washing it off thoroughly with a mild shampoo.
Repetitions: Use this cinnamon hair mask once every week for best results.
[ Read: How to Use Apple Cider Vinegar for Hair Growth ]
2. Cinnamon and Coconut oil for Hair Growth
Ingredients:
3 tablespoons of cinnamon powder
1 teaspoon of coconut oil
3 tablespoon of honey
1 teaspoon of macadamia oil
5 drops of cinnamon oil
Preparation time: 5 to 10 minutes.
How to do:
Melt coconut oil and add honey. Mix it with remaining ingredients to make a smooth paste.
Applying this resultant mixture on clean dry hair
Wrap your head with clean towel and put a shower cap
Wait for 40 minutes then rinse off this mask with your regular shampoo.
You can let it dry naturally (Don't use blow dryer).
How it Works:
The highly concentrated mono-unsaturated fats found in macadamia oil which helps to protect your hair and scalp.
The proteins found in all the above mentioned ingredients can strengthen and promote healthy growth of hair.
You Might Also Like:
Image:- 1