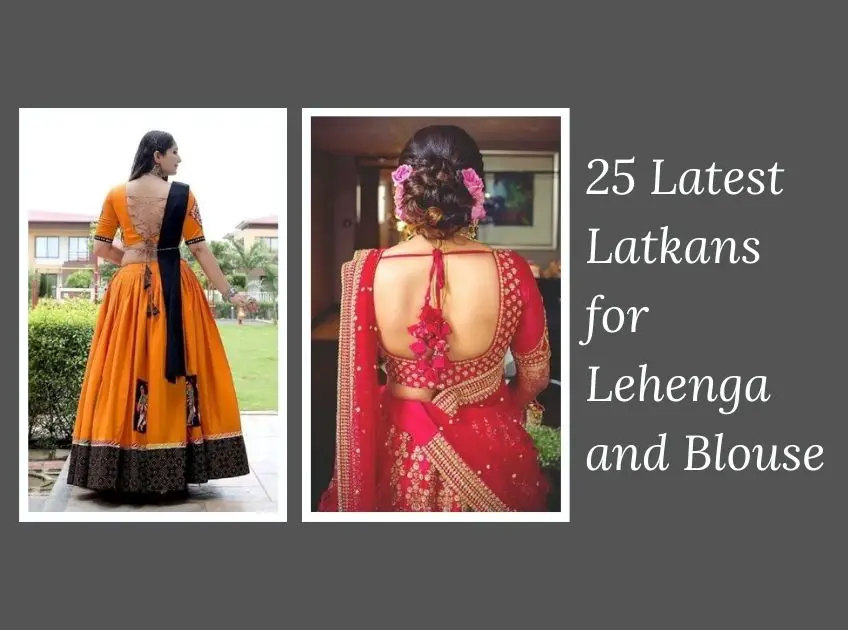 Latkan is a hanging embellishment on the blouse and lehenga. It is used to decorate the blouse and lehenga. Latkan is a decorative tassel or hanging that is used in Indian clothing, especially lehengas, sarees, and blouses. It is typically made of silk, satin, organza, or other fine fabrics and is embellished with beads, sequins, pearls, or other decorative elements.
25 Latest Latkans for Lehenga and Blouse
1. Mehandi Green Lehenga with Latkan Blouse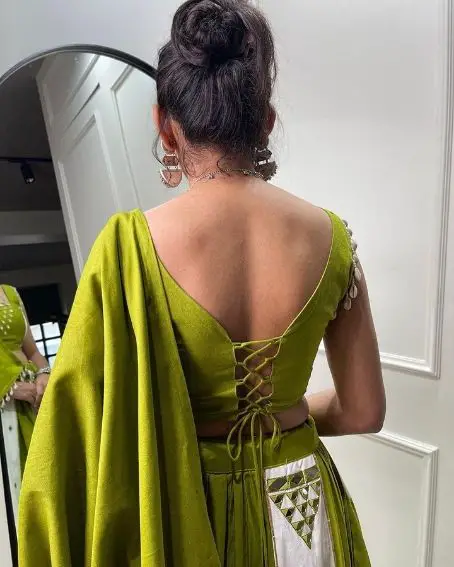 A serene and earthy green shade paired with Latkans in contrasting colors like gold or silver adds a touch of vibrancy to your outfit.
2. Multicolor Lehenga with Latkan Blouse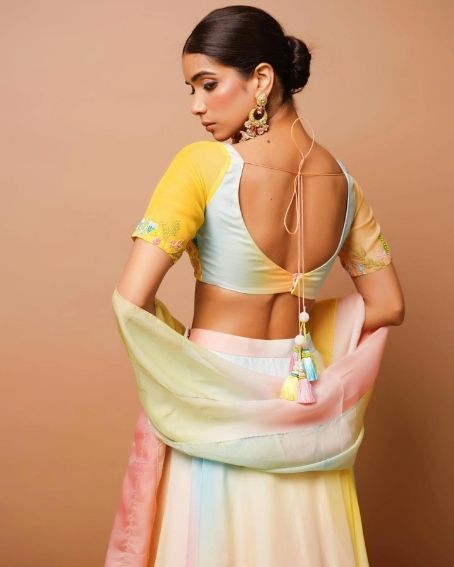 Experiment with a riot of colors on your blouse Latkan when wearing a multicolor lehenga. It's all about celebrating diversity.
3. Blue Color Full Sleeve Blouse with Latkan Style with Lehenga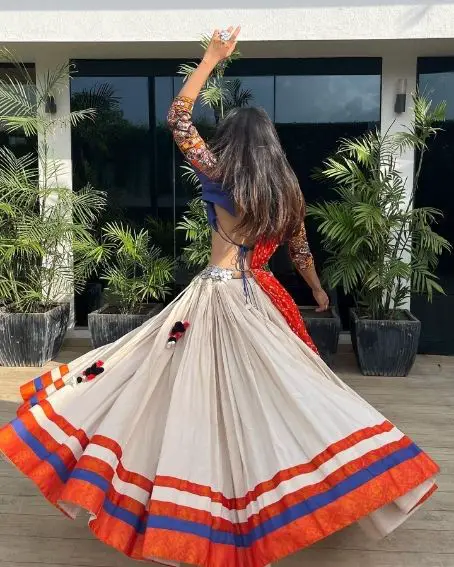 Blue symbolizes tranquility, and a blue blouse with Latkan details complements any lehenga, especially one with intricate embroidery.
4. White Floral Lehenga with Latkan Blouse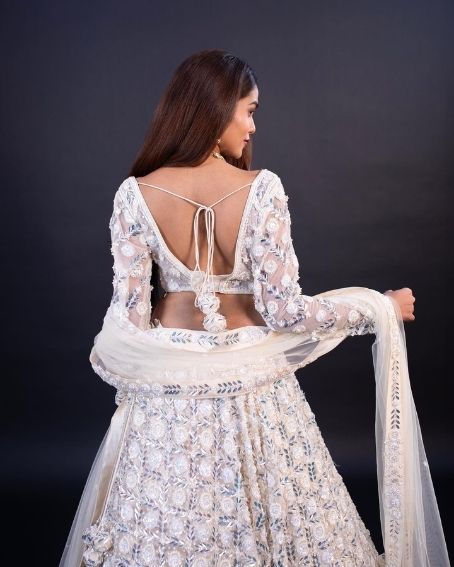 White is pure and timeless. A white floral lehenga paired with Latkan-embellished blouse exudes grace and charm.
5. Attractive Reyon Real Mirror Works Lehenga Choli Dupatta Set with Latkan Style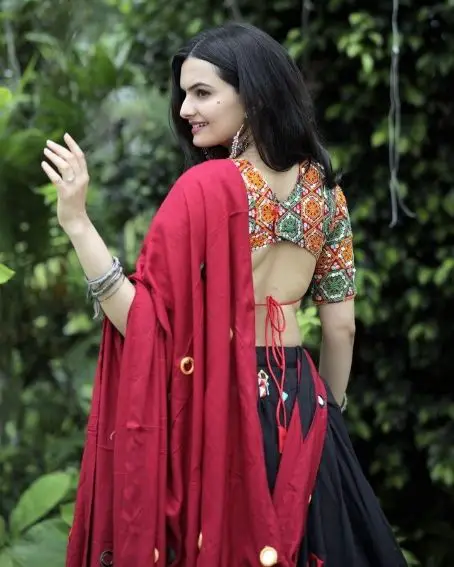 The mirror work on your Latkan can mimic the mirror work on your lehenga, creating a cohesive and stunning look.
6. Red and Gold Combination Lehenga with Latkan Style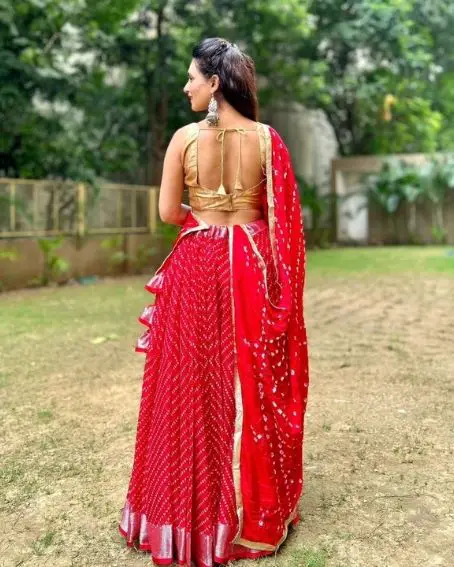 Red and gold are classic bridal colors. A latkan with red and gold accents adds the perfect finishing touch to your bridal ensemble.
7. Multicolor Lehenga with Latkan Blouse with Mirrors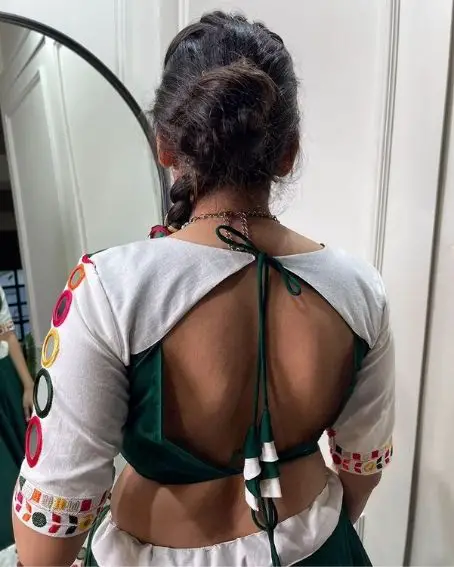 The multicolor lehenga adorned with a vibrant array of hues captivates the eye with its exquisite beauty. Its latkan blouse, adorned with intricate mirror work, adds a touch of elegance and charm, making it a perfect ensemble for a festive or celebratory occasion. This ensemble effortlessly blends tradition with contemporary style, creating a stunning and unforgettable look.
8. Black and White Combinated Latkan Blouse Design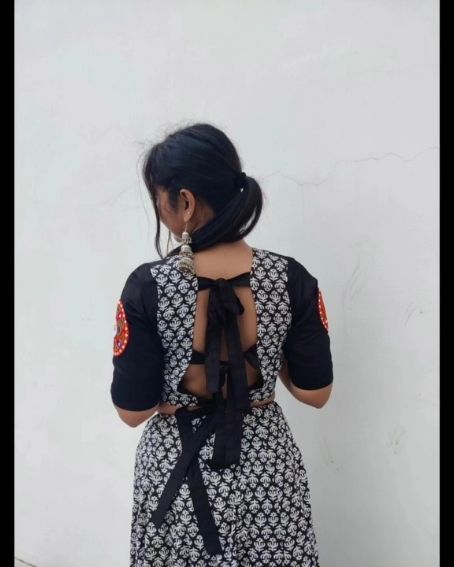 A black and white latkan is a beautiful and elegant accessory that can be worn by women, young girls, and teenagers. It is a versatile piece that can be paired with both black and white lehengas, as well as other traditional Indian clothing. The latkan is made of black and white beads, sequins, or pearls, and it hangs down from the back of the blouse or lehenga. It can add a touch of glamor and sophistication to any outfit.
9. Beautiful stylish Garba Choli set pure cotton choli with Latkan Blouse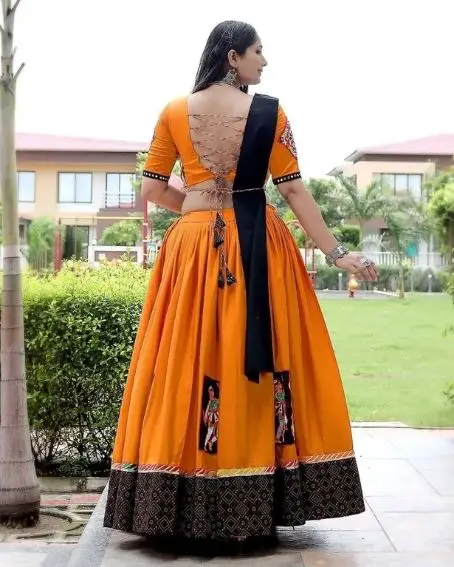 For traditional Garba celebrations, opt for a pure cotton choli with a Latkan blouse for comfort and style.
10. Dori And Zari Embroidery Work Latkan Blouse with Lehenga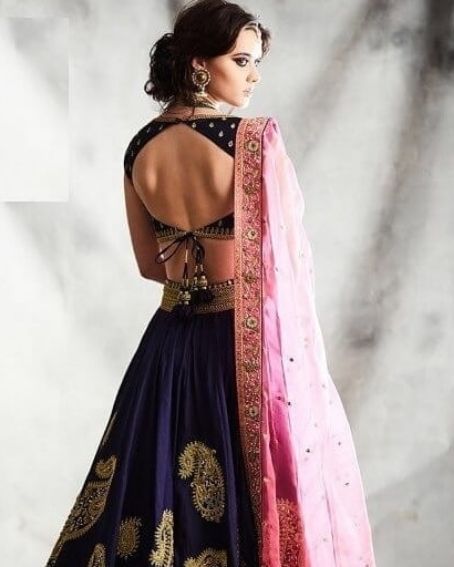 Match the intricate embroidery on your lehenga with a Latkan featuring dori and zari work for a harmonious look.
11. White Lehenga with Latkan Blouse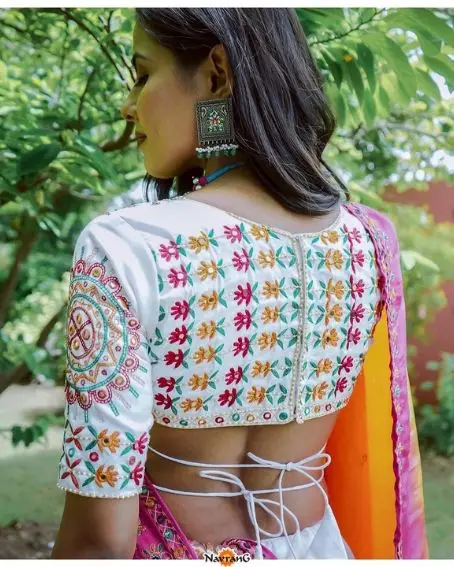 A white lehenga paired with a Latkan blouse is the epitome of elegance. It's a timeless combination for various occasions.
12. Maroon Full Sleeve Lehenga with Latkan Blouse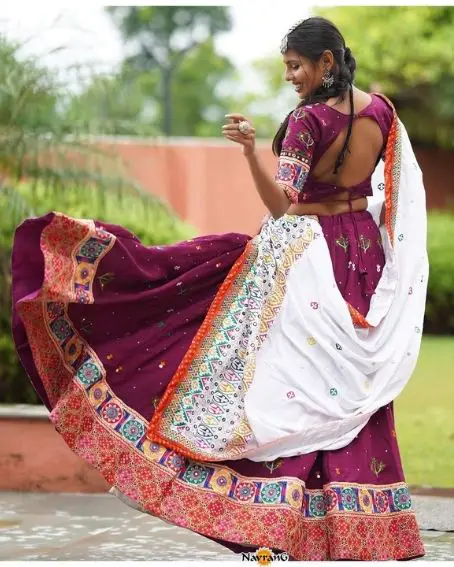 A maroon full sleeve lehenga, adorned with intricate latkan details, perfectly complements a matching blouse, creating a stunning and elegant ensemble for any special occasion.
13. Multi Colored Printed Lehenga with Latkan Blouse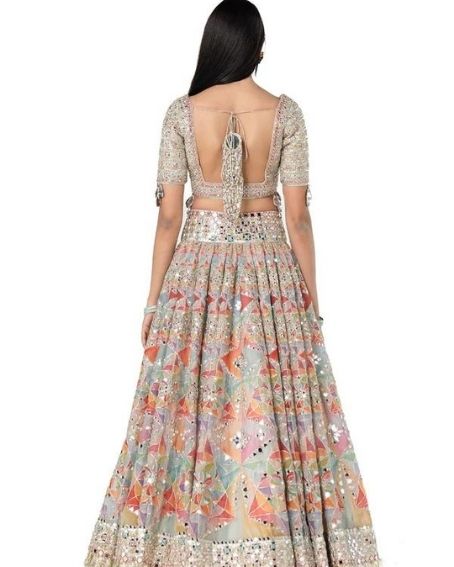 The multi-colored printed Lehenga, adorned with vibrant hues and intricate patterns, exudes a sense of timeless elegance and cultural richness. Paired with a Latkan blouse, the ensemble showcases a harmonious fusion of traditional and contemporary elements, offering a captivating and stylish look for any festive or special occasion. The Latkan blouse's decorative elements add an extra touch of sophistication to this exquisite outfit.
14. Lilac and Ivory Hand-Embroidered Lehenga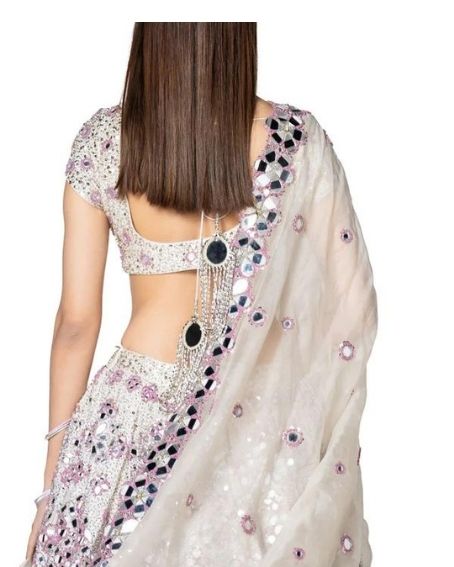 This exquisite lehenga showcases delicate hand embroidery in lilac and ivory, adding a touch of elegance to your attire.
15. Begum Red Embellished Lehenga Set with Latkan Blouse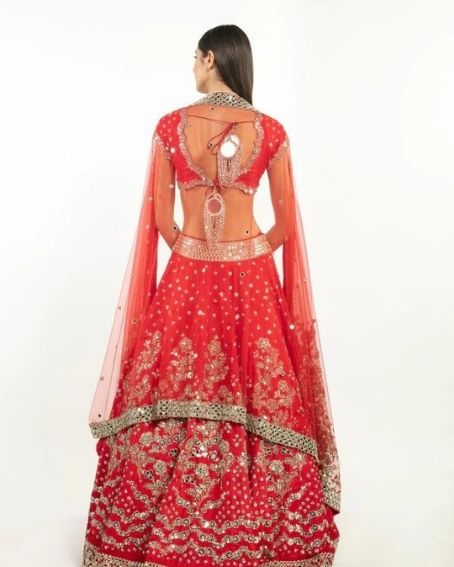 A regal choice, this red embellished lehenga set comes with a latkan blouse for a touch of grandeur, making you feel like a queen.
16. Kesar Orange Lehenga with Latkan Blouse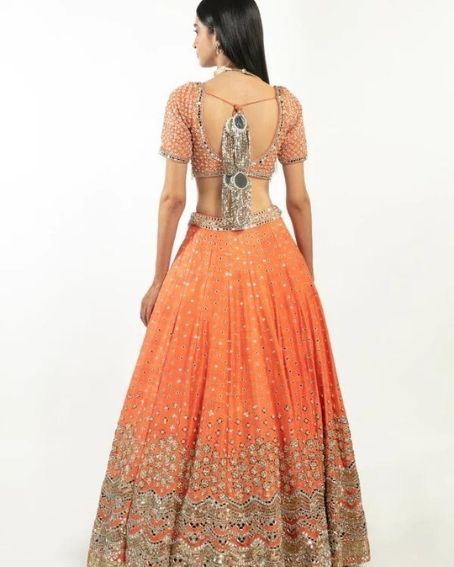 The vibrant kesar orange lehenga, paired with a latkan blouse, exudes a lively and festive charm, perfect for celebratory occasions.
17. Mirror and Zari Embroidery Lehenga with Latkan Blouse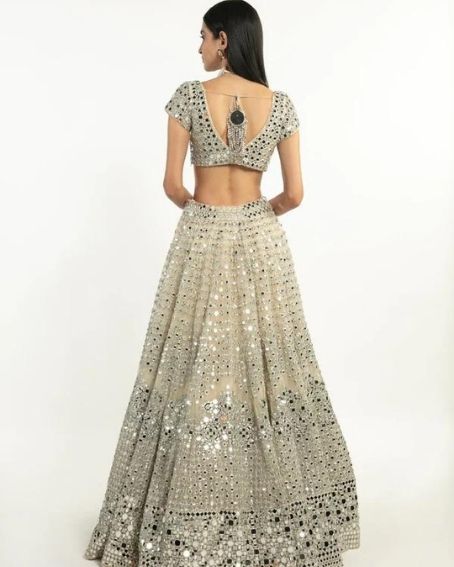 This lehenga combines mirror and zari embroidery to create a stunning ensemble, making you stand out with its radiant craftsmanship.
18. Pink Embellished Lehenga with Mirror Work and Latkan Blouse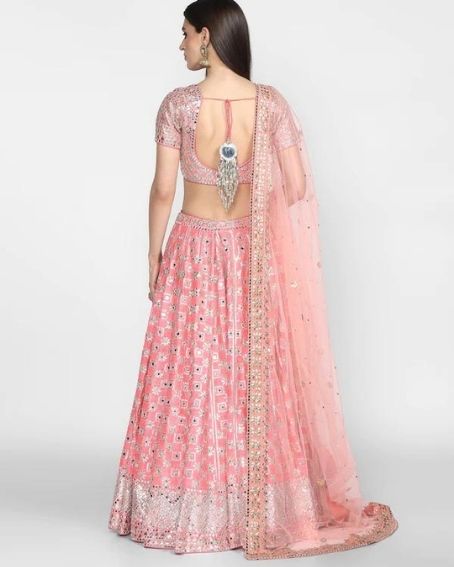 Featuring intricate mirror work, this pink embellished lehenga, along with a latkan blouse, adds a touch of glamour and allure to your outfit.
19. Multicolor Chevron Lehenga with Latkan Blouse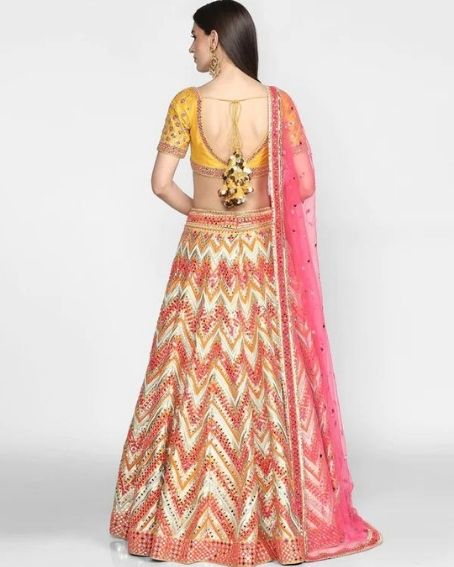 The multicolor chevron lehenga paired with a latkan blouse offers a playful and unique twist to traditional attire, perfect for a contemporary look.
20. Hot Pink Embellished Lehenga with Latkan Blouse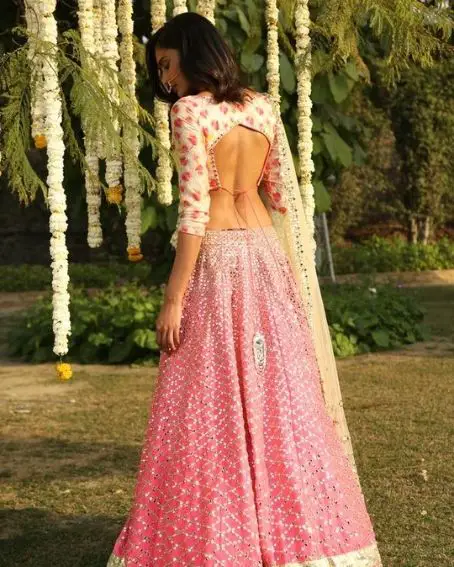 A hot pink embellished lehenga with a latkan blouse is a bold and eye-catching choice, ensuring you make a striking fashion statement.
21. Chhaya Brown Gujarati Lehenga with Latkan Blouse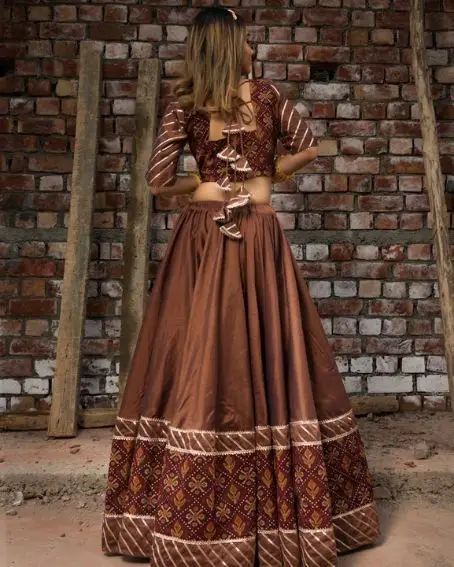 To embrace the traditional Gujarati aesthetic, women, teenagers, and young girls can select a Latkan-adorned blouse that harmonizes with the lively hues of their Chhaya brown lehenga. This thoughtful choice not only infuses cultural authenticity but also elevates their look, ensuring a captivating and culturally resonant appearance.
22. Taffeta Silk Mint Green Lehenga with Latkan Blouse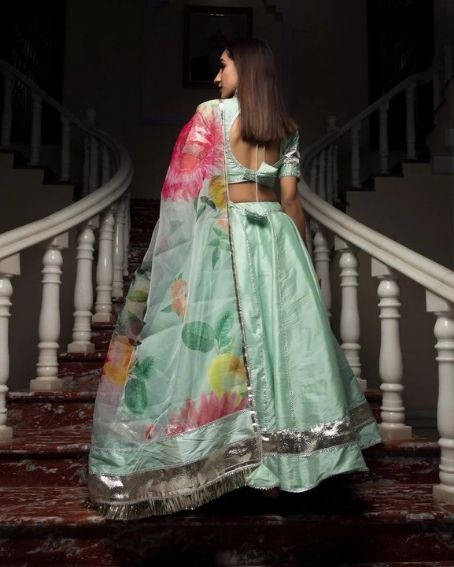 Taffeta silk is a luxurious fabric, and a mint green Latkan blouse adds a touch of opulence to your outfit.
23. Ayesha Blue Cotton Silk Lehenga with Latkan Blouse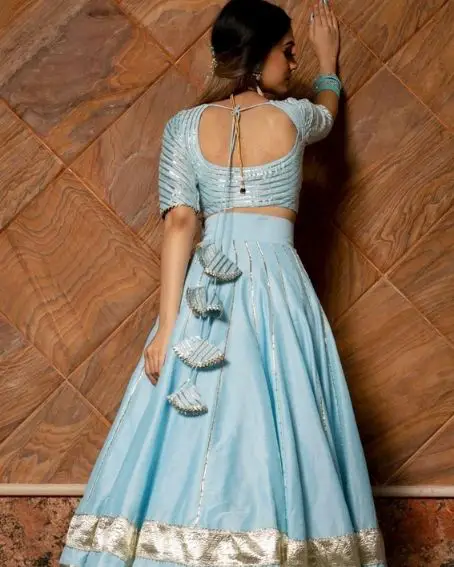 Ayesha blue is a soothing color, and a Latkan blouse in this shade exudes elegance and grace.
24. Teal Color Net with Mirror Work Lehenga Latkan Blouse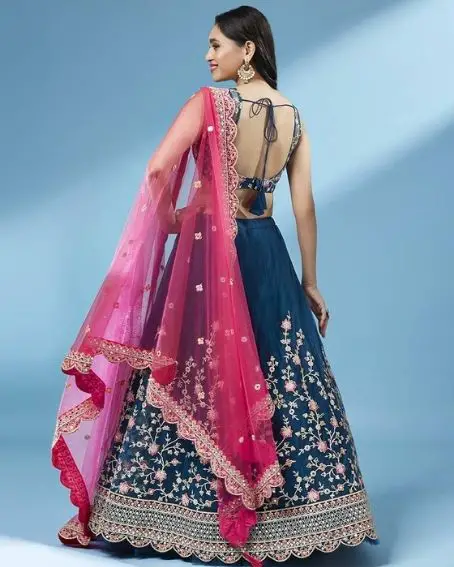 Teal is a unique and captivating color. A Latkan with mirror work enhances its beauty.
25. Pink color For Bride's Latkan Blouse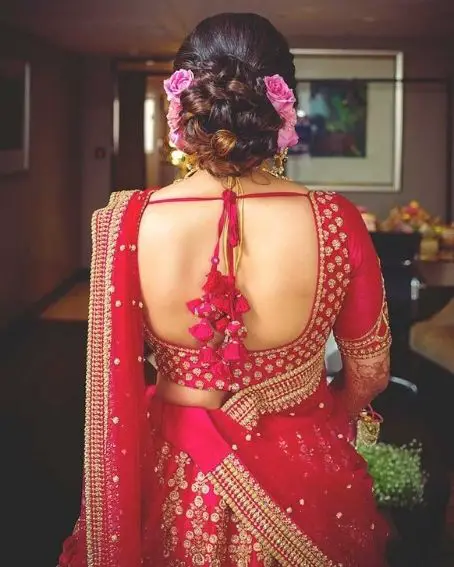 A pink-colored blouse with Latkan for a bride adds a touch of elegance and femininity to her wedding attire. The soft and romantic hue complements various bridal ensembles, creating a harmonious and enchanting look. It's a popular choice that symbolizes love, happiness, and celebration on the special day.
What Are The Features of the "Latkan for Lehenga Blouse"?
Beaded Beauties: Beaded Latkans add a touch of elegance and sparkle to your blouse. They come in various shapes and sizes, from tiny seed beads to larger, more intricate designs.
Handmade Delicacies: Handmade Latkans are a labor of love. Crafted with precision and care, they showcase traditional craftsmanship at its best. Each piece is unique, making your blouse one-of-a-kind.
Silk Sensations: Silk Latkans exude luxury and sophistication. They are smooth to the touch and perfect for weddings and special occasions.
Mirror Magic: Mirrored Latkans reflect light beautifully, creating a mesmerizing effect. They are a favorite choice for traditional outfits with a modern twist.
Sequin Sparkle: Sequin Latkans are all about glitz and glamour. They catch the light and make you shine, making them perfect for festive celebrations.
What Are The Colors and Fabrics Used for Making the "Latkan for Lehenga Blouse"
Colors: The color of the Latkan can complement or contrast with the color of the blouse or lehenga. It can be chosen to match the primary color of the outfit or provide a pop of contrasting color. Common choices include gold, silver, red, green, blue, and other vibrant colors.
Fabrics: Latkans, which women, young girls, and teenagers use to embellish their blouses and lehengas, can be crafted from various materials like silk, velvet, beads, sequins, and threads. The choice of fabric should harmonize with the overall design. For instance, silk Latkans complement silk lehengas, while beaded or sequined ones can add a touch of glamor.
What Are The Types of Garments Can Be With Latkans?
Types of Sarees or Lehengas: Latkans are versatile and can be paired with different types of sarees and lehengas. They are commonly used with
Lehengas: Latkans are often attached to the back of the blouse or dori (tie-up strings) of a lehenga choli, especially for bridal and festive wear. The choice of Latkan depends on the overall theme and design of the lehenga.
Saree Blouses: Women, young girls, and teenagers can also put decorative tassels called "latkans" on the back of their saree blouses. These latkans can enhance the traditional appearance of the saree outfit.
Anarkali Suits: Some Anarkali suits also feature Latkans, either at the back of the bodice or along the drawstring of the waist.
What Are Types of Latkans ?
Latest Latkan Trends
The world of Latkans is constantly evolving. Some of the latest trends include:
Custom Latkans: Tailor-made Latkans to match your outfit perfectly.
Embellished Latkans: Latkans adorned with gemstones and crystals.
Golden and Silver Latkans: Classic metallic shades that never go out of style.
Ethnic Motifs: Latkans featuring intricate Indian motifs.
Latkans offer a beautiful and elegant way for women of all ages, including teenagers and young girls, to accessorize their blouses and lehengas. They come in a wide array of styles, colors, and materials, making it easy to find the perfect match for your outfit. Latkans have the magical ability to infuse a touch of glamor and sophistication into any look, allowing you to express your personal style with grace.
Related Articles