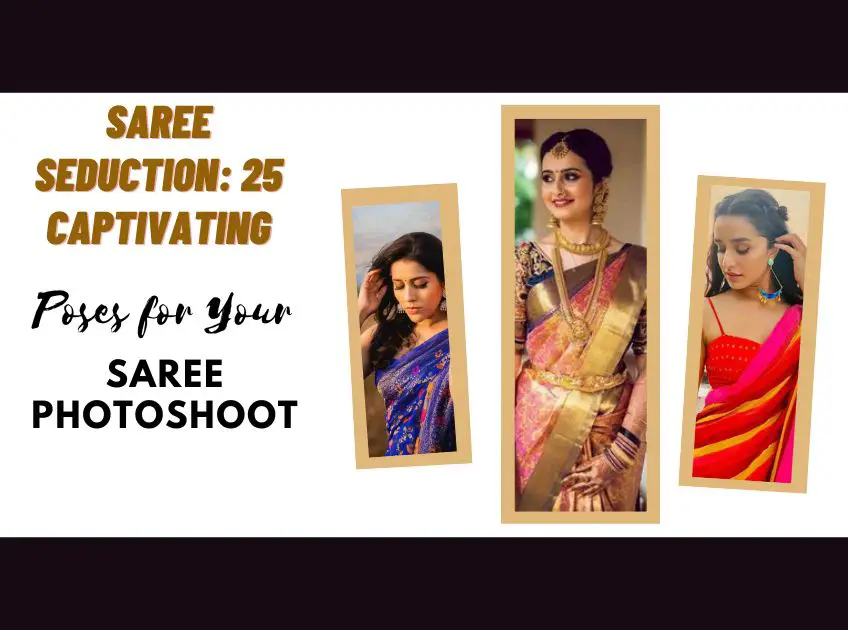 For a saree photoshoot, striking poses that accentuate the saree's beauty is key. Try the classic 'Pallu Over Shoulder' pose to showcase intricate designs. 'Twirling' adds a playful touch, displaying the saree's flow. 'Sitting Cross-Legged' on a chair or floor radiates elegance. The 'Profile Gaze' captures attention, emphasizing the saree's details.
Saree Seduction: 25 Captivating Poses for Your Saree Photoshoot
1. Dark Pink Crushed Sequins Saree with Sleeveless Blouse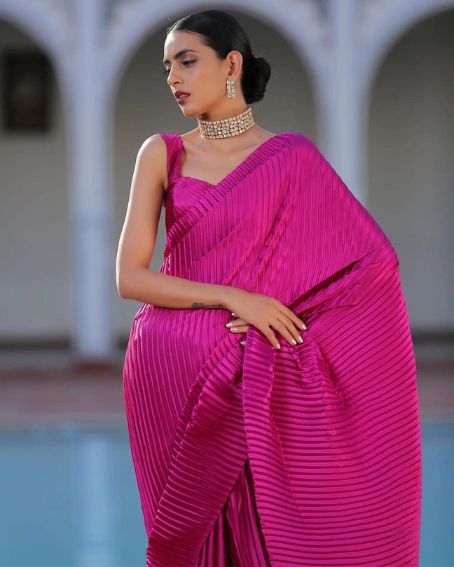 This glamorous saree features dark pink crushed sequins, adding sparkle to any occasion. Paired with a sleeveless blouse, it exudes elegance.
2. Sequence Work Saree With Fabric With Heavy Embroidery Work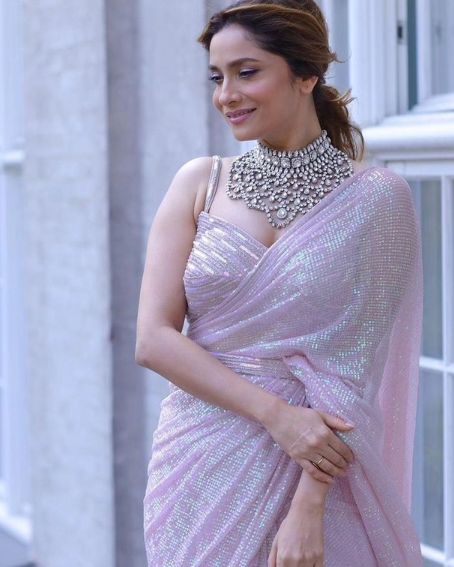 A stunning saree adorned with intricate embroidery and sequin work, perfect for special events. Its rich pallu and jacquard details enhance its beauty.
3. Beautiful Rich Pallu & Jacquard Work Saree For Photoshoot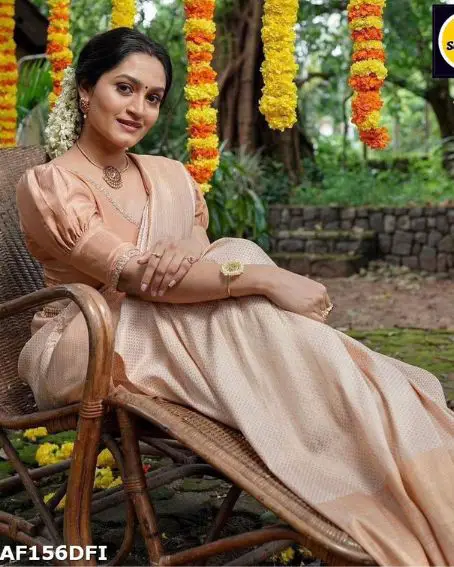 A saree adorned with a beautiful rich pallu and intricate jacquard work is a true masterpiece of elegance and craftsmanship. The rich pallu, often embellished with opulent designs, adds a touch of luxury and grandeur to the saree, making it ideal for special occasions and celebrations.
4. Muslin Sarees with Rich Pallu and Jacquard Blouse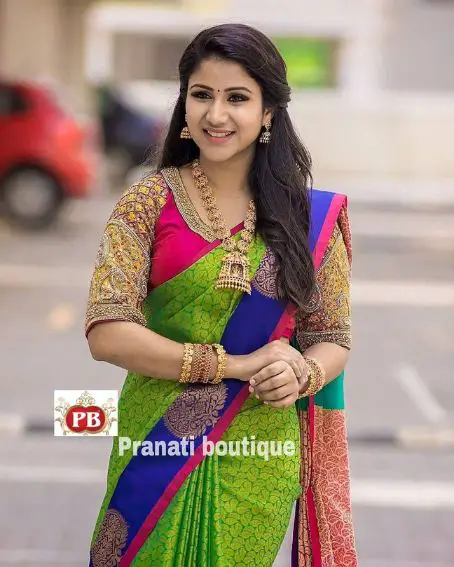 Muslin sarees are known for their comfort and style. This variant comes with a rich pallu and a jacquard blouse, blending tradition and modernity.
5. Gray and Tiger Orange Kanjivaram Silk Saree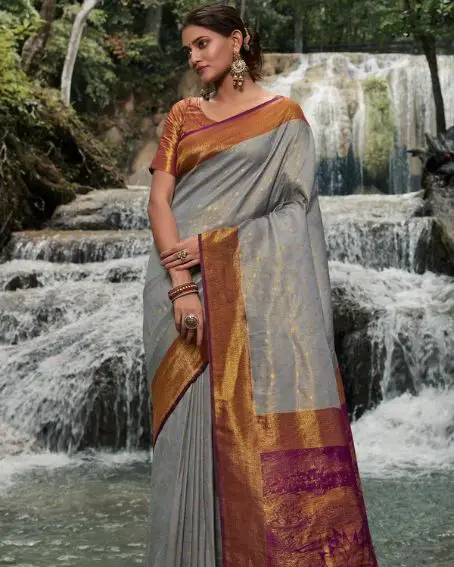 This exquisite Kanjivaram silk saree showcases zari weaving work, fusing gray and tiger orange hues in a timeless masterpiece.
6. Shraddha Kapoor With Vibrant Digital Print Saree For Photoshoot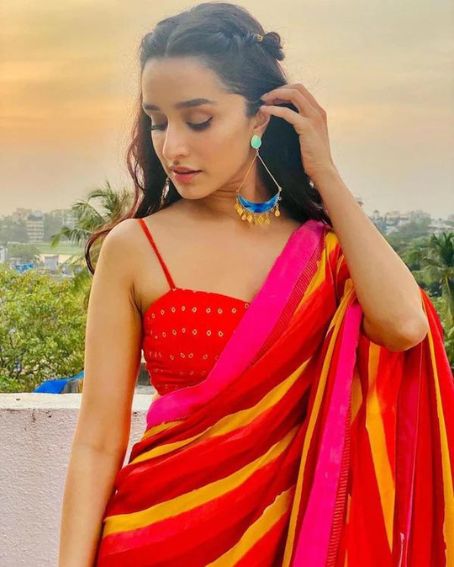 Inspired by Bollywood, this vibrant digital print saree captures attention. Shraddha Kapoor showcases its beauty effortlessly.
7. Georgette Saree with Hand Diamond Work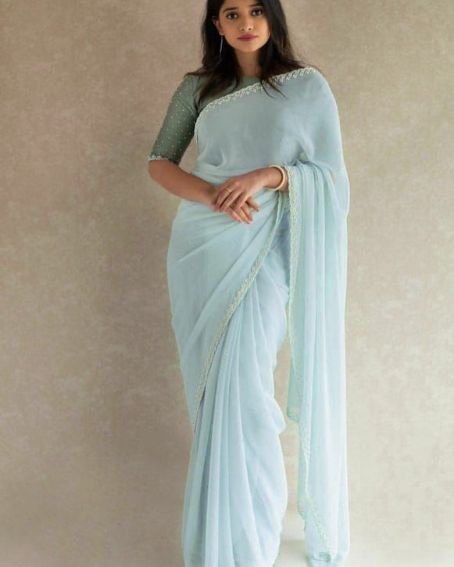 A georgette saree adorned with handcrafted diamond work along the border, adding a touch of luxury and grace to your ensemble.
8. Yellow Color Saree With Gray Color Blouse Combination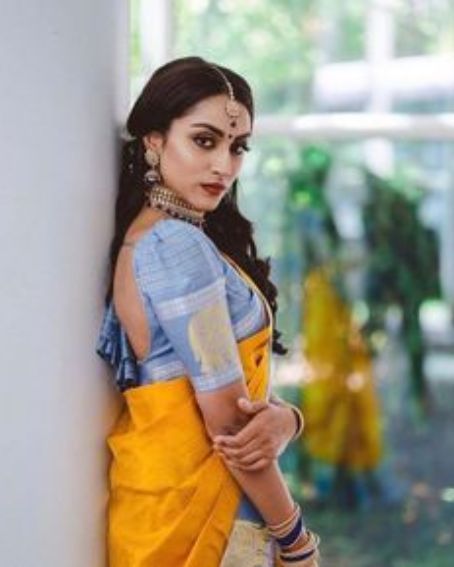 This combination of a yellow saree and gray blouse creates a striking contrast, making it an ideal choice for various occasions.
9. Exclusive Blue With Red Color Soft Lichi Silk Party Wear Saree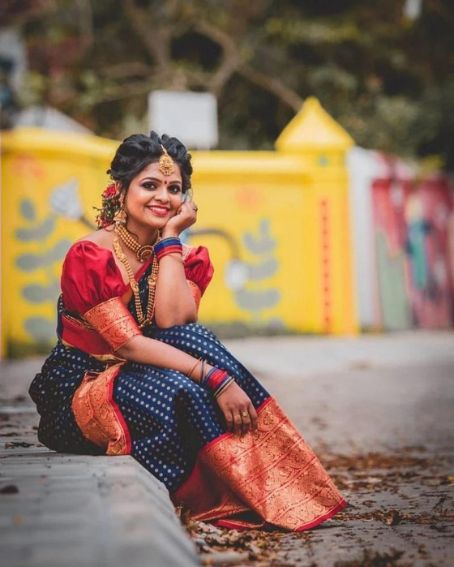 An exclusive party wear saree in soft lichi silk, with a captivating blue and red color combination that guarantees a standout presence.
10. Bright Orange Printed & Embroidered Saree Set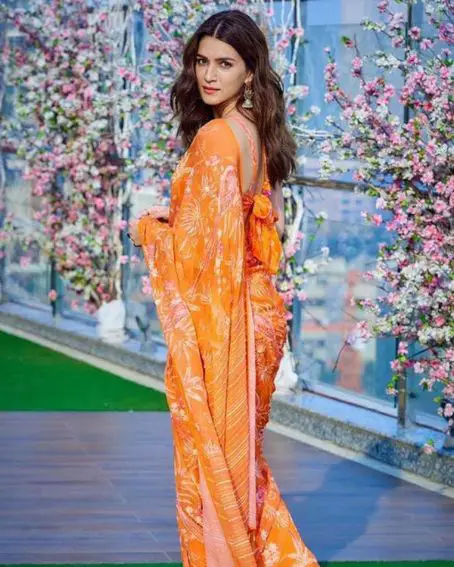 This bright orange saree set features intricate embroidery and vibrant prints, perfect for adding a pop of color to your wardrobe.
11. Georgette With Sequins Embroidery Work Jalar Fancy Less Border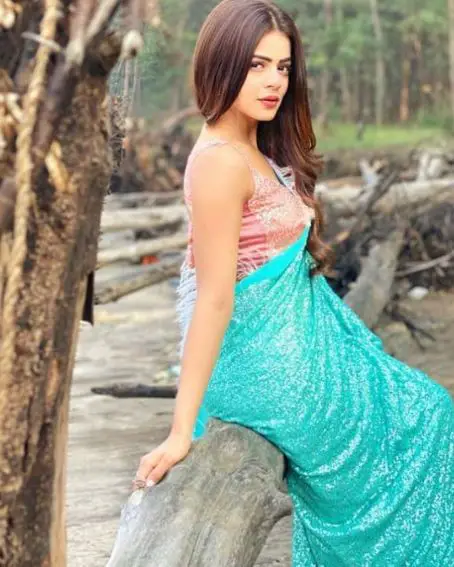 A georgette saree with stunning sequins embroidery work and a fancy less border, radiating elegance and sophistication.
12. Orange Soft Georgettes With Work Borders Saree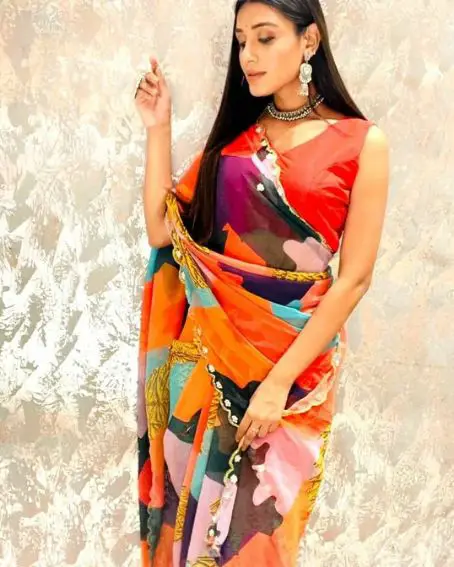 An orange soft georgette saree embellished with decorative borders, adding charm to your ethnic look.
13. Kora Organza Jacquard Soft Saree With Running Blouse With Golden Border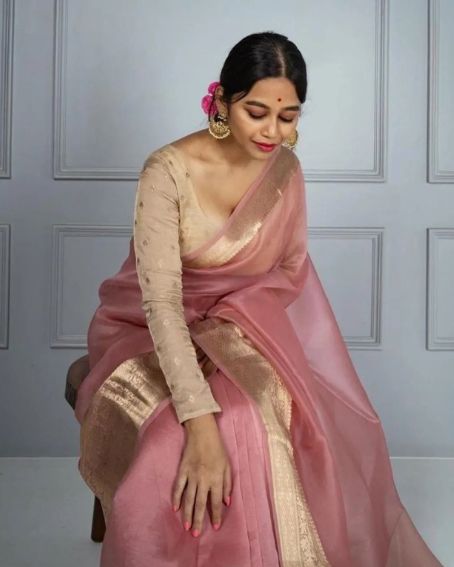 This kora organza saree is adorned with a delicate jacquard pattern and a golden border, exuding grace and sophistication.
14. Bricks Red Saree For Photoshoot For Elegant Bridal Looks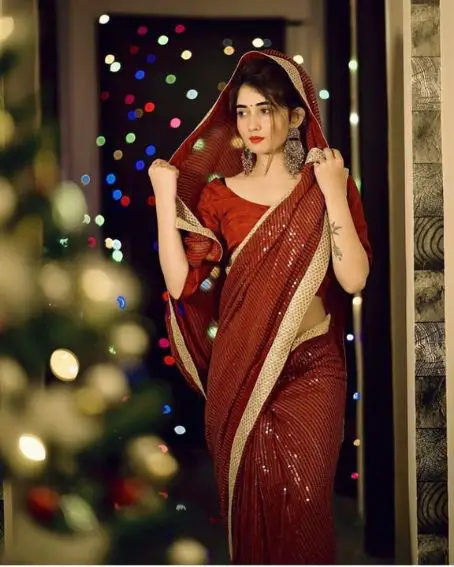 A rich brick red saree, perfect for bridal photoshoots, epitomizes traditional elegance and bridal allure.
15. Blue Saree With Copper Handworked Designer Princess Cut Boat Neck Blouse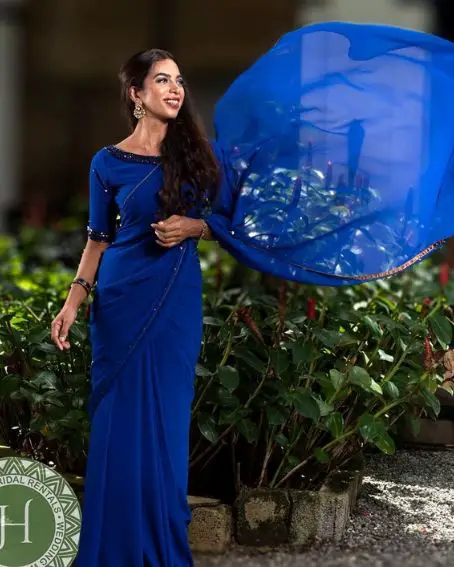 A striking blue saree paired with a copper handworked designer blouse, highlighting princess cut boat neck design.
16. Mellow Yellow And Orange Quirky Pattern Digital Print Georgette Pleated Saree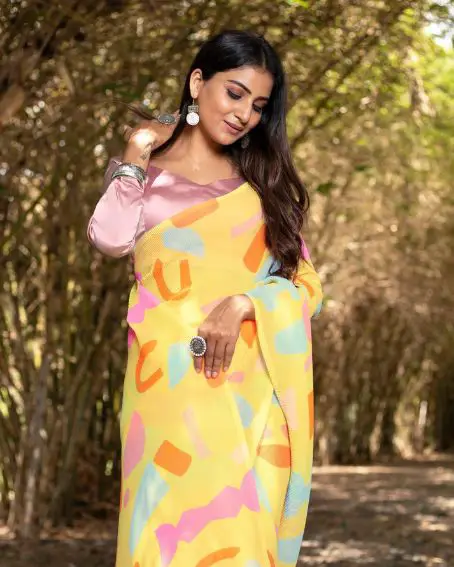 This mellow yellow georgette saree features a quirky digital print and pleated details, adding a fun twist to traditional attire.
17. Beautiful Brick Red Golden Check Linen Saree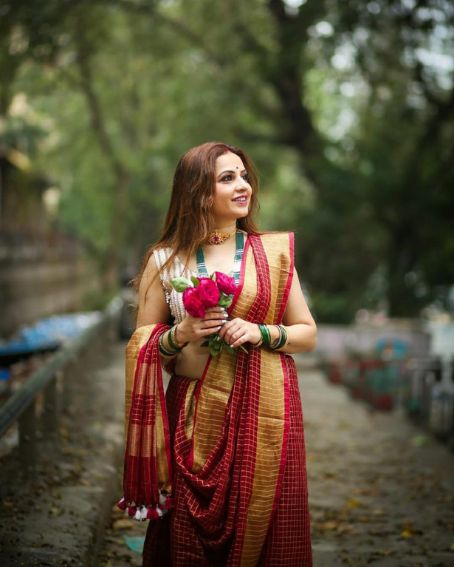 A linen saree with beautiful brick red and golden check patterns, making it a timeless choice for various occasions.
18. Printed, Woven, Embellished, Applique, Banarasi Silk, Blue Art Silk Saree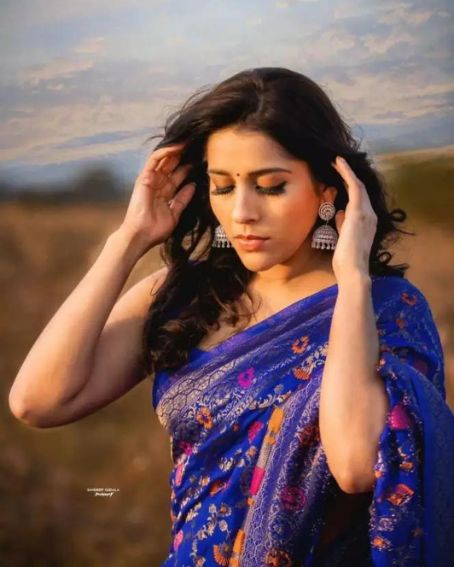 This pure silk saree showcases an exquisite blend of printed, woven, embellished, appliquéd, and dyed techniques, representing Banarasi artistry.
19. Tharana Pattu Saree With Orange And Pink For Bride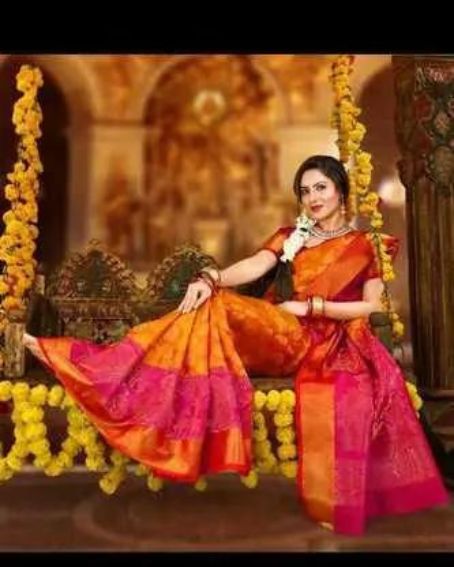 A Tharana Pattu saree in stunning orange and pink hues, designed to make brides shine on their special day.
20. Blue Long Saree For Pre Wedding, Saree Length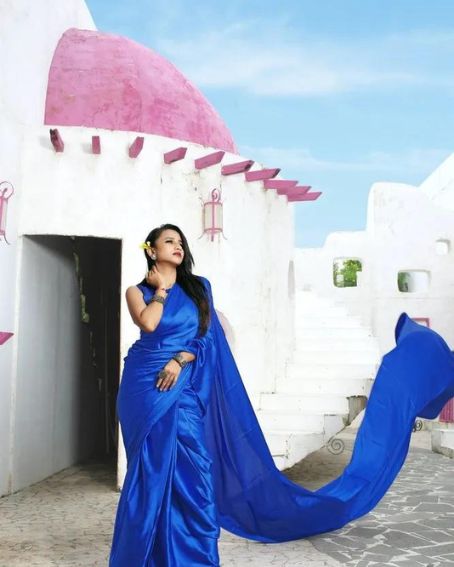 This long blue saree adds an elegant touch to prewedding events, offering a graceful and chic appearance.
21. Beautiful Indian Young Girl In Traditional Saree Posing Outdoors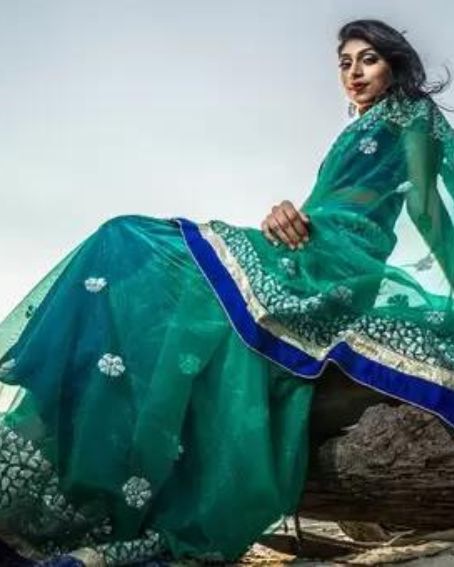 A beautiful portrayal of Indian culture as a young girl elegantly poses in a traditional saree outdoors, reflecting timeless beauty.
22. Captivating Purple Handwoven Cotton Linen Jamdani Saree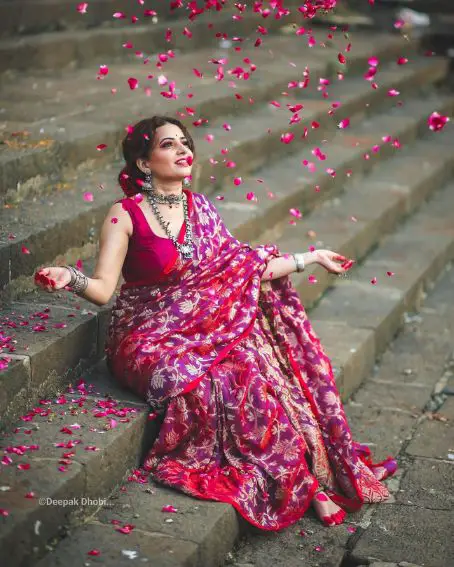 A captivating purple handwoven cotton linen Jamdani saree showcases intricate craftsmanship, perfect for any occasion.
23. Pink Saree With Navy Blue Border And Embroidery Blouse For Bride Photoshoot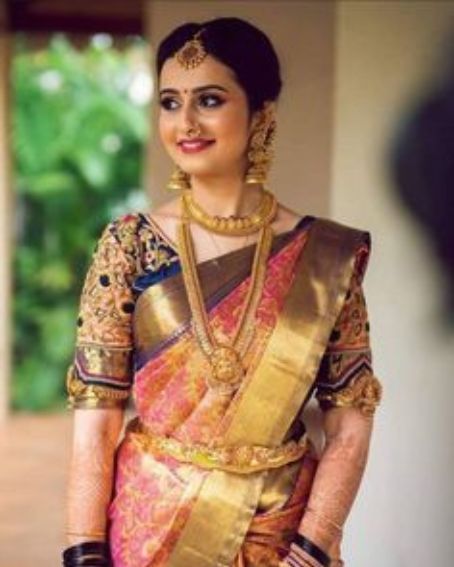 A pink saree with a navy blue border and embroidered blouse, designed for a bride's photoshoot, exuding grace and charm.
24. Soft Litchi Silk Saree For Bride With Green Printed Blouse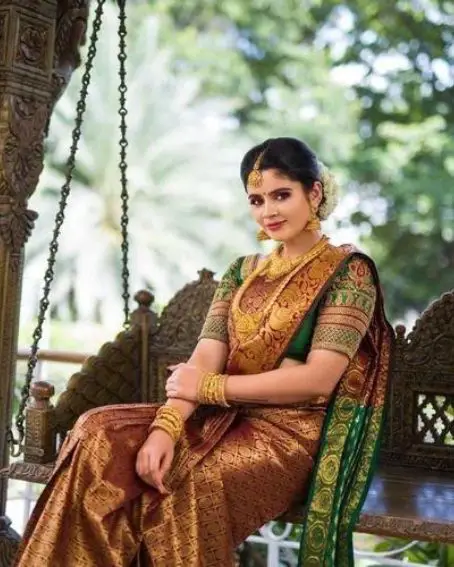 This soft litchi silk saree paired with a green printed blouse offers a fresh and contemporary bridal look.
25. Elegance Woven In Shade Of Peach For Photoshoot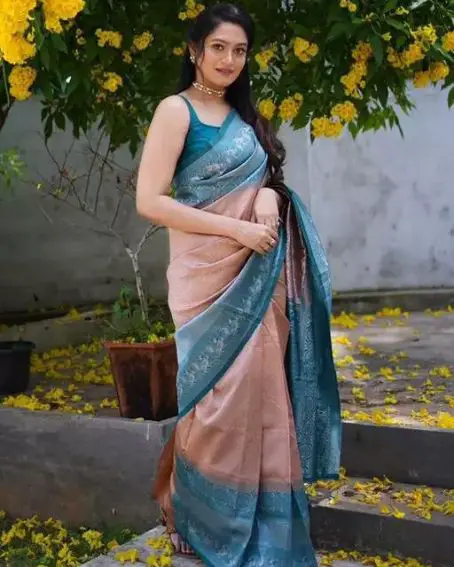 Elegance is woven into this peach saree, making it a perfect choice for a photoshoot, with its timeless and subtle appeal.
Conclusion
Saree photoshoots can be a delightful blend of tradition and modernity, with the right poses enhancing the beauty of this timeless attire. Whether it's the graceful 'Pallu Over Shoulder,' the playful 'Twirling,' the elegant 'Sitting Cross-Legged,' the captivating 'Profile Gaze,' or the confident 'Walking Forward,' these poses can transform your saree photos into stunning visual stories. The key lies in choosing poses that best compliment your personality and the saree's unique characteristics, allowing you to radiate confidence and charm with every click.
Related Articles