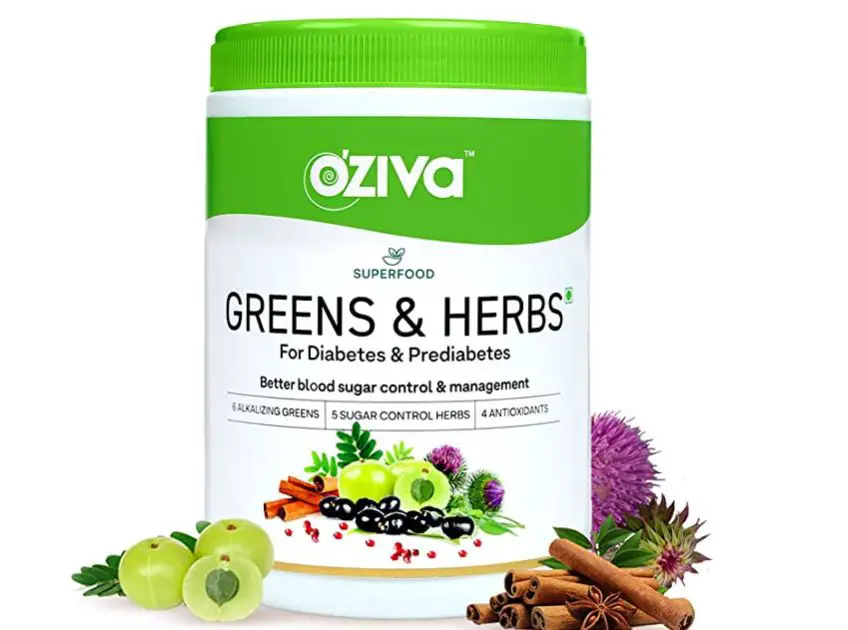 Diabetes is a chronic health condition that happens among people whose pancreas is not able to produce enough insulin. It may also occur when the body cannot effectively use the insulin it produces. It affects the ways the body turns food into energy. When we eat food, it breaks down into sugar and is released into the bloodstream. As soon the blood sugar increases, the pancreas release insulin that allows body cells to use it as energy.
However, among people with diabetes or prediabetes, the body is not able to produce enough insulin, accumulating the blood sugar in the bloodstream. As blood sugar keeps on building, it causes serious issues like heart disease, vision loss, and kidney diseases. In such cases, insulin injections are given to the patient.
If a diabetic person stays active and eats healthy food, he or she can manage their symptoms to a great extent. Today, we will review Oziva Superfood Greens & Herbs for Diabetes & Prediabetes and know how effective they are.
Product Review
Oziva has come up with plant-based superfood greens and herbs that help to manage the symptoms of diabetes and prediabetes. The Ayurvedic herbal extracts in the product aid in managing the body's pH and acidity. Every ingredient in it is the extract of plants, making it highly effective with no side effects.
What we like the best about this product is it consists of six health blends that have more than 35 superfoods, greens, and herbs. It is perfect for people suffering from diabetes or borderline diabetes. Also, it detoxifies the body and aids in digestion. Overall, Oziva SuperFood is a power-pack product perfect for reliving diabetes symptoms.
Product Description
Oziva Superfood Greens & Herbs for Diabetes & Prediabetes is a custom-made product for people suffering from diabetes and prediabetes conditions. The specially balanced formula of natural ingredients makes the product highly effective.
It consists of Fenugreek Seeds Extract, Jamun Seed Extract, Cinnamon Bark Extract, Milk Thistle Extract, and Gymnema Sylvestre Extract that help to control diabetes. A regular intake of products detoxifies the body, aids in digestion, and promotes the health of the heart and liver.
Mix around 6 g or two scoops of Oziva Oziva Superfood Greens & Herbs for Diabetes & Prediabetes powder in 150 ml of water. Stir well and enjoy anytime. Take it regularly once a day for maximum benefits.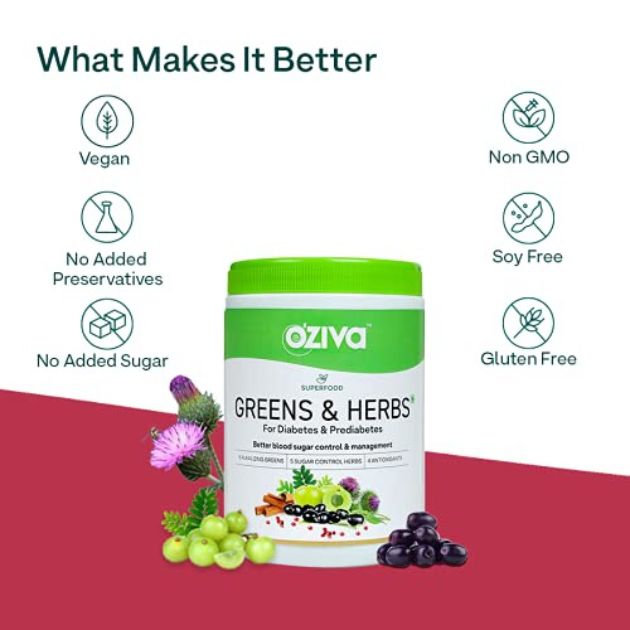 Nutrition Facts
The three major blends in the product include-
Alkalizing Greens Blend- It consists of extracts from Moringa, Spinach, Wheatgrass, and more plant-based ingredients that alkalize the body.
Liver & Heart Blend- To promote heart and liver health, this blend consists of amla, pomegranate, and fennel seed extracts.
Sugar Control Blend- To keep the blood glucose level in the bloodstream within a limit, the sugar control blend consists of Fenugreek Seed, Jamun Seed, and Gymnema Sylvestre.
What We Like
It is a chemical-free product, highly effective in controlling diabetes and prediabetes.
Every ingredient of the product is plant-based.
It is soy-free, gluten-free, and non-GMO.
There are no preservatives or artificial sweeteners.
It is completely vegan, making it suitable for all types of people.

What We Don't Like
Even though the product is herbal and ayurvedic, it takes time to give the results. Therefore, suitable for those who are patient but want long-lasting results and relief from diabetes symptoms.
How Much Do Oziva Superfood Greens & Herbs For Diabetes & Prediabetes Cost?
The regular price of the product is Rs 999, but you can buy it at a discounted price of Rs 899 from Oziva's official website or from a reliable source like Amazon.
Alternative Products
Conclusion
Controlling diabetes is essential to prevent severe symptoms. If you do not want to damage your heart, kidney, or liver due to diabetes, you must take necessary action, among which intake of Oziva Superfood Herbs and Greens is one. To get maximum benefits from this product, adopt a healthy lifestyle and regular exercise in your regime.
Read More