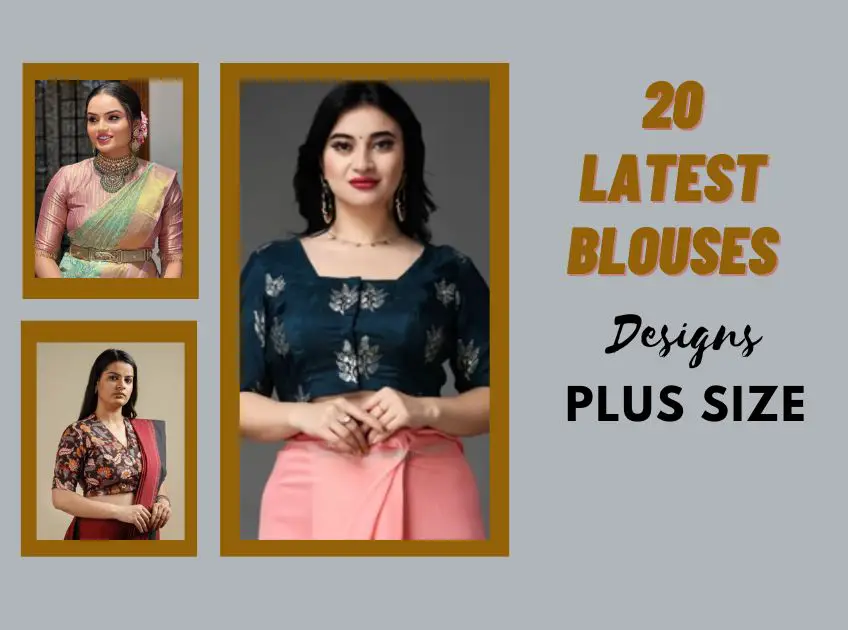 Blouses for plus-size women are specially made to look great on those with larger bodies. They're created to show off the nice curves and cover up anything you might not want to show. These designs are created to provide both style and comfort. Plus size blouses come in a variety of styles such as loose-fitting, button-down, peplum, wrap, cold shoulder, off-shoulder, and embellished.
20 Latest Blouses Designs Plus Size
1. Kerala Style Wedding Saree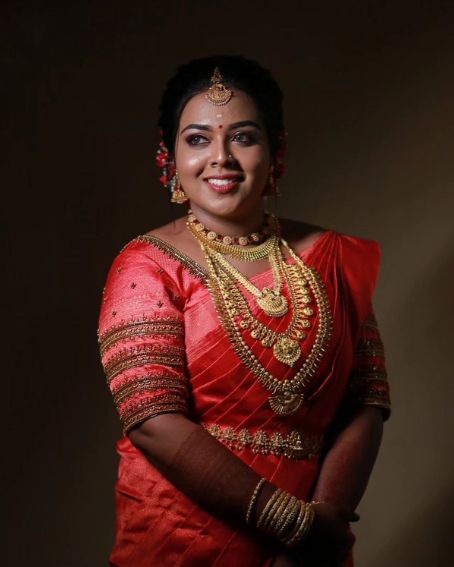 The Kerala style wedding saree is a traditional choice for brides in the South Indian state. Typically, it features intricate gold embroidery and vibrant colors, with a heavy border and pallu. It exudes elegance and cultural richness, making it a cherished choice for brides looking to celebrate their heritage on their special day.
2. Green Saree with Pink Blouse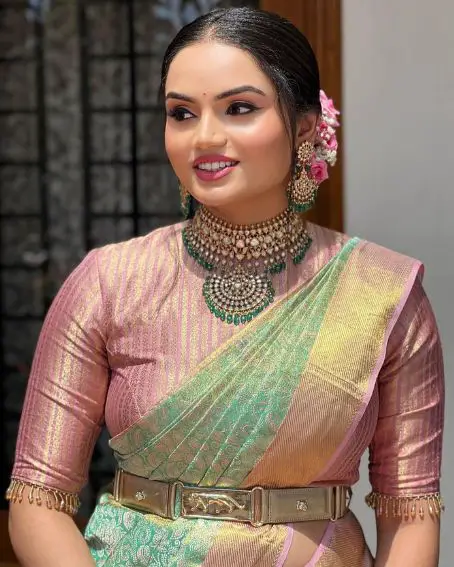 A green saree paired with a pink blouse creates a striking contrast. This combination is popular for festive occasions, offering a blend of freshness and vibrancy. The pink blouse complements the green saree beautifully, making it an excellent choice for those who want to stand out with a dash of color.
3. Green Saree with Puff Blouse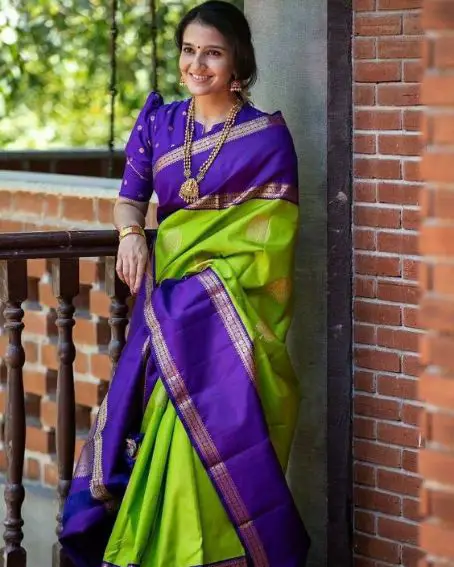 A green saree with a puff blouse brings a touch of vintage charm to your ensemble. The puff blouse, with its puffed sleeves, adds a touch of retro flair, while the green saree maintains a traditional and timeless appeal. This combination offers a unique fusion of old and new in the world of fashion.
4. Pink Plain Blouse Design with Green Saree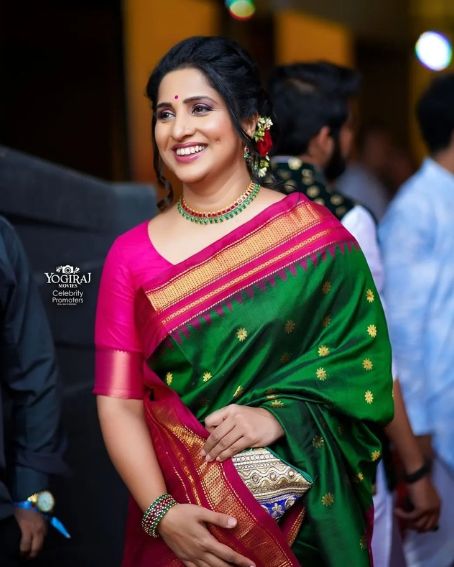 When you pair a green saree with a simple pink blouse, you achieve a classic and understated look. The pink blouse adds a subtle pop of color without overshadowing the elegance of the green saree. This combination is versatile and suitable for various occasions.
5. Pink Amazing Modern Blouse Back for Plus Size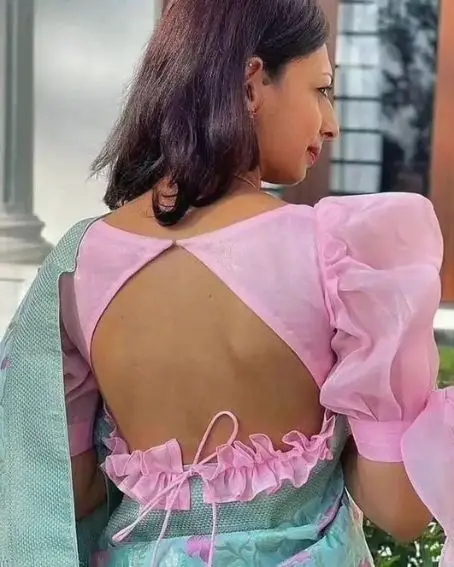 For plus-size women looking for a contemporary and stylish blouse, the "Pink Amazing Modern Blouse Back" is an excellent choice. It's designed to flatter and enhance the silhouette while featuring a modern and eye-catching back design in pink. This blouse is a great option for those who want to feel confident and trendy.
6. Maroon Banarasi Blouse for Plus Size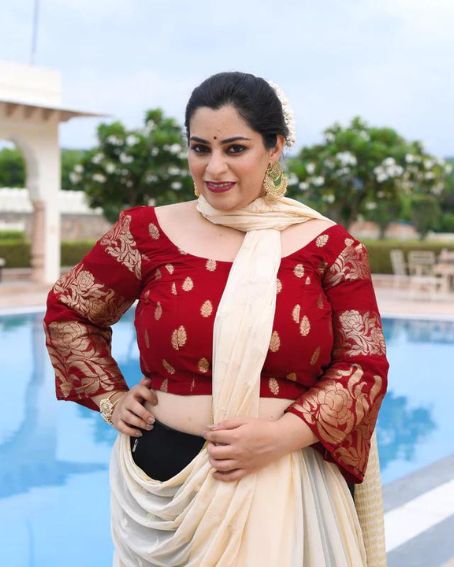 The maroon Banarasi blouse is a luxurious and rich choice for plus-size individuals. It features the intricate Banarasi weave, known for its opulence and elegance. This blouse complements various sarees and adds a touch of regal charm to the ensemble.
7. Violet Blouse Design for Plus Size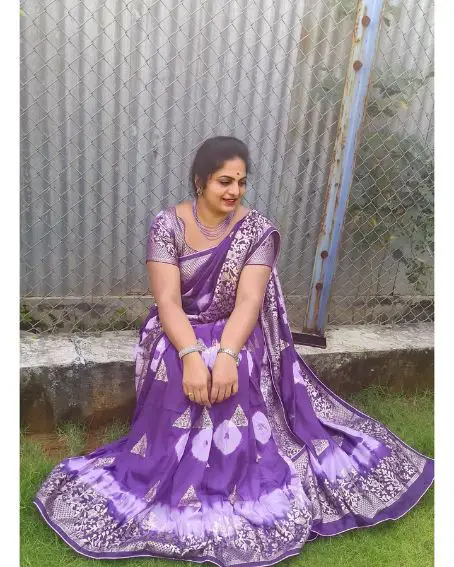 A violet blouse designed for plus-size individuals offers a unique and bold choice. The color violet is associated with creativity and individuality. The blouse design takes this color to the next level, making it a statement piece in any saree ensemble.
8. Golden Dreams in Midnight Banarasi Plus Size Blouse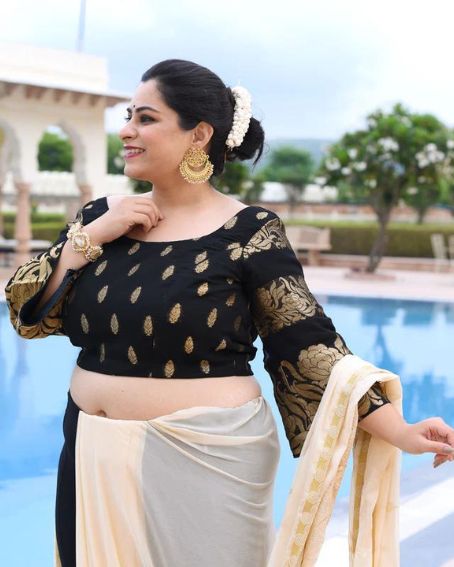 "Golden Dreams in Midnight" is a captivating name for a Banarasi blouse designed for plus-size wearers. The combination of golden embroidery on a deep, midnight blue background is both enchanting and regal. This blouse is ideal for special occasions, exuding elegance and grandeur.
9. Black High Neck Blouse For Plus Size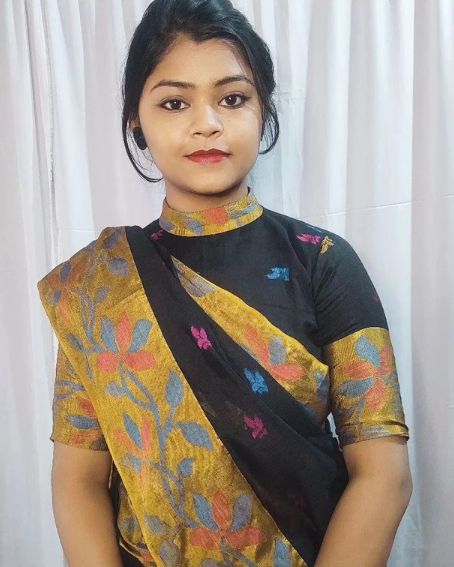 A black high neck blouse is a sophisticated and versatile choice for plus-size individuals. It adds a touch of modernity to your saree ensemble while offering a flattering silhouette. Black is a classic color that works well with a variety of sarees.
10. Peacock Green Silk Blouse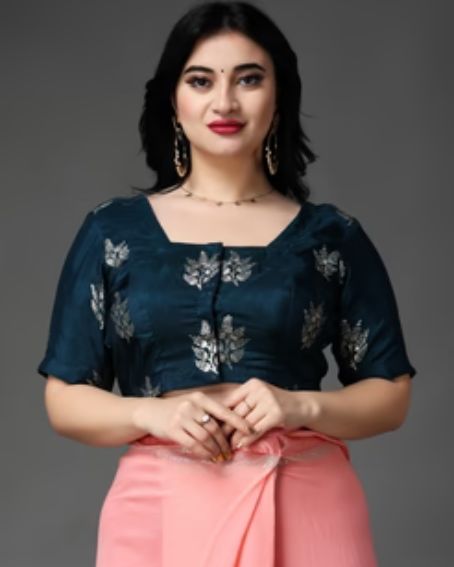 A peacock green silk blouse is a captivating choice for those who appreciate the beauty of nature-inspired colors. The rich and lustrous silk fabric combined with the peacock green hue creates an exquisite and timeless look, perfect for both traditional and contemporary events.
11. Green Work Saree with Pink Blouse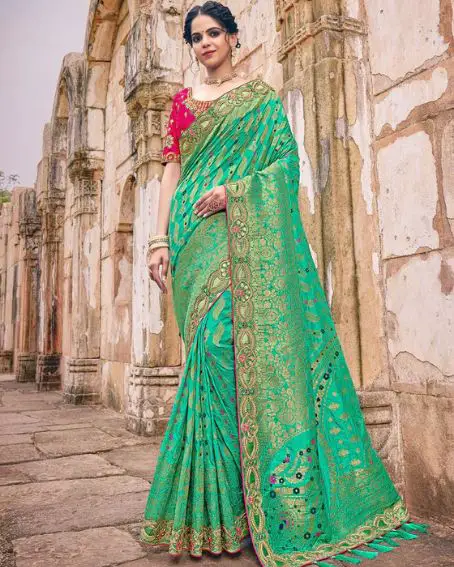 A green work saree paired with a pink blouse is a combination that balances tradition with a dash of modernity. The intricate work on the green saree adds a touch of elegance, while the pink blouse adds a playful and vibrant element, making it a great choice for special occasions.
12. Full Sleeve Hakoba Blouse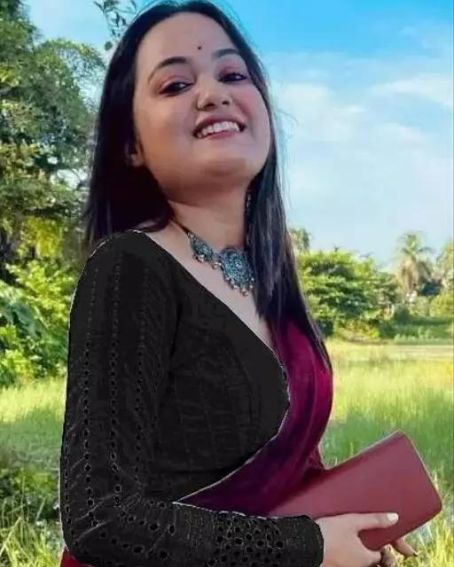 A full sleeve Hakoba blouse offers a classic and elegant look. The Hakoba fabric, with its delicate embroidery and full sleeves, exudes a sense of grace and femininity. This style is suitable for traditional events and adds a touch of modesty to the overall appearance.
13. Kalamkari Printed Cotton Stitched Plus Size Blouse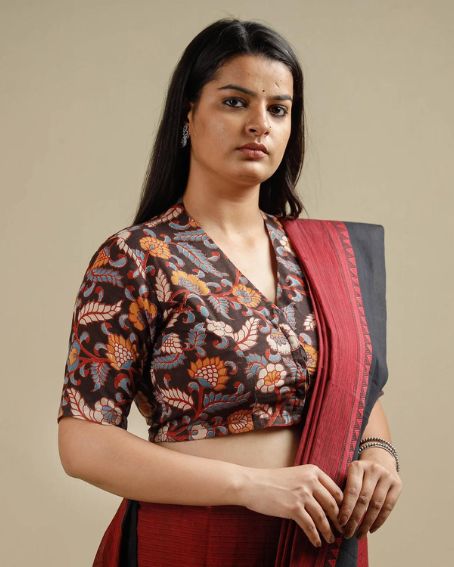 The Kalamkari printed cotton blouse designed for plus-size wearers combines the beauty of Kalamkari prints with the comfort of cotton. It offers a unique and earthy look, making it a comfortable and stylish choice for everyday wear.
14. Pink and Mustard Checks Plus Size Blouse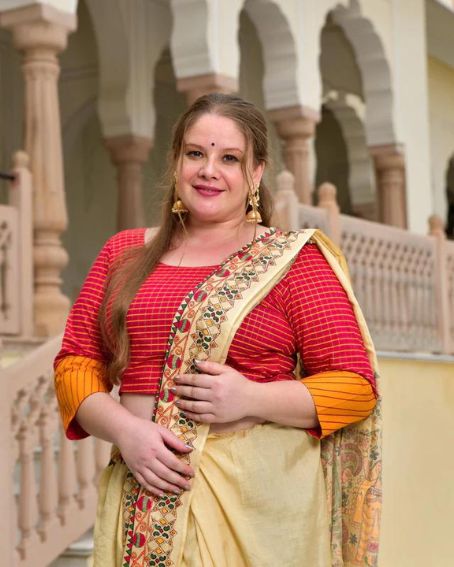 Pink and mustard checks are a delightful choice for a plus-size blouse. This pattern adds a sense of playfulness and liveliness to your saree ensemble, while the plus-size fit ensures comfort and confidence.
15. Multi Colour Ikkat Ajrak Plus Size Blouse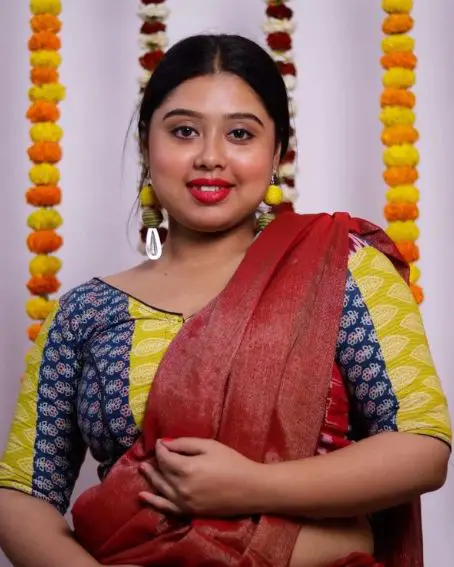 A multi-color Ikkat Ajrak blouse designed for plus-size wearers is a fusion of two traditional Indian fabric styles. Ikkat and Ajrak prints create a stunning combination of patterns and colors. This blouse showcases the diversity and artistry of Indian textiles.
16. White Khadi body with Red Chikon Sleeves Padded Plus Size Blouse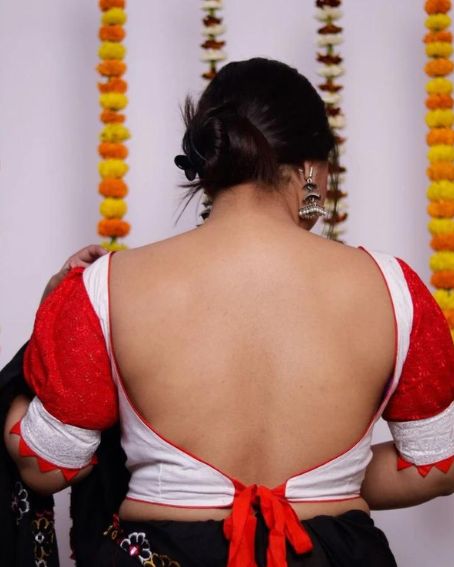 A white Khadi body with red Chikon sleeves offers a unique and textured look. The combination of Khadi and Chikon embroidery adds a touch of ethnic charm, while the padded design ensures comfort and style for plus-size individuals.
17. Velvet Stone Work Designer Blouse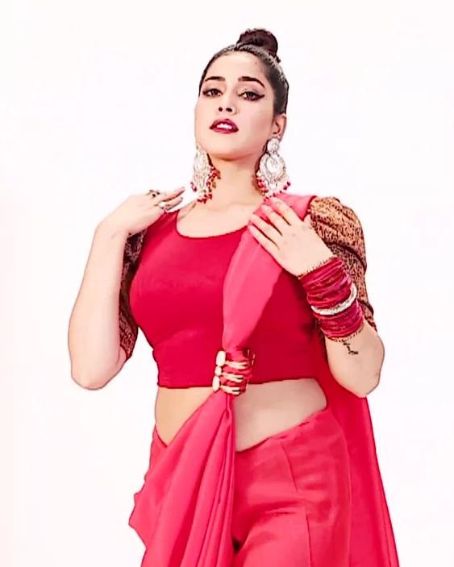 A velvet stone work designer blouse is a luxurious choice for special occasions. The velvet fabric is known for its softness and elegance, and the stone work adds a touch of opulence. This blouse is perfect for adding a touch of glamour to your saree.
18. Mandali Kalamkari Blouse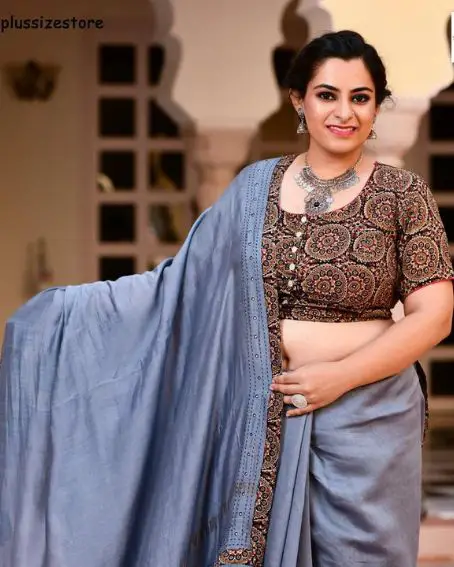 The MANDALI Kalamkari blouse is a work of art. Kalamkari is a traditional Indian art form known for its intricate hand-painted designs. This blouse showcases the beauty of Kalamkari, making it a unique and culturally rich choice for those who appreciate heritage and craftsmanship.
19. Pastel Saree with Blue Designer Blouse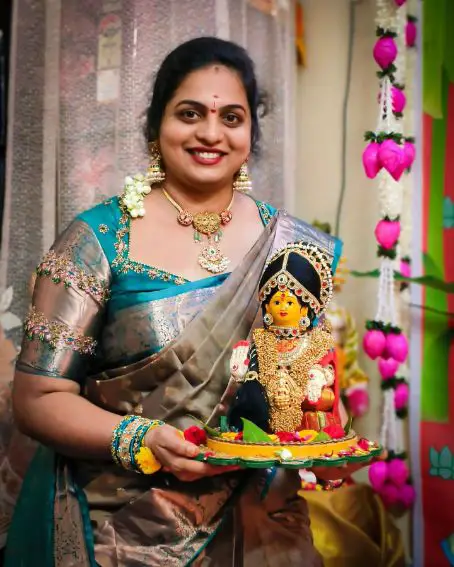 A pastel saree paired with a blue designer blouse is a graceful and modern choice. The pastel shades exude softness and sophistication, while the designer blouse with blue elements adds a contemporary touch to the ensemble.
20. Beige Saree with Maroon Blouse Design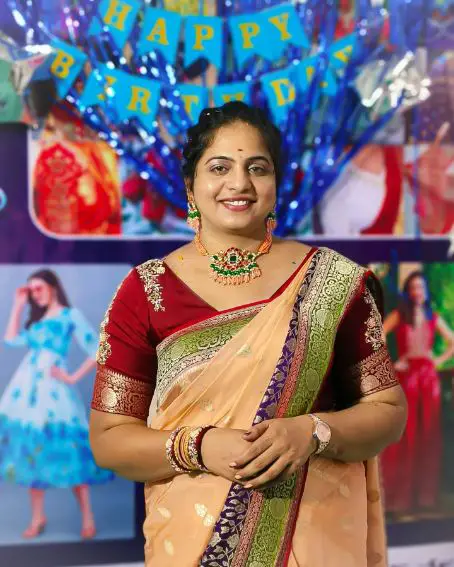 A beige saree with a maroon blouse design creates a rich and earthy look. Beige is a neutral color that pairs well with the bold maroon, resulting in an elegant and versatile combination suitable for various occasions.
What Are The Features of the Blouses Designs Plus Size?
Blouse designs for plus size individuals often include several features tailored to provide comfort and style.
Here are some common features found in plus size blouse designs:
Flattering Silhouette: Plus size blouses are designed to flatter the curves and highlight the best features of the body. They often have strategic tailoring or draping that accentuates the waist and provides an overall balanced and proportionate look.
Versatility: Plus size blouses come in a wide variety of styles and designs, suitable for different occasions. They can range from casual to dressy, allowing for versatility in styling options. This versatility allows individuals to create different looks and cater to various events or personal preferences.
Attention to Fit: Plus size blouse designs prioritize fit to ensure a comfortable and flattering appearance. They consider the specific proportions and needs of plus size bodies, offering structures that accommodate curves, provide adequate room in the bust and shoulders, and offer adjustable features like waist ties or elastic bands for a customized fit.
Fabric Choices: Plus size blouses are made from various fabrics to provide comfort and a polished look. Fabrics like cotton, chiffon, silk, and stretch blends are commonly used to ensure breathability, ease of movement, and durability. Depending on personal preferences and the occasion, individuals can choose from a range of fabrics that suit their style and comfort needs.
Stylish Details: Plus size blouse designs often incorporate stylish details like prints, patterns, embellishments, and sleeve styles. These details add visual interest and personality to the blouse, allowing individuals to express their personal style and make a statement.
What Are the Fabrics and Colors for Plus Size Blouse Designs?
Plus size blouse designs can be crafted from a variety of fabrics, and the choice often depends on personal preferences and the occasion. Some popular fabrics for plus size blouses include chiffon, georgette, silk, and cotton. These materials are comfortable and allow for a flattering fit.
When it comes to colors, plus size blouses offer a wide range of options. Darker shades like navy blue, deep red, black, and royal purple are often favored as they have a slimming effect. However, lighter hues and pastel colors can also be chosen based on individual style and the specific event.
What Are The Plus Size Blouse Designs for Brides ?
Yes, there are plenty of plus size blouse designs tailored for brides. Bridal blouses for plus size women often feature intricate embroidery, beadwork, sequins, and other embellishments to add elegance and glamor to the wedding ensemble. They may come in traditional white or ivory, but modern brides are also embracing various pastels and even bold colors to match their wedding themes.
Trendiness of Plus Size Blouse Designs
The trendiness of plus size blouse designs can be attributed to several factors.
Firstly, the fashion industry has become more inclusive, recognizing the diverse body types of women. Designers and brands have increasingly started creating stylish and flattering options for plus size individuals, including blouse designs.
Secondly, social media and body positivity movements have played a significant role in changing beauty standards and promoting self-confidence. Plus size fashion influencers and bloggers have showcased stylish plus size outfits, including blouses, to a wider audience, inspiring others to embrace their bodies and explore fashion options.
Lastly, the demand for plus size fashion has grown as more women seek comfortable and fashionable clothing options regardless of their body size. This increasing demand has driven designers to create more innovative and trendy plus size blouse designs.
What Are The Pairing With These Plus Size Blouse Designs ?
Plus size blouse designs can be paired with a variety of sarees and lehengas to create stylish and flattering outfits. The choice of saree or lehenga largely depends on individual preferences, the occasion, and the overall look you want to achieve. Here are some popular options:
A-Line Lehenga: A-line lehengas, which are fitted at the waist and flare out towards the hem, work well with plus size blouse designs. They provide a balanced and flattering silhouette, and you can choose from various fabrics and embellishments to match the blouse.
Anarkali Suits: Anarkali suits feature a flowing, flared kurta paired with leggings or a churidar. Plus size blouse designs can be paired with an Anarkali suit for a regal and elegant look. Ensure the length of the kurta is appropriate to your height for a well-proportioned appearance.
Straight-Cut Lehenga: Straight-cut lehengas have a straight silhouette and can be a good choice for plus size individuals. They offer a sleek and contemporary look when paired with the right blouse design.
Sarees: When pairing a plus size blouse with a saree, consider the fabric and drape of the saree. Georgette, chiffon, and silk sarees are often favored for their flowy and flattering drape. You can choose from a wide range of saree styles, from traditional to contemporary, based on your personal style and the occasion.
Flared Lehenga Skirts: Lehenga skirts with a flared design can create a beautiful and balanced look when combined with a plus size blouse. These skirts come in various lengths and can be customized to match your preferences.
Traditional Sarees: Traditional silk sarees like Kanjeevaram, Banarasi, and Paithani sarees can be paired with plus size blouse designs for a classic and regal appearance. These sarees often feature intricate woven or embroidered patterns.
Half Sarees: Half sarees, which consist of a skirt, blouse, and drape, are another excellent choice. They offer a youthful and vibrant look and can be customized to match your style.
Plus-size blouses should be designed with careful attention to fit, fabric choice, and style to ensure that they are not just larger versions of standard-sized garments, but rather tailored to flatter and provide confidence to the wearer. Embracing a diverse range of body sizes and shapes in the fashion world helps promote self-confidence and empowers individuals to express their unique style.
Related Articles