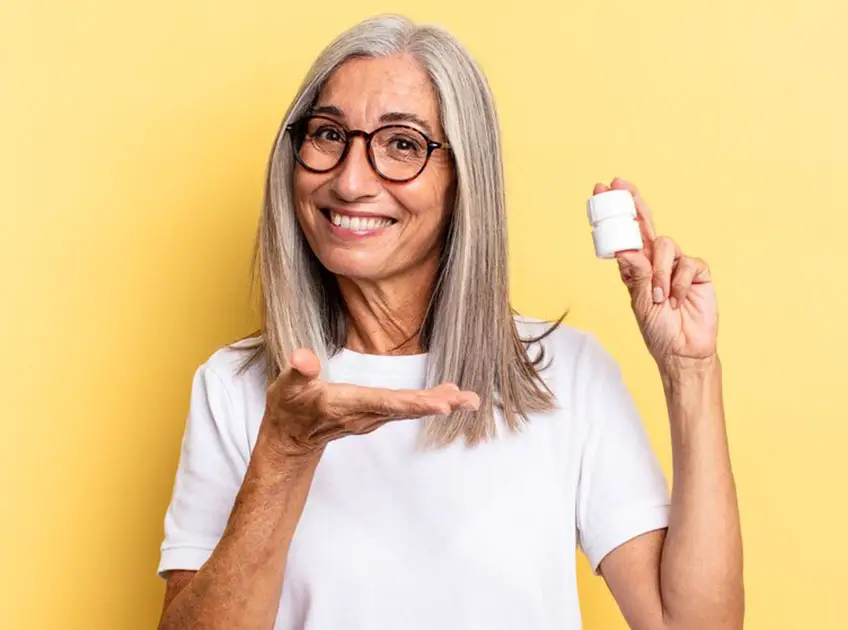 Keeping the gut healthy can alone curb a lot of health issues. As we age, the rate of metabolism slows down, and so do the bacterial colonies in our guts. They mature at the same rate as the rest of our bodies.
As women turn 50, hormonal changes, age-related illnesses, certain medications, and many more things can impact their gut biome. Also, the body loses the ability to handle certain foods. It leads to digestive issues like bloating, constipation, acidity, etc.
Fortunately, we have probiotics that can replenish the supply of healthy germs and ensures our digestive system operates efficiently. Women in their midlife struggling for a healthy digestive system can pick one of the probiotics for women over 50 and retain their gut's sanity.
Regular intake of probiotics will furnish a fresh supply of good bacteria, easing the digestive process and minimizing discomfort.
Check out the best probiotics for women over 50.
10 Best Probiotics For Women Over 50
1. Elm & Rye Daily Probiotic
Offering multiple health products, the probiotics from Elm & Rye is highly effective. Their active ingredient is Lactobacillus Acidophilus 30, a clinically studied broad-spectrum strain that contributes significantly to the gut and immune system.
This product is produced in a GMP-certified and NSF-approved state-of-the-art manufacturing facility in the US. One capsule daily will help you experience less gas and a nice boost in the digestive tract and energy levels.
2. Probiology Gut+
Designed to combine all the premium bacterial strains, probiotics from Probiology Gut+ are an ultimate choice for older women. It supports gut health and helps improve digestion, boost energy and focus, and strengthen immunity. Also, it improves skin health.
It is dairy-free, soy-free, gluten-free, contains zero preservatives, and is GMP-certified, made in the USA. The major component in this product is lactobacillus acidophilus, which balances good gut bacteria and reduces bifidobacterium lactis, that aids in nutrient absorption.
[ Read: 17 Healthy Foods That Helps in Improving Digestion ]
3. Garden Of Life Doctor Formulated Probiotics
It is one of the best probiotics for women over 50, consisting of 16 diverse Lacto and Bifido strains for digestive health.
It supports the gut and vaginal health as it has, that is, L. reuteri & L. fermentum- strains clinically studied for vaginal health. Besides, it boosts the immune system.
The product comes in a shelf-stable, easy-to-swallow vegetarian capsule, so it's just one and done. It helps women achieve their fitness and life goals with no hassle.
4. Culturelle Digestive Daily Probiotic
Powdered with Lactobacillus rhamnosus (LGG), a proven effective and clinically studied probiotic strain, this probiotic helps your digestive system work better. It is also induced with 200 mg insulin, which helps deal with digestive issues easily.
A single capsule of this product can help say goodbye to all the stomach problems like gas, bloating, and irregular bathroom experiences. Culturelle Pro Strength is vegetarian and contains no gluten, milk, soy, or preservatives.
It is perfect for women looking for a natural treatment for occasional digestive system issues.
5. Physician's Choice Probiotics
Loaded with ten diverse strains and organic prebiotics, the Physician's Choice Probiotics is an affordable product to keep your digestive tract working efficiently. It is formulated keeping in mind the gut health of mature women so that they can easily tackle most of the challenges of the digestive tract.
It deals with occasional gas, bloating, constipation, and irregular experiences in the restroom. With the proven ability to foster a healthy gut biome, this product is one of the best for women over 50.
[ Read: How to Use Olive Oil for Constipation Relief? ]
6. Swanson's Probiotics For Daily Wellness
Being one of the most potent gastrointestinal health support systems, Swanson's Probiotics is a perfect solution for diverse digestive issues. It delivers essential nutrients to help your gut run smoothly and promote bowel regularity.
Each wellness supplement from Swanson's is made in their GMP-certified facilities, and their purity and potency testing include independent third-party labs. Therefore, it is one of the reliable brands in health and wellness.
One capsule of Swanson's Probiotics daily can boost women's overall health.
7. GNC Probiotic Complex Daily Need
Both potency and value of GNC Probiotic Complex Daily Need are clinically studied to ensure it provides digestive and immune support. It consists of different strains of live and active probiotic cultures that support gut health and boosts overall immunity.
Women looking for efficient probiotics can get this product as it is clinically proven to help with multiple health issues. It deals with occasional gas and bloating that most women experience in their midlife.
8. RenewLife Health & Wellness Ultimate Flora Probiotic
Taking control over your digestive health, the RenewLife Health & Wellness Ultimate Flora Probiotic is a perfect solution for multiple health issues. It contains 12 diverse strains that protect and boost women's digestive health.
At the same time, it is beneficial for vaginal health as it consists of clinically tested strains shown to balance healthy pH and yeast levels. Also, it includes the potent lactobacillus acidophilus to support vaginal health.
RenewLife Health & Wellness Ultimate Flora Probiotic is backed by over 25 years of clinical trials with women; therefore, it is reliable.
9. Align Probiotic
This probiotic is one of the most recommended products by gastroenterologists. The presence of proven and well-studied strain Bifidobacterium 35624 naturally helps soothe occasional abdominal discomfort, gas, and bloating.
It is a gluten-free, vegetarian & soy-free product, suitable for women with vegan preferences. So, if you are fed up with visiting the bathroom every now and then due to digestive issues, Align Probiotics is the right solution. All you need is to take one capsule in the morning and stay assured for the rest of the day.
[ Read: 7 Easy Exercises and Stretches to Relieve Gas and Bloating ]
10. Nutrition Essentials Store Organic Probiotics For Women & Men
The formulation of these probiotics is backed by research and clinical trials. It is 62% more stable probiotic supplement for gut health support. The formula is based on B.coagulans, a potent strain backed by years of research.
This strain retains its full potency and reaches the intestines to ensure a healthy gut biome. Since their formula undergoes in-vitro pH testing, there will be no stomach irritation. It is dairy and gluten-free, and it's suitable for vegetarians.
Final Words
Gut health becomes a prime concern as women reach certain age due to increasing digestive issues. A perfect probiotics supplementation can help keep all of them at bay and ensure a healthy digestive tract.
These are the best probiotics for women over 50 as they are clinically studied and proven. Choose any of them and stay healthy and happy.
You Might Also Like: