A blouse with the sleeves, puffed or gathered at the top. This blouse can be made with lighter fabric such as cotton and chiffon and heavier fabric like silk and satin.
These blouse designs are a popular good choice for formal and semi-formal occasions.
20 Latest and Trendy types in Latest Puff Sleeve Designs
1. Embellished Slip-On Blouse with Puff Sleeves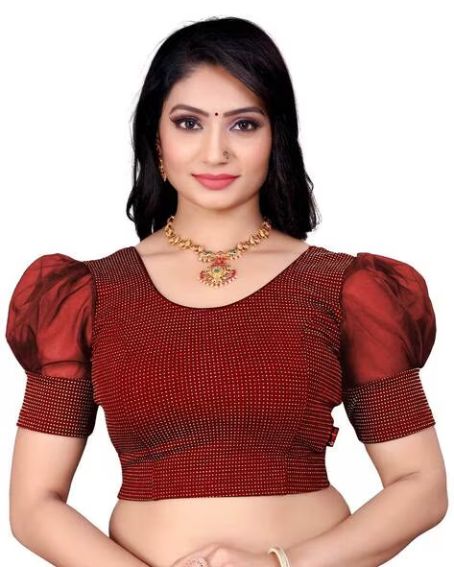 Embrace opulence with this design adorned with intricate embellishments, adding glamor to your attire. The puff sleeves elevate its style quotient.
2. Back-Open White organza fabric Blouse with Puff Sleeves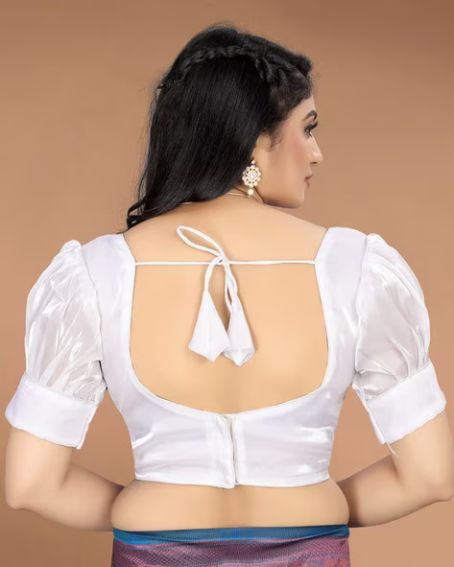 A contemporary twist on tradition, the back-open blouse with puff sleeves creates a perfect blend of modernity and ethnicity.
3. Embroidered Yellow Coloured Blouse with Puff Sleeves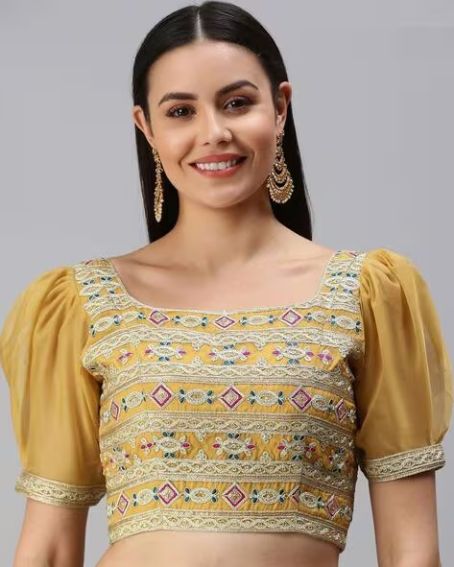 Artistry meets fashion in this design featuring intricate embroidery, enhancing the allure of the blouse with stylish puff sleeves.
4. Back-Open Organza Blouse with Puff Sleeves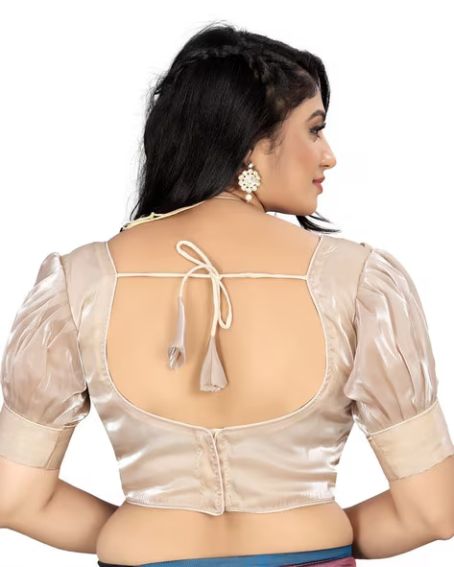 The sheer elegance of organza fabric, combined with a back-open design and puffy sleeves, offers a sophisticated and modern look.
5. Lipstick Red Blouse in Raw Silk With Puff Shoulders And Half Sleeves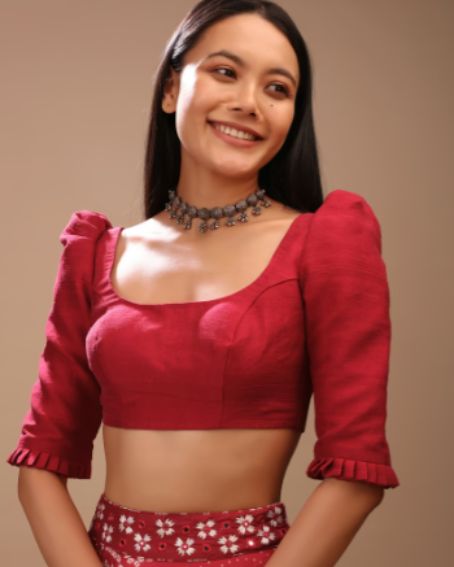 This design is sure to turn heads with its bold color choice and distinctive puff shoulder detail. It's a perfect choice for women, young girls, and teenagers who want to make a fashion-forward statement.
6. Striking Firozi Blue Puff Sleeveless Elbow Length Blouse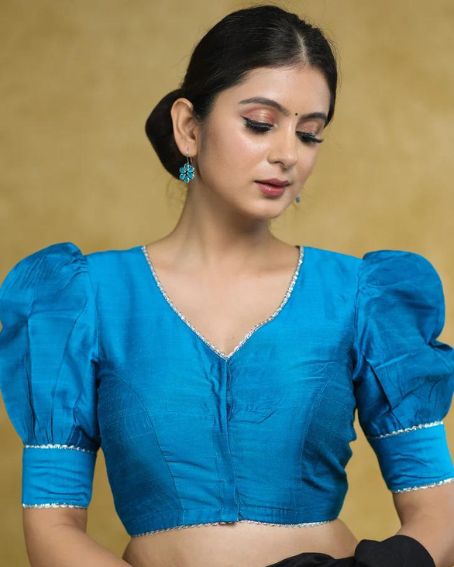 The vibrant hue and sleeveless puff design exude contemporary charm, making it an ideal choice for both casual and festive occasions.
7. White Net Puff Sleeved Raw Silk Blouse with Gota Detailing and Ruffles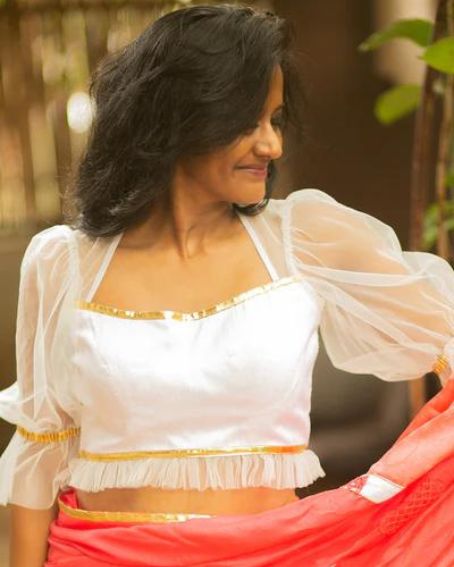 Elegance meets playfulness in this design, where net puff sleeves are adorned with gota work and ruffles, creating a balanced yet trendy look.
8. Orange & White Floral Pure Square Neck Blouse with Puff Sleeves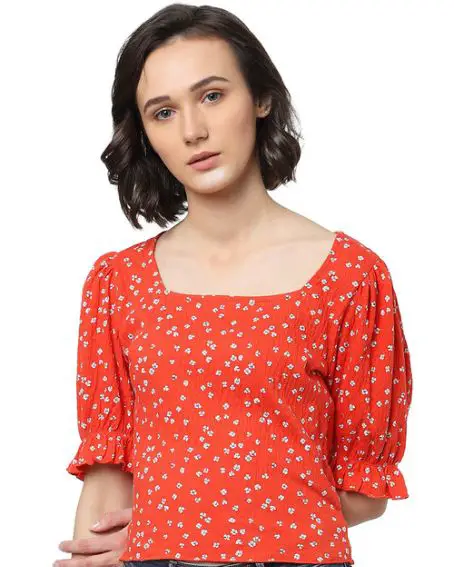 Floral patterns meet puff sleeves, showcasing a fusion of feminine grace and modern flair, perfect for a refreshing ensemble.
9. Red Checked Pure Raw Silk U Neck Blouse with Puff Sleeves
Checks add a traditional touch to the contemporary puff sleeves, making this design a standout choice for casual occasions.
10. Multicolour Small Checked Pure Raw Silk U Neck Blouse with Puff Sleeves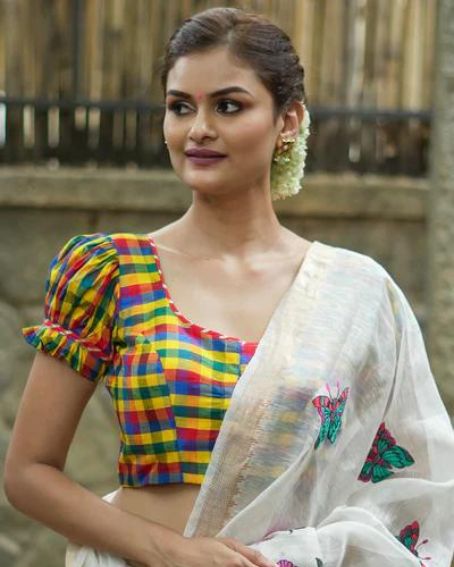 Combining vibrant colors and small checks, this blouse design captures attention with its unique combination of classic and trendy elements.
11. Printed Round Neck Puff Sleeves Cotton Saree Blouse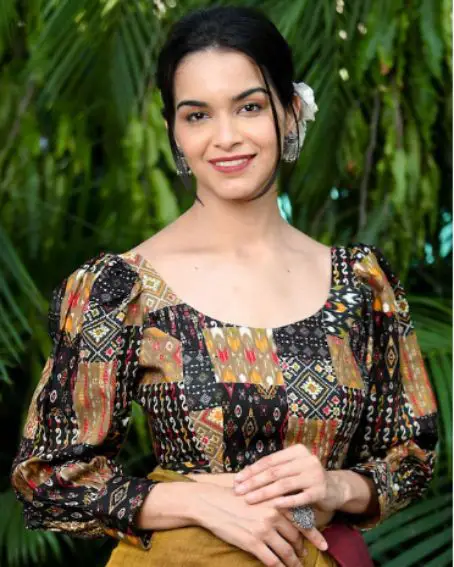 Prints and puff sleeves intertwine to create a youthful and versatile design, suitable for a range of occasions.
12. Classic Indigo Chanderi Work Blouse Design with Full Sleeve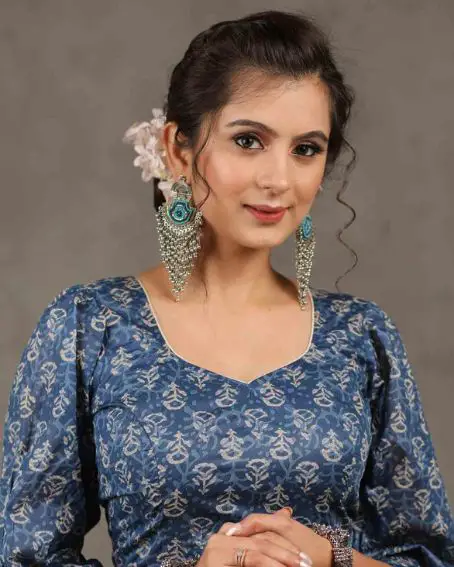 The timeless appeal of indigo chanderi fabric meets the modern puff sleeves, striking a balance between classic and contemporary.
13. White Organza Scallop Trim Saree With Puff Sleeve Blouse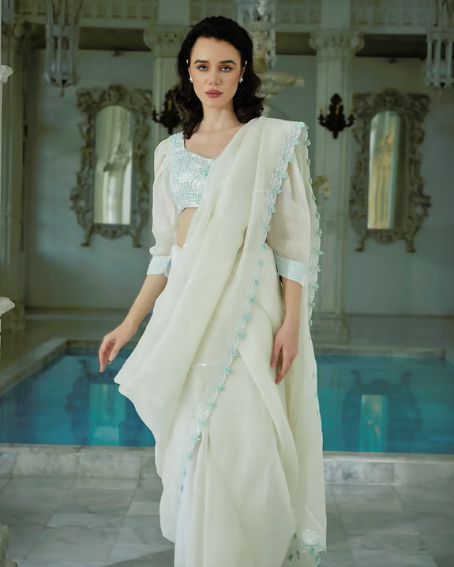 The delicate organza fabric with scallop trim detailing and puff sleeves adds an ethereal touch to your ensemble, perfect for special occasions.
14. Brown Tissue Silk Francisca Puff Sleeve Blouse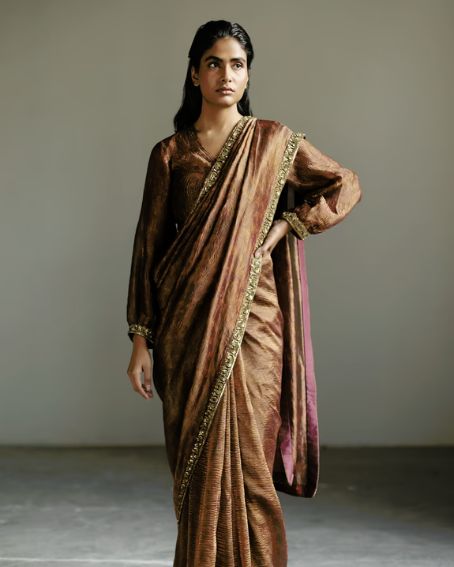 Tissue silk lends a regal touch, while the puff sleeves infuse a modern edge, resulting in a blouse design that exudes sophistication.
15. Grey Viscose Dupion Ocean Print Puff Sleeve Blouse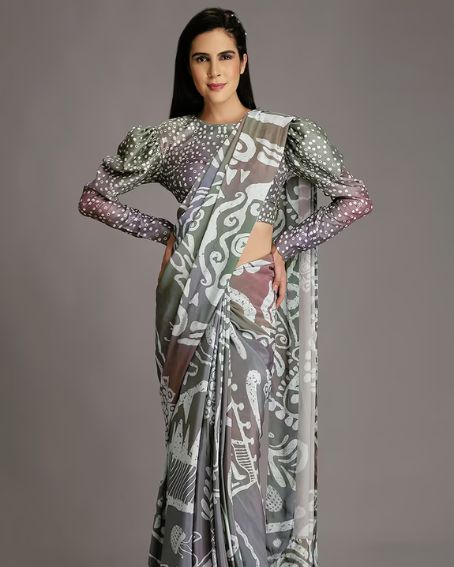 The ocean-inspired print on gray viscose dupion fabric, combined with puff sleeves, brings a refreshing and artistic touch to the attire.
16. Lace Detailing Puff Sleeves Saree Blouse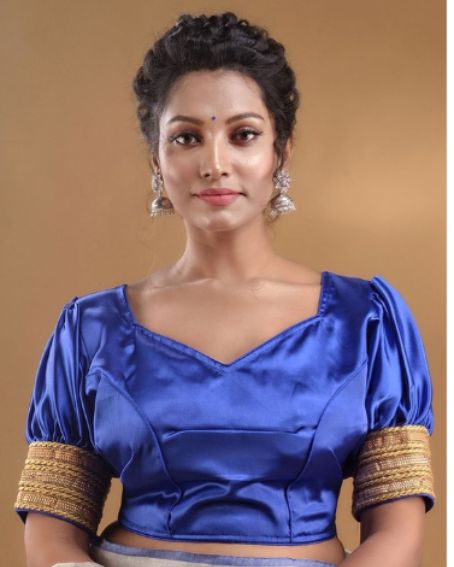 Lace detailing and puff sleeves harmonize beautifully, creating a design that's both feminine and fashion-forward.
17. Embroidered Sequinned Puff Sleeves Stretchable Saree Blouse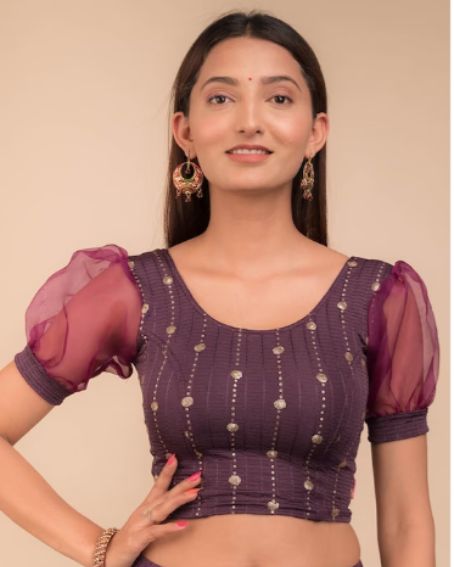 Sequin embroidery adds glamor, and stretchable fabric ensures comfort, making this blouse design ideal for occasions that demand both style and ease.
18. White Opulence Tulle Saree with Puff Sleeve Blouse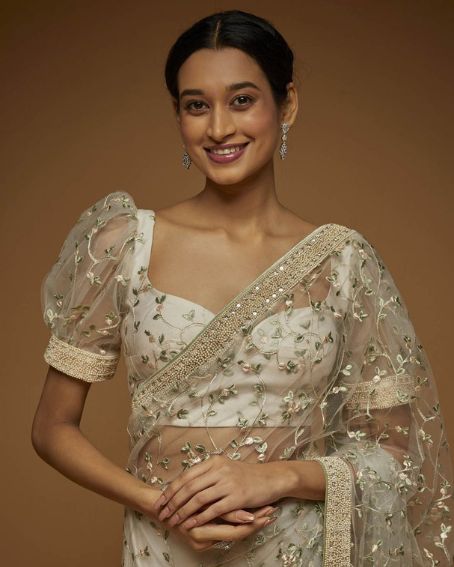 Opulent tulle saree paired with puff sleeve blouse creates a fairy-tale look, blending fantasy and fashion effortlessly.
19. Printed Saree With Coin Work Puff Sleeve Blouse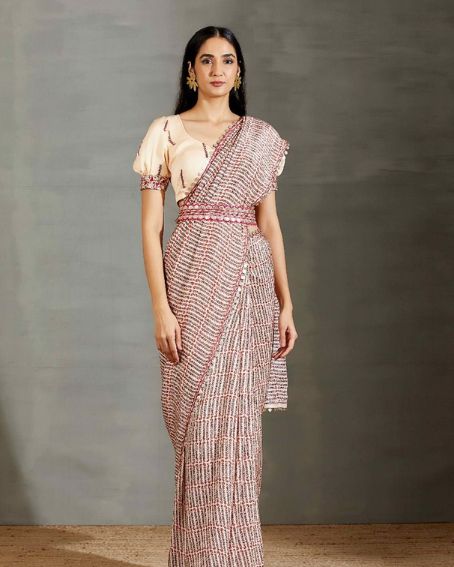 Coins work their charm on puff sleeves, elevating the elegance of the blouse and making it a perfect choice for festive celebrations.
20. Black Kalamkari Sweetheart Neck Blouse with Net Puff Sleeves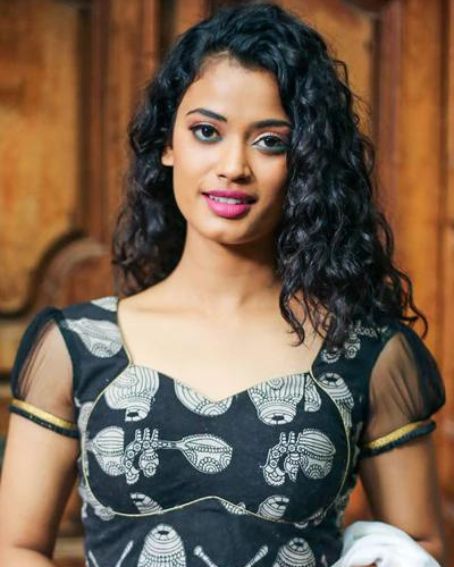 Kalamkari artistry meets contemporary design in this blouse, where net puff sleeves add a modern twist to the traditional charm.
What Are The Features of the Latest Puff sleeves designs?
Volume and Proportion: Puff sleeves are characterized by their voluminous appearance around the shoulder and upper arm. The amount of volume can vary, from subtle puffing to dramatic oversized styles.
Length: Puff sleeves can be short, stopping at or above the elbow, or they can be long, extending down to the wrist.
Gathering Technique: The puff effect is achieved through gathering or pleating the fabric. Some designs use elastic at the top of the sleeve to create a gathered look, while others rely on traditional pleating or ruching techniques.
Variations in Shape: Puff sleeves can come in different shapes, such as balloon sleeves, leg-of-mutton sleeves (which are narrower at the shoulder and puff out around the upper arm), and bishop sleeves (which are full-length puff sleeves that taper at the wrist).
Necklines: Puff sleeves can be paired with various necklines, including off-the-shoulder, square neck, scoop neck, and more, depending on the overall style of the garment.
Fabric and Texture: Puff sleeves can be made from a variety of fabrics, from lightweight and sheer materials like chiffon or lace to more structured fabrics like cotton or silk. The choice of fabric can greatly impact the overall look and feel of the sleeves.
Embellishments: Some puff sleeve designs incorporate embellishments like lace, embroidery, sequins, or ruffles to enhance their visual appeal.
Color and Print: Puff sleeves can be found in a wide range of colors and prints to suit different preferences and occasions.
Styling Options: Puff sleeves can be styled in various ways, whether as part of a casual outfit, formal attire, or even bridal gowns.
Versatility: Puff sleeves can be incorporated into various types of clothing, including blouses, dresses, tops, and even outerwear like jackets and coats.
What Are The fabrics Used to make this Puff Sleeve Blouse Design?
Cotton: Cotton is a versatile fabric suitable for casual and semi-formal occasions. It's breathable and comfortable to wear.
Silk: Silk adds a touch of elegance and is often chosen for more formal occasions. It drapes beautifully and can make a blouse look luxurious.
Chiffon: Chiffon is a lightweight and sheer fabric, commonly used for puff sleeves in more delicate and feminine designs. It's often chosen for special occasions.
Lace: Lace fabrics can be used for creating intricate and detailed puff sleeves, suitable for semi-formal to formal events.
Satin: Satin gives a glossy finish and is often used for creating a rich and polished look. It's suitable for formal occasions.
On What Occasions Do Women Prefer to Wear This Puff Sleeve Blouse?
Casual Wear: Simple puff sleeve blouses made from cotton or other comfortable fabrics can be worn for everyday casual outings or gatherings.
Semi-Formal Events: Blouses with slightly more structured puff sleeves made from silk or satin can be suitable for semi-formal occasions like dinner parties or cocktails.
Formal Events: Elaborate puff sleeve blouses made from luxurious fabrics like silk, satin, or lace can be worn to formal events such as weddings, galas, or black-tie parties.
Date Nights: Puff sleeve tops or dresses can be a great choice for a romantic date night. They can create a romantic and elegant look, especially when paired with a flattering silhouette.
Workwear: Some more subtle versions of puff sleeves can be appropriate for workwear, especially in creative or fashion-forward industries where there's more flexibility in dress code.
Cocktail Parties: For women, young girls, and teenagers, consider puff sleeve dresses as a stylish option for cocktail parties and semi-formal events. Seek out dresses that strike the perfect balance between a touch of puffiness and a dash of sophistication.
Summer Events: Lightweight puff sleeves can be comfortable for outdoor events during the summer. They allow for some ventilation while still looking stylish.
Fashion Runways: High-fashion puff sleeve designs often appear on fashion runways and can inspire creative and avant-garde outfits for fashion events and photo shoots.
Date Nights: Puff sleeve tops or dresses can be a great choice for a romantic date night. They can create a romantic and elegant look, especially when paired with a flattering silhouette.
What Clothes Can Be Paired with Puff Sleeve Blouse Designs?
The latest puff sleeve blouse can be paired with a variety of garments to create stylish and fashionable outfits. Here are some options:
High-Waisted Jeans: Puff sleeve blouses look great when paired with high-waisted jeans. This combination creates a trendy and flattering silhouette by cinching at the waist and highlighting the puff sleeves.
Midi or Maxi Skirts: A puff sleeve blouse can be paired with a midi or maxi skirt for a feminine and elegant look. This combination is perfect for both casual and semi-formal occasions.
Wide-Leg Trousers: Wide-leg trousers, whether in a classic or trendy pattern, can balance the volume of puff sleeves and create a chic and sophisticated outfit.
A-Line or Wrap Skirts: A-line skirts and wrap skirts are versatile options that complement puff sleeve blouses. They create a balanced and flattering silhouette.
Tailored Shorts: For a relaxed and summery ensemble, women, young girls, and teenagers can easily pair their puff sleeve blouse with well-fitted shorts. This combination makes for the ideal choice whether you're heading out for a casual day or enjoying a brunch date.
High-Waisted Culottes: Culottes are stylish and comfortable, and they pair well with puff sleeve blouses. This combination is suitable for both work and casual settings.
Pencil Skirts: If you want a more formal or office-appropriate look, consider pairing your puff sleeve blouse with a classic pencil skirt. This combination exudes professionalism and style.
Mini Skirts: To create a fun and flirty look, you can pair your puff sleeve blouse with a mini skirt. This combination is great for a night out with friends or a special occasion.
Layered Under a Jumpsuit or Overalls: For a unique and trendy outfit, layer your puff sleeve blouse under a jumpsuit or overalls. This adds an unexpected twist to your overall style.
Layered Under a Slip Dress: For a fashionable and edgy look, consider layering your puff sleeve blouse under a slip dress. This combination adds texture and interest to your outfit.
Latest Puff Sleeve Blouse Designs: Adding Elegance and Style to Indian Women's Attire
What Are Some Puff Sleeve Blouse Designs Suitable for Brides?
Classic Puff Sleeve Blouse
This design features voluminous puff sleeves that start at the shoulder and taper down towards the wrist.
It can be made from a variety of fabrics, including silk, satin, or lace, depending on your bridal outfit.
You can add embellishments like sequins, embroidery, or beadwork to make it more intricate.
Sheer Puff Sleeve Blouse
Combine the puff sleeve trend with a sheer fabric like chiffon or organza for a delicate and romantic look.
Embellish the sheer sleeves with lace, floral appliques, or crystals for added glamor.
Off-Shoulder Puff Sleeve Blouse
This design combines the charm of off-shoulder necklines with puff sleeves, creating a fashionable and bold bridal look.
You can opt for a sweetheart neckline or a straight neckline, depending on your preference.
Ruffled Puff Sleeve Blouse
Enhance the charm of this blouse by adding layers of ruffles to the puff sleeves, creating a playful and feminine touch. Women, young girls, and teenagers can opt for ruffles made from either the same fabric as the blouse or contrasted with a complementary material for a personalized and stylish look.
Balloon Sleeve Blouse
Balloon sleeves are similar to puff sleeves but have a slightly different shape, with more gathering at the wrist.
These sleeves provide a unique and contemporary bridal look.
Draped Puff Sleeve Blouse
Incorporate draping or pleating in the puff sleeves for an elegant and sophisticated appearance.
Draped puff sleeves can be made from lightweight fabrics like silk or satin.
High Neck Puff Sleeve Blouse
Combine a high neckline with puff sleeves for a regal and vintage-inspired bridal blouse.
This style works well with traditional and modest bridal looks.
Cape Puff Sleeve Blouse
Elevate your bridal look with a detachable cape featuring puff sleeves, adding a touch of drama and versatility to your outfit. This stunning addition allows women, young girls, and teenagers to transform their appearance by simply removing the cape for a distinct reception look.
Corset-Style Puff Sleeve Blouse
Incorporate a corset-style bodice with a lace-up back to create a structured and chic bridal blouse. Pair it with puff sleeves for a trendy touch.
Embellished Puff Sleeve Blouse
Consider a heavily embellished puff sleeve blouse with intricate beadwork, crystals, or sequins for a glamorous and eye-catching bridal look.
Match the embellishments with your bridal gown for a cohesive appearance
In simple terms, think of puff sleeves as sleeves that have a bit of extra fabric near the shoulder or upper arm area, making them look fuller and more eye-catching. Fashion designers regularly come up with new and creative ways to incorporate puff sleeves into clothing, making them a trendy choice for those who want to stay up-to-date with the latest fashion styles. These designs can vary in size, shape, and detailing, allowing people to choose the one that suits their personal style best. So, if you're interested in staying fashionable, keeping an eye on the latest puff sleeves designs can be a fun way to update your wardrobe.
Related Articles