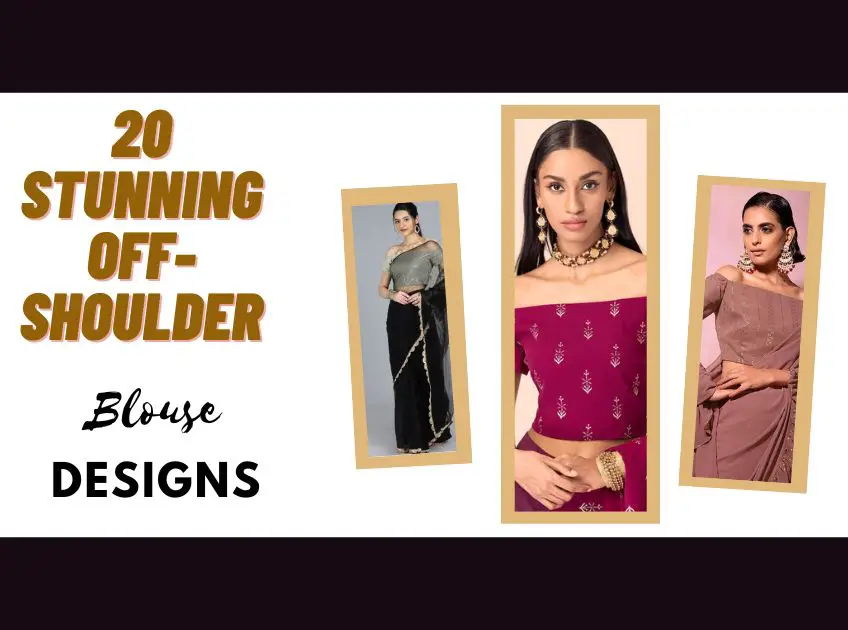 The blouse that doesn't cover the shoulders is nothing but an off-shoulder blouse. It can be made with a variety of fabrics, like chiffon, silk, or georgette. This blouse design has a sophisticated and glamorous look that is perfect for formal events, women's gatherings, and parties.
20 Stunning Off-Shoulder Blouse Designs for Women
1. Off Shoulder Metropolitan Blouse Design for Women's Saree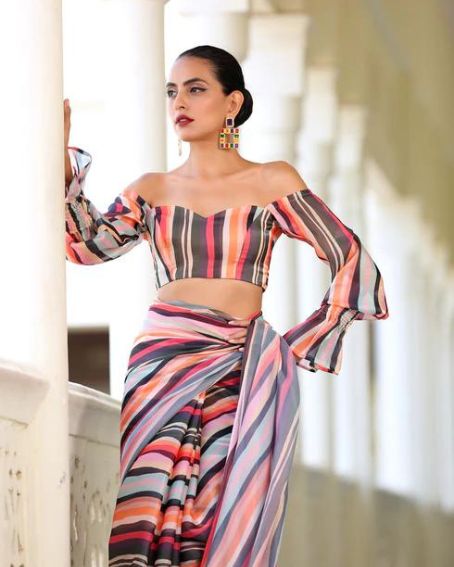 Channel city sophistication with this design, offering a subtle yet alluring shoulder exposure that speaks volumes of your style quotient.
2. Blush Pink Off Shoulder Blouse Design with Deep U Shape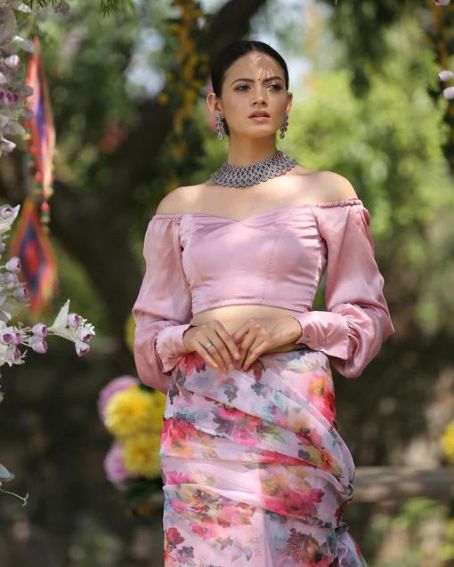 Radiate elegance and grace in this charming blush pink blouse that gracefully showcases your collarbone.
3. Women Pink Solid Off-Shoulder Blouse Design with Floral Design Saree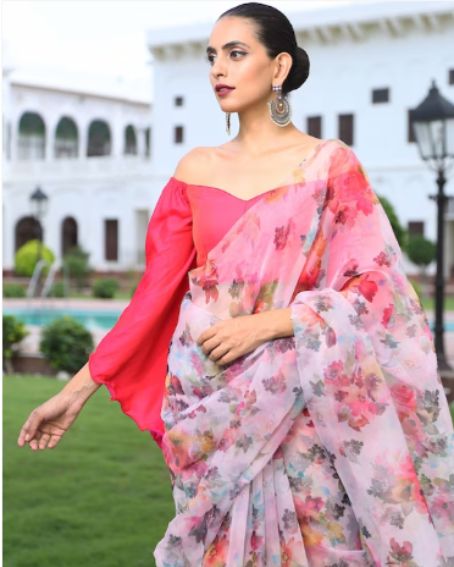 A solid pink masterpiece, an embodiment of fashionable collarbone styles that stand out effortlessly.
4. Women Green Silk Off-Shoulder with Diamond Shape Gold Design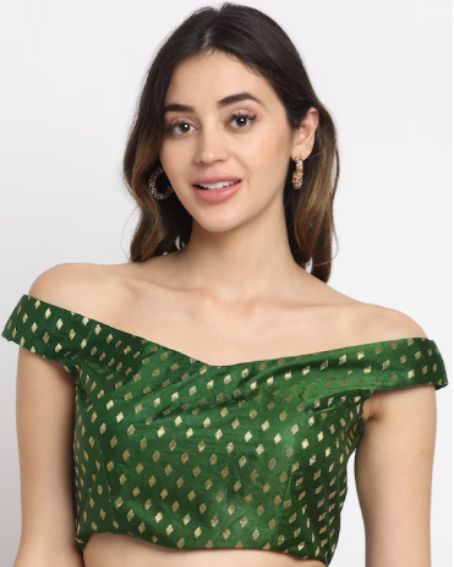 The fusion of traditional prints with the contemporary neckline creates an unforgettable look that's both timeless and trendy.
5. Velvet Maroon Color Off-Shoulder Blouse Design With Pink Saree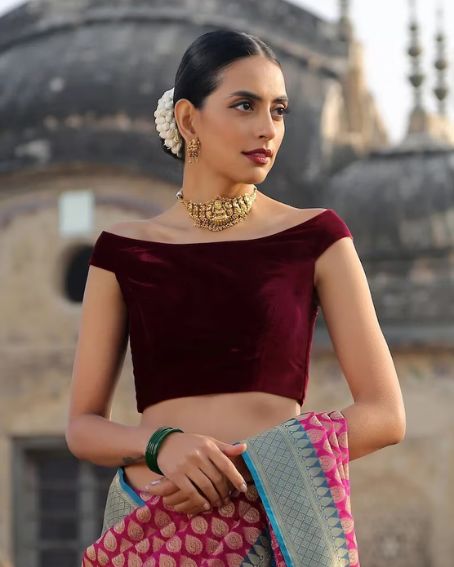 Sumptuous velvet meets the chic off-shoulder trend, resulting in a design that radiates luxury and sophistication, suitable for women, young girls, and teenage girls.
6. Designer Black Color Velvet Off Shoulder Blouse Design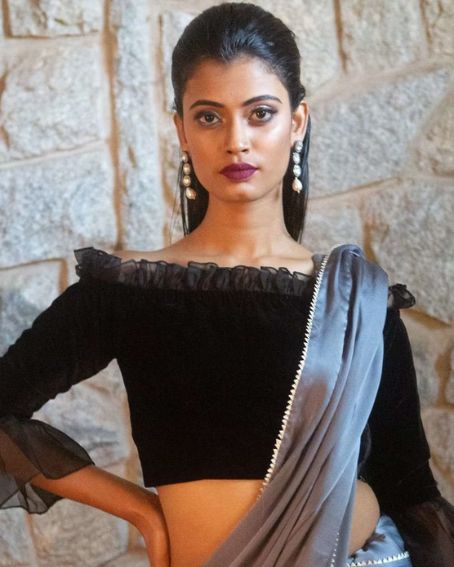 Innovative cutting-edge neckline fashion is highlighted in this designer black velvet wonder, perfect for those special evenings.
7. Printed Purple Colored Off-Shoulder Crop Blouse Design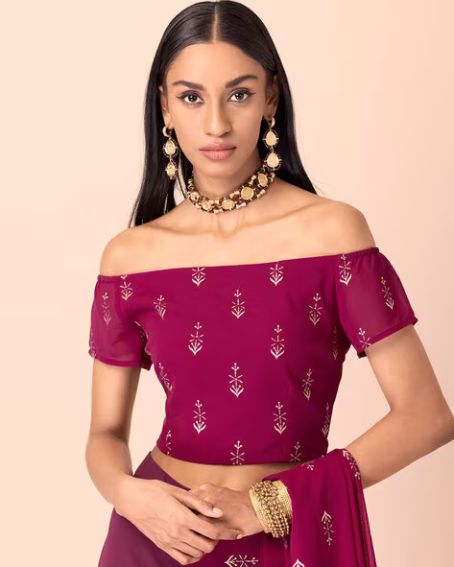 For the free-spirited souls, this printed crop blouse adds a touch of carefree charm to your ensemble.
8. Navy Blue Foil Off Shoulder Blouse For Women Saree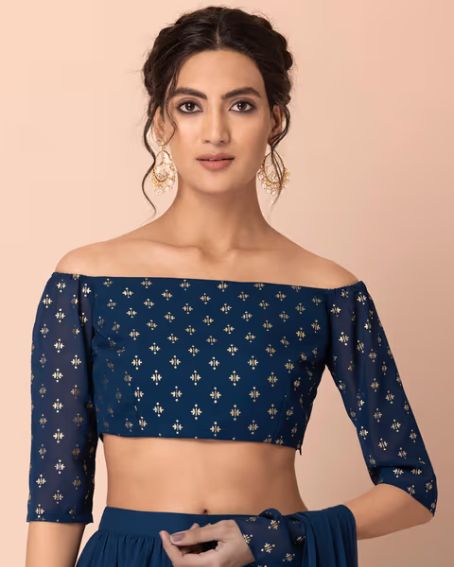 Embrace the shoulder-focused clothing trend with this navy blue foil blouse, a mix of modernity and grace.
9. Pink Coloured Floral Off Shoulder Blouse Design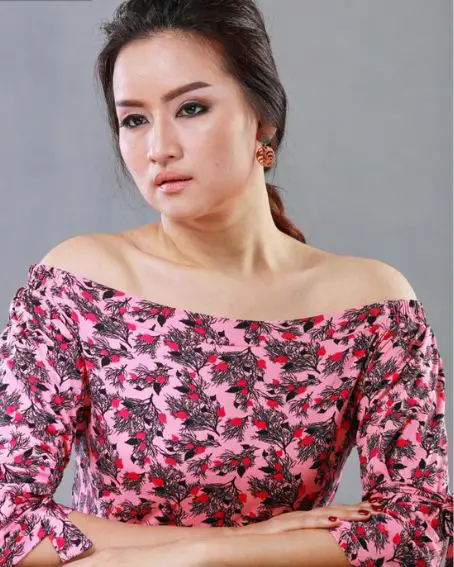 Nature's beauty combines with fashion in this floral masterpiece, demonstrating how contemporary blouse styles can effortlessly charm women, young girls, and teenage girls.
10. Black Saree With An Off Shoulder Gray Colour Blouse Design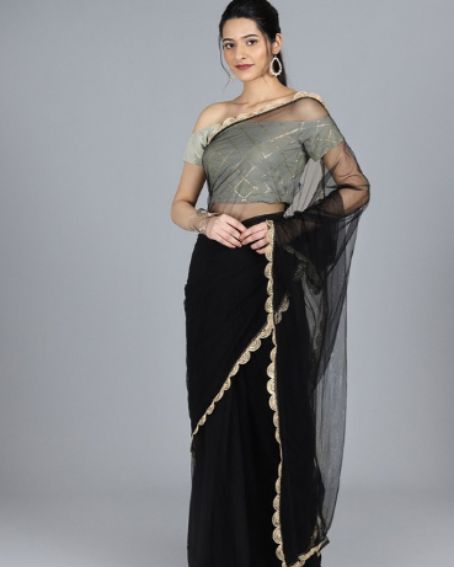 The epitome of shoulder-flaunting ensembles, pairing an off-shoulder blouse with a black saree creates an undeniably bold look.
11. Designer White Color Satin Silk Off Shoulder Blouse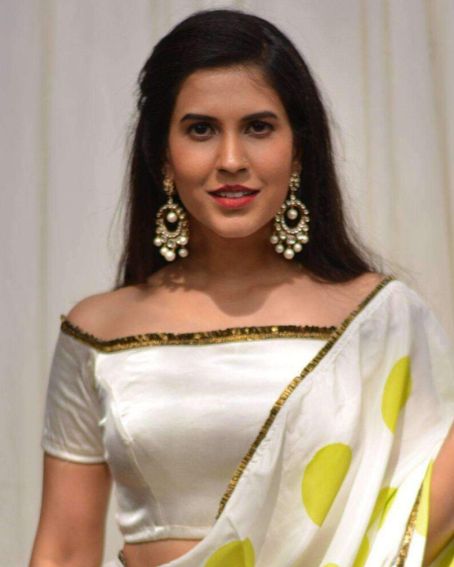 Elegance personified, this white satin silk off-shoulder blouse seamlessly blends the classic with the modern.
12. Blue Drape Saree With Embroidered Off-Shoulder Blouse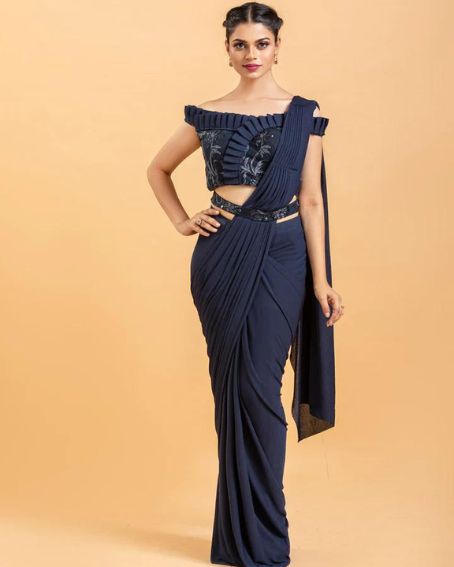 Shoulder exposure fashion reaches new heights with this blue drape saree paired with an embroidered off-shoulder blouse.
13. Dusty Pink Foil Print Off Shoulder Crop Top For Women Saree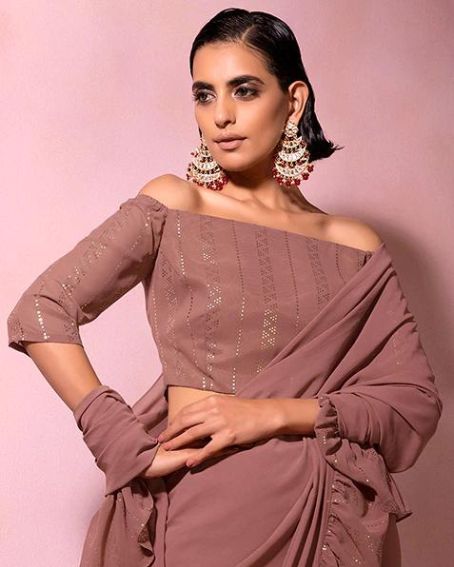 Contemporary blouse silhouettes meet top off-shoulder designs in this dusty pink foil print crop top that's bound to turn heads.
14. Payal Singhal for Indya Wine Gota Off Shoulder Crop Top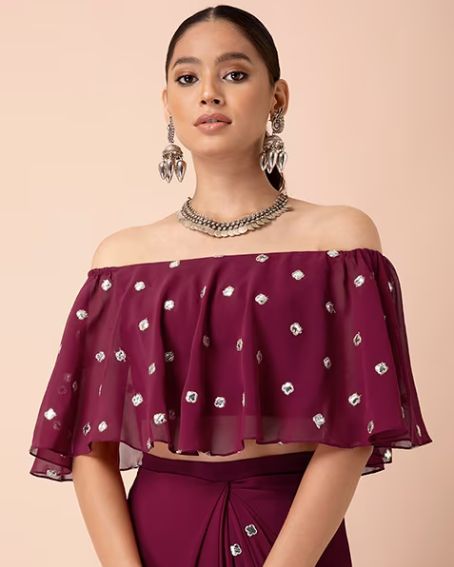 Discover the blend of tradition and modernity in this Payal Singhal creation—an off-shoulder crop top adorned with gota work, suitable for women, young girls, and teenage girls.
15. Latest Red With Shine Combination Color Off Shoulder Blouse Design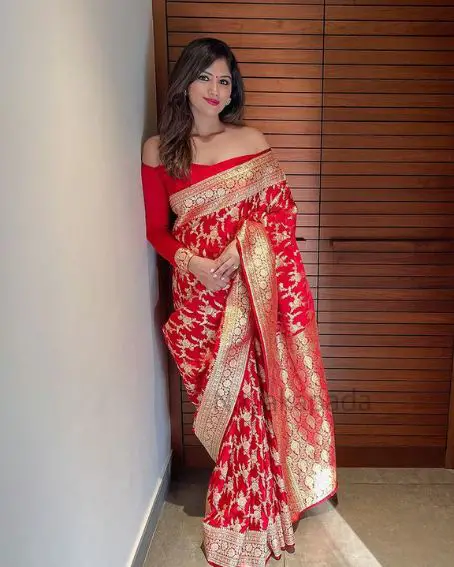 Captivating and vibrant, the latest red off-shoulder blouse design exudes confidence and a touch of sensuality.
16. Black & Red Floral Print Off-Shoulder Bardot Crop Top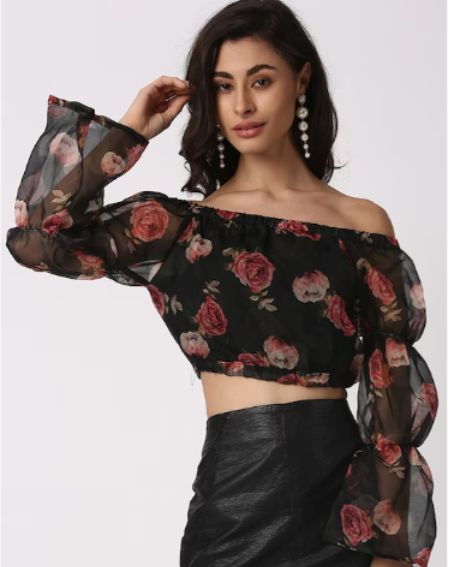 Unleash your inner diva with this black and red floral print bardot crop top, a testament to the fashionable collarbone styles.
17. Amazing Lavender Color Off Shoulder Blouse Design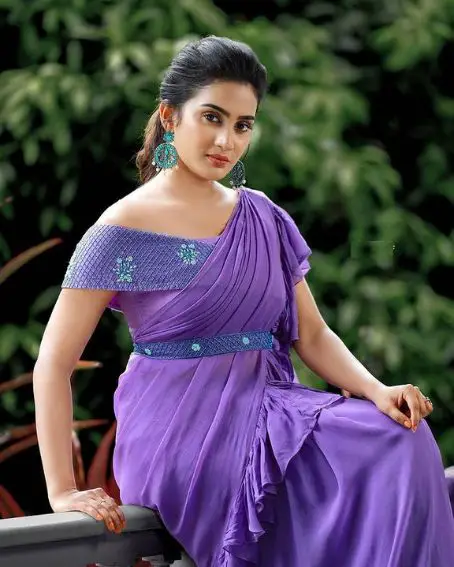 Redefine style with this stunning lavender off-shoulder blouse, effortlessly blending modernity with timeless allure. A choice that will enchant both young girls and women, including teenagers, who appreciate the perfect fusion of modern trends and enduring elegance.
18. Beautiful Sea Green Color Off Shoulder Blouse with Kuchu Work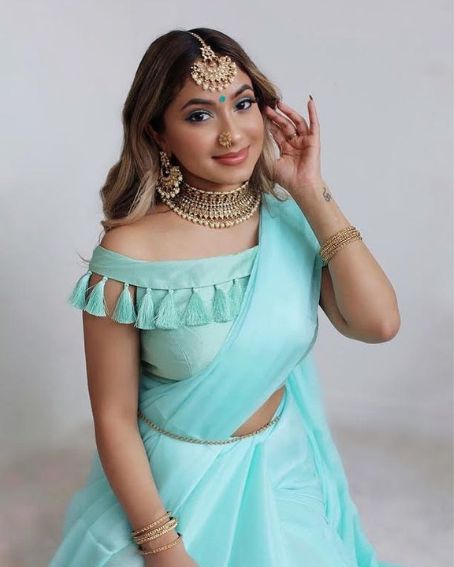 Celebrate craftsmanship with this sea green off-shoulder blouse adorned with intricate kuchu work, offering a contemporary twist on ethnic charm, appealing to women, young girls, and teenage girls.
19. Stylish Maroon Color with Kundan Work Off Shoulder Blouse Design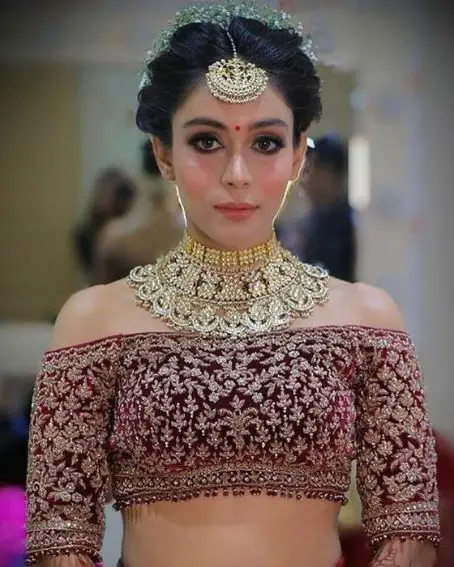 Elevate your style with this maroon off-shoulder blouse featuring exquisite kundan work, a masterpiece of shoulder-baring elegance.
20. New Stylish Black Color Plain Off Shoulder Blouse with maroon saree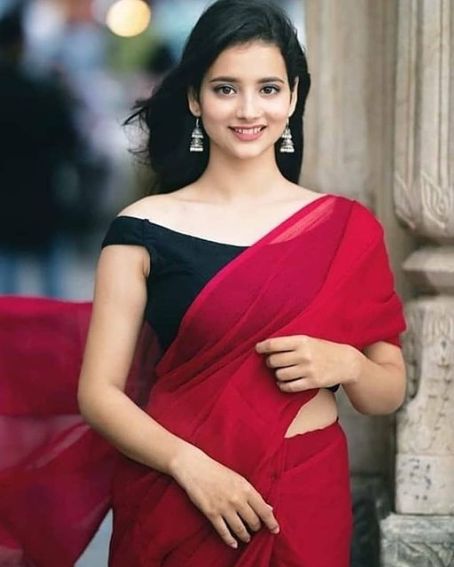 Embrace the elegance of simplicity with this new stylish black off-shoulder blouse that lets your confidence take center stage.
What Are The Features Of The Latest Shoulder-Off Blouses?
An off-shoulder blouse is a type of top or garment designed to expose the shoulders by sitting below the neckline, leaving the shoulder area bare. This style has gained popularity in both casual and formal fashion due to its trendy and elegant appearance. Here are some common features of off-shoulder blouses:
Flattering Silhouette: Off-shoulder blouses accentuate the shoulders and collarbone, creating a flattering silhouette that complements various body types.
Neckline: The defining feature of an off-shoulder blouse is its neckline, which sits below the shoulders, exposing them while leaving the collarbone and neck area uncovered.
Shoulder Exposure: The off-shoulder design leaves the shoulders uncovered, extending down the arms to create a stylish and alluring look.
Elastic or Smocked Details: Many off-shoulder blouses feature elastic or smocked bands around the neckline to help the blouse stay in place while allowing for ease of movement.
Ruffles or Flounces: Off-shoulder blouses often include ruffles, flounces, or frills along the neckline, sleeves, or hem, adding a touch of femininity and elegance to the garment.
Sleeve Length: The sleeve length can vary, ranging from short sleeves to long sleeves or even three-quarter sleeves, depending on the design and the wearer's preference.
Fabric Choices: Off-shoulder blouses are available in a wide range of fabrics, including cotton, Off-shoulder blouse designs have gained immense popularity in the fashion world due to their timeless and elegant appeal. They combine modern aesthetics with a touch of classic charm. Here are some reasons why they are trending:
Sensuous Appeal: Off-shoulder blouses showcase a hint of skin while maintaining an air of sophistication. This balance between sensuousness and elegance is a significant reason for their popularity.
Versatility: These blouses can be tailored to suit various occasions, from casual gatherings to formal events. They offer a versatile choice for fashion-forward individuals.
For Which Body Type Is This Blouse Design Suitable?
Off-shoulder blouses are remarkably versatile and can flatter a wide range of body types:
Hourglass: Off-shoulder blouses accentuate the shoulders and emphasize the waist, enhancing the hourglass figure.
Pear-shaped: These blouses draw attention to the upper body, balancing out a pear-shaped silhouette.
Athletic: Off-shoulder blouses create the illusion of curves, adding femininity to athletic body types.
Which Events Are Preferable For The Latest Off-shoulder Blouse Design?
Off-shoulder blouse designs are suitable for a variety of occasions:
Cocktail Parties: The sensuous and stylish nature of off-shoulder blouses makes them an excellent choice for cocktail parties and social gatherings.
Weddings: Depending on the fabric and embellishments, off-shoulder blouses can be elegant enough for wedding ceremonies or receptions.
Casual Outings: Pairing a simple off-shoulder blouse with jeans or a skirt creates a chic and casual look perfect for brunches or shopping trips.
How Do You Pair This Blouse Design With Sarees And Lehengas?
Off-shoulder blouses can be paired with different sarees and lehengas to create stunning ensembles:
Sarees: Option for a traditional silk saree with an off-shoulder blouse for a contemporary twist on a classic look. You can also pair them with chiffon or georgette sarees for a more relaxed feel.
Lehengas: Pairing an off-shoulder blouse with a lehenga skirt creates a modern bridal or party wear outfit that combines tradition and trendiness. chiffon, silk, lace, satin, and more. The choice of fabric.
Modern off-shoulder blouse designs go beyond being just trends; they represent the modern woman's desire for elegance, style, and self-expression. These designs expertly combine classic silhouettes with contemporary necklines, providing women, young girls, and teenagers with the opportunity to embrace their beauty and confidence. Whether it's a formal occasion, a casual outing, or a festive celebration, off-shoulder blouses effortlessly adapt to various settings, making them a versatile and timeless addition to every woman's and young girl's wardrobe. So, step into the world of shoulder-exposing fashion and discover the charm of these trendy sleeveless blouses that accentuate the beauty of your collarbone with chic sophistication.
Related Articles