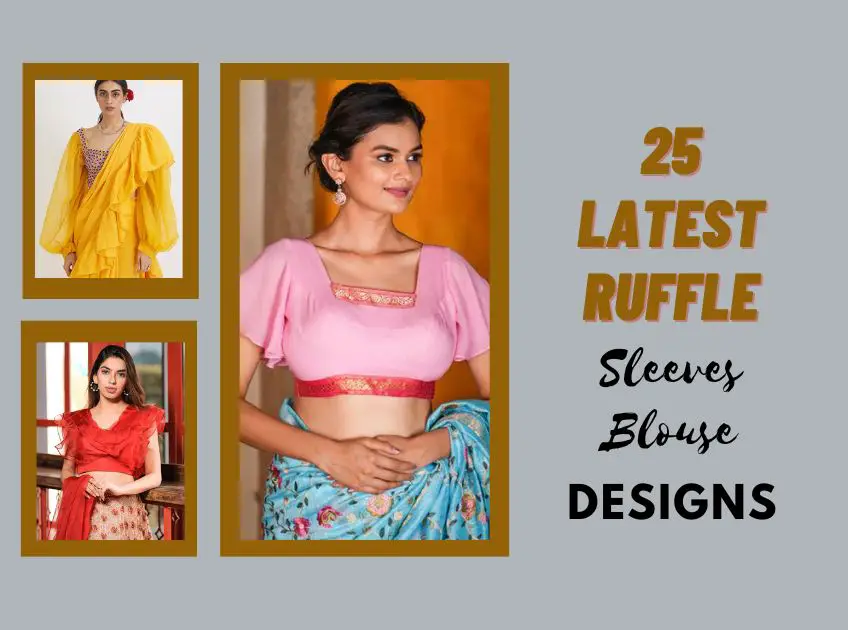 A ruffle sleeve blouse is a type of blouse with sleeves that have decorative gathered frills at the end. These frills can be made from the fabric as cotton, silk, chiffon . They can be found at the cuff, elbow, or shoulder. Ruffle sleeve blouses are quite popular in Indian fashion, but they can also be worn with various other clothing items like skirts, pants, or dresses. You can adjust their style to match the formality of the occasion, making them a versatile choice.
25 Latest Ruffle Sleeves Blouse Designs
1. Wine Sequin Floral Embroidered Ruffled Blouse by Estonished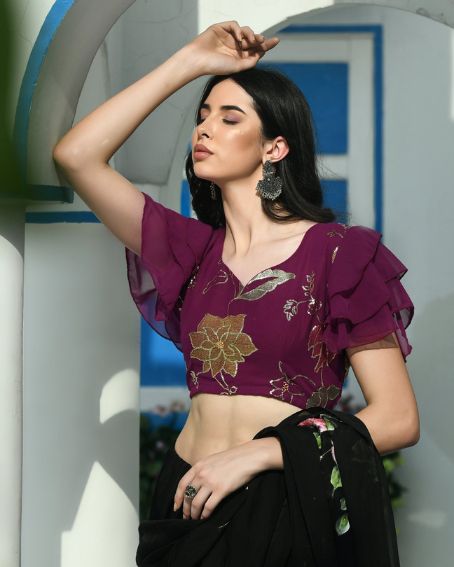 Ideal for women, young girls, and teenagers seeking glamor with wine sequins and floral embroidery.
2. Maroon Sweetheart Neck Ruffled Sleeves Blouse by Estonished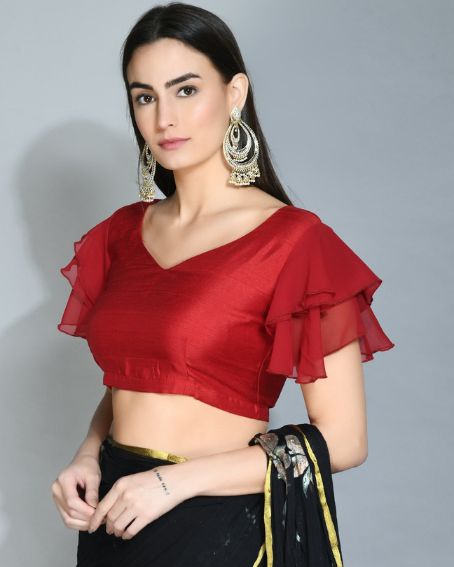 A blend of sophistication and style catering to women, young girls, and teenagers.
3. Likha by Nykaa Fashion Pink Solid Plain Ruffled Sleeves Blouse with Embroidery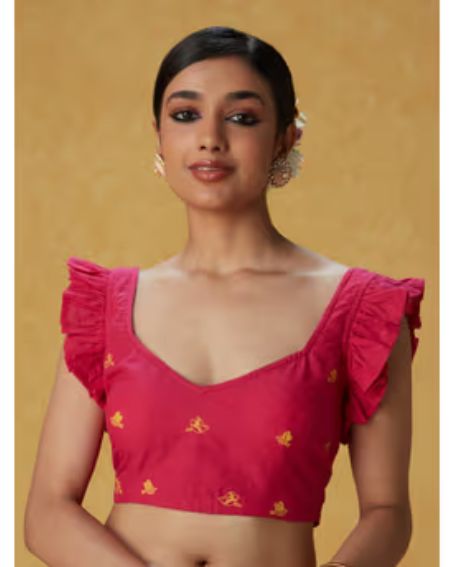 Simplicity and grace in a pink blouse for women, young girls, and teenagers.
4. Purple Color Designer Frill Ruffles Sleeves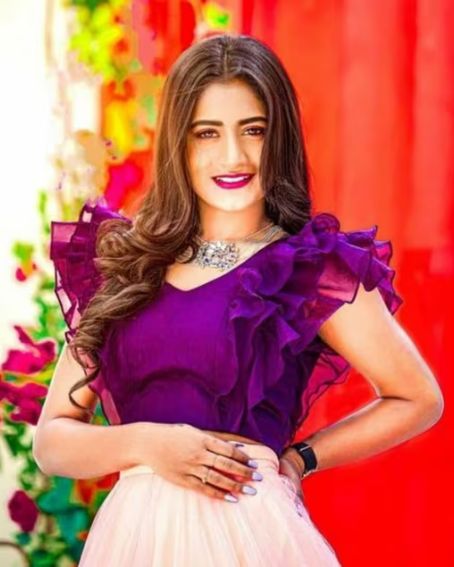 A trendy choice with designer purple and frill sleeves for a versatile appeal.
5. Light Pink Floral Semi Raw Silk Sweetheart Neck Blouse With Ruffled Sleeves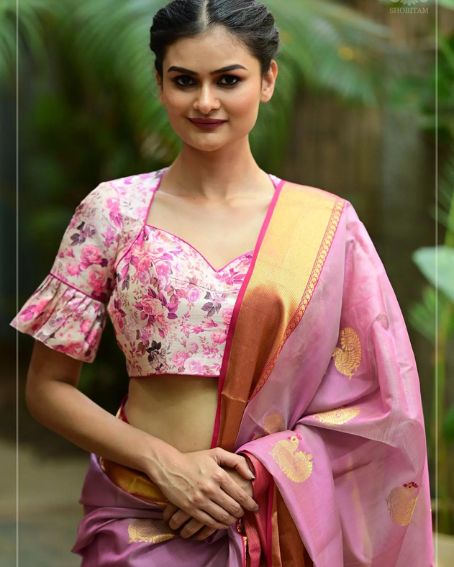 Charm through light pink semi-raw silk for women, young girls, and teenagers.
6. Maroon Silk Blend V Neck Ruffle Blouse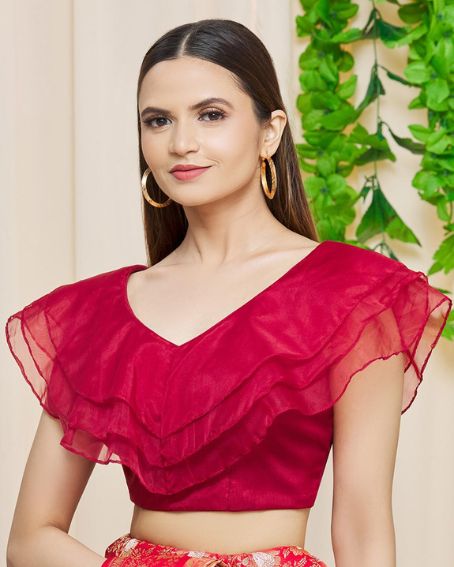 Sophistication with V-neck and ruffles for women, young girls, and teenagers.
7. Orange Chiffon Sweetheart Neck Blouse with Ruffle Sleeves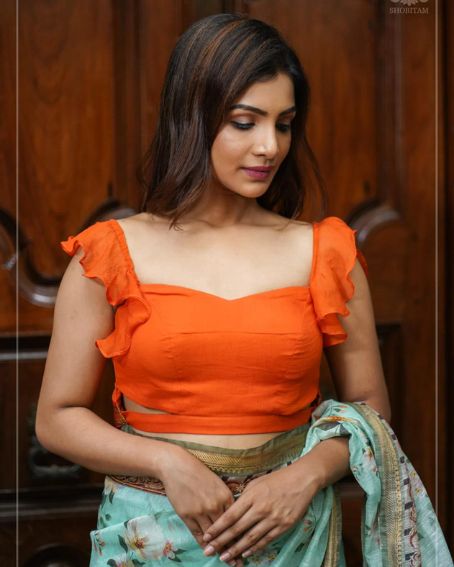 Vibrant orange chiffon for a playful look appealing to women, young girls, and teenagers.
8. Pink Art Silk Zari Woven Ruffle Blouse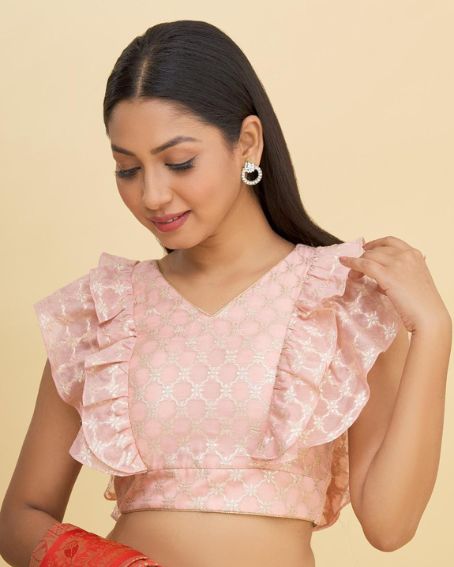 Grace with zari weaving and ruffle details for traditional occasions.
9. Women's Readymade Saree Net Blouse Ruffle Sleeve U Neck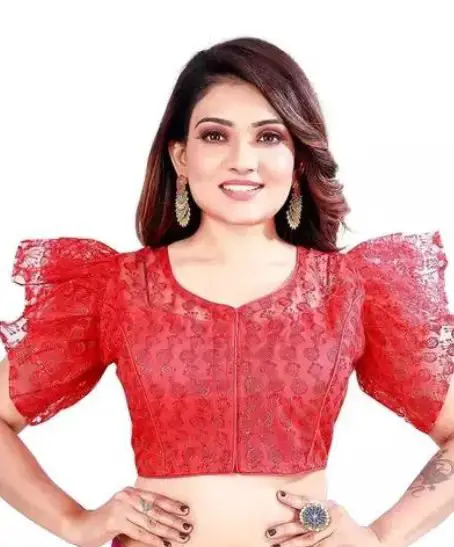 Chic and contemporary net blouses for women, young girls, and teenagers.
10. Ready Made Georgette Net Ruffle Blouse for Women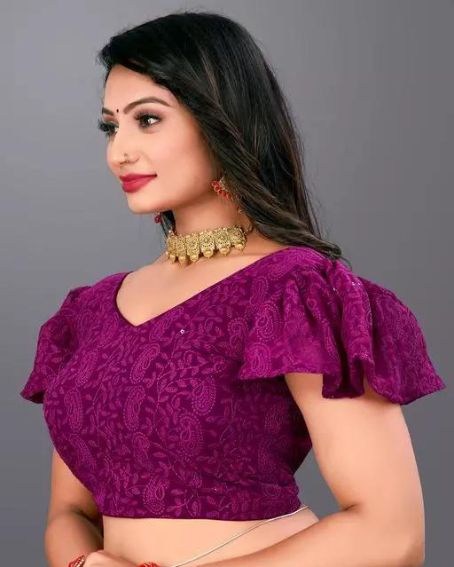 Convenient and stylish choice enhancing saree ensembles for women, young girls, and teenagers.
11. Pink Ruffle Sleeves Blouse in Chiffon with Zari Detailing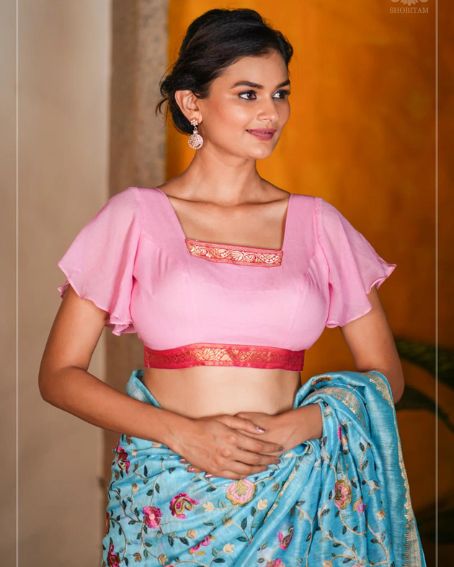 Glamour in pink chiffon with zari detailing for ethnic attire for women, young girls, and teenagers.
12. Maroon Satin Pre-draped Saree With Ruffle Blouse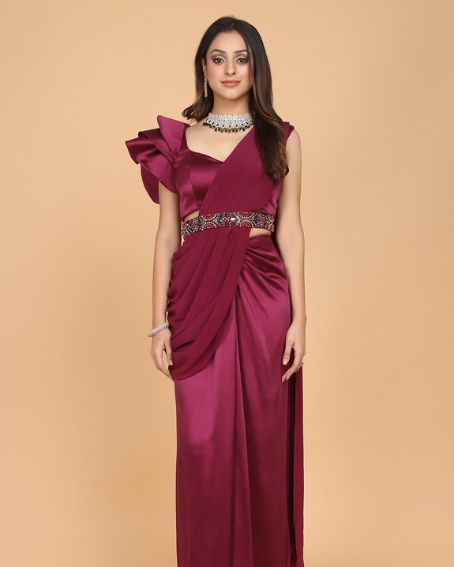 Hassle-free style with maroon satin and ruffles for women, young girls, and teenagers.
13. Peach Color Ruffle Blouse Design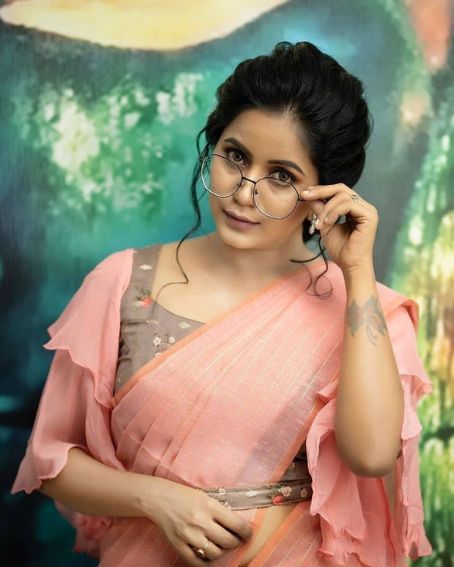 Soft and elegant peaches appeal to women, young girls, and teenagers.
14. Yellow Silk Ruffle Blouse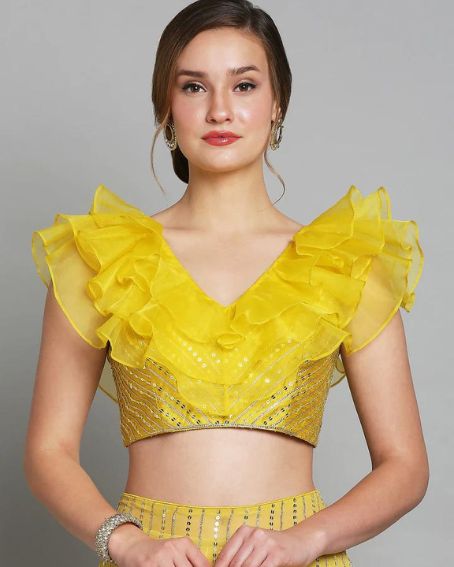 Elevate your style with this yellow silk ruffle blouse. Its elegant design and soft fabric add a touch of luxury to any outfit, making it perfect for special occasions
15. Baby Pink Ruffle Sleeve Bin Chiffon with Zari detailing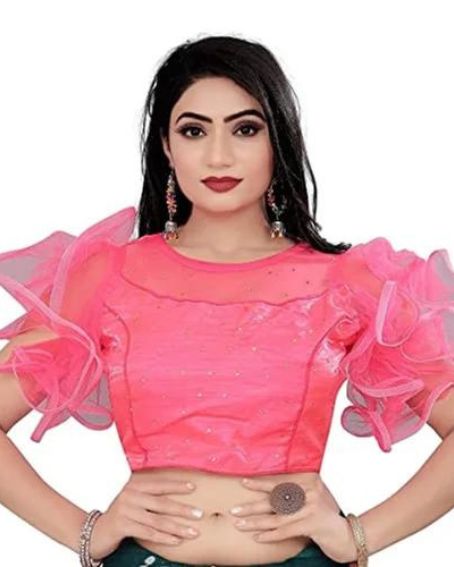 This baby pink chiffon blouse features delightful ruffle sleeves and intricate Zari detailing. It's a charming choice for a feminine and graceful look, whether you're dressing up or down.
16. Off White Playful Ruffles White Crop Top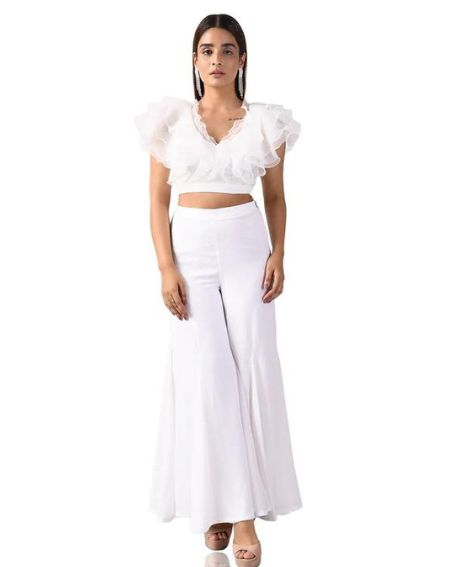 For a chic and playful look, opt for the off-white crop top with charming ruffles. Its simplicity and elegance make it a versatile addition to your wardrobe, ideal for various occasions.
17. Yellow Color Full Sleeve Ruffle Blouse Design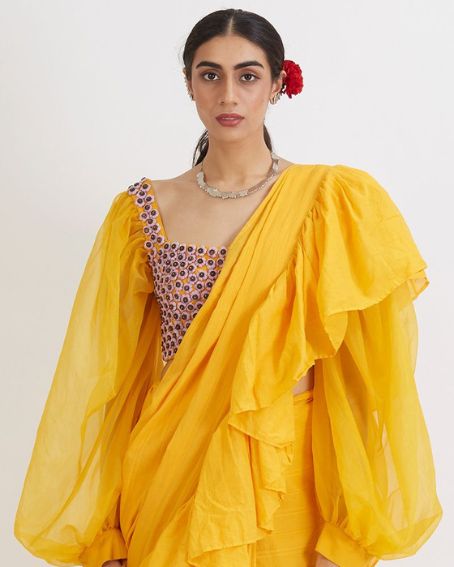 Bold statement with yellow ruffles for vibrancy for women, young girls, and teenagers.
18. Green Color Ruffle Blouse Design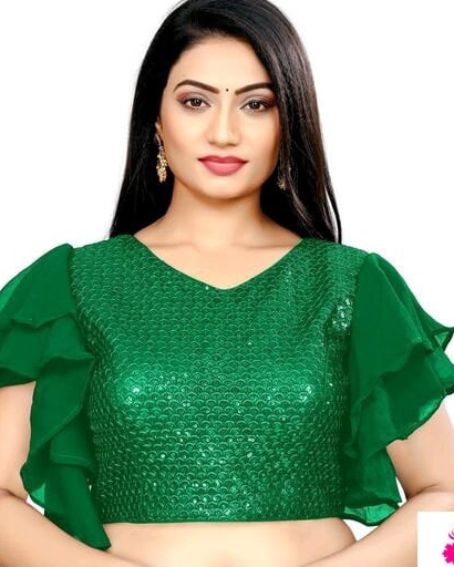 Freshness of green adds a stylish dimension for women, young girls, and teenagers.
19. Pure White Ruffle Hands Blouse Design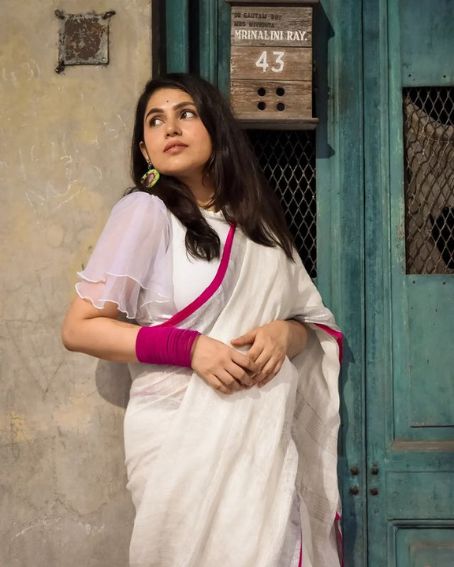 Timeless charm and sophistication in pure white for women, young girls, and teenagers.
20. Red Color Ruffle Hand Blouse Design
Drama and passion in red with ruffle hand detailing for women, young girls, and teenagers.
21. Black Color Full Sleeve Ruffle Hand Blouse Design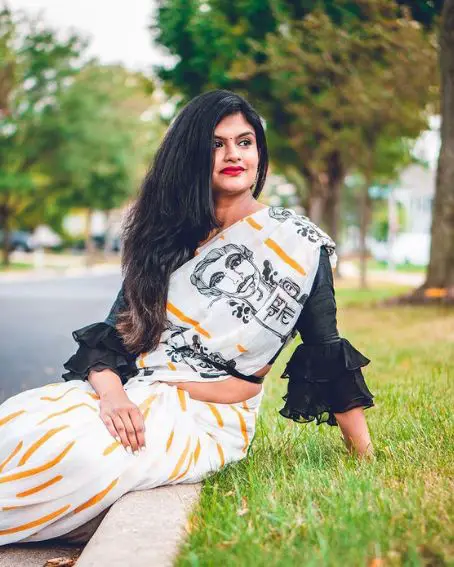 Striking contrast in black with full sleeves and ruffle hands for women, young girls, and teenagers.
22. Yellow Color Ruffle Blouse Design
Energetic yellow ruffles for a lively and chic look for women, young girls, and teenagers.
23. Orange and Yellow Combined Ruffle Blouse Design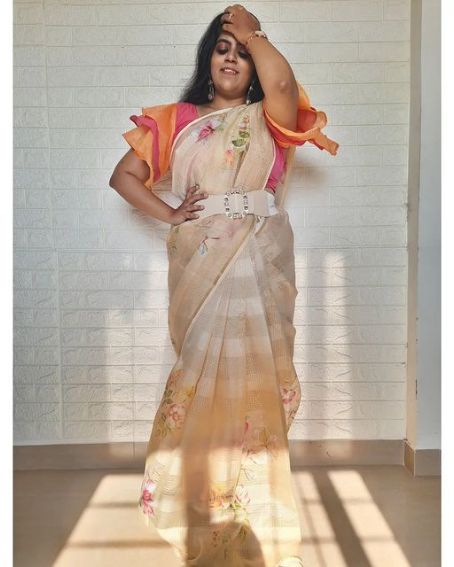 Fusion of orange and yellow for a trendy and vibrant appeal for women, young girls, and teenagers.
24. Violet Color Ruffle Blouse Designs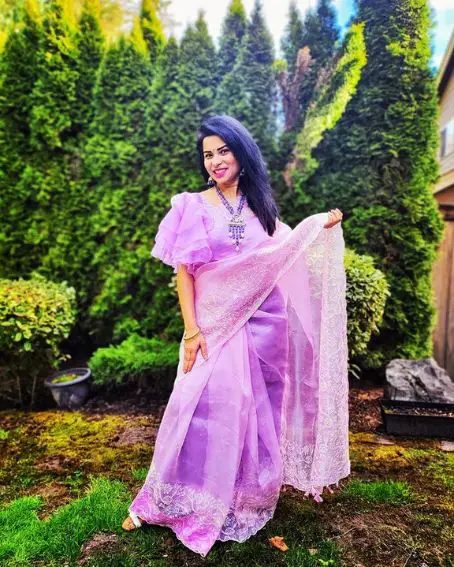 Elegance and sophistication in violet with ruffle details for women, young girls, and teenagers.
25. Light Yellow Color Ruffle Hands Blouse Designs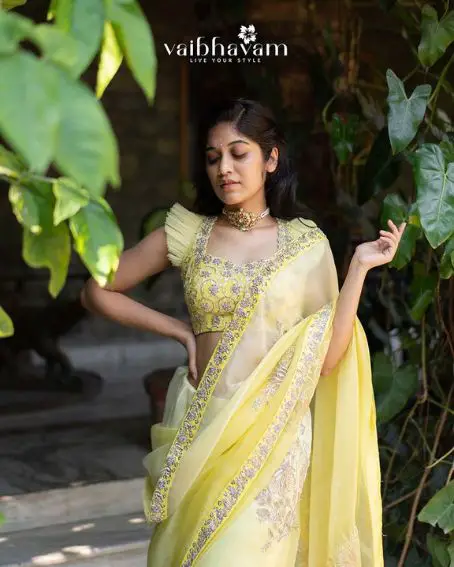 Delicate and charming light yellow ruffle hands for a subtle yet stylish statement for women, young girls, and teenagers.
What Are The Typical Features Of A Ruffle Sleeve Blouse?
Ruffled Sleeves: The defining feature is the sleeves, which have decorative ruffles or frills. These ruffles can vary in size and style, from small and subtle gathers to larger and more pronounced flounces.
Fabric Variation: The ruffles can be made from the same fabric as the blouse or a contrasting fabric, allowing for creative and stylish design choices.
Placement: Ruffles can be located at different parts of the sleeve, such as at the cuff (the end of the sleeve), elbow, or shoulder. The placement can vary depending on the blouse's design.
Sleeve Length: Ruffle sleeve blouses can come in various sleeve lengths, including short sleeves, three-quarter sleeves, or long sleeves, depending on personal preference and the intended look.
Neckline: The neckline of the blouse can also vary, with options like a round neck, V-neck, square neck, or off-the-shoulder neckline, depending on the style of the blouse.
Fit: Ruffle sleeve blouses can have different fits, ranging from loose and flowy to more tailored and fitted, allowing for a variety of style options.
Occasion: These blouses are versatile and can be dressed up or down depending on the occasion. They can be worn casually with jeans or paired with more formal attire like skirts or trousers for special events.
Decorative Details: Some ruffle sleeve blouses may feature additional embellishments like embroidery, lace, sequins, or buttons, adding to their overall aesthetic.
Consider Your Body Type: Different ruffle sleeve styles may flatter different body types. For instance, if you have broad shoulders, you might want to opt for ruffles that start lower down the arm to balance your silhouette. If you have a petite frame, smaller ruffles might be more appropriate.
Which Types Of Garments Pair Well With Ruffle Sleeves Blouse Designs?
Lehengas: Ruffle sleeves can work well with various types of lehengas, including A-line, mermaid, and flared styles. They add a modern touch to traditional outfits.
Sarees: Ruffle sleeves can be paired with sarees of different draping styles. They can complement both traditional silk sarees and contemporary georgette or chiffon sarees.
For Which Occasions Are Ruffle Sleeves Blouse Designs Preferable?
Weddings
Ruffle sleeves can be a stylish choice for bridesmaids or guests attending weddings and receptions.
Engagement Parties
These blouses can add a touch of glamour to engagement party outfits.
Cocktail Parties
For semi-formal to formal cocktail parties, ruffle sleeves can make you stand out.
Festive Celebrations
Wear ruffle sleeves during festive occasions like Diwali, Eid, or any other cultural celebrations.
Parties and Events
Depending on the formality, you can wear ruffle sleeves to birthday parties, anniversaries, and other social events.
Ruffle sleeve blouse designs offer a diverse range of options to cater to the preferences and style sensibilities of women, young girls, and teenagers. Whether it's the playful charm of ruffle sleeves, the elegance of embroidered details, or the vibrant appeal of colors, these blouse designs provide versatile choices for various occasions. From traditional events to contemporary fashion statements, ruffle sleeve blouses add a touch of sophistication, grace, and trendy flair to any outfit.
Related Articles