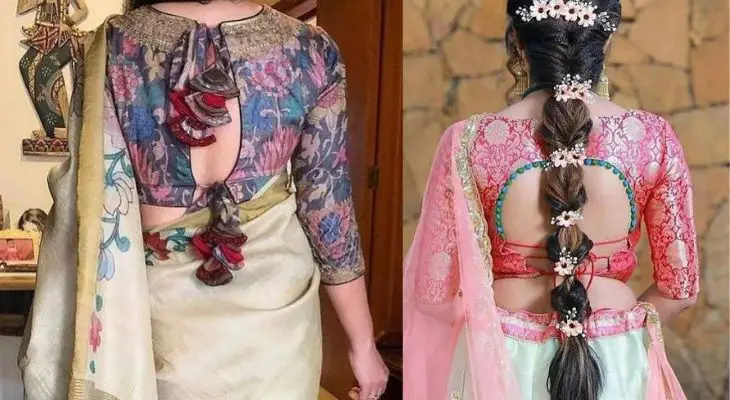 We could see many blouse designs, but three-fourth-sleeved blouses are something unique that turns your appearance. Blouses are essential to the saree you are wearing. One mismatched blouse can ruin your entire appearance. ¾ sleeve blouses are worn for weddings, functions, and special occasions. The blouses we're showing you today are very popular and in high demand.
20 Best 3/4 Sleeve Saree Blouse Back Designs
1. Aari Work Pink 3/4 Sleeves Blouse Back Neck Design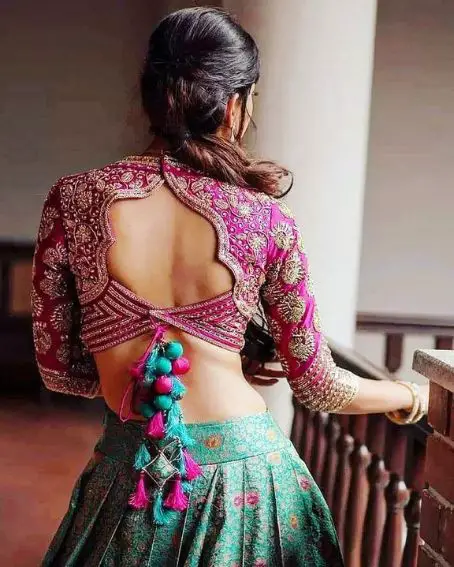 The innovative and most attractive three-fourth sleeve blouse is in pink with the latest arch-shaped back neck design blouse. This blouse is with Aari work design on a high-neck blouse followed by latkans which brings out the beauty of the blouse.
2. 3/4 Sleeved Blouse With Printed Back Design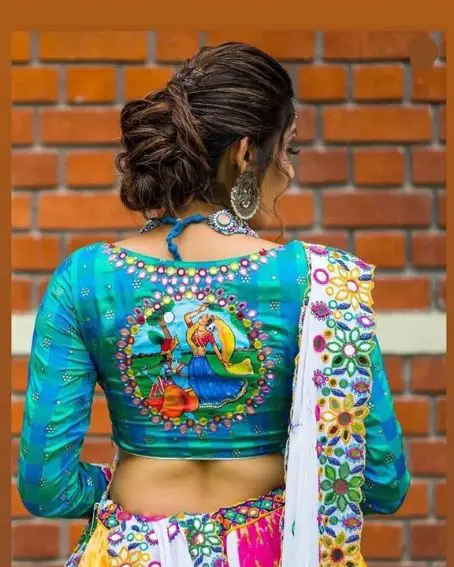 Here comes the most inspiring and motivational blouse back neck design which has a printed picture of Lord Krishna and Radha on the back neck blouse design looks amazing on the three-fourth-sleeve blouse.
3. Pink 3/4 Sleeve Saree Blouse Back Neck Design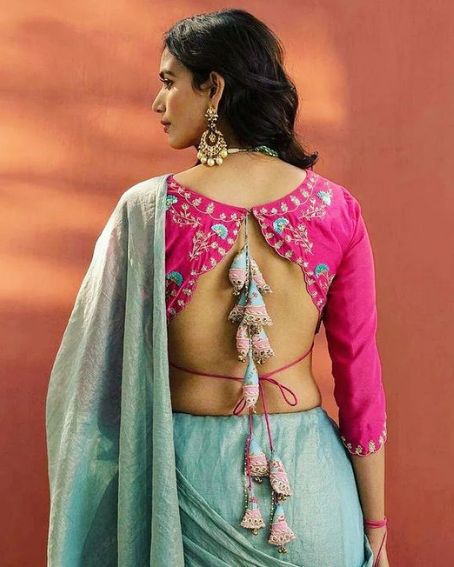 Wearing a contrasting color saree blouse that too a 3/4 sleeve not looks good but also balances the entire look. Hence try this simple and best back neck design on three fourth-sleeve blouses in pink with simple thread work and hangings.
4. Y Shape Cut Neck Design Three-fourth Sleeve Blouse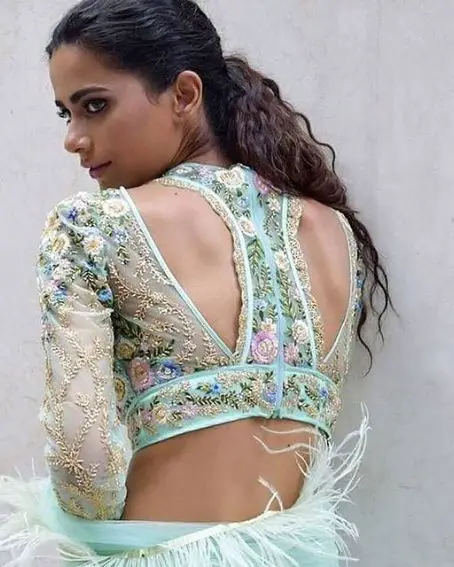 One of the most creative blouses with back neck design comes in three-fourth sleeves. This designer blouse attracts everyone with its unique Y-cut design with a zip lock on three-fourth sleeves blouse
[ Read: 20 Modern Cotton Saree Back Neck Blouse Design ]
5. 3/4 Sleeve Blouse With Pallaki Design Back Neck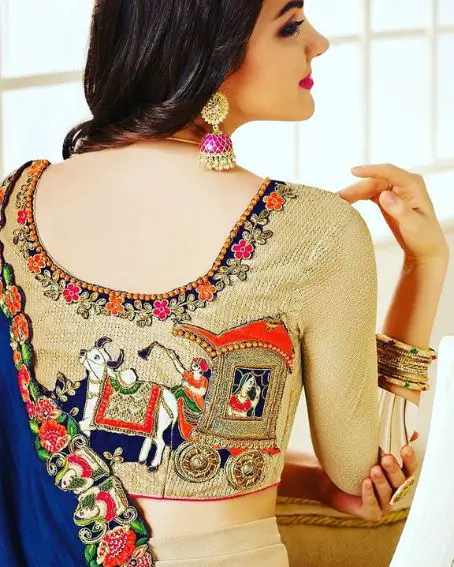 One of the trending pallaki design patterns for back neck design is here, as it is been loved by most of them and tried on three-fourth sleeves. This blouse comes with handmade embroidery with pallaki design on blouse back neck giving a wedding vibe.
6. Tie A Bow Back Neck Design On A 3/4 Sleeve Blouse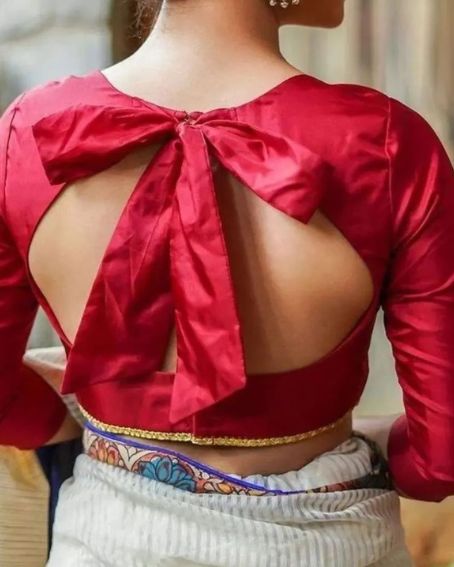 A simple plain red blouse back neck design looks elegant and exciting. This blouse is with three-fourth sleeves on a deep neck back cutout and a tie and a bow pattern on top of the blouse that can be buttoned up.
7. Organza Bow Back Neck Design With 3/4 Sleeves Blouse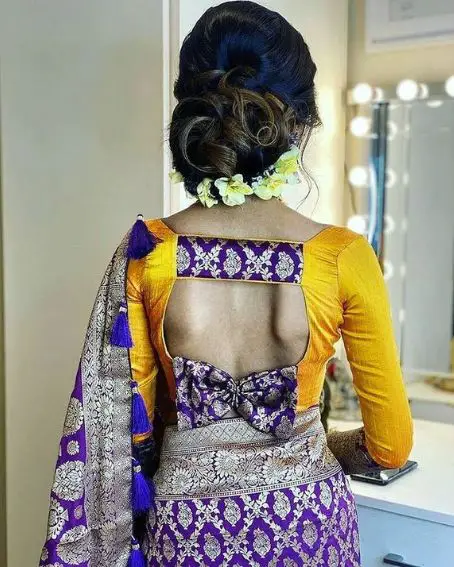 Looking for a traditional yet modern look for an upcoming event, You will look great in the back cutout blouse tied with an organza bow. The shimmer in the blouse is offset by the organza bow, making it ideal for any wedding occasion.
[ Read: 20 Beautiful Kathpadar Saree Back Neck Blouse Designs ]
8. Round Cut-out Back Neck Designs On 3/4 Sleeve Blouse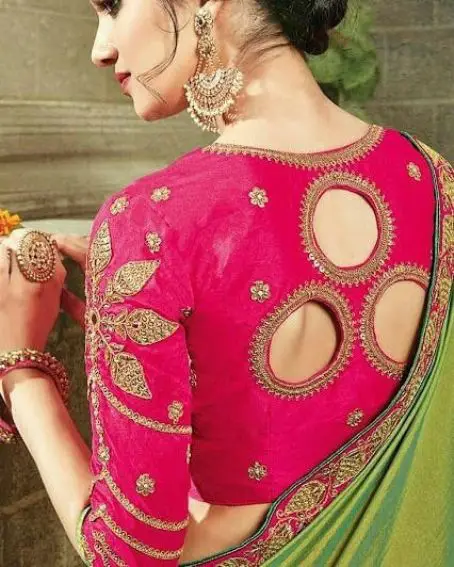 Sometimes when you imagined circle cut-outs were boring, then try these three small-sized circle cut-outs forming a blouse back to make for an appealing sight. These small circles are decorated with embroidery work along 3/4 length sleeves.
9. V Cut Out On Backless Blouse Back Neck Design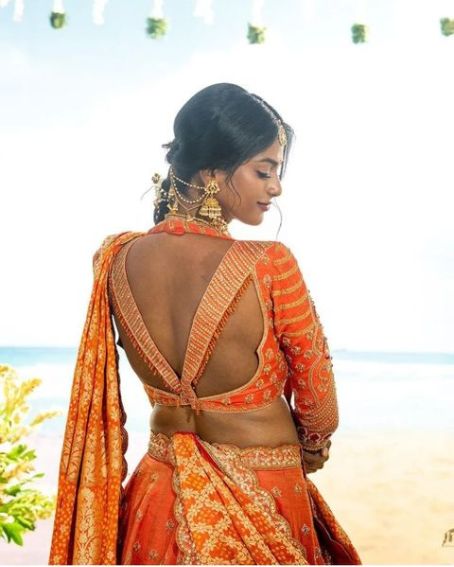 This is a lehenga blouse design that is perfect for your wedding or Haldi. This is a special and unique back neck design that grabs everyone's attention on your special day, so do try this back V cut-out neck design on three fourth length sleeves.
10. Zig Zag Backless Blouse Design With 3/4 Sleeves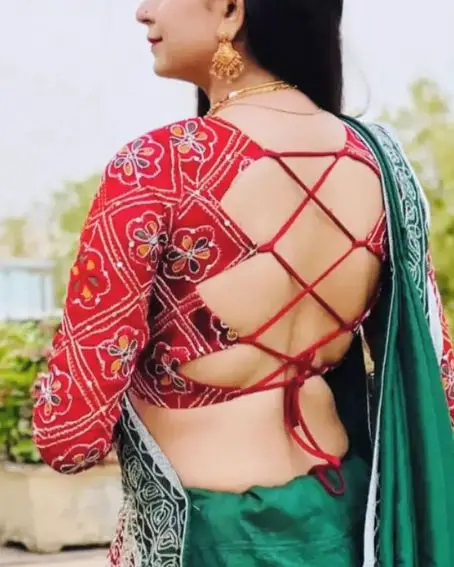 Banaras blouses with a back neck design make everyone try this style on three-fourth sleeves with its appearance of the zig-zag pattern from top to bottom or the other way around. The knot will appear above if you begin zig-zagging from bottom to top.
11. Semi-backless Blouse Neck Design With 3/4 Sleeve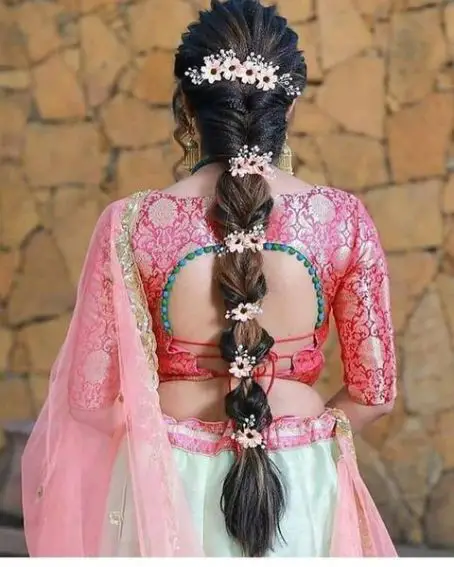 The backless blouse notifies the look and makes it more modern and trendy. This is one of the most popular designs among women. This blouse design comes with a half-backless design and tying threads with latkhans.
12. Back Slit Blouse Design With Latkhans On 3/4 Sleeve Blouse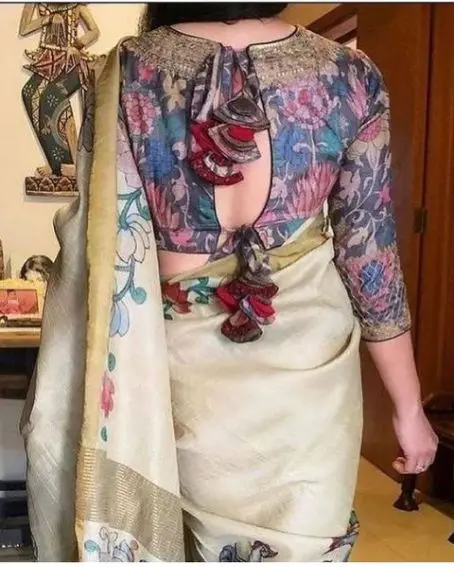 Most women wanted to try a new and fancy blouse neck design at weddings and festivals, then this is the right choice to wear. This blouse has a slit open to tie with thread hangings with three-fourth sleeves.
[ Read: 41 Traditional & Fancy Saree Blouse Back Neck Designs ]
13. Pink Three-fourth Sleeves Blouse Back Neck Design
Color, size, and design play a major role in choosing the perfect blouse for the occasion, hence try this pattern of back neck design to give an awesome look. Whereas this blouse comes in pink with a unique cot open back neck on a 3/4 sleeves blouse.
14. Cold Shoulder 3/4 Sleeve Blouse Back Neck Design
If you wish to choose a heavy look for your wedding, go for a silk saree blouse with Kundan designs decorated around the border and cold shoulder cut and pair it with a three-fourth sleeve to look beautiful at weddings.
15. Square Cut Open Back Neck Design 3/4 Sleeves Blouse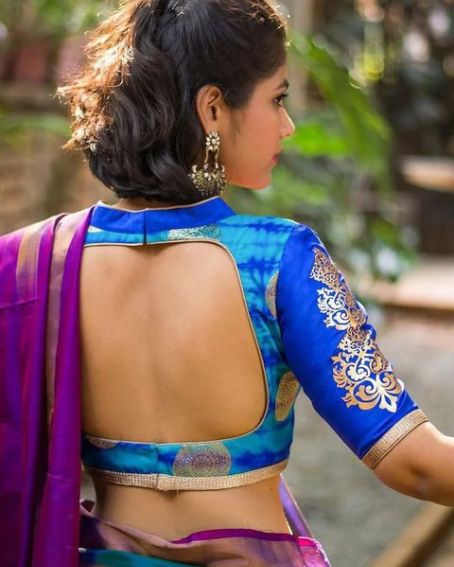 This is a simple and easy to stitch back neck design with a high neck with back buttons. This is a blue blouse with a square cut open design on three fourth sleeve, which can be worn on a silk saree in a plain pattern.
[ Read: Top 20 Latest Silk Saree Blouse Designs (With Borders) ]
16. Heart Shape Cut Open Blouse Neck Design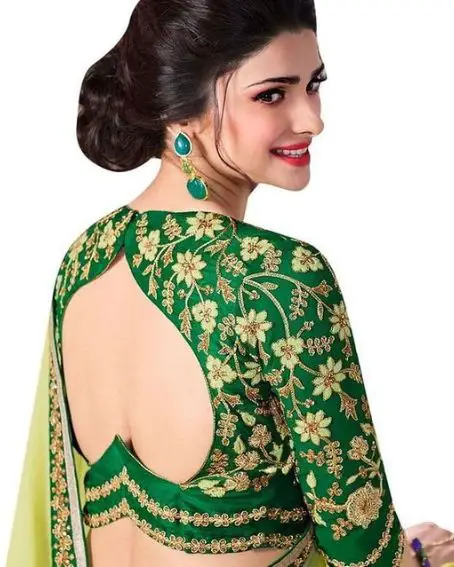 This is the most attractive and inspired back design of a blouse in green color. This green blouse has golden thread embroidery all over, with a heart shape cut open on three-fourth sleeves.
17. Red Blouse Back Neck Design For Three Fourth Sleeves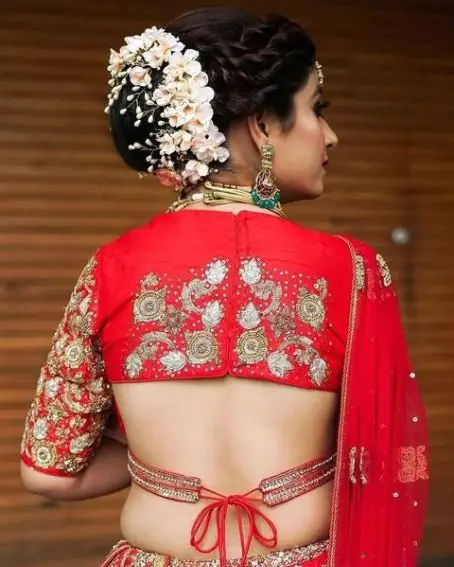 Here comes another beautiful back neck design which is semi backless back design with a tie at bottom of the blouse. This blouse design looks awesome on three fourth length sleeves, which are perfect for wedding and haldi functions.
[ Read: 20 Red Blouse Maggam Work Design ]
18. 3/4 Sleeves Green Blouse Back Neck Design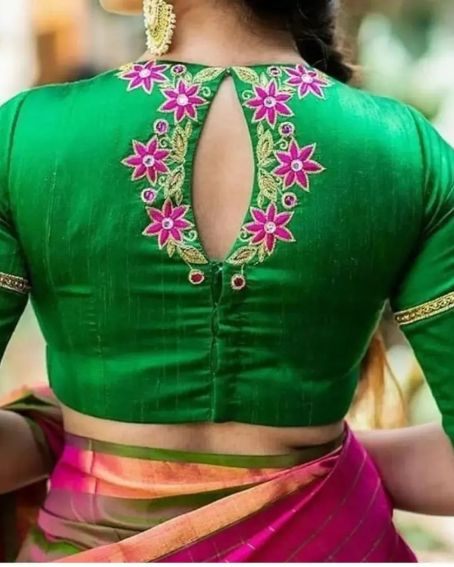 The simple and best high neck back design with a slit open and done embroidery around the slit along with back buttons. This blouse looks awesome with three fourth sleeves. Which is best on silk sarees with borders.
19. Organza Bow Back Neck Design With 3/4 Length Sleeves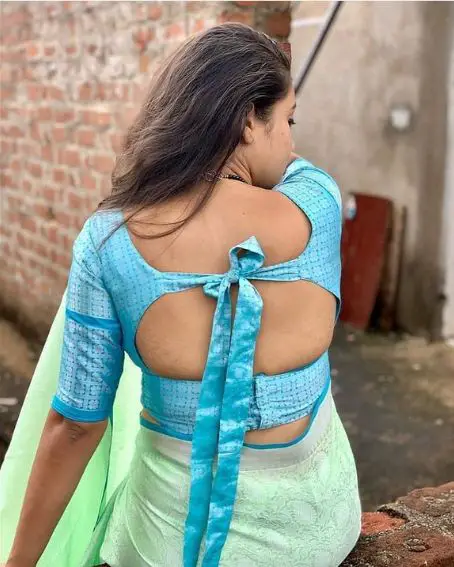 If you considering having a fancy and modern touch on a traditional blouse, this might reach your requirements with a back tie organza bow design. This blue blouse comes with three fourth length sleeves with back buttons.
20. X Shape Cut Out Back Neck Design With 3/4 Sleeves Blouse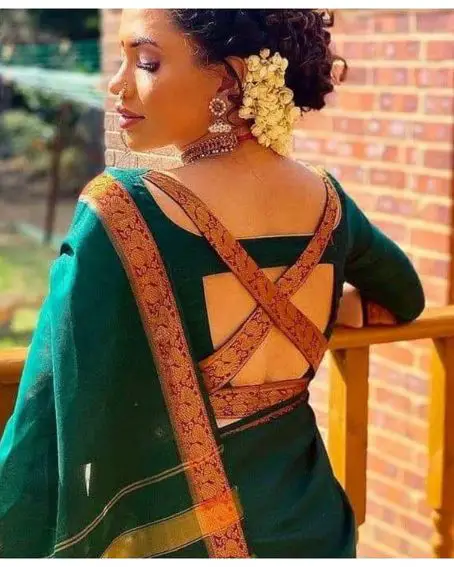 Most of them would like to have a unique pattern blouse for weddings and functions. Try this stunning look of this saree blouse with a variety of back neck designs with an X shape border attached on corners with three fourth length sleeves
You Might Also Like: