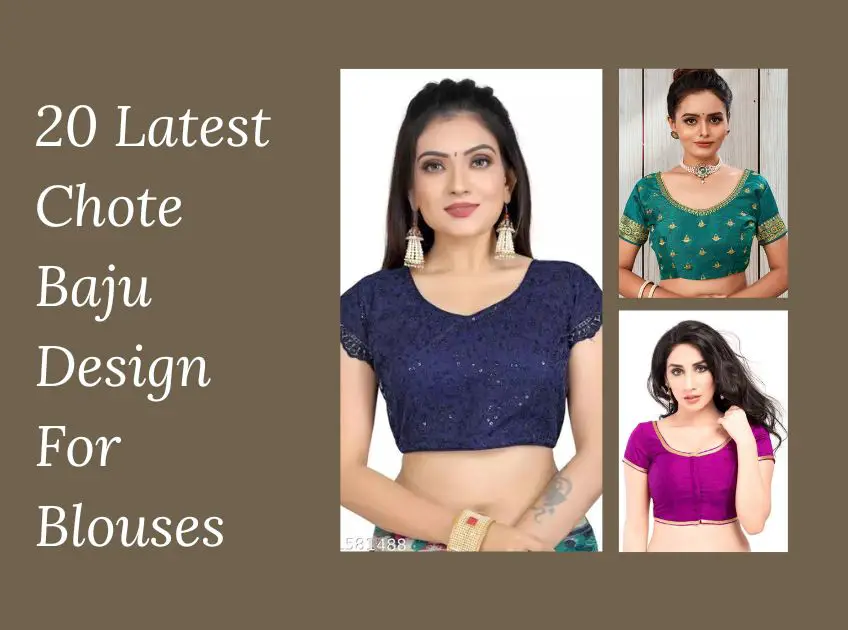 It is a type of blouse with short sleeves ending at the arm or elbow or some inches above. Cotton, Linen, or Silk are used to make this Short sleeve design. It can be paired with skirts, pants, shorts and lehengas. It gives a stylish look to any outfit. These blouse designs are comfortable to wear.
20 Latest Chote Baju Designs
1. Ivory Pearl Beaded Short Hand Embroidered Blouse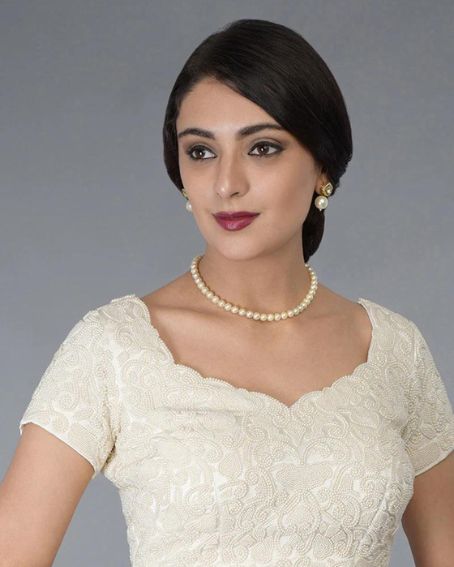 The Ivory pearls are used to make this blouse design and hand embroidery . It has a stylish and sophisticated design. It is perfect for all events.
2. Peacock Green Color Short Hands Blouse Design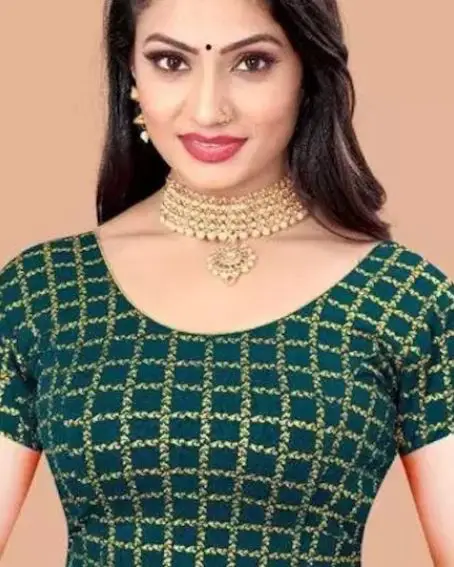 A tribute to nature's brilliance, the peacock green blouse boasts stylish blouse sleeves that mirror the bird's resplendent plumage. Its vibrant hue and contemporary blouse styles capture attention effortlessly.
3. South Cotton Blouse with Woven Border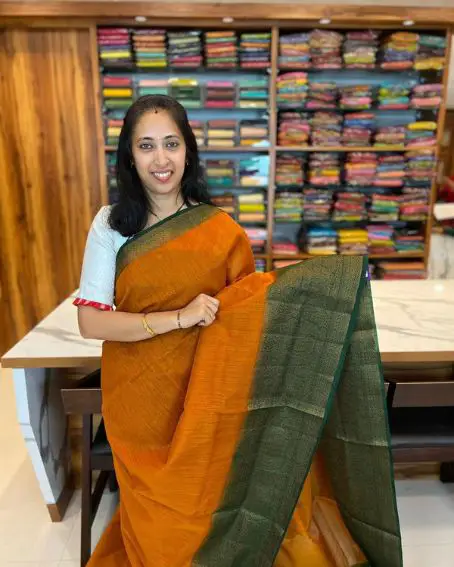 Melding comfort with allure, this design showcases the charm of chote baju saree blouses. The woven border adds a touch of ethnicity to the contemporary fashion scene, aligning seamlessly with sleeve design trends.
4. Maroon and Green V Neck Banarasi Brocade Blouse with Crystal Detailing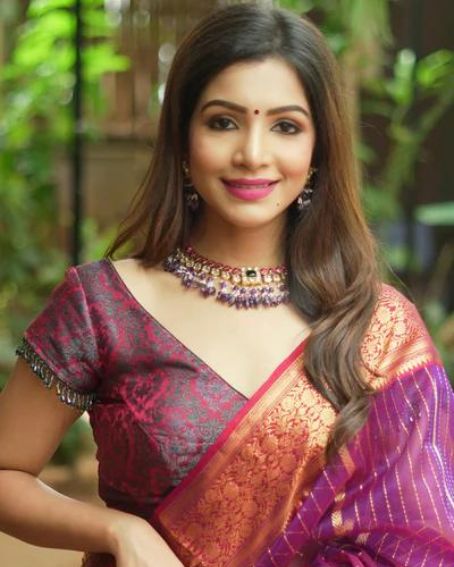 The fusion of maroon and green reflects regal allure, while intricate crystal detailing modernizes the classic banarasi brocade. These latest blouse designs elegantly dance between tradition and innovation.
5. Pale Peach Chinon Crepe Embroidered Sweetheart Neck Blouse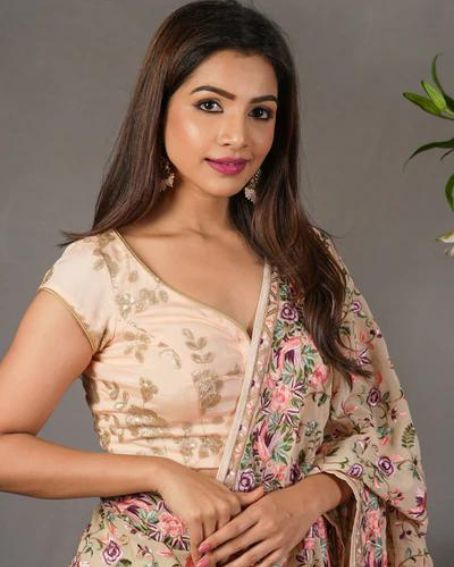 Romantic and delicate, this short arm blouse captivates with its soft peach hue and elegant sweetheart neck. It's a perfect embodiment of fashionable sleeve designs that effortlessly evoke sophistication.
6. Green Color Round Neck Women Blouse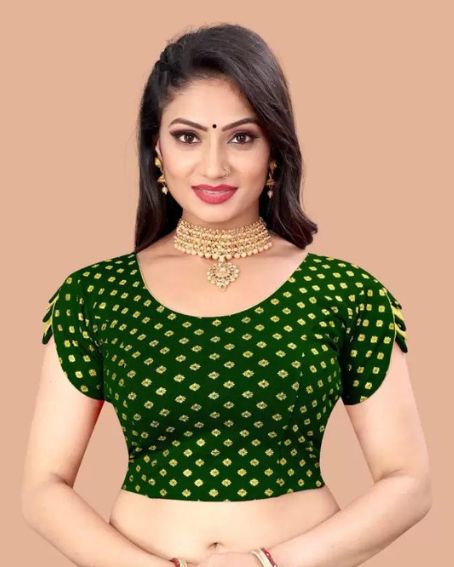 A versatile piece, the green round neck blouse offers a contemporary canvas for creativity. Its simplicity aligns with chic short sleeve blouses, making it a perfect choice for both formal and semi-formal occasions.
7. Pujia Mills Women's Phantom Silk Short Sleeves Readymade Saree Blouse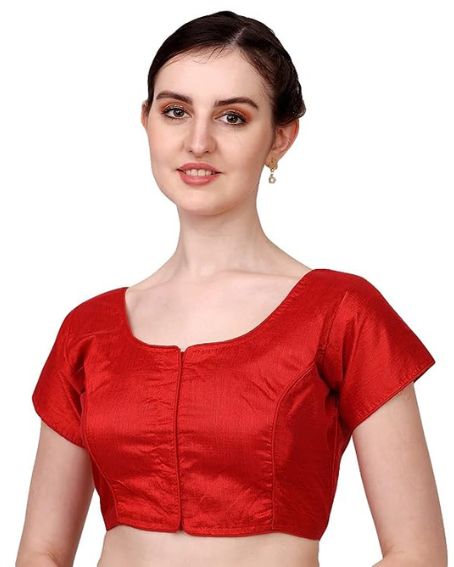 Effortless yet opulent, the phantom silk blouse showcases modern chote baju patterns. Its readymade convenience blends with creative sleeve patterns, making dressing up an artistic endeavor.
8. Women's Designer Heavy Embroidered Short Hand Work Blouse
Adorned with intricate embroidery, this blouse harmonizes traditional and contemporary elements. Designer blouse sleeves elevate its allure, while elegance and creativity coalesce.
9. Nude Pink Gota Patti & Floral Hand Embroidered Short Blouse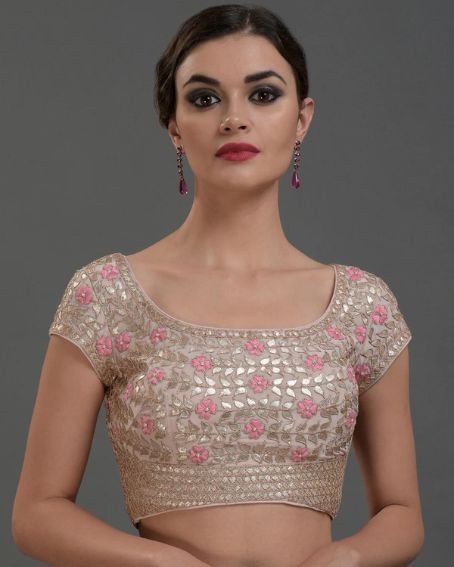 The blush of nude pink meets the brilliance of gota patti and floral embroidery, crafting a masterpiece that embodies elegance. These elegant chote baju designs redefine grace and charm. This design will enhance the elegance of the young girls , teenagers and women.
10. Simple Purple Color Short Hands Blouse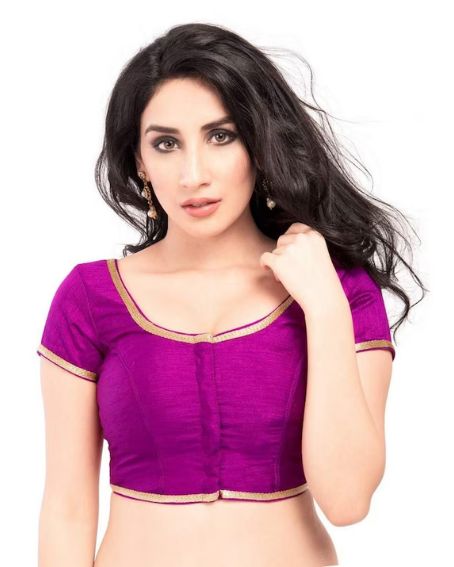 Simplicity becomes a statement in this purple blouse. Its minimalistic design subtly embraces sleeve design trends, allowing the color and cut to stand out with sheer elegance.
11. Traditional Puff Sleeve Short Hands Blouse Designs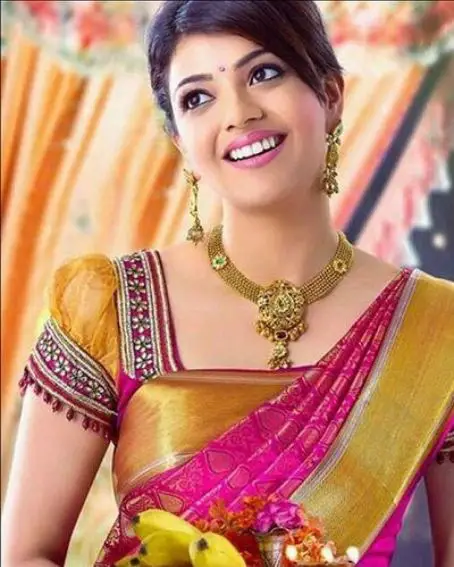 A tribute to tradition, the puff sleeves resonate with nostalgia. Yet, their revival in modern chote baju patterns renders them anew, blending vintage charm with contemporary appeal.
12. Gold V Neck Metallic Saree Blouse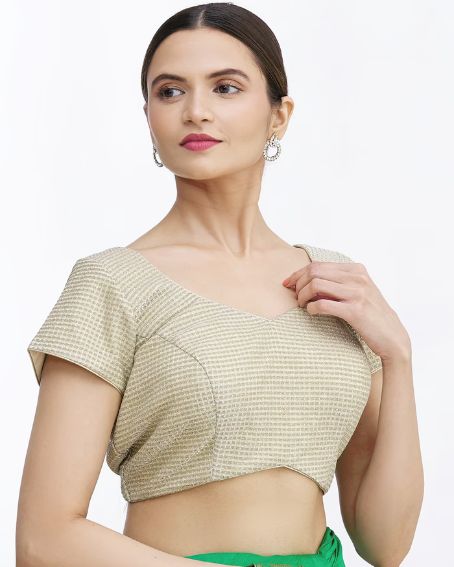 Radiating opulence, the gold metallic blouse takes center stage with its v-neck cut and modern aesthetics. Its captivating charm aligns seamlessly with the world of chic short sleeve blouses.
13. Women's Brocade Short Sleeves Saree Blouse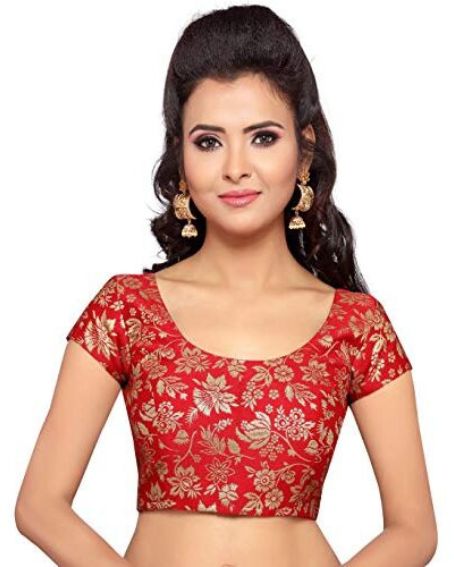 A tapestry of luxury, the brocade blouse entwines tradition and trend. It's a living embodiment of contemporary blouse styles, adorning women , young girls with a touch of timeless glamor.
14. Net Work Half Sleeves Readymade Saree Blouse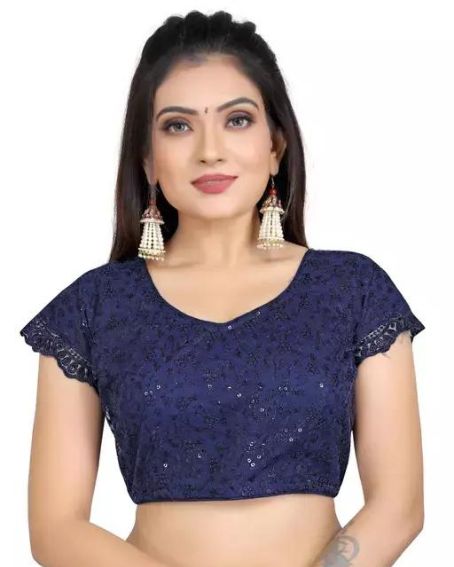 Sheer net fabric blends with modern chote baju patterns to create a mesmerizing design. Its half sleeves effortlessly embrace sleeve design trends while providing an ethereal touch.
15. Red & Gold Brocade Short Hand Blouse With Cap Sleeves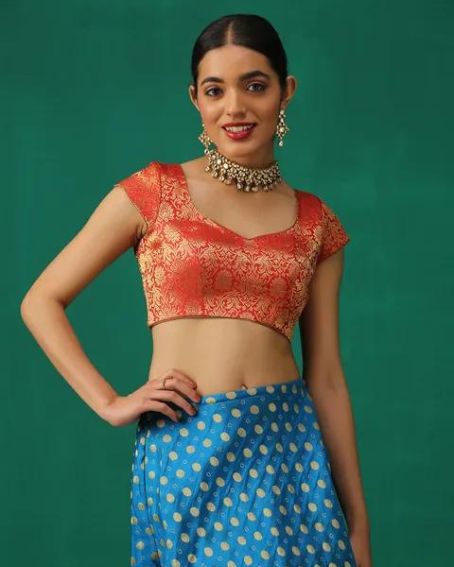 The regal combination of red and gold brocade merges with the playfulness of cap sleeves. This design embodies the synergy between traditional and fashionable sleeve designs.
16. Maroon Art Silk Cutout Blouse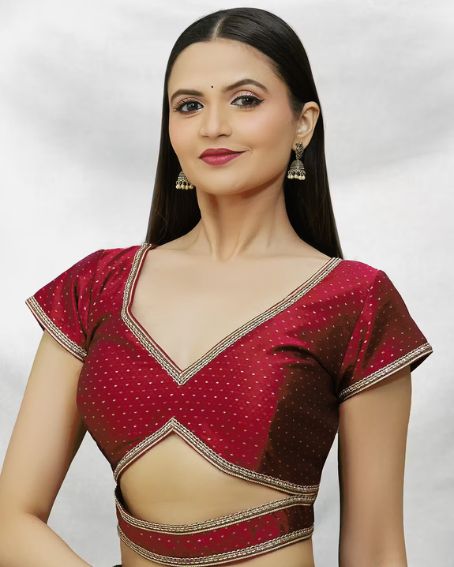 Artistry meets allure in this maroon silk blouse. With its intricate cutout detailing, it personifies contemporary blouse styles that empower women, young girls, teenaers to make a bold yet elegant statement
17. Blue Color Short Hand Blouse Design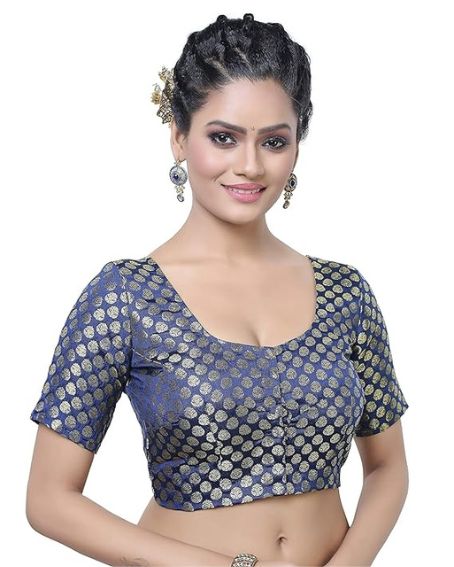 Blue captures serenity in this design, offering a canvas for individual expression. This design embraces modern chote baju patterns, making it an ideal choice for various occasions.
18. Multi Color Short Hand Blouse Design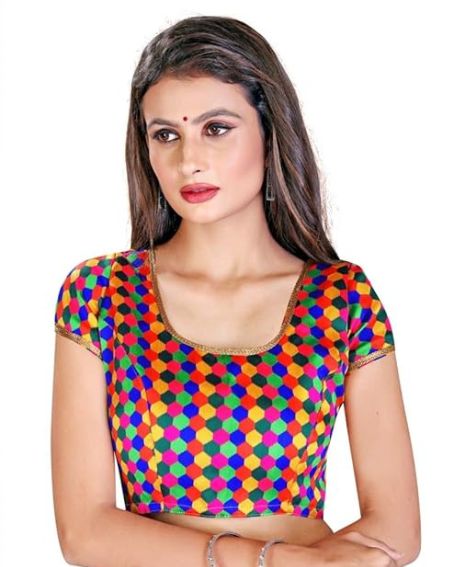 A burst of colors converges in this blouse, celebrating life's vibrant hues. Its uniqueness aligns with the charm of chic short sleeve blouses, embodying the spirit of creative sleeve patterns.
19. Readymade Women's Net Embroidery Work with Sequence Blouse, Short Sleeve Blouse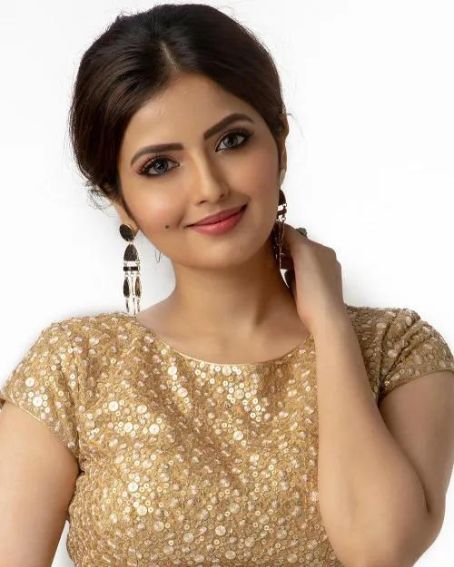 Net fabric embellished with sequined embroidery forms an exquisite composition. Its readymade convenience and short sleeves encapsulate the essence of elegance and ease.
20. Embroidered Dupion Silk Blouse in Teal Green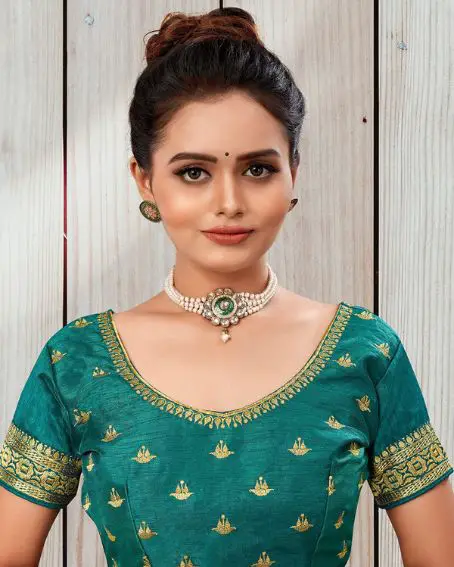 The richness of dupion silk marries the allure of teal green, forming a captivating blouse. Traditional and contemporary elements coalesce, showcasing the fusion of past and present.
What Is the Significance of Short Sleeves?
Silk, cotton, lace, satin, polyester are used to make these blouses. These blouses are made of lightweight fabrics like silk, cotton, lace, satin, polyester, knit, wool.
These Short sleeves designs are suitable for any age, they are comfortable in hot weather.
Short sleeve blouses can be worn for formal meetings and women , young girls, teenagers gatherings.
For women , Young girls , teenagers who want to cover their arms, it is one of the best choices. They come with different sleeve lengths,we can find one that flatters your body type.
Off-shoulder blouses are trendy and perfect for teenagers and young girls looking to showcase their shoulders
What Are Some Short Sleeve Blouse Designs Suitable for Formal Events, Weddings, and Parties?
Casual Outings: Short-sleeve blouses are perfect for casual outings, such as meeting friends for coffee, running errands, or going to the movies. They offer comfort and a relaxed style.
Summer Parties: For outdoor summer parties or barbecues, short-sleeve blouses in lightweight fabrics and vibrant colors or patterns can offer a comfortable yet stylish look.
Picnics: If you're headed for a picnic in a park or a similar setting, a comfortable short-sleeve blouse paired with shorts, skirts, or jeans can be a great choice.
Casual Work Environments: In workplaces with a relaxed dress code, short-sleeve blouses, especially those made from more formal fabrics or with subtle patterns, can strike a balance between professionalism and comfort.
Semi-Formal Gatherings: Depending on the blouse's design and material, you might be able to wear a short-sleeve blouse to a semi-formal event like a daytime garden party or a luncheon.
Cocktail Parties: For daytime or more casual cocktail parties, you could choose a stylish and well-fitted short-sleeve blouse along with a skirt or tailored pants.
Brunch: Short-sleeve blouses are appropriate for brunch outings, especially when paired with high-waisted pants or a skirt and some simple accessories.
Vacation or Resort Wear: When you're on vacation or at a resort, short-sleeve blouses can be comfortable and practical while still keeping you stylish.
Family Gatherings: Short-sleeve blouses can be great for family gatherings that are neither too formal nor too casual.
Art Exhibitions or Gallery Openings: Depending on the style of the blouse, you could wear one to an art event, especially if it's a contemporary or less formal setting.
Networking Events: In certain industries or networking events, a polished short-sleeve blouse might be acceptable, especially in warm weather.
Casual Dates: Short-sleeve blouses can work well for casual dates where you want to look put-together without being overly formal.
Short sleeve blouse designs are truly a gift to the world of fashion. They cater to different body types, can be dressed up or down, and are perfect for a variety of occasions. As you explore your own personal style journey, remember that fashion is all about expressing yourself. A short-sleeve blouse for teenagers, young girls, and women, it's essential to consider comfort, style, and versatility. So, don't be afraid to experiment with different short sleeve blouse designs to find the ones that resonate with your unique personality. Stay stylish and confident, young fashionistas.
Related Articles