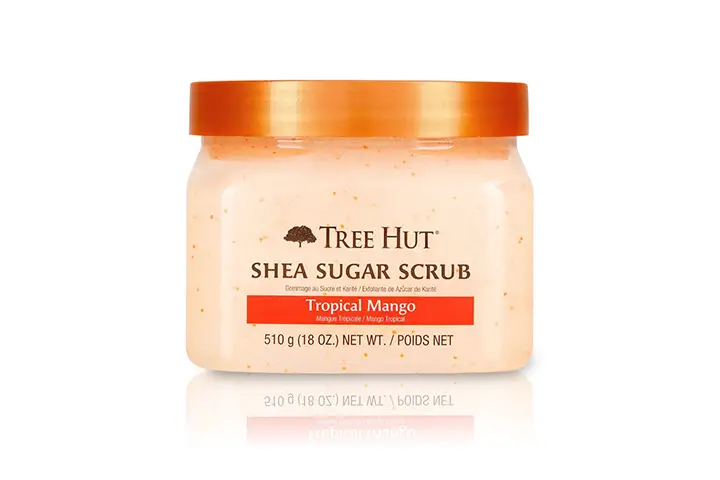 To maintain your skin smooth, soft regular exfoliate is needed. Scrub with Tree Hut Shea Sugar Scrub, which deeply moisturizes and wonderfully softens and smoothes dry cracked skin by removing the dirt, impurities Tree Hut Shea Sugar Scrub Tropical Mango Review and dead cells.
The small coarse particles of the scrub help to exfoliate the skin. The particles rub against your skin and remove all the dirt from your skin pores, clogged pores can cause inflammation and pigmentation.
Tree Hut Shea Sugar Scrub Tropical Mango
How it Works:
Tree Hut Shea Sugar Scrub tropical mango is the main ingredient and it also contains shea butter, which helps to remove old skin cells from the surface of your skin which keeps pores clear and skin glowing.
Real sugar exfoliates and boosts circulation and polishes away dead skin cells.
It also contains 6 natural nourishing hydrating oils.
These oils are Avocado oil- moisture; Macadamia oil-reduce cell damage; Sweet orange-reduce acne; sweet almond-promotes skin complexion and tone; Evening promise-acts as anti-inflammatory; Safflower oil-Help to treat pimples.
Mango which moisturizes and softens and is known to contain beta-carotene, Vitamin A&C to help refine texture and boost radiance.
Pros:
Help to promote skin elasticity.
Free of harmful chemicals for healthy skin care.
Mango puree softens and smooths skin.
Conditions skin to prevent dryness.
Free of parabens, formaldehyde donors.
Cons:
Rating: 4.7 out of 5
Relaxes you with an array of natural oils, which contains a lot of skin benefits like moisturization and makes you feel soft and smooth while providing powerful hydration.
Frequently Asked Questions (FAQ's)
Q. Does this leave a heavy oil residue?
Ans: No it doesn't, it leaves your skin feeling extra smooth without any residue. It is one of the best scrubs I have tried.
Q. Does this product contain parabens?
Ans: No it does not contain any parabens.
Q. Does it improve skin tone?
Ans: Use this scrub to keep your skin soft and smooth.But may not fade the dark spots.
Alternate Products:
You Might Also Like: