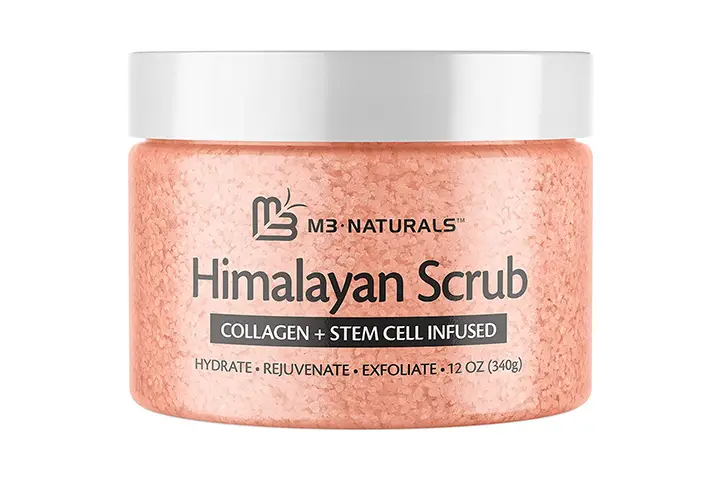 Enjoy the glow of new skin by using M3 natural himalayan salt body scrub. It gives the best exfoliating experiences a body scrub.
This scrub removes dead skin cells and takes away all the unwanted toxins.
It can also be used to scrub your face, hand and foot. Recommended to maintain your skin nourished.
Regular usage of this product as a unique or combination helps to reduce the appearance of acne, cellulite, black heads, wrinkles, fine lines and more!
M3 Naturals Himalayan Salt Body Scrub Infused with Collagen and Stem Cell
How it Works:
This top salt body scrub is infused with lychee oil and will help to restore your natural skin while scrubbing away unwanted toxins and dead cells.
It is also infused with collagen production and increases skin cell longevity.
The natural ingredients of this product are aloe vera which soothes and moisturizes your skin.
Apple stem cell extract helps to lessen the appearance of wrinkles.
It also contains grape seed oil, hydrolyzed collagen, Jojoba seed oil and sweet almond oil which reduce stretch marks, scars and spider veins.
Pros:
Gently removes unwanted toxins from pores.
Revitalizes healthy skin and works to maintain silky smooth skin.
Made with high quality ingredients.
It helps to reduce blemishes.
Help to reduce acne and black heads.
Cons:
Not suitable for all skin types.
Rating: 4.5 out of 5
The best product ever with lovely scent gives smooth and nourished skin. It removes the dead skin cells and gives instant relaxation. Deeply cleanses and avoids scars, wrinkles. Exfoliate your skin by nourishing it.
Frequently Asked Questions (FAQ's)
Q. Does this product have an expire date/
Ans: From the date of purchase, all products enjoy a 12-month manufacturer's warranty and a 30-day money-back guarantee.
Q. Would this be good to use as a pre scrub for shaving?
Ans: It is recommended before or/and after as the coarse salt helps to remove any dry skin and the oils in the scrub make your skin really soft.
Alternate Products: