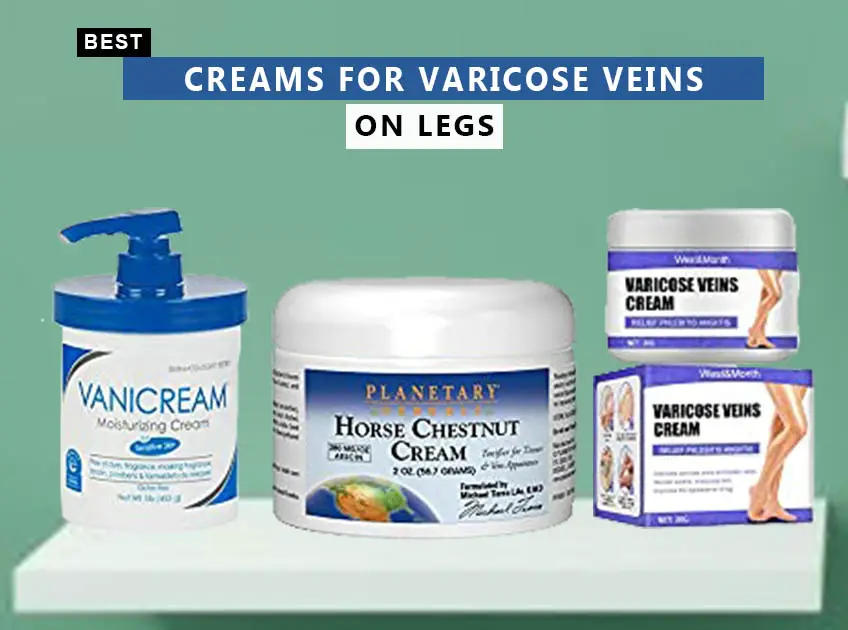 Varicose veins are swollen, twisted, and enlarged veins on the skin's surface. They often appear purplish or bluish and are generally seen on the calves and the back of the legs. However, veins on the skin's upper layers can become varicose for different reasons. Mostly it happens due to standing and walking for longer as it increases the pressure in the veins of the lower body.
Creams For Varicose Veins On Legs
Even though varicose veins do not cause significant pain or discomfort, people want to get rid of them for cosmetic reasons. Here we have included the best cream for varicose veins on legs. Check them out!
7 Best Creams For Varicose Veins On Legs
1. Lightening and Tightening Effect: Approved Science Varicosil Cream
It consists of Butcher's Broom and Witch Hazel that works on vessel strength and repairs it
Infused with effective ingredients for varicose veins like Diosmin, Hesperidin, and Rutin that support fragile capillaries,
Also contains plant-based ingredients like peppermint, aloe vera, ginger, vitamin E, and melatonin that calm and soothe affected areas of the legs
Deeply nourishes the skin and fades the appearance of varicose and spider veins by improving blood flow circulation
Free of preservatives, artificial coloring, or hormones, and is vegan friendly too
What we don't like: It may take time to show results.
[ Read: How To Tighten Skin On Legs After 50 ]
2. Effective and Affordable: Generic Venoheal Varicose Vein Treatment Cream
It helps promote blood circulation and firms the skin, repairing varicose veins on the legs
Works best for people who stand for a long time or sit down, wear high heels for longer durations, suffer from obesity, or have poor blood flow in the lower extremities crowd
Relieves tired, aching legs and reducing symptoms of swelling, fatigue, and tension in legs helps combat varicose veins signs
Free of artificial fragrance, preservatives, and other nasty ingredients
What we don't like: The results of the cream are not instant.
3. Tones Tissues and Veins: Planetary Herbals Horse Chestnut Cream
Delivers the benefits of horse chestnut-a traditional botanical extract that supports the integrity of veins in the legs
Contains extracts of Horse Chestnut Seed, Butcher's Broom Leaf, Witch Hazel Bark, White Oak Bark, Myrrh Gum, and Rosemary Leaf Oil
Massaging oil is highly effective in reducing the signs and symptoms of varicose veins
Free of harmful ingredients and artificial dyes, and preservatives
What we don't like: You need to use the cream for at least six weeks to get the results.
4. Complete Skin Therapy: Advanced Clinicals Vein Care Cream Firming Lotion
It reduces the appearance of varicose and spider veins by promoting blood circulation and thus ensuring natural-looking healthy skin
Designed to target the varicose veins as it has anti-aging ingredients
Free of paraben and every other ingredient that can harm the skin
It suits all skin types and helps reduce varicose veins and spider veins
Infused with green tea extract, a natural detoxifying and firming ingredient
What we don't like: The smell could feel overpowering.
5. Goodbye Varicose: Varikosette- Varicose veins, leg cream- by Hendel's Garden
It helps revive and refresh tired legs by fighting off discomfort and improving the blood flow
It promotes blood circulation that, and reduces the swelling and tiredness of the legs
Make legs more relaxed and calm so that you can enjoy normal activities without any hassle
Infused with ingredients like Goldenrod, Lemon, Butcher's broom, and Aloe Vera extract that helps make legs skin look firmer and healthier
What we don't like: The cream may initially feel oily on the skin.
6. Anti Varicose Leg Cream: MAITING Vein Care Fading Cream
Improves blood circulation and thus helps combat the discomfort due to varicose vein
Consists of natural ingredients that stay gentle and mild on all types of skin
With good blood circulation, the cream helps to improve bruises and dilated capillaries
Completely free of ingredients that are harmful to the skin.
What we don't like: According to some users, the cream results took longer.
7. Best for Sensitive Skin: Vanicream Moisturizing Skin Cream
It hydrates and soothes the skin by deeply moisturizing and restoring the normal moisture level for relief from irritated, cracking, or itchy skin
It is dermatologist tested and approved
Free of dyes, fragrance, masking fragrance, lanolin, parabens, and formaldehyde releasers
It is non-comedogenic; thus won't clog pores
What we don't like: A patch test is recommended on sensitive skin to ensure no allergic reaction.
Conclusion
These creams are highly effective in reducing the appearance of varicose veins and making the legs look normal and healthy.
You Might Also Like: